Disclaimer: Please note that some of the links below in this post are affiliate links and I will earn a commission if you purchase through those links. I regularly use and recommend all of the products listed below because I find them to be of great quality and use! All proceeds go back into maintaining and creating for this site. Thank you!
Last Updated on
This delightful latin-inspired dish makes a wonderfully healthy and incredibly flavorful meal! It is gluten-free, vegan, and is super quick & easy to make!
As you can see in a previous post of mine here, I am quite a fan of the Better Bean Company line of products.
All of their products are gluten free, vegan, non-GMO, and are packed in BPA-free packaging that is both recyclable & freezable. Pretty impressive, right? They truly are better beans…
I recently gave their Uncanny Refried Black Beans a try, and boy were they tasty!
I knew immediately that I wanted to create something that allowed their already amazing flavor to shine through. Hence, these beautiful flautas. . .
I started by whipping up a batch of my red chile sauce, for which you can find the recipe :: here ::. The only modification I made was using Ancho chiles in place of the New Mexican chiles. You can use any dried red chile you would like, the technique & recipe will work all the same! And, if you find yourself pinched for time, you can always purchase pre-made sauce if you prefer. Either way, red chile is always delicious, yeah?
And, check out those yummy beans. . .
These amazing flautas make such a filling & satisfying meal.
Thanks to Better Beans, they are chock full nutrients and delightfully big on flavor, too!
I can't recommend highly enough that you give both Better Beans & this recipe a try! Your taste buds will be thanking you — I promise!!
:: To find Better Bean Company products in your area, take a look here ::
Dig in!
If you try this recipe please let me know! Leave a comment, rate it, share this post, use Pinterest's "tried it" feature, or take a photo, & tag me on Instagram and I'll share it! Thank you so much! <3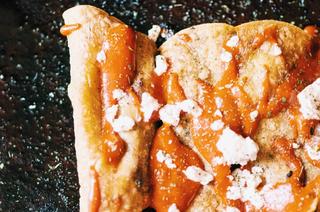 Baked Black Bean & Onion Flautas with Red Chile Drizzle (Gluten-Free, Vegan)
This delightful latin-inspired dish makes a wonderfully healthy and incredibly flavorful meal! It is gluten-free, vegan, and is super quick & easy to make!
Ingredients
1 14 oz container

Better Bean Company's Uncanny Refried Black Beans

12

yellow corn tortillas (I like non-GMO)

1 cup

red chile sauce (link to recipe above)

olive oil

1

white onion chopped

optionally queso fresco or feta cheese, for garnishing

optionally fresh or dried cilantro, for garnishing
Instructions
Preheat oven to 400° F. Grease a cookie sheet, set aside.
In a saucepan or skillet over medium heat, add a drizzle of olive and your chopped onion. Saute for 3-5 minutes, or until onions are beginning to look translucent. Set aside.
Brush your corn tortillas with olive oil, set aside.
Take one tortilla and in the center add: approx. 1 tbs of black beans + 1 tbs of sauteed onion. Fold one side in and roll. Place seam side down on greased cookie sheet. Repeat with remaining ingredients.
Bake your flautas for 15-20 minutes, or until the filling is beginning to bubble out & the tortillas are crisp
Let cool a few minutes, drizzle with red chile sauce, and optionally garnish with cilantro and/or cheese before serving.
Enjoy!
Details
Prep time:


Cook time:


Total time:


Yield:
12 flautas

Pin it: