Are you tired of eating the same old boring meals every day? Have you ever wondered what vegetarian options your city has to offer? Well, gather your taste buds and join us on a culinary adventure as we guide you through some of the best vegetarian hotspots in town.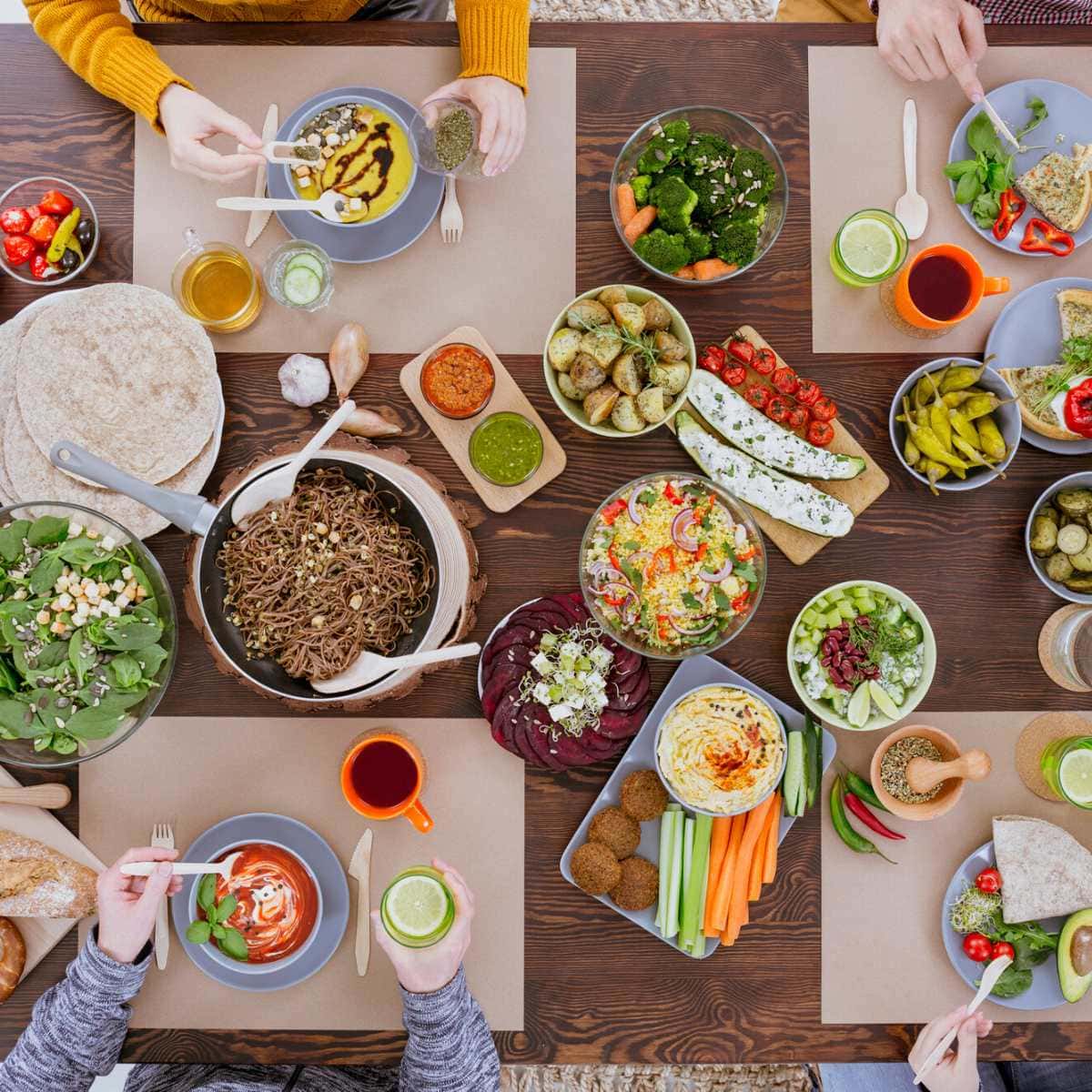 Jump to:
Introduction to Vegetarianism
Vegetarianism is a diet that abstains from the consumption of meat and fish. It can also include abstaining from by-products of animal slaughter, such as gelatin or rennet. A person who follows a vegetarian diet is called a vegetarian. A person who follows a strict vegetarian diet, which includes no animal products whatsoever, is called a vegan.
People choose to follow a vegetarian diet for many different reasons. Some do it for ethical reasons, believing that it is wrong to kill animals for food. Others do it for health reasons, believing that a vegetarian diet is healthier than the one that includes meat. Some people follow a vegetarian diet simply because they do not like the taste of meat.
Whatever the reason, following a vegetarian diet, can be delicious and easy – you just have to know where to look.
If you're new to the world of vegetarianism, or even if you've been following a vegetarian diet for a while but are looking to mix things up, exploring your city's best vegetarian hotspots is a great way to discover new and exciting dishes.
Benefits of Eating Veggie
Eating more veggies is one of the best things you can do for your health. A diet rich in vegetables and fruits can lower your risk of heart disease, stroke, cancer, and other chronic diseases. Plus, getting plenty of veggies can help you maintain a healthy weight.
Veggies are also packed with important nutrients like fiber, vitamins, and minerals. Fiber helps keep you regular and can reduce your risk of constipation and other digestive problems. Vitamins and minerals are essential for good health, and they're especially important for people who don't eat meat or poultry.
Exploring Your City's Cuisines
When it comes to discovering new favorite foods, few things are more exciting than exploring your city's best vegetarian hotspots. Whether you're a lifelong vegetarian or simply looking to cut down on your meat intake, these restaurants are sure to have something for everyone. Also, a good thing is - if you are a beginner in vegan or vegetarian cuisine, you can always look where to get restaurant coupons so you can try it for yourself, at a cheaper price.
One of the great things about vegetarian cuisine is that it can be found all over the world. No matter what city you're in, you're likely to find at least a few excellent vegetarian restaurants. To help you get started on your culinary adventure, here are some of the best vegetarian hotspots in a few major cities:
New York City:
If you're looking for an upscale dining experience, check out "Avant Garden" in the East Village. This restaurant serves modern upscale cuisine alongside curated global wines. For something a little more casual, head to "The V Spot" in Brooklyn's Park Slope neighborhood. The V Spot specializes in Latin-inspired vegan cuisine, and its menu features both small plates and entrees.
Los Angeles:
Los Angeles is a haven for vegetarian food enthusiasts, offering an array of exceptional restaurants that celebrate plant-based flavors. One standout is "Gracias Madre," located in West Hollywood, renowned for its innovative Mexican-inspired dishes made entirely from organic, locally sourced ingredients. Another gem is "Crossroads Kitchen," nestled in Melrose Avenue, known for its upscale vegan cuisine that beautifully combines Mediterranean and Californian influences.
San Francisco:
San Francisco is home to some of the best vegan and vegetarian restaurants in the world. "Millennium" in the Financial District serves creative vegan cuisine, and its menu offers both small plates and entrees. For something a little more casual, check out "The Grub" in the Mission. This restaurant specializes in global street food made with fresh, locally-sourced ingredients, including a large variety of vegetarian dishes.
What Veg Dishes to Order?
If you're looking for some new vegetarian dishes to try, you've come to the right place! Here are some of the best veg dishes to order at your favorite restaurants:
Grilled vegetables: A healthy and flavorful option that can be made with a variety of veggies.
Veggie wraps: A filling and satisfying meal that can be made with a variety of fillings.
Salads: A refreshing and healthy option that can be made with a variety of ingredients.
Soups: A comforting and hearty option that can be made with a variety of veggies.
Pasta dishes: A delicious and filling option that can be made with a variety of veggie-based sauces.
Curries: An exotic and flavorful option that can be made with a variety of vegetables, seasonings, and spices.
Finding Restaurants Through Online Sources
The internet is a great resource for finding vegetarian restaurants in your city. Some popular online sources include:
Yelp: This website allows you to search for restaurants by location and read reviews from other users. It also includes a helpful "Vegetarian/Vegan" filter option.
Google Maps: Enter "vegetarian restaurants" into the search bar and Google Maps will populate a list of nearby options, complete with customer ratings and address information.
Local blogs and websites: A quick Google search should turn up any local blog or website that covers vegetarian dining options in your city. These can be especially helpful for finding hidden gems that may not be as well-known as the bigger chains.
Conclusion
Exploring the world of vegetarian cuisine through experimentation may be a fun and gratifying experience. You too can discover the best places in your city to eat vegetarian by doing the necessary study and preparation beforehand. There is something that may satisfy everyone's taste buds, whether you're searching for a laid-back spot to hang out with friends or an exclusive dining experience.
From taking advantage of food delivery services to rounding up some friends for your next night out on the town, we hope these tips have helped you uncover some amazing new finds in our great cities!
All images in this post are courtesy of Depositphotos.