Disclaimer: Please note that some of the links below in this post are affiliate links and I will earn a commission if you purchase through those links. I regularly use and recommend all of the products listed below because I find them to be of great quality and use! All proceeds go back into maintaining and creating for this site. Thank you! XO
Last Updated on
Eat Dairy Free: Your Cookbook and Guide For Everyday Meals, Snacks, and Sweets is an amazing new release from Alisa Fleming of Go Dairy Free, the leading online dairy-free resource. I'm honored to provide you with a review of this amazing cookbook; as well as share a sneak-peek of Alisa's Pan-Fried Paprika Potatoes and the FULL recipe for Alisa's 1 -Minute Milk Beverage — all from the book!
I've been following Alisa of Go Dairy Free on Pinterest for quite some time. Her amazing recipes frequently pop up when I'm searching for something fun and new to make for my family. So, when I was given the opportunity to check out this beautiful new cookbook by Alisa, I most certainly could not pass it up. . .
Upon opening this gorgeous book I found myself pleasantly surprised by all that I found! Alisa takes you from sharing her own personal journey to covering basic dairy-free pantry staples & nutritional information and onto an amazing resource of dairy-free recipes. All 110 recipes are, or have tested options for: gluten-free, egg-free, peanut-free, AND soy-free! Back it all up with some incredible photography and fun variations offered with each recipe, and you have one extraordinary dairy-free journey in the form of one super drool-worthy book.
Samples of what you'll find within:
• Fruit 'N' Cream Cooler
• Chocolate Banana Split Muffins
• Morning Glory Cookies
• Figgy Brown Rice Pudding
• Impossible Vegan Quiche
• Raw Pecan Bites
• Chili-Spiced Squash Crescents
• Chipotle Black Bean Burgers
• Mushroom-Pesto Pizza
• Spanakorizo Squares
• Sweet 'N' Sour Stir Fry
• Mexican Chocolate Almond Stacks
• Quick Vanilla-Coconut Whip
How delicious do these sound?!
Chapters in Eat Dairy Free:

1. Sips to Shakes
2. Bakeshop Breakfasts
3. Anyday Brunch
4. Snackables
5. Veggies First
6. American Comfort Cuisine
7. Mediterranean Meals
8. Asian Eats
9. Sweet Rewards
10. Essential Extras
What did I make? Pan-Fried Paprika Potatoes:
Now, my family loves their potatoes. We eat them every which way pretty frequently. But when I saw Alisa's method for making pan-fried potatoes, I knew I just had to give it a whirl. The result? Little cubes of flavorful potatoes that are perfectly crisp on the outside and pillowy in the middle. I'm sold! I will never pan-fry my potatoes any other way again. And as you can see below, my little one couldn't resist! That's a win in my book. Thank you, Alisa.
Want a sneak-peek inside?? Why not try this easy, healthy, and delicious recipe . . .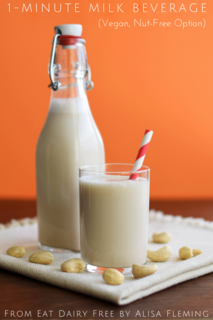 1-Minute Milk Beverage (Vegan, Nut-Free Option)
There is only one dairy alternative that I frequently use in everyday recipes, so I would be remiss if I didn't offer a homemade option. Because dairy-free milk beverage is so inexpensive and easy to find, I do often purchase it, but I also make my own sometimes with this recipe. It works wonderfully in smoothies, atop cereal, or in the recipes throughout this cookbook.
Ingredients
1/4 cup

unsalted nuts, seeds, or grains (see Nut, Seed, & Grain Note below) or 2 tablespoons nut or seed butter

2 cups

water, or as needed

Pinch

salt (omit if using salted nut or seed butter)

Optional Add-Ins (see below)
Instructions
If using nuts, seeds, or grains, put them in your spice grinder or small food processor and whiz until powdered or beginning to take on a thick butter consistency, about 1 minute.
Put the ground nuts, seeds, or grains, or the nut or seed butter, in your blender and add the water and salt (if using). Once you get used to this recipe, you can adjust the liquid amount up or down to suit your desired consistency. Blend for 30 to 60 seconds, or until creamy.
If desired, pour the liquid through a sieve lined with cheesecloth or a nut milk bag to remove any remaining nut bits.
If using any optional add-ins, return the milk beverage to your blender, add your chosen ingredients, and blend until smooth, about 30 seconds.
Store in an airtight bottle or container in the refrigerator for up to 3 days. It will settle and thicken as it sits. Simply thin with more liquid, if needed, and give it a quick blend
Details
Prep time:



Cook time:



Total time:



Yield:
2 cups

Optional Add-Ins:
The basic recipe yields a plain dairy-free milk beverage for use in most recipes, but add-
ins boost flavor and make it yours. Consider blending in one or more of the following:
• Vanilla: 1/8 to 1/4 teaspoon vanilla extract
• Sweetener: 1 or more teaspoons of your favorite sweetener (such as honey,
maple syrup, brown sugar, or coconut sugar) or a few drops of pure stevia extract
• Fruit-sweetness: 1 pitted and soaked (softened) date
• Spices: 1/8 teaspoon ground cinnamon or other warm spice
• Omega-3s: Grind up to 1 tablespoon of flax seeds with the nuts or grains.
Ground flaxseed doesn't make a good base on its own, as it isn't very "milky."
This recipe is reprinted with permissions from Eat Dairy Free: Your Essential Cookbook for Everyday Meals, Snacks, and Sweets by Alisa Fleming (BenBella Books, 2018). Photo by Alisa Fleming.
Still want to see more? Take another look inside with these gorgeous photos by Alisa Fleming:
Needless to say, whether you're just starting your dairy-free journey, or you're in need of some new dairy-free inspirtation, Eat Dairy Free offers something for everyone! I know that it will be one kitchen staple I return to again and again.
Are you here for the Giveaway? Head on over to Instagram to win a copy of this book:Enter the Giveaway! *Note: Giveaway now CLOSED*
Connect with Alisa:
Buy the book:
Eat Dairy Free is also available via Barnes & Noble, Walmart, and Target online. It can be ordered into most book stores (including all Barnes & Noble locations), and may already be available in some stores
Pin it: