Disclaimer: Please note that some of the links below in this post are affiliate links and I will earn a commission if you purchase through those links. I regularly use and recommend all of the products listed below because I find them to be of great quality and use! All proceeds go back into maintaining and creating for this site. Thank you!
Last Updated on
This super easy vegan cheese recipe can be made with sunflower seeds, pumpkin seeds or a blend of both for a simple, quick and delicious creamy vegan cheese that complements a variety of foods! Nut-free and keto friendly!
This flavorful vegan cheese has fast become a staple around here. Its quick & easy preparation and flavor just can't be beat!
This Easy Vegan Cheese is
Super creamy.

Rich and flavorful.

Versatile and can be seasoned to your liking, allowing it to accompany a wide variety of dishes.

Quick and easy to make.

Rich in protein, fiber and nutrients.

Vegan, dairy-free, soy-free, nut-free, gluten-free, low carb, keto diet friendly, and sugar-free.
What is Needed to Make Vegan Cheese?
Learn more about Nutritional Yeast HERE
How to Make Easy Vegan Cheese
Combine.

Blend.

Enjoy!
Great Ways to Enjoy Vegan Cheese
Served alongside crackers. Like these Sea Salt Chickpea Crackers (as shown in photos).

On bagels (it's like a flavored cream cheese!), toast, sandwiches and wraps.

With fruit and nuts.

In quesadillas, burritos, enchiladas.

To top off tacos and salad.

Inside of homemade ravioli or to top off pasta dishes.

Alongside roasted veggies, grains or buddha bowls.
Top Tips for Making Seed Cheese
For the absolute quickest and easiest version of this cheese, I suggest buying a bag of pre-salted, pre-seasoned sprouted seeds. We absolutely LOVE these.

Otherwise, simply choose to use pumpkin seeds, sunflower seeds or a blend of both.

If using pre-seasoned, pre-salted seeds, use all ingredients minus the added seasonings and only 1/4 teaspoon salt.

If using plain, unsalted seeds, try any of the following flavor combinations found below and 3/4 teaspoon salt.

Nutritional yeast is optional, but certainly lends a cheesier flavor to this recipe.

Lemon juice can be used in place of apple cider vinegar.

If you find your blender or food processor to be less than ideal or want to ensure a smoother cheese, soak the ingredients for up to 2 hours before blending.

This cheese stores well in an airtight container in the refrigerator for up to 5 days.
Vegan Cheese Flavor Combos
To each batch of cheese add one of the following seasoning combinations:
Garlic & Thyme – 2 cloves garlic, 1/2 teaspoon thyme

Pepper Jack – 1/4 teaspoon red chili flakes, 1 jalapeno or serrano pepper

Spicy Italian – 1 tsp Italian seasoning, 1/4 teaspoon cayenne pepper, 1 garlic clove

Mexican Delight – 1/2 teaspoon cumin seeds or ground cumin, 1/4 teaspoon oregano, 1/2 teaspoon chili powder, 1/4 teaspoon garlic powder, use lime juice instead of vinegar

You can also enjoy this cheese plain without any seasonings!

Some other spice ideas: curry powder, za'atar seasoning, more nutritional yeast, black peppercorns, smoked paprika.
More Vegan Cheese Recipes
Vegan Cultured Pepper Jack Walnut Cheese
If you try this recipe please let me know! Leave a comment, rate it, share this post, use Pinterest's "tried it" feature, or take a photo, & tag me on Instagram and I'll share it! Thank you so much! <3
As shown served alongside THESE crackers.
Easy Vegan Cheese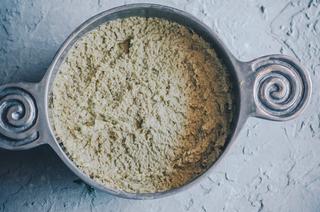 Author: Kristen Wood | 7-17-2019
prep time: 10 minutes
cook time: 0 minutes
total time: 10 minutes
Yields: approx. 1 1/2 cups creamy cheese
---
PLEASE NOTE: See the 'Tips' section above in the post for best results!
Ingredients:
1 cup seeds (pumpkin, sunflower or a blend)
1/2 cup water
2 tablespoons nutritional yeast
2 tablespoons apple cider vinegar
1/4 teaspoon salt if using salted/seasoned seeds; 3/4 teaspoon salt if using unsalted seeds
Seasonings of choice (see the Tips and Flavor Combos section above in the post)
---
Instructions:
In a food procesor or blender combine all of the above ingredients.
Let sit for ten minutes.
Blend until smooth and creamy.
Enjoy!
---
Nutrition:
Serving: 1/4 cup
Fat: 3 grams
Calories: 46
Carbs: 2.8 grams
Fiber: 1.3 grams
NOTE: Please see 'Tips' above in the blog post for suitable substitutions, storage advice and more!
Shop This Recipe
Pin it for Later