An Interview with Daniela of Calm Eats
This post may contain affiliate links, and we receive an affiliate commission for any purchases made by you using these links. We appreciate your support!
An interview with food blogger Daniela Modesto from the gut health-focused gluten-free dairy-free food blog Calm Eats.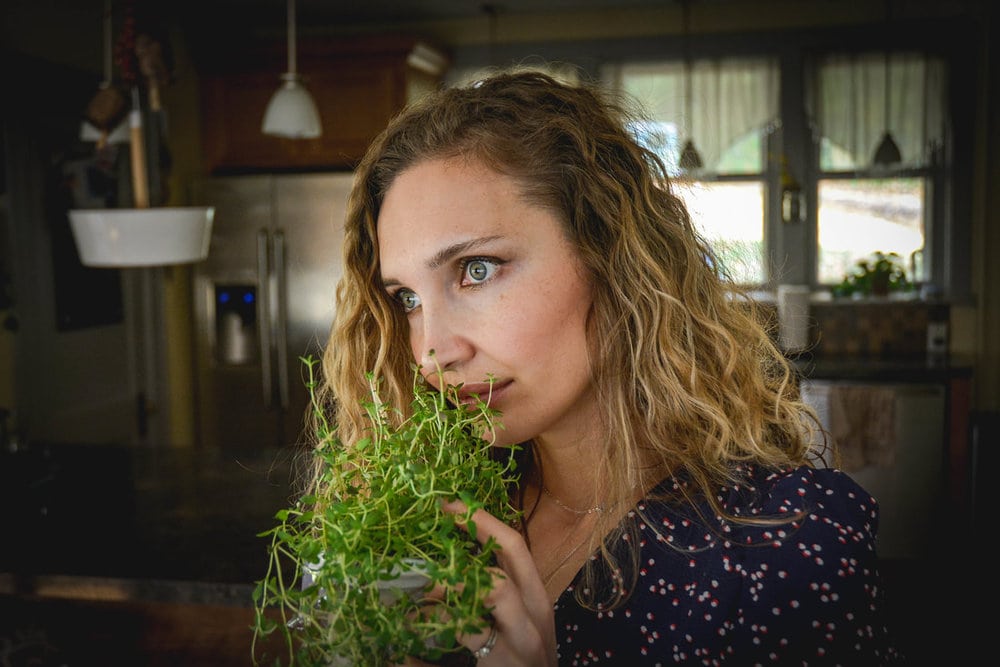 Daniela Modesto of Calm Eats
Daniela is a wife and mother of two and a US-based food blogger focusing on gut health, gluten/dairy-free, and mostly paleo recipes. She focuses on the connection between health and food and why eating real food is the only way to promote long-term health and wellness.
It wasn't too very long ago that I came across Daniela's work, but the moment I did I was smitten. Daniela's beautiful blog Calm Eats is filled with rich and gorgeous imagery and gut-healing-focused recipes that are both inviting and indeed calming! I love Daniela's use of vibrant greenery in many of her photos and recipes, as I feel it lends a moody and intimate feel and sets her apart from the crowd — in the best of ways! Please read on to learn more about the wonderful Daniela and her inspiring gluten-free and dairy-free creations . . .
The Interview
Where do you find inspiration?
Hmmm, let's see. Inspiration comes from any area of life and doesn't necessarily have to be food-based. I've drawn inspiration from podcasts, music, art, nature, and other bloggers but most of the time I like being at the farmer's market surrounded by fresh produce. I'm the strange one holding a bunch of broccolini, gazing at it, likely taking pictures, and thinking of recipes.
For you, what is a typical:
Breakfast – Generally, coconut chocolate pancakes with almond butter, cinnamon, honey and chia seeds. But I switch it up with frittatas or crepes with bananas and almond butter.
Lunch – Lunch is usually grilled chicken, roasted root veggies, a big salad with loads of avocado, sauerkraut, and nuts. I keep the dressing simple by making a lemon vinaigrette or just using olive oil, salt, and pepper. When strapped for time, a can of sardines and some vegetables do the trick.
Dinner – that's where things get fun. While breakfast and dinner tend to be fairly similar, dinner changes quite a bit. Usually whatever I've shot that day or one of my absolute favorites that everyone in my house likes – sausage, cauliflower rice and vegetable fry-up.
Snack – Fruit, nuts, nut butter, hard-boiled eggs, and on occasion eating spoonfuls of coconut butter right out of the jar. Have you had it? It's crazy good!
Dessert – chocolate. Always chocolate
What is one beverage that you never tire of?
Kombucha
What's one tried & true recipe from your blog that you make rather frequently?
Sausage and caulirice fry-up.
What's one kitchen gadget, tool, or appliance that you could not live without and would recommend to readers?
A sharp knife. I wouldn't be able to function without it.
Name three of your favorite food blogs and one favorite quality that stands out for each:
Local Milk – I adore Beth's storytelling ability and her insanely good photography (okay that's 2).
Cashew Kitchen – While I'm not plant-based Agnes some of the pretties plant-based food I've seen.
Dolly and Oatmeal – The mood of her blog puts me in an instant state of calm.
What is your favorite meal to eat out? Any particular restaurant?
Sushi. There's an amazing sushi bar in my town that makes some pretty crazy rolls. Always with lots of spicy mayo.
What are your photographic tools of the trade? Favorite food props?
I like using fresh herbs, sprouts, and dishes that won't take away from the food itself. Napkins that are wrinkled and I also use a large baking sheet as a backdrop for most of my shots. I like the rustic look of it.
What is one of your favorite places in the world & how has it influenced you and your food blog?
I lived in 2 different countries and have been fortunate to see a lot along the way but the place that stole my heart is Cape May, NJ. A quaint beach town. I'm meant for the ocean.
What is your favorite spice & something you've created with it?
Tumeric. Not just because of its incredible health benefits but it's got a subtle flavor and that color! One of my favorite drinks is golden milk. I try and make it a few times a week.
Who do you most like to cook for?
My family. I'm insanely happy when I have a full house of people. Feeding the ones I love brings me immense joy.
For those contemplating beginning a food blog, or just starting out – what's one useful piece of wisdom that you would like to impart?
Stay true to your own voice. It's easy to fall prey to the zillion blogs out there but in time, find your own voice and your own style and feel secure in it. Also, don't be afraid if you're slightly off and just a little different. Different is good. People don't want a copy of someone else, they want your unique perspective. Also, think of your main reason for creating a food blog in the first place. Are you trying to help, inspire, or teach? When you become clear about your intention, keep it in mind whenever you write.
Thank you, Daniela!