An Interview with Stephanie of My Tiny Laguna Kitchen
This post may contain affiliate links, and we receive an affiliate commission for any purchases made by you using these links. We appreciate your support!
Food Talk Series 03: Meet Stephanie . . .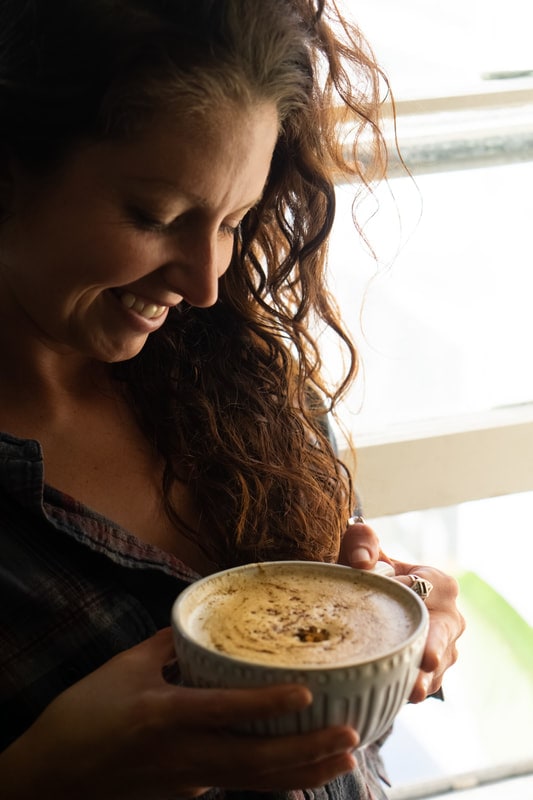 Hi, I'm Stephanie Mary! I love crafting beautiful, magical treats and desserts at mytinylagunakitchen.com. My passion for art and healing food is combined with creating a delicious recipe and creating a masterpiece to photograph the finished result. I also love reading, exploring nature, watercolor painting, and spending time with family and friends.
I'm most familiar with Stephanie of My Tiny Laguna Kitchen through her awe-inspiring Instagram account. Stephanie's beautiful and enchanting images pop out of the screen with their vibrancy and enchanting dream-like qualities. Stephanie is most well known for her magical healthy treats and mesmerizing elixirs that are often bright, colorful, & wonderfully gut-friendly & hormone balancing through the use of powerful superfoods. I adore Stephanie's photography style, and out-of-this-world creativity; and I think you'll find yourself enchanted, too! Read on to learn more about the gorgeous Stephanie and her magical creations . . .
The Interview:
Where do you find inspiration?
Inspiration is a funny thing really, sometimes I sit and wait for it, and other times I'll be on a walk and all of a sudden I get a taste or a vision for a recipe. It's a really fun, beautiful, and mysterious creative process.
For you, what is a typical:
Breakfast – Lately I have been all about homemade coconut yogurt chia pudding topped with organic blueberries.
Lunch – I've been on this "eating right for my hormones kick" so it depends on what cycle I am but usually a salad filled with kale, edible flowers, roasted veggies, and eggs from our farmers market or wild caught salmon. Oh and lots of avocado!
Dinner – I love love love zoodles (zucchini noodles) with a homemade sprouted pumpkin seed pesto, almond cheese, and all the veggies.
Snack – For a snack, I've been enjoying fresh carrots with guacamole or sometimes I'll just eat the carrots plain. Or I love The Real Coconut Sea Salt Chips with guacamole! So good!
Dessert – I love to make sugar-free chocolate to snack on and sometimes I'll eat it with my homemade almond butter or homemade coconut yogurt.
What is one beverage that you never tire of?
My Magical Daily Matcha!
I love adding all the adaptogens and superfoods to the Matcha to make an elixir of sorts. It's my favorite daily practice.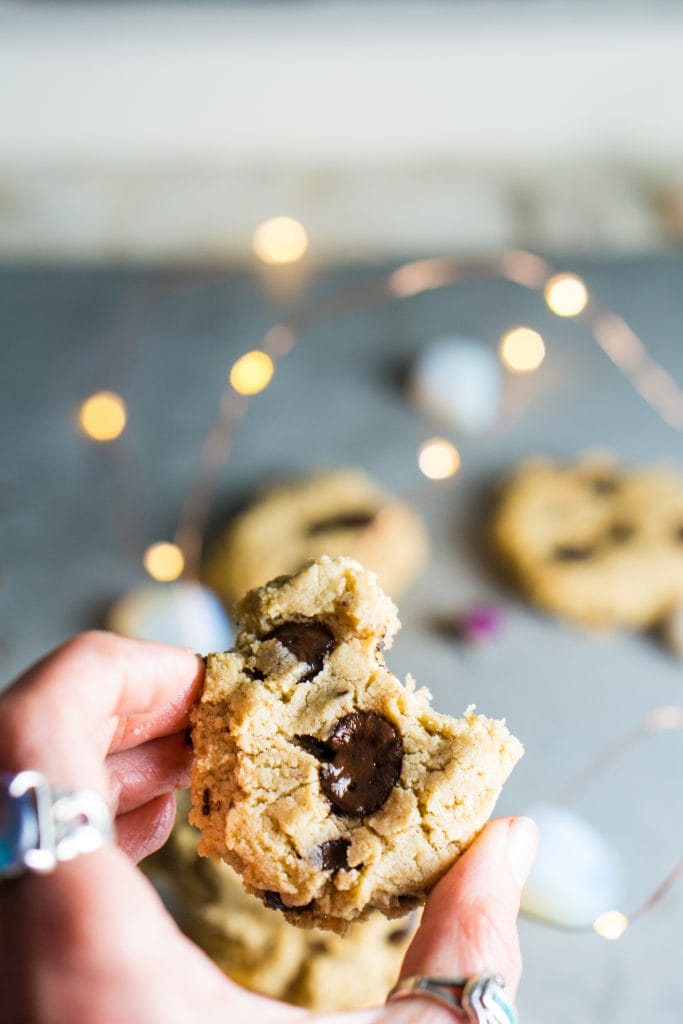 the best chocolate chip cookies (vegan, keto, paleo, & gluten-free)
What's one tried & true recipe from your blog that you make rather frequently?
We literally make the sprouted amaranth and buckwheat waffles 1-2 times per week. We then put them in the freezer to enjoy whenever we want them. We will have them for breakfast, lunch or dinner. They are sooo simple and just so delicious!
What's one kitchen gadget, tool, or appliance that you could not live without and would recommend to readers?
Oh man, this is a hard one. I think either my Vitamix, food processor or spiralizer.
Name three of your favorite food blogs and one favorite quality that stands out for each:
I follow a lot of food bloggers because I love their food photography so much! Therefore:
Half Baked Harvest – her creativity and food photography inspires me on so many levels. Her photos are so enchanting.
Pinch of Yum – I love her writing and story-telling. I also went to her food photography workshop and love her food photography, she's such a talented food blogger, photographer, and teacher. She and her husband have so many good blogging resources too.
@sobeautifullyreal – Her photography is just insane as well, I also love when she opens up about her life stories and quirky captions on Instagram.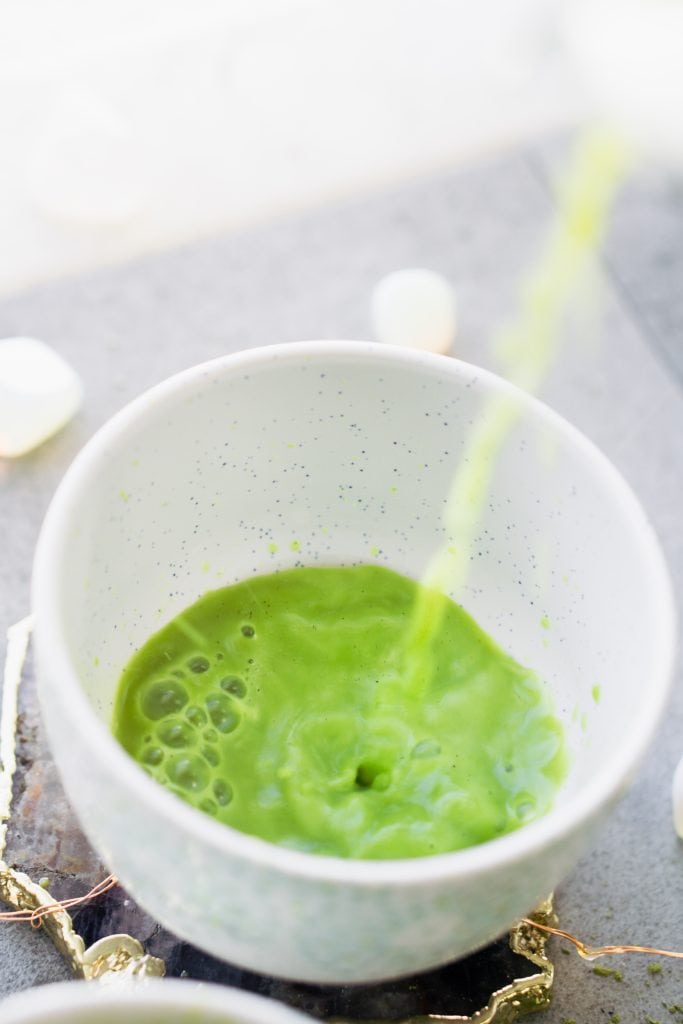 My Magical Daily Matcha (dairy-free, sugar-free, paleo, & keto)
What is your favorite meal to eat out? Any particular restaurant?
There's an organic Mexican restaurant near us in Laguna Beach, CA that has the best-blackened salmon salad.
What are your photographic tools of the trade? Favorite food props?
I try to keep my food props to a minimum and really let the food be the main focus, but I do love using fresh herbs, superfood powders for vibrant colors, and I just couldn't live without my edible flowers.
What is one of your favorite places in the world & how has it influenced you and your food blog?
Last summer we went to Peru on a yoga retreat and my main goal was to get a really clear vision of where I was meant to go in my career and my life's work. I had always started and stopped blogging back in the day but always made all these excuses not to do it.
Long story short… I met with a cocoa leaf reader there and she said you aren't fully satisfied with your current work because you are meant to be a healer and that I carry my ancestors with me.
She asked me what form of healing I enjoy using the most. Once I looked deeper I knew that food was the main avenue that I believe to be healing. There were many beautiful signs that pointed me in the direction to use my blog and recipes as an avenue of healing for myself and others.
Chaga Chai Latte (paleo, keto, & vegan options)
What is your favorite spice & something you've created with it?
I can never get enough curry powder, especially when roasting cauliflower and carrots.
Who do you most like to cook for?
Food is an avenue of healing and also a way I show my love for others. That being said I love to cook for my friends, family and especially my partner Dan who is a huge supporter and contributor to the blog. He has officially given himself the "Recipe Tester" of My Tiny Laguna Kitchen and is very protective of this role. 🙂
For those contemplating beginning a food blog, or just starting out – what's one useful piece of wisdom that you would like to impart?
I would say don't think too much about if you should start. Just start even if it feels awkward and learn along the way. Soon you'll start to find your own voice and story that the world needs to hear.
Thank you, Stephanie!
Pin it: