This post is sponsored by Populum. All opinions expressed are my own.
This fun CBD recipe features an easy, healthy and delicious Plum Rawnola that is made with a blend of dried plums, oats, cashews, coconut, and chia seeds for a nutrient dense treat that is also gluten-free, dairy-free, vegan, soy-free, and refined sugar-free. This yummy Rawnola can also be made into bliss balls for a delightful twist!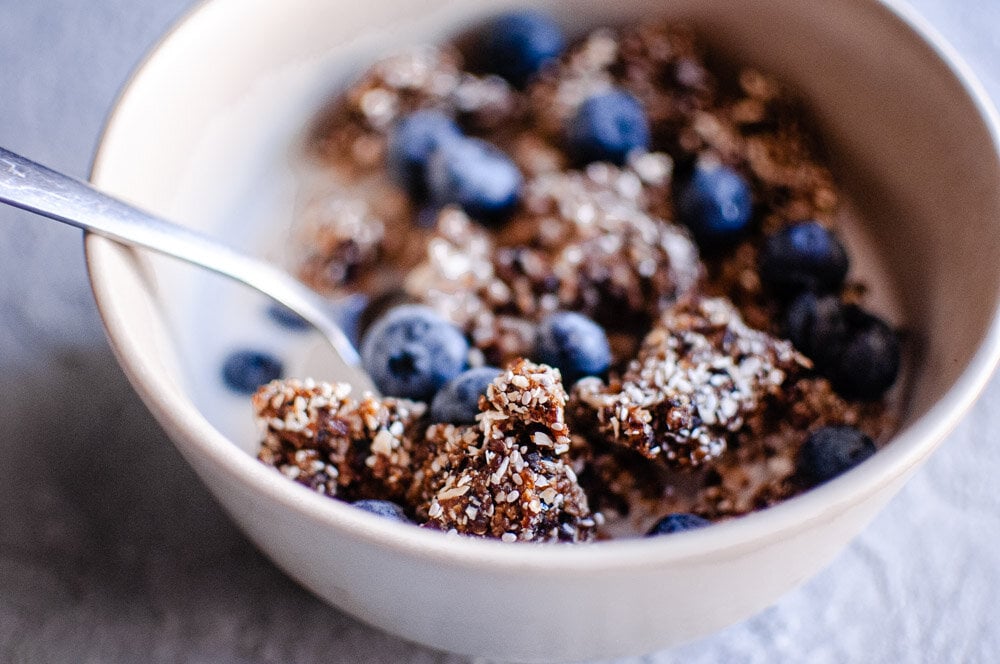 I recently gave Populum's high quality CBD oil a try and felt inspired to create this Plum Rawnola Recipe as the perfect vehicle for enjoying it!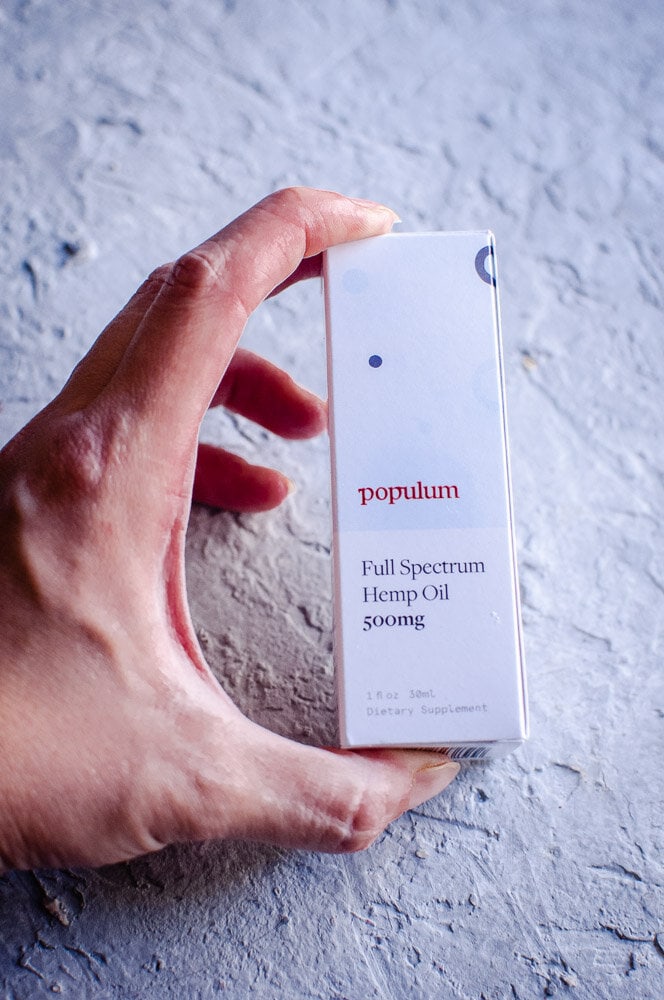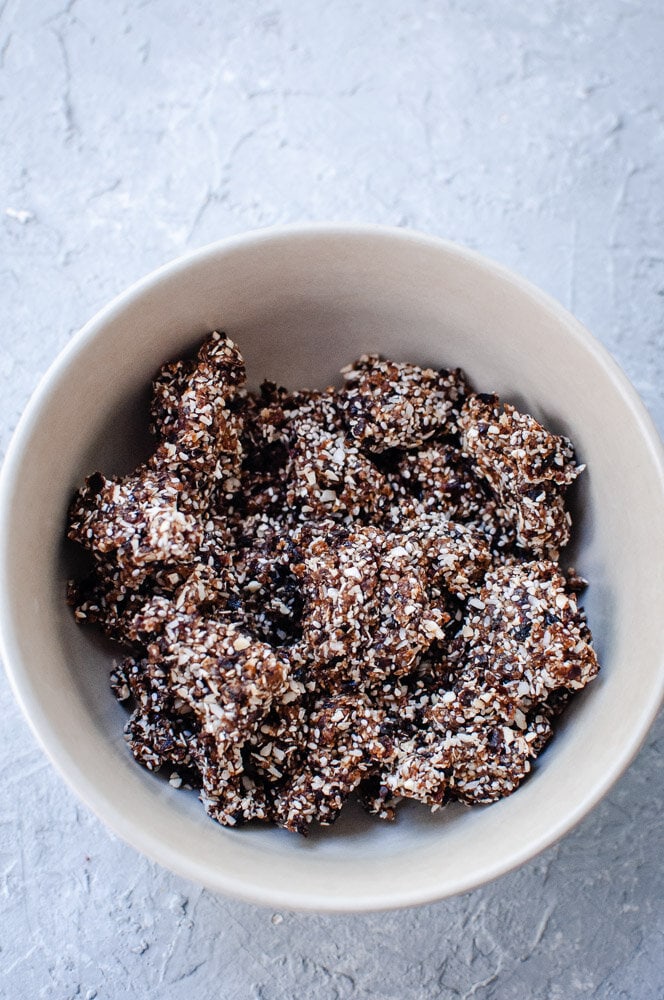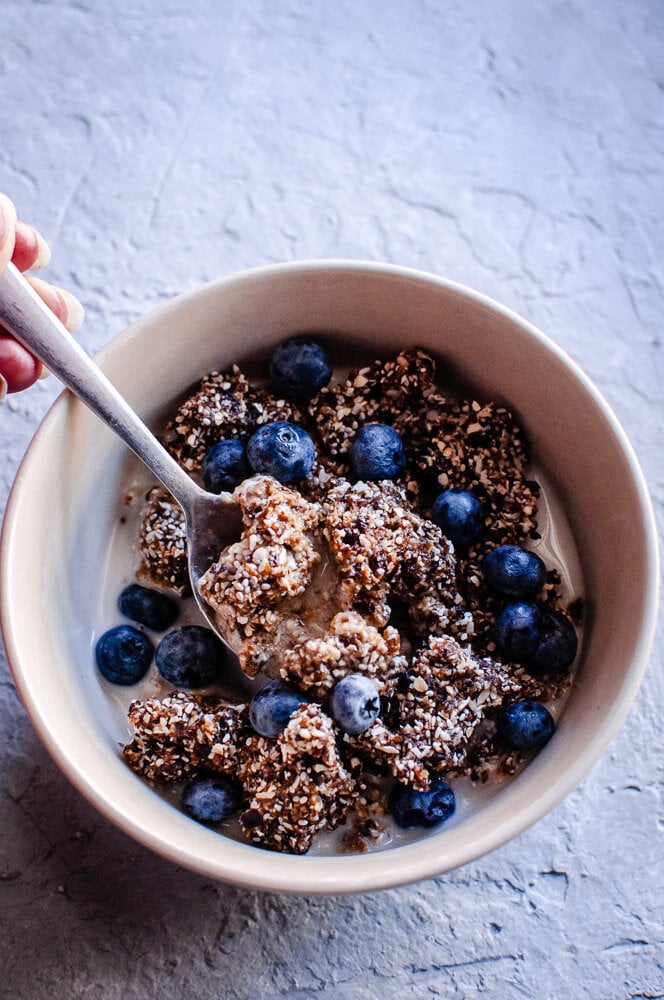 What is Rawnola?
Rawnola is a quick, easy, no-cook version of granola! Rawnola can be made with a variety of healthy ingredients such as oats, nuts, seeds and dried fruit, and can be enjoyed a myriad of ways.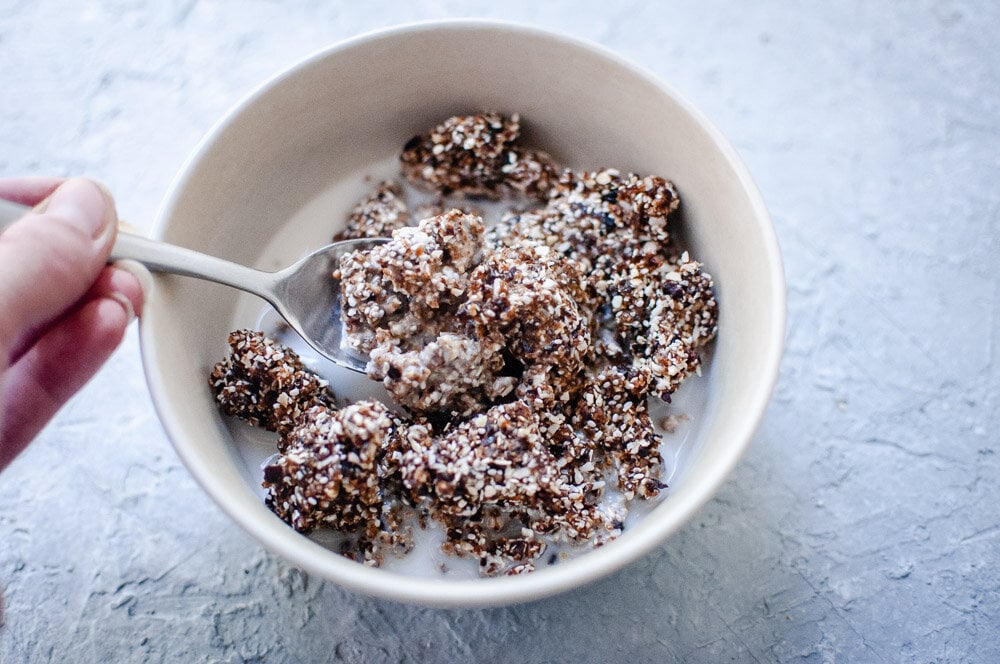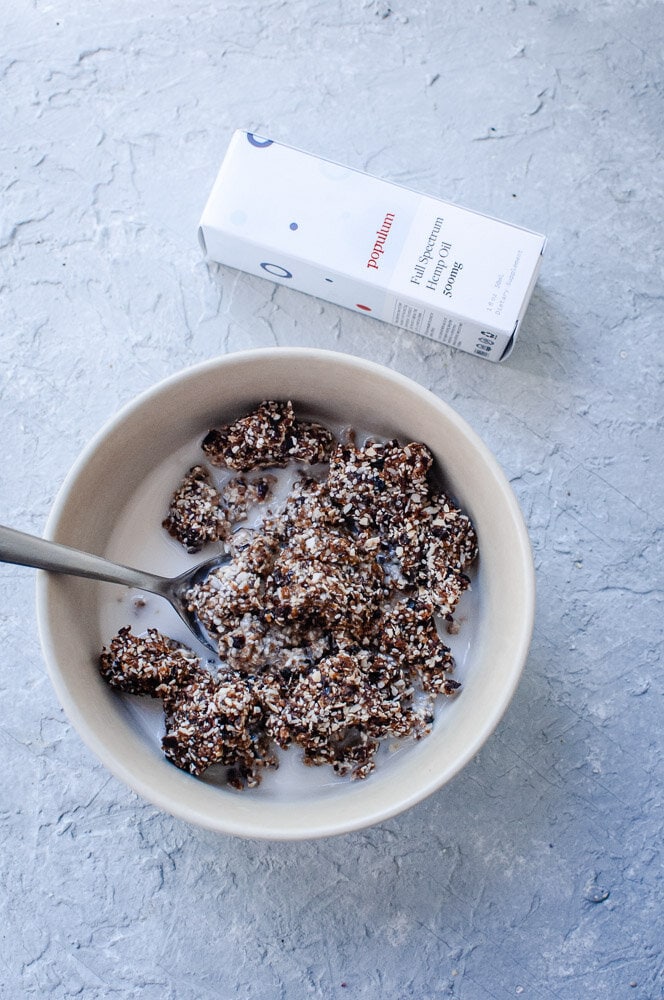 Populum CBD Oil
Populum makes a unique, award-winning variety of full spectrum CBD oil with orange essence for a truly tasty and flavorful hemp oil without any of the strong, sometimes overpowering 'hemp' taste! Populum is also known for their strict in-house and third party testing of their CBD products to ensure you're getting the quality you deserve. And a bonus? Populum offers a completely risk-free 30 day trial (you can even return an empty bottle!), and free shipping!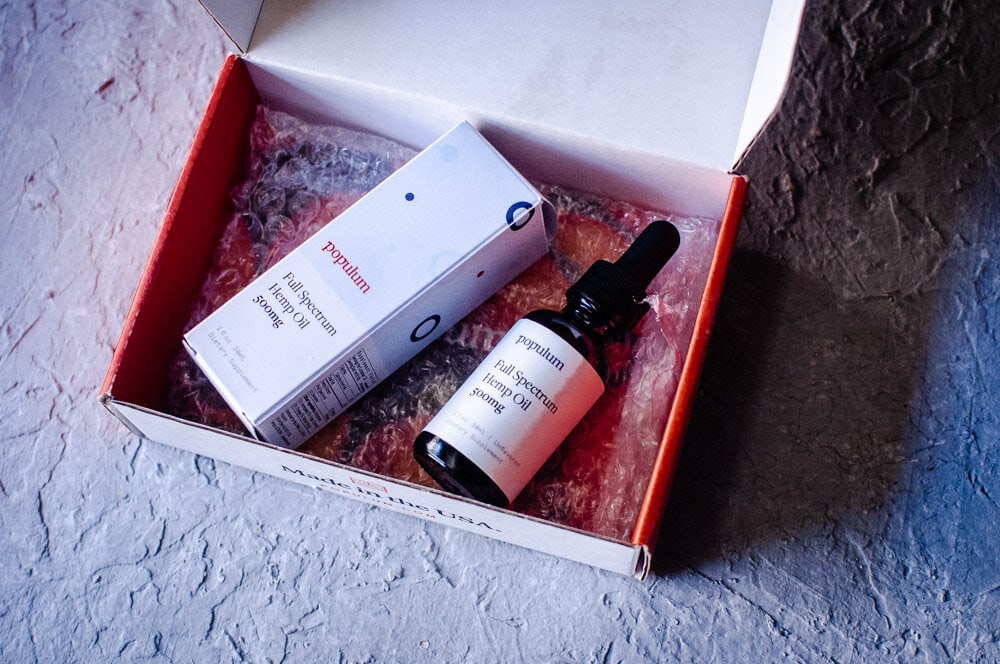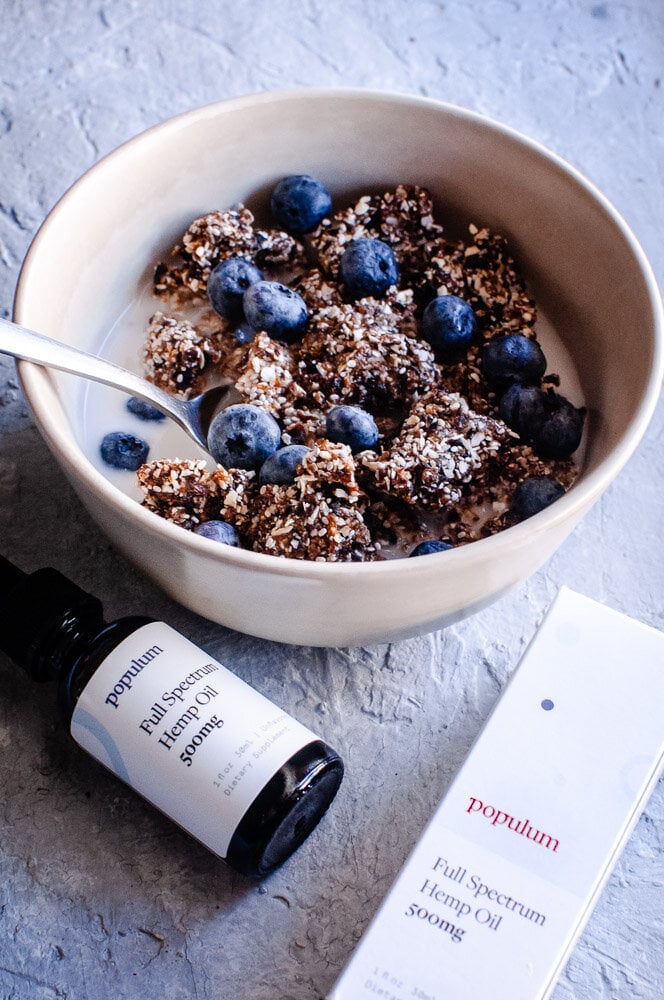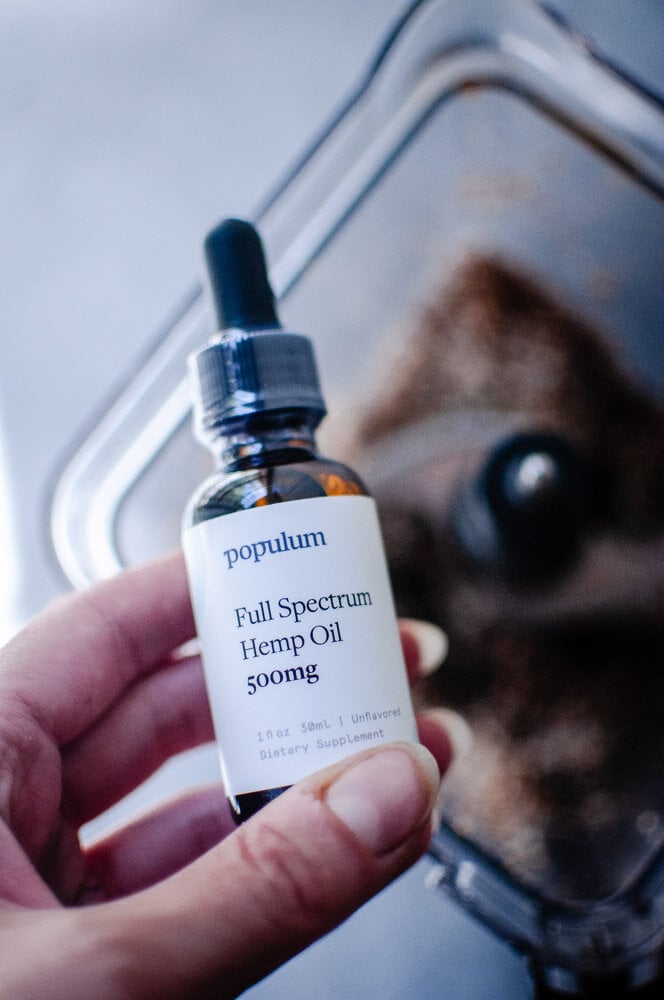 Plum Rawnola Recipe
This Easy Rawnola Recipe is:
Super quick and easy to make.

Packed with delightful flavors and textures.

Made with simple, wholesome, nutrient-dense ingredients.

Made with the best CBD oil on the market!

Versatile and can be enjoyed a variety of ways.

Gluten-free, dairy-free, vegan, soy-free, refined sugar-free.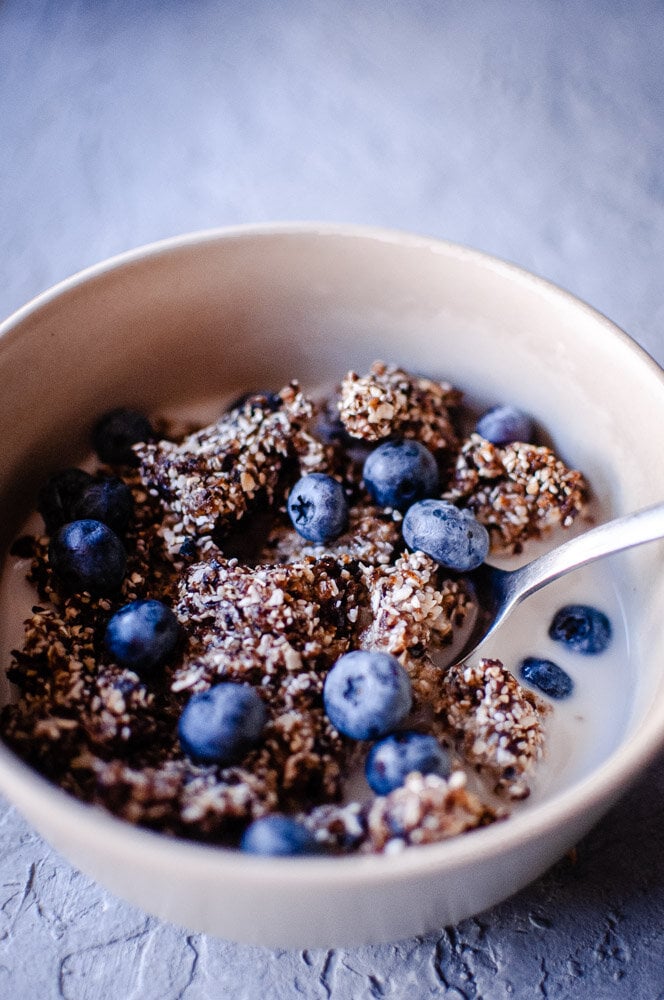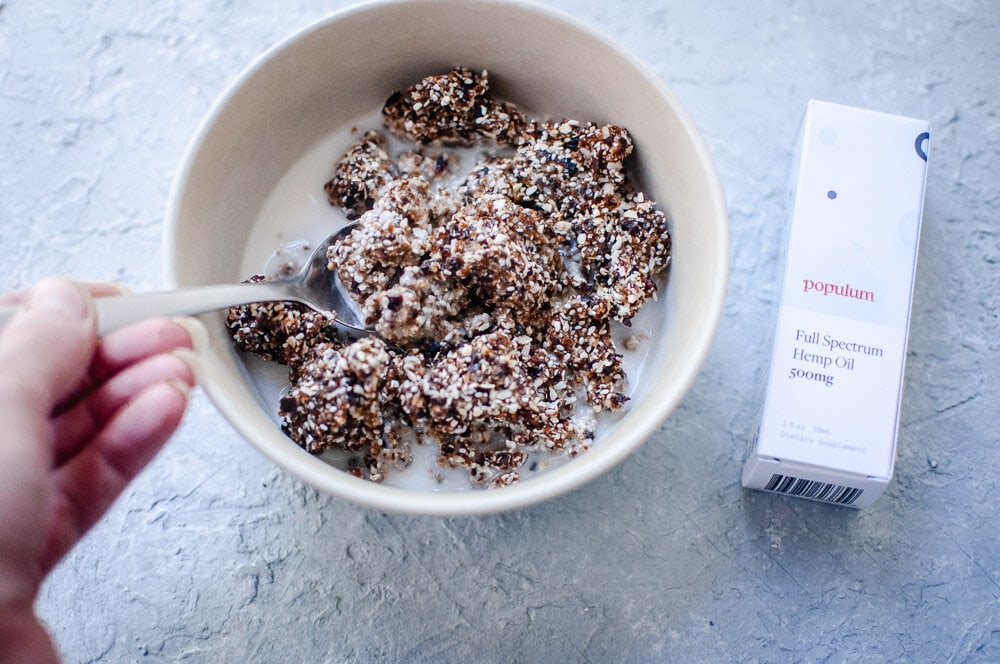 Ingredients Needed to Make Plum CBD Rawnola
Oats.

Unsweetened shredded coconut.

Chia seeds.

Cashews.

Cinnamon and pink salt.
(Note: see full recipe card below towards bottom of post for recipe amounts!)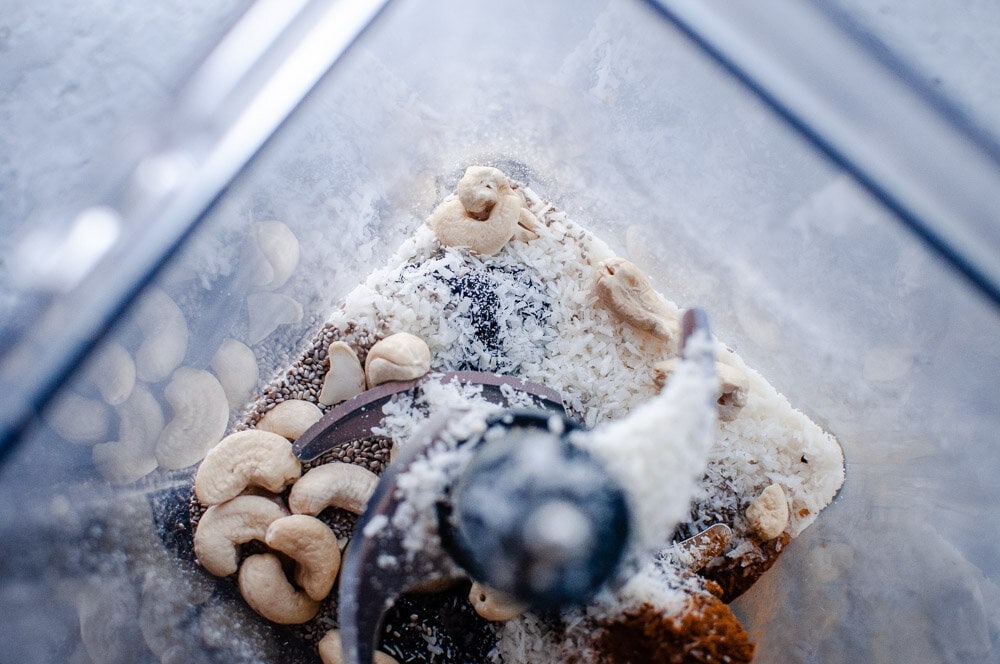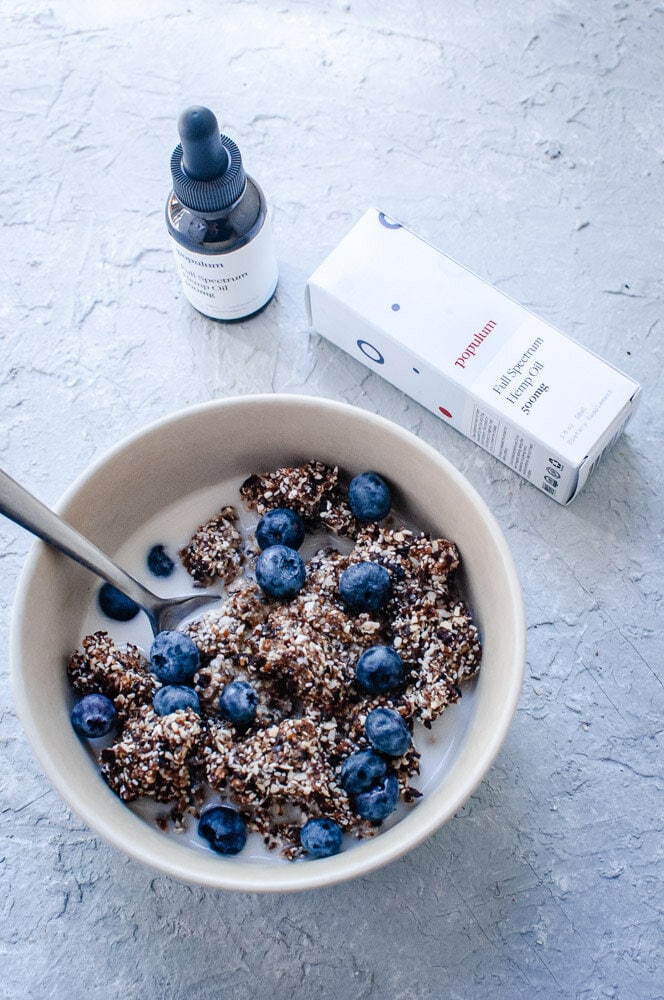 How-to Make Rawnola - Step by Step
Gather Rawnola ingredients.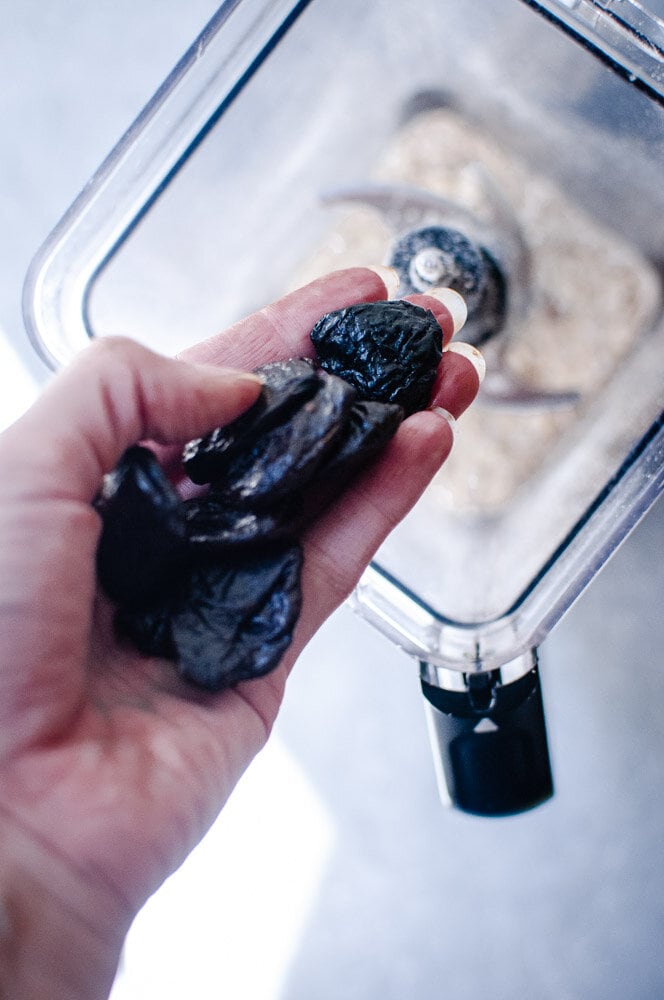 2. Place all Rawnola ingredients into a food processor or high-speed blender.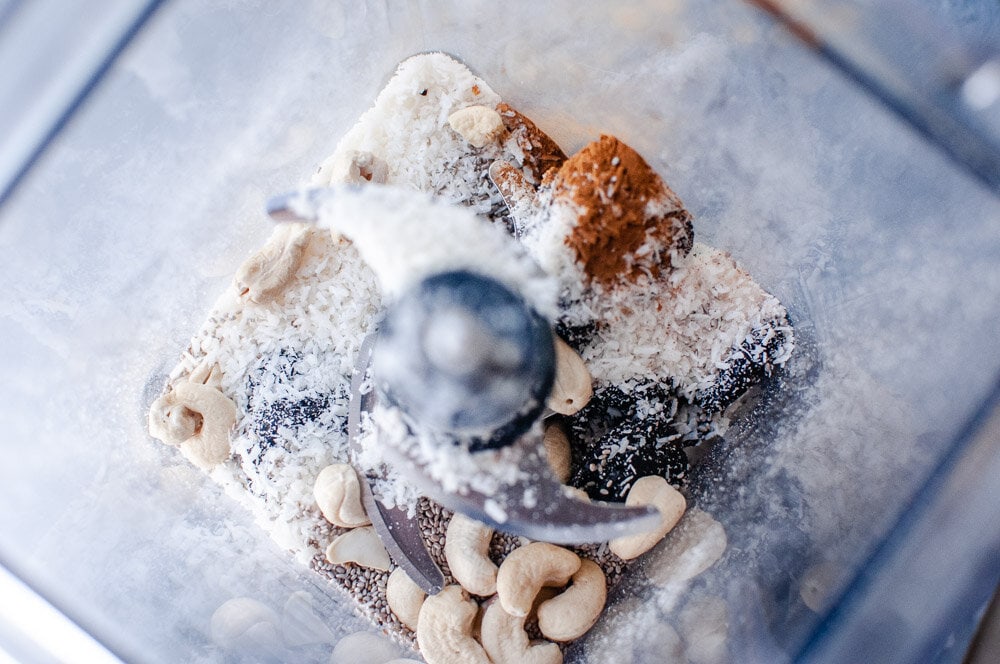 3. Blend until all is broken down and uniform.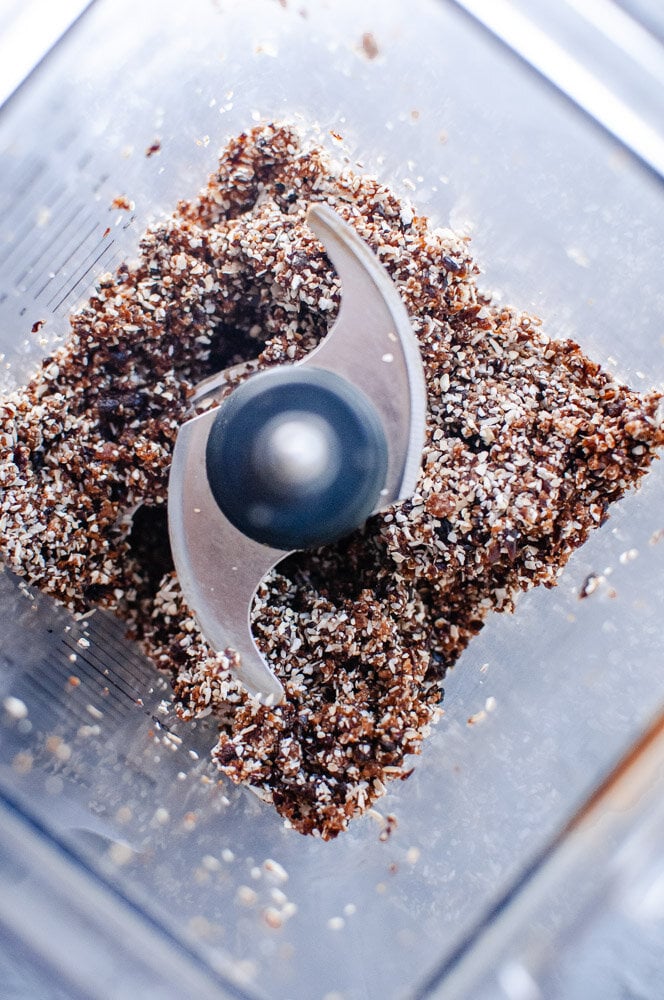 4. Add CBD oil.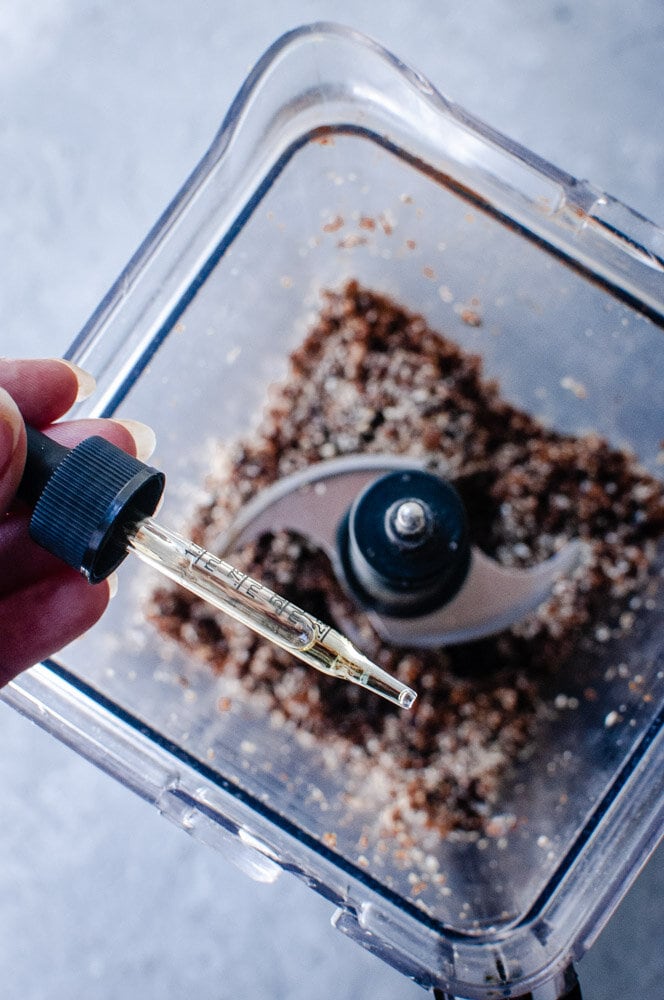 5. Pulse gently for a few seconds to incorporate the CBD tincture and until you achieve a clumpy texture that easily squeezes together.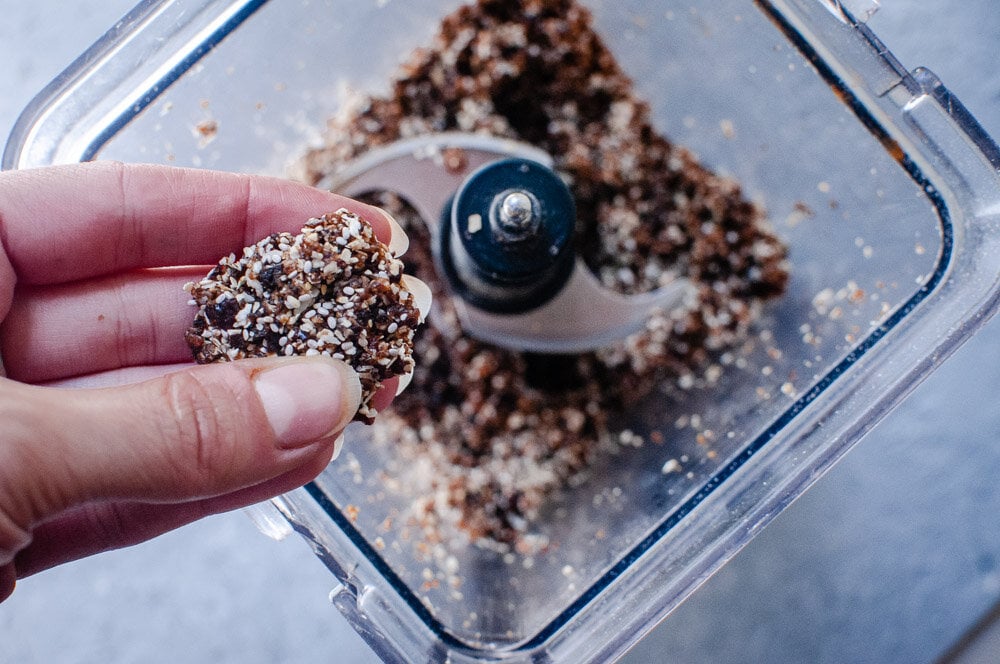 6. Enjoy!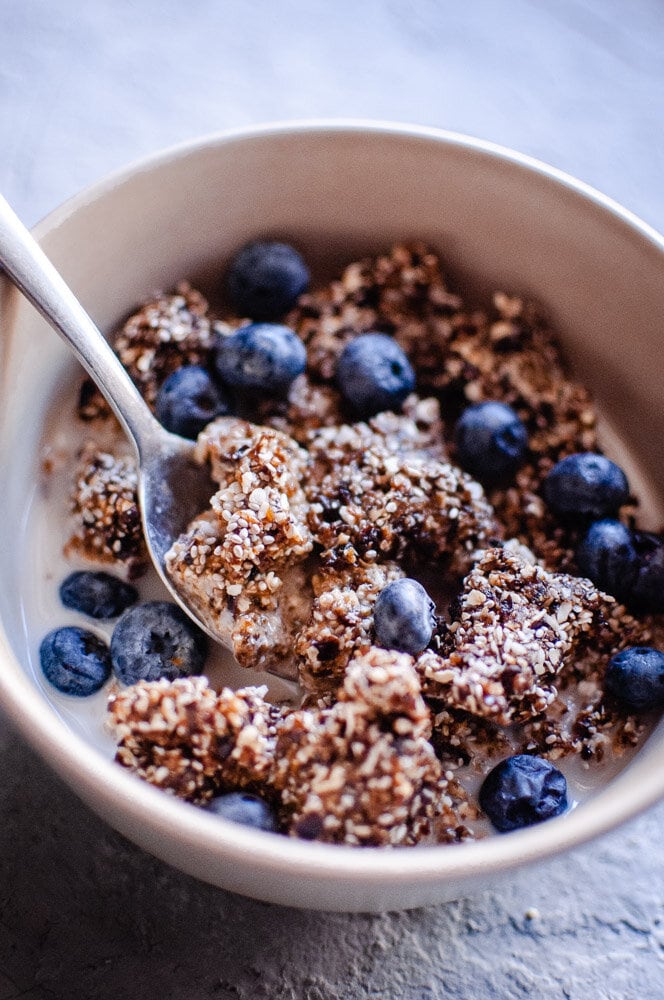 A Few Tips!
Use Straight Dried Plums

For best results, I recommend using only dried plums/prunes without any other added ingredients.

Make it Nut-Free

On a nut-free diet? Use 2 tablespoons of pumpkin or sunflower seeds in place of cashews.

Do Not Heat

To preserve the effectiveness of CBD oil, I do not recommend heating the Rawnola or adding it to super hot dishes.

Store it

Rawnola will keep in an airtight container at room temperature for about 2 weeks or in the refrigerator for up to 2 months.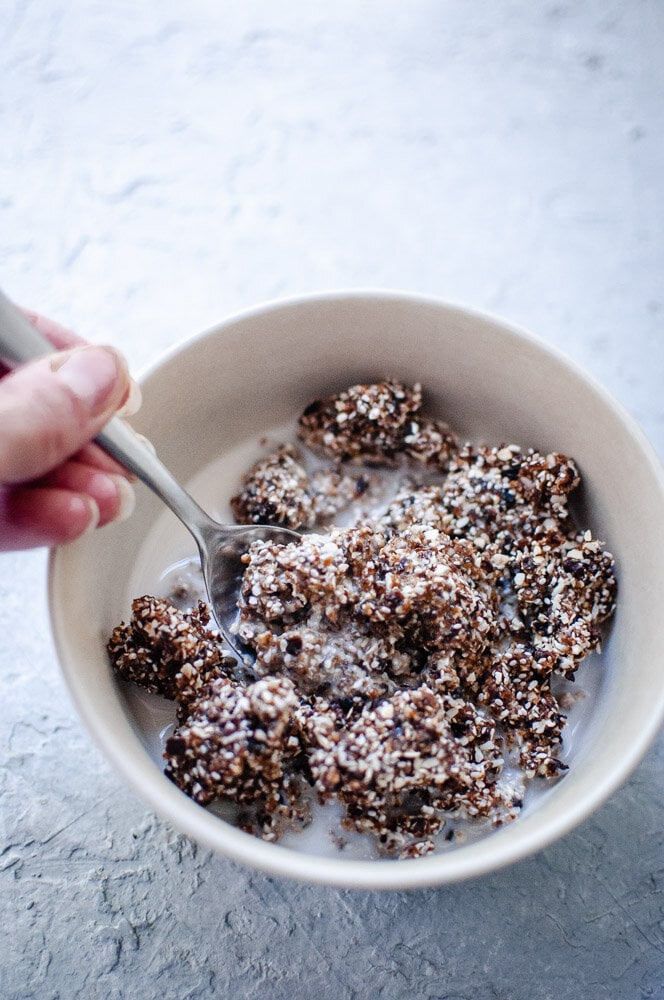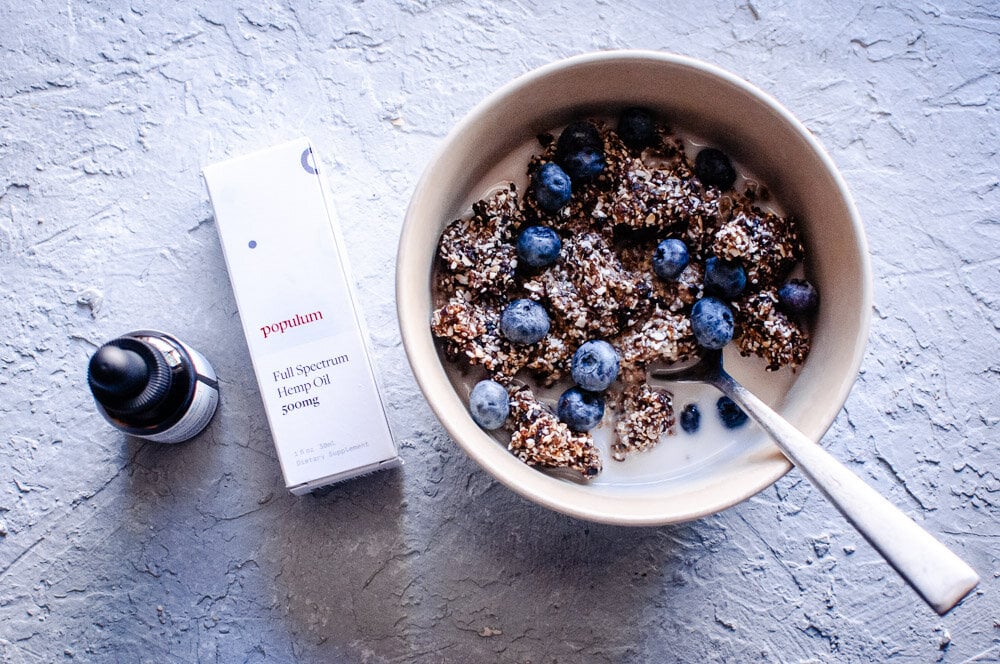 Common Recipe Questions
Can I replace the plums with a different dried fruit?

Yes! Dates, golden raisins or apricots would all work beautifully in this recipe.

Can I omit or replace the coconut?

Yes. You can leave the coconut out without any further changes, or you can add a few extra tablespoons of oats in its place.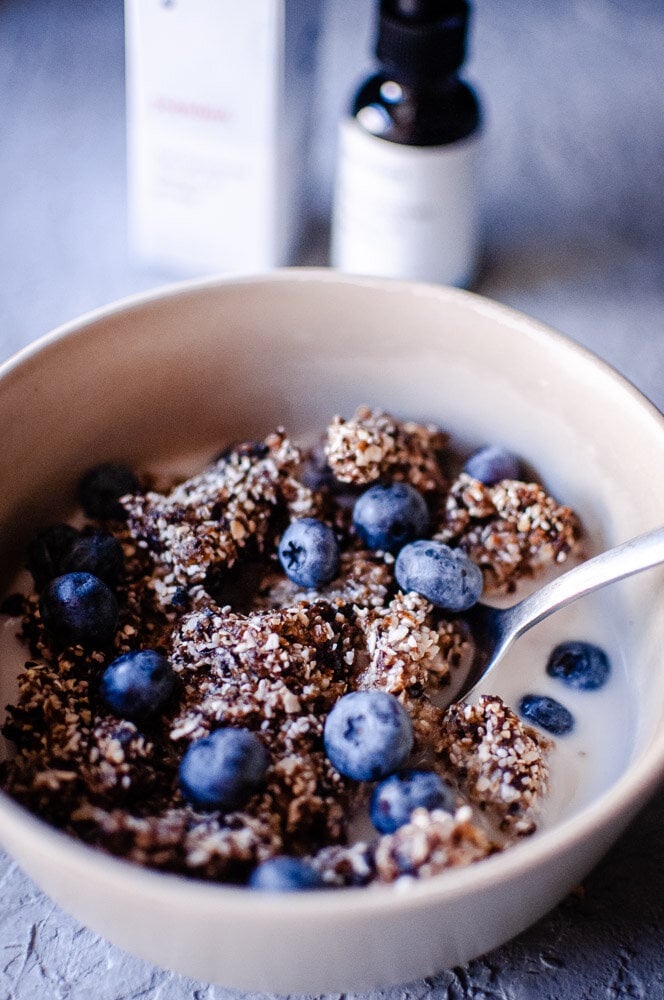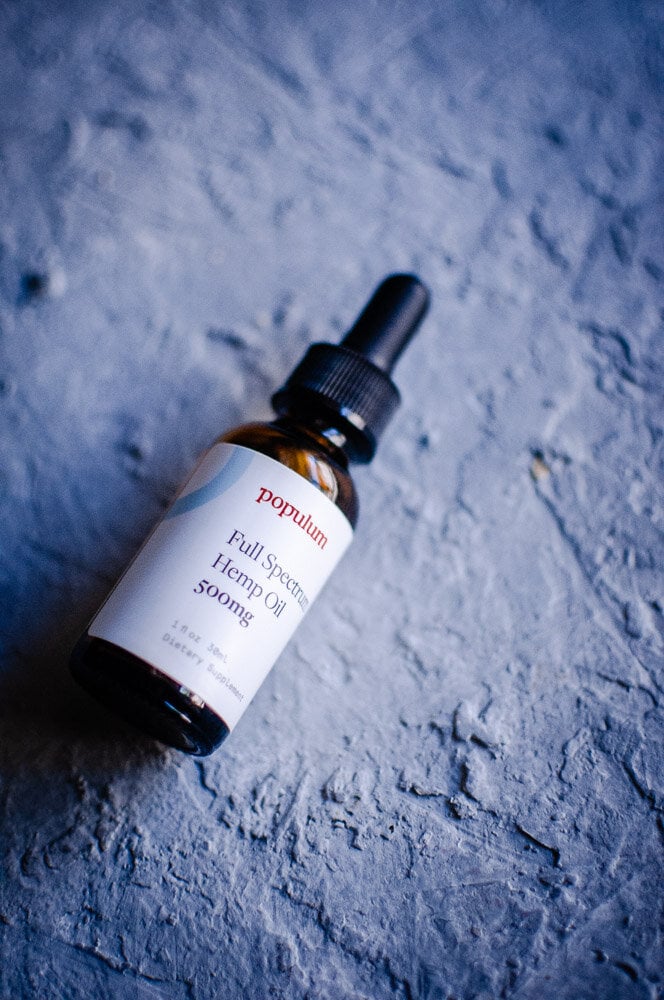 How-to Use Rawnola
Rawnola can be enjoyed a variety of ways including:
As is for a quick and healthy snack that is easy to grab and go.

With milk and fresh fruit as a hearty breakfast cereal or granola alternative.

As a topping for oatmeal, smoothie bowls, chia pudding or yogurt.

Rolled into balls for Plum CBD Rawnola Bliss Balls (see below)!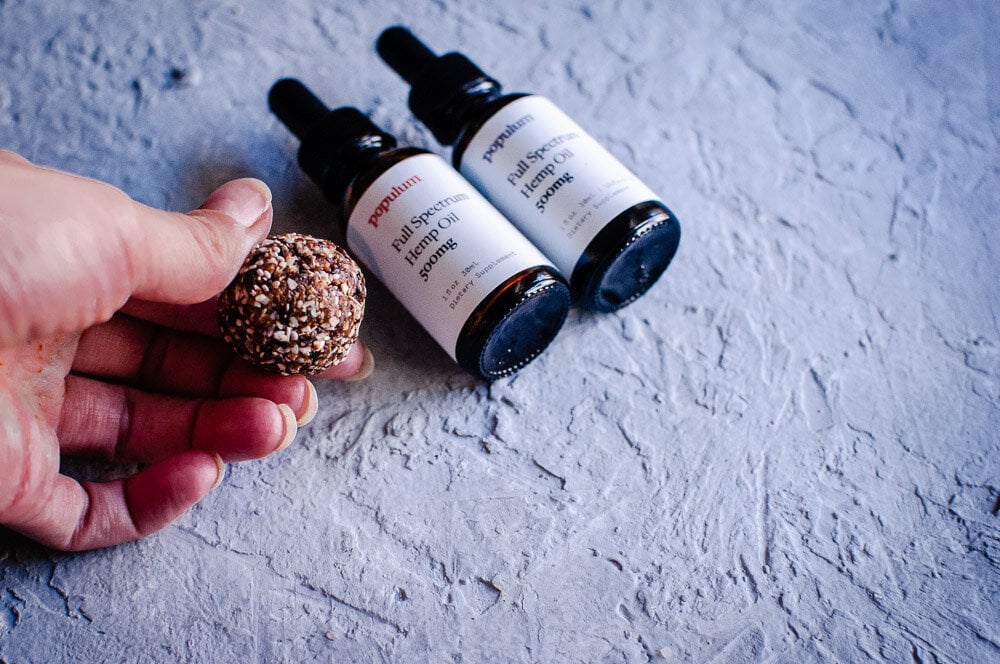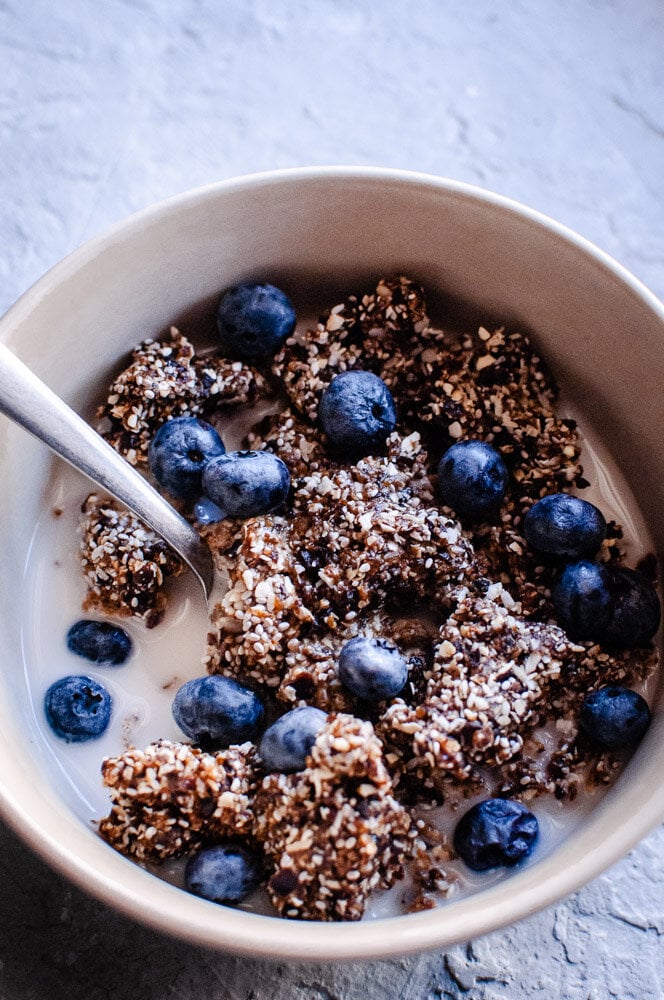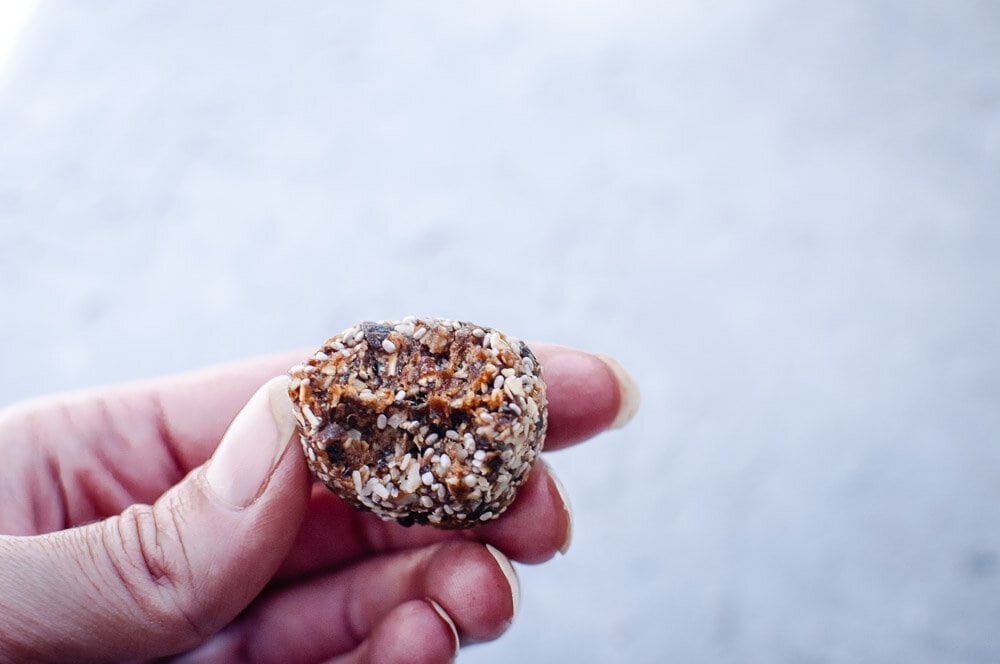 Populum CBD Oil Discount Code
Use code RISKFREE10 for 10% off your first time order at Populum.com!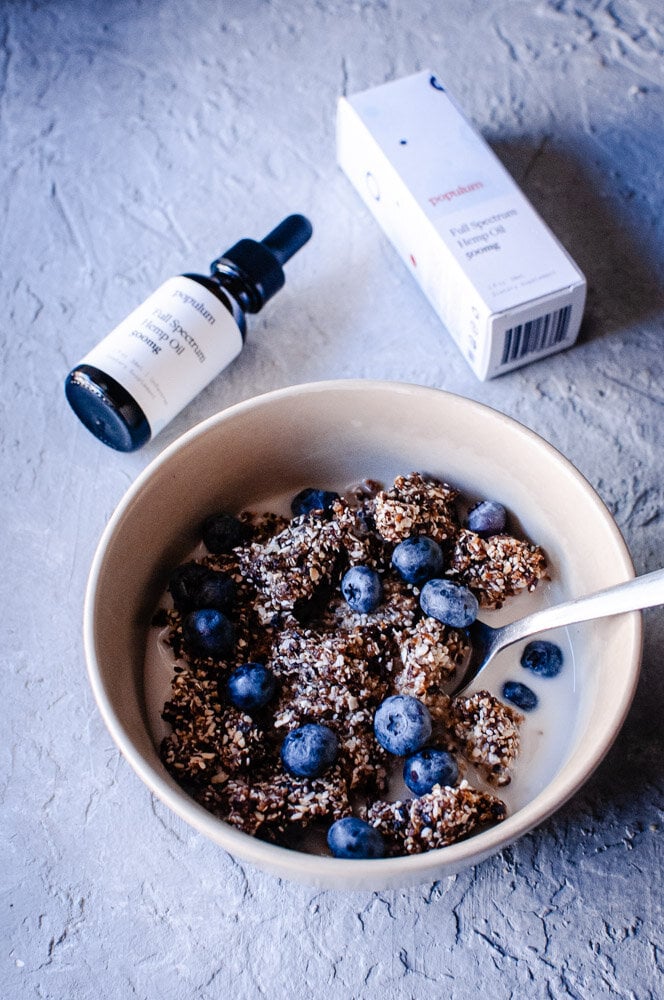 More Vegan Breakfast Ideas
Lemon Poppy Seed Granola (Gluten-Free, Vegan)
Orange Creamsicle Chia Seed Breakfast Pudding (Vegan, Gluten-Free)
Vegan Tahini French Toast (Gluten-Free)
Maple Walnut Goji Berry Granola (Vegan, Gluten-Free)
No Bake Super Seed Cinnamon Maca Energy Squares
Quinoa Cocoa Molasses Crunch Granola (Gluten-Free, Vegan)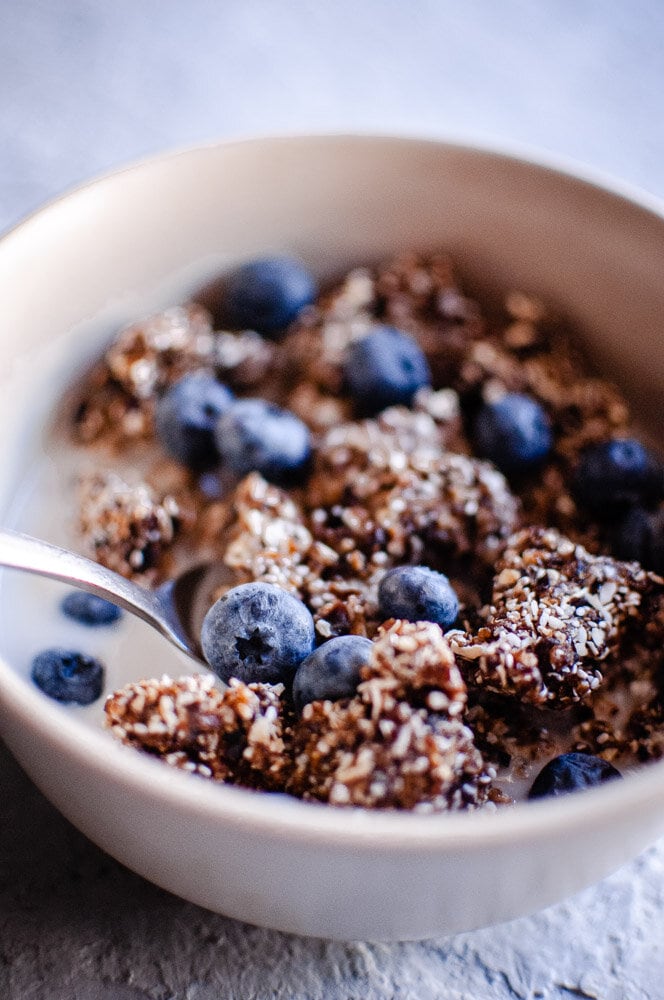 If you try this recipe please let me know! Leave a comment, rate it, share this post, use Pinterest's "tried it" feature, or take a photo, & tag me on Instagram and I'll share it! Thank you so much! <3
Rawnola Recipe with Plums & CBD Oil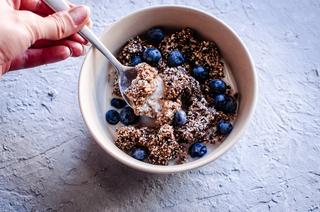 Author: Kristen Wood | 9-16-2019
prep time: 5 minutes
cook time: 0 minutes
total time: 5 minutes
Yields: 4 servings
---
Ingredients:
1 1/2 cups dried plums (prunes) (190 grams)
1 cup rolled oats (GF certified if necessary) (90 grams)
1/2 dried unsweetened shredded coconut (50 grams)
2 tablespoons chia seeds
2 tablespoons raw cashews
1/2 teaspoon ground cinnamon
1/4 teaspoon pink salt or sea salt
4 ml Populum 500mg CBD oil, orange or unflavored (4 dropperfuls or approx. 3/4 teaspoon)
---
Instructions:
In a food processor or high speed blender combine all ingredients except CBD oil. Pulse until evenly combined and clumpy.
Add CBD oil. Pulse a few times until evenly incorporated.
Enjoy!
---
Nutrition:
Serving: 1 serving/bowl
Fat: 24 grams
Calories: 344
Carbs: 29 grams
Fiber: 8.1 grams
NOTE: Please see 'Tips' above in the blog post for suitable substitutions, storage advice and more!
Shop This Recipe
Pin it for Later