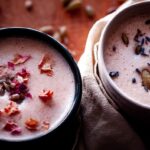 Print Recipe
What is Seed Cycling? + Moon Milk Recipes for Hormone Health
These vegan moon milk recipes make a perfectly healthy, easy and delicious way to balance your hormones with the use of seed cycling for hormone balance. These seed cycling moon milk recipes contain powerful nutrient-dense ingredients such as sunflower seeds, pumpkin seeds, rose petals, cardamom, cinnamon, coconut oil and lavender to complement your follicular and luteal reproductive phases to bring you more in sync with the phases of the moon and restore healthy menstrual cycles!
Base Moon Milk recipe ~

2

cups

unsweetened vanilla almond milk

1

teaspoon

ground cinnamon

1/4

teaspoon

ground cardamom

1/2

teaspoon

coconut oil

unrefined

1/8

teaspoon

pink himalayan or sea salt

1

teaspoon

maple syrup or raw honey

optional

Follicular Phase Lavender Moon Milk ~

2

tablespoons

pumpkin seeds

1

tablespoon

rolled oats

gluten-free if necessary

1

teaspoon

culinary grade lavender buds

Luteal Phase Rose Moon Milk ~

2

tablespoons

sunflower seeds

1

teaspoon

culinary grade rose petals
In a large bowl combine the base moon milk recipe ingredients plus either the follicular, or the luteal phase ingredients, dependent upon your current cycle.

Soak the ingredients for 45 minutes.

In a high speed blender or food processor add soaked ingredients and blend for 10-20 seconds or until frothy.

Strain the moon milk through a cheesecloth or nut milk bag (or leave as is if you do not mind sediment settling in the bottom of your cup).

Heat the moon milk on the stovetop over medium-low heat until warmed througout.

Enjoy!
Please see the 'Tips' section above in the post for valuable information!
More MOON MILK RECIPES.
Serving:
1
cup
|
Calories:
409
kcal
|
Carbohydrates:
40
g
|
Protein:
17
g
|
Fat:
16
g
|
Saturated Fat:
6
g
|
Polyunsaturated Fat:
9
g
|
Cholesterol:
29
mg
|
Sodium:
1737
mg
|
Fiber:
3
g
|
Sugar:
14
g