Caraway Cookware Review
This post may contain affiliate links, and we receive an affiliate commission for any purchases made by you using these links. We appreciate your support!
My honest Caraway Cookware review. Caraway cookware comes in 4-piece set with pot and lid storage included.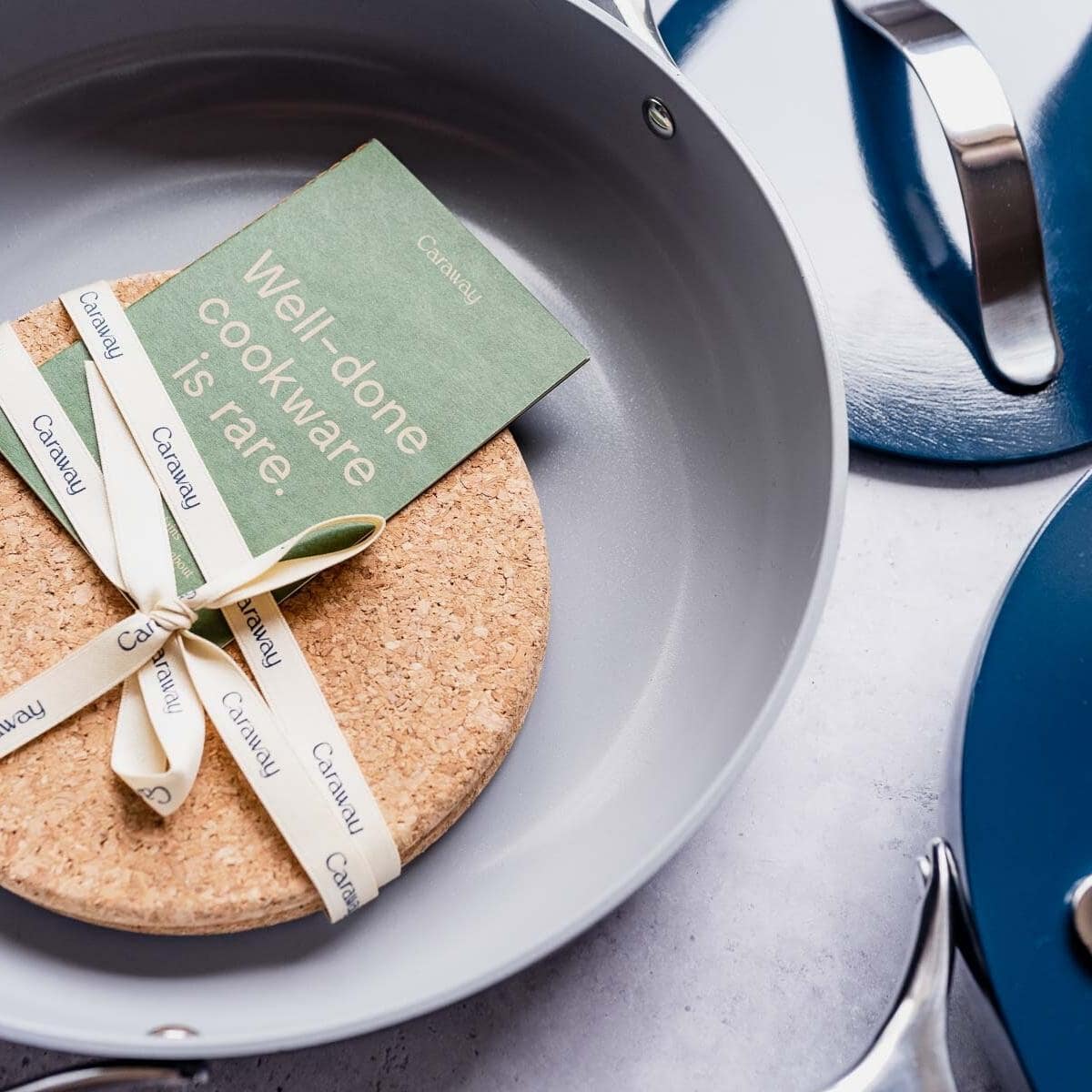 Caraway
Caraway crafts cookware and bakeware designed to make lives both easier and healthier. They are on a mission to create well-crafted, well-designed home goods that elevate the standards of what consumers cook with. Their products release 60% less CO2 into the environment compared to conventional non-stick coatings used in most cookware. Bonus: all products are packaged in recycled and biodegradable materials free of single-use plastics.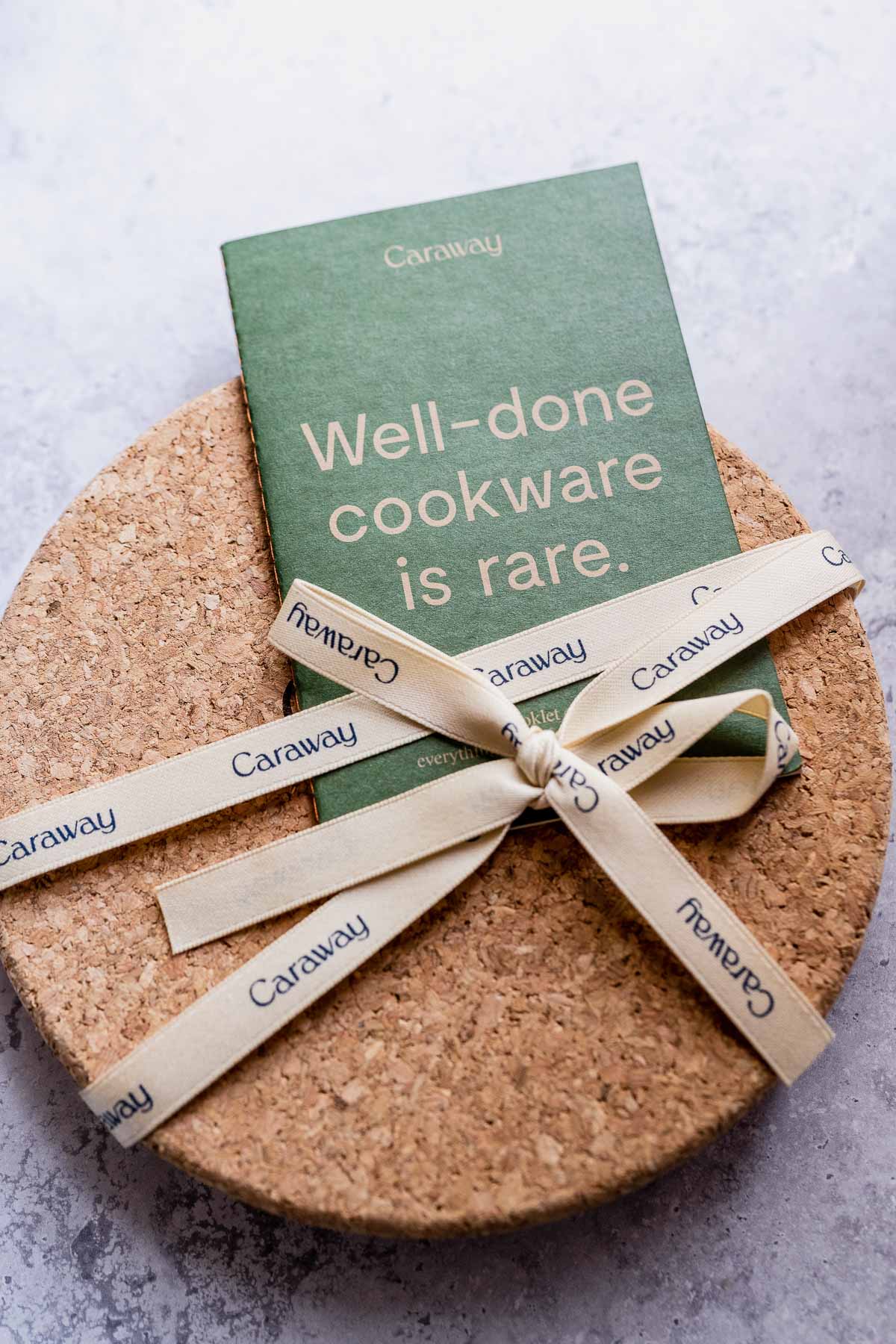 Is Caraway Cookware Nontoxic?
Yes. Caraway Cookware is made without the use of toxic materials, all while having a naturally slick surface perfect for easy cooking.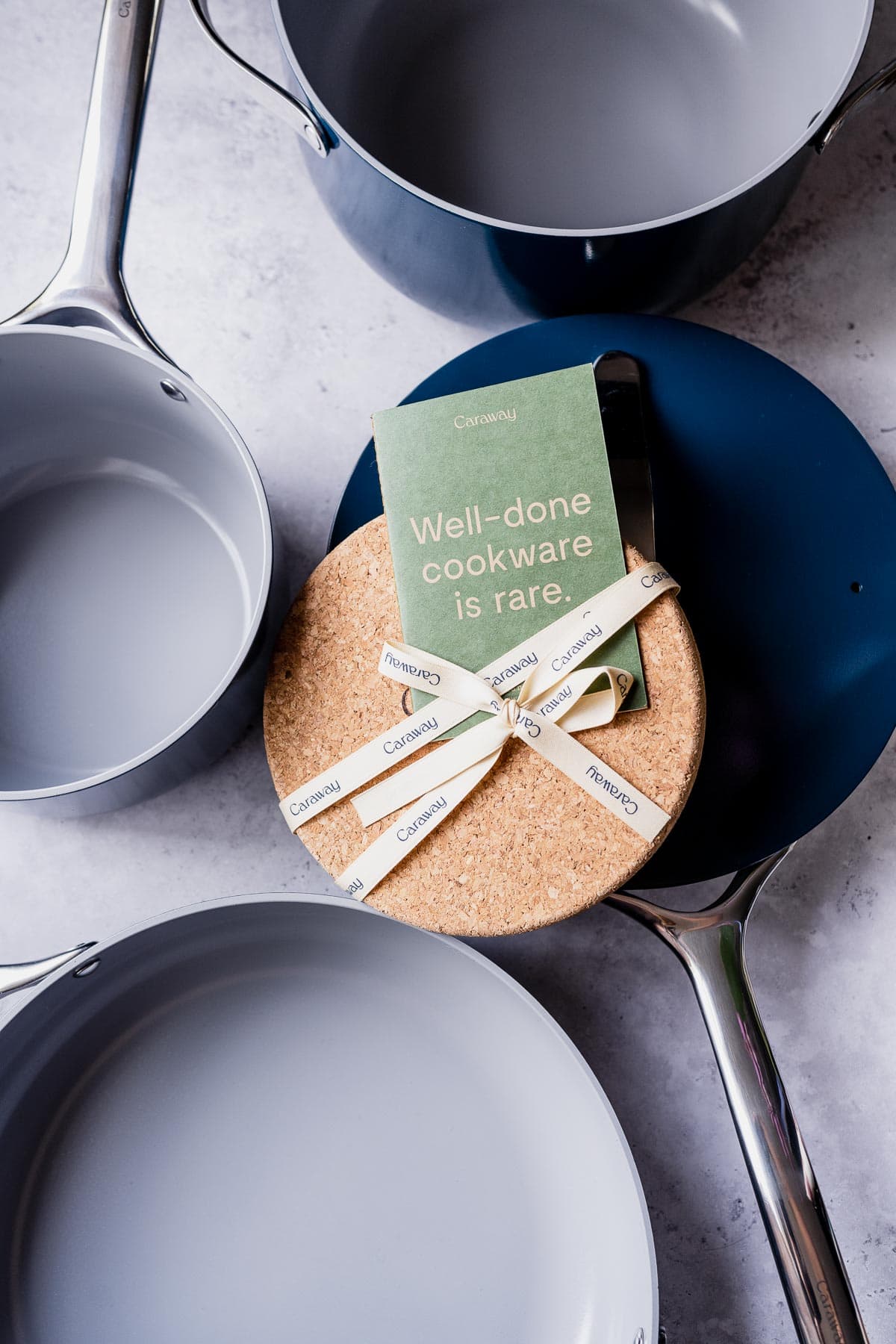 What are Caraway Pans Coated With?
Caraway pans have a high-quality ceramic-coated aluminum surface free of toxic materials.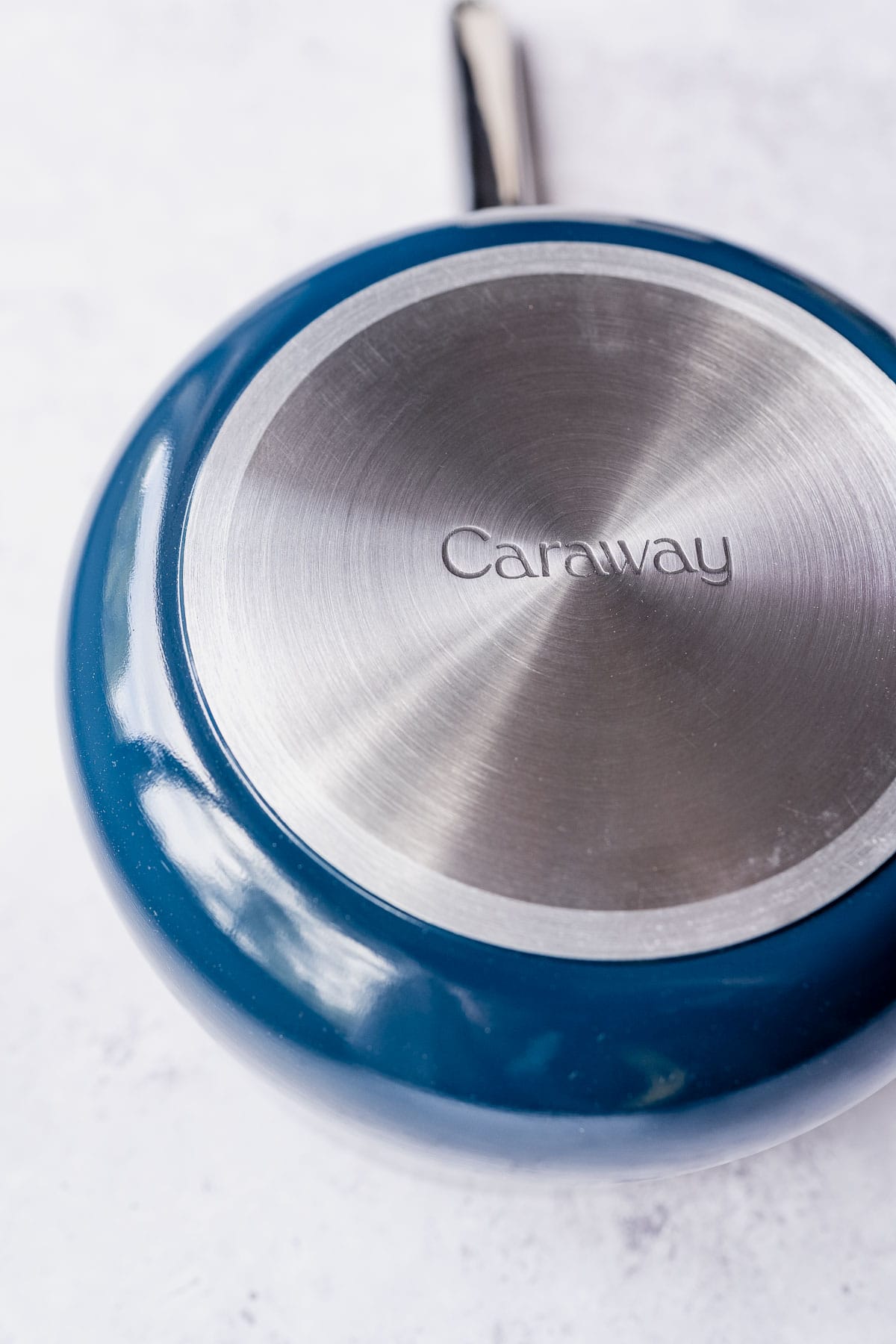 Is Caraway Cookware PTFE Free?
Yes. Caraway Cookware is free of PTFE (as found in Teflon), as well as cadmium, lead and other toxic materials commonly found in cookware.
Is Caraway Dishwasher Safe?
Due to the harsh nature of a dishwasher and the detergents used, it is recommend to gently hand wash Caraway Cookware with soap and water. Bonus: the ceramic coating is super easy to clean!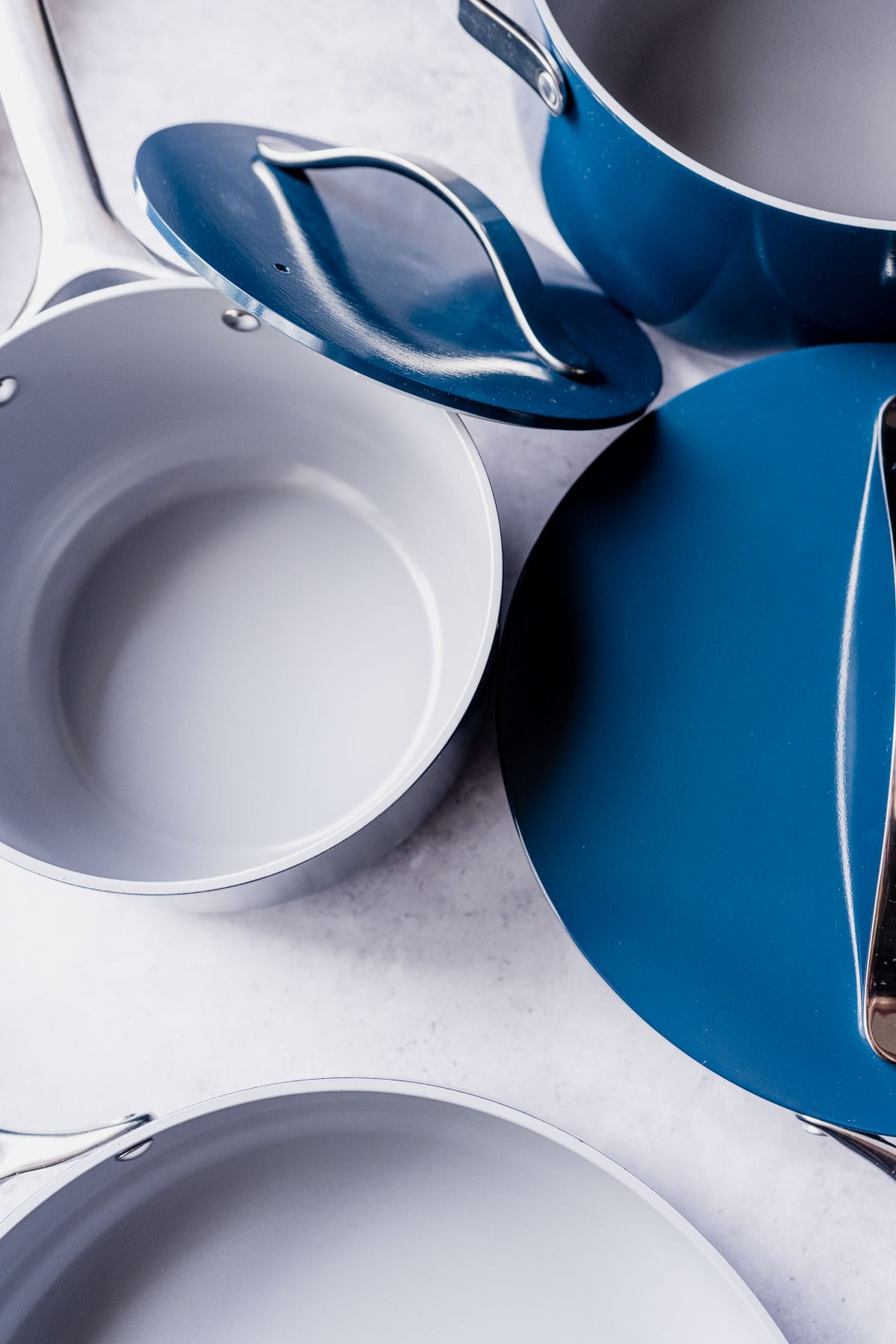 Caraway Cookware Set
What's included:
Magnetic pan racks.
Canvas lid holder.
10.5″ fry pan.
3-quart sauce pan.
4.5-quart sauté pan.
6.5-quart dutch oven.
Cork trivets (hot pads).
Features:
Non-toxic ceramic surface oven an aluminum core.
Stainless steel handles.
Storage system.
Oven safe up to 550°F.
Safe for use on gas, electric and induction stovetop burners.
Arrives in sustainable packaging.
Free of PTFE, PFOA, heavy metals and other PFAs.
Color options:
Cream.
Navy.
Gray.
Sage.
Perracotta.
Marigold.
Brick red.
Check out the Caraway Cookware set.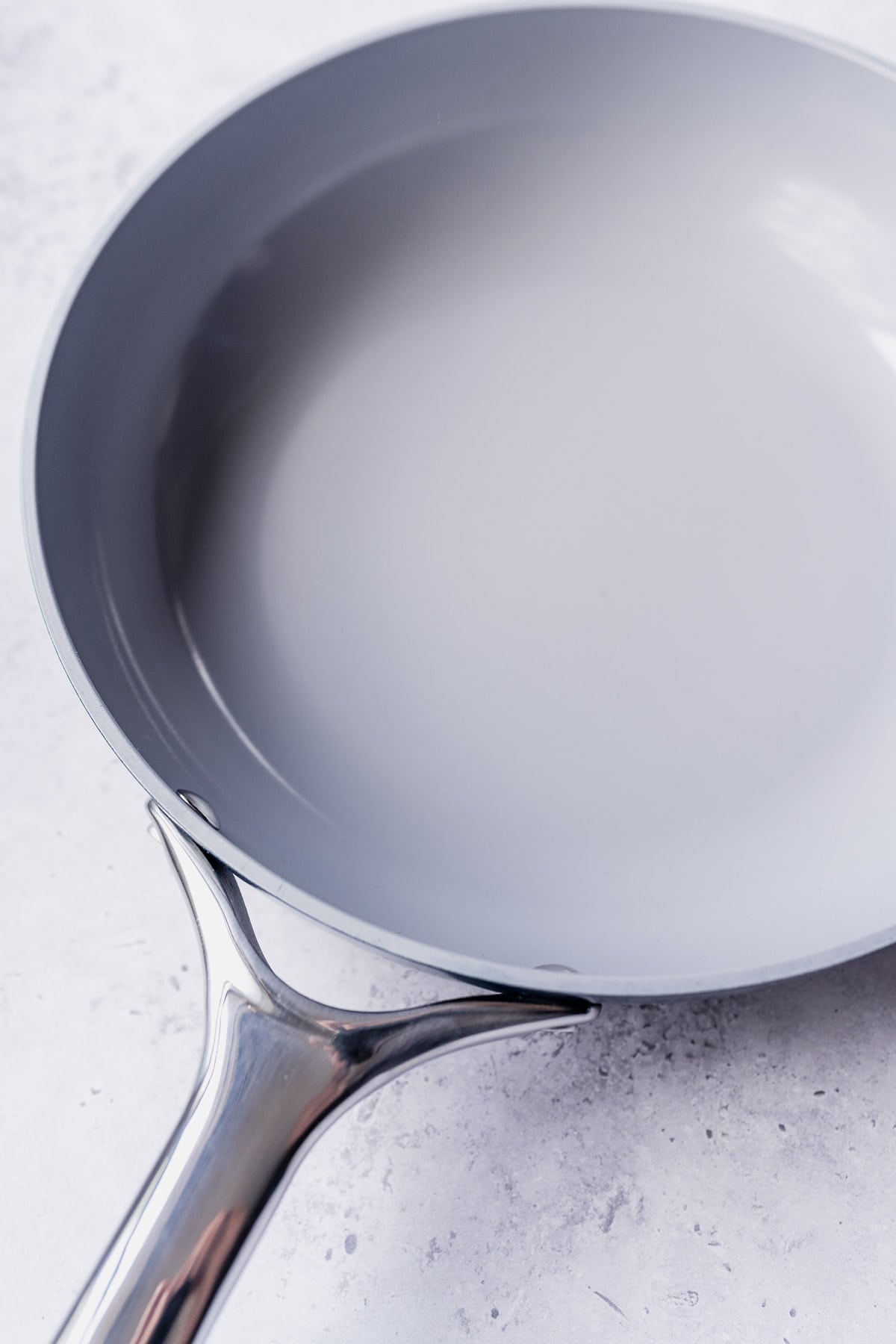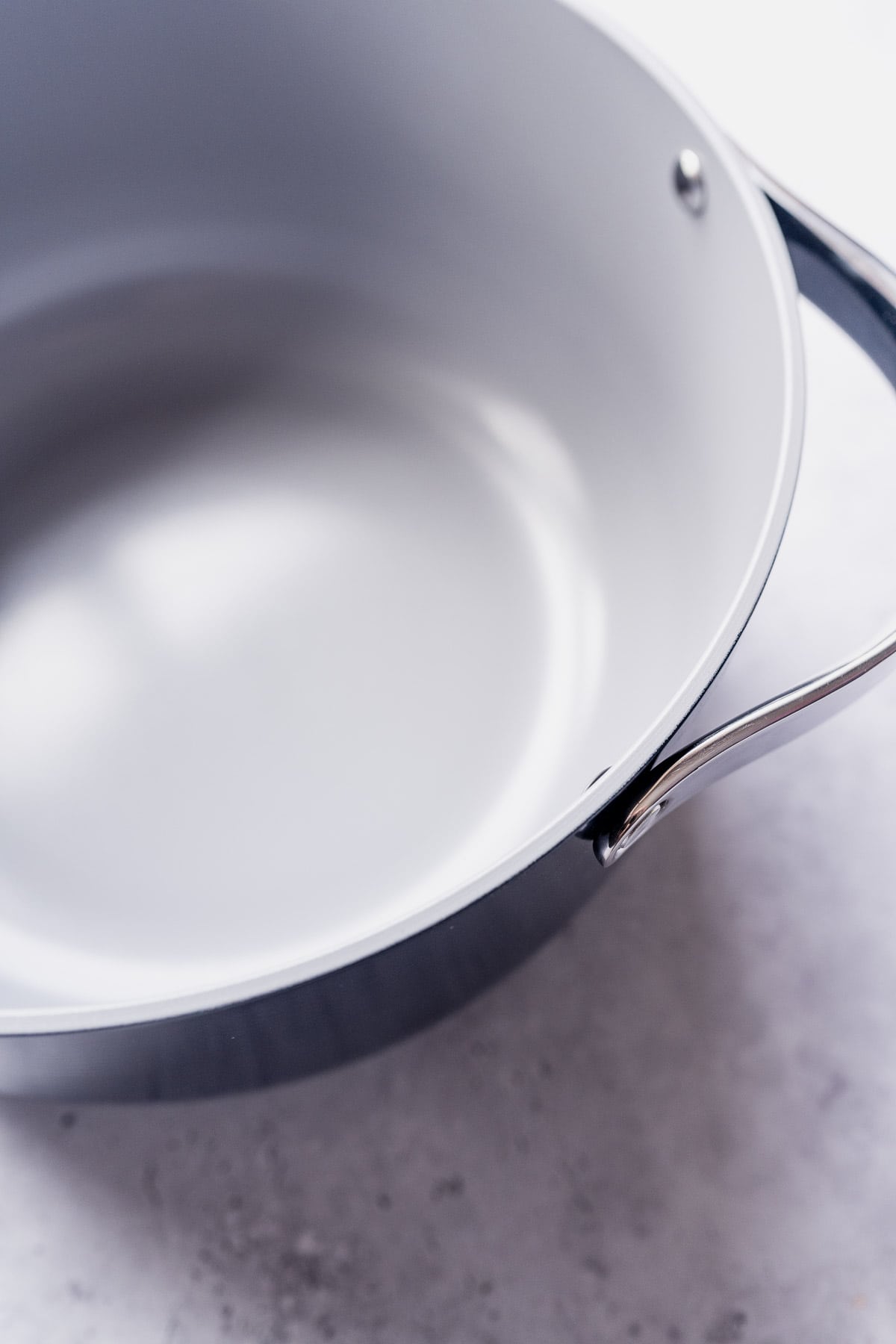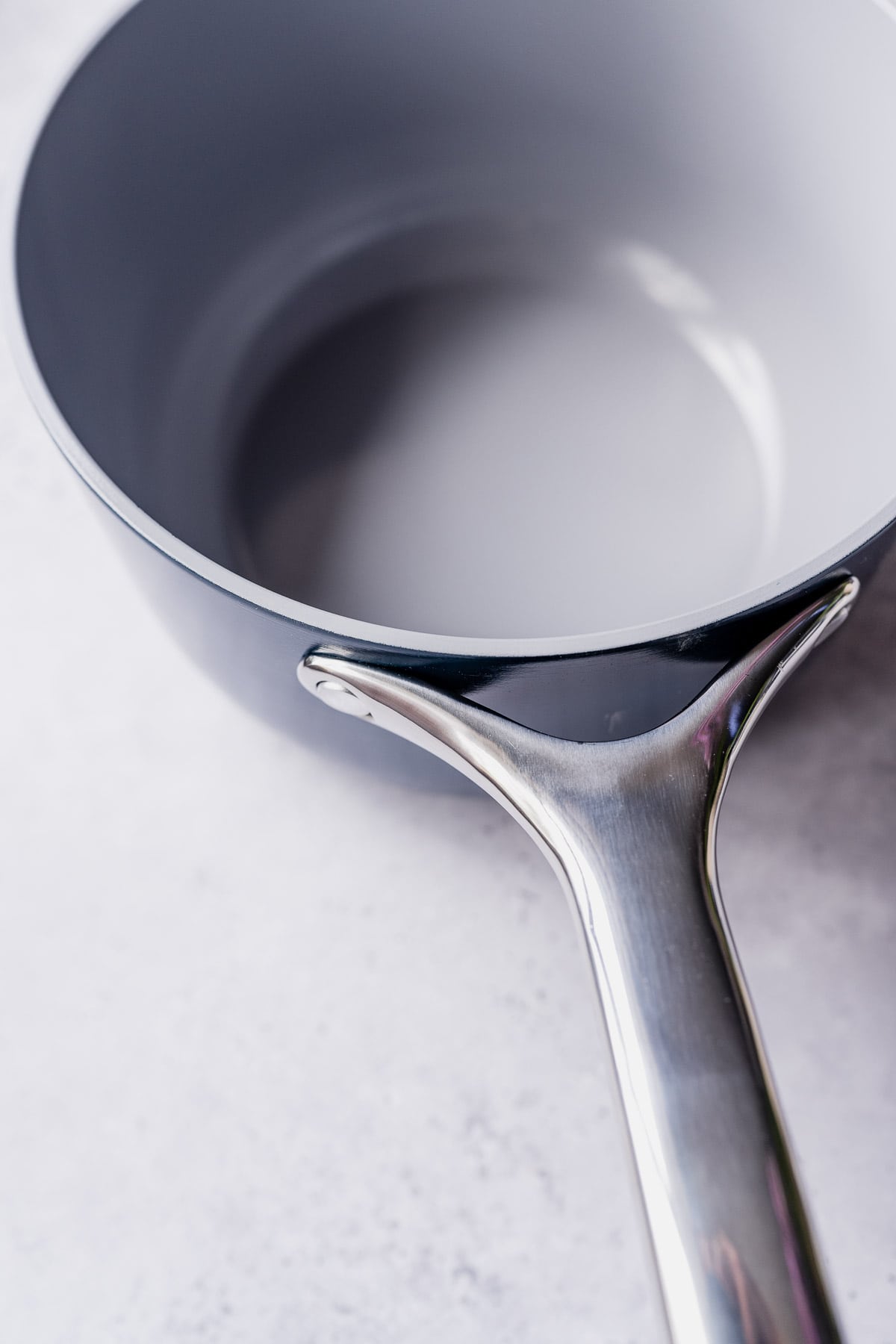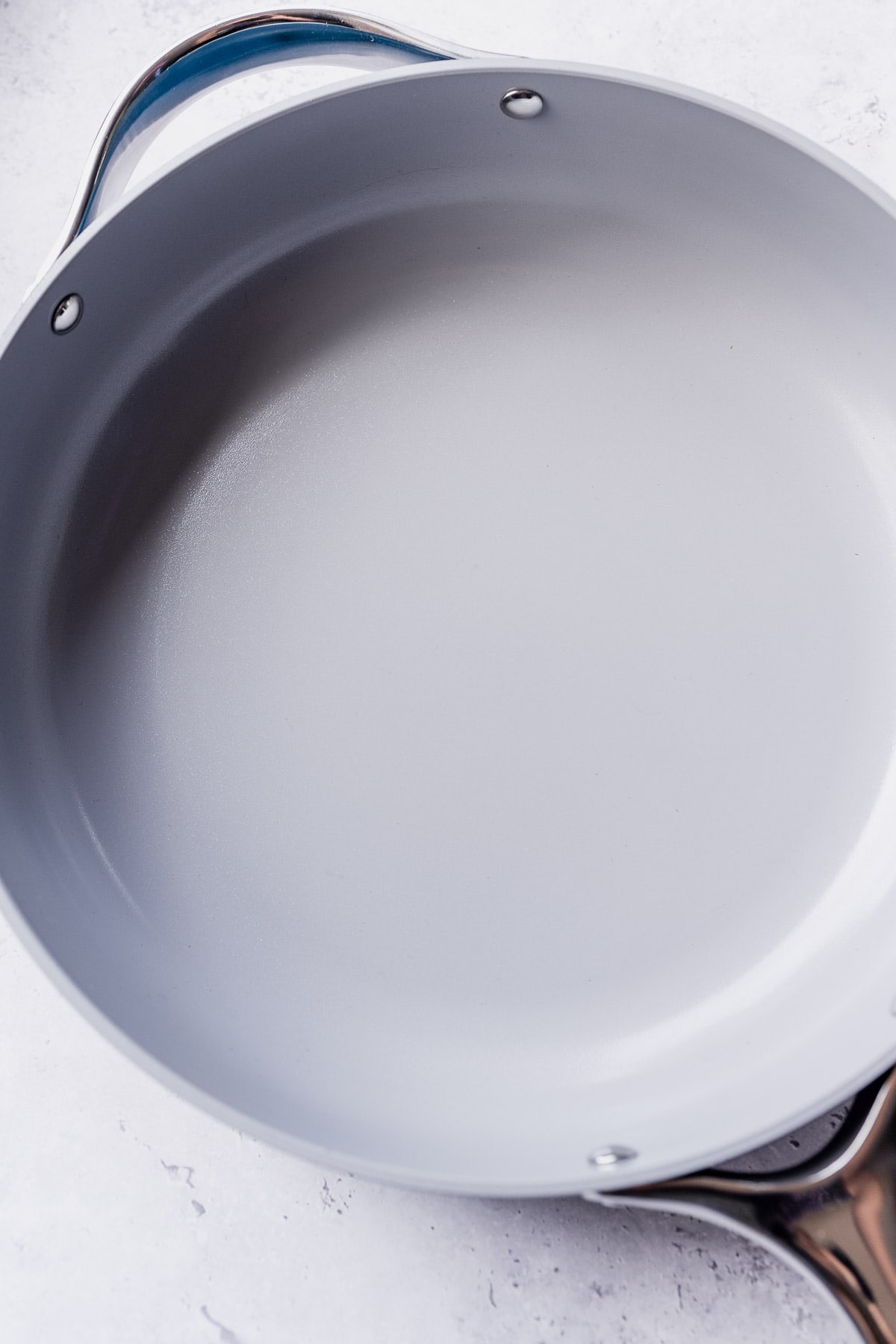 My Experience
I was sent the Caraway ceramic cookware set in Navy and was immediately impressed by how well packaged the set was, as well as the fact that a storage system was included. As someone who isn't particularly organized, this scored bonus points from me!
The pieces feel sturdy and durable and have a bit of weight to them, but not too much so. The ceramic non-stick coating is silky smooth to the touch and the exterior paint is absolutely stunning in person.
It is the most beautiful set of cookware I've ever owned and once I put it to the test, I was won over. I made my son some scrambled eggs over medium heat and the pan cooked like a dream. Even cooking, no sticking — all a win!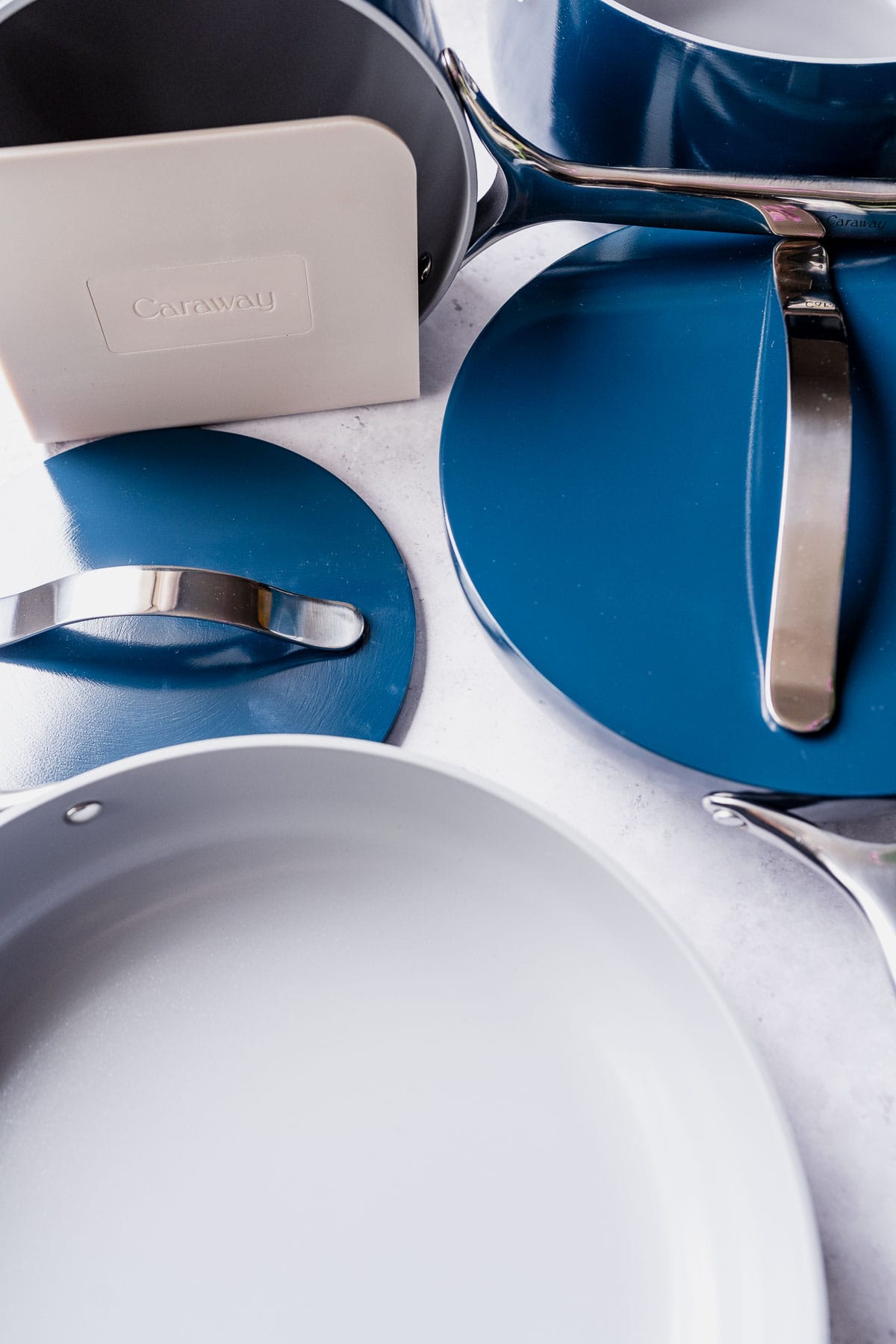 In Conclusion
If you are looking for a healthy, non-toxic cookware set free of toxic metals and chemicals, I could not recommend you purchase Caraway enough! This is the nicest set I've been honored to cook with both in terms of design and function. I look forward to trying their bakeware set next!