Easy Acai Bowl Recipe
This post may contain affiliate links, and we receive an affiliate commission for any purchases made by you using these links. We appreciate your support!
Acai berries are known for their wonderful antioxidant content. This acai bowl recipe is easy to make for a healthy breakfast or snack anytime.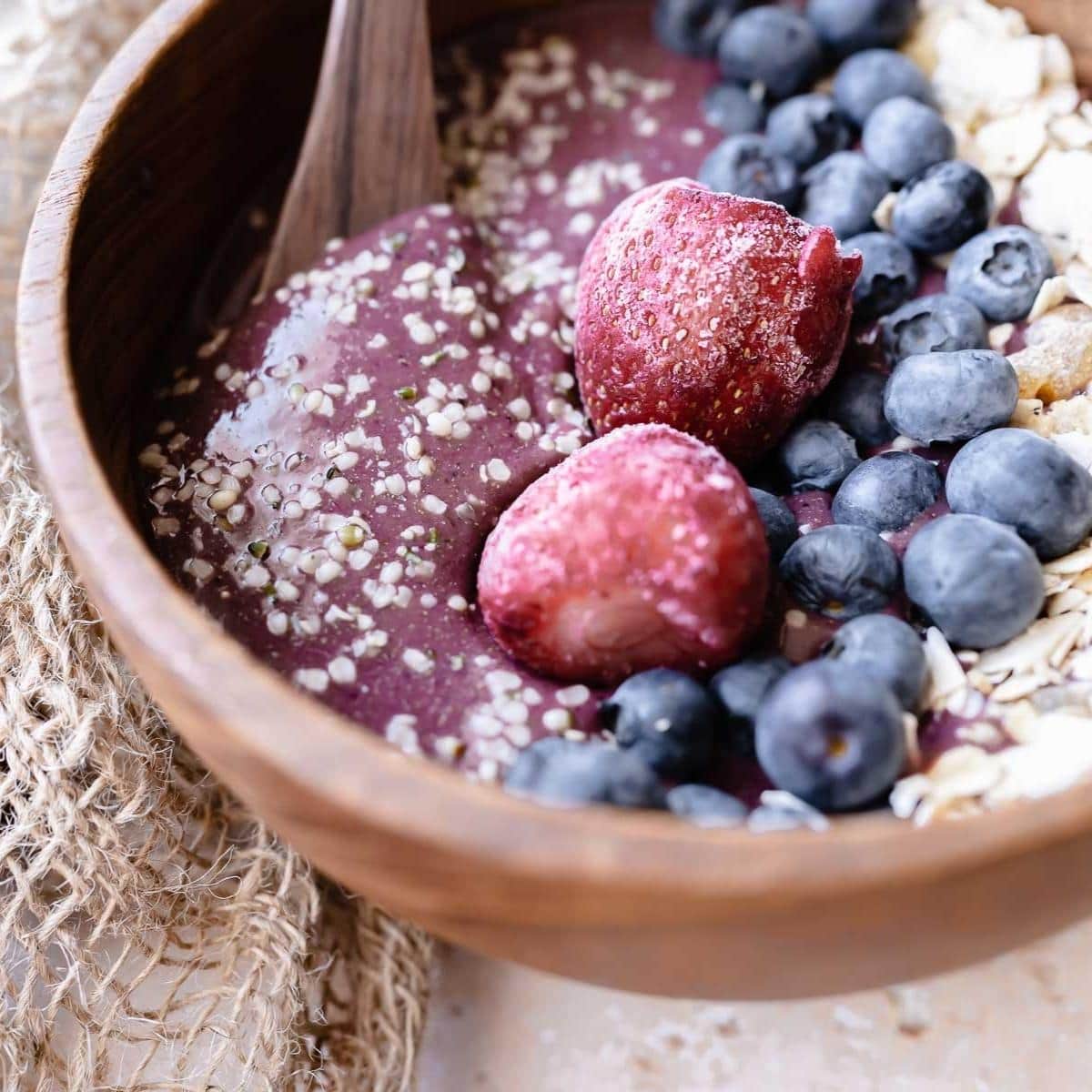 Treat yourself to a fancy and nutritious breakfast with this Easy Acai Bowl recipe. With a rich blend of acai puree, mixed berries, and all your favorite toppings, this Acai Bowl is definitely a superfood. Filled with delicious flavor as well as with vitamins and antioxidants, it's just what we need for a healthy start every morning. What's even better is that this recipe can be made with a few simple steps.
Popular for its nutritional benefits, as well as how easy it is to prepare, acai bowls have become the food of choice for different types of people – whether for breakfast, snack, dessert, or an on-the-go bite.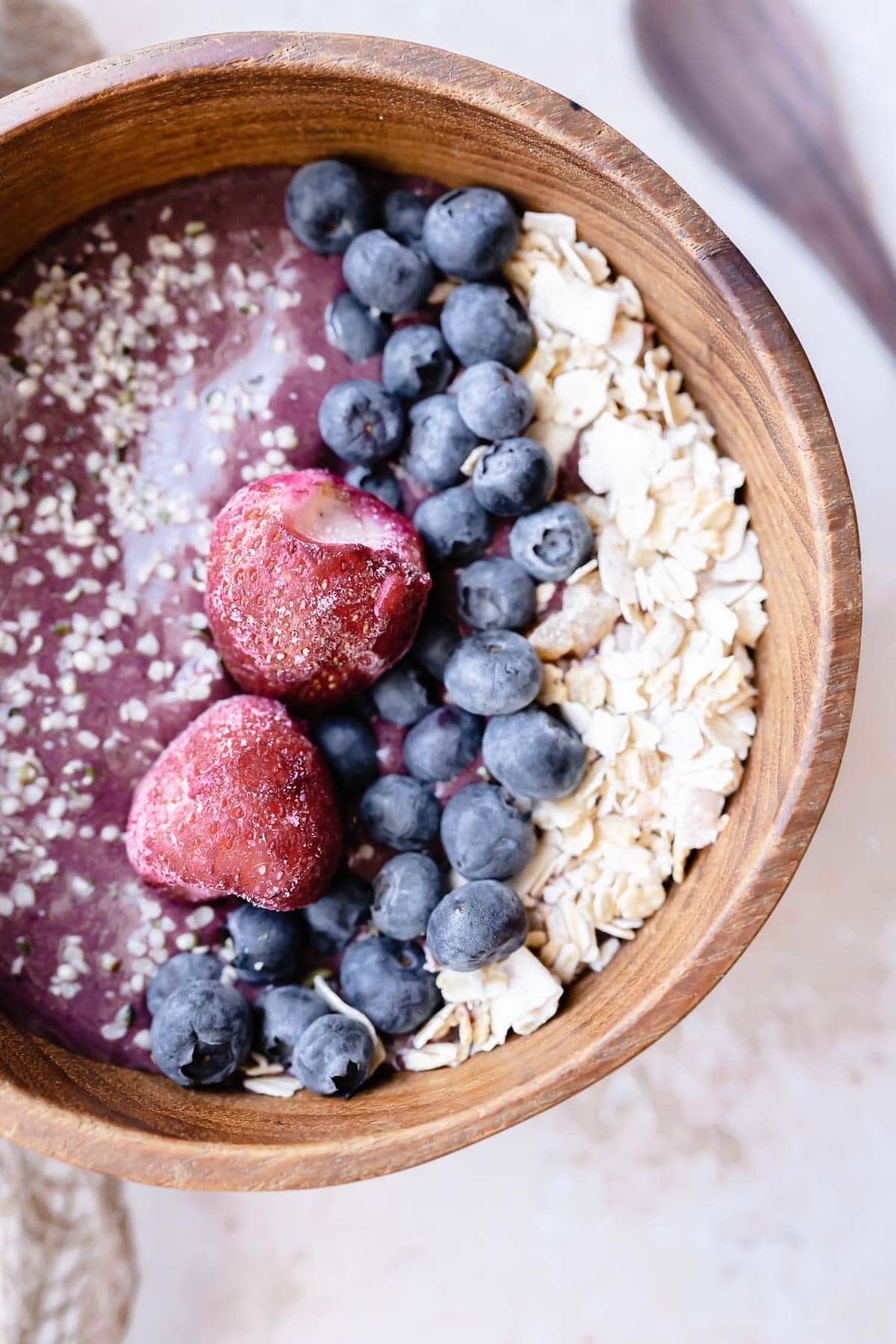 ❤️ Why You'll Love This Recipe
Acai bowls are surprisingly easy to make. All you really need is a blender and a bowl, plus your topping of choice. This recipe, in particular, builds on the nutritional value of the main fruit by adding in a variety of, well, mixed berries.
Think strawberries, raspberries, blueberries. It's all about the vitamin content, on top of an already amazing flavor profile. You can even go crazy on your topping game!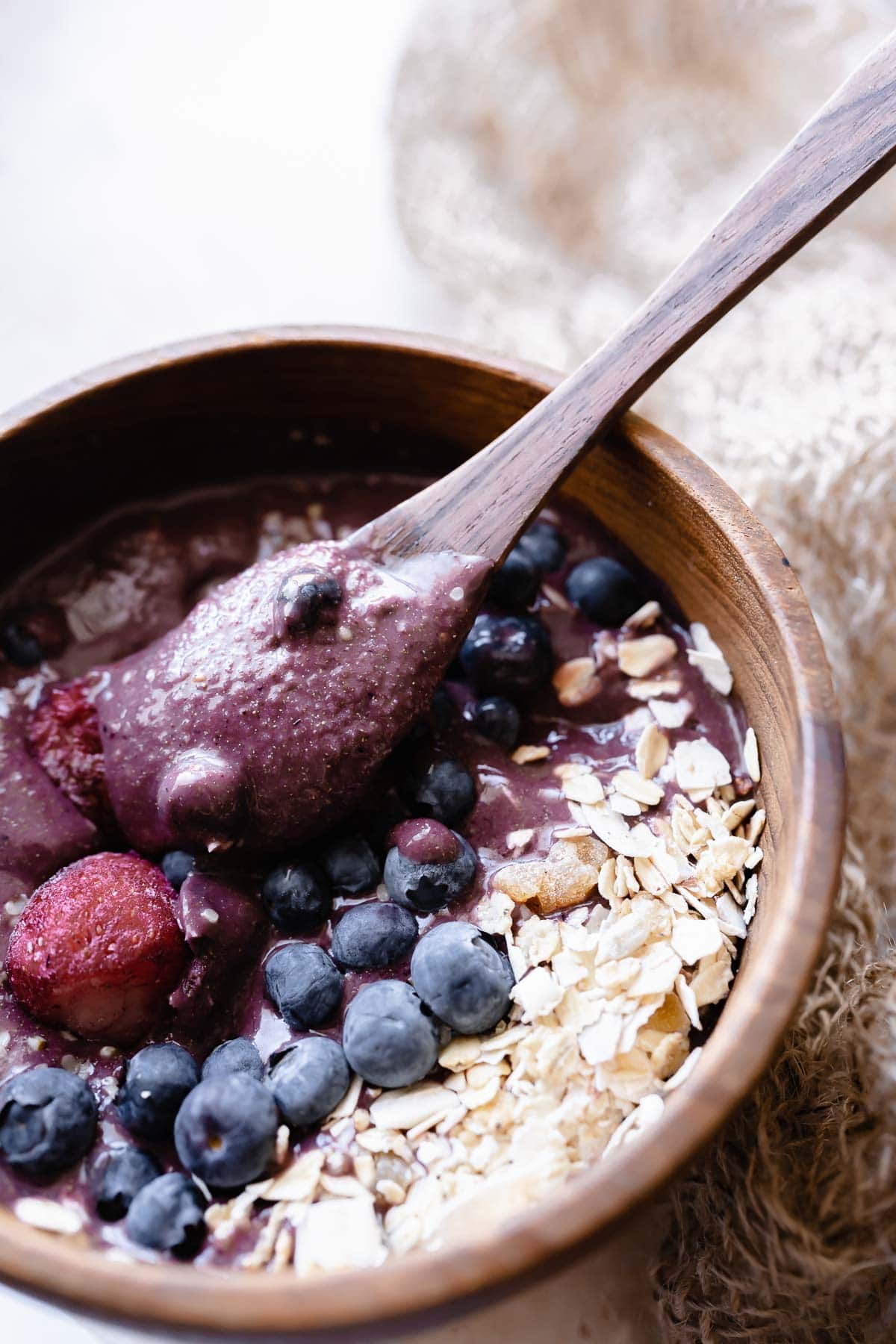 🫐 What is Acai?
Acai (pronounced ah-sigh-EE) has become a staple in healthy eating. But what exactly is it? Although it is often called Acai berry, it's not technically a berry. Like peaches, mangoes, and apricots, the acai has a pit, which means it's considered a drupe or a stone fruit. It's also something of a superfruit, known for its unique nutritional profile: it's high in fat, low in sugar, and packed with antioxidants. With a dark purple color and yellow flesh, it tastes a bit like blackberries and chocolate.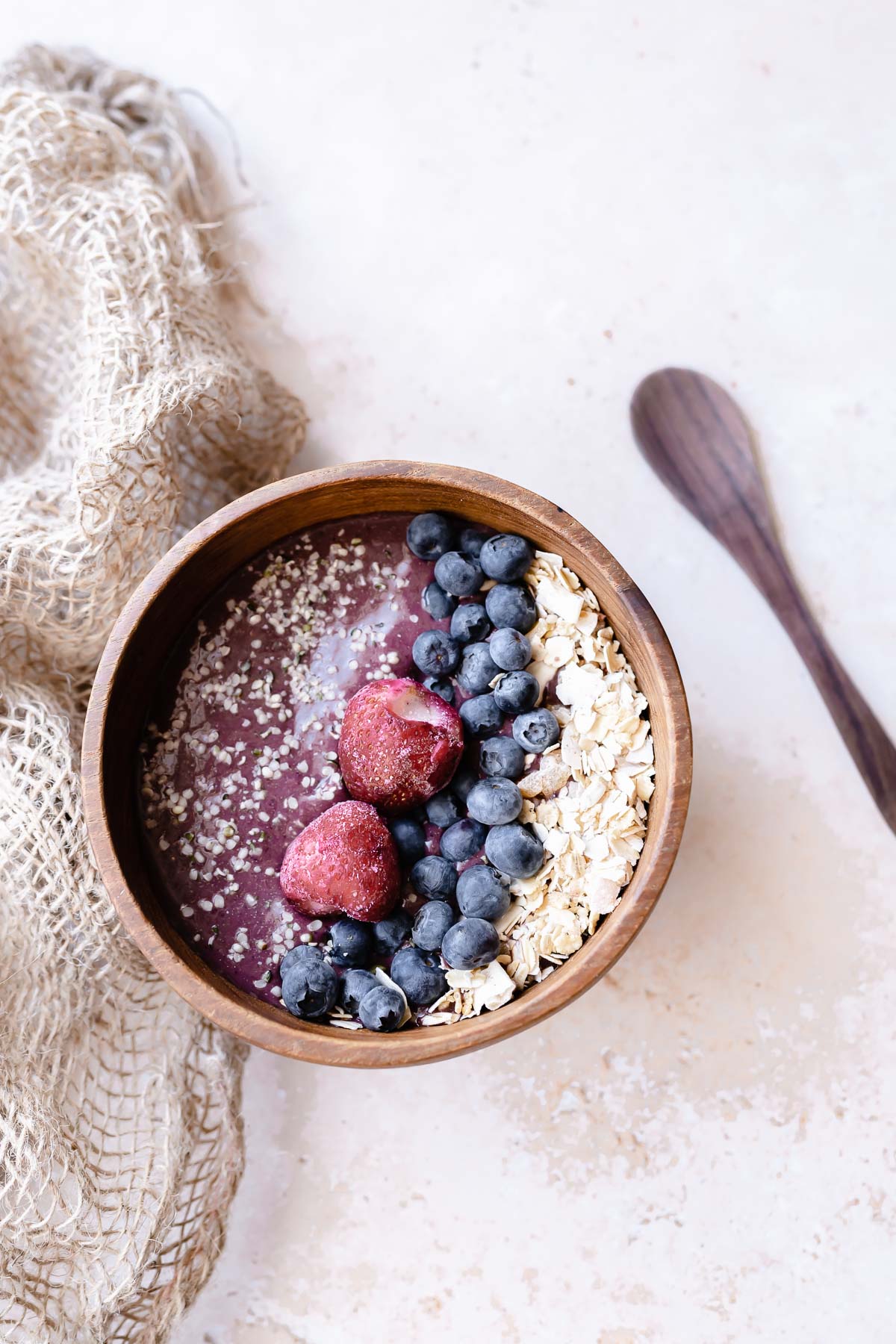 🗒️ Acai Bowl Ingredients
When throwing together my acai bowl, I tend to go for ease and nutrition, without sacrificing flavor. I use ingredients I find in my own pantry or fridge which make this bowl incredibly easy to put together. Don't be afraid to experiment and use different toppings to keep a sense of spontaneity and fun on what goes into your bowl!
Frozen mixed berries – For this recipe, I use a mix of blueberries, raspberries, blackberries, and strawberries. Frozen fruits are no less nutritional than fresh fruit. Because they're frozen immediately, they get to keep their nutritional value.
Frozen acai packet – The best thing to use for your acai bowl is frozen acai puree. I like to use the unsweetened acai puree from the Sambazon brand. I've found that these packets in particular make customizing particularly easy, because you get to decide on the overall sweetness level of your bowl. That's keeping in mind you may want to add other sugar sources for your toppings.
Frozen banana – I usually add a banana to my acai bowl for the added health benefits. It's a wonderful source of fiber and potassium, and has been found to help lower blood pressure.
Plant-based milk of choice – It doesn't matter much what type of plant-based milk you use. The fun in making these acai bowls is the level of control you have over your own bowl. I use ½ cup of oat milk for mine for that added complexity. Another tried and tested option is almond milk or coconut milk. You can even use juice if that's your jam. The important thing is that there is that touch of liquid added to assist in the blending process and to get the mixture just right.
Vanilla extract or vanilla bean powder – For this bowl, I usually add a bit of vanilla extract (or vanilla bean powder, whichever is available). That hint of vanilla makes for a more complex profile, cutting through the sweet and tangy mix of berry. I've found that it adds a depth to the bowl that enhances the mix of flavors already in it.
Assorted toppings of choice – Once you have the rest settled, you can choose any kind of topping you want. I usually add nut butter, chia seeds or flax seeds, muesli, coconut flakes, even fresh fruit (or frozen fruit). Of course, you don't have to settle for these toppings. You can use anything from almonds and chocolate chips to a drizzle of honey for that extra sweetness.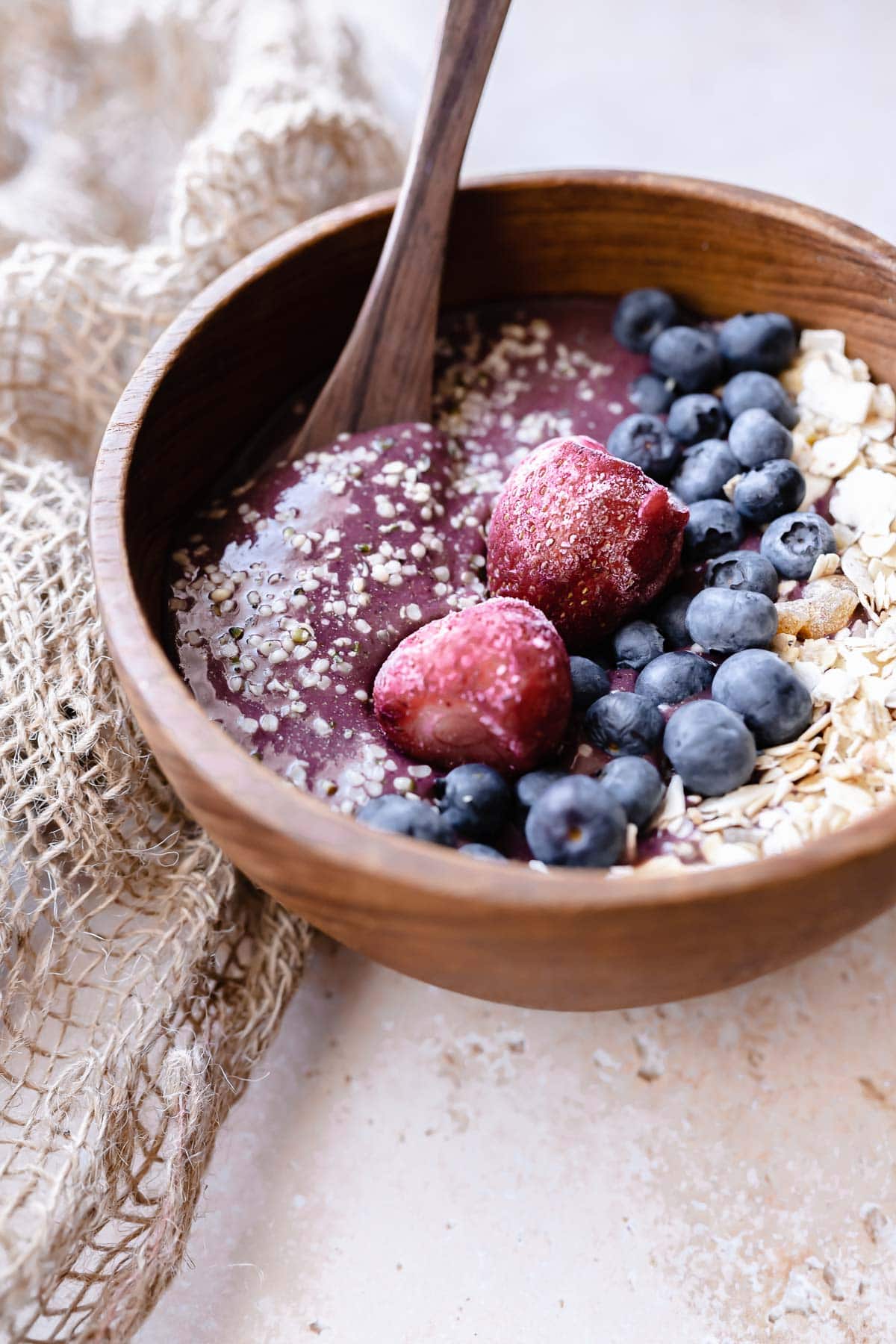 🍓 Topping Ideas
Nut butter – Out of ideas? A dollop (or two) of peanut butter is your easiest bet. But you can also opt for other versions of the staple. Almond butter is one great alternative!
Sliced fruit – You can't go wrong with sliced fruit. Bananas, kiwi, mango, even strawberries. Just because you've already used it in your base doesn't mean you can't add more.
Granola – Adding granola not only makes your bowl taste better, it also adds that added crunch to vary the texture of your acai smoothie bowl.
Chocolate – Who doesn't like chocolate? Use your standard chocolate chips, or go all fancy and add cacao nibs. These toppings complement the existing flavors in the acai.
Nuts – Like granola, this option adds a crunch (and a bit of protein) to your bowl. Think almonds or chopped pecans. Another alternative is to go with seeds. Flax, chia, pumpkin. Your choice!
Protein powder – Are you used to adding protein powder to your morning smoothies? Try mixing it into a freshly made acai bowl for that extra boost.
🔪 How-to Make Acai Bowl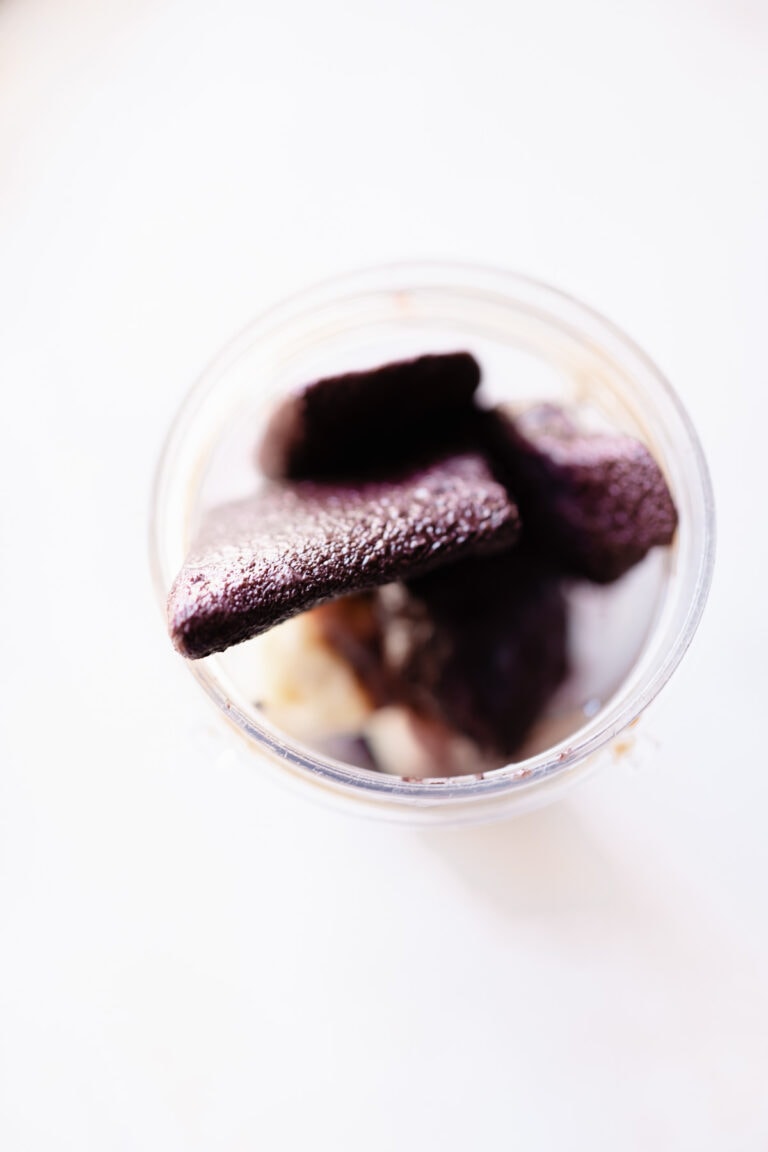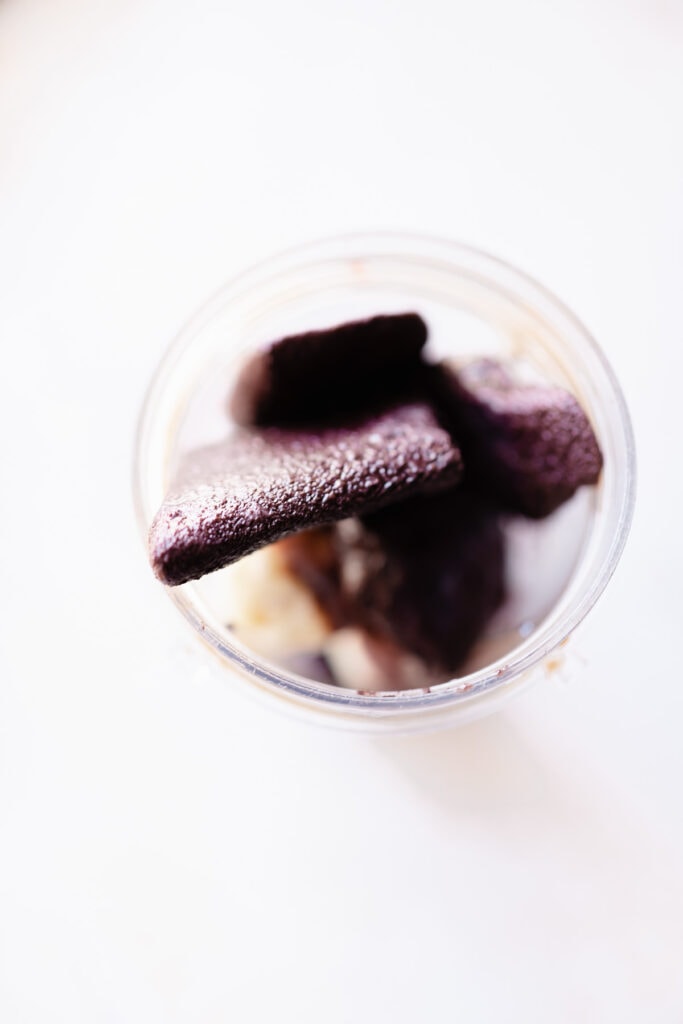 For your base, combine your berries, acai packet, banana, milk, and vanilla extract in a blender and blend until smooth. You can also use a food processor in place of a blender.
Pour into a bowl, and add your toppings of choice.
And voila! Your very own acai bowl.
💭 Top Tip
While you can use acai powder for your bowl, this acai recipe works best with frozen acai puree. The latter makes for a creamier and smoother bowl. Think smoothie! Using acai powder makes it a tad more difficult to achieve this texture, which I've found to be one of the more understated treats of the acai bowl.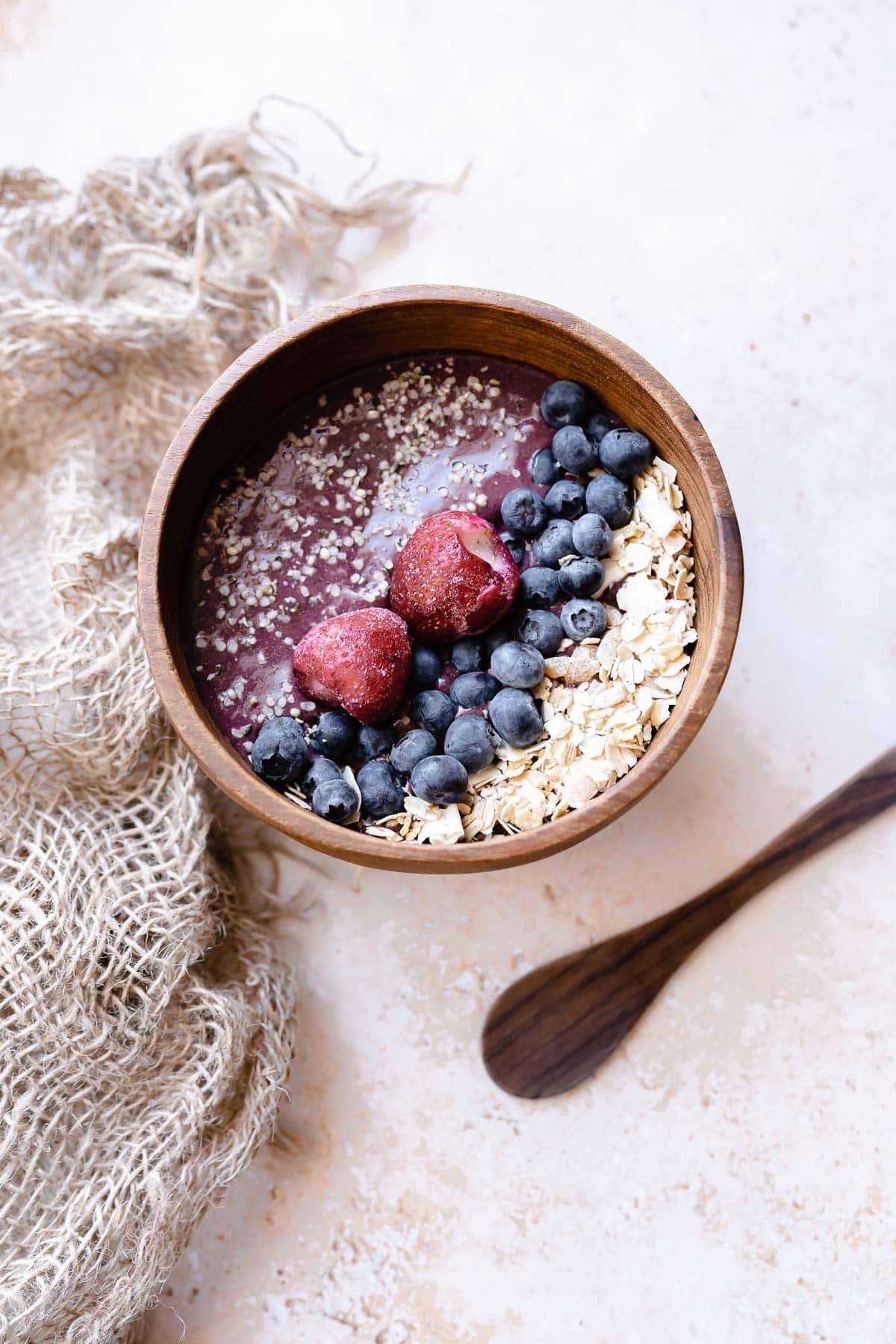 ❓ FAQ
Are acai bowls healthy?
Absolutely! Acai is loaded with antioxidants, and they're also a great source of fiber and healthy fats. Just watch out for the added sugar! Acai already has its natural sweetness, so go light on your toppings.
Can I freeze my acai bowl?
Sure! To prepare your Acai Bowl in advance, you can blend your ingredients, and then store it in an airtight container in the freezer. When ready to eat, thaw and then add the toppings. It might turn out less creamy, but it will still be delicious.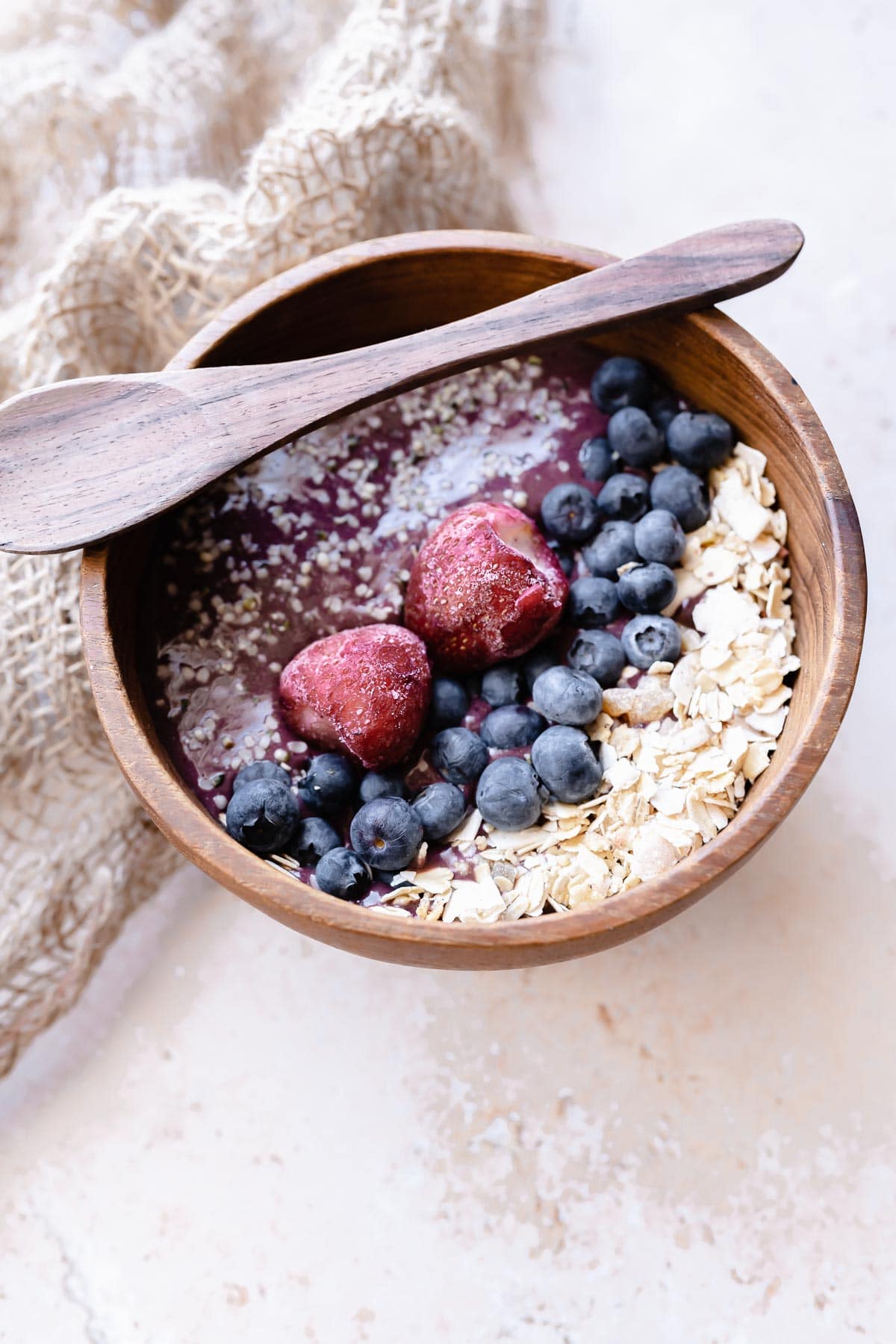 🥣 More Smoothie Bowl Recipes You Might Love
Watermelon Papaya Smoothie Bowl
Green Dragon Fruit Smoothie Bowl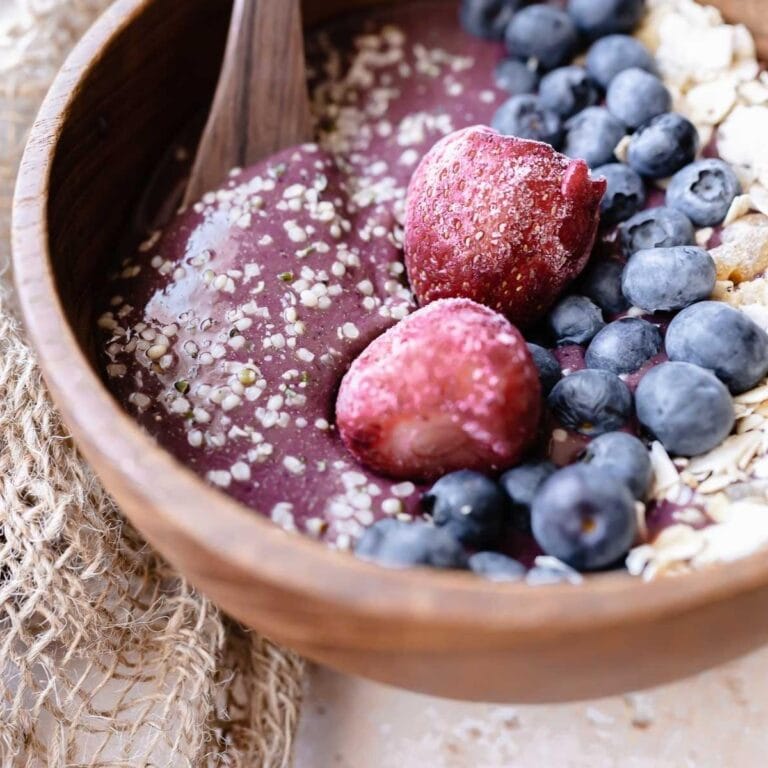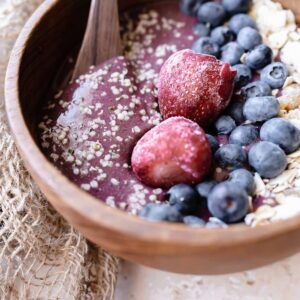 Acai Bowl Recipe
Acai berries are known for their wonderful antioxidant content. This acai bowl recipe is easy to make for a healthy breakfast or snack anytime.
Print
Pin
Rate
Ingredients
1

cup

frozen mixed berries

I use a mix of blueberries, raspberries, blackberries and strawberries

1

100-gram

frozen acai packet

I like to use Sambazon unsweetened acai puree packets

1

frozen banana

1/2

cup

plant-based milk of choice

I like to use oat milk

1

teaspoon

vanilla extract or vanilla bean powder

Assorted toppings of choice

nut butter, seeds, granola, muesli, coconut, fresh fruit, etc.
Instructions
In a food processor or blender, combine the berries, acai puree, banana, milk and vanilla. Blend until smooth and creamy.

Pour into a bowl, then add toppings of choice. Enjoy!
Nutrition
Serving:
1
acai bowl
|
Calories:
260
kcal
|
Carbohydrates:
58
g
|
Protein:
4
g
|
Fat:
3
g
|
Saturated Fat:
1
g
|
Polyunsaturated Fat:
1
g
|
Monounsaturated Fat:
1
g
|
Sodium:
60
mg
|
Potassium:
572
mg
|
Fiber:
8
g
|
Sugar:
37
g
|
Vitamin A:
394
IU
|
Vitamin C:
14
mg
|
Calcium:
191
mg
|
Iron:
1
mg
Have you tried this recipe?
Please Rate + Comment Below!
Watch Our Latest Videos
Follow us on YouTube!