Air Fryer Popcorn
This post may contain affiliate links, and we receive an affiliate commission for any purchases made by you using these links. We appreciate your support!
Super light, fluffy and flavorful Air Fryer Popcorn recipe! Making popcorn in an air fryer could not be easier or more delicious. You'll never make it any other way after trying this air fried version!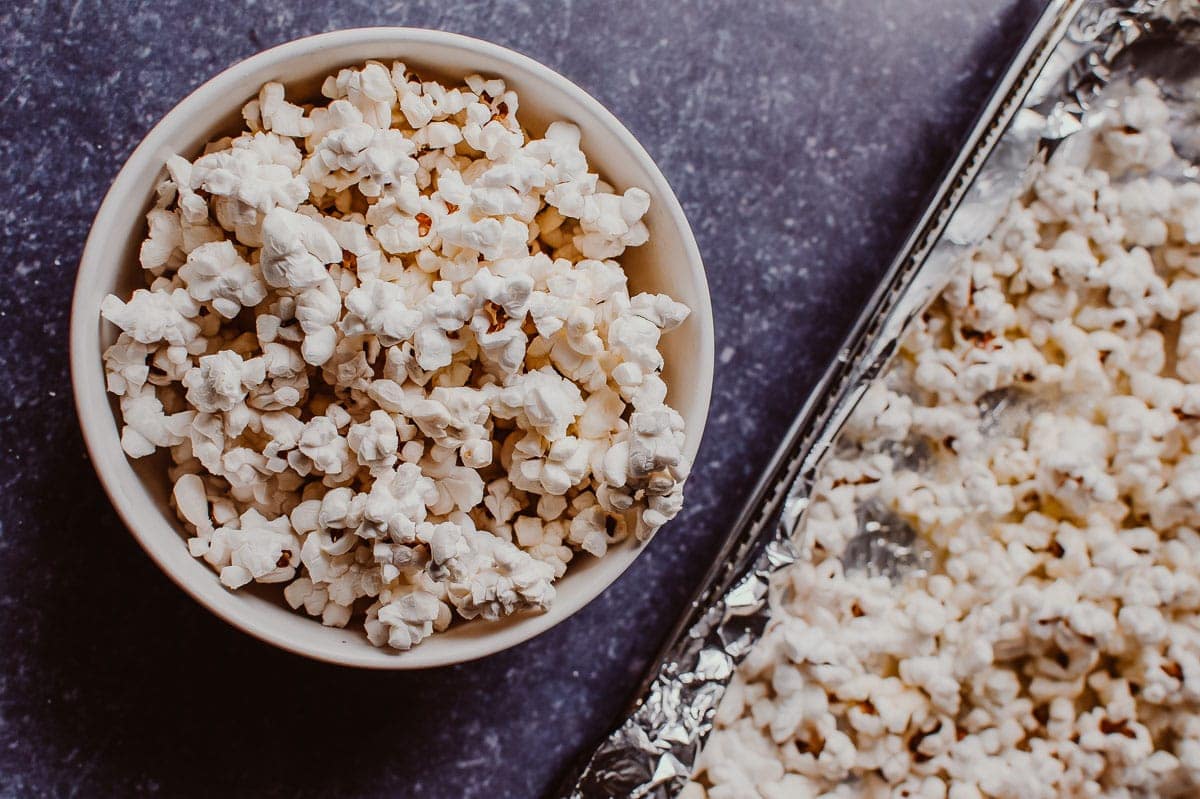 Every once in a while we call it a popcorn-for-dinner night and I highly recommend you give it go! This beats the movie theater variety any day! Gratefully, it couldn't be easier to get your popcorn fix with an air fryer in tow. Popping corn in an air fryer is EASY. Bonus: it comes out significantly more fluffy and flavorful than the stovetop variety and it's way tastier than microwave popcorn. I can't wait for you to give it a go!
❤️ Why You'll Love This Recipe
Air fryer popcorn makes the perfect healthy snack with fiber, protein, potassium and complex carbohydrates.
You can make popcorn your own with your own desired flavorings.
This is one of the easiest popcorn recipes!
Make movie night a breeze.
Naturally gluten-free, vegan, nut-free, soy-free, dairy-free, nut-free.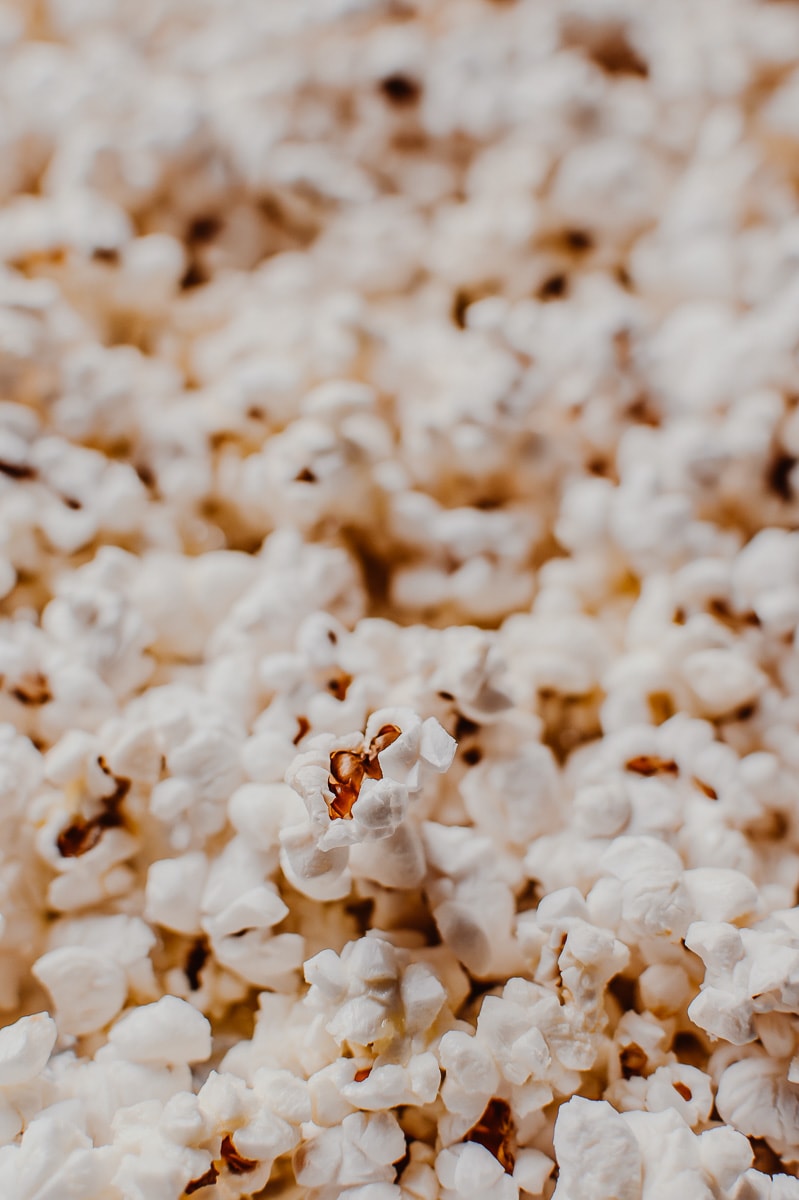 🍿 How-to Make Air Fryer Popcorn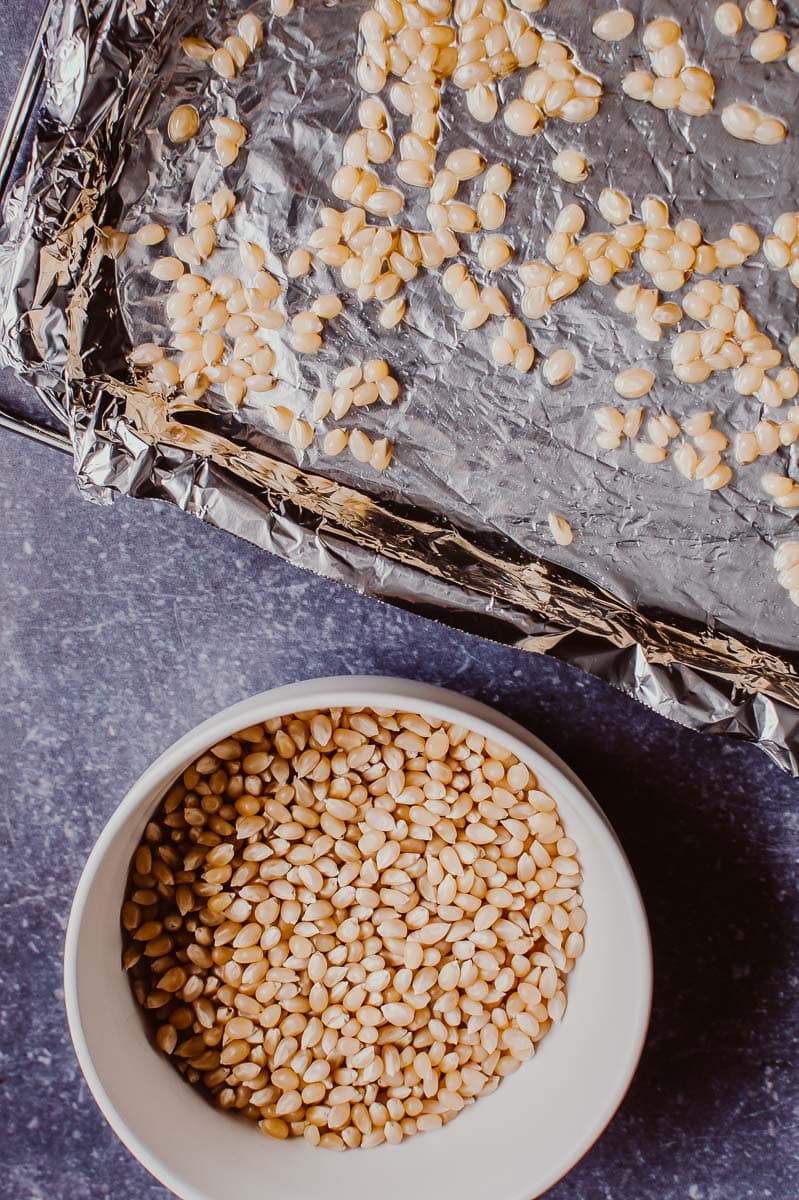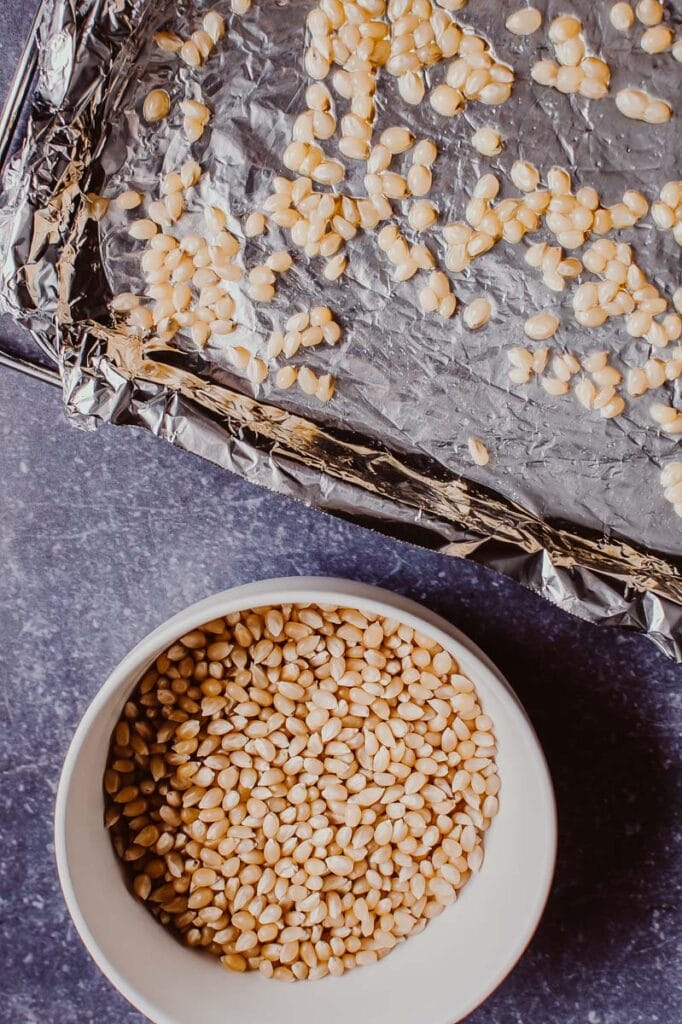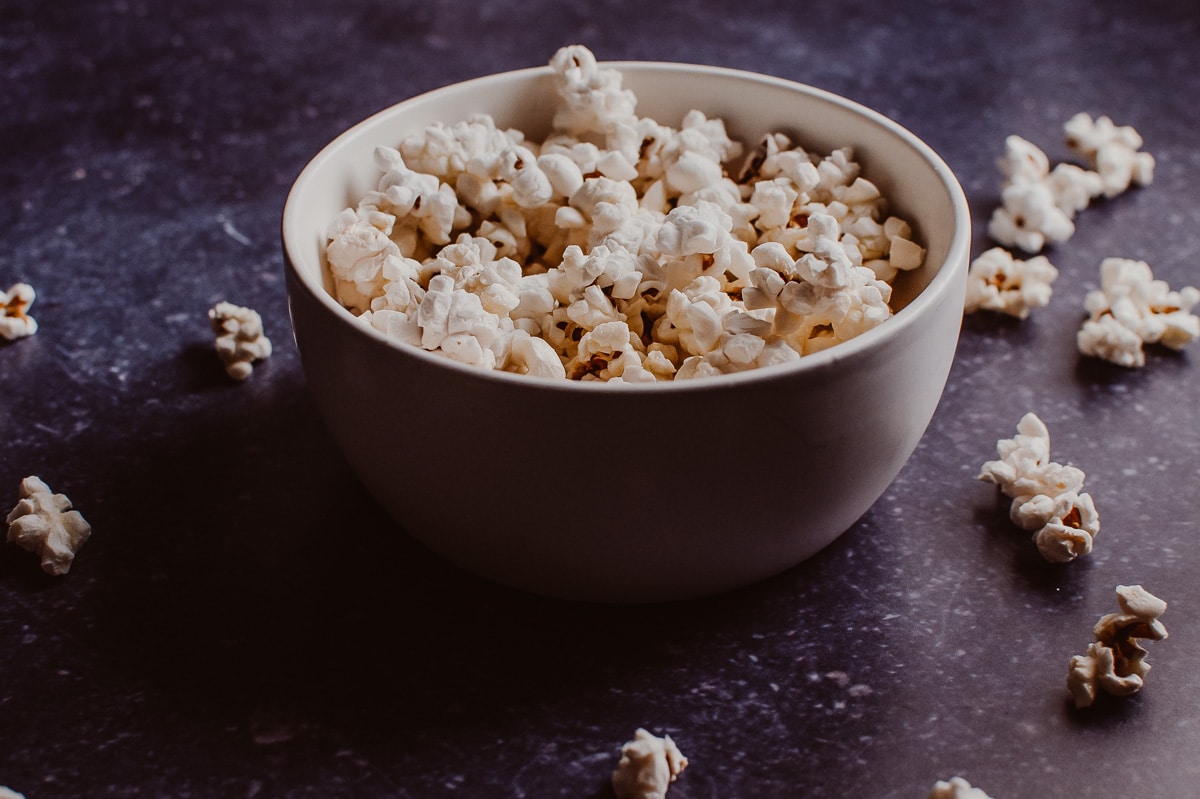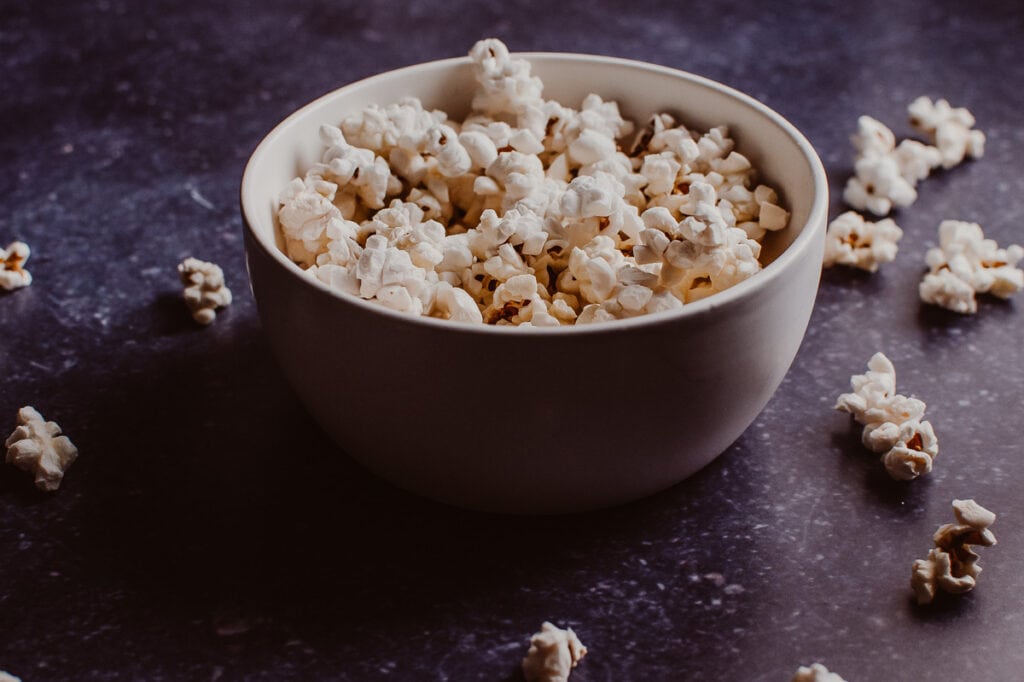 🧈 Popcorn Toppings
Here are some great ways to enjoy this easy air fryer popcorn!
Drizzled with melted butter and sprinkled with salt.
Drizzle with olive oil and chopped fresh herbs.
Sprinkled with nutritional yeast or parmesan cheese.
Drizzle with a favorite dipping sauce.
Drizzled with coconut oil and sprinkled with black pepper and salt.
Heat one part honey, one part apple cider vinegar. Drizzle. Thank me later!
Want to go sweet? Toss with some cinnamon and mini chocolate chips.
We often combine 1/4 cup nutritional yeast with about a teaspoon each of the following spices: garlic powder, cumin, chili powder, smoked paprika and sometimes a dash of coconut sugar. It's delicious!
Also, you can find my Sweet & Salty Popcorn formula in my book The Vegetarian Family Cookbook.
You might also like this Indian Popcorn.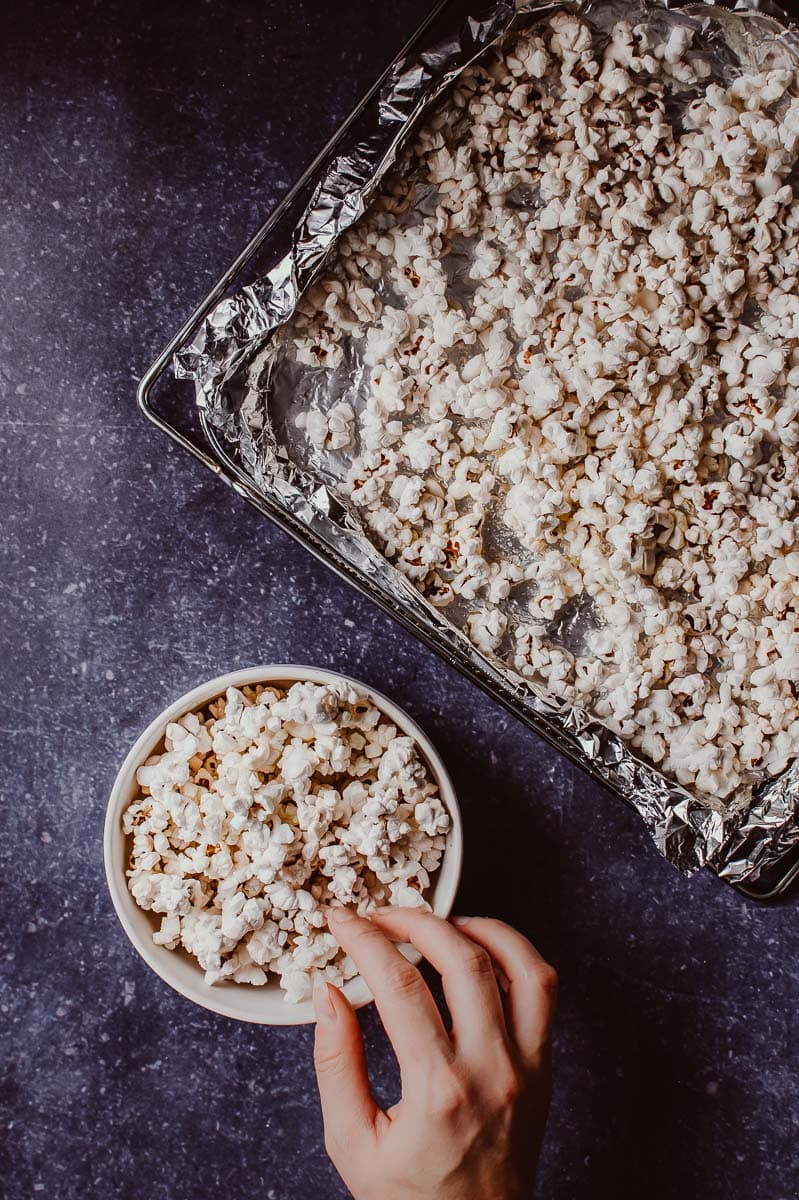 ❓ Frequently Asked Questions
What kind of popcorn kernels should I use?
I'm quite fond of using non-GMO popcorn kernels of the white or the yellow variety. The fresher the kernels are, the better the popcorn!
Why coconut oil?
I personally find using coconut oil for the popping process to result in a fluffier and tastier popcorn that pops rather evenly. I do not find it to add a strong coconut taste to the popcorn, but if you would rather not use it, olive, grapeseed or avocado oil work great, too!
💭 Top Tips
Pop! Pop! Pop!
Being that you are popping popcorn, the kernels will pop and there's not much you can do to control which direction the popped kernels head once they start!
Toaster Oven Air Fryer
If you're using a toaster oven style air fryer to air fry popcorn, you will want to line the tray very well with aluminum foil to not allow any gaps. Shape the foil upwards a little on the edges to essentially form a shallow bowl and ensure when it pops, it simply lands right back down in the tray!
Problems?
If you get a stray kernel or two dropping down, don't fret! I find the heating elements in air fryers to allow ample time before anything crazy happens.
Nothing?
And, if you are not seeing much popping action at all, shake the tray or basket a few times, then resume. If still nothing, it is likely the popcorn kernels are old or compromised somehow. Start again with fresh!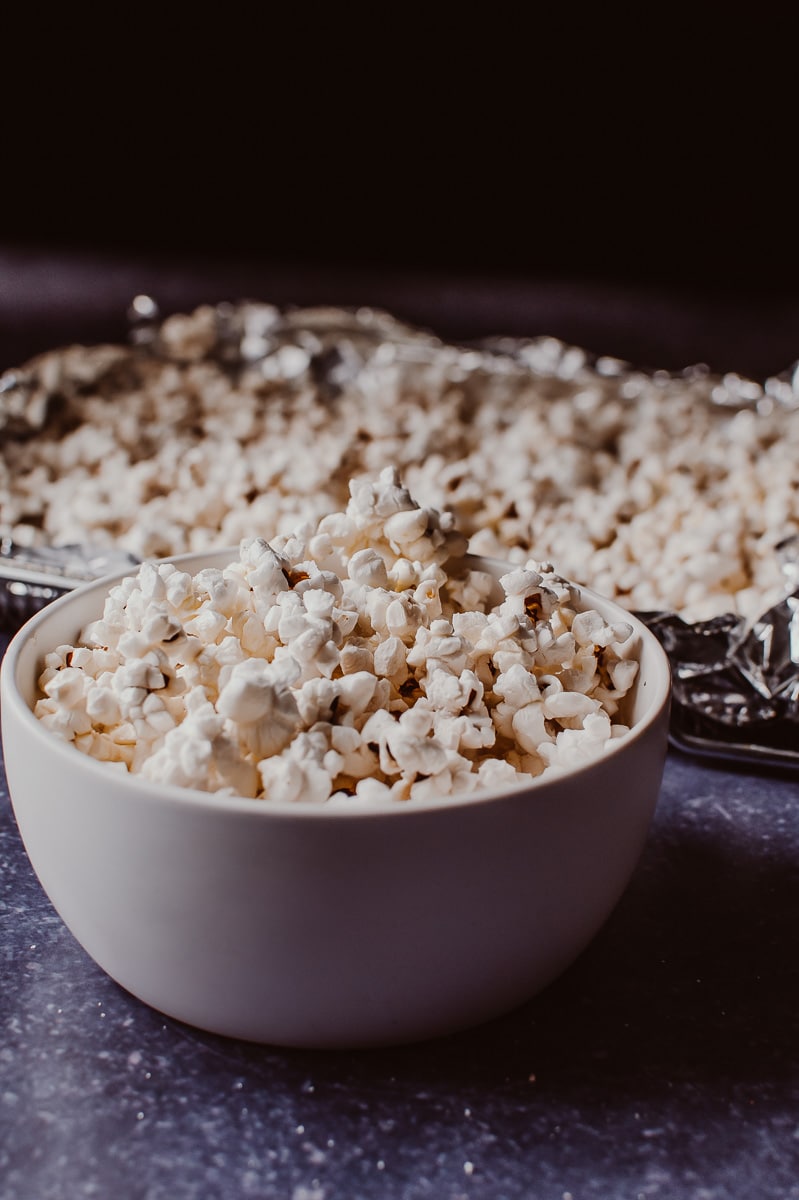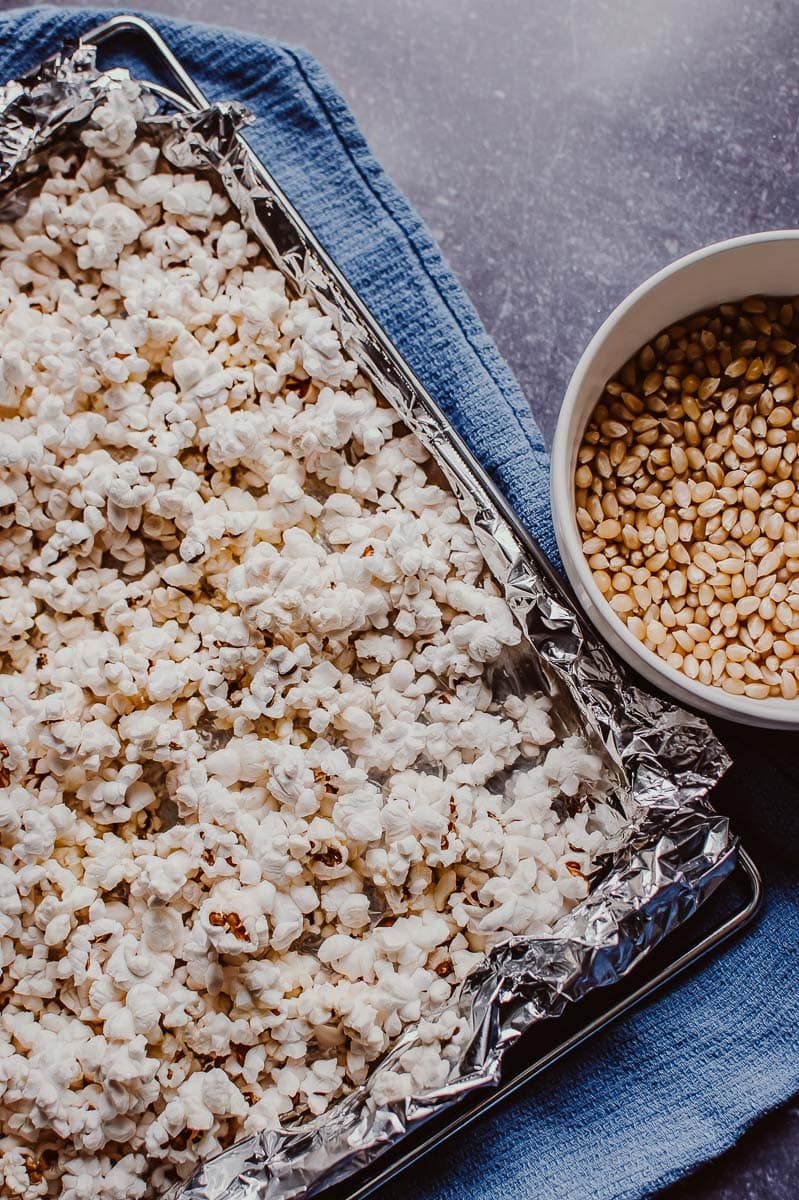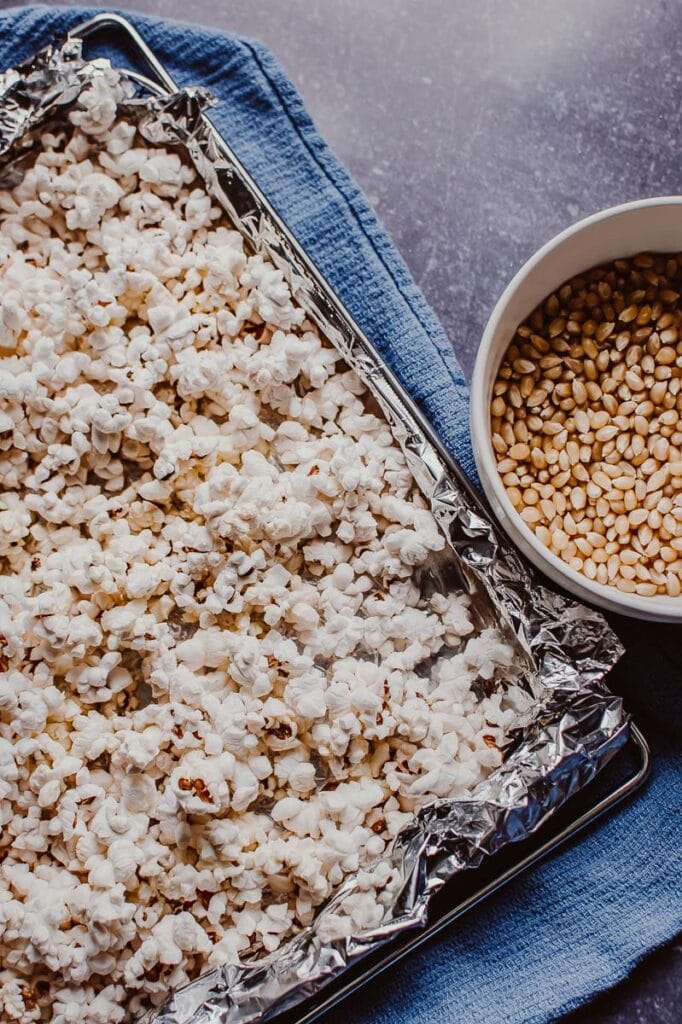 🥡 Storing and Reheating
This air fryer popcorn tastes best served straight away, but keeps pretty well at room temperature lightly covered for about 24 hours. It tastes better at room temperature rather than reheated, so I don't recommend taking that route. You can always warm up the toppings though!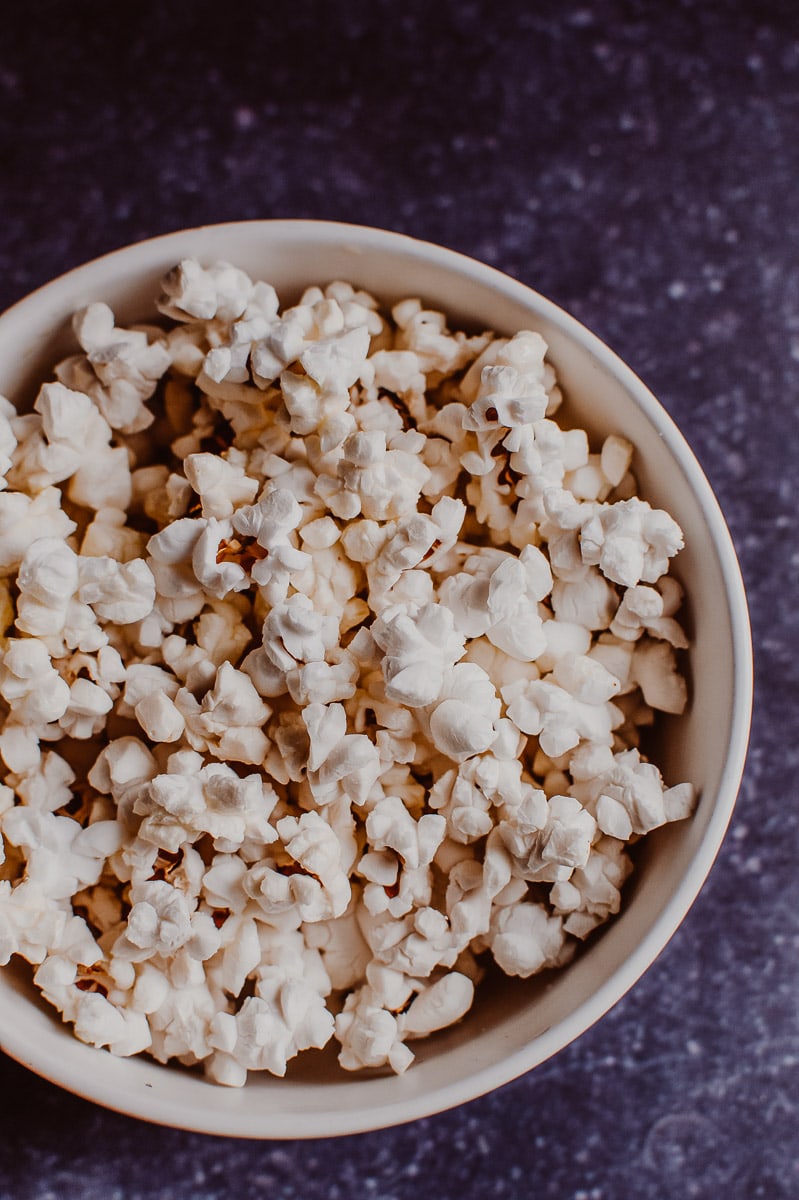 ♨️ More Air Fryer Recipes You Might Love
Air Fryer Hush Puppies
Air Fryer Halloumi
35 Plant Based Air Fryer Recipes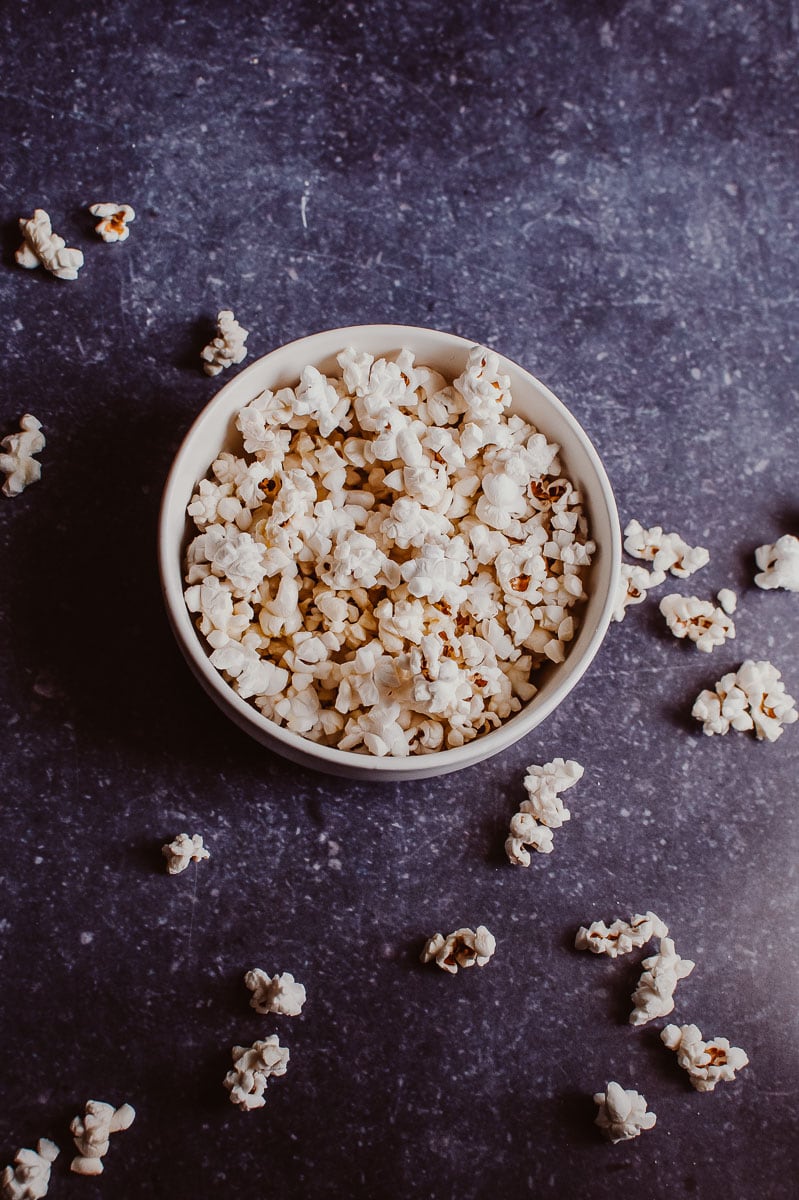 You might also like caramel puff corn!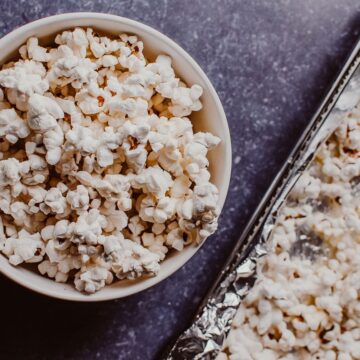 Air Fryer Popcorn
Super light, fluffy and flavorful Air Fryer Popcorn! Making popcorn in an air fryer could not be easier or more delicious. You'll never make it any other way after trying this air fried version!
Print
Pin
Rate
Ingredients
1

tablespoon

coconut oil

or any oil you prefer

1/4

cup

popcorn kernels

white or yellow

optional toppings

see post above for suggestions
Instructions
Preheat air fryer to 400°F.

Line air fryer basket or try with foil.

Place popcorn kernels onto foil. Drizzle with oil. Toss to coat.

Place into preheated air fryer and air fry for 8 minutes or until most kernels have popped.

Remove from the air fryer (so it's not overdone!), and top as you would like. We like to drizzle with melted butter and sprinkle with a touch of salt. See the post above for more topping suggestions. Enjoy!
Nutrition
Serving:
1
bowl
|
Calories:
89
kcal
Have you tried this recipe?
Please Rate + Comment Below!
Watch Our Latest Videos
Follow us on YouTube!