Disclaimer: Please note that some of the links below in this post are affiliate links and I will earn a commission if you purchase through those links. I regularly use and recommend all of the products listed below because I find them to be of great quality and use! All proceeds go back into maintaining and creating for this site. Thank you! XO
Last Updated on
These easy and delicious Chai-Spiced Cacao Nib Brownie Bars are delightfully chocolate-y, subtly spiced, and packed with iron, fiber and potassium from the cacao nibs. Not to mention, they have an amazing texture, too. This gluten-free treat makes a great breakfast, snack or dessert as it is not over-the-top sweet (but big on flavor!).
I'm a sucker for cacao-anything, so when I recently gave Suncore Foods amazing cacao nibs a try I was over the moon about their larger size and oh so perfect texture. Top notch they are! And a great inspiration for this creation . . .
Cacao nibs are:
high in fiber

high in magnesium

high in potassium

high in antioxidants

high in iron

high in calcium

contains anandamide (the 'bliss molecule')
Quite amazing little superfood morsels they are, eh? Now onto those bars . . .
These decadent Gluten-Free Cacao Nib Brownie Bars flavored with chai spices remind me of brownies and cake bars wrapped into one; hence their name. They are super quick and easy to throw together whenever you are in need of a treat and have just the right amount of sweetness, in my opinion. They are both dense and fluffy at the same time (truly!) and have such a nice little bite from the cacao nibs. All in all, they make a fun little dessert that is enjoyable any time of day.
Enjoy. xo.
If you try this recipe please let me know! Leave a comment, rate it, share this post, use Pinterest's "tried it" feature, or take a photo, & tag me on Instagram and I'll share it! Thank you so much! <3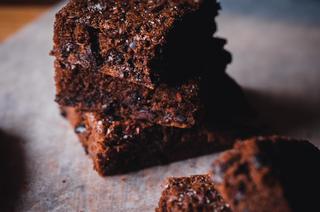 Chai-Spiced Cacao Nib Brownie Bars (Gluten-Free)
Chai-Spiced Cacao Nib Brownie Bars (Gluten-Free)
Ingredients
1/2 cup

butter, melted

3/4 cup

coconut sugar

1/2 cup

chocolate chips of choice

2 tablespoons

cacap (or cocoa) powder

3

eggs

1 teaspoon

vanilla extract

1/4 cup

buckwheat flour

1/4 cup

tapioca starch

2

cardamom pods, freshly ground (or 1/4 teaspoon)

1/2 teaspoon

ground ginger

1/2 teaspoon

ground cloves

1/4 teaspoon

ground cinnamon

1/2 cup

cacao nibs
Instructions
Preheat oven to 325 degrees fahrenheit. Grease or line an 8 x 8 square pan with parchment paper. Set aside.
To a large mixing bowl add your melted butter and sugar. Whisk until smoothly combined
Pour in chocolate chips letting it slowly and partially melt into the butter mixture. It's okay to leave chocolate chips partially whole.
Add cacao powder, eggs, vanilla. Whisk to combine.
Pour in flour and spices. Whisk to combine.
Fold in cacao nibs.
Pour the batter into your prepared baking pan.
Bake for 27 minutes or until edges are beginning to turn crispy and a toothpick inserted in the center pulls out clean.
Allow your brownie bars to cool completely before slicing into 12 and serving.
Enjoy!
Details
Prep time:


Cook time:


Total time:


Yield:
12 bars | Serving Size: 2 bars –

Calories: 490
Fat: 29 g