Skip to Recipe
Disclaimer: This post may contain affiliate links. This blog generates income through affiliate links at no extra cost to you.
What does chai taste like? New to chai tea and wondering what flavors you can expect? Learn about it here + get a free chai recipe printable!
Jump to:
☕ What is Chai?
What most people consider to be chai is also known as masala chai. The word "chai" means tea in Hindi. Chai tea has its origins in Ayurvedic practices in India. Chai is traditionally black tea and spices steeped in water. Sometimes milk, honey or sugar are added, though these are more modern additions. The warming spices of chai tea are also packed with medicinal healing properties.
♨️ What Does Chai Taste Like?
Think of chai tea much as you would the season of autumn! Warmth, comfort and cozy come to mind.
Common Chai Spices
Ginger.
Green cardamom pods.
Cinnamon.
Cloves.
Nutmeg.
Black peppercorns.
Vanilla.
Star anise.
If you are at all familiar with the warmth, flavor and natural sweetness the above spices bring to the table, then you can probably come up with a good idea of what chai tastes like.
Chai Flavor Notes
🫗 Different Types of Chai
Masala chai: Traditional masala chai varies from region to region, but is generally the most common form of chai as we know it, incorporating black tea, cardamom and ginger alongside a variety of other warming spices in one fragrant blend.
Kashmiri chai: Kashmiri chai is much like traditional masala chai, except green tea is used instead of black tea.
Kesar chai: Kesar chai is a chai made with the addition of saffron.
Lemongrass chai: Lemongrass is one chai variation found in Western India.
Chai latte: Chai tea lattes use a masala chai base but with the heavy addition of milks and sweeteners and sometimes steamed milk for a frothy, foamy chai or ice for an iced chai latte.
Rose chai: Edible roses make a wonderful addition to the warming flavors of that classic chai tea taste. You might like my almond rose chai latte.
Dirty chai: Dirty chai is a chai latte, but with the addition of espresso or coffee.
Other variations: Chai is also wonderful with the addition of peppermint, pumpkin, cumin, licorice and chile.
🗒️ Free Chai Printable
Click the image below to download and print a free chai latte recipe printable to print and keep handy when you are in need of a cup of comfort! Enjoy.
❓ Frequently Asked Questions
Is chai supposed to be bitter?
Normally, chai is not all that bitter. But if you over-steep your chai tea, the tannins released from black tea can make chai a tad bit bitter. This can easily be remedied by the addition of a sweetener.
Is chai supposed to be sweet?
This entirely depends on whether or not you use additional sweetener in your chai. The warming spices of chai are naturally subtly sweet, but the addition of a sweetener really takes the sweetness level to another level.
How does chai tea make you feel?
If making a variety of chai with black tea, chai can be energizing due to the caffeine content of black tea. If making chai without a caffeinated tea, the warming spices of chai can be rather comforting and relaxing.
🥤 You Might Also Like
Best Starbucks Drinks for Kids
📖 Recipe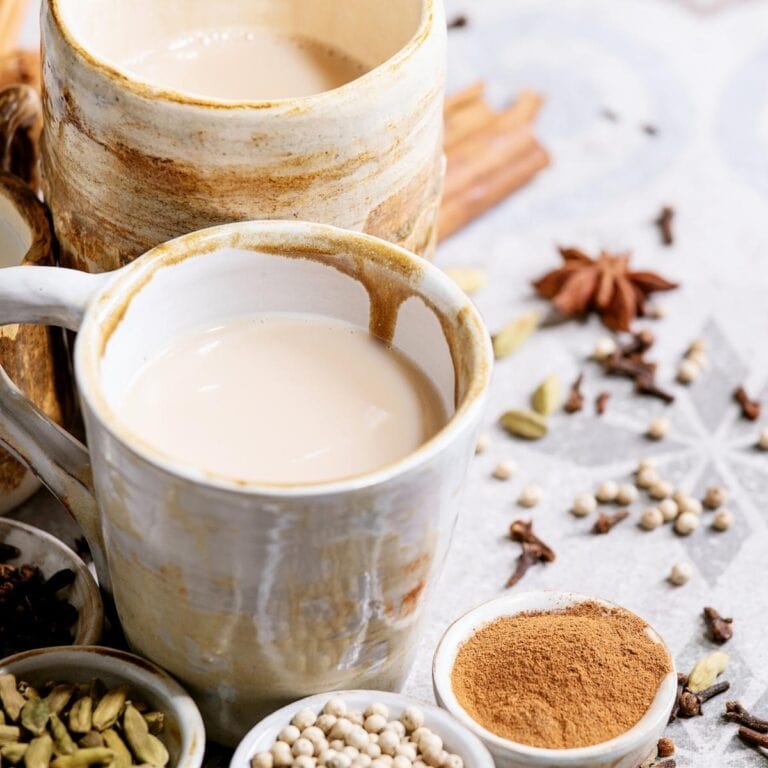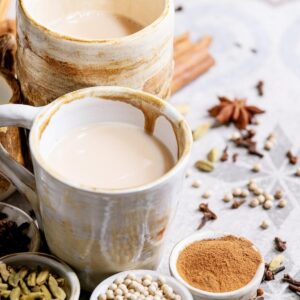 What Does Chai Taste Like? + Free Printable Chai Tea Recipe
What does chai taste like? New to chai tea and wondering what flavors you can expect? Learn about it here + get a free chai recipe printable!
Print
Pin
Rate
Ingredients
1/2

cup

milk of choice

I like oat milk

1

cup

water

1

black tea bag

1

teaspoon

vanilla extract

1/2

teaspoon

ground ginger

1/4

teaspoon

ground cardamon

1/2

teaspoon

ground cinnamon

1/4

teaspoon

ground cloves

small pinch ground black pepper

1

tablespoon

honey or maple syrup
Instructions
In a small saucepan over medium heat combine the water, milk and spices.

Whisk until the mixture comes to a simmer.

Add the tea bag, turn off the heat and cover the pan.

Allow to steep for 5 minutes before removing the tea bag and whisking in the sweetener. Pour the chai into a mug and enjoy!
Notes
My favorite black tea to use in chai is Darjeeling tea.
I like to use oat milk in my chai, but any conventional dairy milk will work (even cream!) or vegan or plant-based milk like coconut milk, soy milk, almond milk, cashew nut milk works!
You might like: What Does Tamarind Taste Like?
Nutrition
Serving:
1
serving
|
Calories:
92
kcal
|
Carbohydrates:
17
g
|
Protein:
1
g
|
Fat:
2
g
|
Saturated Fat:
0.1
g
|
Polyunsaturated Fat:
1
g
|
Monounsaturated Fat:
1
g
|
Sodium:
178
mg
|
Potassium:
79
mg
|
Fiber:
1
g
|
Sugar:
13
g
|
Vitamin A:
4
IU
|
Vitamin C:
0.1
mg
|
Calcium:
196
mg
|
Iron:
0.4
mg
Have you tried this recipe?
Please Rate + Comment Below!