Copina Co. Review
This post may contain affiliate links, and we receive an affiliate commission for any purchases made by you using these links. We appreciate your support!
This post was made in partnership with Copina Co. All opinions expressed are my own.
My honest product reviews of Copina Co.'s Cacao Calm and Matcha plant-based collagen boosting drink blends.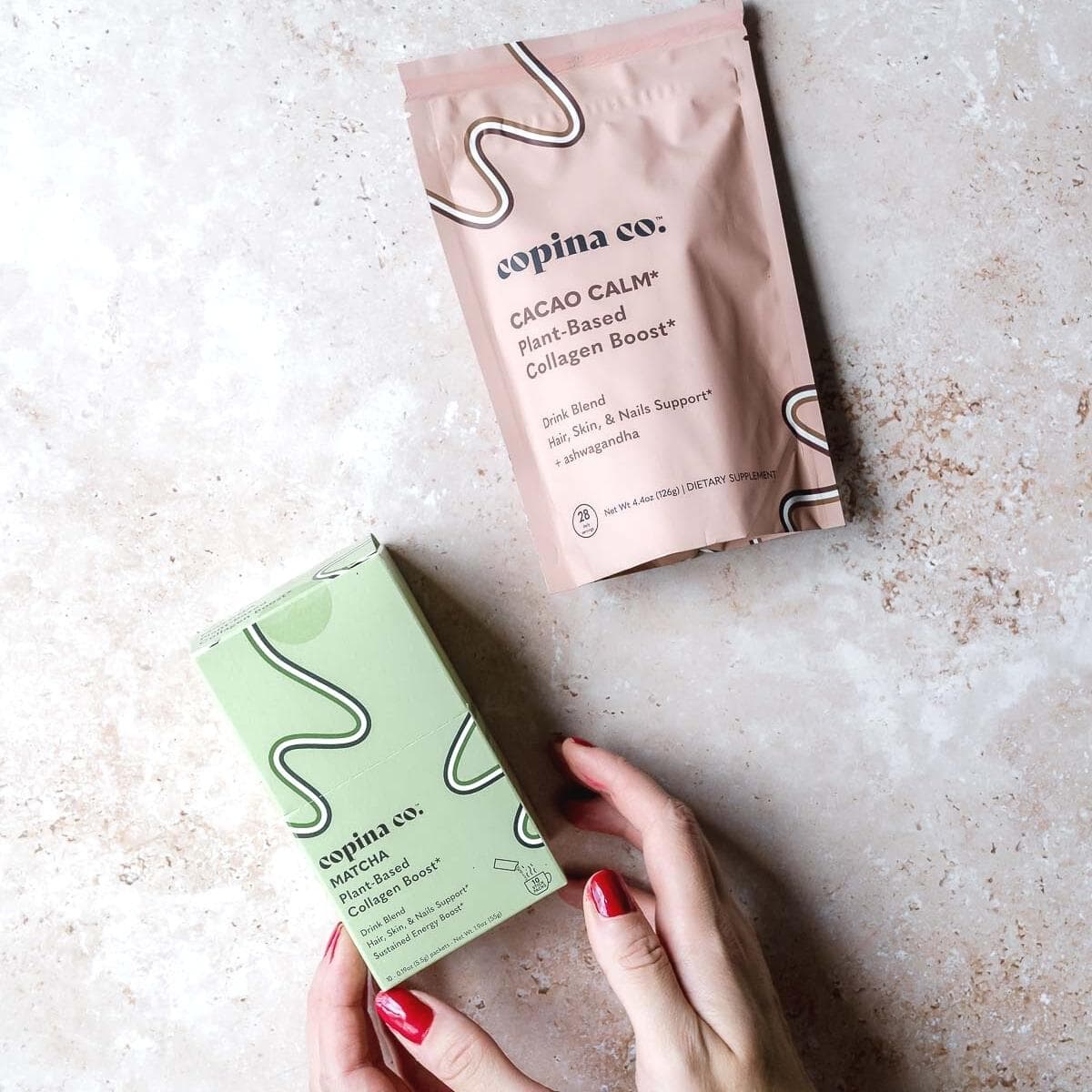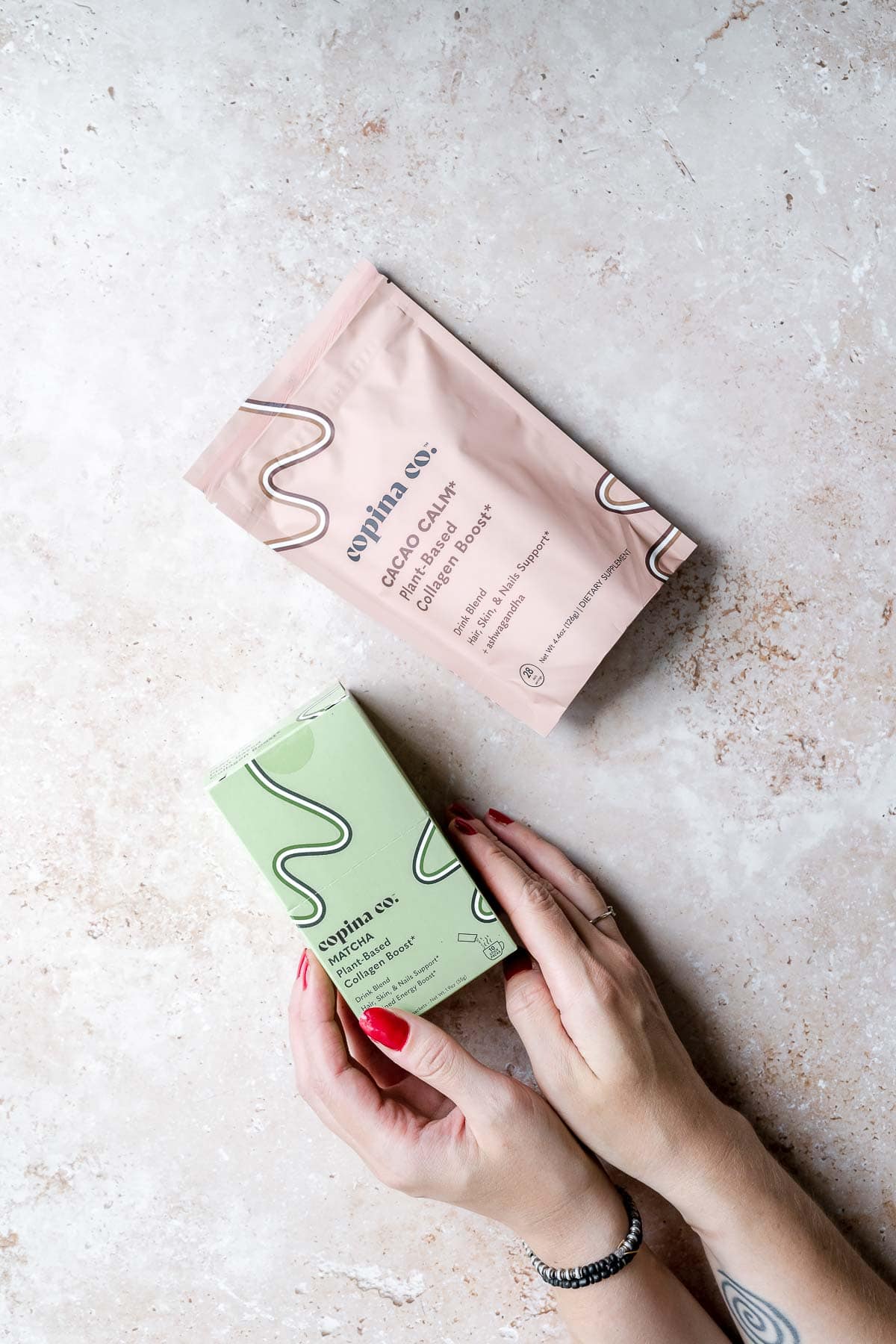 Copina Co.
Copina Co. was started by founder Carolyn Yachanin after she experienced severe cystic acne for many years. She found great vibrance and healing by turning to an Ayurvedic-based plant path that inspired her to create a vegan alternative to conventional animal-based collagen. The result is Copina Co., which carries four flavors of plant-based collagen alternative blends that were sourced and dosed with the help of professional herbalists. All product are free of GMOs, third party lab tested, free of added sugars, gluten-free and vegan.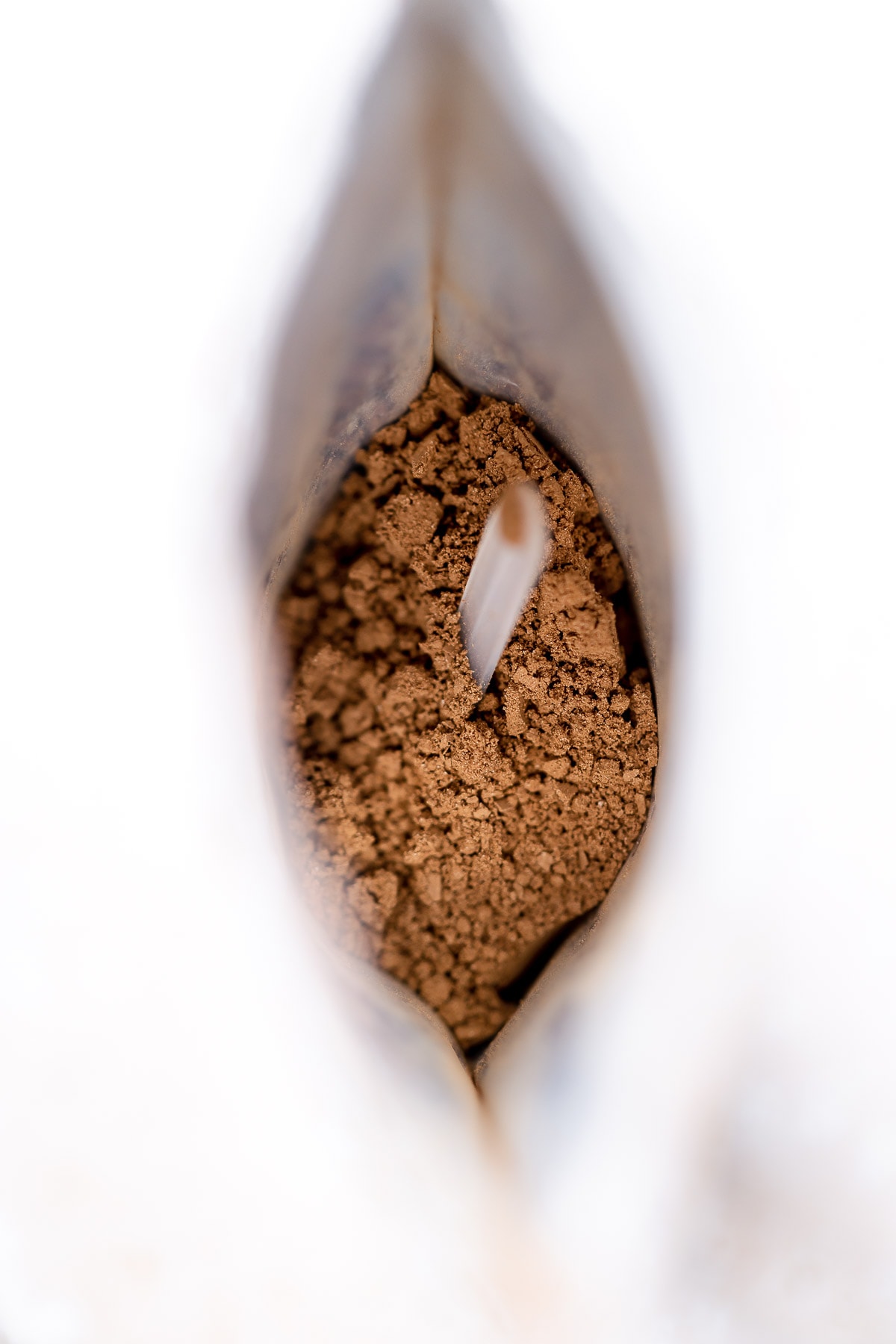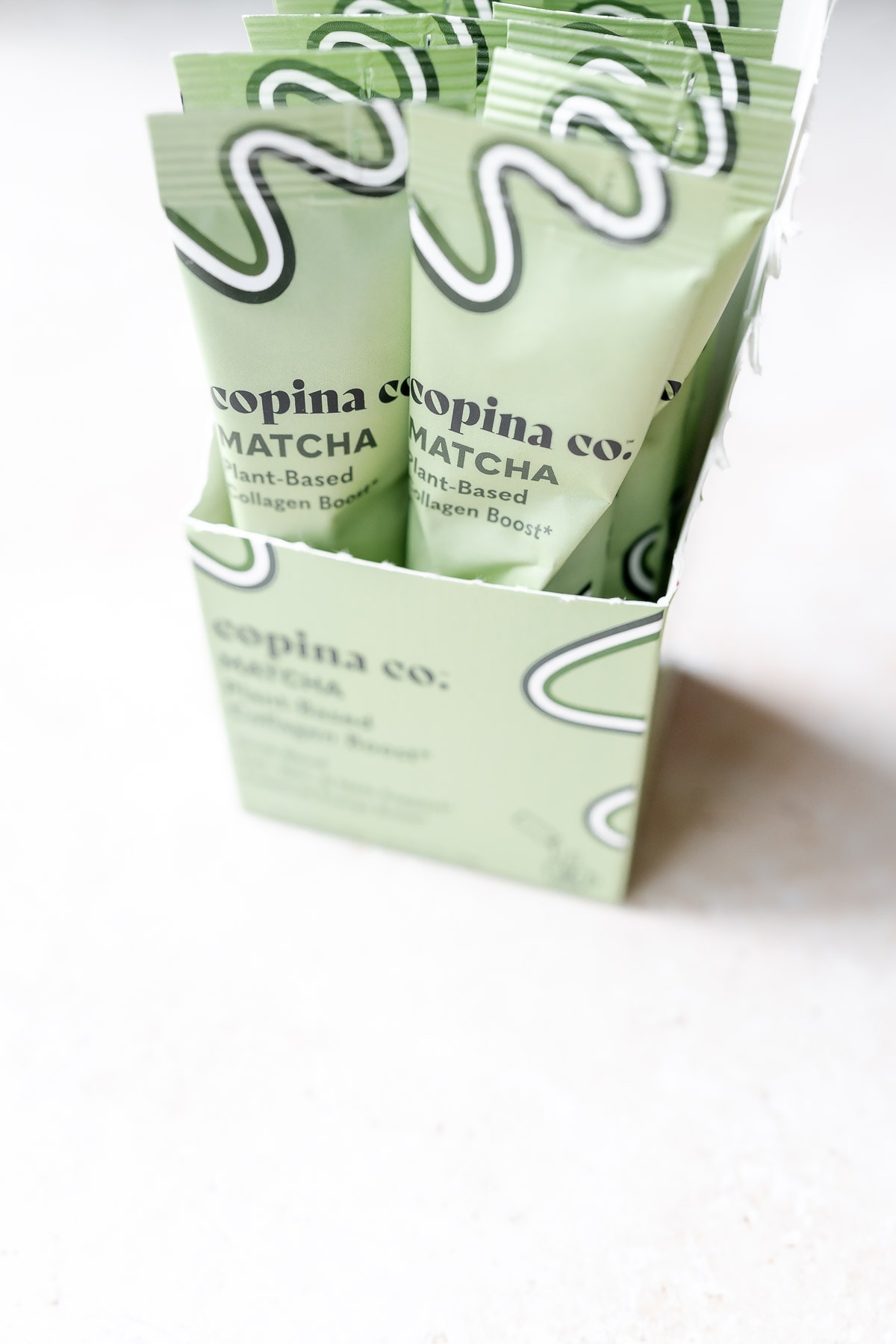 Copina Co. Cacao Calm
Copina Co. Cacao Calm is a collagen boosting drink mix made with organic cacao, organic cinnamon, organic tremella mushroom extract, organic amla berry powder, hyaluronic acid, bamboo leaf extract, monk fruit extract and organic ashwagandha root extract. These ingredients have both natural collagen boosting properties, as well as stress-relieving properties all wrapped up into a tasty chocolate blend.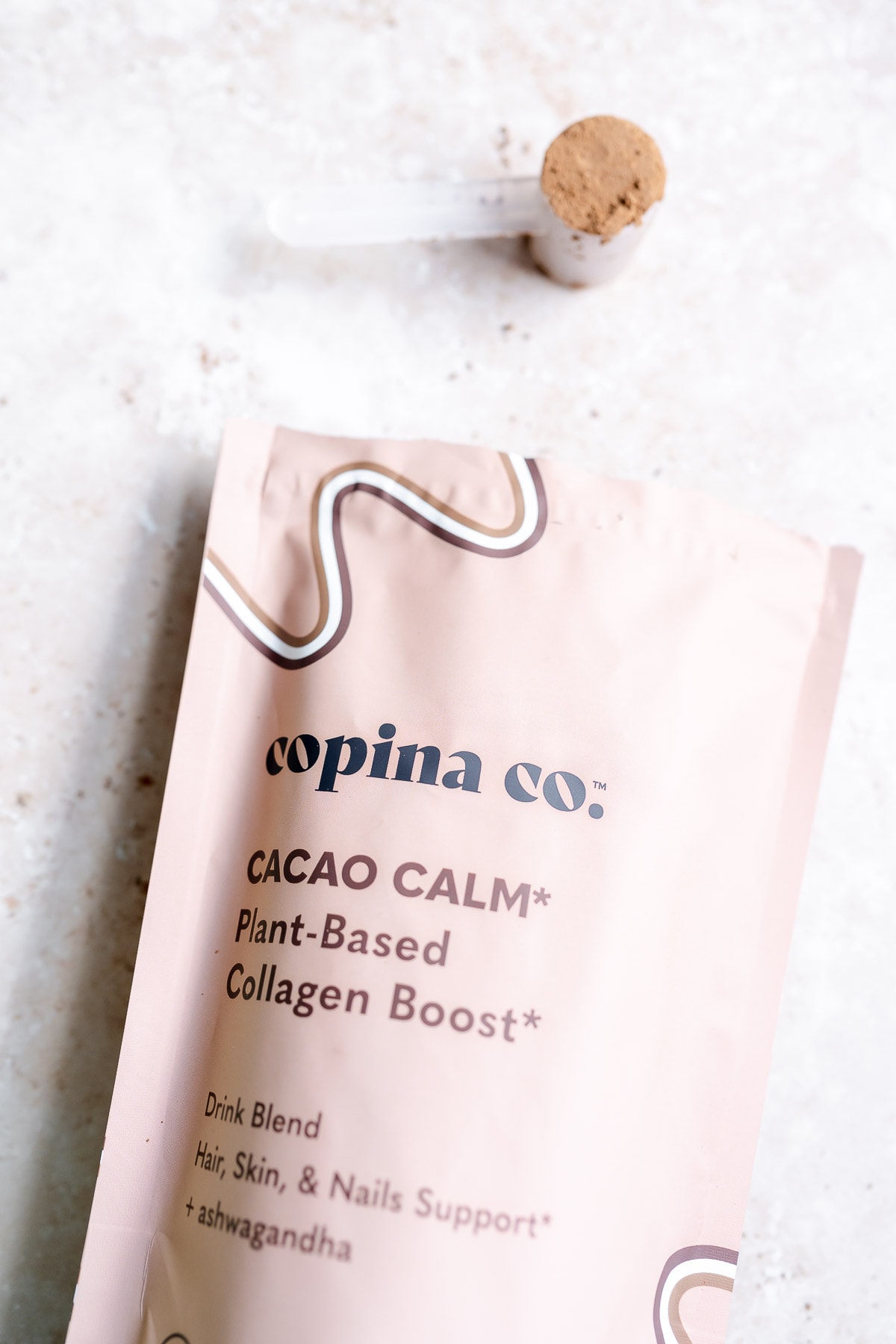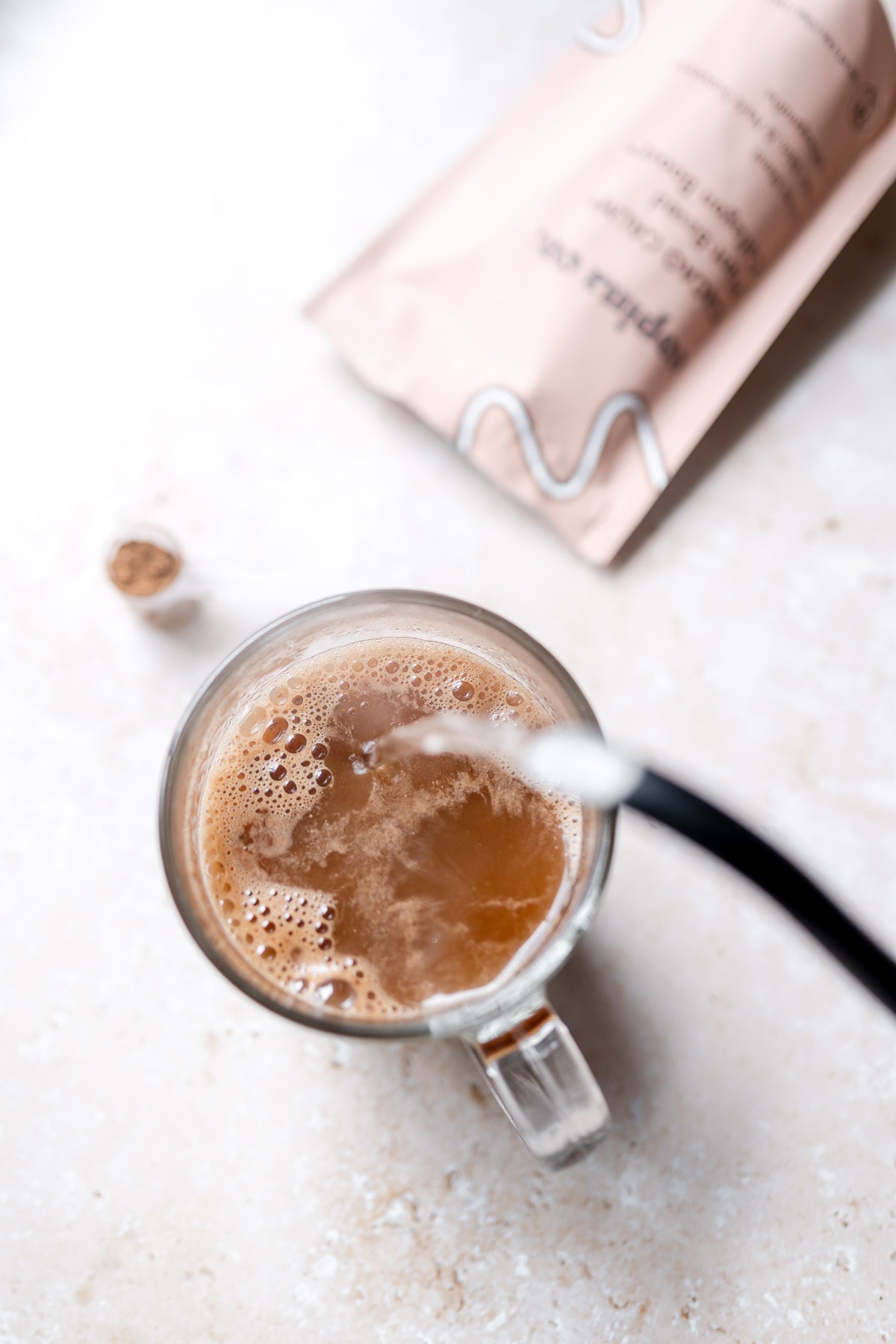 Copina Co. Matcha
Copina Co. Matcha is another collagen boosting blend, but with the addition of a healthy energy boost (minus the crash) thanks to high-quality matcha. It contains organic coconut milk powder, organic rice milk powder, organic rice hulls, matcha leaf, organic tremella mushroom extract, monk fruit extract, organic amla berry powder, hyaluronic acid and bamboo leaf extract.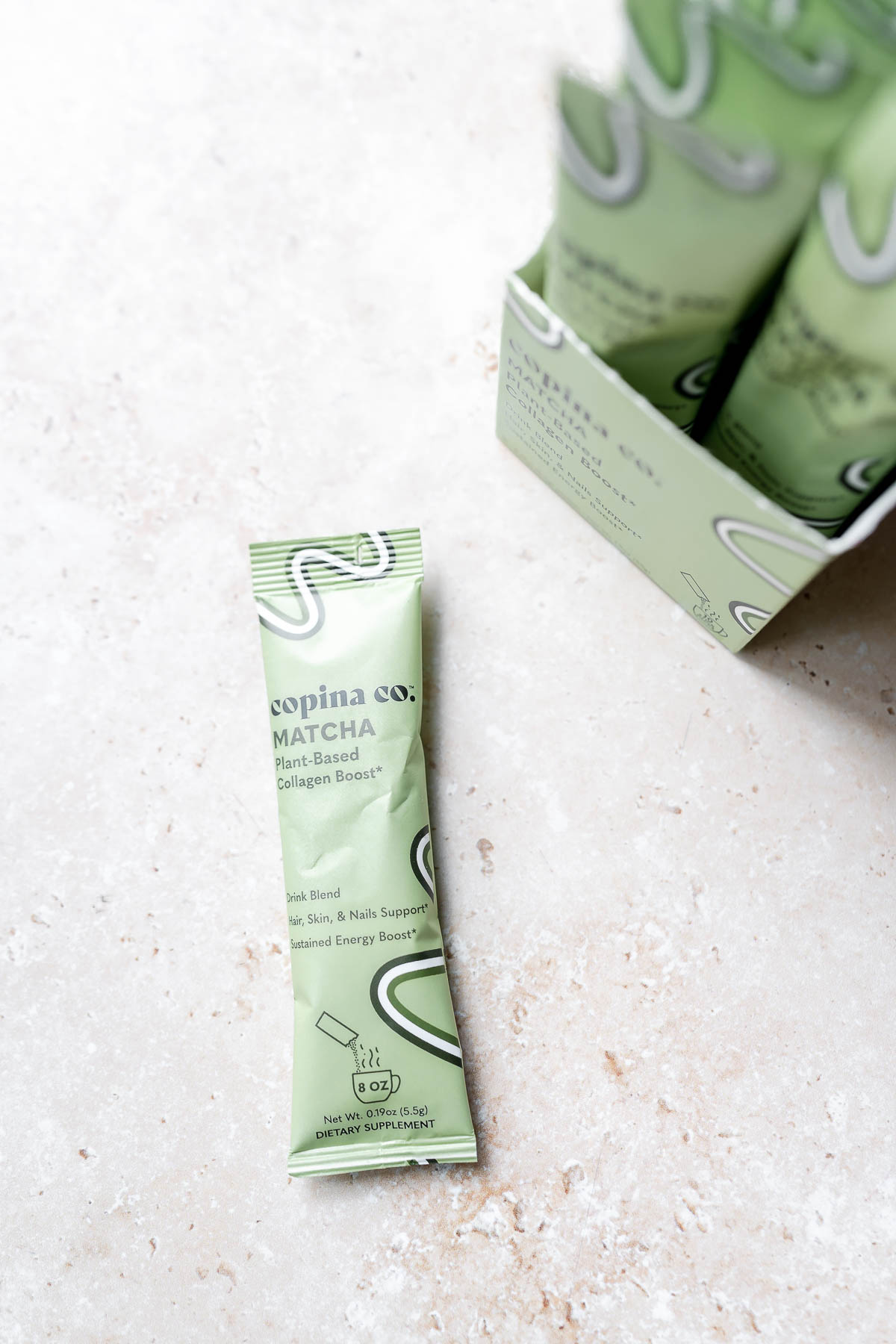 Benefits + How-to Use
All of Copina Co.'s formulas contain ingredients that support healthier hair, nails, skin, sustained energy levels, healthy joints, and aging skin.
You can mix their blends with hot water, plant milk, tea or your morning coffee. You can also use them in baked goods, oatmeal, smoothies and more!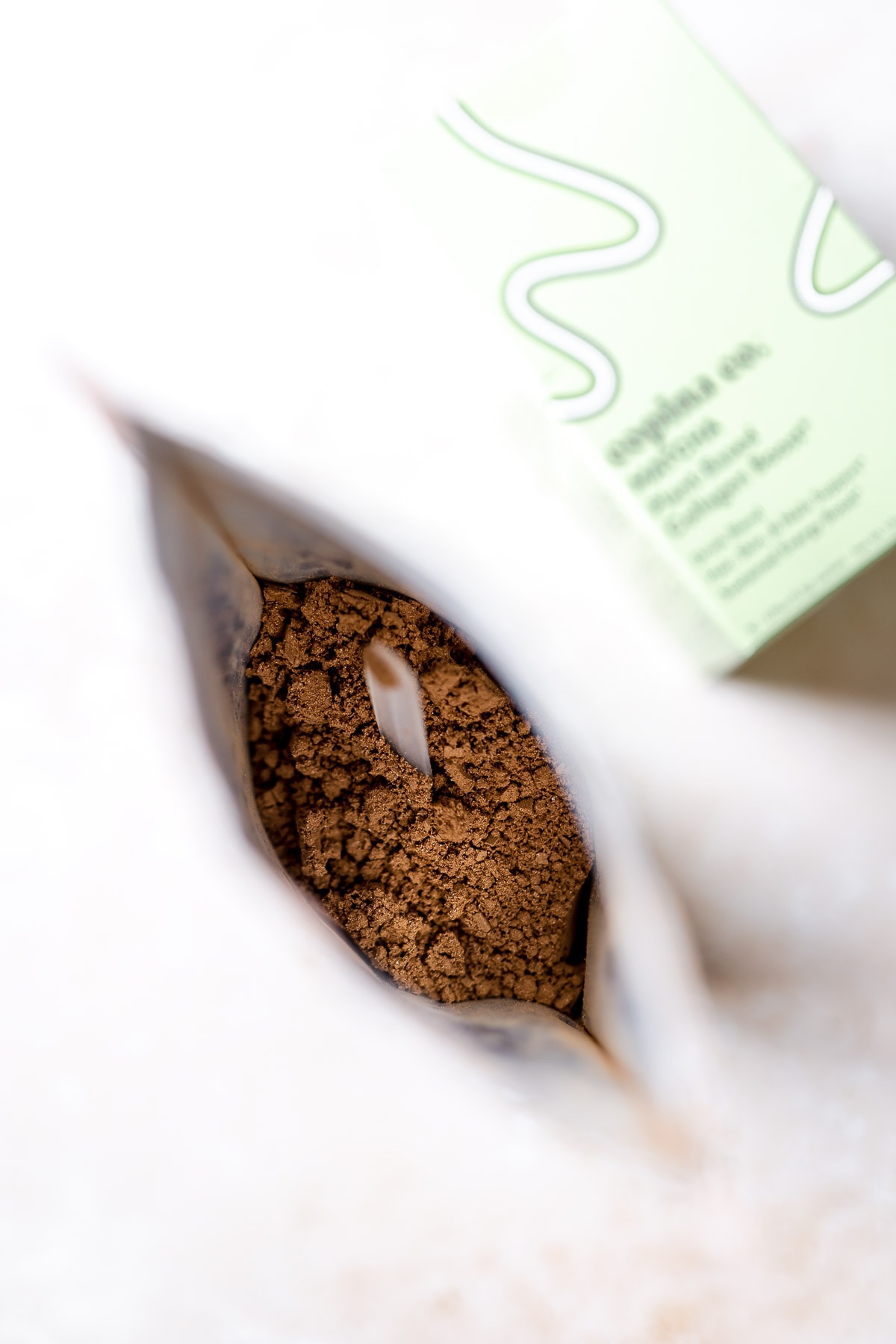 My Honest Review
My first impression of Copina Co. right out of the box is that the packaging is elegant and the ingredients listed sound absolutely wonderful, top-notch and right up my alley.
I first tried the Cacao Calm and as soon as I opened the package, I was greeted with the wonderful aroma of chocolate. It was certainly a stronger chocolate smell than the cacao powder I usually buy, leading me to think that this must be some high-grade cacao! I mixed some into hot water and topped it off with some oat milk and it was a smooth, creamy chocolate brew with a nice hint of a cinnamon and a real calming effect from the ashwagandha. I really like it as an after-work unwinding drink.
I used the Matcha Collagen Boost Drink Blend to make an iced matcha latte. I blended one scoop of the matcha blend with 1/2 cup hot water, let it cool, then poured it over ice and topped it off with 1/2 cup oat milk. It was delicious! I've tried my fair share of matcha powder and this matcha drink blend was certainly up there taste-wise. It was not overly grassy or bitter like some matcha, but rather subtly sweet. I really enjoyed it and already look forward to my next cup. It makes a great afternoon pick-me-up treat.
Overall, I'm really impressed with the flavor and quality of these blends, and as a lifelong vegetarian it is so nice to find something that supports collagen production that isn't animal based. I look forward to seeing how their products impact my own health in time.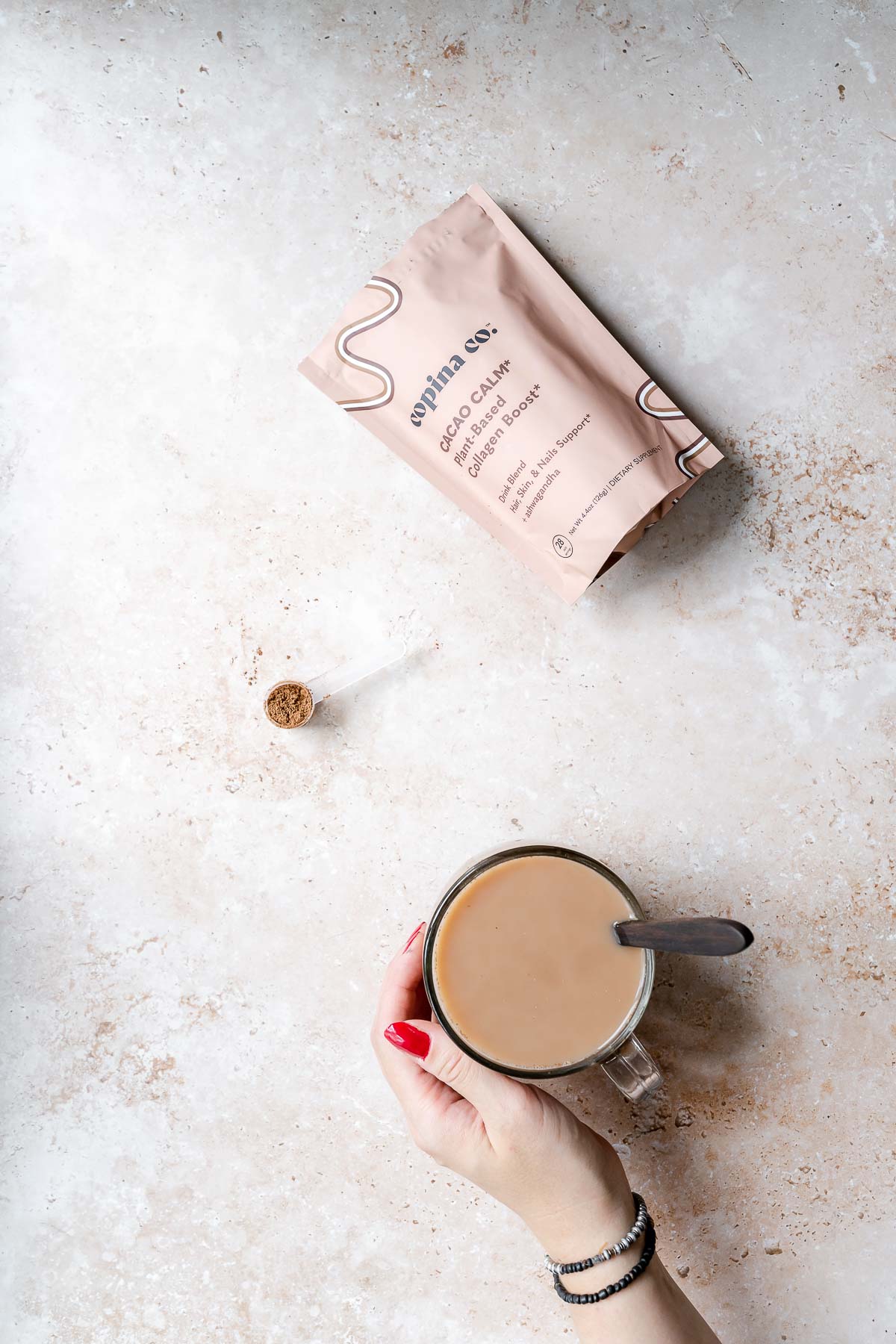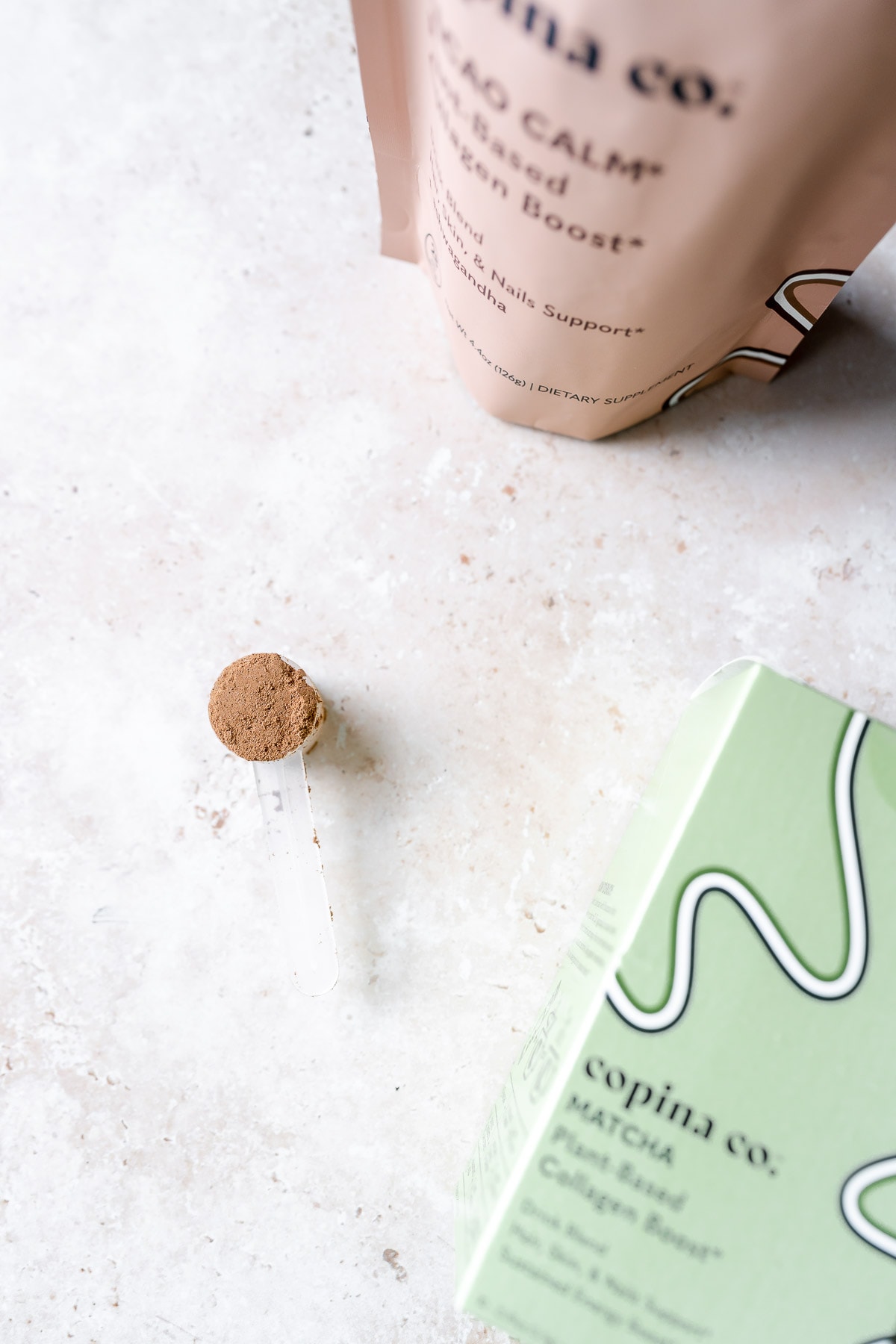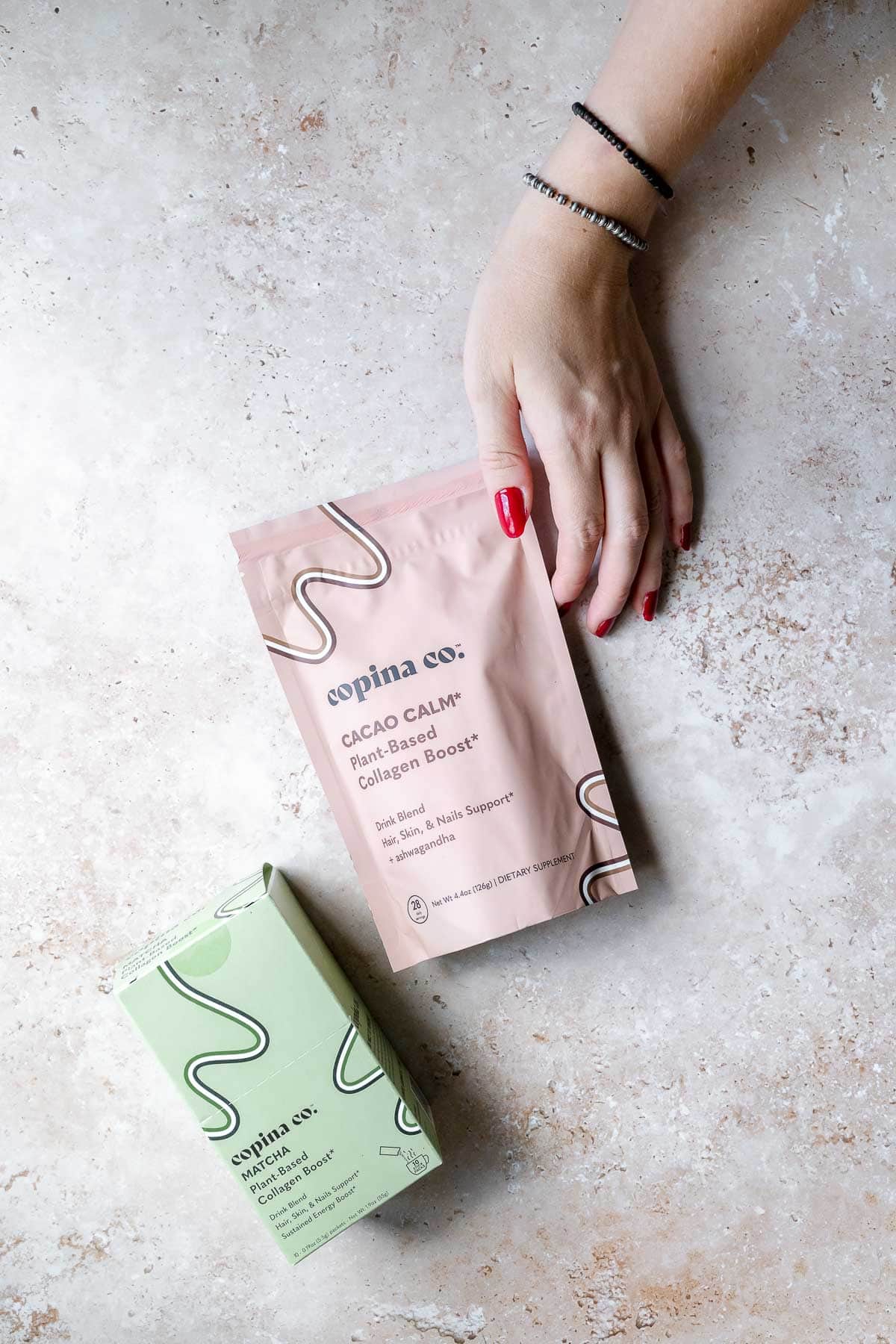 Where to Buy
Copina Co.'s wonderful vegan collagen boosting drink blends can be found on their website. They also offer product subscriptions with a nice discount + free shipping!
If you enjoyed this product review, please give it a share on social media! Thank you for your support.