Amazing Gluten-Free Bakeries in the United States: A Collection
This post may contain affiliate links, and we receive an affiliate commission for any purchases made by you using these links. We appreciate your support!
If you're anything like me, it's hard to avoid the enchantment of the sights and smells to be found in a nice bakery. With the help of some bloggers, I've gathered a list of Gluten-Free Bakeries in the United States, so we can all find a little something special near us! Some are vegan as well! I will continue to update this list.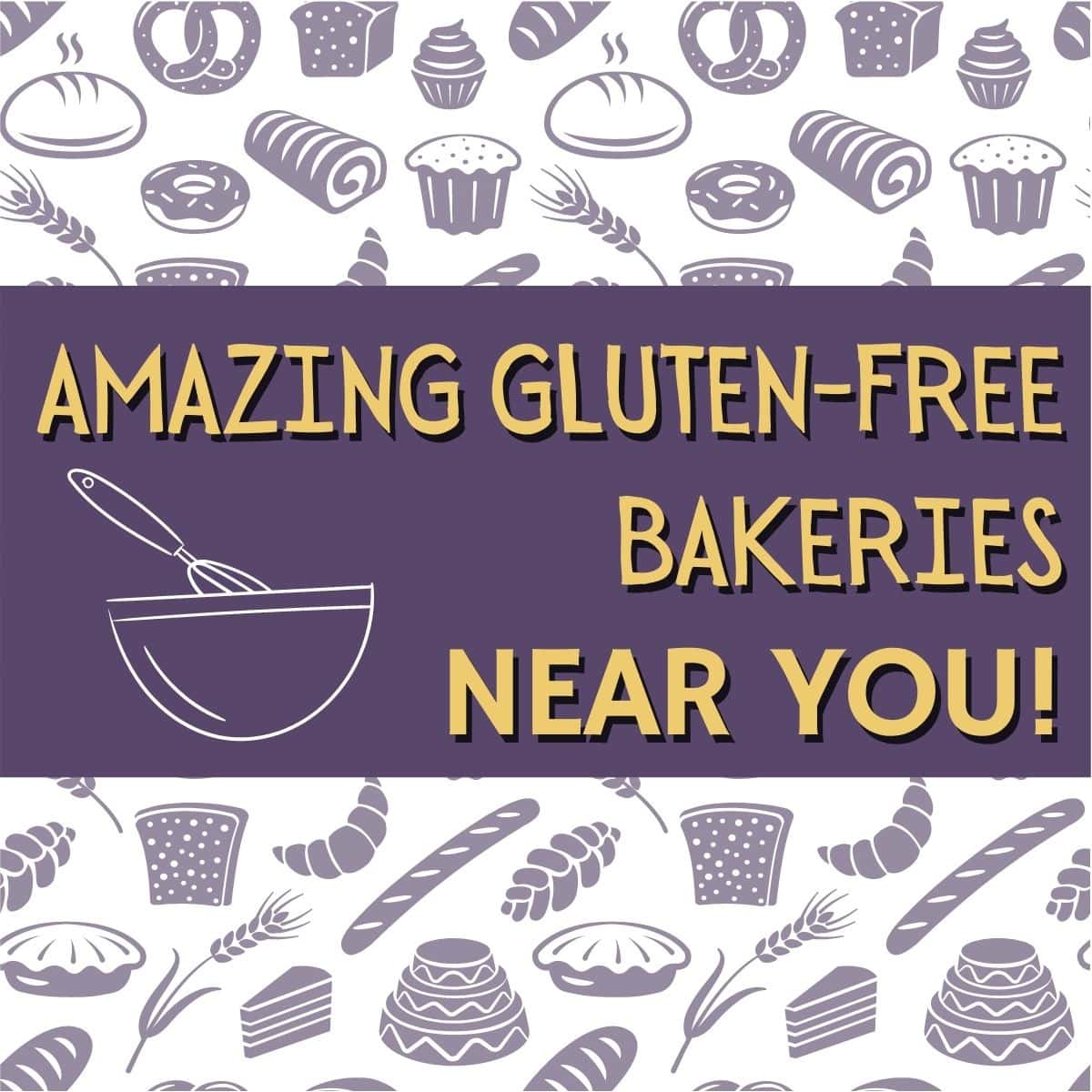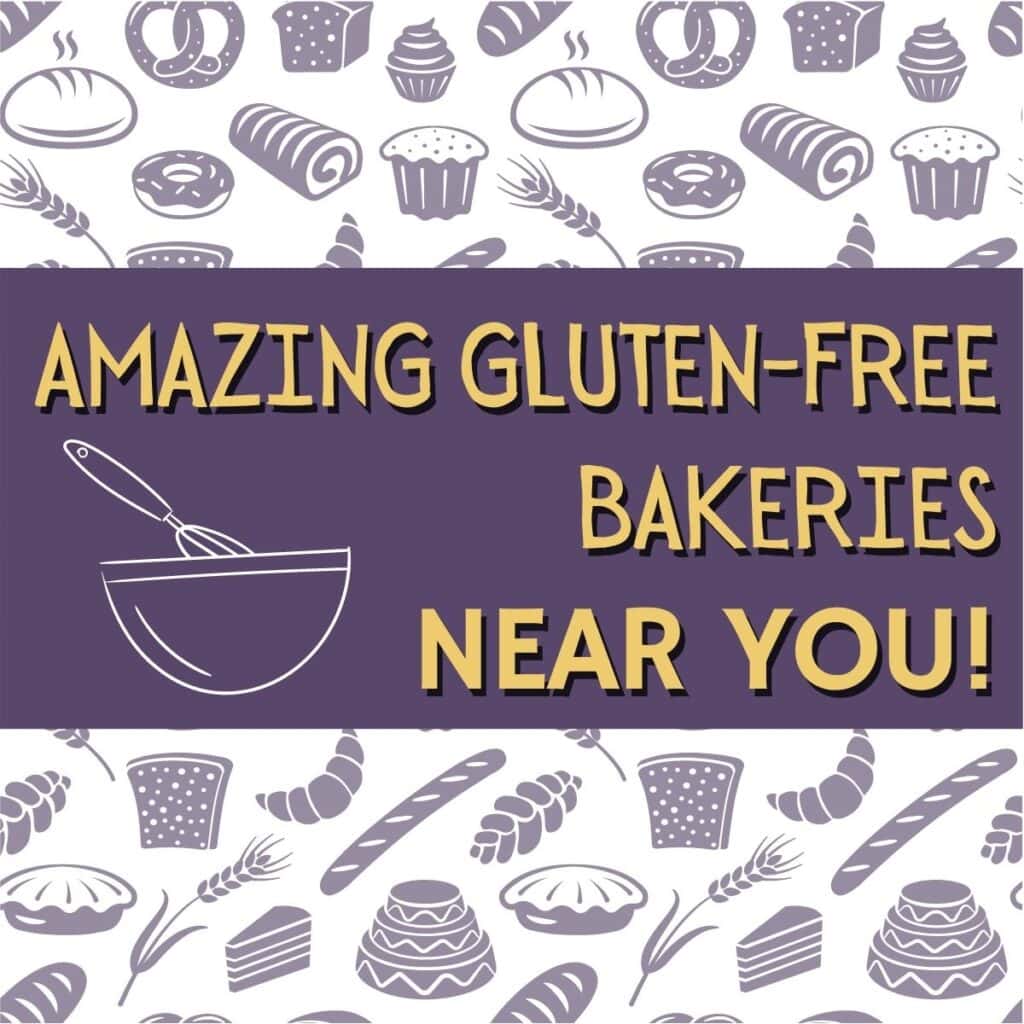 Do you have a suggestion or a fave local bakery you would like me to include here? Please contact me and I will be happy to add it to this list of gluten-free bakeries!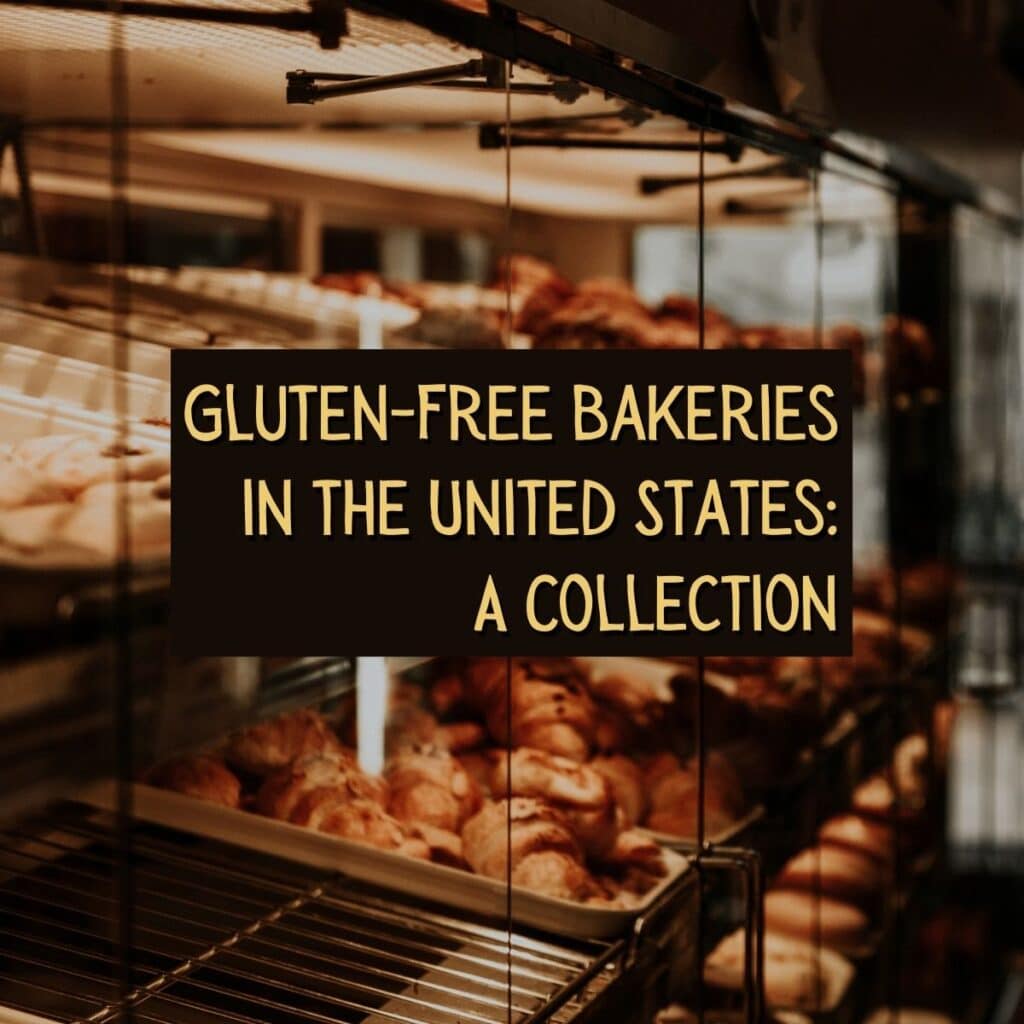 Alabama
Mason Dixon Bakery in Huntsville, Alabama.
---
Guncles Gluten-Free in Mobile, Alabama.

Alaska
Fire Island Rustic Bakeshop in Anchorage, Alaska.

Arizona
Jewel's Cafe in Phoenix, Arizona.
---
Gluten-Free Creations in Phoenix, Arizona.
---
My Gal Sal in Phoenix, Arizona.
---
Morning Glory Cafe in Flagstaff, Arizona.
---
Brandy's Restaurant in Flagstaff, Arizona.
---
Dedicated in Tucson, Arizona.
---
Gourmet Girls in Tucson, Arizona.

Arkansas
Dempsey Bakery in Little Rock, Arkansas.

California
Annie from Savvy Honey recommends:
Pushkin's Bakery in Sacramento, California.
Everything at Pushkin's bakery from the tasty cupcakes and cookies to the delicious bread doesn't even taste gluten-free. Like me, you may have tried your fair share of flavorless and oddly textured gluten-free baked goods. My past experience made me appreciate even more everything I've ever tried at this Northern California gluten-free bakery, they hit it out of the park every time.
---
Robin from Vegan Dollhouse recommends:
Babe's Ice Cream and Donuts in Sacramento, California.
They have gluten free donuts and ice cream, and they're super friendly and have a cute smoosh face dog mural on the wall.
---
Twice Baked in Long Beach, California.

Colorado
Amber from Casa Asakura recommends:
Kim and Jake's Cakes in Boulder, Colorado.
Custom cakes and cupcakes made in a dedicated gluten free kitchen. Almost anything on their menu can be made vegan, as well as nut-free and soy-free. They make an incredible Thai curry frosting!
---
---
Sunshine & Moons in Glenwood Springs, Colorado.
Aime's Love in Longmont, Colorado.

Connecticut
Dee's One Smart Cookie in Glastonbury, Connecticut.

Delaware
Sweetopia in Newport, Delaware.
Florida
Renee from VEEG recommends:
DeLand Bakery in DeLand, Florida.
We often mention the organic and gluten-free millet bread we purchase from DeLand Bakery in our sandwich recipes. While DeLand is just a few miles away from our home, we realize that not everyone has a gluten-free bakery nearby, so we're happy to share that you can now order online!
---
Epiphany Gluten-Free Bakery in Naples, Florida.
---
Katy's Love Bites in Lake Park, Florida.

Georgia
Sara from Cooking with Fudge recommends:
Sally's Gluten-Free Bakery in Sandy Springs, Atlanta and Alpharetta, Georgia.
Sally's Gluten-Free Bakery is a family-owned bakery that specializes in gluten-free treats from bread, muffins, cakes, and pies. Everything is baked fresh from scratch every morning, and is beyond delicious!
---
2B Whole in Alpharetta, Georgia.
---
Dr. Hamidah Sharif-Harris recommends:
Sweet Valley Bakery in Fort Valley, Georgia

Hawaii
Pu'uwai Aloha Bakery in Honolulu, Hawaii.

Idaho
Gluten-Free Galaxy in Nampa, Idaho.

Illinois
Liz from ZardyPlants recommends:
Defloured in Chicago, Illinois.
This place has everything, including tons of vegan options. I always get whoopie pies and some of their bars because they're the best in the whole city, gluten-free or not!

Indiana
Native Bread in Indianapolis, Indiana.

Iowa
E's Gluten-Free in Iowa City, Iowa.

Kansas
Emily's Gluten-Free Bakery in Kansas City, Kansas.

Kentucky
Miracles Bakery in Lexington, Kentucky.

Louisiana
Mortar & Pestle Bakery in Lafayette, Louisiana.

Maine
Wild Flours Gluten-Free Bakery in Brunswick, Maine.

Maryland
Gluten-Free Bakery Girl in St. Michaels, Maryland.

Massachusetts
Violette Bakers in Cambridge, Massachusetts.

Michigan
Gluten-Free Specialties in Rochester Hills, Michigan.
---
Dulce Nulla Gourmet Desserts in Iron Mountain, Michigan.

Minnesota
Christina from Midwexican recommends:
Sift Gluten-Free Bakery in Minneapolis, Minnesota.
Everything is gluten-free and delicious, they make doughnuts, bars, rolls, cupcakes and more. They are known for nailing the texture and moistness of pastries unlike competitors who tend to be dry.

Mississippi
Cheeky Monkey Cake Co. in Biloxi, Mississippi.

Missouri
Morgana's Gluten-Free Bakery in Raytown, Missouri.

Montana
Sister's Gluten-Free Bakery in Belgrade, Montana.

Nebraska
Goldenrod Pastries in Lincoln Nebraska.

Nevada
Senza Gluten-Free Bakery in Las Vegas, Nevada.

New Hampshire
Bite Me Kupcakez in Merrimack New Hampshire.

New Jersey
Mary from V Nutrition and Wellness recommends:
Papa Ganache in Matawan and Cranford, New Jersey.
I love Papa Ganache because their baked goods are extremely delicious as well as vegan and gluten-free. They're mostly organic, use no preservatives, and custom orders can accommodate any dietary needs.
---
Rebecca from Strength and Sunshine recommends:
Plum Bakery in Montclair, New Jersey.
A woman-owned GF bakery with many vegan options. They have all the traditional bakery classics but everything is 100% gluten-free and safe for celiacs! From custom cakes in tons of different flavors and sizes to your everyday weekend bagel run!

New Mexico
Revolution Bakery in Santa Fe, New Mexico.

New York
Maike from Cheerful Cook recommends:
By the Way Bakery in New York Tri-State Area.
Let me tell you about a guilty pleasure of mine. It's called By The Way Bakery.If you are in the New York Tri-State area try to find time for this little gem. Your taste buds are going to thank you.They are a small batch, gluten and dairy-free bakery that is definitely worth a trip.You'll find them in New York City, Greenwich, and Westchester (Hastings-on-Hudson).This bakery makes everything from old-school cupcakes, muffins, layer cakes to breads, and pastry.What always gets me is that you'd never guess any of these delicious treats don't have gluten or dairy.The cupcakes are light and airy and have the creamiest frosting. The Raspberry bars look and taste like they come straight from a Parisian patisserie. One of our many favorites is their lemon poppy mini cakes. They are soft and moist and drizzled with a refreshing lemony frosting. A must try.We've stopped more times at this bakery than I want to admit and we've yet to find something we don't like. If you go, start with the cupcakes they are quite simply divine.
---
Sharon from The Helpful GF recommends:
Saratoga Gluten-Free Goods in Schuylerville, New York.
Saratoga Gluten Free Goods in Schuylerville, New York is so delicious! Not only can I order my favorites ahead of time but they also make delicious sandwiches, soups, pizza, and pot pies as lunch combos!

North Carolina
Lori from My Quiet Kitchen recommends:
BimBeriBon in Asheville, North Carolina.
BimBeriBon is a gluten-free, veg-friendly restaurant that also specializes in amazing baked goods and coffee. They're located in a fun and hip part of Asheville that's loved by both locals and tourists! The owners' passion for fresh, vibrant food is reflected in the bright and airy atmosphere and quality ingredients.

North Dakota
Mehl's Gluten-Free Bakery in Fargo, North Dakota.

Ohio
Courtney from NeighborFood recommends:
Bake Me Happy in Columbus, Ohio.
Along with bakery standards like cupcakes and pies, Bakes Me Happy makes gluten free versions of childhood favorites—including Oatmeal Creme Pies, Twinkies, and Donut Muffins.
Jen from Peel with Zeal also recommends Bake Me Happy in Columbus, Ohio.
This bakery specializes made from scratch nostalgic treats, seasonal scones, and creative coffees. Their oatmeal creme cloud sandwich cookie and pumpkin twinkies are favorites. While you are there stock up on all your GF grocery necessities. They have a grocery store on site with everything from pasta to take and bake mac and cheese.
---
Anna from Home with Anna recommends:
Cherbourg Bakery in Bexley, Ohio.
I visited this place because I was curious how the gluten-free baked goods taste and they have some amazing stuff! I tried their apple pie bar and the cream puffs and both were delicious!

Oklahoma
Juli from Pandemonium Noshery recommends:
Green Goodies in Oklahoma City, Oklahoma.
I'm not celiac but as I was scoping out options for my sister to visit I realized my favorite cupcake place had gluten free options so I tried one. Now I don't bother limiting myself to the regular cupcakes. I get whatever flavor looks the best because they are all amazing. They have vegan options available as well. And I am picky about store bought cupcakes, even from specialty bakers and theirs are the only ones I like.

Oregon
Kris from Paper and Heart recommends:
Petunia's Pies & Pastries in Portland, Oregon.
I can't recommend Petunia's Pies & Pastries enough! Their menu is entirely gluten-free and vegan and you'd never know it. They are a go-to for amazing cakes, pies, cupcakes, scones and more. Bonus is that the place is adorable!

Pennsylvania
Gluuteny Bakery in the Squirrel Hill neighborhood of Pittsburgh is wonderful! It is a dedicated gluten-free, dairy-free bakery with vegan and soy-free options. Everything is made in-house by hand daily. They have vegan pizza pockets as well as a large selection of cakes, cookies, doughnuts, and even vegan cheesecake.
---
Lauren from Chickpea and Herb recommends:
Crust Vegan Bakery in Philadelphia, Pennsylvania.
This bakery is incredible for gluten free baked goods ranging from cookies to full blown decorative birthday cakes. They also make their own savory breakfast bagels in house and sell local artisan cheeses as well. Everyone enjoys their desserts and rarely know that they are vegan because they are more delicious than any other bakery we've tried.

Rhode Island
Sans Gluten Artisan Bakery in Johnston, Rhode Island.

South Carolina
Lisa from Coastal Wanderings recommends:
The G-Free Spot in Hilton Head Island, South Carolina.
I love this gluten-free bakery in Hilton Head Island, SC. It's called the G-Free Spot and they have the best gluten-free pastries for breakfast – love their crumb coffee cake, cinnamon rolls, muffins, – as well as cakes, cookies, brownies, etc. They also have a dining room serving breakfast and lunch and two separate kitchens (gluten-free and regular) so the whole family can dine together and get something for everyone.
South Dakota
Heart of the City Bakery in Parker, South Dakota.

Tennessee
Vegan Vee Gluten-Free Bakery in Nashville, Tennessee.

---
Free Reign Bakery in Knoxville and Powell, Tennessee.
Texas
Marta from Sense and Edibility recommends:
Zucchini Kill Bakery in Austin, Texas.
Though we've moved nearly two hours away, Zucchini Kill Bakery is ALWAYS worth the drive. Located in Austin, TX, it's a woman-owned, eco-conscious, vegan and gluten-free bakery. Their baked goods are beyond delicious.
---
Hannah's Gluten-Free Bakery in Mesquite, Texas.

Utah
Sweet Cake Bake Shop in Kaysville, Utah.

Vermont
West Meadow Farm Bakery in Essex Junction, Vermont.

Virginia
The Happy Tart in Falls Church, Virginia

Washington
Nuflours in Seattle, Washington.

West Virginia
Venerable Bean Bakery in Morgantown West Virginia.

Wisconsin

Molly's Gluten-Free Bakery in Pewaukee, Wisconsin.
Wyoming
Glee Bakery in Jackson Hole, Wyoming.
If you enjoyed this list of "gluten free bakeries near me", please share it on social media. Thank you!
You Might Also Like