How to Reheat Pizza in the Oven + How Long
This post may contain affiliate links, and we receive an affiliate commission for any purchases made by you using these links. We appreciate your support!
Here's how to reheat pizza in the oven at the proper temperature to ensure your pizza reheats evenly and doesn't dry out. Reheating pizza will be a breeze with this handy guide!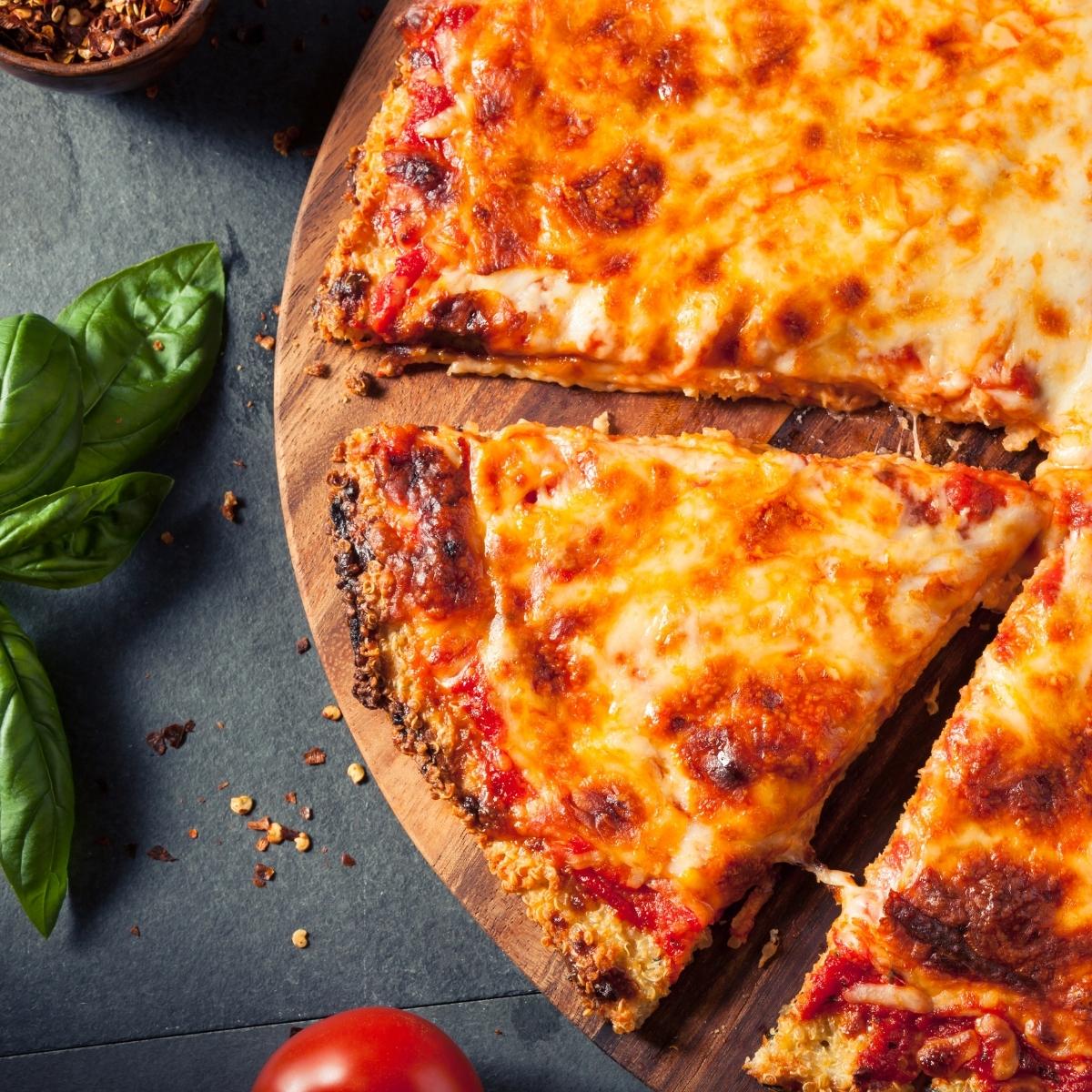 Left with pizza slices from yesterday's party? You might be wondering why the crust is stiff and dry by now. Just like any other bread, a pizza crust loses its moisture once its starches crystallize. Simply put, your day-old cold pizza straight from the fridge is not just the same. Can you still revive its crispy crust with oozing toppings? Definitely.

Bringing your leftover pizza slices back to its crispy, cheesy, and delectable form involves a complex reheating process with an oven method. You have to set the right temperature to ensure your pizza reheats evenly and doesn't dry out. This comes especially challenging when you're reheating a thin crust. Fret not, as reheating your favorite slice will be a breeze with this handy guide!
♨️ What is a Good Temperature to Reheat Pizza in the Oven?
Using an oven in reheating your pizza provides the perfect day-one crust consistency. In order to achieve this, it's essential to preheat your oven to 350 degrees fahrenheit. This is also the best temperature when you're reheating a deep-dish pizza, enabling a slow controlled heat to run across all sides.

Here, you can include a baking sheet in the preheating process for a crisp crust. You can also line the pan with an aluminum foil to make sure that the heat gets distributed evenly. Using an oven mitt, take out the hot tray and toss in your leftover pizza before popping it back into the oven.

But if you're not in the mood to wash extra dishes, you can just directly add the aluminum foil on the oven rack right after preheating. Add your cold pizza on top of the foil, and voila! You can start reheating right away.
⏲️ How Long Does it Take to Reheat Pizza at 350?
At 350 degrees fahrenheit, you can reheat your pizza the easiest way for about 10-12 minutes. This will melt the cheese and warm up your pizza just right. But if you'd like to have a crispier crust, leave it in the oven for a couple of minutes. Pro tip: prepare a salad side dish as you wait for the reheating time to finish!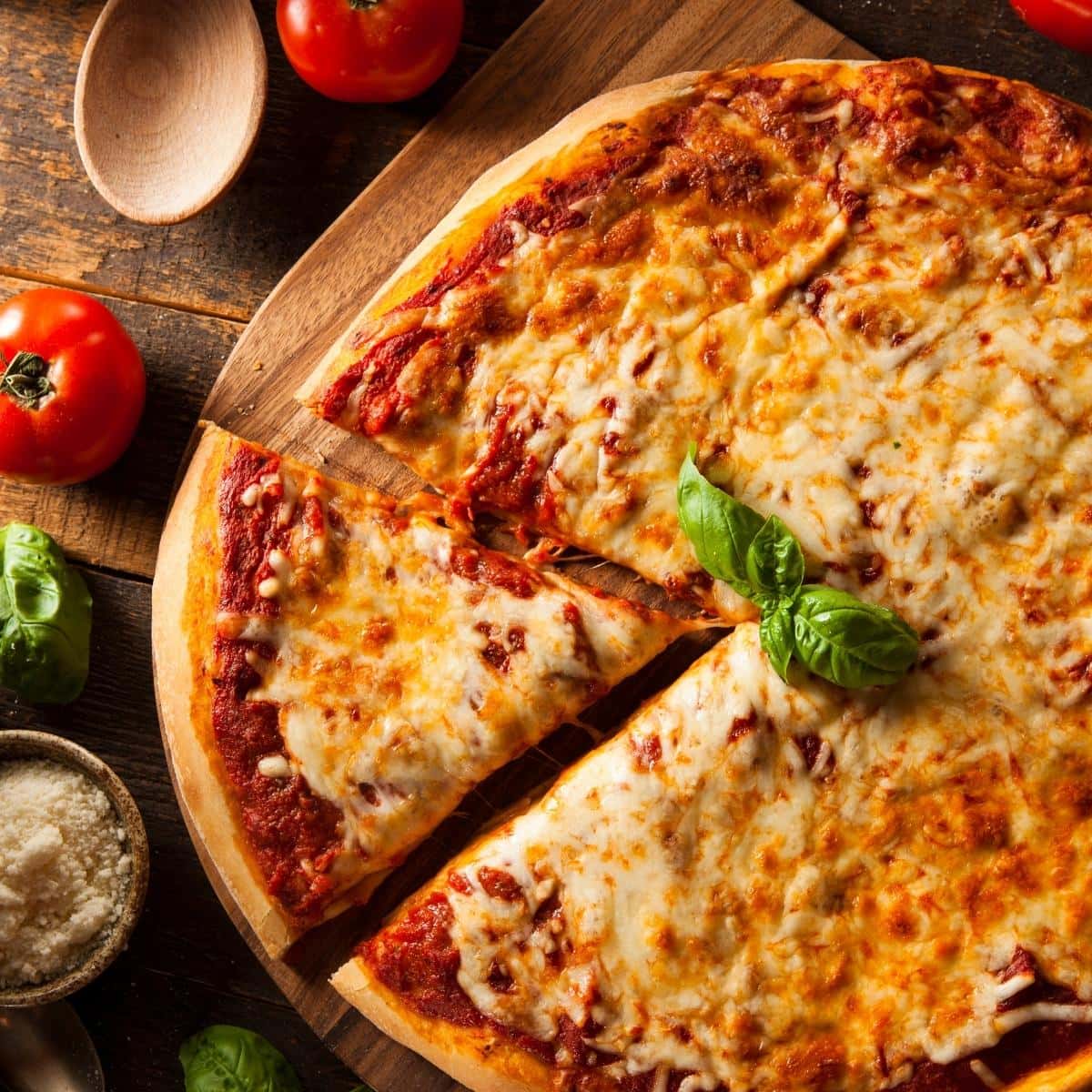 ⏲️ How Do You Reheat Pizza in the Oven at 375?
Now, if you've set your oven at 375 degrees fahrenheit, the process is roughly similar but with a shorter timeframe:
Preheat your oven to 375 degrees fahrenheit.
Line the baking tray with an aluminum foil. Likewise, get the sheet hot before it touches the pizza.
Toss in the leftover pizza. If you're reheating slices of pizza, evenly space out each slice so it warms up across all sides.
Return the pan inside the oven. Make sure to place it on the middle rack to get back the gooey cheese oozing.
Bake for about 7-10 minutes, carefully checking every now and then when the cheese noticeably melts and the crust is golden brown, you can remove from the oven. Remember, don't burn the sauce!
If you get it right, there you have it. In just a snap, you have your heavenly slice back.
⏲️ How Long Do You Reheat Pizza in the Oven at 400?
However, some chefs recommend reheating the pizza under high heat to regain its perfectly crispy crust. If you use the oven at 400 degrees fahrenheit, then you're in for a shorter waiting game. You will only need about 5-8 minutes to optimum crispiness.

Since it involves extremely high heat, a pizza stone is recommended instead of the usual aluminum foil. Pizza stones are especially helpful when reheating thin crust pizzas as it accelerates the heat absorption needed in producing the perfect crisp.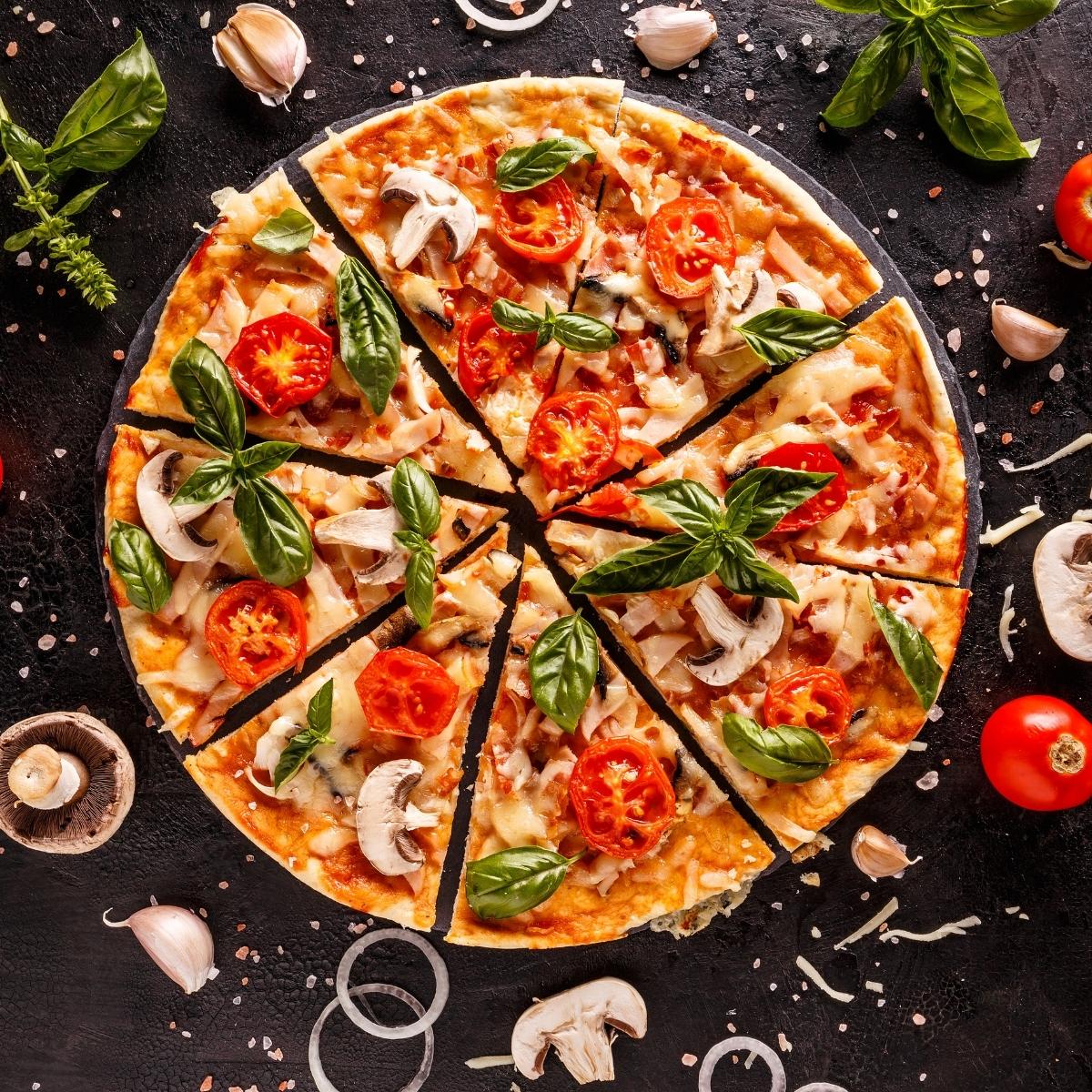 🍕 How Do You Reheat Pizza in the Oven without Drying it Out?
And the ultimate hack to avoid drying your pizza? The spritz trick! Use a mist sprayer and spritz the top of the pizza and its crust. These drops of water form the ultimate reheating hack to keep pizza leftovers from drying out using the oven process, and even aids in bringing back its crisp to life!

For an additional tip, you can even recreate your pizza as you reheat it! Toss in more slices of fresh tomatoes and cheese, even adding a drop of truffle oil for an exciting revamped flavor.

Reheating the pizza through the use of an oven can be really tricky, but this is easily manageable with the right temperature and time frame! After all, using an oven is the best method in having a consistent reheating quality.

Quicker methods like the use of cast iron skillet over stovetop or the use of a microwave oven, air fryer or toaster oven may be tempting, but are you willing to compromise quality? Are you in for a burnt reheated pizza?
Even worse, a warm but mega soggy crust sucking up all the flavor from that olive or mushroom.

Don't settle for less. Use a quality oven following this handy guide to get your heavenly slice back. From a day-old pizza, to a fresh day-one crispy but gooey slice that you're craving for!
🔥 Ooni Pizza Oven
Looking to cook pizza super fast? Check out the Ooni Pizza Oven!
📋 You Might Also Like
Can You Put Foil in an Air Fryer?