5 Best Mushrooms for Risotto
This post may contain affiliate links, and we receive an affiliate commission for any purchases made by you using these links. We appreciate your support!
The smell and taste of mushrooms can enhance a risotto dish. We take a look at the five varieties of mushrooms perfect for risotto. Find out which you can use here.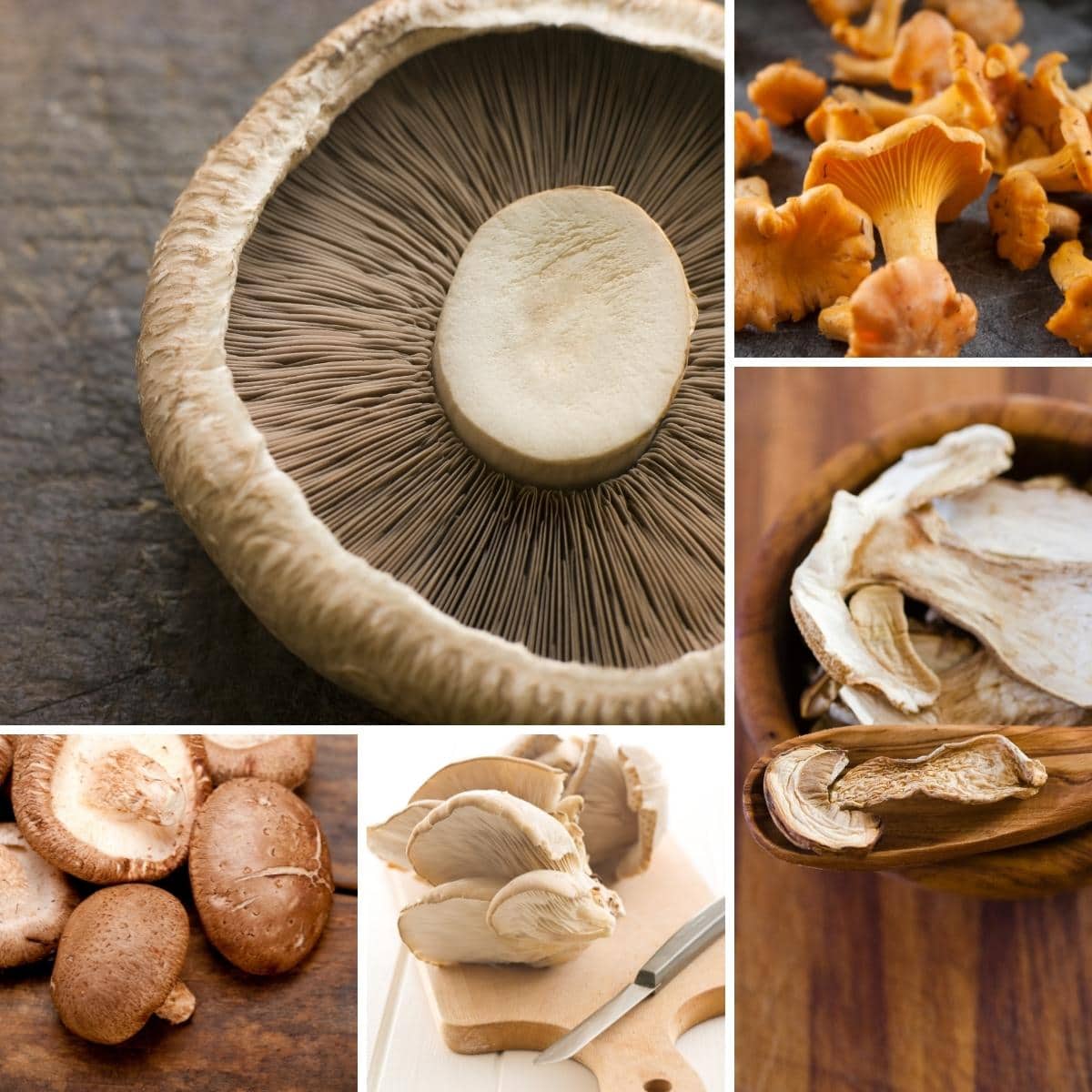 The secret to making the best risotto is having a rich, flavorful broth. And the ultimate vegan hack to achieve this creamy, flavorful consistency? Mushrooms! Adding this nutritious ingredient makes the calories worth it. After all, the smell and taste of mushrooms can enhance this classic Italian dish.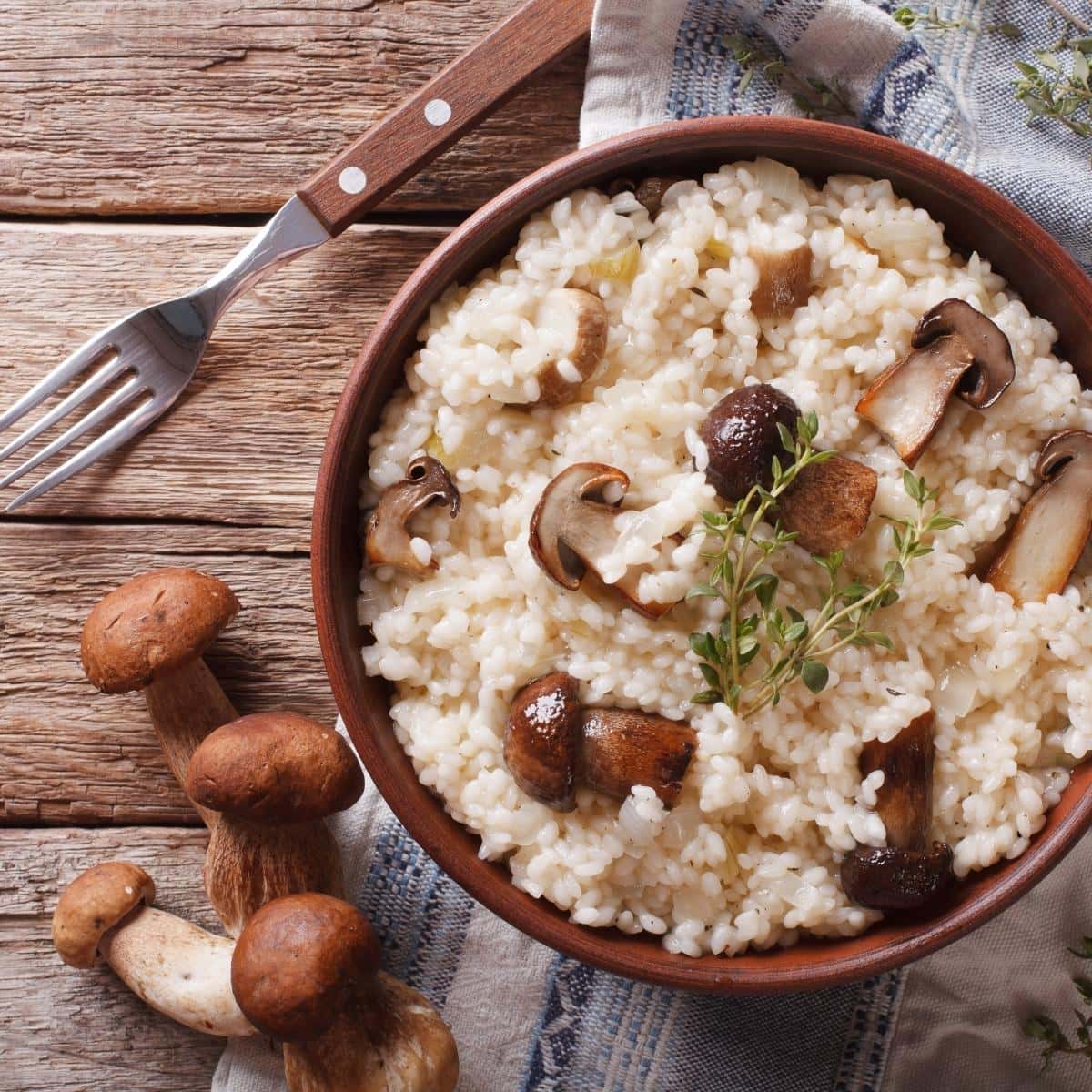 There's no single route in achieving this. Here, we'll take a look at the five varieties of mushrooms that you can use in creating the perfect mushroom risotto. Take a look at your pantry leftovers and find out which mushroom you can use!
🍄 5 Mushrooms for Risotto
1. Shiitake Mushrooms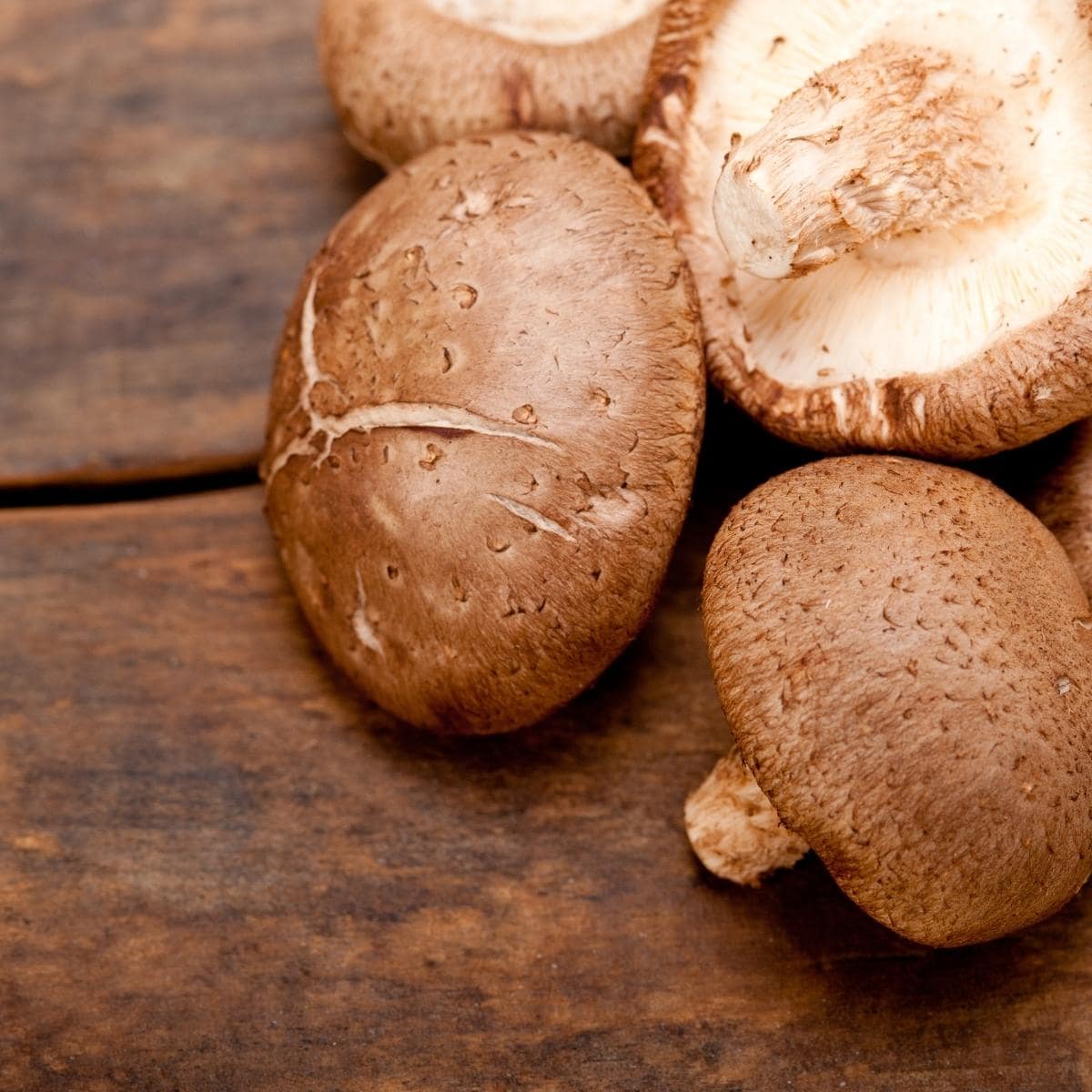 Add a kick of Asian flavor to your classic Italian dish by tossing in slices of shiitake mushrooms! This Asian cuisine staple brings out the needed delectable flavor with its strong and earthy taste notes and its soft, chewy texture. Filled with amino acid glutamates, shiitake mushrooms amplify the umami flavor needed in making your risotto broth stand out.
Rich in nutritional benefits, adding shiitake mushrooms to your risotto increases your intake of fiber, protein, iron, and B vitamins. However, when buying fresh shiitake mushrooms, you have to take note of getting fresh, smooth, and firm mushrooms. Avoid getting those wrinkled and slimy mushrooms to get the best quality.
Alternatively, you may also use dried shiitake mushrooms for a more intense flavor. Preparing this requires soaking the mushrooms in hot water for about 20 minutes to rehydrate and bring back its tender state. PRO Tip: Soaked too much? That's okay! Get an airtight jar and seal your rehydrated soaked mushrooms. Re-dry this in the fridge for days, and soak them once more for your next recipe!
2. Portobello Mushrooms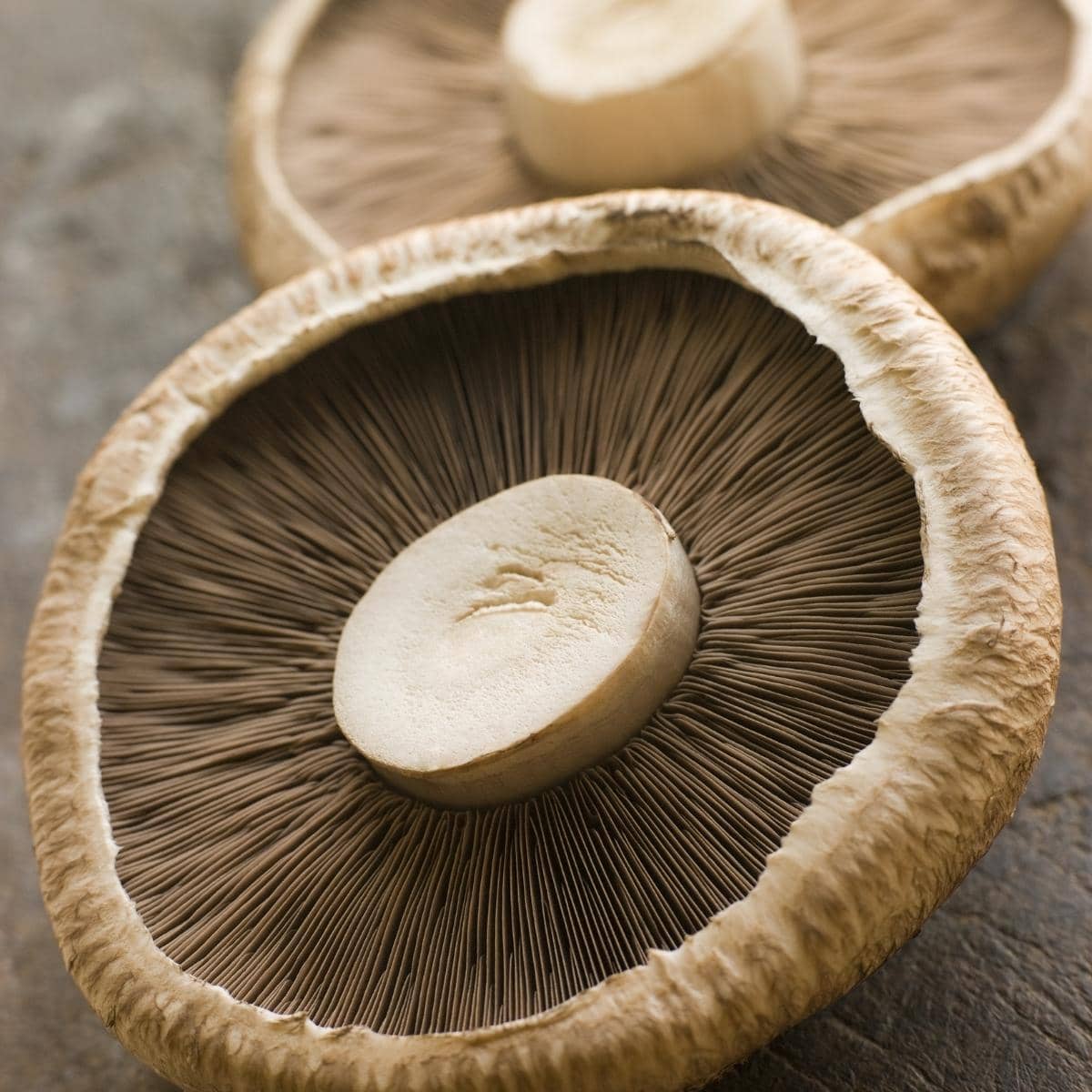 With the aromatic flavor of portobello mushrooms, create an authentic Risotto experience straight from Italy! Using this mushroom brings a smoky and savory flavor to your risotto, creating a meaty meat-free experience to your palate. In fact, this protein-rich ingredient is usually used as a meat substitute used across different vegetarian recipes to replicate a thick, crunchy, and meaty consistency.
In picking fresh portobello mushrooms, make sure to select firm, spotless, and smooth mushroom caps in varied hues of brown. PRO Tip: Don't forget to check the gills! It should be dry enough for a fresh quality. Clean the mushroom caps thoroughly to prepare it for your Risotto.
Belonging to the same portobello mushroom family, Baby Bellas can also be used to achieve a low-fat and cholesterol-free risotto. Baby Bella Mushrooms are a stage younger than portobello. It unveils a stronger, more robust flavor especially when sautéed.
See this Portobello Mushroom and Spinach Risotto.
3. Chanterelles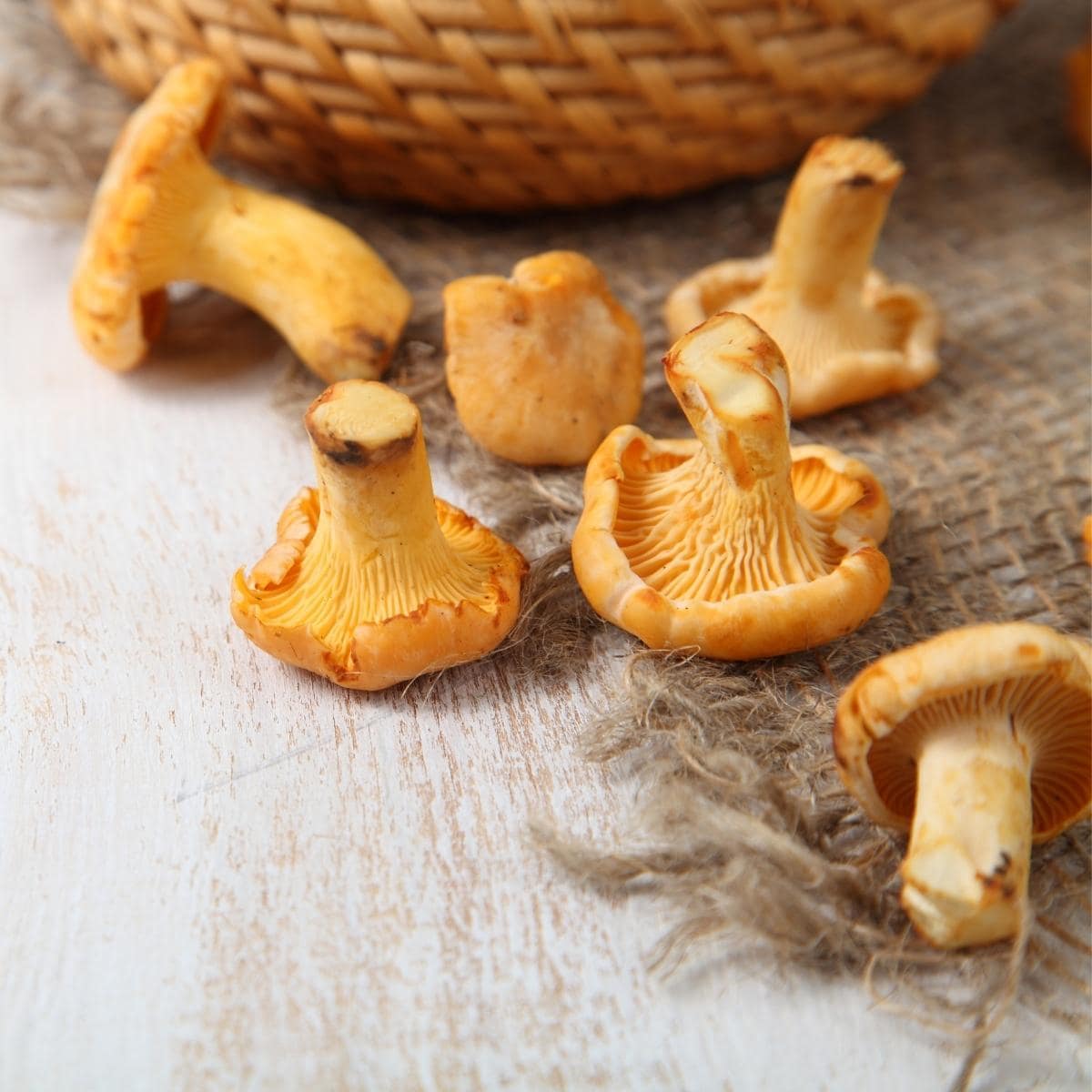 Known as the golden mushroom, chanterelles usually stand out in the grocery shelves with its bright yellow-orange color. They cost a bit more than other mushrooms with their rarity and distinct flavor.
Truly earthy, this mushroom bursts with peppery, apricot taste notes that blend well with white wine, making your risotto extra savory. In selecting fresh chanterelle mushrooms, look for its strong apricot fragrance. Just like other mushrooms, it should be firm and smooth.
4. Oyster Mushrooms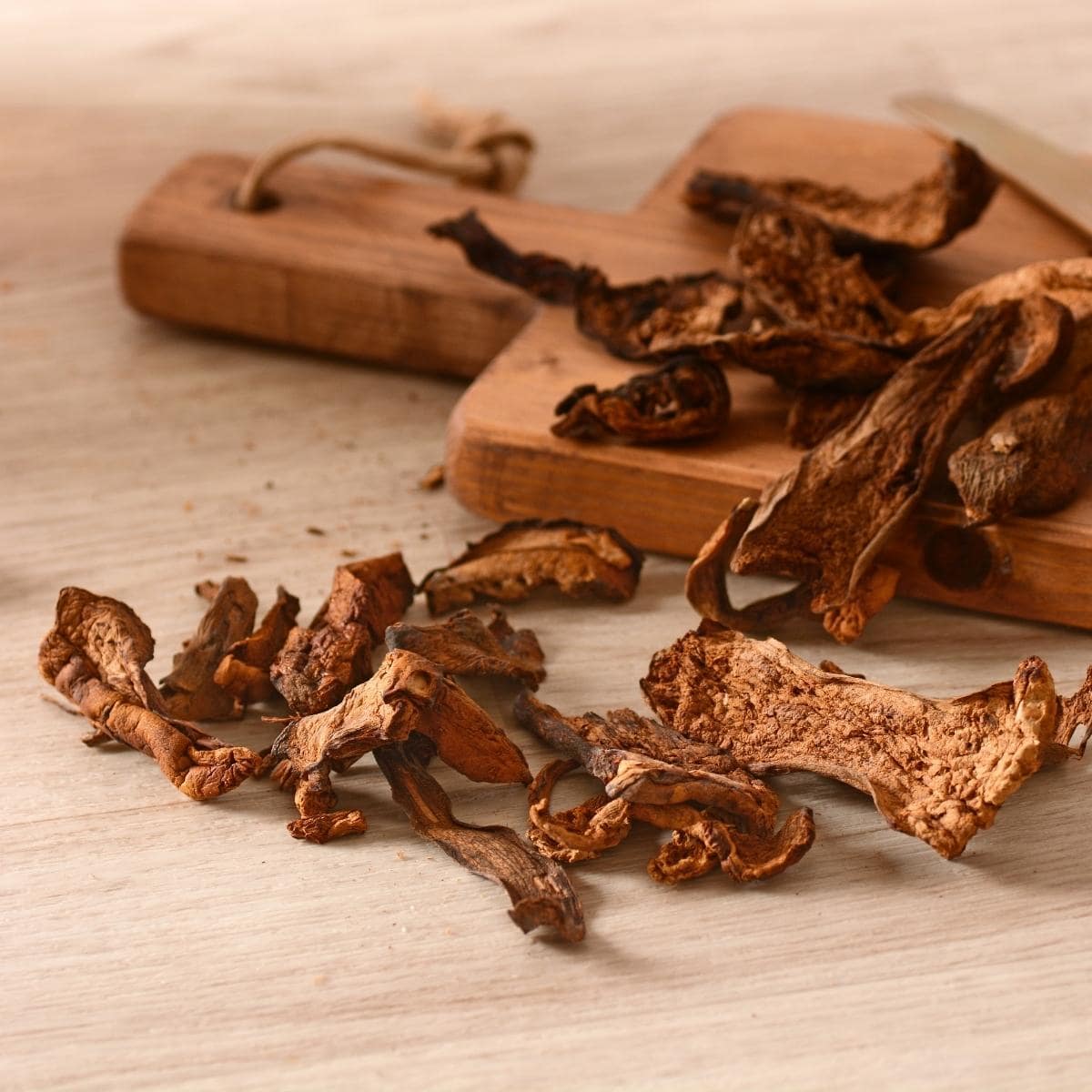 As a common pantry staple, oyster mushrooms arethe most popular mushroom choice in creating a mushroom risotto. It is also one of the most affordable mushroom choices in this list!
These broad, fan-shaped mushrooms have a tender texture and bring anise-like taste notes to your risotto with its delicate and mild flavor. Just like shiitake, this mushroom is widely used across Asian dishes.
Oyster mushrooms also have impressive health benefits. They are packed with antioxidants, vitamins, and minerals. Aiming to reduce your carbs? No worries! Oyster mushrooms have a low carbohydrate component perfect in creating a hearty yet flavorful risotto!
5. Dried Porcini Mushrooms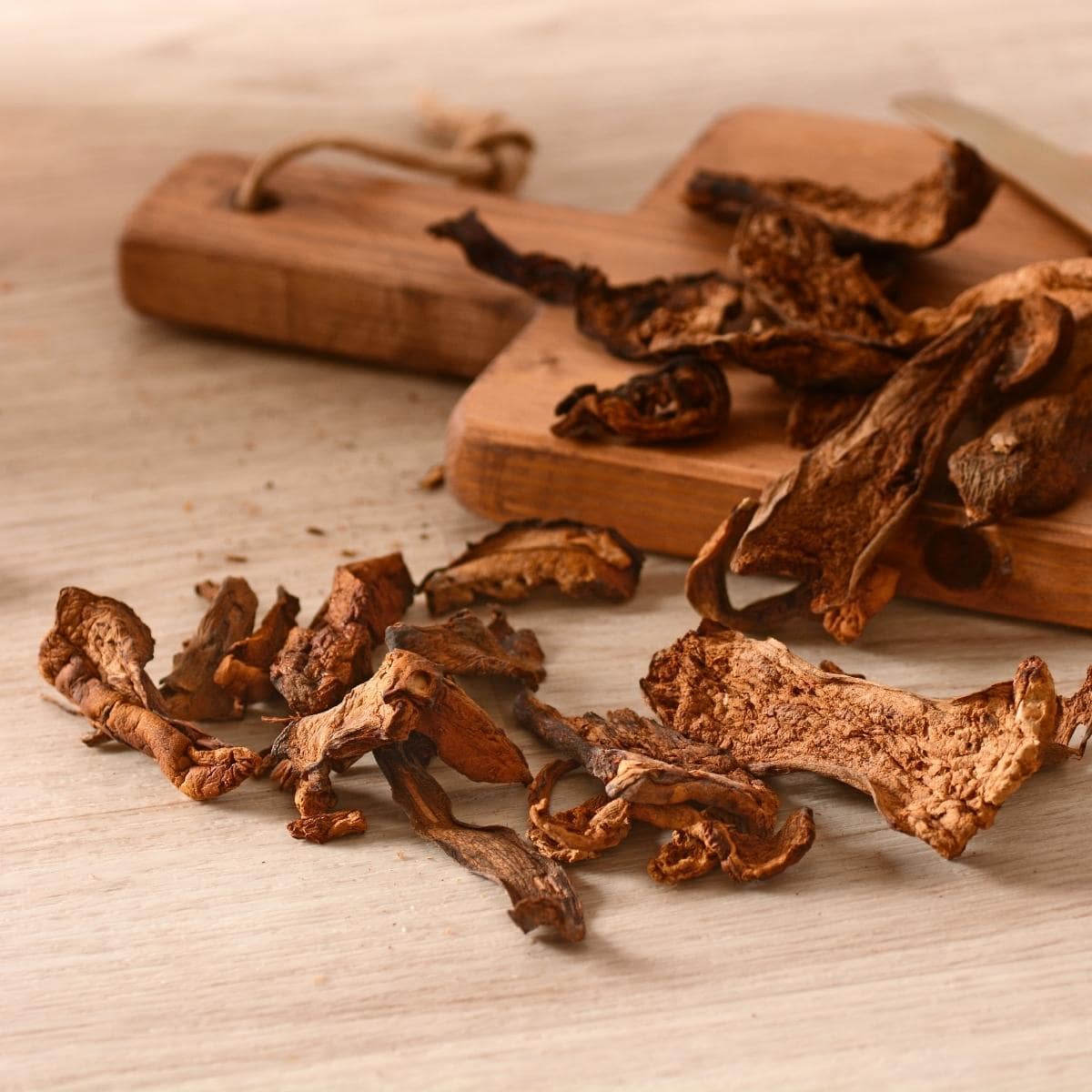 In for a rich, smoky, and nutty flavor? Then, dried porcini is your best mushroom bet in creating your favorite risotto! This wild, seasonal mushroom is used widely across French and Italian fine cuisines. As expected, it is usually more expensive than most mushrooms in the list.
Porcini mushrooms, especially when dried, bring rich fragrance to soups and stews. Adding this to your risotto produces a chewier texture with an evidently deeper, definitely nuttier flavor. Just like other mushrooms, preparing dried porcinis requires about 20-30 minutes of soaking in warm water until it softens. PRO Tip: use the leftover broth in simmering your rice!
🔪 How to Use Fresh Mushrooms in Risotto
You have to take note that using fresh mushrooms in cooking your risotto follows a different preparation technique. You have to release its moisture by tossing the fresh mushrooms in the pan. Remember, excessive liquid extraction from the mushroom is essential in producing risotto's creamy consistency.
It is also important to note that fresh mushrooms are much blander than dried mushrooms. To get the best flavor, you will need to crisp the edges of your fresh mushrooms along with the right mix of thyme (or parsley), garlic, onions, butter or olive oil, lemon juice, and a dash of salt and pepper (parmesan cheese doesn't hurt either!).
You might also like this vegan mushroom pasta.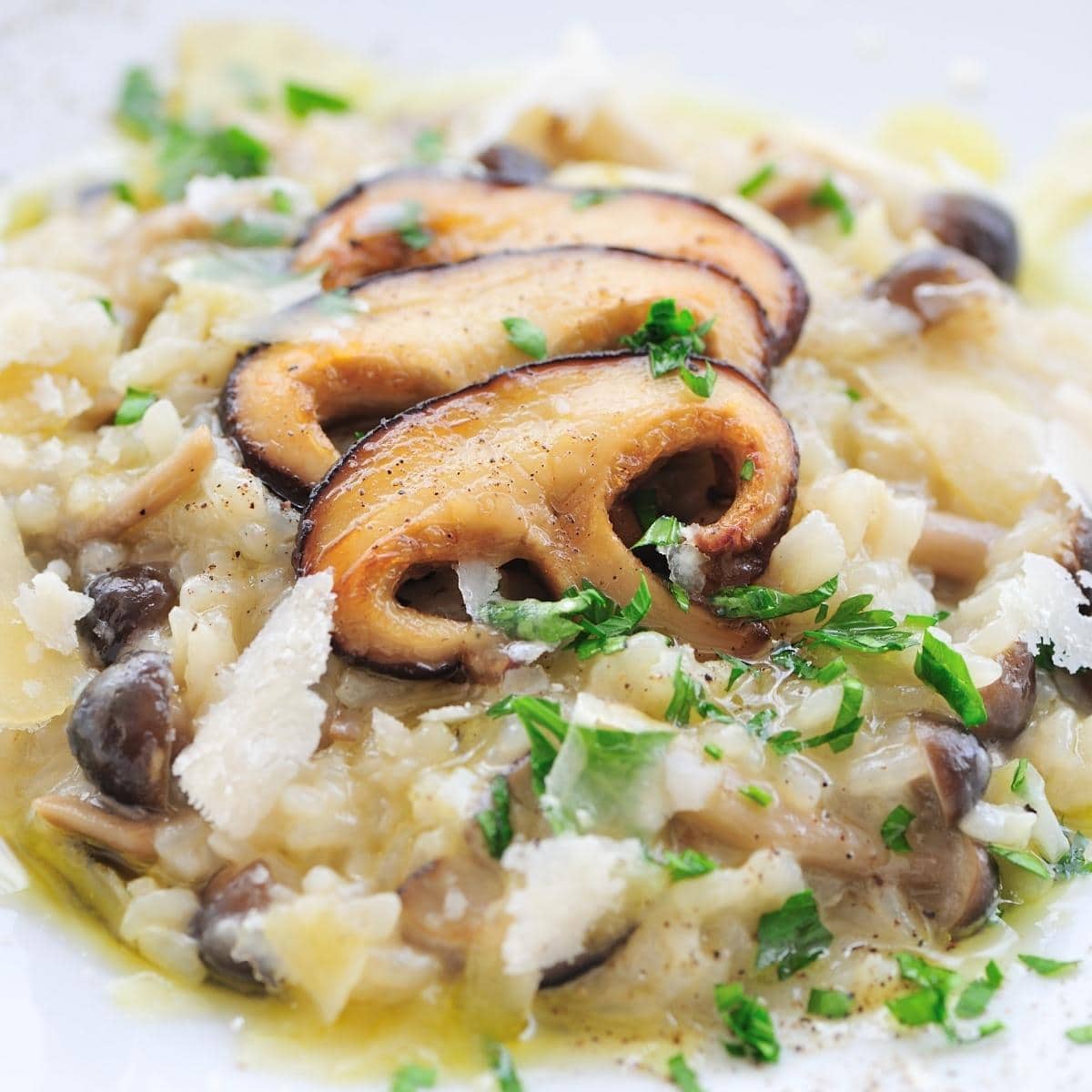 💭 Top Tips for Making Mushroom Risotto
Following an authentic Italian style, preparing an al dente mushroom risotto can be a bit taxing. However, this low-calorie, flavor-packed dish will always be worth the time and effort! Here are some tips and tricks to achieve a hassle-free gourmet mushroom risotto quality:
1. Toast the rice.
First, let's get this straight: toast the arborio rice. It's essential to acknowledge that using this high-starch rice is the ultimate trick in creating a creamy consistency. You cannot just use any other grain to avoid a mushy risotto experience. Next, toast it! You can toast the rice grains over medium heat by sautéing them quickly to stiffen the grains and aid in slower moisture absorption. Stir frequently to prevent over-toasting!
2. Save the stem.
Firm mushroom stems have the richest flavor. Instead of throwing this out, save the stem and create a mushroom stock where you can have your rice simmered. This brings out an extra oozing flavor to elevate your risotto experience!
3. Caramelize the mushrooms.
To get that golden brown, caramelized mushroom consistency, get the largest pot or saucepan to give enough space for each mushroom. They should not overlap to get the crisp and unearth its wholesome flavor. PRO Tip: caramelize the mushroom and shallots together for a maximum flavor burst!
4. Don't settle for one!
Here to get the best mushroom flavor? Then don't be afraid to mix and match! Use different mushrooms to get the best flavor variations in one dish. For instance, you can mix Baby Bella and shiitake mushrooms for a great balance in texture and flavor. Toss in some butter, mix your aromatics, then add the mushroom variations to extract the meatiest meat-free flavor!
5. Set aside the soaking liquid.
If you've used dried mushrooms, keep the soaking liquid and mix it in as you simmer the broth or stock. This amplifies the mushroom flavor in the grains, producing a decadently creamy consistency.
6. Use a warm broth.
The temperature of the broth plays a critical part in determining your risotto's consistency. Using a warm vegetable stock or broth makes the rice consistently starchy and mushy, cooking the rice evenly.
Ready to cook the best mushroom risotto? Now here are some mushroom risotto recipes for you to try!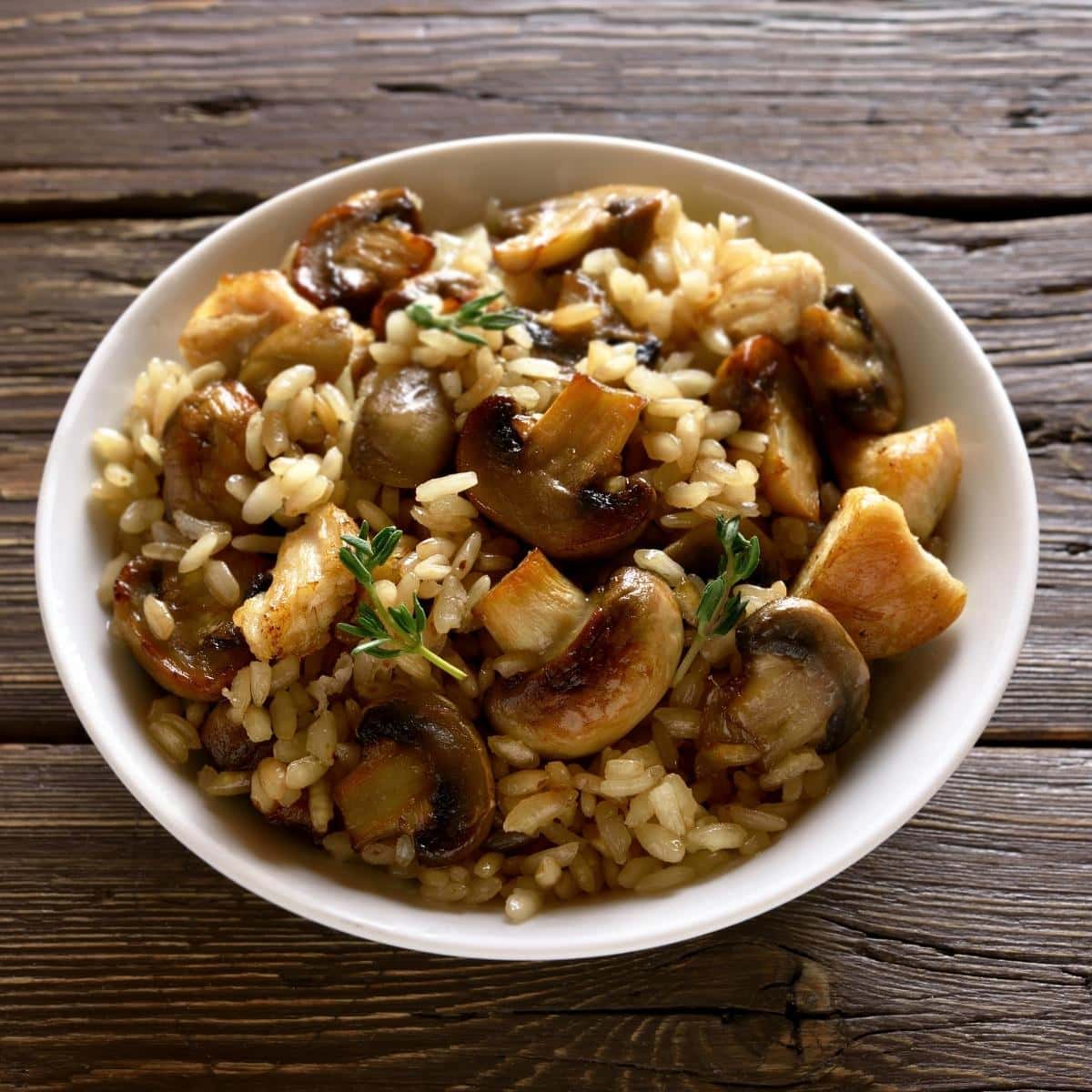 🍲 Mushroom Risotto Recipes