Disclaimer: Please note that some of the links below in this post are affiliate links and I will earn a commission if you purchase through those links. I regularly use and recommend all of the products listed below because I find them to be of great quality and use! All proceeds go back into maintaining and creating for this site. Thank you!
Last Updated on
Hearty and comforting curried red lentil spring rolls with a creamy lemon-ginger tahini dipping sauce. Delicious, healthy, filling, & easy to make!
As the air begins to carry a hint of autumn, I find myself desiring meals with a certain warmth & heartiness about them.
These red lentil spring rolls are once such meal. They are full of wholesome and nourishing ingredients (and, protein!), and combined with a delectable dipping sauce — they make for one incredibly tasty and satisfying meal as well.
This creamy dipping sauce now: amazing.
It makes a divine pairing with the warming spices of the spring rolls, but I'll have you know — this sauce can be used many different ways and with many different things, too…
And, these spring rolls: a perfect medley of textures & flavors!
With a touch of broccoli, onion, and flavorful spices (including the amazing healing turmeric), they make for one nourishing and nutritious dish…
So, whether you are swinging by for the toasted and filling deliciousness of these beautiful red lentil spring rolls, or the versatile yumminess of this incredible creamy tahini dipping sauce, you are certain to find a belly full of happiness, this I know. . .
If you try this recipe please let me know! Leave a comment, rate it, share this post, use Pinterest's "tried it" feature, or take a photo, & tag me on Instagram and I'll share it! Thank you so much! <3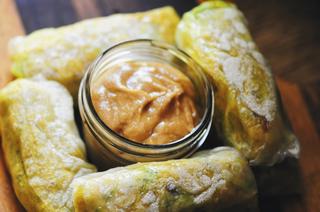 Pan Fried Red Lentil Spring Rolls + Lemon-Ginger Tahini Dipping Sauce (Gluten-Free, Vegan)
Hearty and comforting curried red lentil spring rolls with a creamy lemon-ginger tahini dipping sauce. Delicious, healthy, filling, & easy to make!
Ingredients
Spring Rolls:

2 cups

red lentils, cooked

1 cup

broccoli, steamed & finely chopped

1/3

white onion, chopped

3

garlic cloves, minced

1 tsp

turmeric

1 tsp

sea salt

1/4 tsp

red chili flakes

1/4 tsp

freshly ground coriander seed

1/4 tsp

cumin seed

2 tbs

coconut oil

9

rice paper/spring roll wrappers

Lemon-Ginger Tahini Dipping Sauce:

1/2 cup

tahini

1 tbs

maple syrup

2 tbs

lemon juice

3 tsp

gluten free tamari sauce

1/4 tsp

ground ginger
Instructions
In a large skillet over medium heat, heat 1 tbs coconut oil.
Sauté onion & garlic until softened & beginning to brown – about 5 minutes.
Stir in your cooked lentils and broccoli, followed by all spices. Cook
for a few minutes until all is well combined. Turn off heat, set aside.
Take one rice paper wrapper & dip it in a large bowl warm water until slightly softened.
Lay rice paper flat on a cutting board & spoon 2 tbs of lentil mixture
into the center. Fold the bottom up & over mixture, followed by
folding each side in. Starting at the bottom, tightly roll upwards
until you have one spring roll. Repeat with remaining ingredients
until you have 9 spring rolls.
Heat 1 tbs of coconut oil in a skillet over medium heat. Place spring
rolls (in batches) into heated skillet.
Fry for a few minutes, flip, and fry for a few more minutes, or until
desired crispiness is achieved.
Let cool before serving (with lemon-ginger tahini dip!}
Lemon-Ginger Tahini Dipping Sauce:
Combine all dip ingredients. Whisk until smooth. Refrigerate any unused portion for up to one week.
Enjoy!
Details
Prep time:


Cook time:


Total time:


Yield:
9 spring rolls | 1/2 cup dip