Air Fryer Apple Chips – A Healthy Snack
This post may contain affiliate links, and we receive an affiliate commission for any purchases made by you using these links. We appreciate your support!
Air fryer apple chips are a healthier way to satisfy your craving for a tasty, crunchy snack. Made without oil and entirely vegan and gluten-free, these will be a hit amongst kids and adults alike!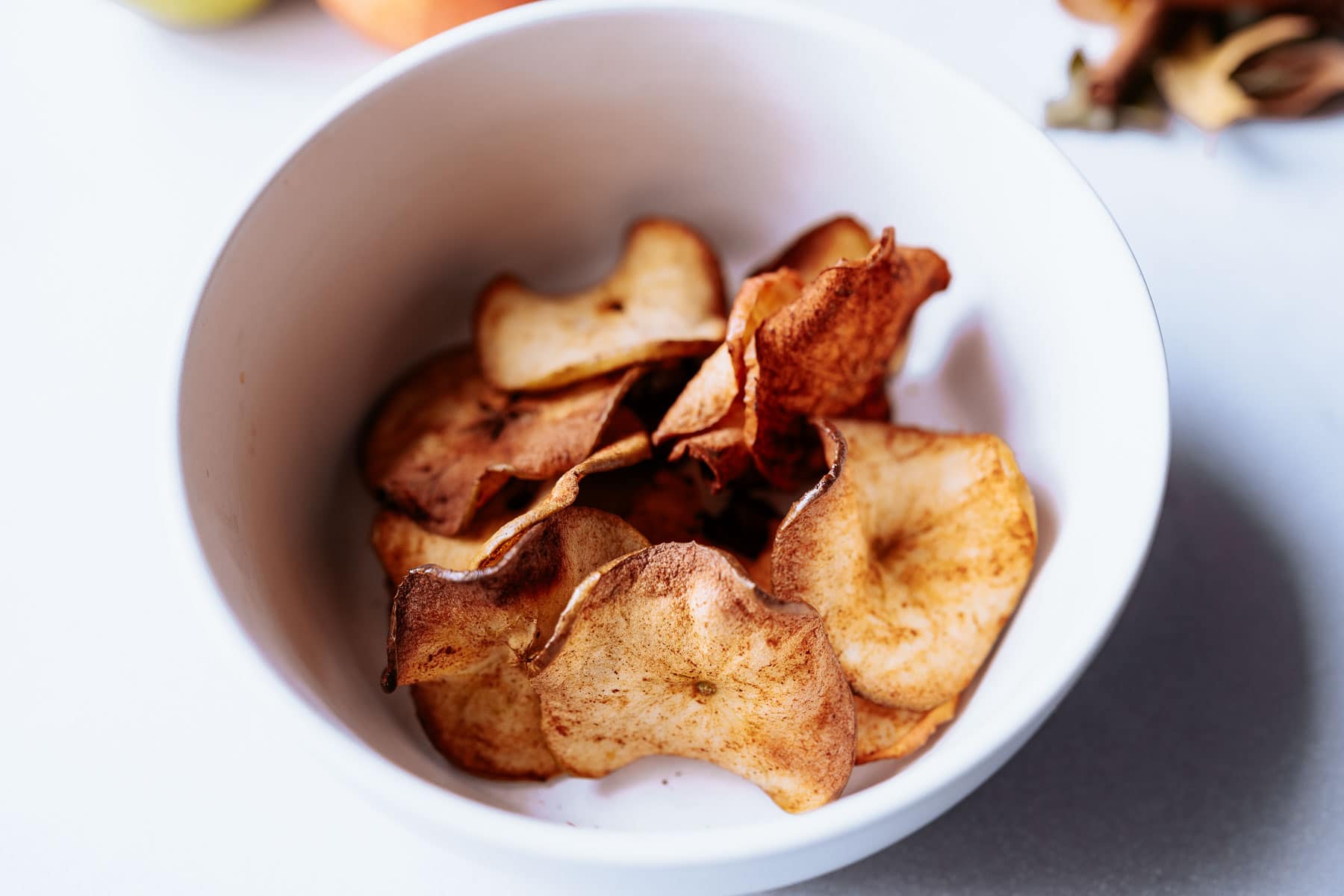 Why You Will Love This Recipe
Air fryer apple chips have become one of the most in-demand snacks in our house because they taste so good! I make them with a dusting of cinnamon which has a sweet and slightly woody flavor that contrasts beautifully with the bright freshness of the apple.
I love to air fry them because they are quick and easy, and they're packed with fiber, making them the perfect healthy snack. In addition, apples are bursting with Vitamin C, which is a great immune booster, perfect for the cooler months.
Like potato chips (or crisps, if you're in England), air fryer apple chips are bite-sized and have a satisfying crunch. They're a great snack for when you're on the go, and they're easy to make ahead for lunchboxes, too. The entire family is certain to love this delicious snack!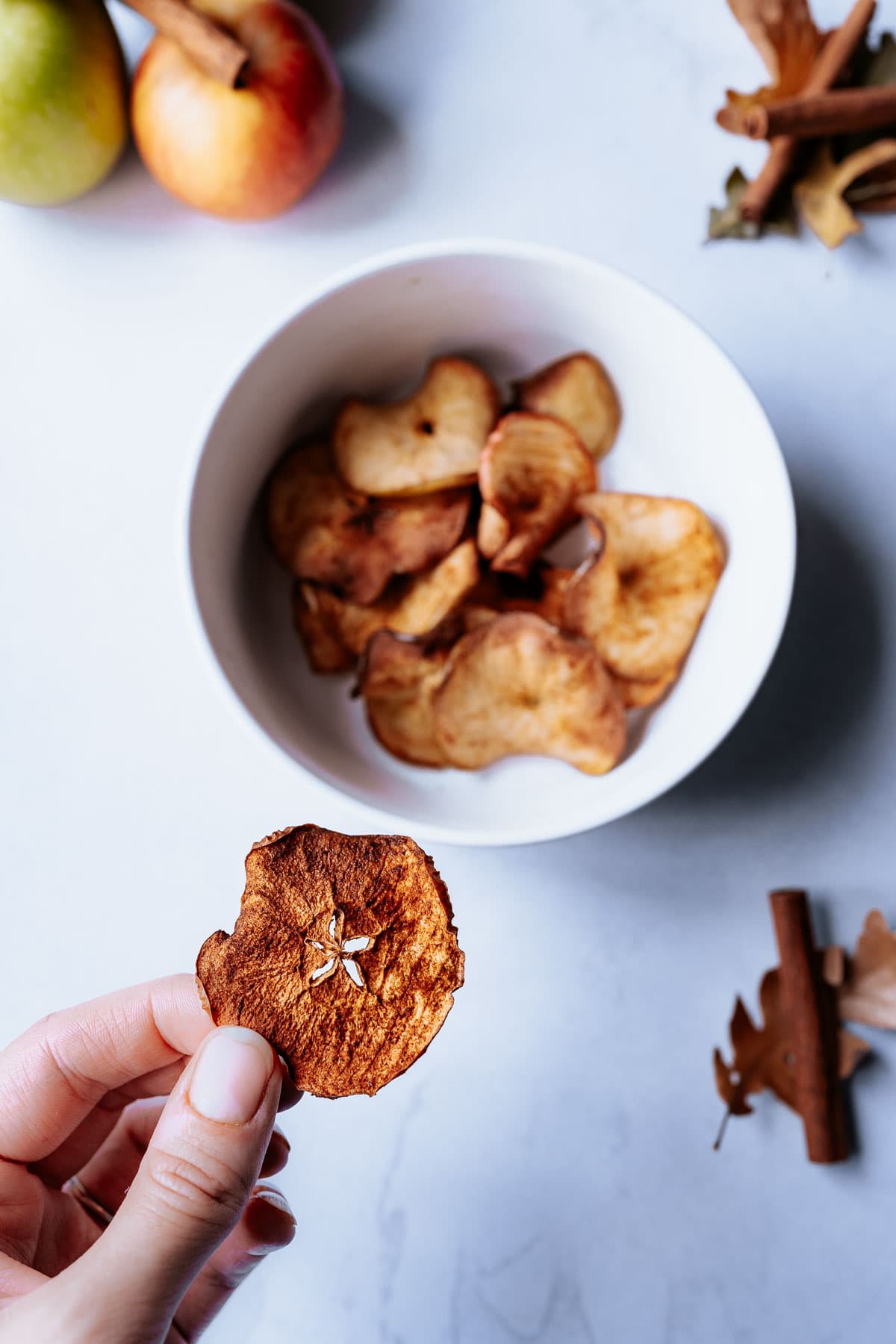 What are the Best Apples to Use for Apple Chips?
Granny Smiths are my personal favorite when it comes to apple chips! They're firm and crisp, and they have a slightly tart, mouthwatering flavor, which is enhanced by cooking in the air fryer.
If you don't like Granny Smiths, some other good options are Golden Delicious, Honeycrisp, Fuji or Gala apples. When you're following this apple chips recipe, you'll want to use a type of apple that is fresh, firm and crisp and has a robust flavor.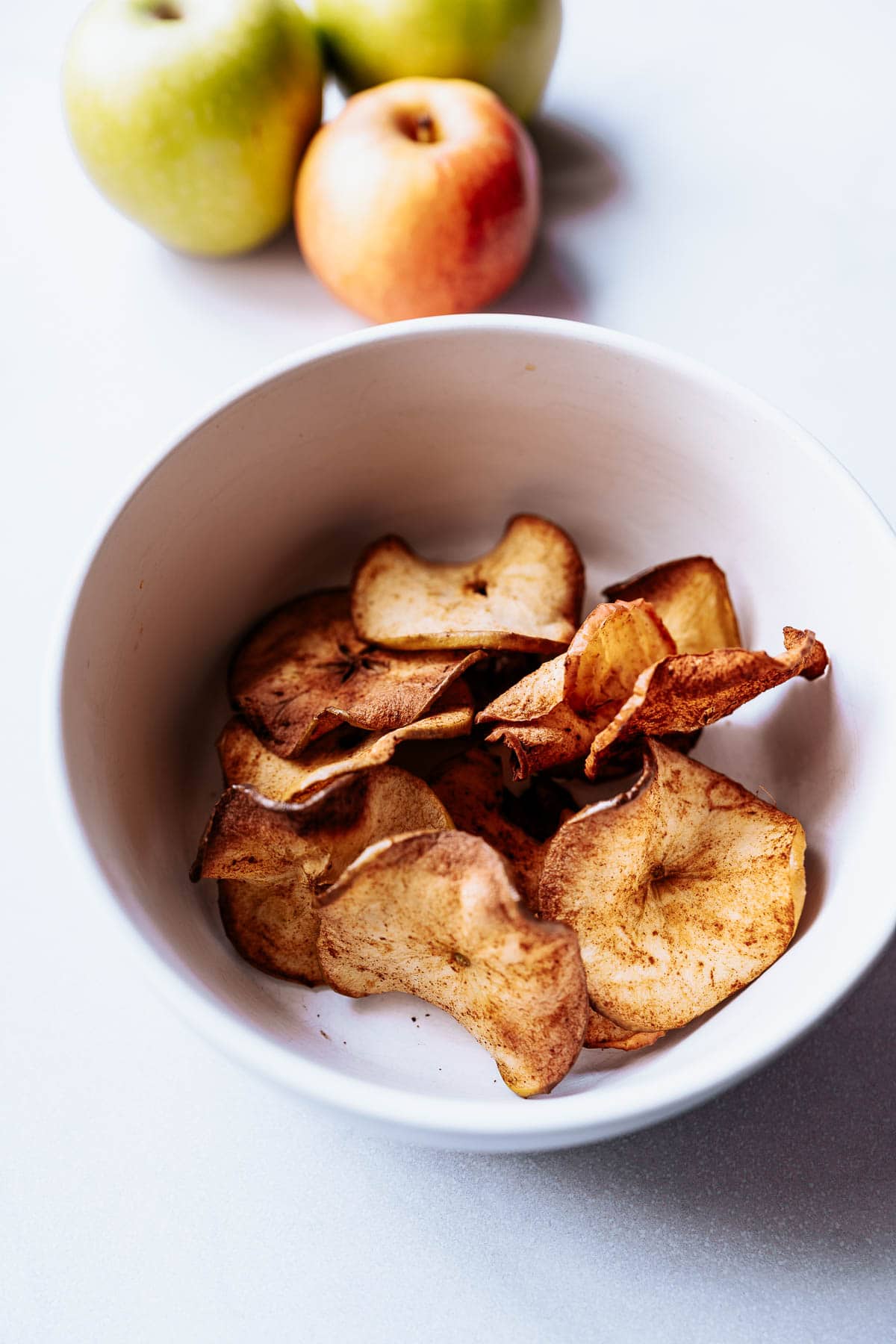 What's the Best Way to Slice Apples for Apple Chips?
If you want your air fryer apple chips to go lovely and crispy, you'll want to get your slices as thin as possible. If you have one, I'd recommend using a mandoline to slice up your apple. Mandolines usually slice more thinly than a knife, and they'll ensure that your slices are uniform, too.
If you don't have a mandoline, then make sure you use a sharp knife. A sharp knife will ensure that your slices are thinner, and it's a lot safer, too. You're much more likely to injure yourself using a blunt knife because it can slide off of the surface of the apple and catch your hand.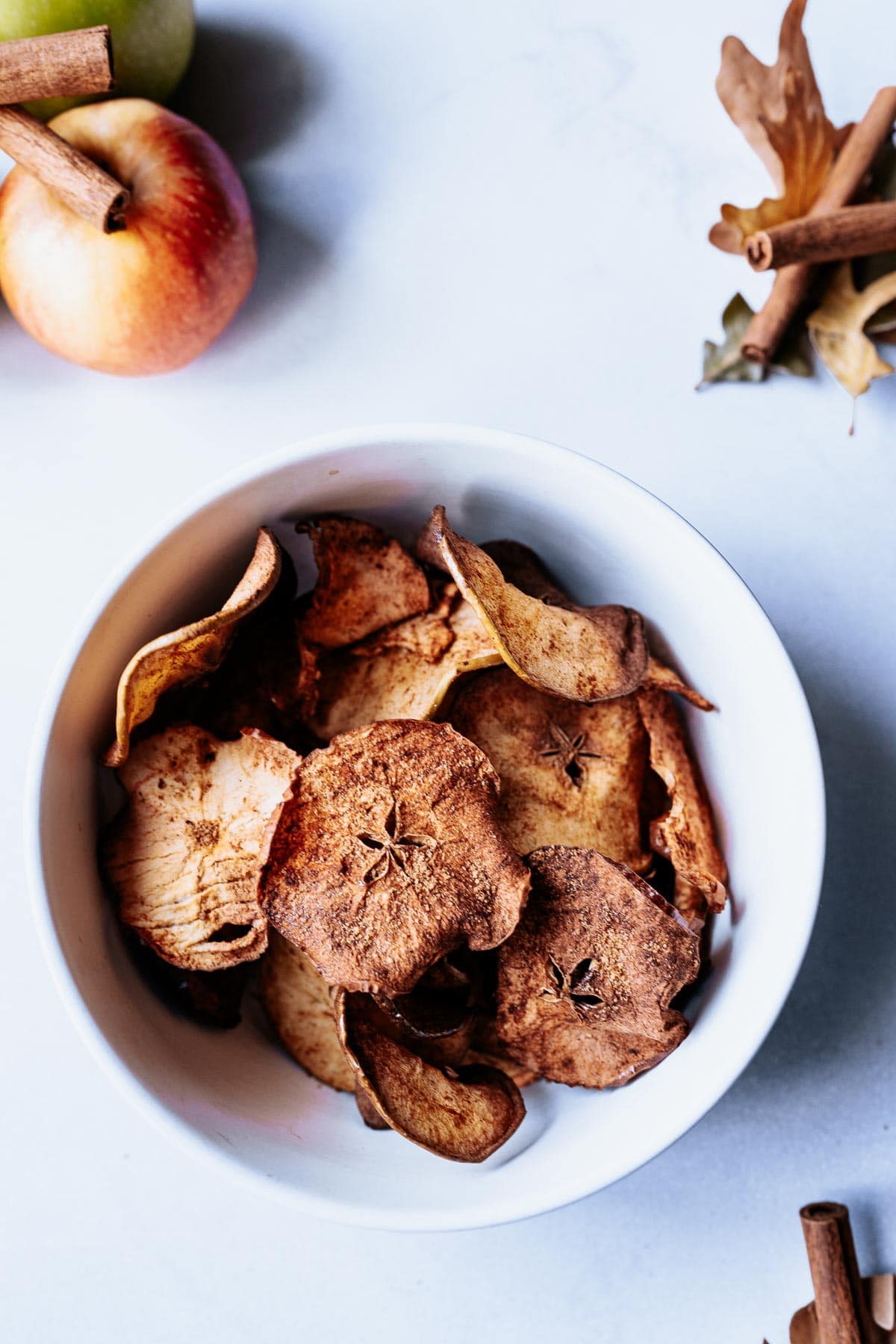 How to Make Air Fryer Apple Chips
To make these air fryer apple chips, you will need these ingredients:
Apples. Use any kind of firm, crisp apple. Using a mixture of red and green apples will make your chips look even better! Ensure your apples are thinly sliced, ideally using a mandoline.
Ground Cinnamon. Adds a woody sweetness to your apple chips.
Coconut sugar (optional). Use it if you want to add some extra sweetness and see some caramelization. Coconut sugar is a healthier alternative to highly processed sugars.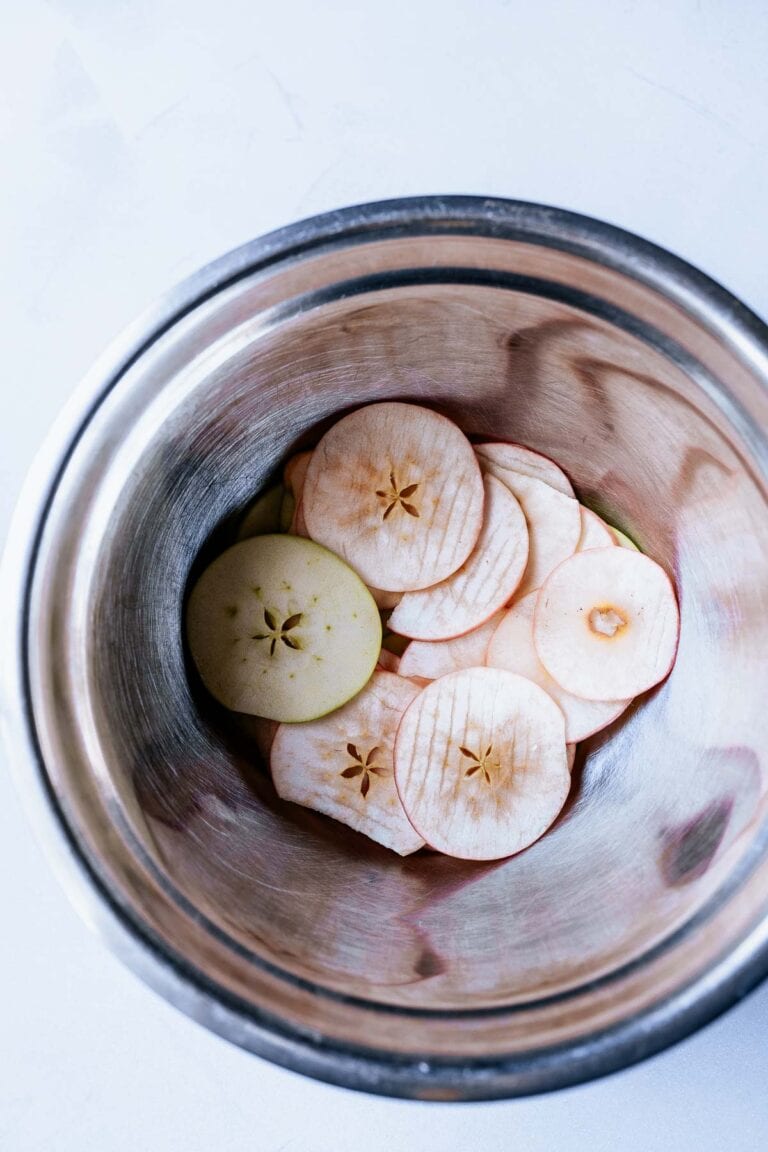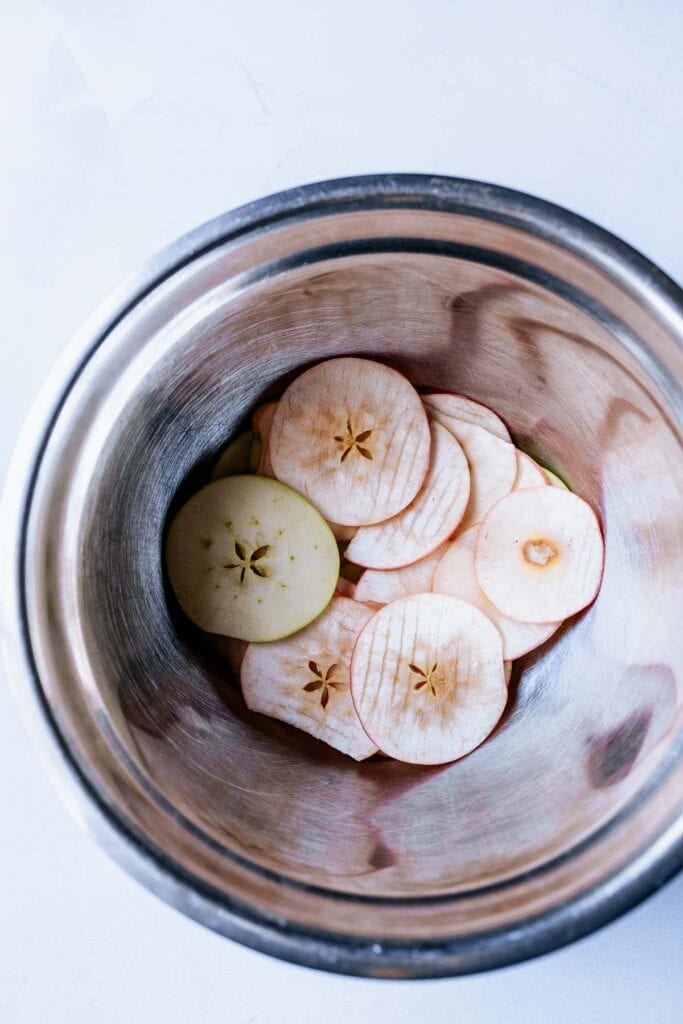 Instructions:
Add the apple slices, cinnamon and sugar (if you're using any) to a mixing bowl. Toss them together to coat the apples in cinnamon and sugar.
Place the slices in a single layer in your air fryer basket. You may need to work in batches to cook them all. Cook at 325°F for 15 minutes, or until the apple slices start to golden on the edges and are firm to touch. To ensure even cooking, shake the air fryer basket or flip every 5 minutes.
The homemade apple chips will continue to crisp up as they cool.
Serve them on their own, or use them to scoop up peanut butter – delicious!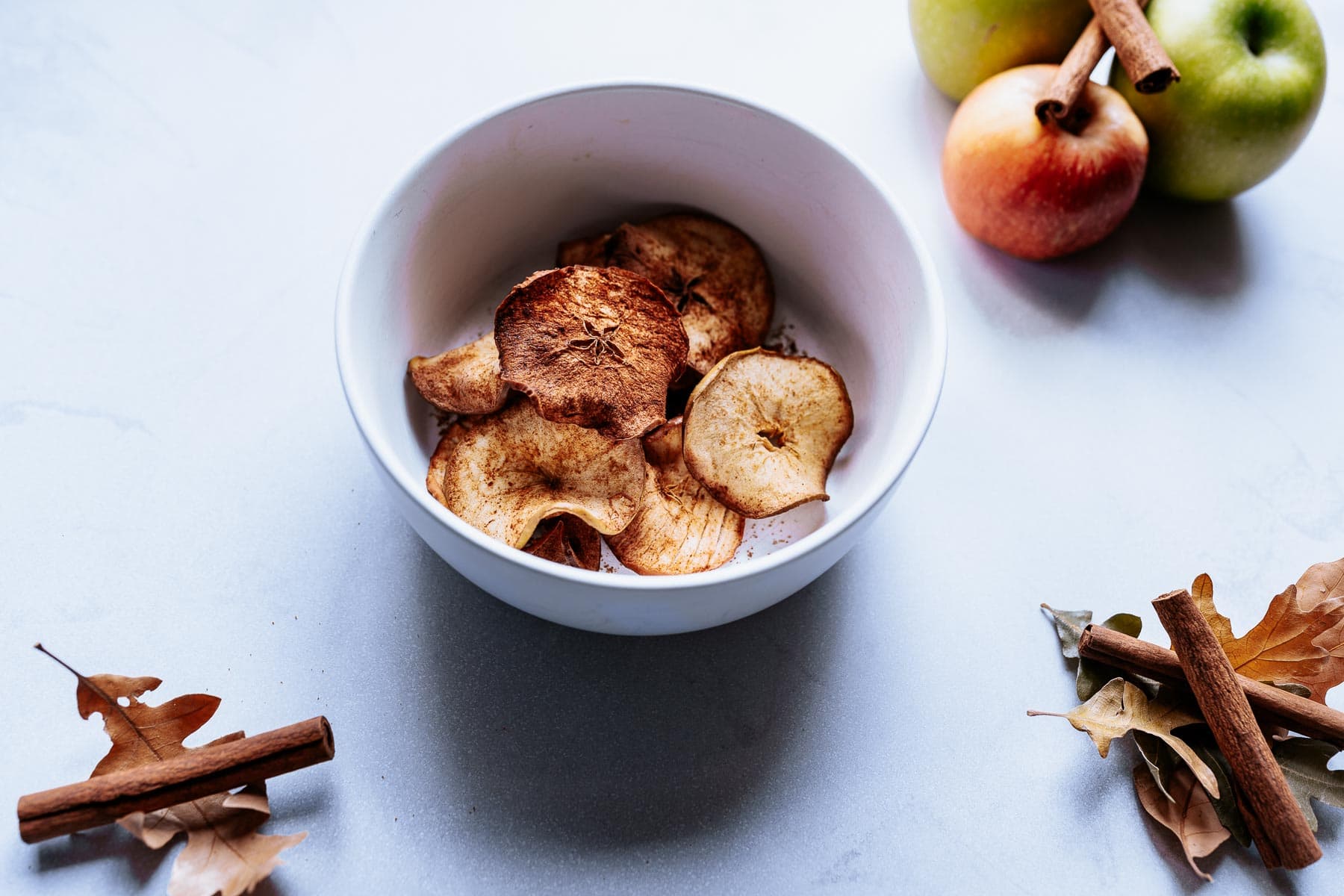 How to Store the Leftovers and Keep Apple Chips Crisp
Your apple chips will stay crisp as long as you keep them dry and away from any moisture in the air.
Be sure to store them in an airtight container at room temperature, and they will stay nice and crisp. Apple chips will keep for about a week.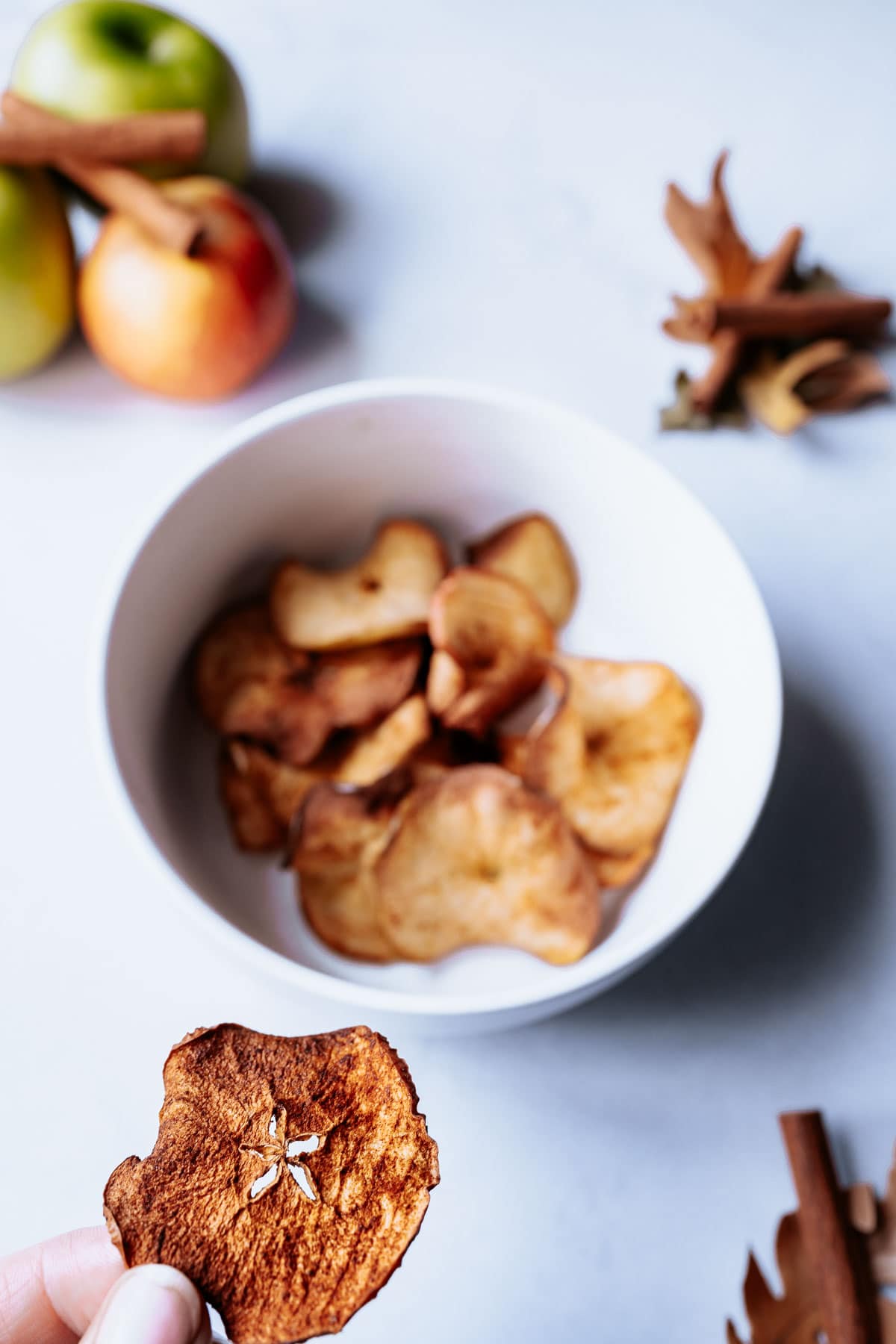 Variations
The lovely thing about air fryer apple chips is that you can make them your own! I've used cinnamon in this recipe, but you could try other spices such as nutmeg or cloves for a different but still autumnal flavor.
If you fancy a more savory apple chip, try dusting your apple slices with ginger, chili powder, rosemary, sage or even a little mint! Experiment with different combinations and have fun doing it.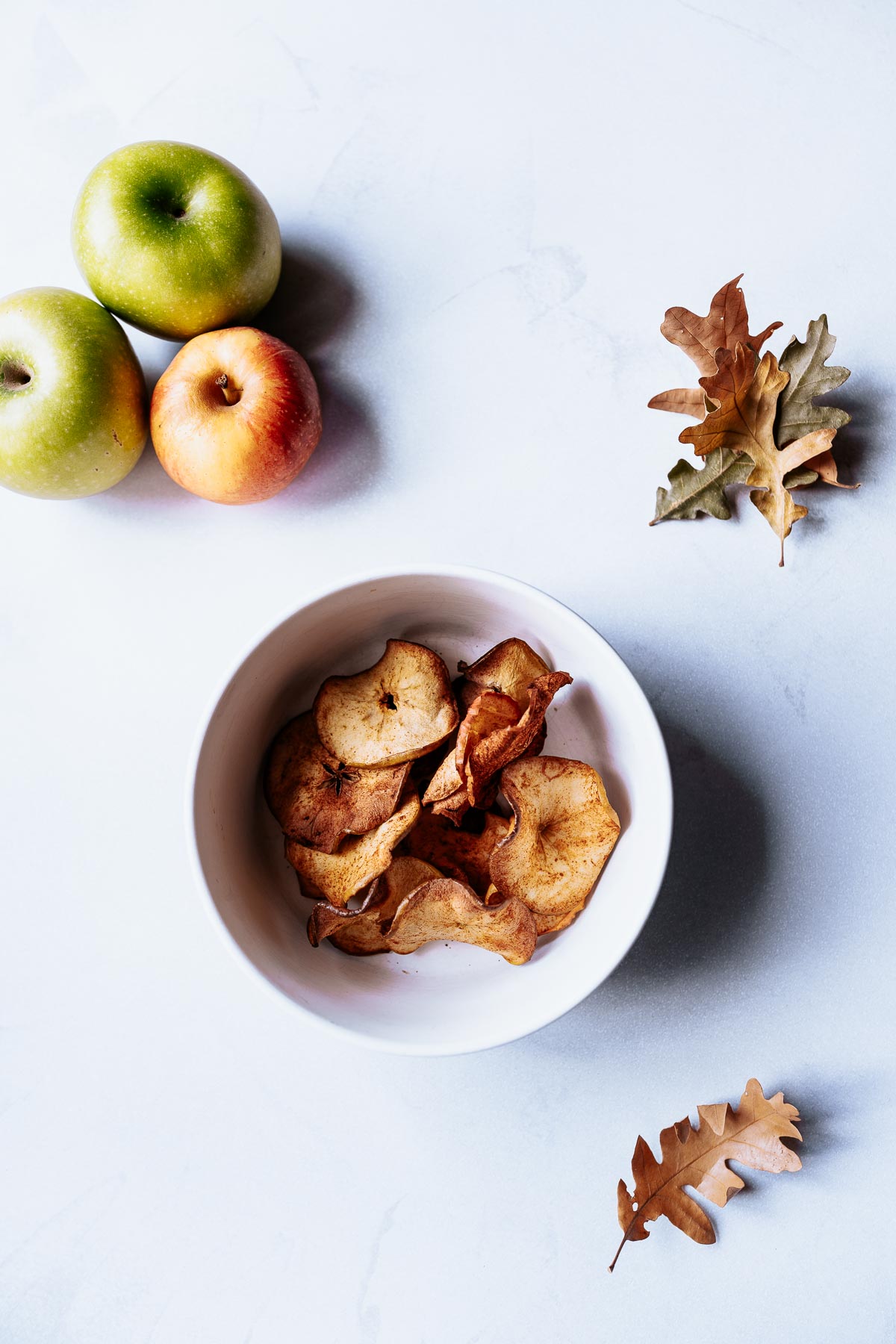 Are Apple Chips Healthy?
Apple chips are a lot healthier than other snacks because they're packed full of fiber, keeping you full for longer. They're also a great source of vitamin C, which will give your immune system a boost.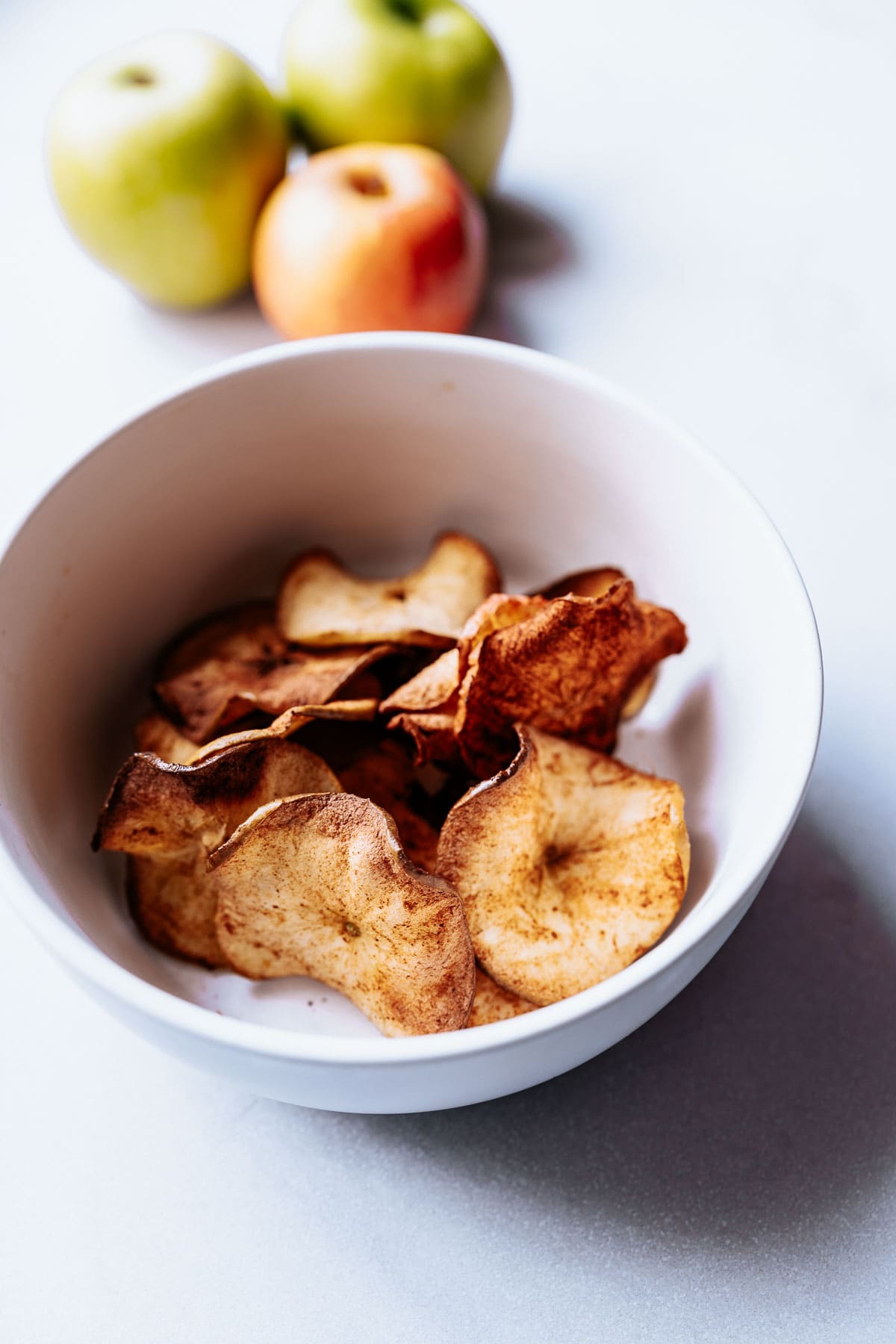 How To Reduce The Chance Of Burning
To make sure your apple chips don't burn, be sure to shake or flip them regularly. You need to shake them every five minutes to stop them from sticking to the basket and getting burned.
If you're having a lot of trouble with burning, you can also grease the basket with a small amount of cooking oil.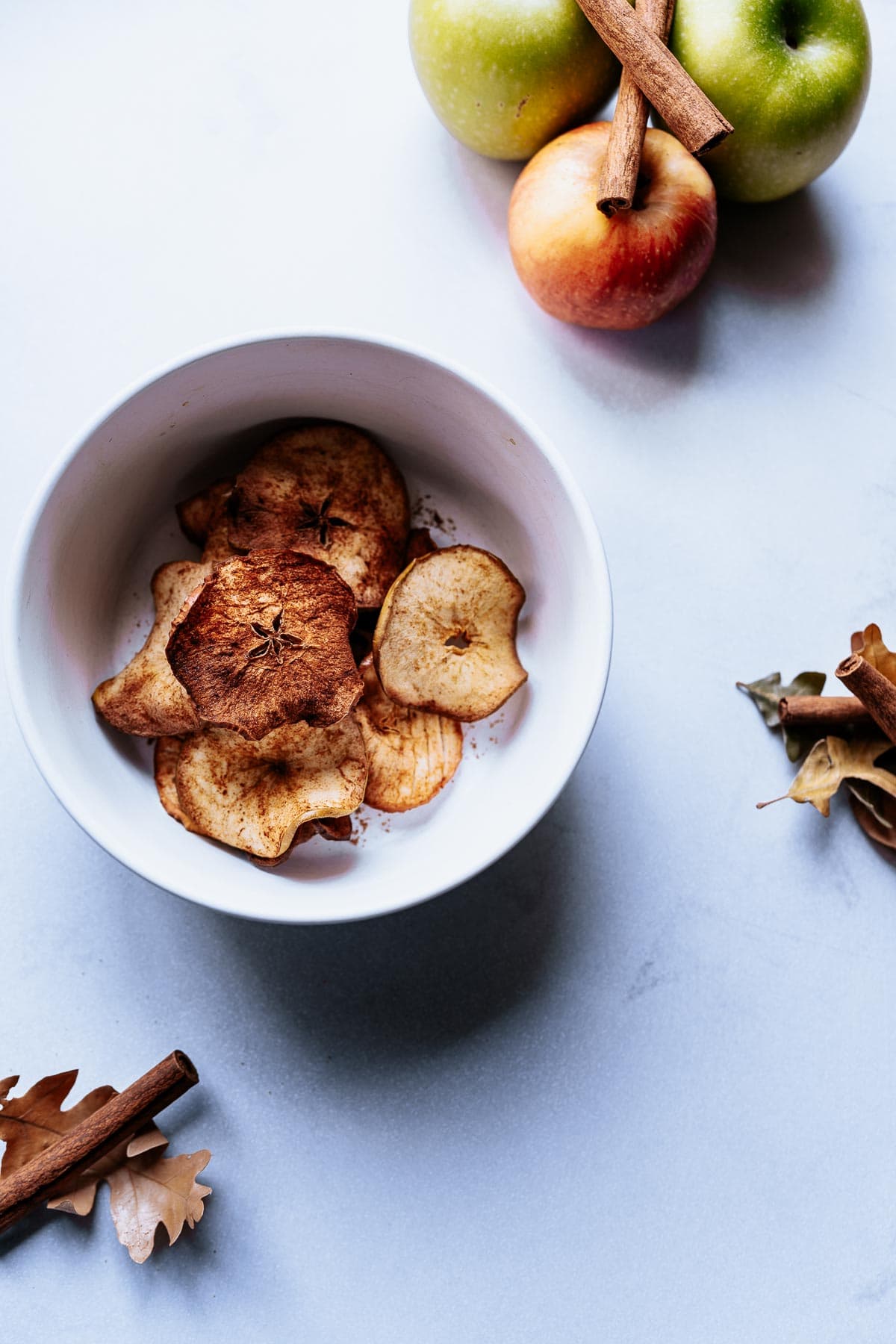 More Recipes for Delicious Air Fryer Snacks
If you're looking for more delicious air fryer snacks, you've come to the right place! Ever since I got mine, I've been obsessed with creating new recipes for it.
Having a movie night at home? Make some air fryer popcorn and try not to eat it all during the trailers. Or if you're more of a chips person, give these air fryer kale chips a try.
A personal favorite is these air fryer pizza rolls, super easy and guaranteed to impress!
If you're looking for more inspiration, try my collection of vegetarian air fryer recipes.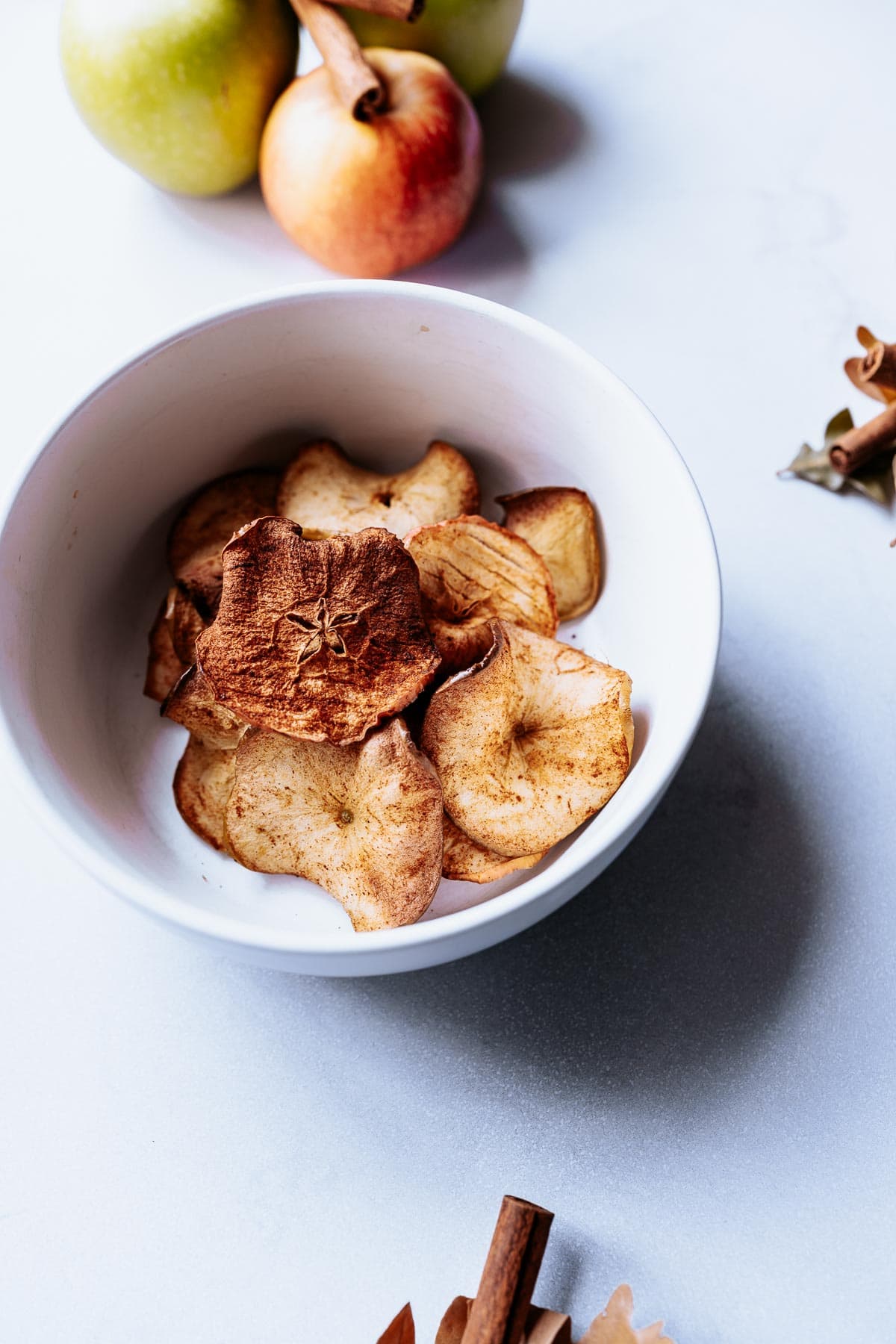 You might also like these Microwave Baked Apples.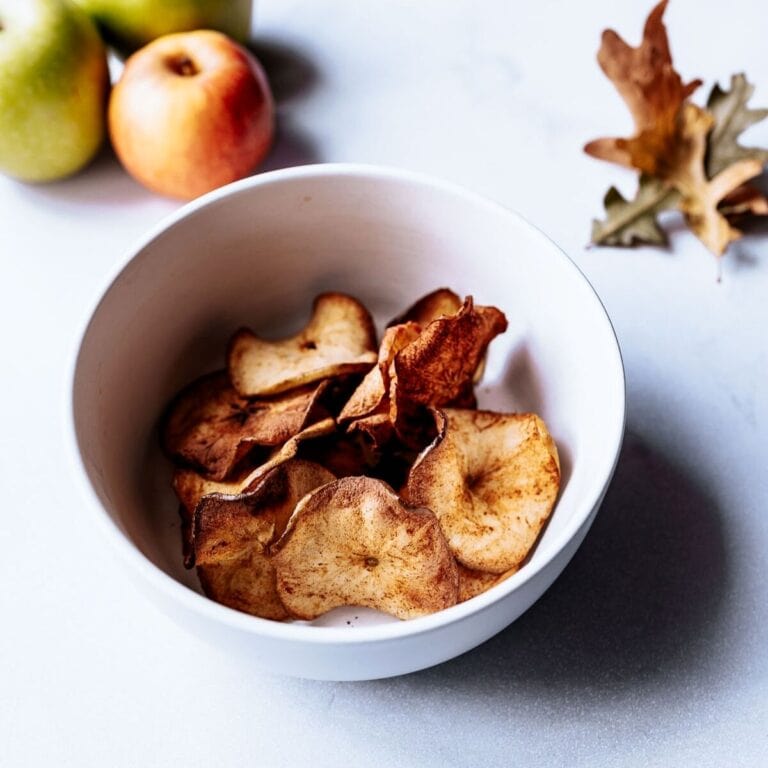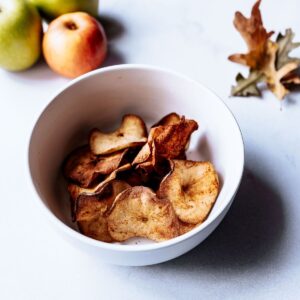 Air Fryer Apple Chips – Easy Homemade Recipe
Easy homemade cinnamon coconut sugar Air Fryer Apple Chips. Air fried apple chips make the perfect healthy snack recipe! Gluten-free and vegan.
Print
Pin
Rate
Ingredients
2

apples of choice

very thinly sliced

½

teaspoon

ground cinnamon

1

teaspoon

coconut sugar or any granulated sugar

optional
Instructions
Preheat air fryer to 325°F if necessary for your model.

In a large mixing bowl add the apple slices, cinnamon and sugar (if using). Toss to coat.

Place the coated apple slices in one even layer in your air fryer basket, working in batches if necessary.

Air fry at 325°F for 15 minutes, giving the basket a shake or the apple chips a flip every 5 minutes or so, to ensure even cooking.

The apple chips are ready when turning golden on the edges and are firm to touch. The apple chips will continue to crisp up as they cool.
Notes
You can keep the skin on the apples for ultimate crispness and nutrition, but if you prefer to remove the skins, you can do that as well.
Coring the apples is optional as well. The seeds fall out easily if left un-cored, so it isn't a necessary step. But if you prefer to, it will not hurt!
Please refer to the full post above for loads of tips and tricks!
You might also like our September Produce Guide.
Also see: Best Storage Apples for a guide to long-term apple storage!
You might also like: Apple Curd.
Also see: Air Fryer Popcorn.
Also see: Coconut Sugar Substitutes.
You might also like: Drying Herbs in an Air Fryer.
Nutrition
Serving:
1
bowl
|
Calories:
102
kcal
|
Carbohydrates:
27
g
|
Protein:
1
g
|
Fat:
1
g
|
Saturated Fat:
1
g
|
Polyunsaturated Fat:
1
g
|
Monounsaturated Fat:
1
g
|
Sodium:
6
mg
|
Potassium:
197
mg
|
Fiber:
5
g
|
Sugar:
20
g
|
Vitamin A:
100
IU
|
Vitamin C:
8
mg
|
Calcium:
16
mg
|
Iron:
1
mg
Have you tried this recipe?
Please Rate + Comment Below!
Watch Our Latest Videos
Follow us on YouTube!