Disclaimer: Please note that some of the links below in this post are affiliate links and I will earn a commission if you purchase through those links. I regularly use and recommend all of the products listed below because I find them to be of great quality and use! All proceeds go back into maintaining and creating for this site. Thank you!
Last Updated on
A super easy, healthy, and delicious Gluten-Free Crumble made with Blackberries, Coconut, and Oats! Gluten-free & vegan.
This delightful dessert (or breakfast!), free of refined sugar, is
inspired by my childhood visits to my grandfather's house.
Blackberries are forever my favorite fruit, as I have fond memories of eating them fresh off the bushes at my Papa's house. While nothing compares to eating them directly from the source, this beautiful little crumble holds a ton of fresh blackberry flavor.
I decided to experiment by adding some coconut yumminess, and boy was I supremely happy with how this came out–it is delicious!
Something about the crispiness of the oat crust & the subtly sweet juiciness of the berries, married with the toastiness of the coconut, transports me to warm, carefree days. I sure hope it does you, too…
If you try this recipe please let me know! Leave a comment, rate it, share this post, use Pinterest's "tried it" feature, or take a photo, & tag me on Instagram and I'll share it! Thank you so much! <3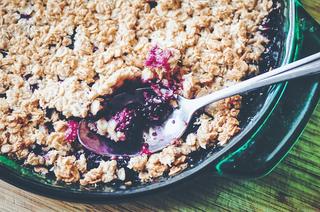 Blackberry & Coconut Oat Crust Crumble (Gluten-Free, Vegan)
A super easy, healthy, and delicious Gluten-Free Crumble made with Blackberries, Coconut, and Oats! Gluten-free & vegan.
Ingredients
Filling:

2 cups

fresh or frozen blackberries

1 tbs

coconut milk

2 tsp

unsweetened shredded coconut

1 tsp

maple syrup

1 tsp

vanilla extract

Topping:

1 cup

rolled oats

3 tbs

almond meal/flour

1 tbs

unsweetened shredded coconut

1/8 tsp

sea salt

1/2 tsp

ground ginger

3 tbs

coconut oil, melted

3 tbs

maple syrup

+1 tsp

unsweetened shredded coconut for sprinkling on top
Instructions
Preheat oven to 350°F.
In a 8″ pan or dish, combine your filling ingredients & toss to evenly distribute.
In a large mixing bowl, combine oats, almond meal, coconut, salt & ginger. Stir to combine. Pour in your coconut oil & maple syrup then use your hands to mix until all is evenly combined.
Pour your topping over your filling & spread & press down using your fingers until all is uniform. Sprinkle 1 tsp of coconut evenly over top.
Bake for 40 minutes, or until juices are bubbling up sides & top is beginning to brown.
Enjoy!
Details
Prep time:


Cook time:


Total time:


Yield:
1 crumble