Disclaimer: Please note that some of the links below in this post are affiliate links and I will earn a commission if you purchase through those links. I regularly use and recommend all of the products listed below because I find them to be of great quality and use! All proceeds go back into maintaining and creating for this site. Thank you! XO
Last Updated on
This Vegan Basil Cashew Pesto recipe could not be tastier! Made with just a handful of simple, healthy ingredients, this creamy vegan pesto makes a vibrant accompaniment to a variety of foods and dishes!
This creamy Vegan Pesto recipe makes for a magnificent way to use fresh basil! It is so utterly delicious that you would never guess that it is completely dairy-free and without cheese. It's most reminiscent of a classic basil pesto recipe, and can be enjoyed a large variety of ways.
Cashew Pesto
This Easy Vegan Basil Cashew Pesto is:
Super flavorful.

Easy to make.

Creamy.

Filled with wholesome, nutrient-dense ingredients.

Vegan, dairy-free, cheese-free, soy-free, gluten-free, and sugar-free.
What Ingredients are Needed to Make Vegan Cashew Pesto?
Raw cashews.

Fresh basil.

Olive oil.

Nutritional yeast.

Apple cider vinegar.

Garlic or garlic powder.

Black pepper.

Salt.
(Note: see recipe card near bottom of post for full ingredients, amounts, and method.)
How to Make Vegan Cashew Pesto – Step by Step
Combine all ingredients in a high speed blender or food processor.
2. Blend until smooth.
3. Salt to taste.
4. Enjoy!
Top Tips for Making Basil Cashew Pesto
Keep it Fresh

I recommend using fresh basil for best results!

Store it

This Vegan Basil Cashew Pesto keeps well in airtight containers in the refrigerator for up to 10 days!
Common Recipe Questions
Can I make this vegan pesto recipe nut-free?

Yes! Simply use raw sunflower seeds or pumpkin seeds in place of the cashews!

Can I omit the nutritional yeast?

Yes. This vegan pesto will not have the same 'cheesy' undertones but will still be super delicious!

Can I replace the vinegar with lemon juice?

Yes. The apple cider vinegar can be replaced with either lemon or lime juice for similar results.
More Vegan Pesto Recipes
Cheesy Vegan Walnut Pesto Recipe
Sunny Spring Pea & Basil Vegan Pesto (Gluten-Free)
If you try this recipe please let me know! Leave a comment, rate it, share this post, use Pinterest's "tried it" feature, or take a photo, & tag me on Instagram and I'll share it! Thank you so much! <3
Vegan Cashew Pesto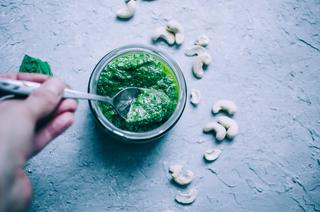 Author: Kristen Wood | 9-30-2019
prep time: 5 minutes
cook time: 0 minutes
total time: 5 minutes
Yields: approx. 1 1/4 cup
---
Ingredients:
1 cup packed basil (20 grams)
1/2 cup raw cashews (75 grams)
1/3 cup olive oil (290 grams)
3 tablespoons nutritional yeast
2 tablespoons apple cider vinegar
1/4 teaspoon black pepper
1/2 teaspoon garlic powder (or 4 garlic cloves)
sea salt or pink salt to taste
---
Instructions:
In a food processor or blender combine all of the above ingredients (except salt).
Blend until smooth.
Salt to taste.
Enjoy!
---
Nutrition:
Serving: 1/4 cup
Fat: 19 grams
Calories: 197
Carbs: 4.8 grams
Fiber: 0.5 grams
NOTE: Please see 'Tips' above in the blog post for suitable substitutions, storage advice and more!
Shop This Recipe
Pin it for Later