How to Make Cold Brew Coffee Concentrate
This post may contain affiliate links, and we receive an affiliate commission for any purchases made by you using these links. We appreciate your support!
Making cold brew coffee concentrate at home is easy and tasty! Use this guide to learn how to make your own at home in a few simple steps.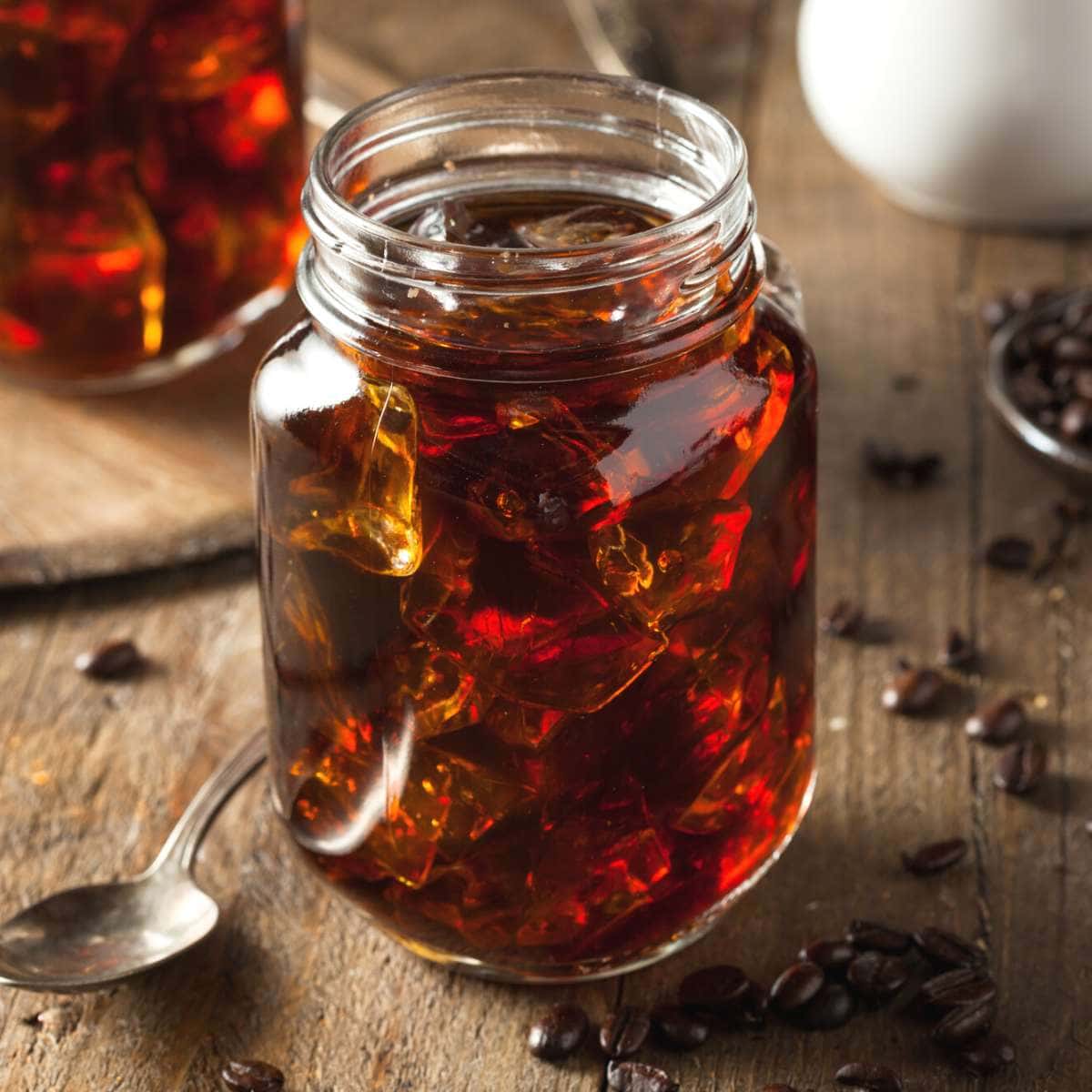 Do you want to fulfill your craving for cold brew coffee in the comfort of your own home? If you said yes, you're in luck!
Making cold brew concentrate is as simple as it gets. However, it requires some patience while waiting for the coffee to steep overnight.
Ready to get brewing?
Here's everything you need to know about whipping up this deliciously smooth drink.
Why Should You Make Cold Brew?
The answer is simple! Because it's a fantastic way to enjoy your coffee.
Most cold brew recipes make enough cold brew to last a few days. It's wonderful to have a pitcher of cold coffee in the fridge for an instant afternoon brew on a hot day in summer.
The opposite is also true—having a large pitcher of cold brew means you can have a hot cup of coffee on an icy cold winter's day by simply heating the cold brew up in the microwave.
What Makes Cold Brew Different?
Many people think iced coffee and cold brew are the same, but they're not.
Cold brew differs from any coffee that's brewed or dripped by percolating hot water over coffee grounds in a coffee filter. By combining ground coffee with cold water, the mixture slowly fuses together and over this time produces a potent, concentrated brew.
Patience during the process pays off, as leaving the brew overnight will allow for a much stronger flavor.
Preparing the cold brew in advance, on the weekend or whenever works best for you, will save you time in the morning. By making a large batch beforehand, and storing it in the refrigerator, you are set for a quick fix all week.
During the festive season, you might find yourself catering to many more people than previously anticipated. If you have a sweet tooth and enjoy an easy treat with your coffee, try our gluten-free fruit cake recipe. There's nothing like a cup of delicious coffee and a tasty cake on the side!
What Are The Best Beans For A Cold Brew?
Although there are many different types of coffee you can use to make a cold brew, the best is coarse ground coffee in a medium to dark roast. These beans offer the maximum extraction potential and when used in cold brew, they have the strongest dark chocolate and fruity notes that we all love in our coffee. They're also less acidic, so they taste even smoother.
The Making Process
You will start the process by either purchasing already pre-ground coffee or, if you only have coffee beans at home, using an electric blender or coffee grinder to grind the whole beans into a coarse blend.
We've found that the best ratio of grounds to water for making cold brew is a 1:4 ratio, meaning that for every 1 cup of grounds, you'll use 4 cups of cold water.
Proceed by combining the coffee grounds and cold water. Since the water is cold, the coffee mixture must be left to steep for 12 to 18 hours in order to absorb the caffeine, color, and flavor of the coffee. This process allows for less bitterness from the coffee, as the chemicals extracted during the cold extraction process leave behind a sweeter and smoother cup of coffee.
The following morning strain the mixture and the coffee is good to go!
You should, of course, alter the concentration of your batch of cold brew coffee concentrate to your own liking. If you don't quite like the coffee-to-water ratio suggested, experiment with different proportions until you find the perfect balance for you. This makes a strong cup of coffee on its own. But when combined with ice, your own preference of milk, or both, it makes for an even better taste.
Step-by-Step Cold Brew Coffee Concentrate Recipe
If your coffee is already ground, proceed to step 2.
Grind the coffee into a medium coarse texture using your electric blender.
Combine 1 cup of ground coffee with 4 cups of cold water in a large pitcher or jar and give the mixture a quick stir.
Refrigerate for 12-18 hours and wait for the brewing magic to happen.
The next morning, pour the mixture through a strainer into a clean container and that's it, you're done!
Serve either hot or cold, for yourself and for your fellow coffee enthusiast friends.
Your own cold brew concentrate is now ready for consumption.
Don't worry, if you're unsure of what to use as a strainer, below are a few ways to strain your cold brew for the perfect cup of coffee.
Straining Methods
The theory is that pouring a small amount of cold water on top of the warm coffee in the cup will result in the coffee grounds sinking to the bottom of the cup. However, this may leave the final few sips still quite crunchy.
If you don't have a strainer, you can try this method, although it isn't foolproof. Alternatively, you could wait a short while for the grounds to sink to the bottom and dissolve on its own.
The best possible method is using a strainer. This doesn't have to be a patented strainer designed specifically for coffee—you can actually use a variety of at-home options. A fine-mesh sieve, paper towel, cloth napkin, cheesecloth, or even a reusable tea bag will do the job just fine.
Best Served Hot or Cold
Deciding whether or not to serve this cold brew concentrate recipe steaming hot or icy cold, is up to the drinker. Either way, it's made using the same procedure. You can either serve it over ice or reheat it in the microwave or on a stovetop for a hot cup of delicious coffee. You could even learn how to make cocktails or mocktails using your cold brew as the base.
Coffee has become more than just another drink. It is a part of life. Hot or cold, with or without milk or cream, plain or with flavorings, there's a cup of coffee for everyone's taste. Cold brew adds so many more options so you can experiment and have fun.
Now that you've learned how to make cold brew at home, it's time to enjoy your coffee in a whole new way!
You Might Also Like
How Many Tablespoons of Coffee Per Cup?
Best Starbucks Espresso Drinks
Cold Brew Coffee Concentrate
Making cold brew coffee concentrate at home is easy and tasty! Use this guide to learn how to make your own at home in a few simple steps.
Print
Pin
Rate
Ingredients
1

cup

ground coffee

medium to coarse grind

4

cups

cold water
Instructions
Combine the coffee and water in a large pitcher or jar and give the mixture a quick stir.

Refrigerate the mixture for 12-18 hours.

The next day, pour the mixture through a strainer into a clean container.

Keep the cold brew stored in the refrigerator for up to 10 days.

Serve either hot or cold. Enjoy!
Notes
I like to keep my homemade cold brew stored in mason jars in the fridge.
Nutrition
Serving:
1
serving
|
Sodium:
12
mg
|
Calcium:
7
mg
Have you tried this recipe?
Please Rate + Comment Below!
Watch Our Latest Videos
Follow us on YouTube!
All images in this post are courtesy of Depositphotos.