How to Make Pumpkin Spice Syrup at Home (Easy Recipe)
This post may contain affiliate links, and we receive an affiliate commission for any purchases made by you using these links. We appreciate your support!
This simple, homemade pumpkin spice syrup recipe can be used to flavor lattes, pumpkin pancakes and a variety of other dishes and desserts. Vegan and gluten-free. Find the recipe here!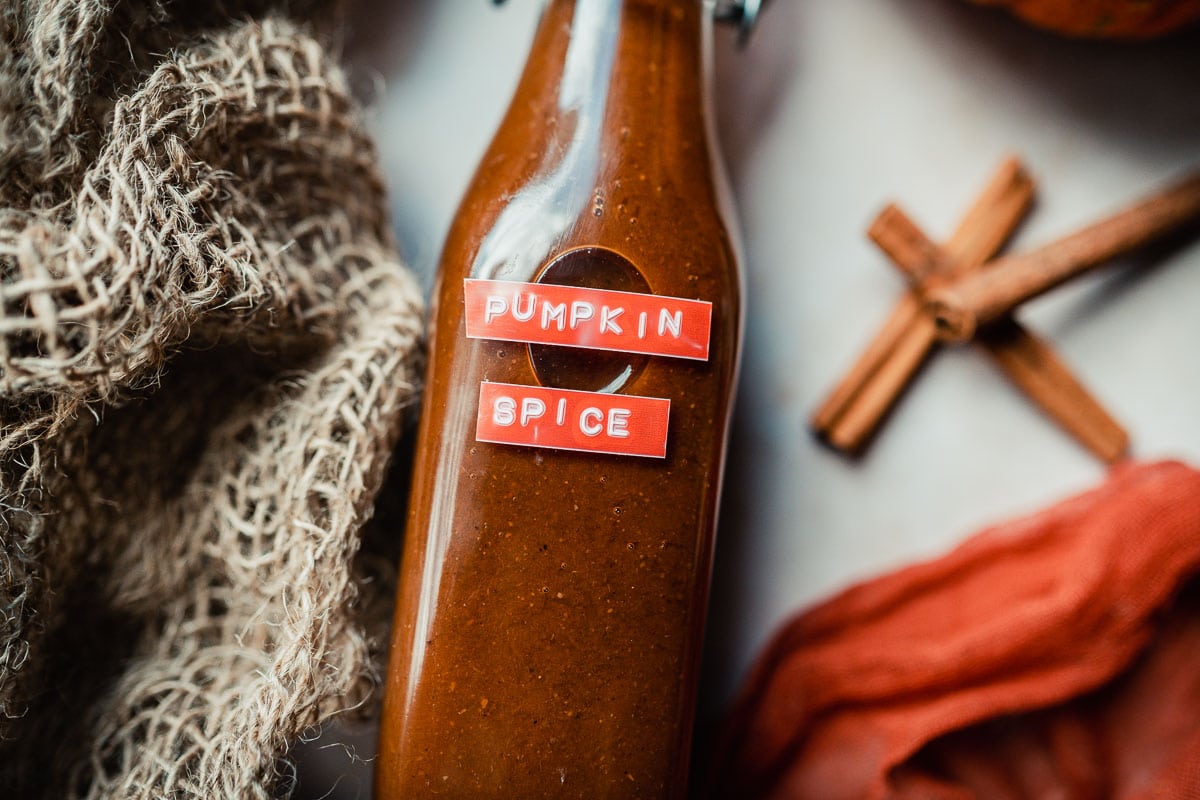 🎃 Homemade Pumpkin Spice Syrup
Use this pumpkin spice syrup to get your pumpkin spice latte fix or flavor any of your favorite fall desserts! It's vegan, gluten-free, and totally tasty.
I don't know about you, but as soon as the leaves start to change color and there's that first chill in the air, I start thinking about all things pumpkin spice flavor.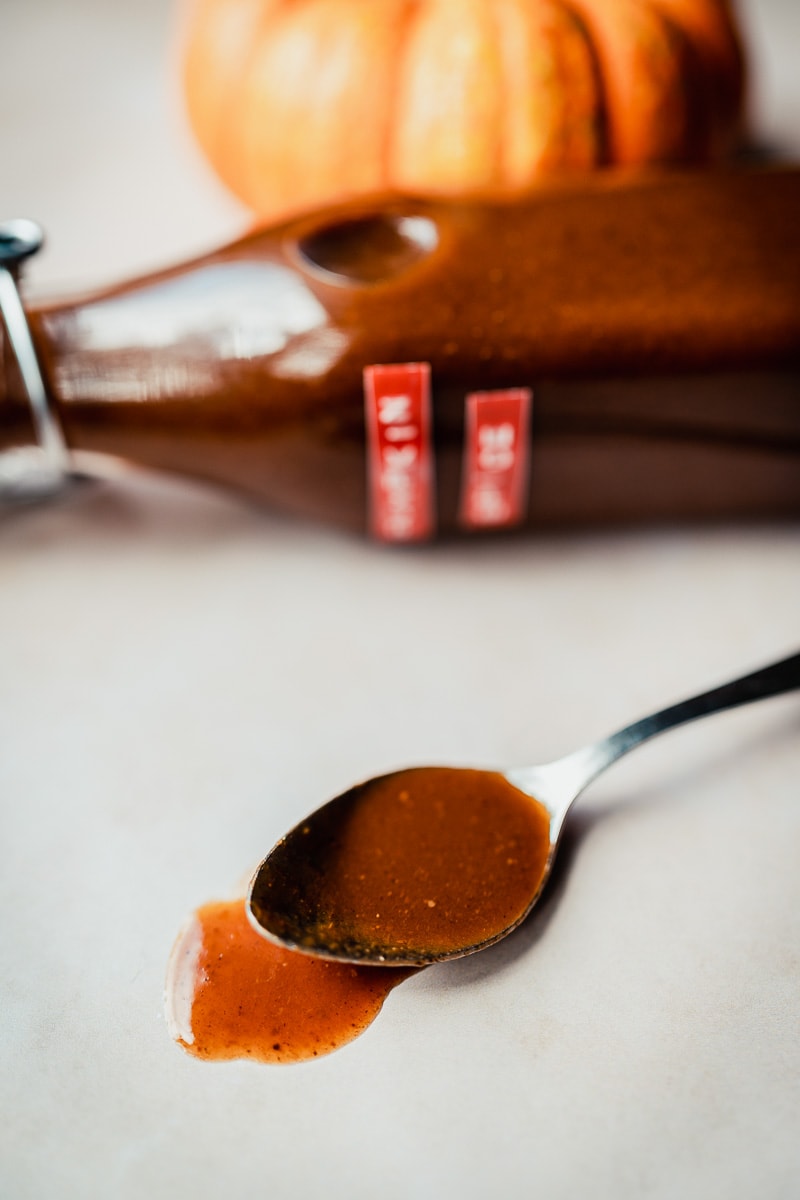 Most pumpkin spice syrups you can buy are packed full of sugar and artificial flavors, so I like to make my own. That way, I know what's in all of the tasty treats we're eating. Plus, the fresh pumpkin and mix of warming spices mean that the taste is out of this world – far better than anything you'd find on a grocery store shelf!
As well as being delicious, fresh pumpkin is good for you. It's packed full of immune system boosting vitamins, particularly important as the season's change and people become more susceptible to coughs and colds.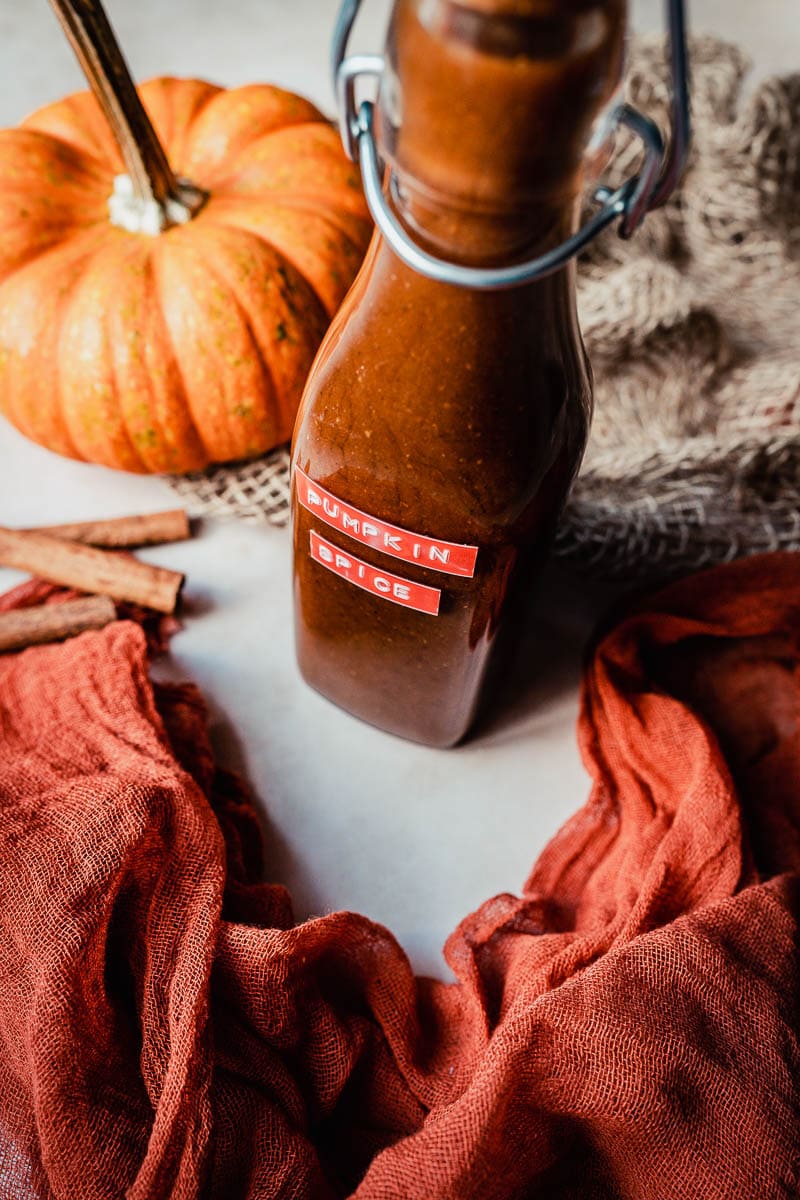 If you like to partake in a bit of pumpkin carving at Halloween, making pumpkin spice syrup is an excellent way to use up all of the leftover pumpkins!
The pumpkin flavor is naturally bright and fresh, and it's extra special when combined with warming spices like cinnamon and cloves to create that signature fall flavor. I like to keep a batch of pumpkin spice syrup in the refrigerator so that whenever I feel like whipping up a pumpkin pie, swirling it into my oatmeal in the morning or even using it to top a fresh batch of pancakes, it's ready to go.
Homemade pumpkin spice syrup is particularly special when used to make that favorite fall pick me up, pumpkin spice latte.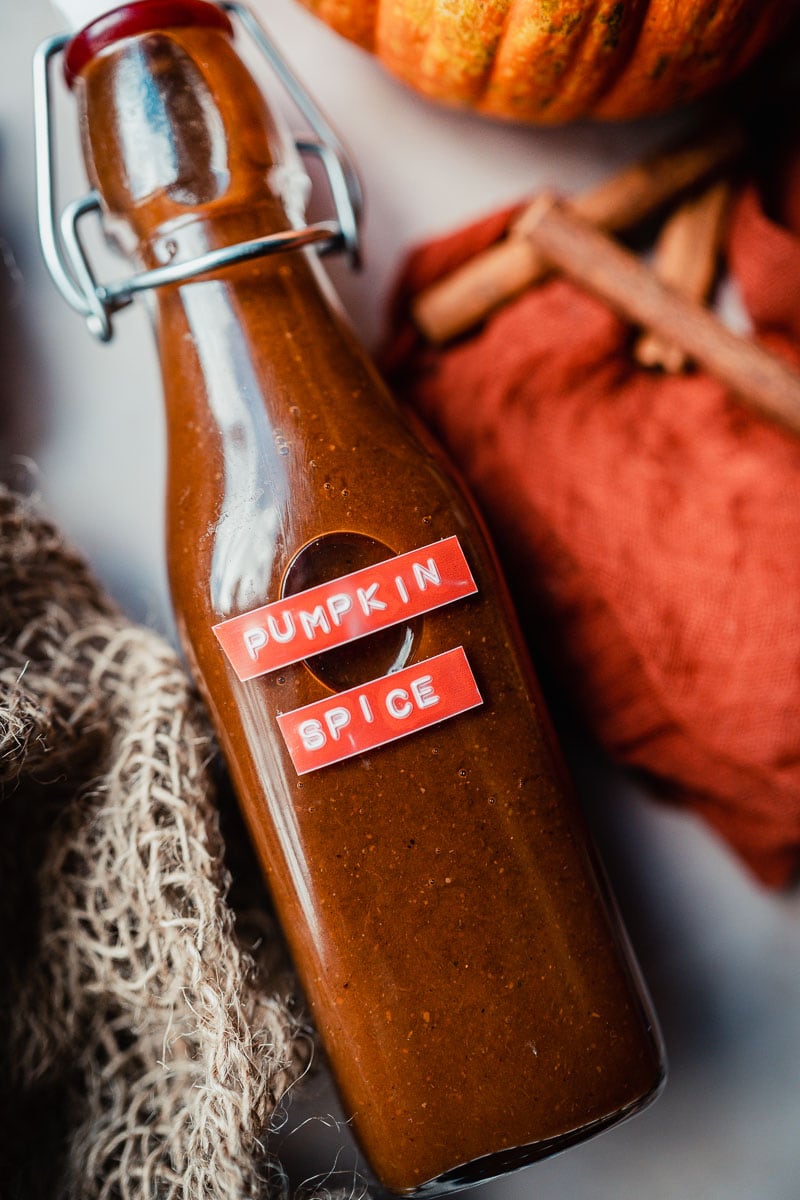 💭 What Pumpkin Spice Syrup Does Starbucks Use?
Starbucks pumpkin spice syrup uses fresh pumpkin puree, condensed milk, and, of course, a lot of sugar. They also add vanilla syrup to the latte itself, which contains even more sugar.
If you're a fan of pumpkin spice latte, you'll probably know that you can buy pumpkin spice syrup from Starbucks. But, you'll also know that when you use it, the coffee you make doesn't taste anything like the one from Starbucks! That's because the syrup you can buy isn't quite the same as the one that Starbucks baristas use in-store.
This pumpkin spice syrup uses fresh pumpkin, but there's no condensed milk, so it's vegan! There's also a lot less sugar, so you can keep your pumpkin spice latte as healthy as possible. It's copycat in taste, however!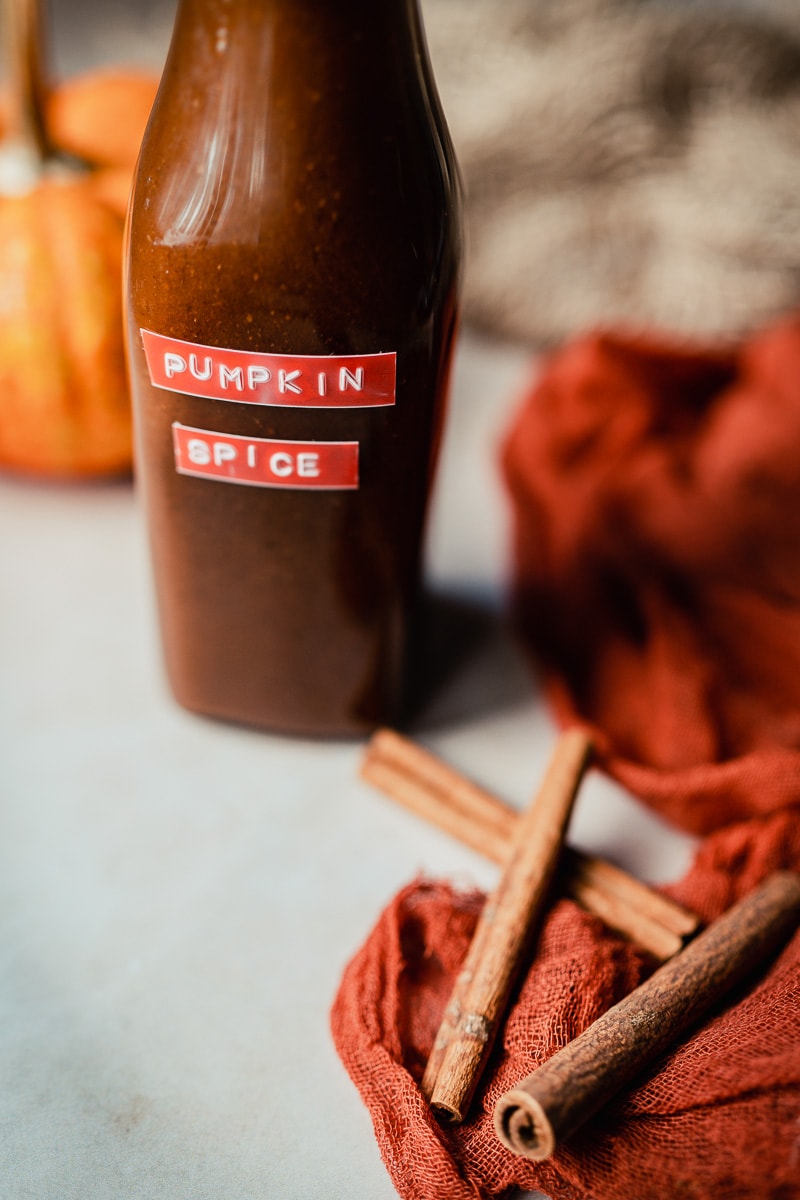 🥘 Ingredients
Pumpkin Puree: If you really need to, you can used canned pumpkin puree. However, freshly made pumpkin puree really adds a little something special! You can make your pumpkin puree either on the stovetop, or even with a microwave.
To make your puree on the stovetop, peel and deseed your pumpkin, and then chop it into small pieces. Steam the pieces using a steamer if you have one or a mesh strainer over a pan of boiling water if you don't, for ten minutes. Check to see how soft the pieces are with a fork, and give them another five minutes if they aren't entirely done. Don't cook them for too long; otherwise, you will lose the flavor.
To make your puree using the microwave, cut the pumpkin in half (no need to peel) and pop it in the microwave for twenty minutes. You'll be able to scoop the flesh straight out once it's soft enough.
Once the pumpkin flesh is soft, mash it using a fork or potato masher, and then leave to cool. Alternatively, you can let the pumpkin cool, then pop it into a blender or food processor and give it a whiz until pureed.
Pumpkin Spices: A mixture of cinnamon, nutmeg, ginger and cloves which give that perfect pumpkin pie spice flavor!
Granulated Sugar: The crystals in granulated sugar are much finer than in other types of sugar and won't clump together, making it perfect for pumpkin spice syrup.
Vanilla Extract: Vanilla extract is essential because it enhances the other flavors and makes them pop!
Cinnamon: Use ground cinnamon to add a spicy sweetness.
Nutmeg: Ground nutmeg adds a nutty, earthy flavor.
Ginger: Ginger is the fresh, fiery zing that's characteristic of pumpkin spice. Again, use ground ginger – it will combine more easily.
Cloves: Sweet and aromatic, cloves are the final note in your pumpkin spice syrup symphony.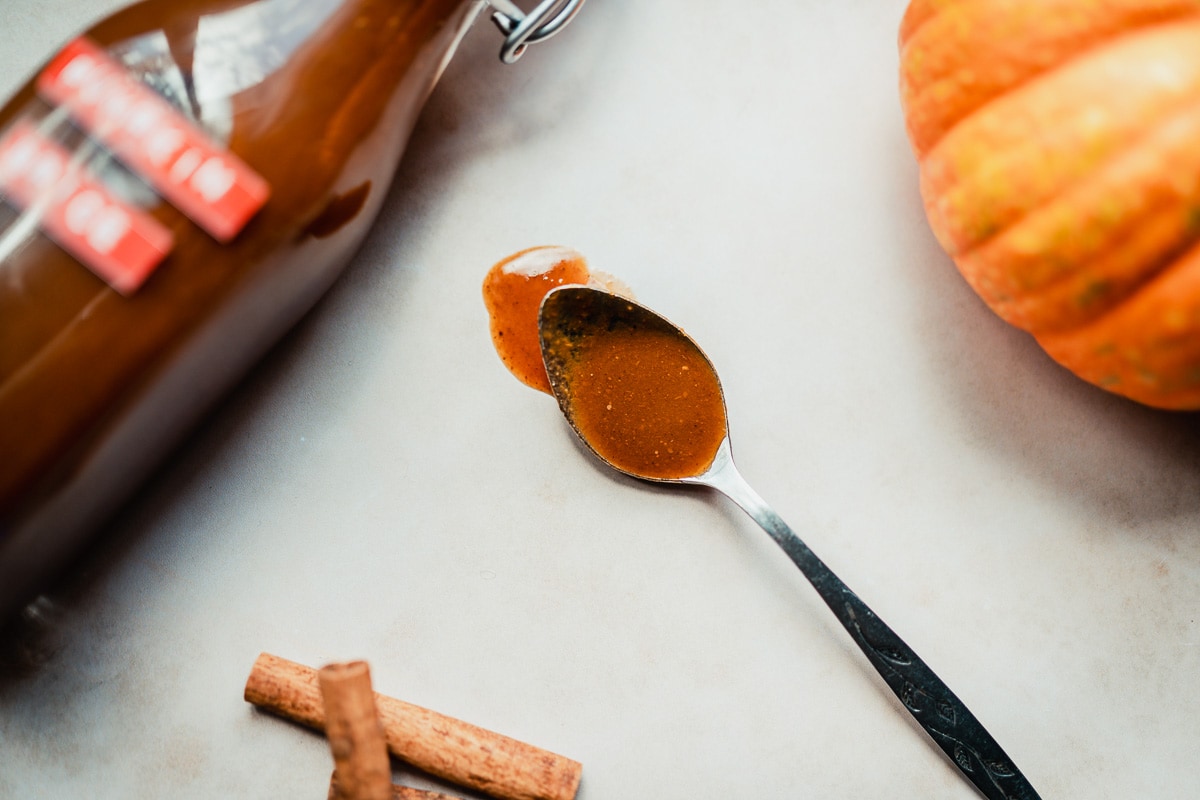 🔪 Instructions
Pumpkin spice syrup is wonderfully simple to make! Begin by combining all of your ingredients in a pot over a medium-high heat. Bring them to the boil, and then reduce the heat to medium and simmer gently for ten minutes, ensuring that you stir frequently.
When the mixture has cooked, (carefully!) give it a quick taste to ensure it is how you like it, and then strain through a mesh strainer. Next, use a funnel to pour it into a jar or bottle, and then transfer it to the refrigerator.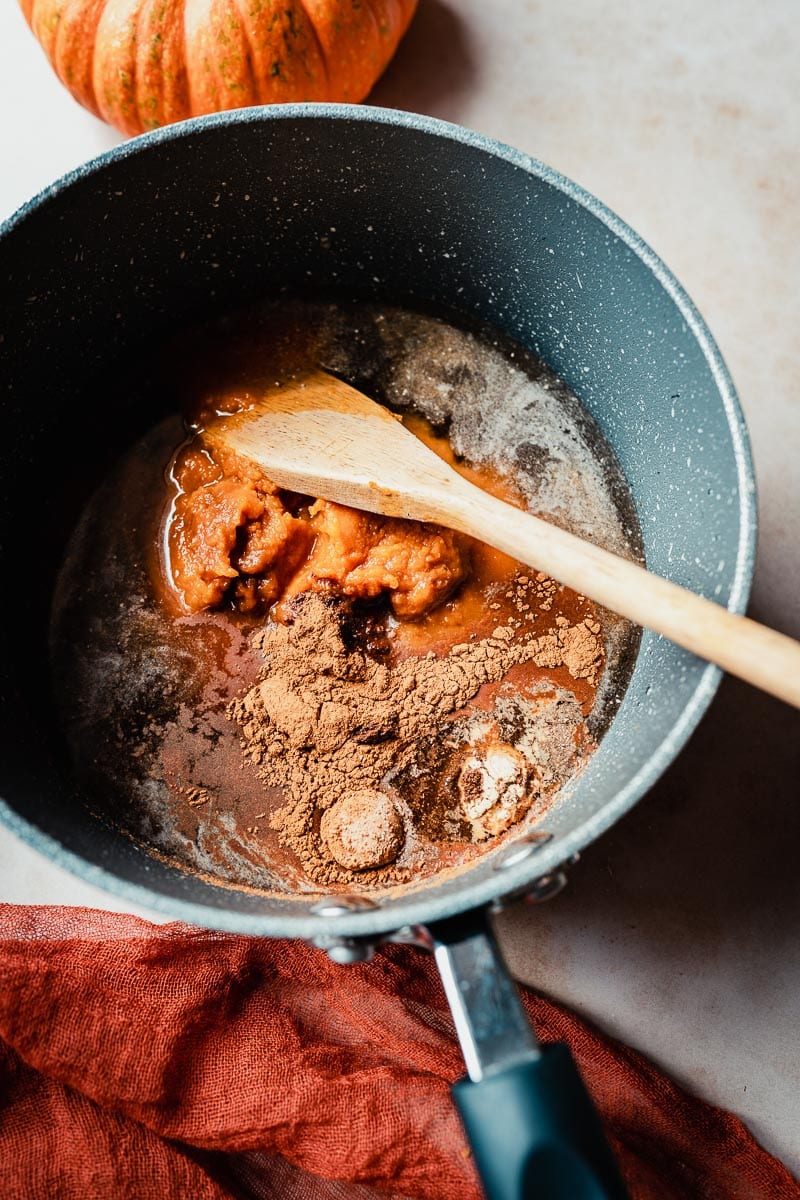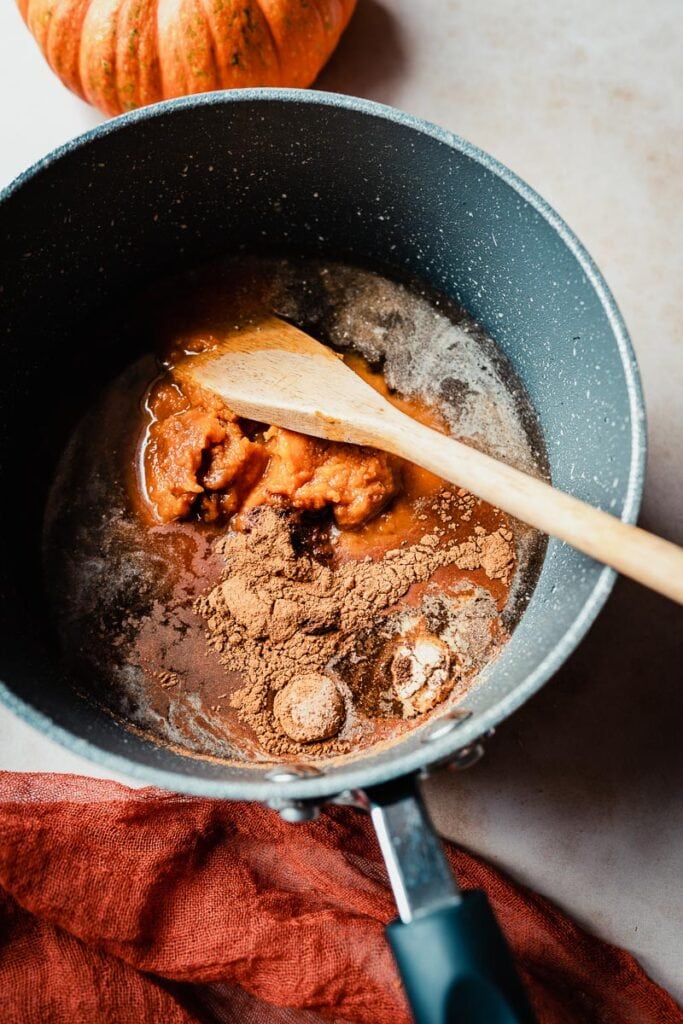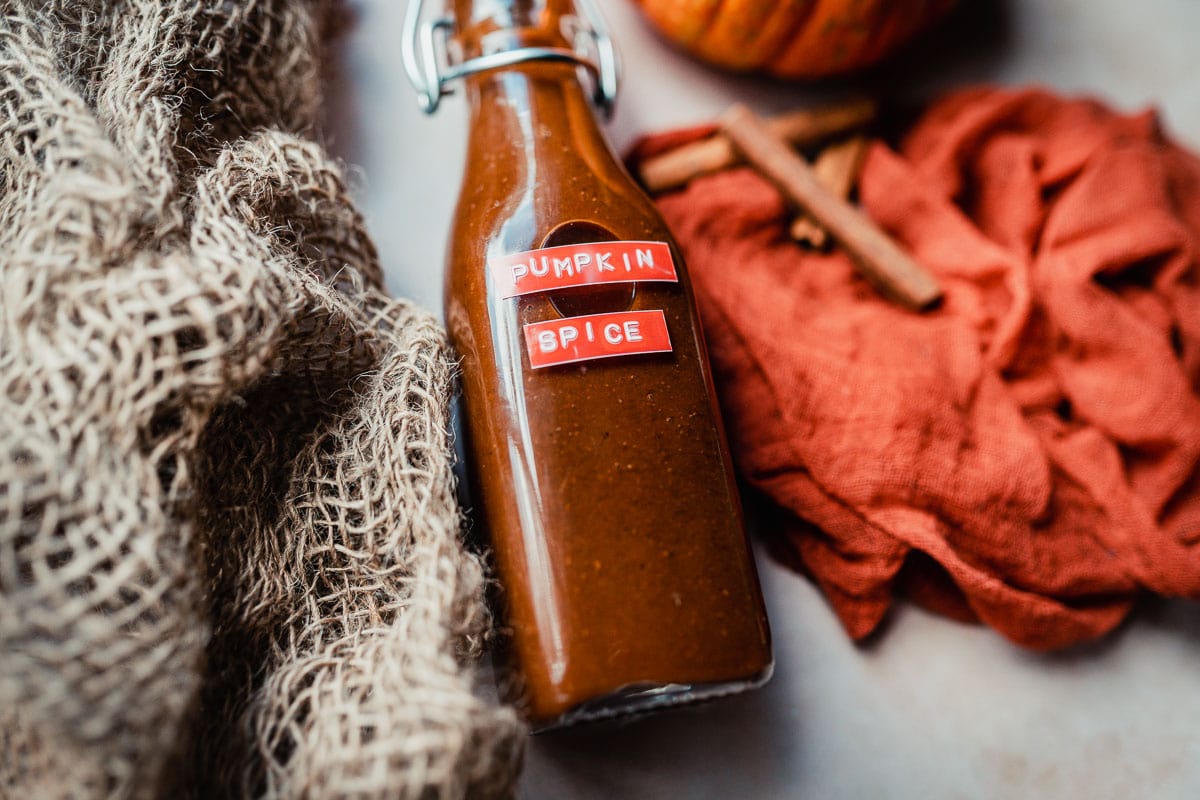 🍴 How to Use Pumpkin Spice Syrup
Pumpkin Spiced Latte: Add an autumnal twist to your morning coffee by swirling some pumpkin spice syrup into a pumpkin spice latte. Winning combination!
Pancakes: Try drizzling pumpkin spice syrup over a stack of gluten-free pancakes and topping with crushed pecans and maybe even some whipped coconut cream.
Oatmeal: Oatmeal is an excellent breakfast because it's so quick to make and so filling! Stir in a spoonful of pumpkin spice deliciousness if you want to make it a little more exciting.
Cocktails: Pumpkin spice is a great flavor for any fall cocktail. Try adding it to a White Russian!
Ice Cream: This spiced syrup is the perfect addition to a sundae or even a simple bowl of vanilla ice cream or even pumpkin ice cream.
Hot Chocolate: Make yourself a mug of hot chocolate, top it with your favorite whipped cream and add an artistic scribble of pumpkin spice syrup.
French Toast: Need I say more!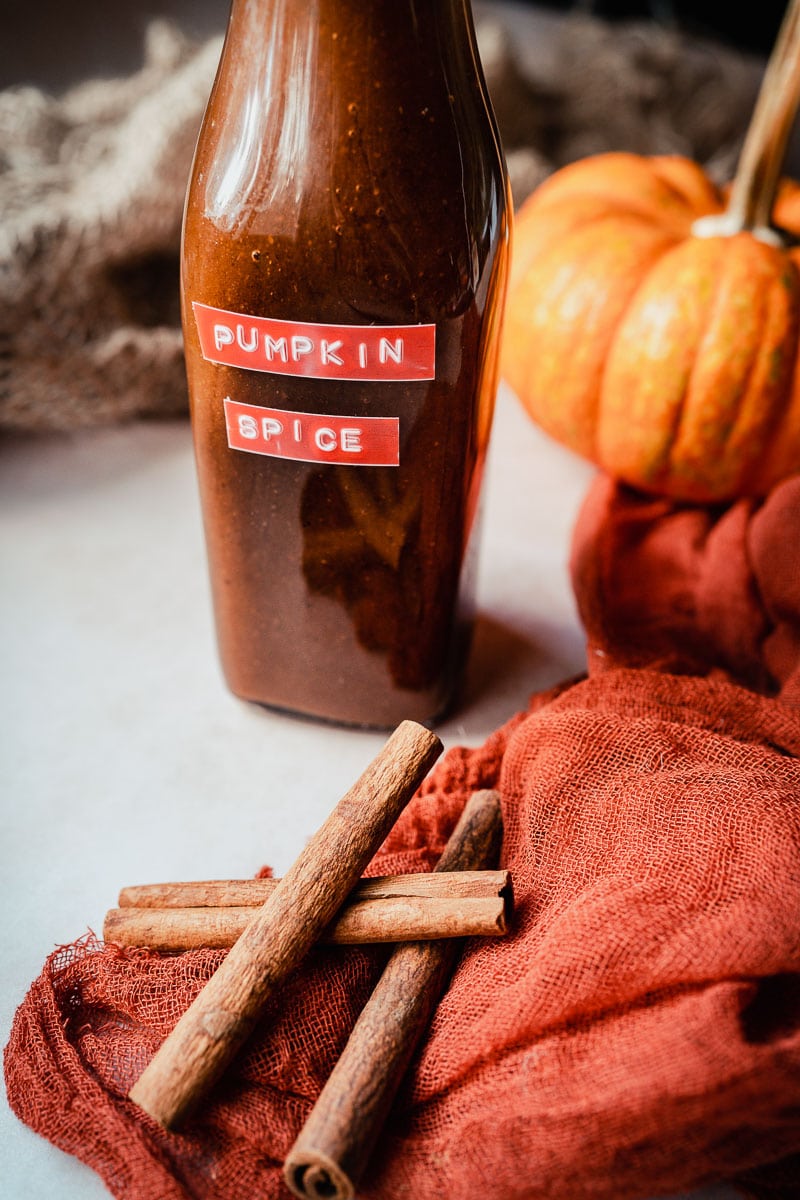 🌡️ How Long Does Pumpkin Spice Syrup Last?
This pumpkin spice syrup is made with real pumpkin, so you'll need to store it in the refrigerator to ensure that it stays fresh.
In an airtight container, it will keep in the fridge for up to ten days.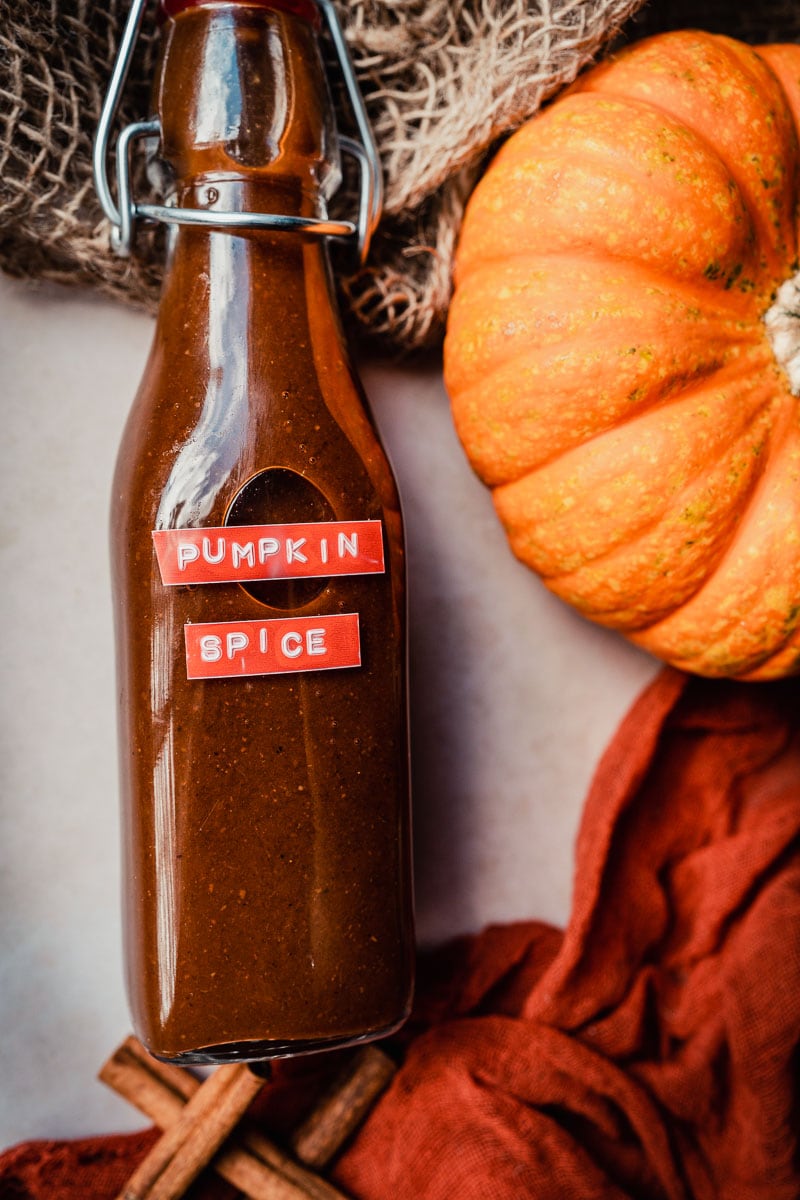 🥣 More Pumpkin Recipes You Might Enjoy
If you're looking for more sweet pumpkin treats, you'll love these gluten-free pumpkin snickerdoodles or these no-bake pumpkin bliss bars, which are just like squidgy brownies.
Otherwise, check out these fabulous vegan pumpkin recipes featuring a mix of sweet and savory dishes, sure to tempt anyone's taste buds!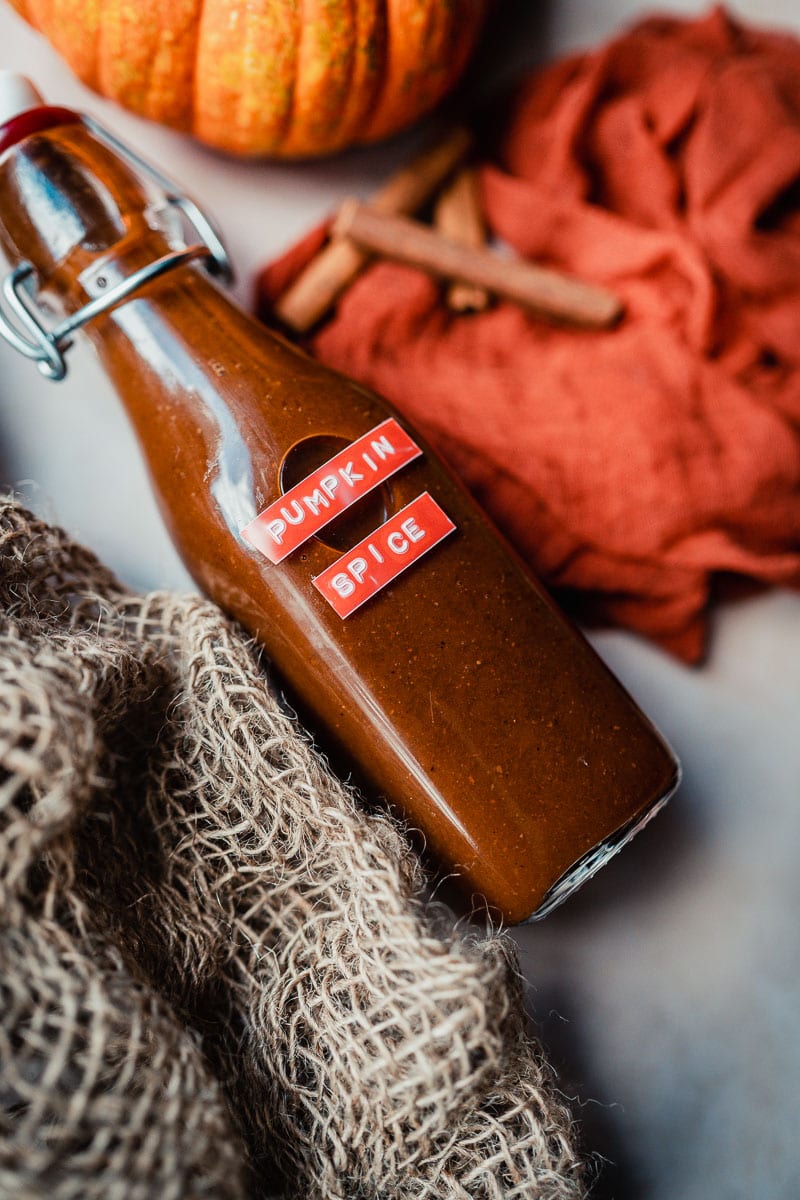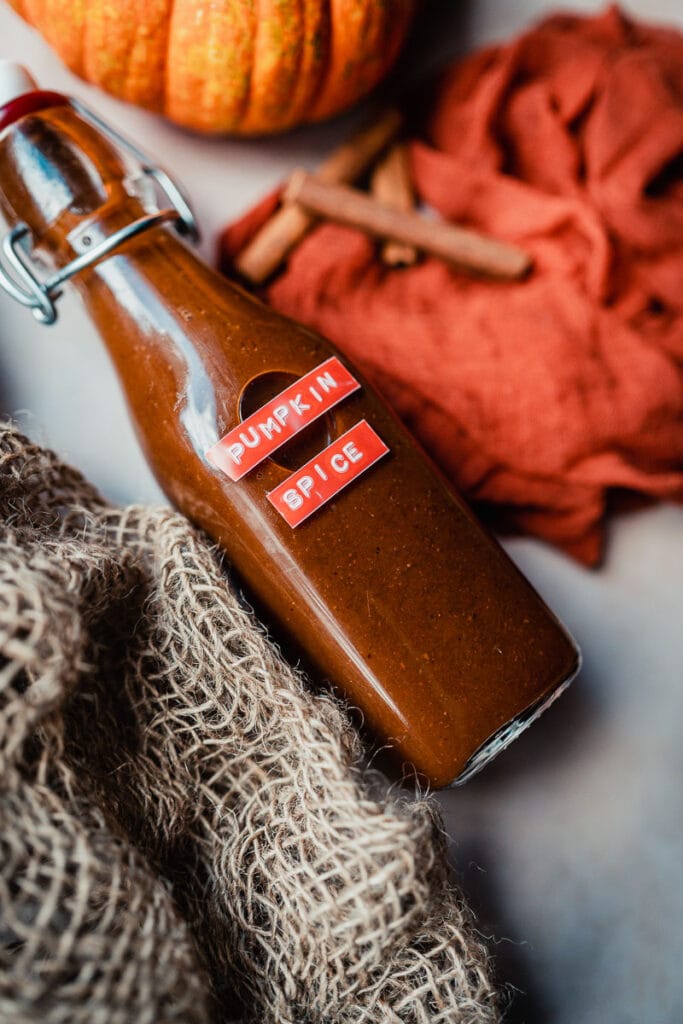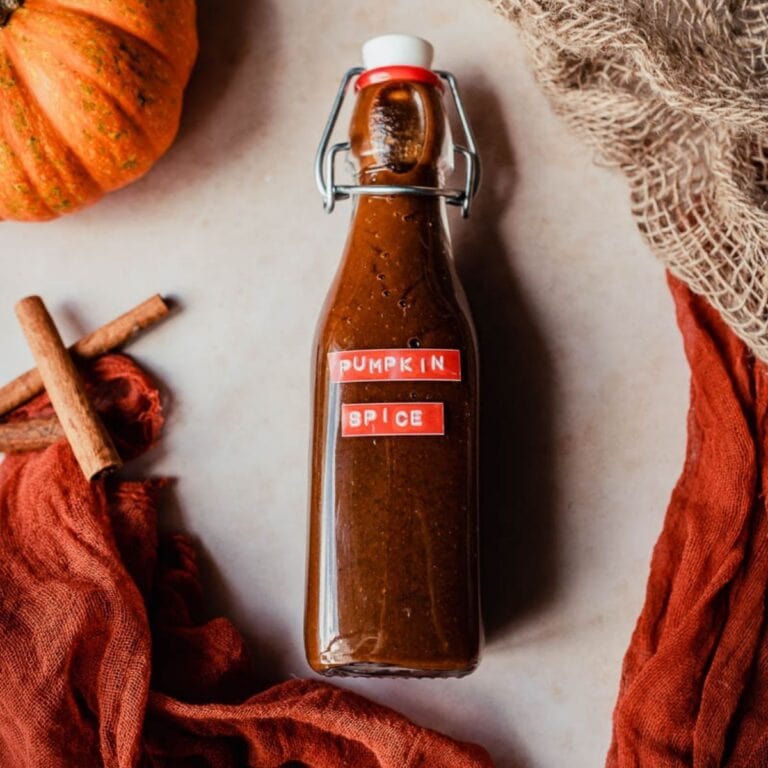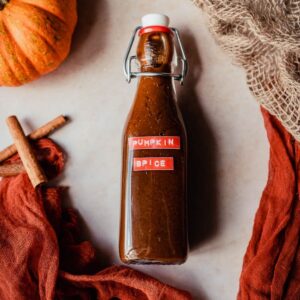 Pumpkin Spice Syrup
This simple, homemade pumpkin spice syrup recipe can be used to flavor lattes, pumpkin pancakes and a variety of other dishes and desserts. Vegan and gluten-free. Find the recipe here!
Print
Pin
Rate
Ingredients
1 ¼

cup

water

1

cup

granulated sugar

we love to use coconut sugar

½

cup

pumpkin puree

homemade or canned – see ingredient notes in post

2

teaspoons

vanilla extract

1

teaspoon

ground cinnamon

½

teaspoon

ground nutmeg

1/2

teaspoon

ground ginger

¼

ground

cloves
Instructions
In a saucepan over medium-high heat, combine the water, sugar, pumpkin, vanilla, cinnamon, nutmeg, ginger and cloves. Bring to a boil, then reduce the heat to medium and simmer gently, ensuring you whisk the mixture frequently.

Turn off the heat, then carefully pour the mixture through a fine mesh strainer held over a mixing bowl, reserving the syrup and discarding the solids.

Using a funnel, pour the mixture into a jar or bottle to store in the fridge. It will keep in the refrigerator for up to 10 days.
Nutrition
Serving:
2
tablespoons
|
Calories:
85
kcal
|
Carbohydrates:
21
g
|
Protein:
1
g
|
Fat:
1
g
|
Saturated Fat:
1
g
|
Polyunsaturated Fat:
1
g
|
Monounsaturated Fat:
1
g
|
Sodium:
1
mg
|
Potassium:
30
mg
|
Fiber:
1
g
|
Sugar:
21
g
|
Vitamin A:
1907
IU
|
Vitamin C:
1
mg
|
Calcium:
6
mg
|
Iron:
1
mg
Have you tried this recipe?
Please Rate + Comment Below!
Watch Our Latest Videos
Follow us on YouTube!