Disclaimer: Please note that some of the links below in this post are affiliate links and I will earn a commission if you purchase through those links. I regularly use and recommend all of the products listed below because I find them to be of great quality and use! All proceeds go back into maintaining and creating for this site. Thank you!
Last Updated on
This gluten-free, vegan, dairy-free pumpkin pie recipe is easy, healthy and positively SCRUMPTIOUS! Coconut milk adds extra creaminess in this perfect autumn pumpkin pie recipe. As shown with my favorite sorghum flour pie crust!
When you see how easy and DELICIOUS this pumpkin pie recipe is, you will have a hard time believing that it is both gluten-free and vegan! It is simply that good. I'm over the moon to finally be sharing my favorite autumn pie recipe with you all, and I can only hope that you love it, too!
Gluten-Free Vegan Pumpkin Pie
This dairy-free coconut milk pumpkin pie is:
Easy to make.

Made with a handful of simple, wholesome ingredients.

Rich, flavorful and creamy..with the perfect touch of spice!

Gluten-free, dairy-free, vegan, soy-free, egg-free, nut-free and refined sugar-free.
What Ingredients are Needed to Make Vegan Gluten-Free Pumpkin Pie?
(Note: see full recipe card towards bottom of post for amounts)
How to Make Gluten Free Vegan Pumpkin Pie — Step by Step
Take purchased or homemade pie crust dough and press into the bottoms and sides of a pie dish. Prick with a fork.
2. Combine pumpkin, flour, spices, maple syrup and salt. Mix until smooth.
3. Pour in coconut milk.
4. Mix until smooth.
5. Prepare to pour pie filling into crust.
6. Pour pumpkin pie filling mixture into pie crust dough evenly as possible.
7. Smooth the top with a spoon.
8. Bake at 350 F/ 180 C for 1 hour. Let chill in the refrigerator for at least 4 hours.
9. Slice and enjoy!
A Few Tips for Making Dairy Free Pumpkin Pie
Just Pumpkin!

Be certain to use straight pumpkin puree without any added ingredients for best results.

Chill it!

Your pumpkin pie should still be slightly wobbly when removed from the oven. Make sure you do not skip the refrigeration step, as this is what sets and fully the solidifies the pie!

Store it!

I doubt there will be anything left to store after you taste this pie, but if storage is needed simply store slices in airtight containers in the refrigerator for up to one week. To serve, let sit for a few minutes to bring to room temperature before serving.
Common Recipe Questions
Can I replace the maple syrup?

Yes. But I only recommend replacing it with a liquid sweetener. You can replace the maple syrup with honey, agave syrup or coconut nectar. For a sugar-free pie, I recommend this sugar-free sweetener from Lakanto.

Can I replace the tapioca flour with another flour or starch?

Yes. Alternatively, you can use arrowroot starch.

Can I replace the coconut milk?

Yes. It will not be as creamy, but you can use other non-dairy milks such as cashew, oat or almond for similar results. You can also use coconut cream for super creamy results!
More Gluten-Free Autumn Desserts
Hot Cacao with Cardamom + Tahini (Vegan)
Pumpkin Sticky Roll Skillet Cake with Cinnamon Tahini Cream Cheese Icing (Gluten-Free)
Almond + Coconut Pumpkin Muffins (Gluten-Free)
White Chocolate Chip Chai-Spiced Pumpkin Bars (Gluten-Free)
Chai-Spiced Cacao Nib Brownie Bars (Gluten-Free)
5-Ingredient Salted Ginger Almond Butter Cookies (Gluten-Free, Dairy-Free, Refined Sugar-Free, Flourless)
If you try this recipe please let me know! Leave a comment, rate it, share this post, use Pinterest's "tried it" feature, or take a photo, & tag me on Instagram and I'll share it! Thank you so much! <3
Gluten-Free Vegan Pumpkin Pie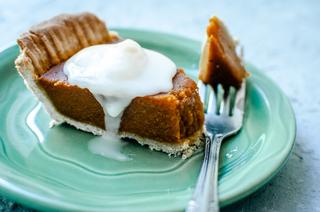 Author: Kristen Wood | 9-12-2019
prep time: 15 minutes
cook time: 1 hour
total time: 1 hour 15 minutes
Yields: 8 slices
---
Ingredients:
---
Instructions:
Preheat oven to 350°F/180°C.
Take prepared pie crust dough and evenly press into the bottoms and sides of a greased pie dish. Prick the dough with a fork. Optionally press or crimp the edges as desired. Set aside.
In a large bowl combine pumpkin, maple syrup, tapioca flour, spices and salt. Whisk until smooth.
Pour in coconut milk. Mix until smooth.
Pour pie filling into prepared pie crust shell. Smooth the top evenly with the back of a spoon.
Place into preheated oven and bake for 1 hour or until the filling is set but still has a slight jiggle in the center and the crust edges are turning golden.
Remove and let cool, then place in the refrigerator to cool and set for at least 4 hours before serving.
Optionally, top with a dollop of whipped coconut cream before serving. Enjoy!
---
Nutrition:
Serving: 1 slice
Fat: 9.6 grams
Calories: 196
Carbs: 29 grams
Fiber: 3 grams
NOTE: Please see 'Tips' above in the blog post for suitable substitutions, storage advice and more!
Shop This Recipe
Pin it for Later
Pumpkin puree.
Maple syrup (or a sugar-free sweetener).
Coconut milk.
Tapioca flour.
Spices.
Salt."
}
},{
"@type": "Question",
"name": "Can I replace the maple syrup?",
"acceptedAnswer": {
"@type": "Answer",
"text": "Yes. But I only recommend replacing it with a liquid sweetener. You can replace the maple syrup with honey, agave syrup or coconut nectar. For a sugar-free pie, I recommend this sugar-free sweetener from Lakanto."
}
},{
"@type": "Question",
"name": "Can I replace the tapioca flour with another flour or starch?",
"acceptedAnswer": {
"@type": "Answer",
"text": "Yes. Alternatively, you can use arrowroot starch."
}
},{
"@type": "Question",
"name": "Can I replace the coconut milk?",
"acceptedAnswer": {
"@type": "Answer",
"text": "Yes. It will not be as creamy, but you can use other non-dairy milks such as cashew, oat or almond for similar results. You can also use coconut cream for super creamy results!"
}
}]
}