Disclaimer: Please note that some of the links below in this post are affiliate links and I will earn a commission if you purchase through those links. I regularly use and recommend all of the products listed below because I find them to be of great quality and use! All proceeds go back into maintaining and creating for this site. Thank you!
Last Updated on
These Healthy Vegan and Gluten-Free Pumpkin Snickerdoodle cookies are a thick and chewy delight, bursting with cinnamon sugar goodness in every bite! Made with coconut sugar, and cassava flour, these Pumpkin Cookies are grain-free, paleo, nut-free and refined sugar-free, too! If you want some cozy, healthy treats this autumn, look no further! These Healthy Pumpkin Cookies are a true heart-warming delight!
I'm still on a pumpkin kick over here, and these gluten-free vegan pumpkin cookies really take the cake when it comes to a hearty, healthy treat that is packed with flavor! You can taste both the deliciousness of pumpkin puree, and the classic cinnamon sugar snickerdoodle flavors in these lovely, healthy cookies. You would never know that they are both gluten-free and vegan!
Vegan Gluten-Free Pumpkin Snickerdoodle Cookies
These Healthy Pumpkin Snickerdoodles are:
Thick and chewy (almost cake like!).

Super easy to make – one bowl prep!

Packed with cinnamon sugar snickerdoodle flavors, AND creamy, dreamy pumpkin!

Hearty, filling, and packed with wholesome ingredients.

Gluten-free, paleo, grain-free, vegan, dairy-free, nut-free, soy-free, refined sugar-free.
What Ingredients are Needed to Make Pumpkin Snickerdoodles?
Cassava flour.

Coconut sugar

Cinnamon.

Pumpkin puree.

Coconut oil.

Ground flaxseed.

Baking soda, cream of tartar, salt.
Note: please find all ingredients and measurements in the full recipe card towards the bottom of this post.
How to Make Healthy Pumpkin Snickerdoodle Cookies – Step by Step
Preheat oven to 350 F/180 C. Combine dry ingredients in a bowl.
2. Mix.
3. Add pumpkin.
4. Add coconut oil.
5. Add flax egg.
6. Mix until a dough forms.
7. Prep cinnamon sugar mixture for rolling.
8. Roll cookie dough into balls then roll to coat in cinnamon sugar mixture.
9. Place on a parchment-lined cookie sheet.
10. Bake for 12-15 minutes or until firm and bottoms are turning golden. Let cool, and enjoy!
Pumpkin Snickerdoodles — Common Recipe Questions
Can I replace the cassava flour with a different gluten-free flour?

I wrote this recipe with cassava flour in mind, and have not tested this recipe with any other flour before, so I do not advise it! If you find yourself experimenting however, I would love to hear about it!

I don't have cream of tartar, can I omit it?

Yes, you can omit it for a still-tasty cookie. Just keep in mind that the texture will not be quite the same and the cookies will come out a bit flatter.

What can I use in place of coconut oil?

You can use softened butter or vegan butter in place of coconut oil this recipe.

Can I use a regular egg instead of a flax egg in this recipe?

Yes, so long as you are not on a vegan diet – you sure can! A chia egg works, too.
Top Tips for Making Gluten-Free Vegan Pumpkin Snickerdoodles
Pure Pumpkin

I only recommend using pure pumpkin puree without any added ingredients for best results. My favorite pumpkin puree comes from Thrive Market.

Make it Sugar-Free

To make sugar-free pumpkin cookies, I recommend replacing the coconut sugar in this recipe with this sugar-free sweetener.

Flatten it Out

I designed this recipe to be a thick and chewy cake-like cookie. If that's not your thing, simply flatten the cinnamon sugar coated dough balls before baking!

Store It

These gluten-free pumpkin cookies keep well at room temperature for up to 24 hours, or stored in airtight containers in the refrigerator for up to 3 days.
More Gluten-Free Vegan Cookie Recipes
Gluten-Free Vegan Sorghum Flour Cookies
Lavender, Ginger, & Walnut Mini Tea Time Shortbread Cookies (Gluten-Free, Vegan, Refined Sugar-Free)
The Best Gluten-Free Vegan Chocolate Chip Cookies (Nut-Free)
More Healthy Pumpkin Recipes
Healthy Pumpkin Hot Chocolate Recipe (Vegan, Gluten-Free)
Instant Pot Pumpkin, Chickpea and Sweet Potato Curry (Vegan, Gluten-Free)
The Best Gluten Free Vegan Pumpkin Pie
Cheesy Chipotle Pumpkin Polenta with Garlic Roasted Veggies
If you try this recipe please let me know! Leave a comment, rate it, share this post, use Pinterest's "tried it" feature, or take a photo, & tag me on Instagram and I'll share it! Thank you so much! <3
Vegan Gluten-Free Snickerdoodles with Pumpkin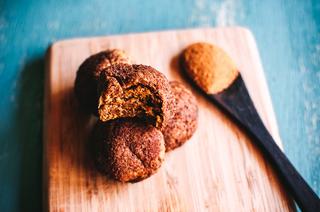 Author: Kristen Wood | 10-25-2019
prep time: 5 minutes
cook time: 15 minutes
total time: 20 minutes
Yields: 15 cookies
---
Ingredients:
1 1/4 cup cassava flour (175 grams)
2/3 cup coconut sugar (135 grams)
1 teaspoon ground cinnamon
1/2 teaspoon cream of tartar
1/2 teaspoon baking soda
1/4 teaspoon sea salt or pink salt
2/3 cup pumpkin puree (150 grams)(I like Thrive Market's)
1/2 cup softened coconut oil (104 grams)
1 flax egg (1 tablespoon ground flax seed mixed with 3 tablespoons warm water)
For rolling:
4 tablespoons coconut sugar
2 teaspoons ground cinnamon
---
Instructions:
Preheat oven to 350°F (180°C). Line a cookie sheet with parchment paper; set aside.
In large mixing bowl combine cassava flour, coconut sugar, cinnamon, cream of tartar, baking soda, salt. Mix to combine.
Add pumpkin, coconut oil and the flax egg. Mix and/or knead until you have a ball of cookie dough that is well mixed.
Roll dough into golf ball-sized rounds.
Mix coconut sugar and cinnamon for rolling.
Roll cookie dough balls in cinnamon sugar mixture.
Place rolled balls onto prepared cookie sheet.
Bake for 12-15 minutes or until cookies are firm, beginning to crack and browning on the bottoms.
Let cool completely before serving.
Enjoy!
---
Nutrition:
Serving: 3 cookies
Fat: 22 grams
Calories: 449
Carbs: 60 grams
Fiber: 7 grams
NOTE: Please see 'Tips' above in the blog post for suitable substitutions, storage advice and more!
Shop This Recipe
Pin it for Later
Coconut sugar
Cinnamon.
Pumpkin puree.
Coconut oil.
Ground flaxseed.
Baking soda, cream of tartar, salt."
}
},{
"@type": "Question",
"name": "Can I replace the cassava flour with a different gluten-free flour?",
"acceptedAnswer": {
"@type": "Answer",
"text": "I wrote this recipe with cassava flour in mind, and have not tested this recipe with any other flour before, so I do not advise it! If you find yourself experimenting however, I would love to hear about it!"
}
},{
"@type": "Question",
"name": "I don't have cream of tartar, can I omit it?",
"acceptedAnswer": {
"@type": "Answer",
"text": "Yes, you can omit it for a still-tasty cookie. Just keep in mind that the texture will not be quite the same and the cookies will come out a bit flatter."
}
},{
"@type": "Question",
"name": "What can I use in place of coconut oil?",
"acceptedAnswer": {
"@type": "Answer",
"text": "You can use softened butter or vegan butter in place of coconut oil this recipe."
}
},{
"@type": "Question",
"name": "Can I use a regular egg instead of a flax egg in this recipe?",
"acceptedAnswer": {
"@type": "Answer",
"text": "Yes, so long as you are not on a vegan diet - you sure can! A chia egg works, too."
}
}]
}