12 Best Vegan Egg Substitutes for Baking and Cooking
This post may contain affiliate links, and we receive an affiliate commission for any purchases made by you using these links. We appreciate your support!
12 of the best vegan egg substitutes! Vegan baking can be really difficult. But here are some egg replacements that make it much easier (and tastier!). Plus, my favorite flax egg recipe!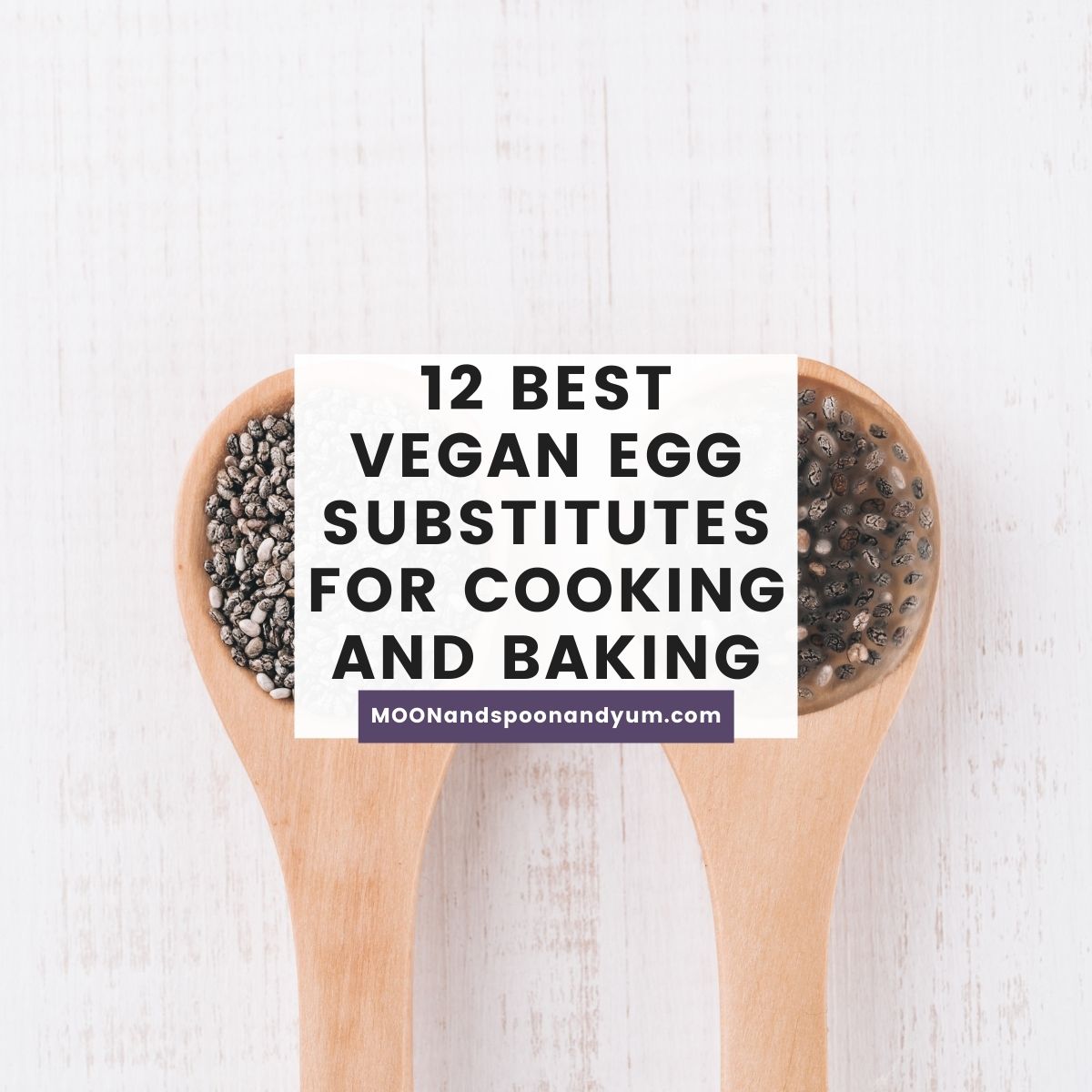 I've been using homemade vegan egg alternatives for years now, both in baked goods and cooking recipes, so I figured it high-time I put together a post for those of you looking to find a vegan egg substitute to try (and hopefully enjoy!). So, let's get started, shall we?
What do Vegans Substitute for Eggs?
This depends greatly on what kind of recipe you need an egg substitute for. Are you baking? You will need something with binding and rising power. Are you cooking breakfast? You may be looking for something that focuses on duplicating the taste or texture of eggs. Nevertheless, you will find a suitable alternative for the all of the above and more in the handy guide below!
1. Bananas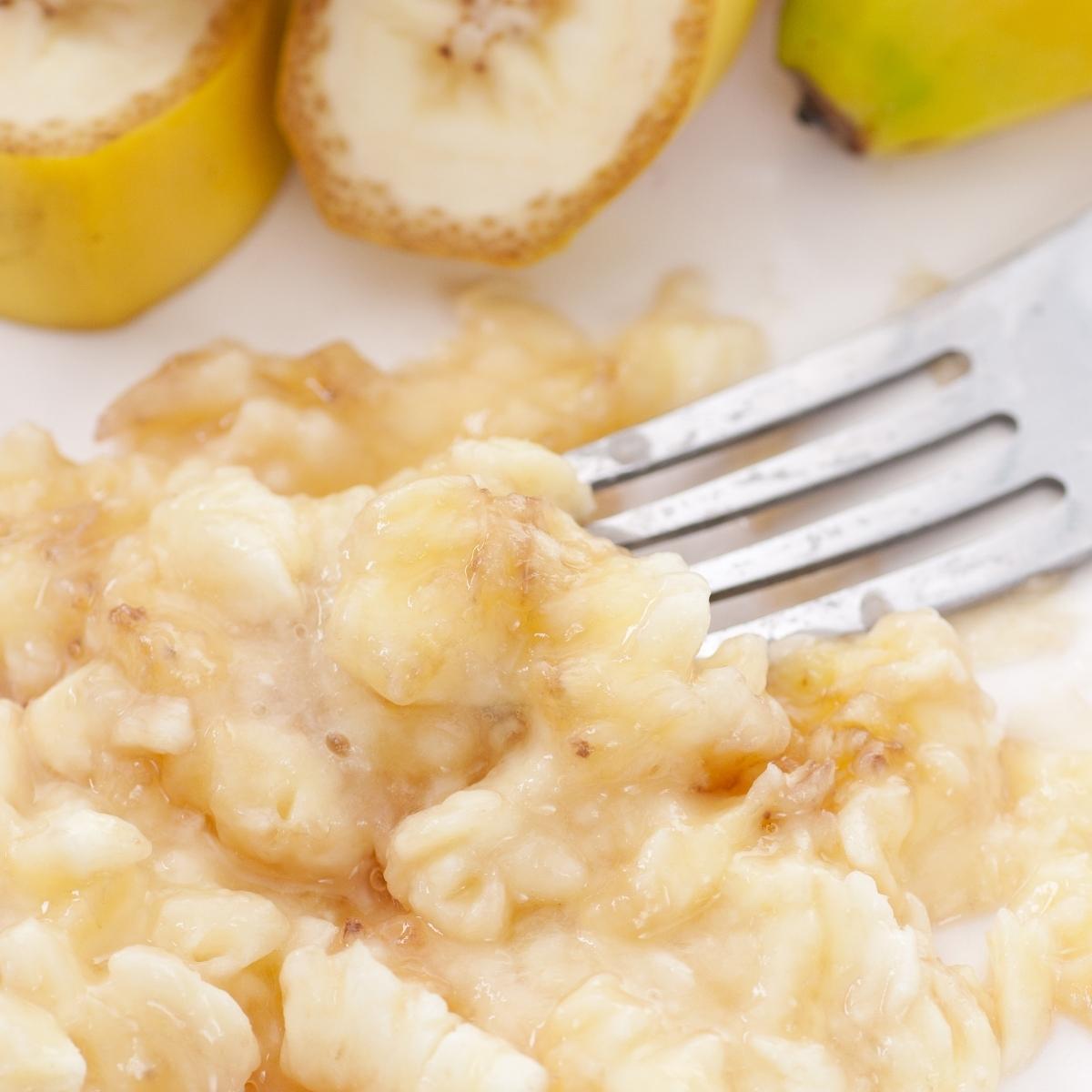 Mashed, ripe bananas make an excellent alternative to eggs in egg-free baking. However, it will add a slight banana taste, which isn't bad at all if you're replacing the eggs in a dessert recipe! For every egg a recipe calls for, use one ripe, medium-sized banana that you then mash with a fork.
2. Chia Seeds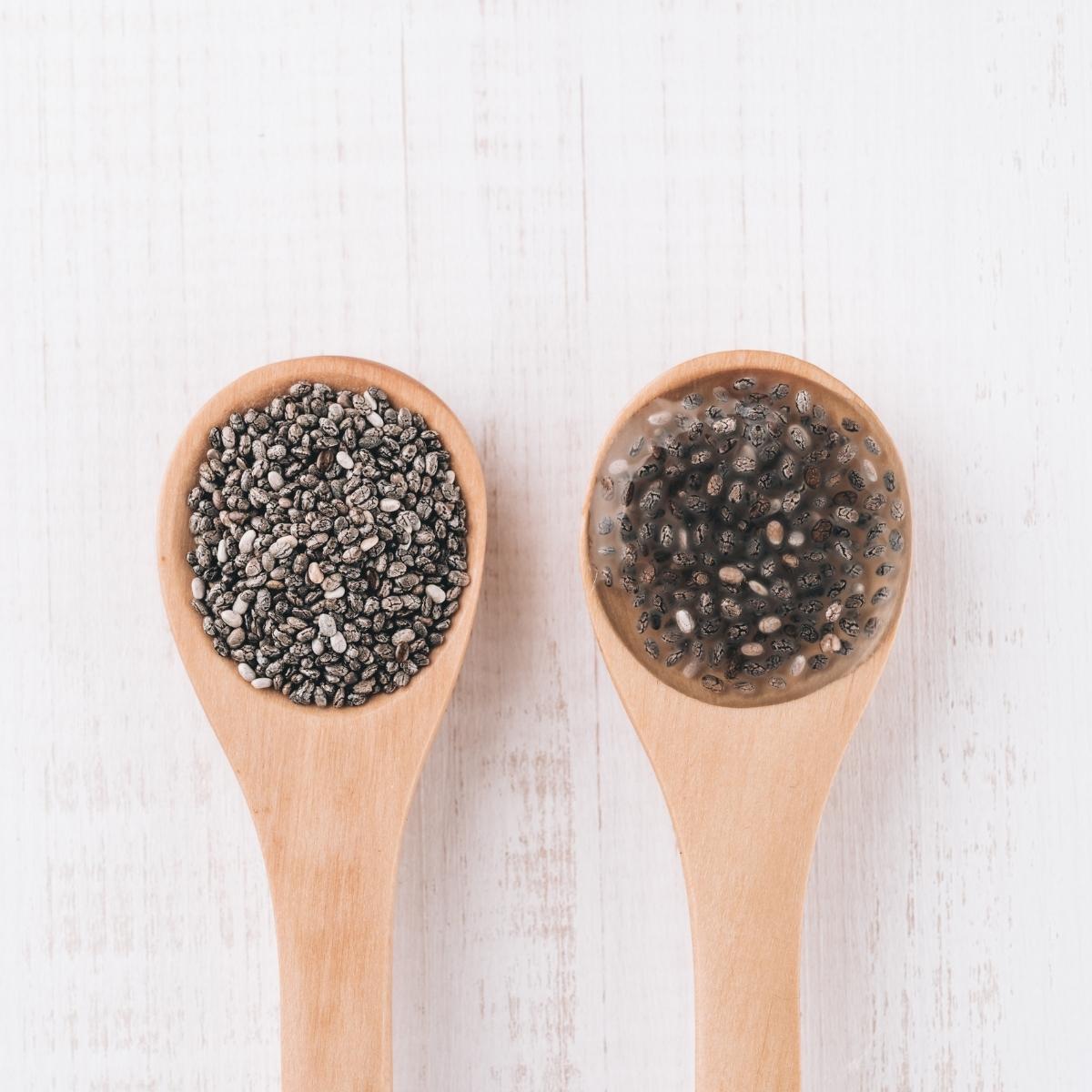 You can use chia seeds to make a chia egg that works as a suitable replacement for eggs in baking recipes. To make a chia egg, mix 1 tablespoon of chia seeds with 3 tablespoons of water until thickened (gelled). Chia eggs work well in baked goods like brownies, and cooking recipes such as pancakes. Bonus: chia seeds make a great vegan pudding.
3. Applesauce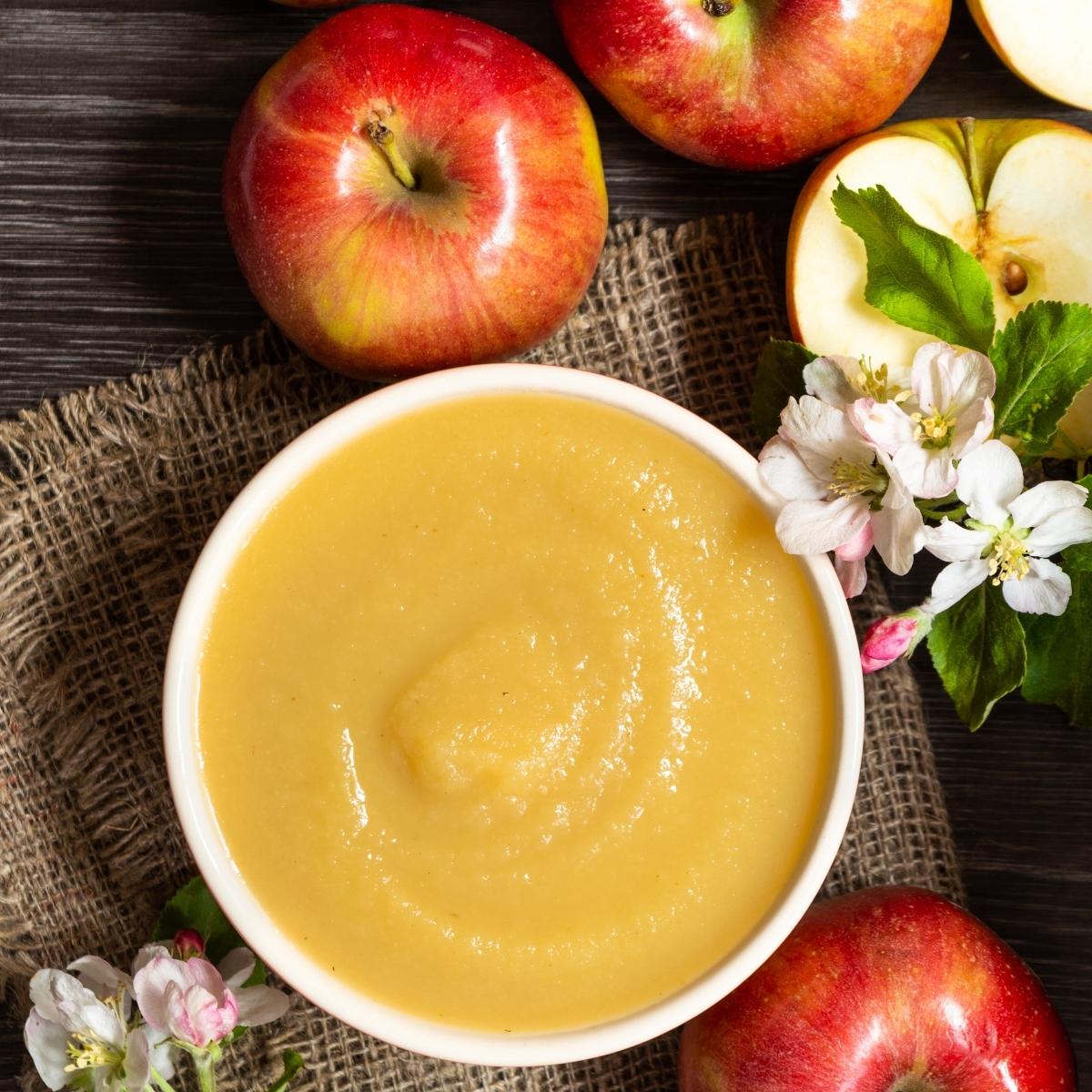 Applesauce is a suitable substitution for eggs when baking. The pectin in applesauce provides binding power, not unlike conventional eggs. To replace eggs with apple sauce, use 1/4 cup applesauce for each egg you are replacing. This substitute works especially well in cakes, muffins and other recipes that usually retain a bit of moisture. Bonus: it also works as a vegan butter replacement (use in 1:1 ratio).
4. Psyllium Husk Powder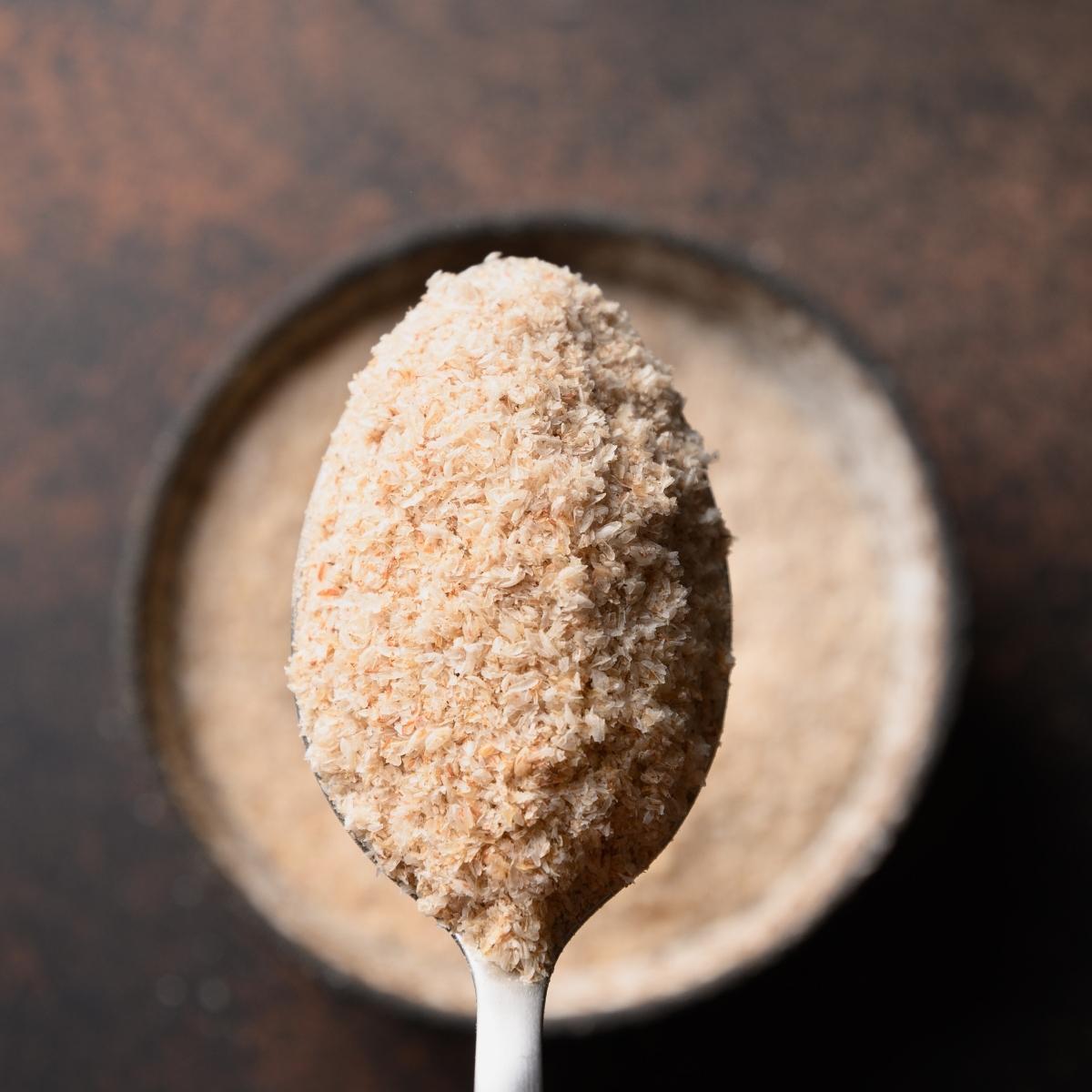 Psyllium husk powder can work as a great binder and add a fluffiness similar to what regular eggs provide in baked goods. To use psyllium husk powder as a replacement for eggs, add 1 teaspoon of psyllium husk + 1 tablespoon of liquid (water, oil, milk, etc.) for each egg called for in a recipe. This is one of my favorite options for savory bread recipes.
5. Silken Tofu
Silken tofu can be a suitable replacement for eggs in both cooking and baking recipes, especially those that involve using a blender or food processor to blend all the ingredients before cooking and baking. To replace eggs with silken tofu, use 1/4 cup blended silken tofu per 1 egg.
6. Firm Tofu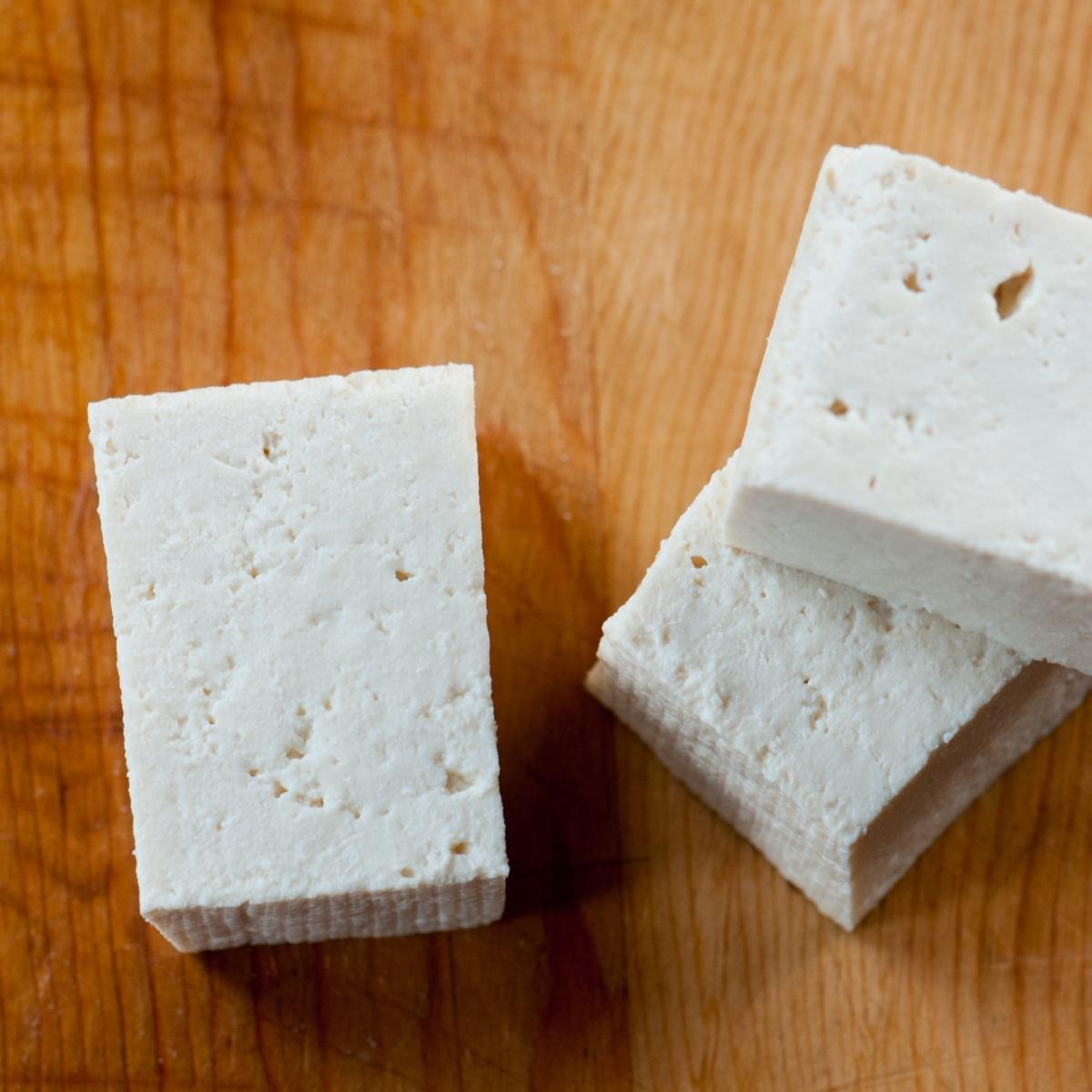 Firm tofu is my favorite egg alternative for vegan breakfast recipes. Firm tofu makes the best tofu scramble (vegan scrambled eggs) and is handy in other protein-rich breakfast dishes like vegan quiche or simply pan-fried as a hearty egg alternative to serve alongside other breakfast goods.
7. Aquafaba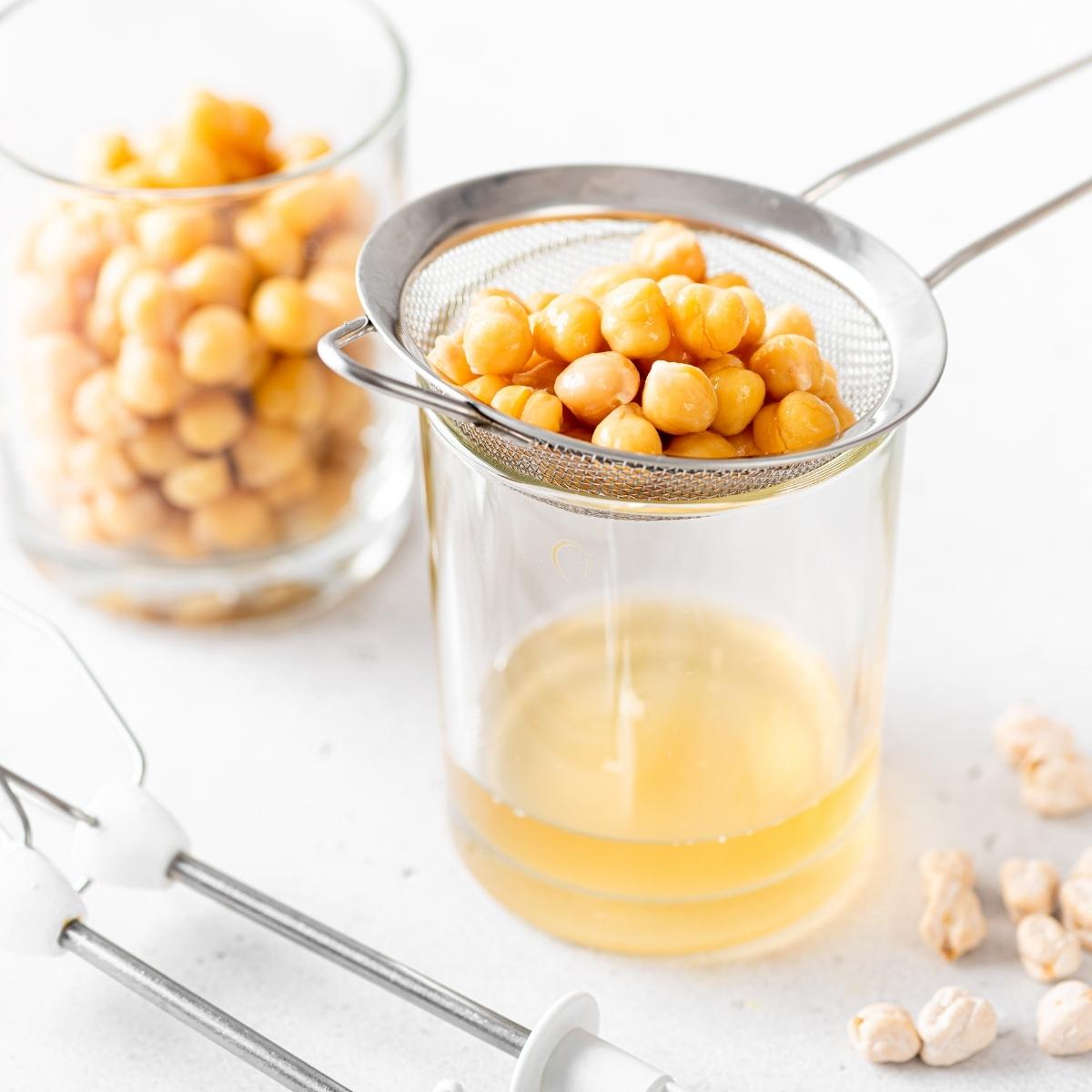 Aquafaba is the liquid you'll find in a can of chickpeas (garbanzo beans). This brine, when blended, is very similar in texture to egg whites, making it the clear choice when replacing eggs in meringue-based recipes. It also makes a nice vegan whipped cream and egg replacement for vegan french toast! To use aquafaba in place of egg whites, measure out a portion of aquafaba using a 1:1 ratio of the egg whites the original recipe calls for.
8. Ground Flax Seeds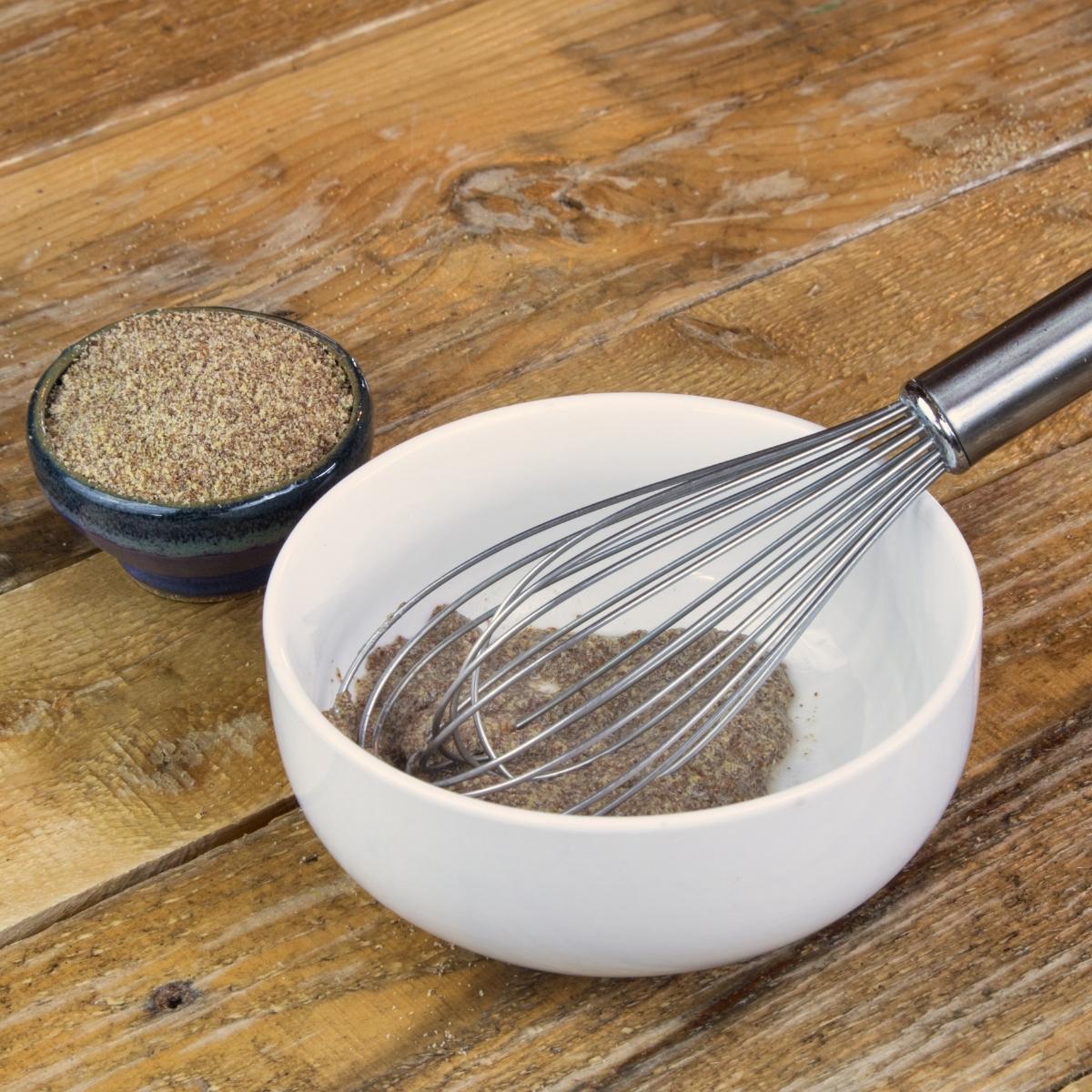 Ground flax seeds can be made into a flax egg by combining 1 tablespoon of ground flax seeds with 3 tablespoons of warm water and then letting the mixture sit until thickened, about ten minutes. This makes one egg and and can be upscaled as needed. Flax eggs are great in recipes where you need the binding powers that eggs normally provide, but they do not create much (if any) rise in baked goods. I love using flax eggs in chocolate chip cookies, store-bought cake mix, veggie burgers and pizza crusts.
9. Plant-Based Yogurt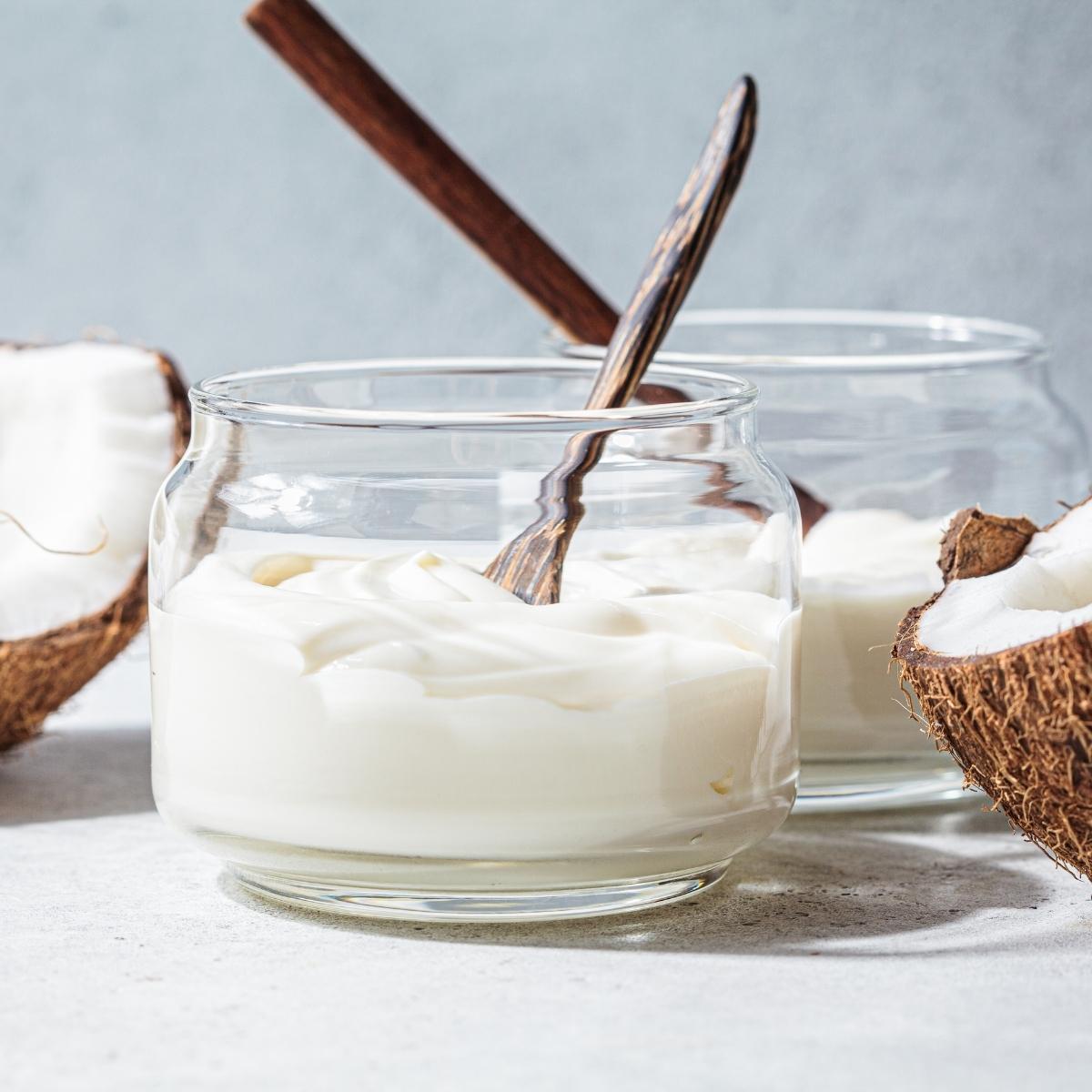 Yogurt works much like applesauce sauce does as an egg replacement and makes a suitable egg substitute in baked goods. I love to use it in quick breads and other bread recipes, as the added cultures and tanginess can lend an almost sourdough flavor as a bonus. To use yogurt in place of eggs, use ¼ cup yogurt for each egg a recipe calls for.
10. Tapioca Starch (Tapioca Flour)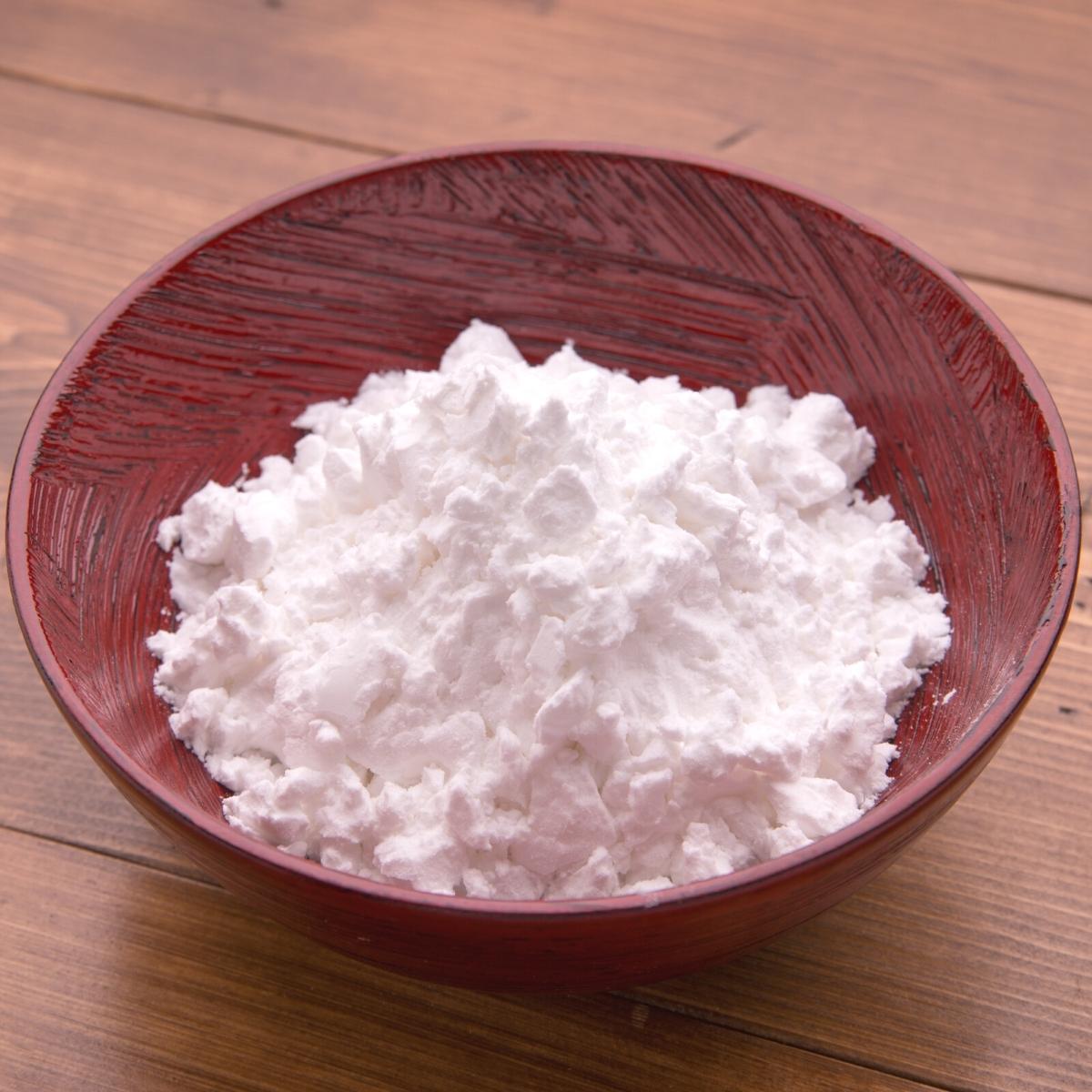 Ah, tapioca starch! This is one of my favorite ingredients for any kitchen. It can work both as a thickener and a binder in recipes you would normally use eggs in. It's thickening power comes into play when used as an alternative in egg-based desserts like custards. And, its binding power comes into play in baked goods. I recommend replacing about 1/4 of the amount of the flour called for in baked goods with tapioca flour for some additional binding power and lift. Tapioca flour also makes an excellent substitute for eggs when making ice cream. Bonus: tapioca starch also makes a great thickener for soups, stews and sauces and can even be used to make vegan frosting. Arrowroot powder and potato starch can be used in much the same way.
11. Baking Soda and Vinegar
A mix of vinegar and baking soda can make baked goods rise much like the addition of eggs does and is one of my favorite gluten-free baking hacks that also just happens to work great for egg-free baking, too. To replace the eggs in baked goods with baking soda and vinegar, add 1 teaspoon of baking soda to the dry ingredients and 1 teaspoon vinegar of choice (white vinegar, apple cider vinegar, etc.) to the wet ingredients in a baking recipe, before combining the two. It is key to not mix the baking soda and vinegar together on its own prior to adding to the other ingredients, as this will activate it prematurely and result in less than stellar results. Whether or not you are on a vegan or gluten-free diet, this tip works across the board when needing to replace leavening agents.
12. Chickpea Flour (Garbanzo Bean Flour)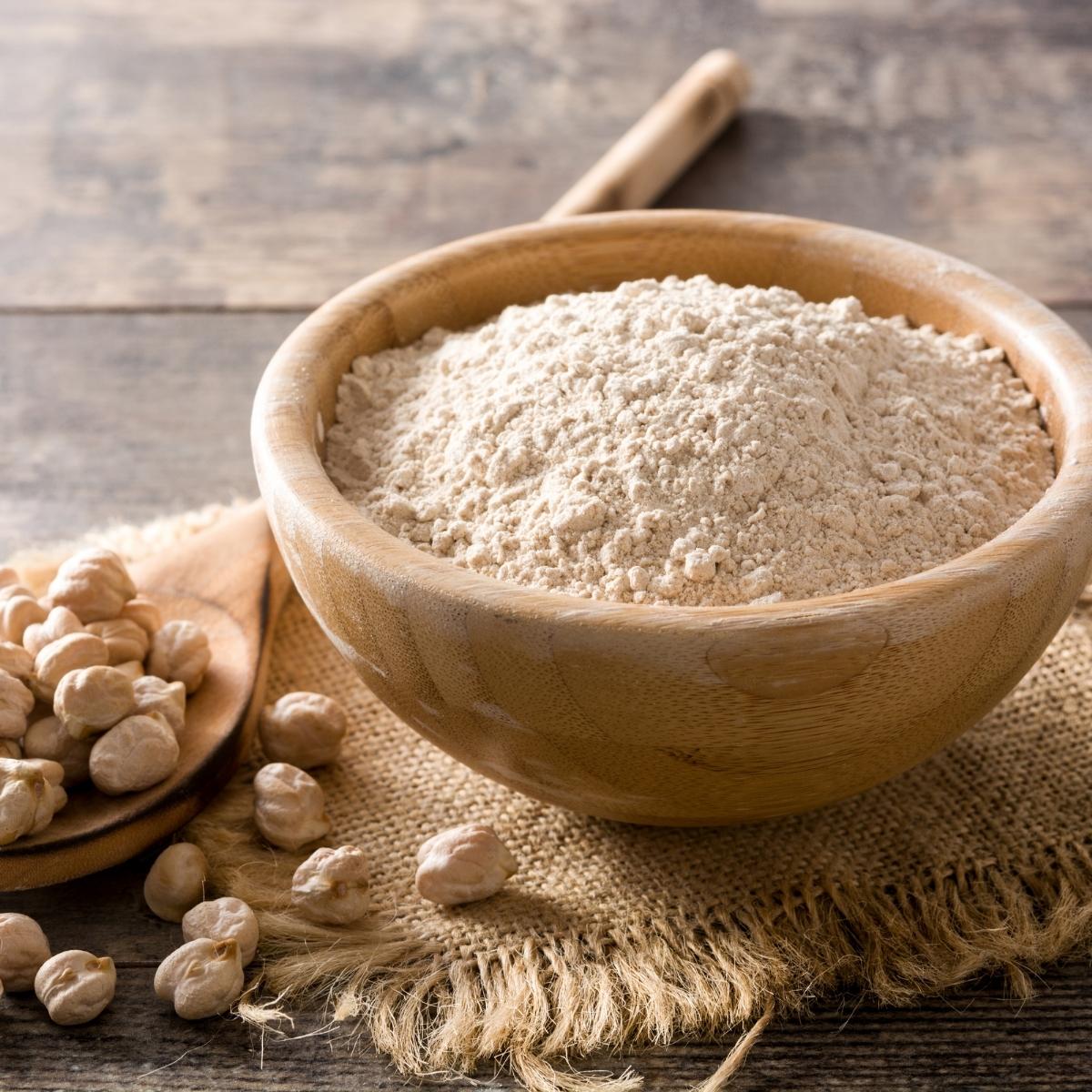 For a gluten-free flour, chickpea flour has some excellent binding powder all on its own, making it handy for a vegan kitchen as well. Chickpea flour can be used to make vegan omelets, or used in baking recipes that require the use of eggs as a thickener, such as custards and the like. It's also great for gluten-free vegan baking, essentially eliminating the need for egg replacements at all.
Best Store-Bought Vegan Egg Replacers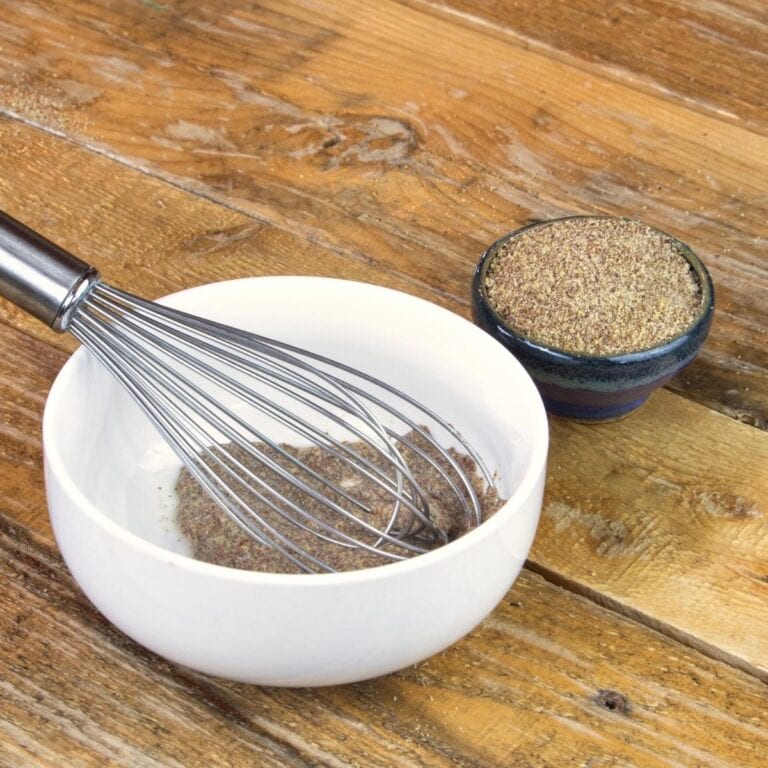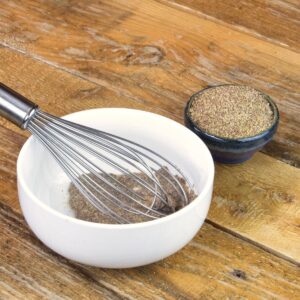 How to Make a Flax Egg
12 of the best vegan egg substitutes! Vegan baking can be really difficult. But here are some egg replacements that make it much easier (and tastier!). Plus, grab my flax egg recipe here!
Print
Pin
Rate
Ingredients
1

tablespoon

ground flax seeds

3

tablespoons

warm water
Instructions
In a small bowl, combine the ground flax seeds and warm water. Whisk until smoothly combined.

Allow the mixture to sit for 10 minutes or until thickened.

Use this mixture as the replacement for 1 regular egg. Increase the recipe as needed in the same ratio to replace as many eggs as you need.
Nutrition
Serving:
1
flax egg
|
Calories:
37
kcal
|
Carbohydrates:
2
g
|
Protein:
1
g
|
Fat:
3
g
|
Saturated Fat:
0.3
g
|
Polyunsaturated Fat:
2
g
|
Monounsaturated Fat:
1
g
|
Sodium:
4
mg
|
Potassium:
57
mg
|
Fiber:
2
g
|
Sugar:
0.1
g
|
Vitamin C:
0.04
mg
|
Calcium:
19
mg
|
Iron:
0.4
mg
Have you tried this recipe?
Please Rate + Comment Below!
Watch Our Latest Videos
Follow us on YouTube!
You Might Also Like
Substitutions for Almond Extract