These fluffy Gluten-Free Cherry Muffins have a soft, spongy and juicy cherry cobbler center! Made with a blend of buckwheat flour and tapioca flour, these delightful muffins are super quick and easy to make and filled with pleasing textures and flavors. Gluten-free, vegan, dairy-free, soy-free, nut-free and refined sugar-free.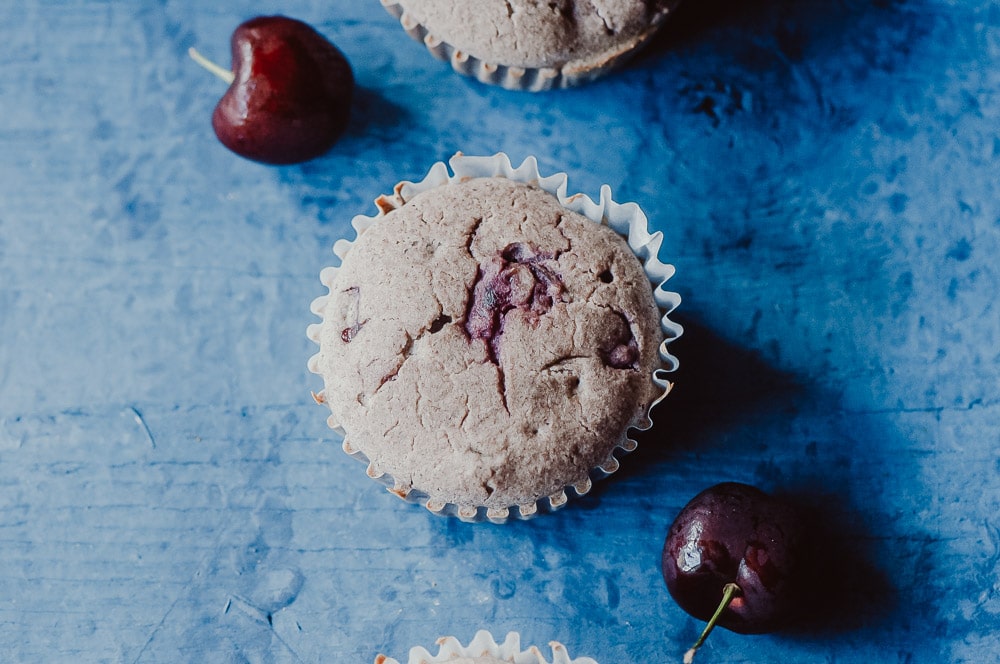 Muffins are a big hit around here with the kiddos, so I'm always dreaming up a new muffin recipe to create! And these delightful muffins were more than approved by my little ones. With their fluffy texture studded with juicy cherries, slight sweetness and hearty & filling nature, these gluten-free cherry muffins are certain win over you & yours, too!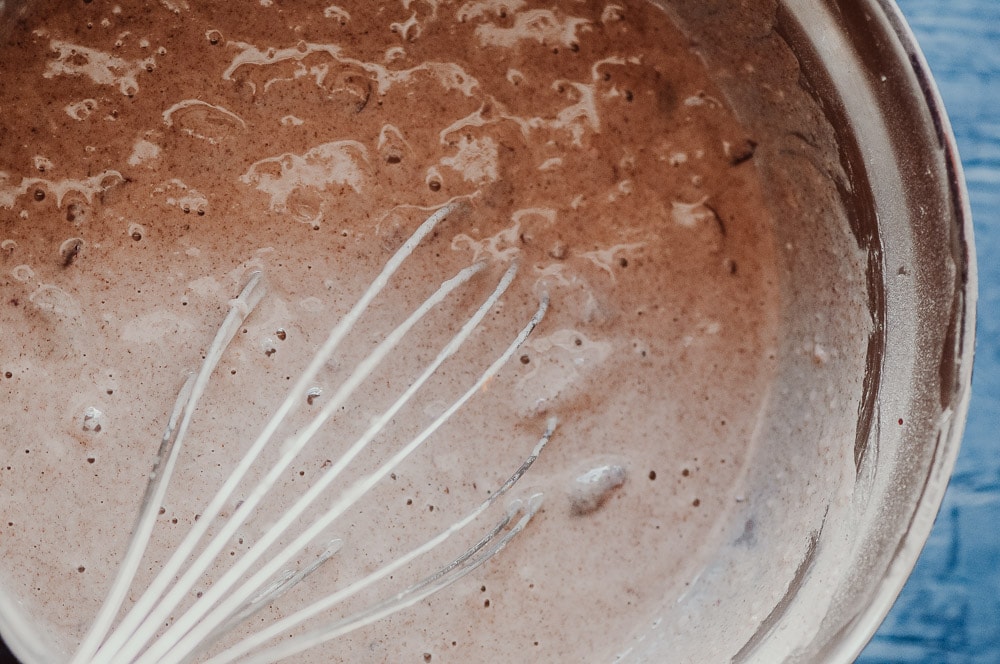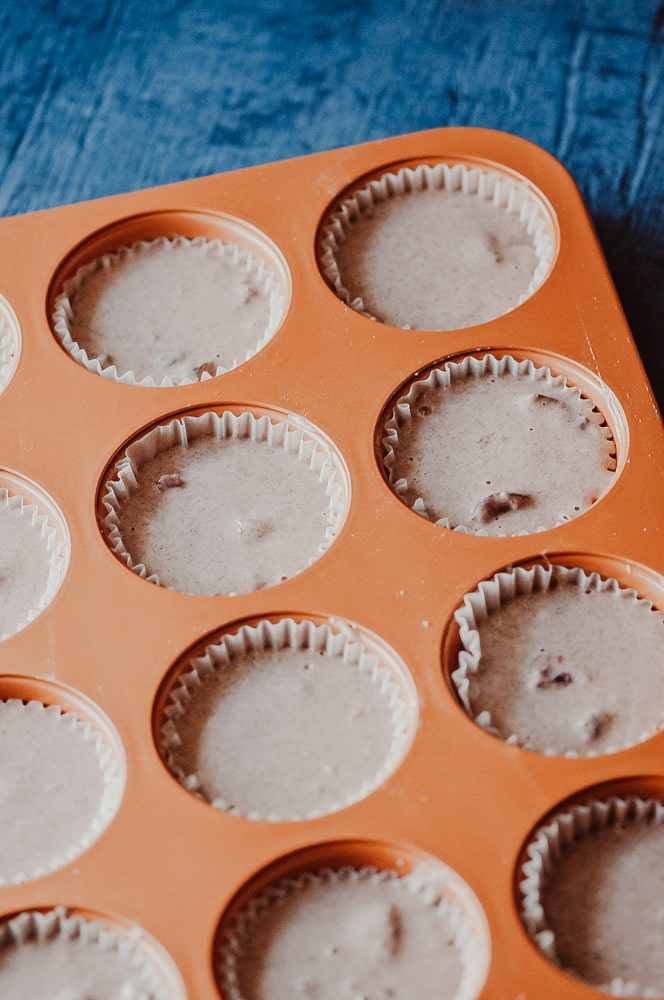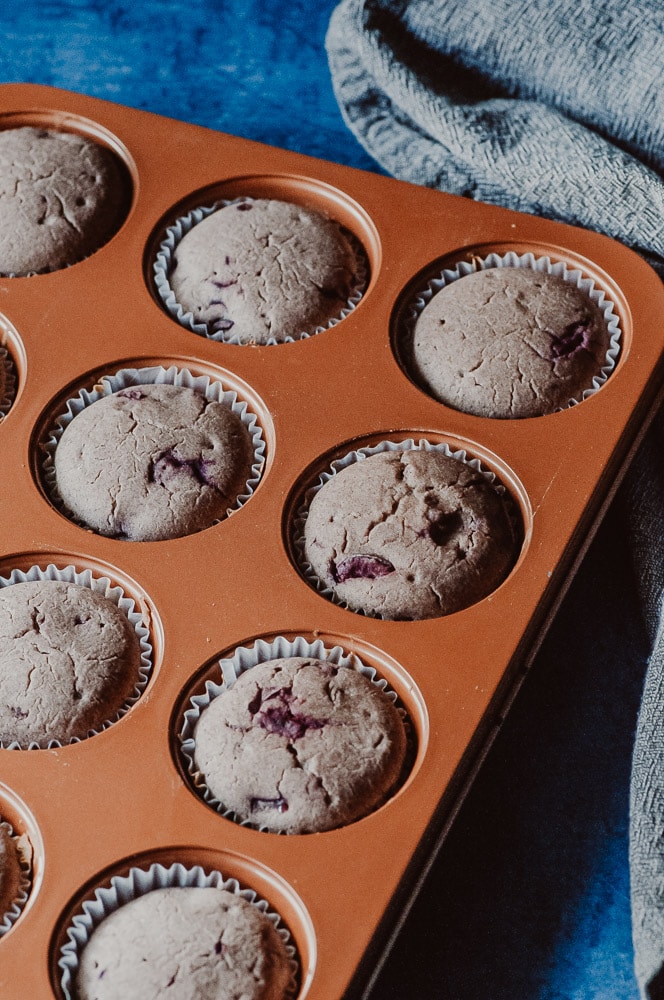 These Vegan Gluten-Free Cherry Cobbler Muffins are:
Fluffy, chewy, spongy, moist and juicy.

Hearty and filling.

Rich in fiber and antioxidants.

Perfectly sweet — not too much, not too little.

Made with simple, wholesome, healthy ingredients.

Easy to make.

Store well.

Super kid-friendly.

Gluten-free, dairy-free, vegan, nut-free, soy-free, oil-free, refined sugar-free.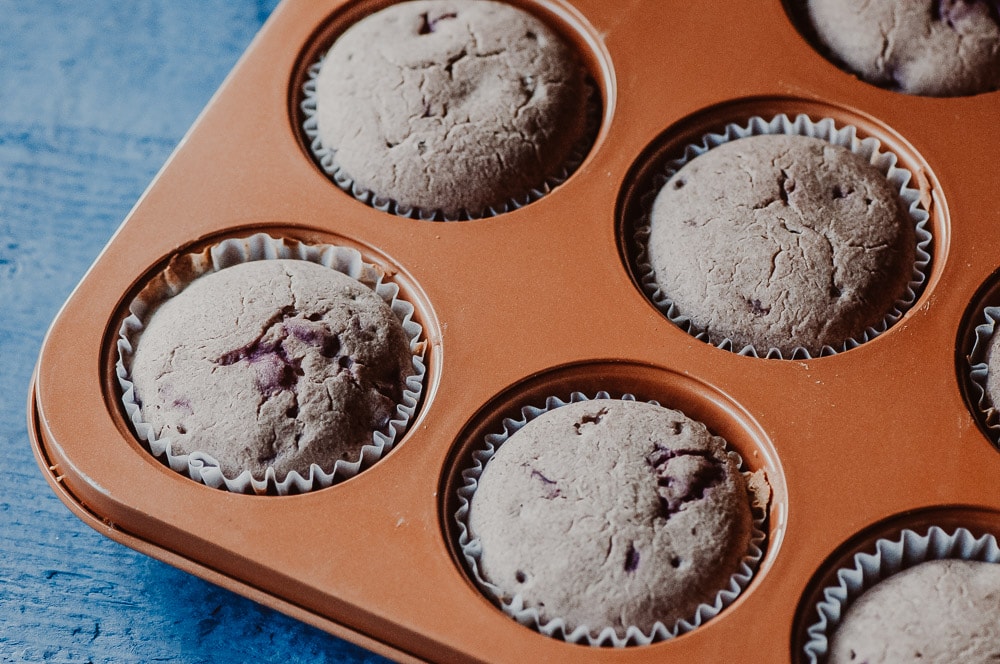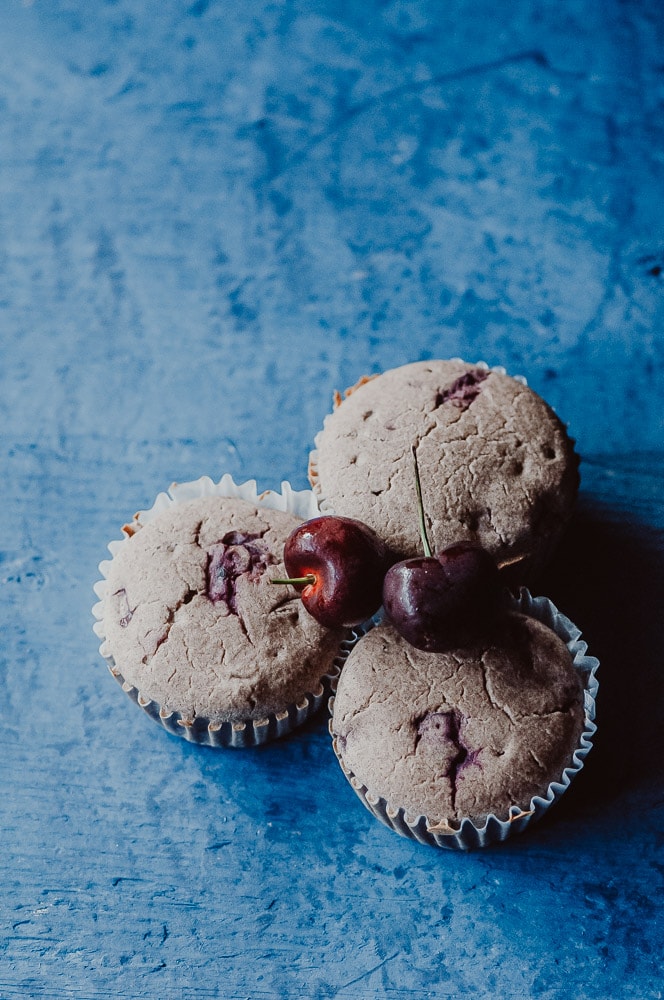 How to Make Vegan Cherry Muffins:
Mix.

Pour.

Bake.

Enjoy!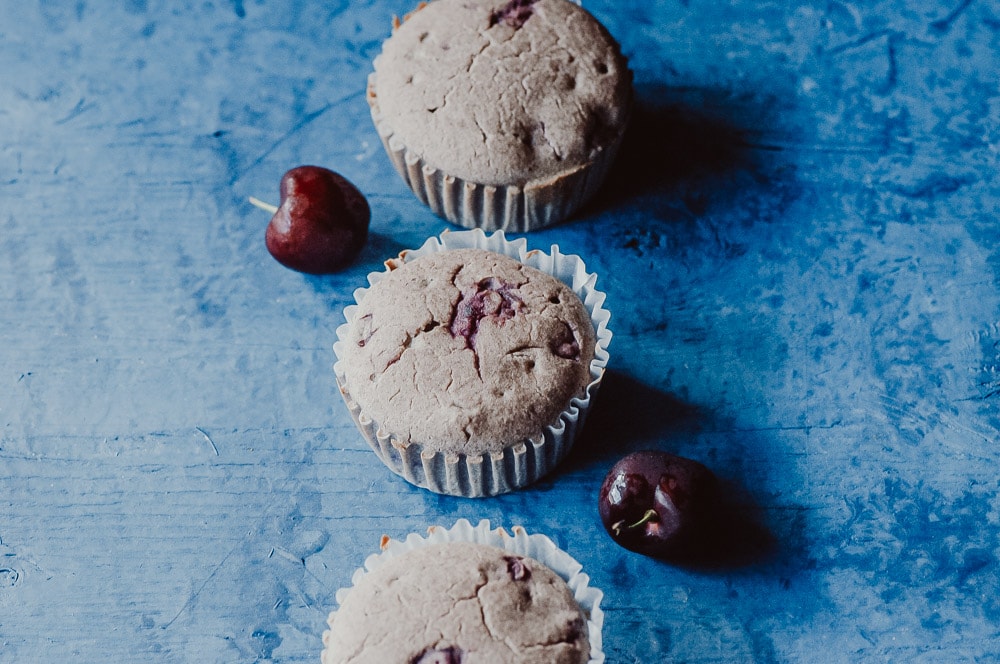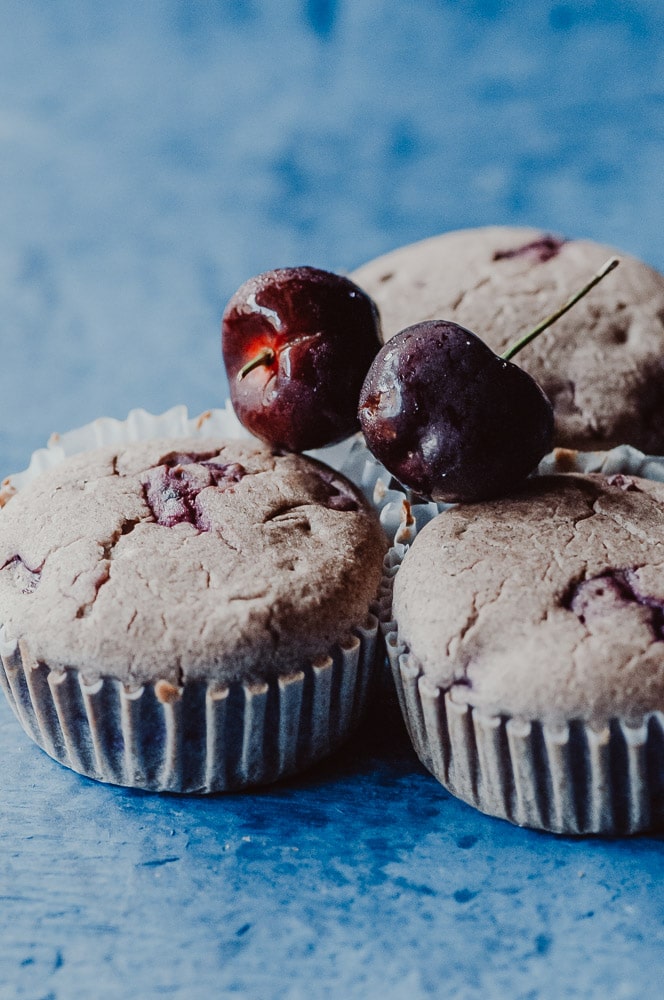 Tips for Making Gluten-Free Cherry Muffins:
Due to the unique nature of buckwheat flour, I do not recommend replacing it with anything else.

The tapioca flour can be replaced with arrowroot starch or cassava flour, if need be.

The maple syrup can be replaced with honey or coconut sugar.

For sugar-free / no sugar added muffins, replace the maple syrup with a sugar-free sweetener such as this one.

This is a versatile recipe! You can replace or halve the cherries and instead add berries, chopped apples, pineapples or mango. You can throw in a handful of nuts, seeds or chocolate chips for even more flavor and texture.

In a pinch, the apple cider vinegar can be replaced with lemon juice.

These muffins store well lightly covered at room temperature for up to 48 hours or in air-tight containers in the refrigerator for up to 5 days.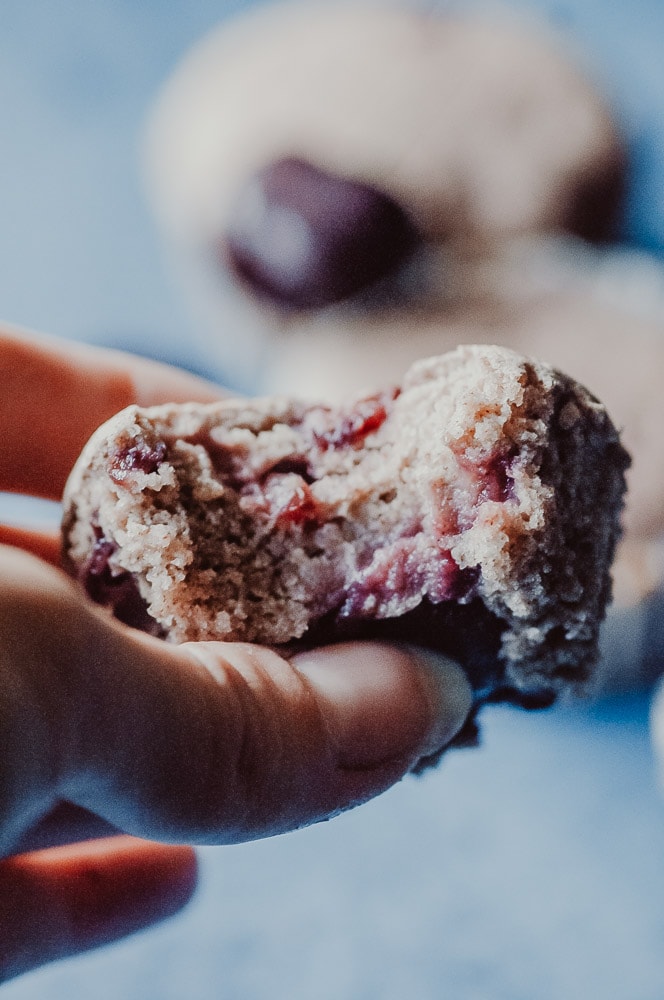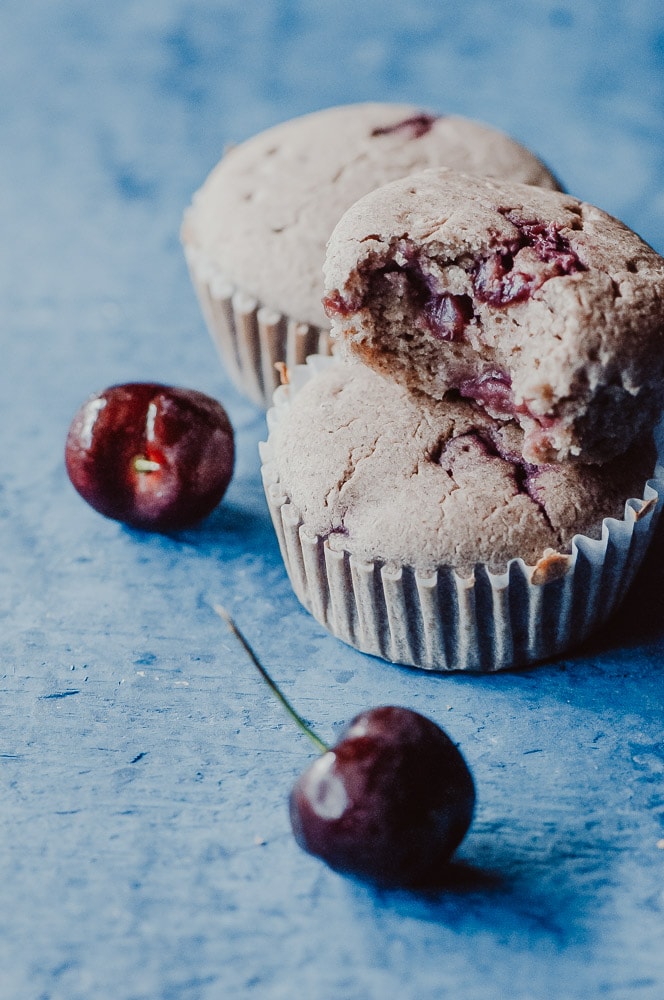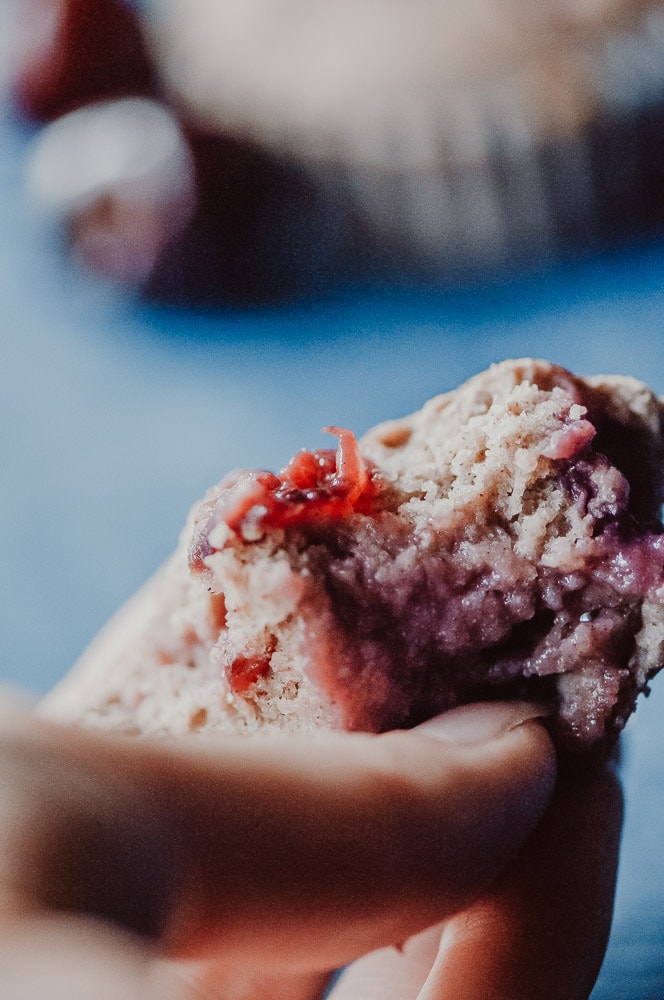 More Gluten-Free Vegan Baking Recipes:
Easy Vegan Banana Bread (Gluten-Free)
Strawberry Apple Crisp With Polenta (Gluten-Free, Vegan)
Lavender, Ginger, & Walnut Mini Tea Time Shortbread Cookies (Gluten-Free, Vegan, Refined Sugar-Free)
Triple Berry Crumble Pie With Almond Coconut Oat Crust (Gluten-Free, Vegan)
Gluten-Free Graham Crackers (Vegan, Refined Sugar-Free)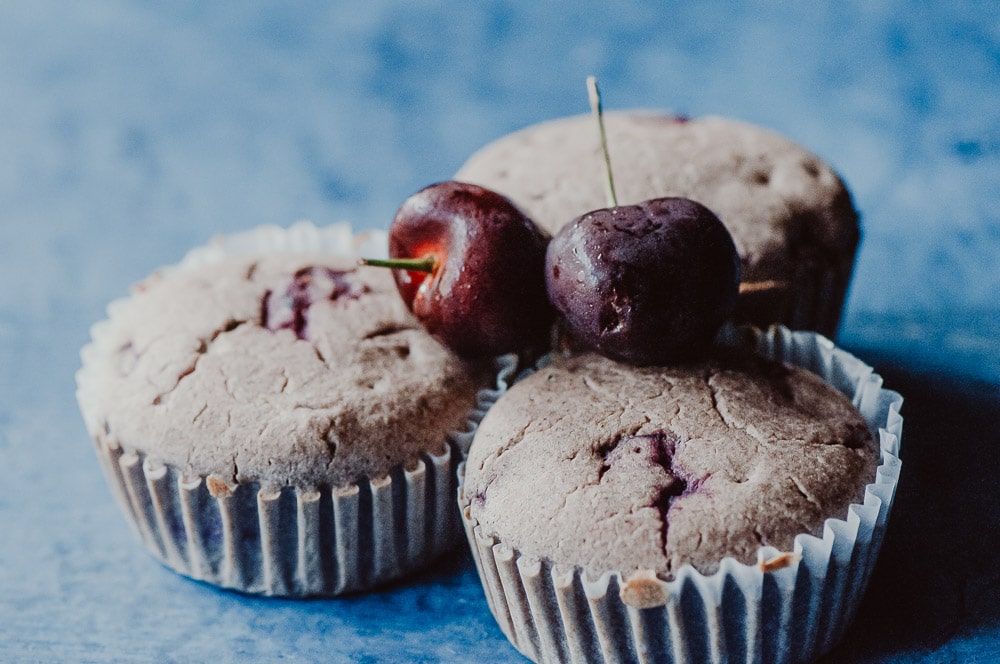 This is truly such an easy, healthy and delicious cherry muffin recipe packed with flavor and wholesome goodness! We hope you love them, too! Enjoy. xo.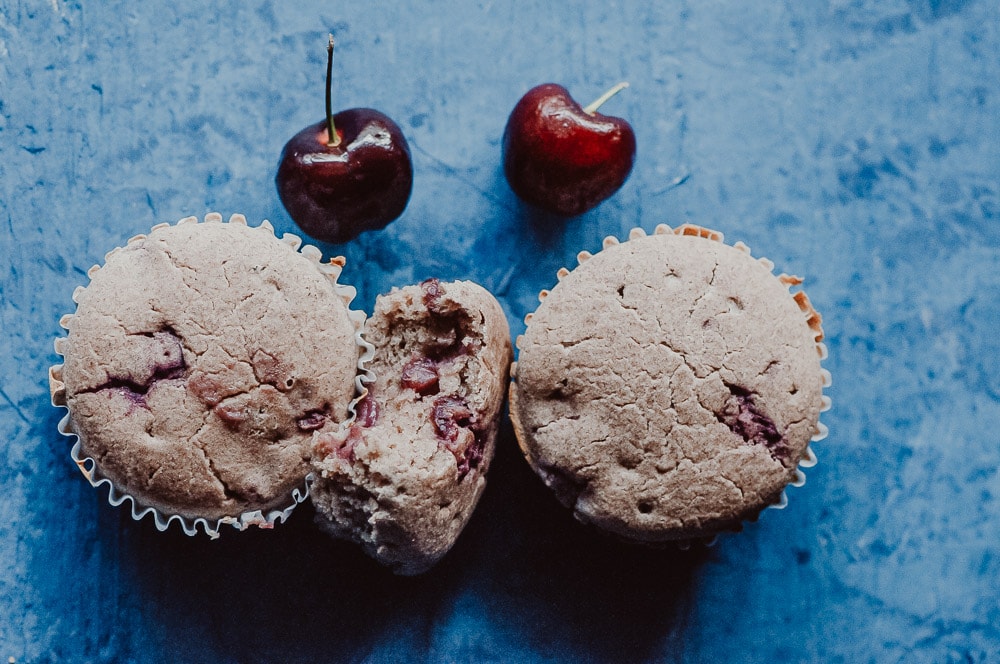 If you try this recipe please let me know! Leave a comment, rate it, share this post, use Pinterest's "tried it" feature, or take a photo, & tag me on Instagram and I'll share it! Thank you so much! <3
Gluten-Free Vegan Cherry Cobbler Muffins (Oil-Free)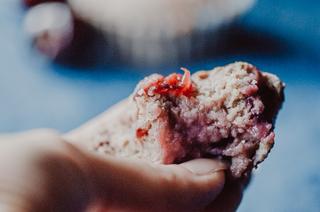 Author: Kristen Wood | 6-14-2019
prep time: 10 minutes
cook time: 22 minutes
total time: 32 minutes
Yields: 12 standard muffins
---
Ingredients:
---
Instructions:
Preheat oven to 375°F. Grease or line a muffin pan with muffin liners.
In a large bowl sift together flours and baking powder.
In another bowl whisk together milk, syrup, applesauce and vinegar until smooth.
Pour wet ingredients into dry ingredients. Stir until just combined.
Fold in chopped cherries.
Fill each muffin tin 3/4 way full with batter.
Bake for 22 minutes or until firm and turning golden.
Let cool before serving.
Enjoy!
---
Nutrition:
Serving: 1 muffin
Fat: 0.7 gram
Calories: 96
Carbs: 22 grams
NOTE: Please see 'Tips' above in the blog post for suitable substitutions, storage advice and more!
Shop This Recipe
Pin It