Disclaimer: Please note that some of the links below in this post are affiliate links and I will earn a commission if you purchase through those links. I regularly use and recommend all of the products listed below because I find them to be of great quality and use! All proceeds go back into maintaining and creating for this site. Thank you! XO
Last Updated on
This healthy banana bread is easy, fluffy, hearty, vegan, dairy-free, gluten-free, refined sugar-free, and wholly DELICIOUS! Made with simple, wholesome ingredients, and free of added sugars, it has a delightfully springy, spongy texture that is satisfyingly chewy. Best of all? You only need 1 bowl! Simply put, it is the BEST gluten-free vegan banana bread you will ever make! Yep, I said it.
The combination of tapioca and buckwheat flour lends itself to some wonderfully springy and fluffy textures in gluten-free baked goods! It also provides some lovely binding power and slices beautifully, without the use of xanthan gum or the like. It is certainly one of my favorite gluten-free flour mixes, and when it comes to this vegan gluten-free banana bread, it works like a dream!
This Easy & Healthy Banana Bread is:
Delightfully springy, fluffy and moist.

Filled with simple, wholesome, healthy ingredients.

Slices and stores well.

Requires only one bowl to make.

Versatile, with the option of add-ins.

Gluten-free, vegan, dairy-free, soy-free, nut-free and refined sugar-free.
Tips for making this Healthy Gluten-Free + Vegan Banana Bread:
I do not recommend replacing the flours with any other flours. Buckwheat and tapioca flours have unique properties that work well together when combined!

The riper the bananas you use, the sweeter the bread.

This bread tastes absolutely delicious without any added sugar, but if you like your banana bread on the sweeter side, you can add the optional 2-4 tablespoon of maple syrup.

The oil in this recipe can be replaced with melted vegan butter, or if you are not on a dairy-free or vegan diet, regular melted butter.

This bread holds together well and slices well without the use of gums, eggs, chia or flax eggs or the like. I do not recommend adding any, and I promise you that it is not necessary!

I have encountered some slight variations in the absorbency of buckwheat flours, if you are concerned, you can always add a little more milk if the batter seems too thick.

I like this bread with a hefty dose of cinnamon, but a pinch of nutmeg and/or cardamom work beautifully in this bread, too!

This bread stores well covered or uncovered at room temperature for 24 hours, or in air tight containers in the refrigerator for up to 3 days.
Optional Variations of this Buckwheat Banana Bread
Fold in any of the following before baking:
1/2 cup chocolate chips of choice

1/2 cup chopped walnuts or pecans

1/2 cup raisins or other dried fruit

1/2 cup cacao nibs
How to Make Easy Vegan Banana Bread:
Combine all ingredients in a bowl.

Mix well.

Pour into a loaf pan.

Bake at 350 degrees for 50 minutes.

Cool, slice and enjoy!
More Gluten-Free Bread Recipes:
Gluten-Free Vegan Bread Recipe
Buckwheat Banana Bread With Cacao (Gluten-Free)
Flourless Magic Tahini Seed Bread (Gluten-Free, Keto)
Gluten-Free Coconut Flour Zucchini Bread
This is truly one of my favorite bread creations! This Gluten-Free Vegan Banana Bread has such a pleasing combo of textures and flavors and accommodates a wide variety of diets making it a wonderfully versatile staple that is super easy to make, too! I can't wait to hear your feedback. Enjoy. xo.
If you try this recipe please let me know! Leave a comment, rate it, share this post, use Pinterest's "tried it" feature, or take a photo, & tag me on Instagram and I'll share it! Thank you so much! <3
The Best Gluten-Free Vegan Banana Bread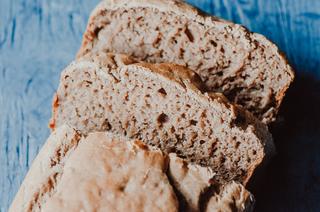 Author: Kristen Wood | 6-3-2019
prep time: 10 minutes
cook time: 50 minutes
total time: 1 hour
Yields: 1 loaf / 10 slices
---
Ingredients:
4 ripe bananas, mashed
1/4 cup coconut oil, melted
1/2 cup milk of choice (I use unsweetened almond)
2-4 tablespoons maple syrup (completely optional)
1 cup buckwheat flour
1 cup tapioca flour
2 teaspoons ground cinnamon
2 teaspoons baking powder
1/2 teaspoon salt
---
Instructions:
Preheat oven to 350°F. Grease or line a loaf pan with parchment paper, set aside.
In a large mixing bowl mash the bananas.
Add remaining ingredients and whisk until smoothly combined.
Pour into your prepared loaf pan.
Bake for 50-60 minutes or until the loaf is firm and golden.
Let cool before slicing and serving.
Enjoy!
---
Nutrition:
Serving: 1 slice
Fat: 6 grams
Calories: 153
Carbs: 25 grams
NOTE: Please see 'Tips' above in the blog post for suitable substitutions, storage advice and more!
Shop This Recipe:
Pin It: