Disclaimer: Please note that some of the links below in this post are affiliate links and I will earn a commission if you purchase through those links. I regularly use and recommend all of the products listed below because I find them to be of great quality and use! All proceeds go back into maintaining and creating for this site. Thank you! XO
Last Updated on
These amazing Vegan + Gluten-Free Chocolate Chip Cookies are made with sunflower and/or pumpkin seeds for a delightful texture, flavor, and added nutrition! No almond flour is to be found in this healthy cookie recipe that is fun, easy to make, nut-free and perfectly chewy, too!
These cookies are truly something special. I was in an experimental mood, not so sure how this would turn out, and the result? Positively splendid. I've since made these several times, and each time they win me over again and again! I can only hope you agree!
Often you'll find that almond flour is used in gluten-free vegan cookie recipes, but let me tell you – seed flour takes the cake in this delightful nut-free recipe!
These Vegan + Gluten-Free Chocolate Chip Cookies are:
Perfectly soft and chewy with slightly crisp edges. The best of all worlds, texture-wise!

Super quick and easy to make, with a simple one bowl prep.

Filled with protein, fiber and healthy fats.

Gluten-Free, dairy-free, vegan, soy-free, nut-free, and refined sugar-free.
What do I Need to Make The Best Vegan and Gluten-Free Chocolate Chip Cookies?
Pumpkin and/or sunflower seeds.
How to Make Perfect Gluten-Free Vegan Chocolate Chip Cookies
Blend seeds into a coarse flour.

Mix with remaining ingredients.

Roll into balls then flatten.

Bake at 350°F for 13 minutes.

Enjoy!
Tips for Making Chocolate Chip Cookies with Seed Flour:
You can use any combo of sunflower and pumpkin seeds you would like. I've found it works well with either or both. Unsalted tastes best in my opinion, but in a pinch salted seeds can be used. Just be certain to omit the added salt in the recipe.

I haven't tested it yet myself, but I do think a gluten-free all purpose blend would work well to replace brown rice and tapioca flours in this recipe. If you try it, let me know!

The optional acacia fiber or psyllium husk lends itself to a slightly chewier cookie that also stays moist longer when left out. Not necessary at all, but simply adds a little extra something.

I love the addition of cinnamon to chocolate chip cookies. I think it enhances the chocolate flavor in cookies, but it certainly is not necessary! Just a personal preference that you may find that you like, too.

For sugar-free chocolate chip cookies, I recommend this sweetener to replace the maple syrup, and these chocolate chips.

If you do not follow a vegan or dairy-free diet, melted butter or ghee can be used in place of oil.

These cookies keep well lightly covered at room temperature for up to 48 hours.
To learn more about Sunflower Seeds + find 24 Vegan & Gluten-Free Sunflower Seed Recipes, click HERE.
More Vegan and Gluten-Free Cookie Recipes
Lavender, Ginger, & Walnut Mini Tea Time Shortbread Cookies (Gluten-Free, Vegan, Refined Sugar-Free)
Easy No Bake Chocolate Peanut Butter Protein Cookies With Peanut Butter Glaze (Gluten-Free, Vegan)
These truly are the BEST Vegan Gluten-Free Chocolate Chip Cookies that you can make! The addition of seed flour makes for a most delightful texture and flavor. I cannot wait to hear what you think, too! Enjoy. xo.
If you try this recipe please let me know! Leave a comment, rate it, share this post, use Pinterest's "tried it" feature, or take a photo, & tag me on Instagram and I'll share it! Thank you so much! <3
The Best Gluten-Free Vegan Chocolate Chip Cookies (Nut-Free)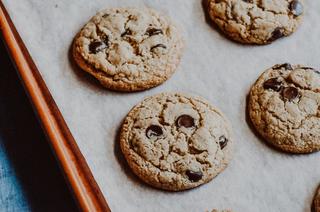 Author: Kristen Wood | 6-17-2019
prep time: 10 minutes
cook time: 13 minutes
total time: 23 minutes
Yields: 16 cookies
---
Ingredients:
1 cup unsalted sunflower seeds or pumpkin seeds or a blend (I love these seeds)
1/2 cup brown rice flour
1/2 cup tapioca flour
1 teaspoon baking soda
1 teaspoon acacia fiber or psyllium husk powder (optional, see tips section above)
1/2 teaspoon baking powder
1/2 teaspoon ground cinnamon (optional)
1/4 teaspoon sea salt or pink salt
1/2 cup maple syrup
1/4 cup melted coconut oil, avocado oil or olive oil
---
Instructions:
Preheat oven to 350°F. Line a cookie sheet with parchment paper; set aside.
In a food processor or blender add the seeds. Blend until a coarse flour-like powder forms.
Pour the seed flour, brown rice flour, tapioca flour, baking soda, baking powder, salt and optional cinnamon + acacia/psyllium. Stir to combine.
Pour maple syrup and oil into flour mixture. Whisk until smooth.
Fold in chocolate chips.
Roll into approximately 16 golfball sized rounds. Place each round on the parchement paper lined cookies sheet. Flatten each round with the palms of your hands.
Bake for 13 minutes or until the edges are beginning to brown and all is turning golden.
Remove from the oven and let cool before serving.
Enjoy!
---
Nutrition:
Serving: 1 cookie
Fat: 4 grams
Calories: 94
Carbs: 12 grams
NOTE: Please see 'Tips' above in the blog post for suitable substitutions, storage advice and more!
Shop This Recipe:
Pin It: