Best Almond Flour Peanut Butter Cookies
This post may contain affiliate links, and we receive an affiliate commission for any purchases made by you using these links. We appreciate your support!
Easy, healthy and delicious one bowl Almond Flour Peanut Butter Cookies that are rich in protein and naturally gluten-free and vegan.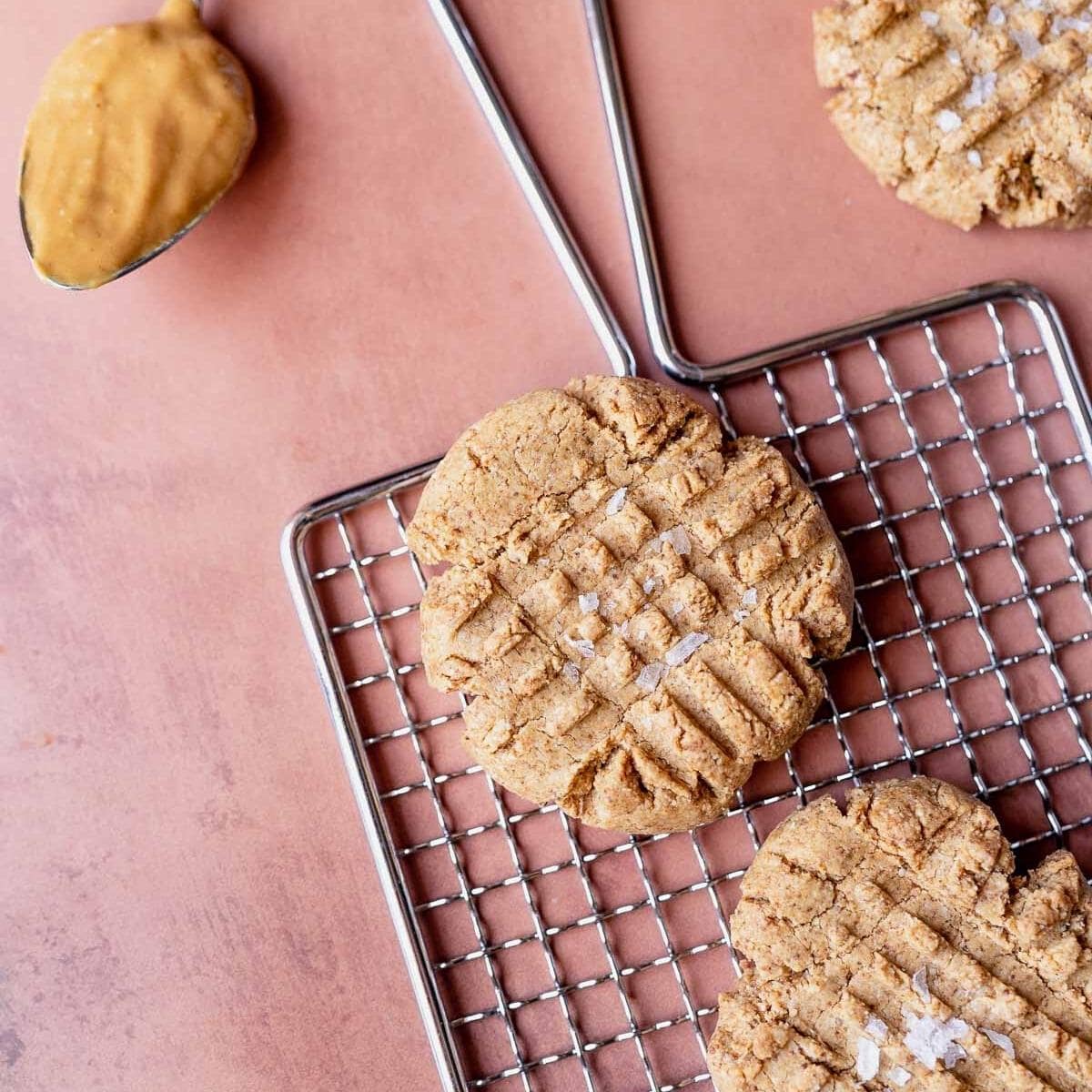 Full of creamy peanut butter goodness, these Almond Flour Peanut Butter Cookies are unbelievably healthy. These soft and chewy cookies are gluten-free, dairy-free, vegan and refined sugar-free. Not only are these cookies irresistibly delicious, but they are full of protein and nutrients as well.
This vegan cookie recipe is easy to prepare, freezer-friendly, and uses only clean ingredients such as almond flour, maple syrup, natural peanut butter, and coconut sugar. From their chewy and crunchy texture to the delicious nutty flavor, you'll surely finish these cookies with delight!
❤️ Why You'll Love This Recipe
Vegan. This recipe is egg free and uses only the healthiest ingredients.
Easy to prepare. It only takes a few ingredients and a few simple steps to whip up these delicious cookies! It's easy to prep in advance and to store as well.
Full of protein. Tons of protein from the almond flour and peanut butter!
Uses a natural sweetener. This recipe uses maple syrup and coconut sugar which are full of antioxidants and nutrients, all with fewer calories!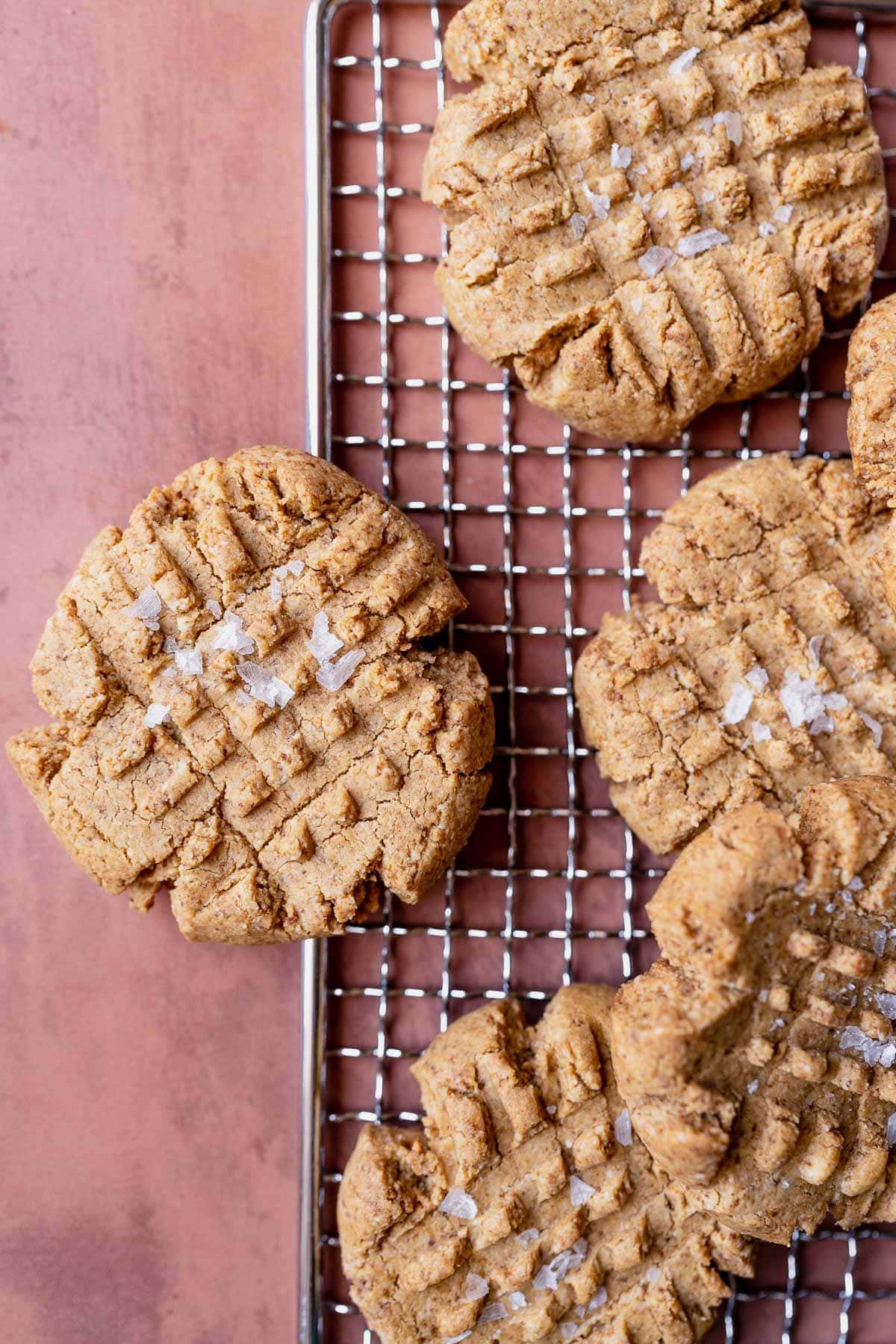 ❔ What is Almond Flour?
Almond Flour is made by blanching almonds in boiling water to remove the peel and then grinding them until they become a fine flour. Almond flour is known to be packed with nutrients, high in protein, low in carbs, and has a slightly sweeter taste than regular flour. Almond flour is also naturally gluten-free.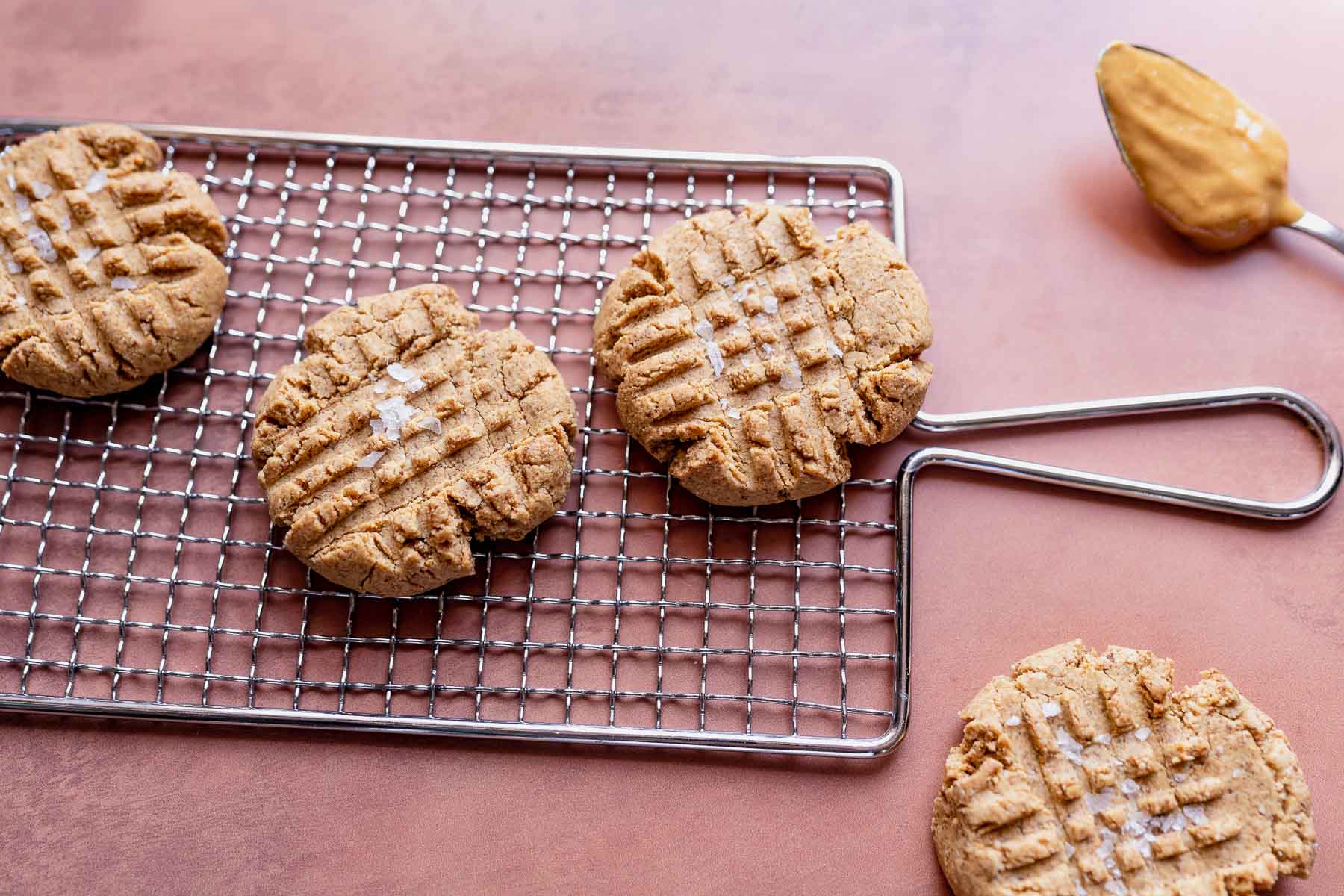 🗒️ Ingredient Notes
Almond Flour: Blanched almond flour is my favorite choice for this recipe as it tends to be a finer in texture and lighter in color, however almond meal can be used in a pinch!
Peanut Butter: Use a natural smooth and creamy peanut butter for this recipe, not the thick and crunchy peanut butter as it might make the batter too thick. Alternatively, you can also use almond butter or seed butter as well!
Maple Syrup: We use maple syrup for a natural and healthy sweetener as it has a lower glycemic index while adding a delicious caramel-like flavor to the recipe!
Coconut Sugar: Another healthy sweetener alternative, coconut sugar is has a similar flavor to brown sugar.
Baking Powder: To help our cookies rise and stop the batter from spreading too much.
Salt: To add complexity and deepen the flavor of the cookies.
Vanilla Extract: A must for every cookie recipe, vanilla extract adds complexity and deepens the flavor. If you're looking to mix the flavor profile up a touch, almond extract also makes a fun alternative.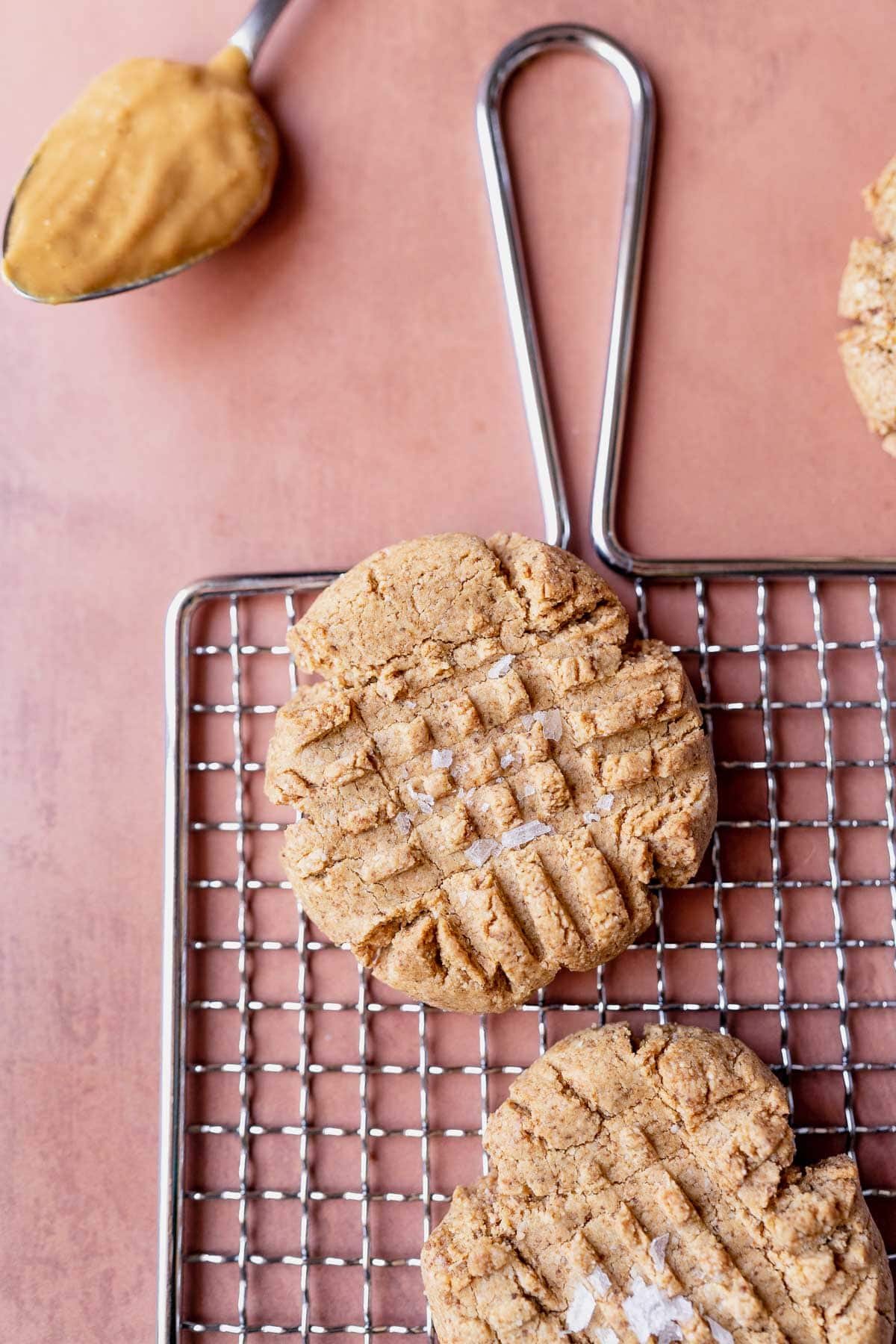 🥣 Instructions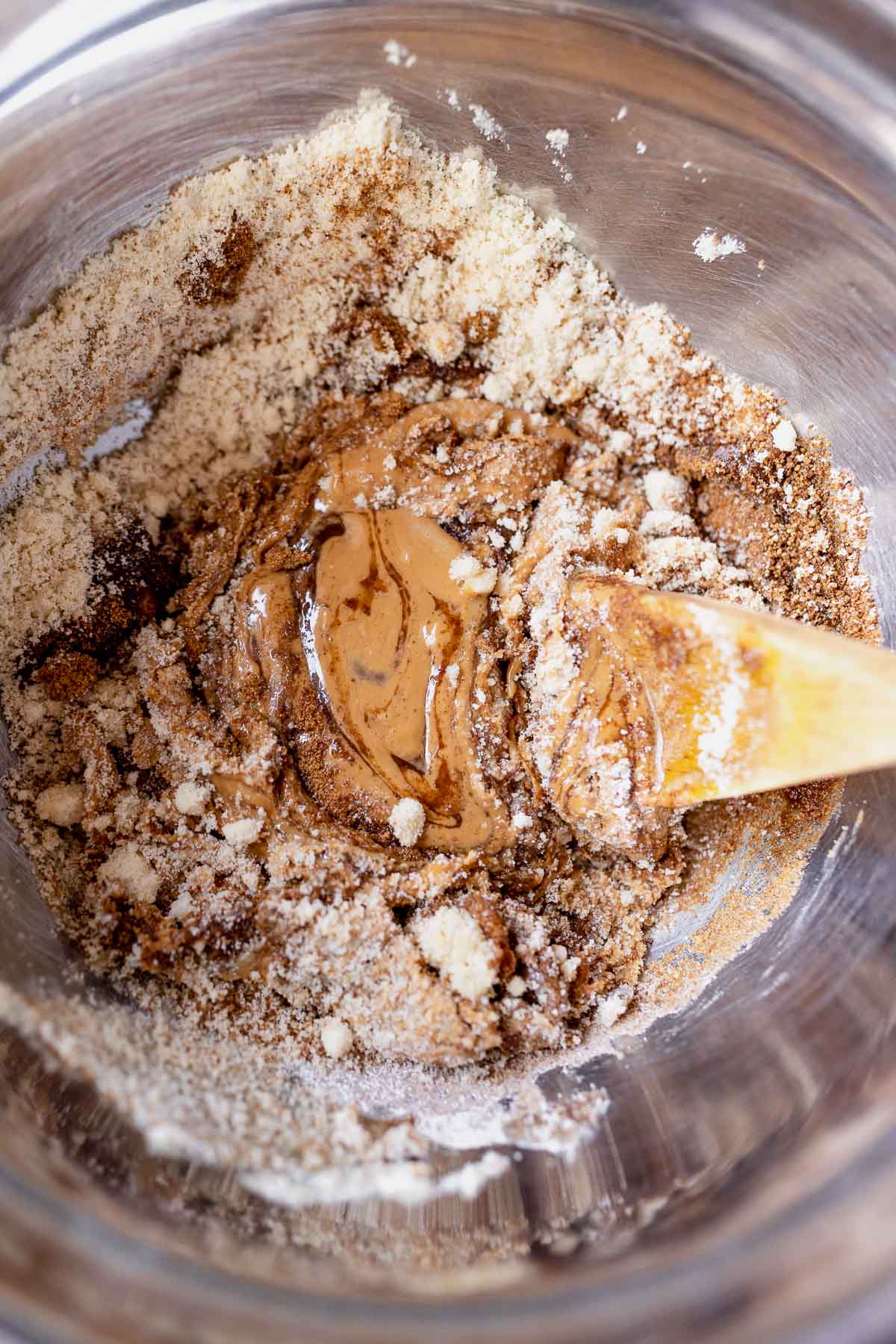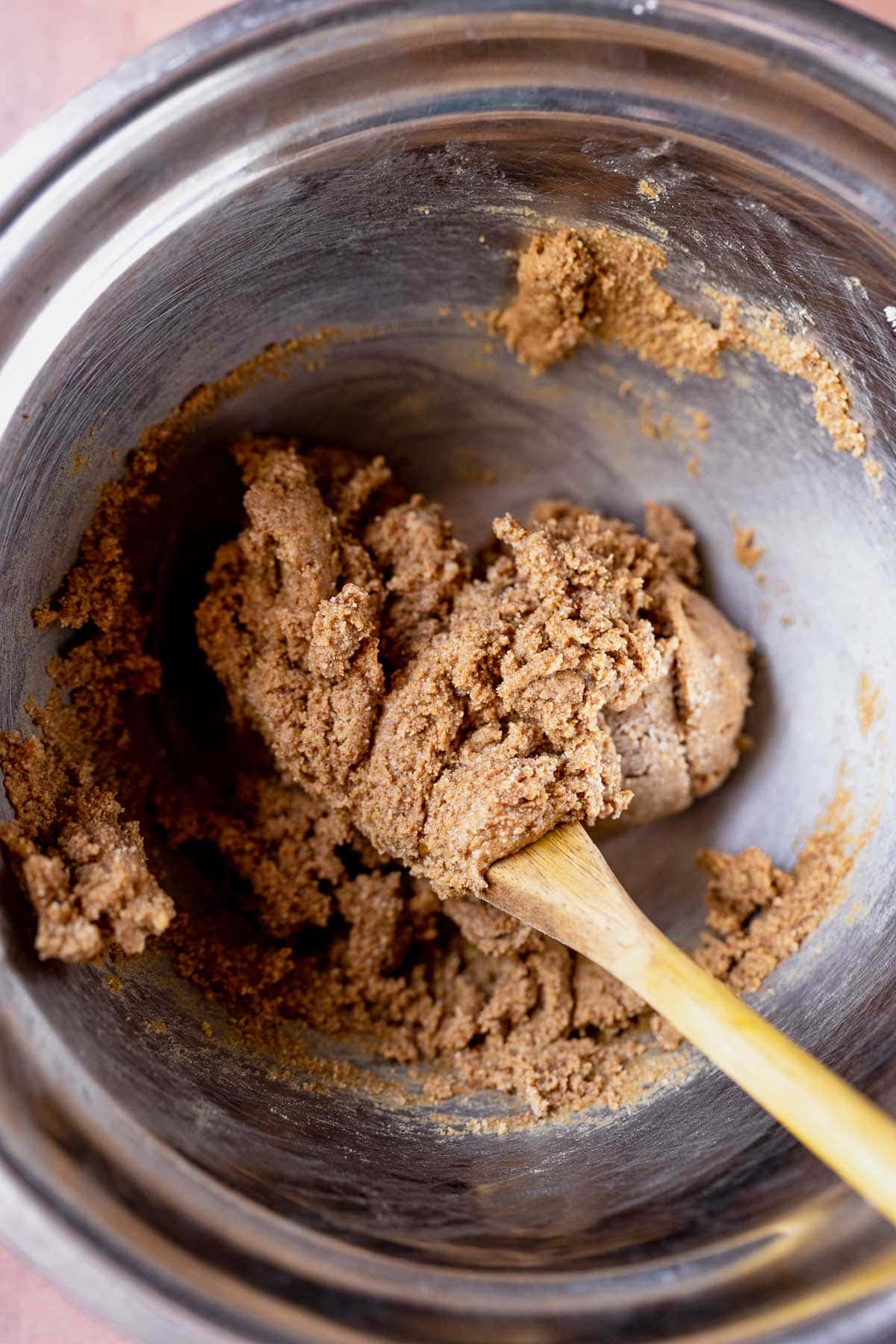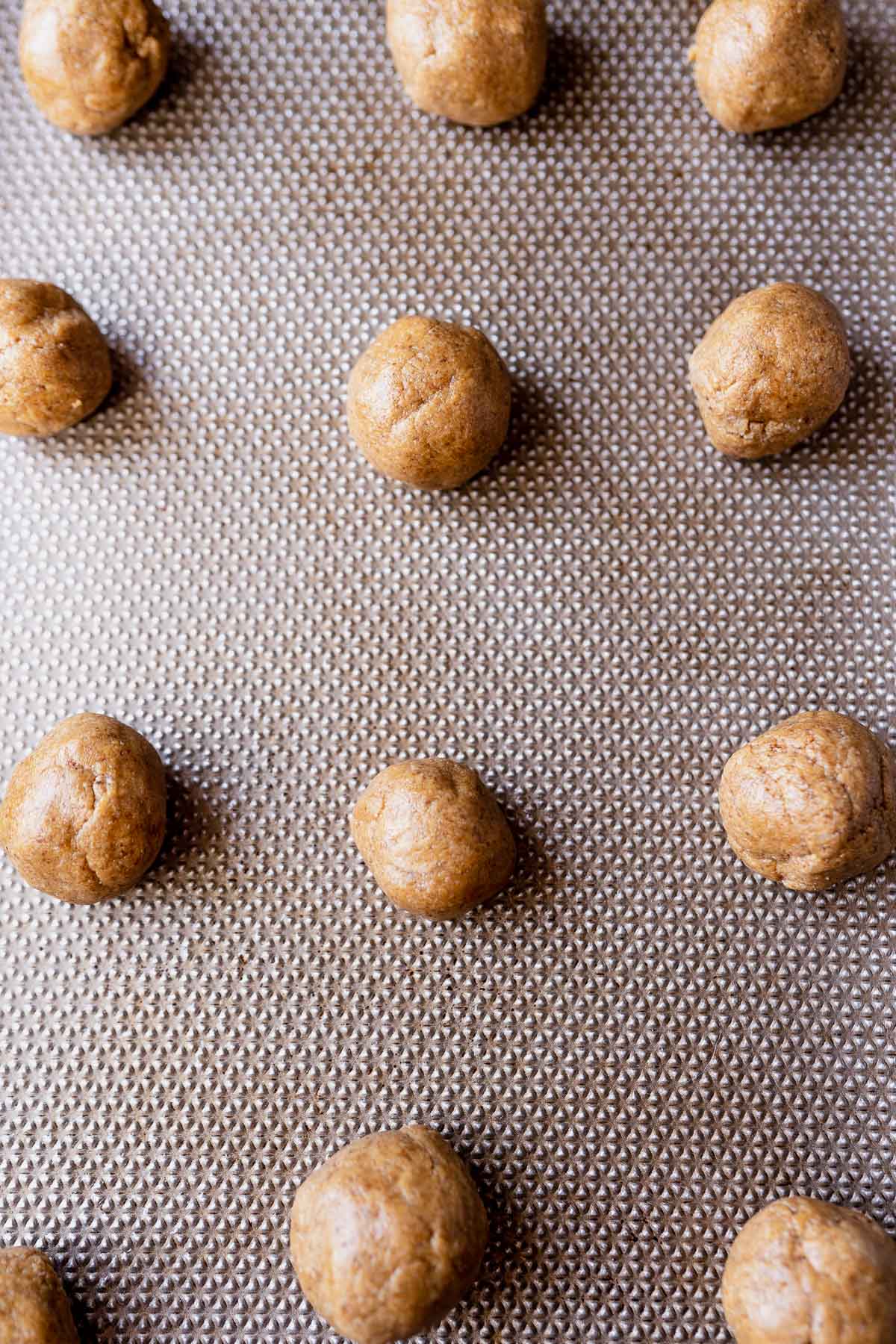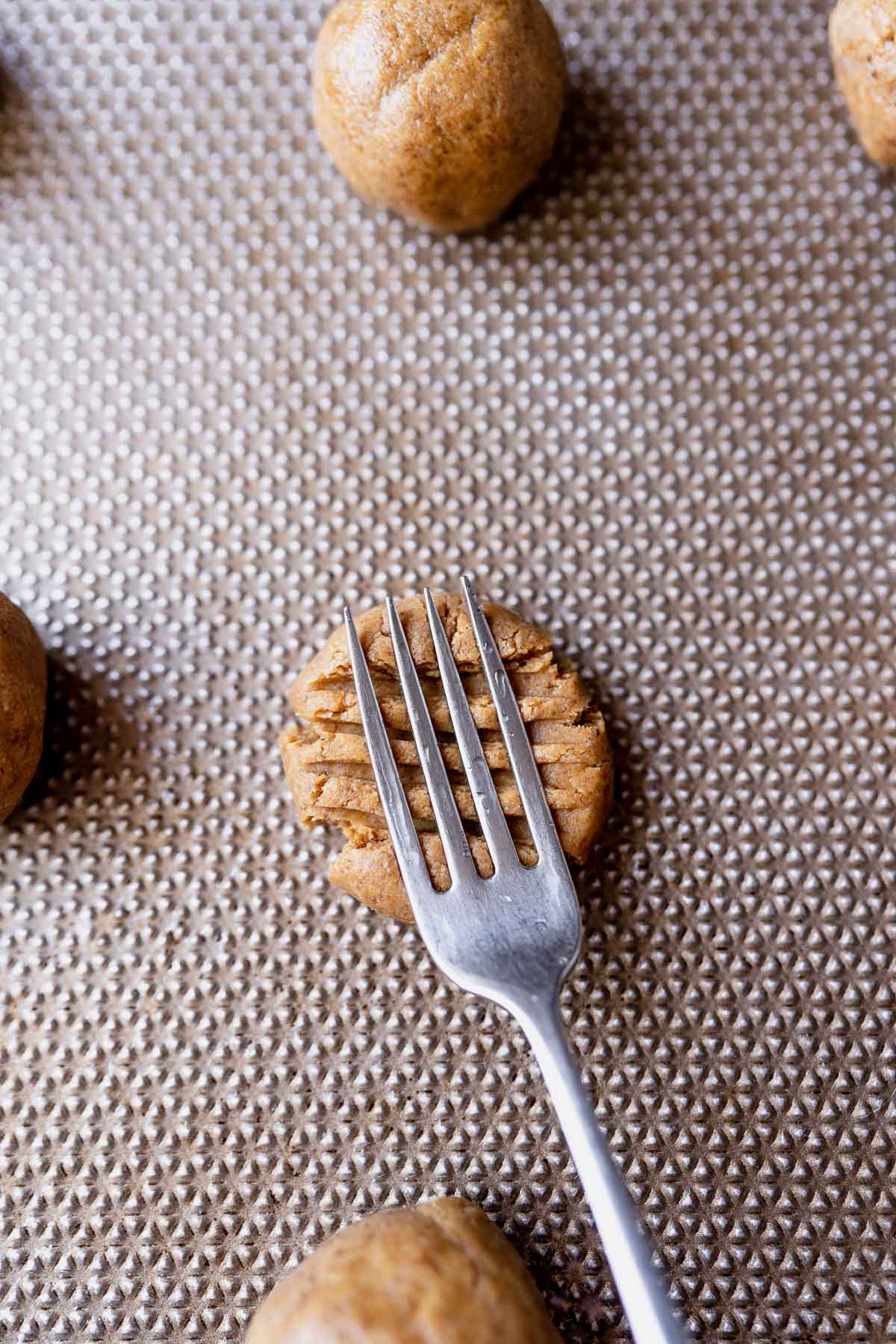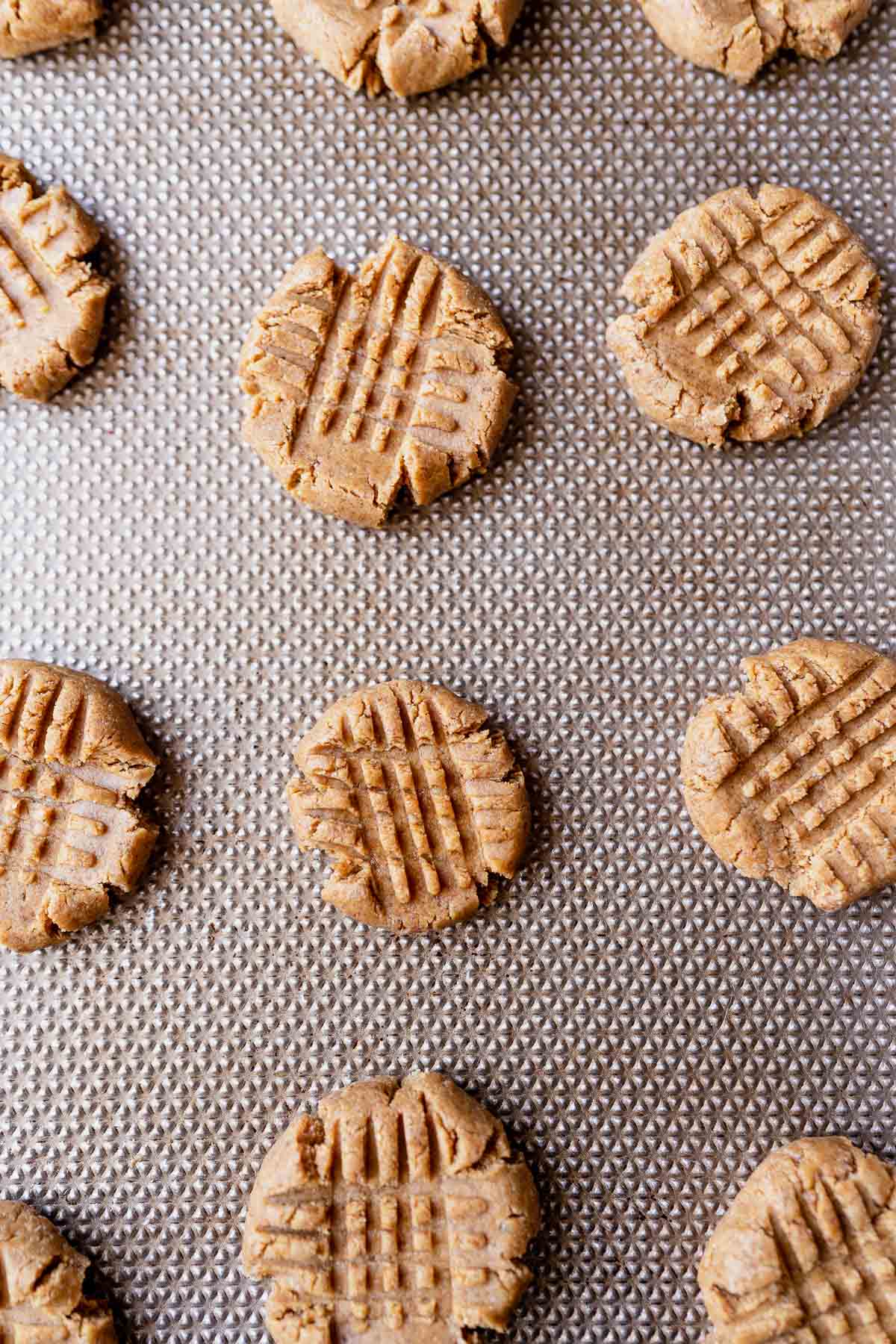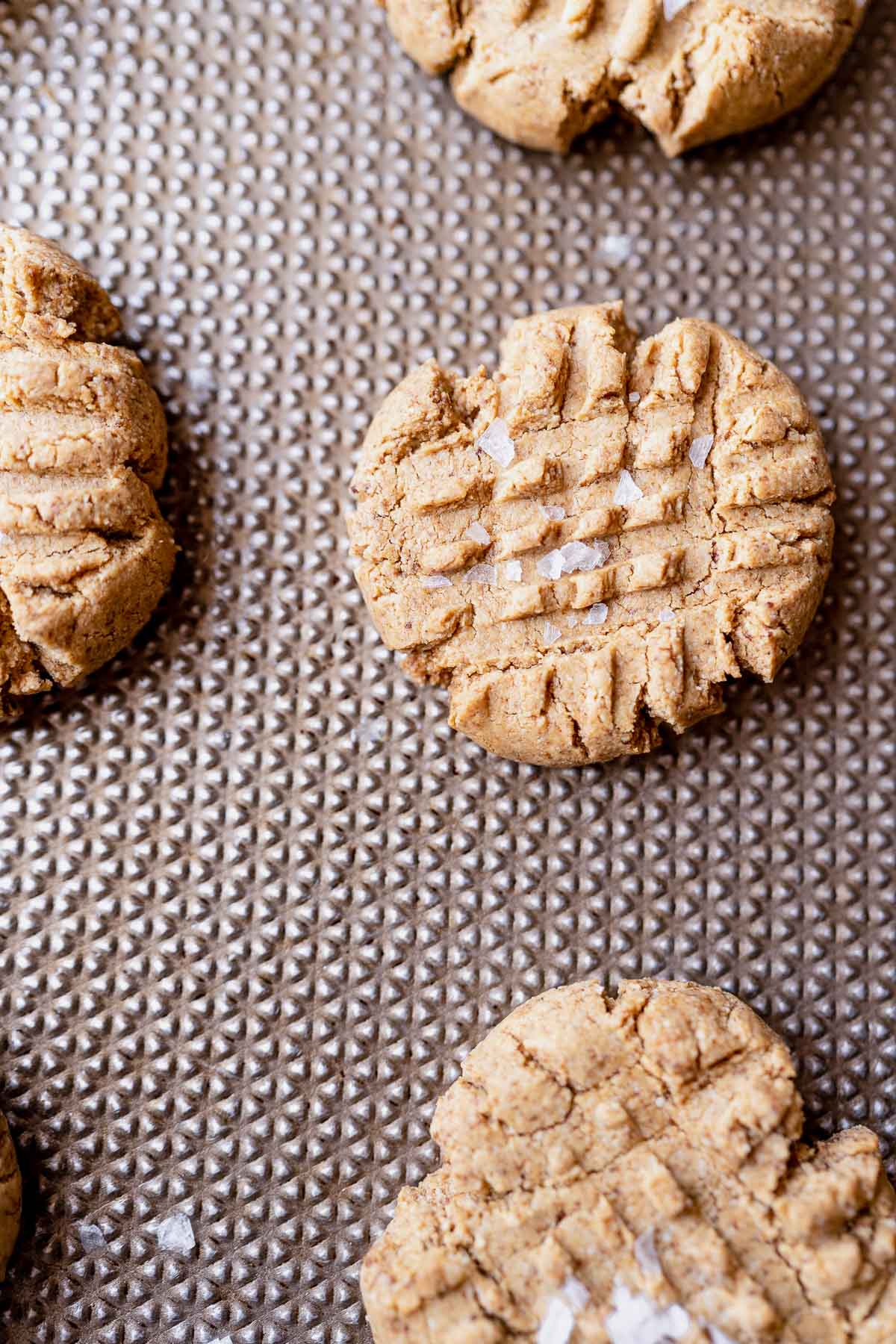 💭 Expert Tips
Use seed butter for a nut-free version.
For a nut-free and allergy-free version of these cookies, you can replace peanut butter with seed butter such as sunflower seed butter, pumpkin seed butter, pure ground sesame tahini, or other variations of your choice. Simple replace peanut butter for a 1:1 ratio with your chosen seed butter.
Add chocolate chips for a fun variation.
Adding chocolate chips to any recipe will definitely make them more delicious! You can add chocolate chips or chopped chocolate bars to these almond flour peanut butter cookies by adding them to your batter and mixing them just until they are combined.
Shape the cookies to your desired size
These cookies will not spread as much so make sure to shape them to the size and thickness that you desire. It also helps to flatten them a bit with a fork before baking. If the fork is sticking to your batter, make sure to wet the fork with water for every few cookies that you flatten.
Do a double batch
These almond flour peanut butter cookies will definitely not last long in your pantry! Consider doing a double batch or preparing another batch in advance that you can bake later.
Let them rest for 10 minutes after baking.
The cookies will still be very soft when you take them out of the oven. Let them rest for 10 minutes after you take them out to give them time to harden and set to a perfectly moist and chewy cookie with crunchy edges. After letting them rest for 10 minutes, transfer them to a cooling rack and let them cool for another 5-10 minutes before serving for even better results!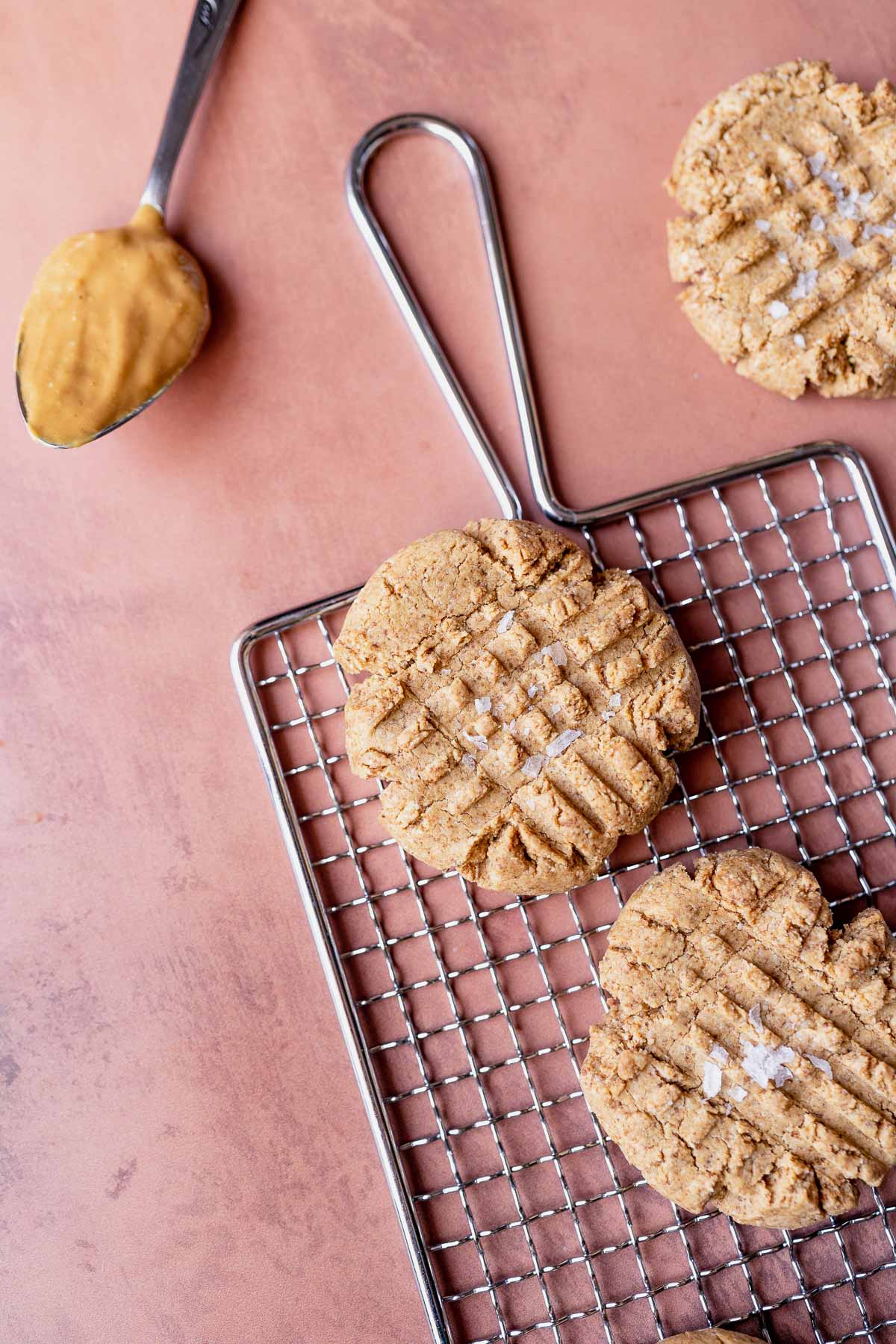 🥡 Storage
These gluten-free peanut butter cookies keep lightly covered at room temperature for up to 3 days. Any longer, I recommend sealing them in an air-tight container in the refrigerator for up to one week or freezing for up to 3 months.
❓ Frequently Asked Questions
What does almond flour do to cookies?
Almond flour adds a nutty flavor and rich texture to cookies. It is also known to be more dense, so cookies do not rise as much when using almond flour. Cookies also tend to bake faster when using almond flour.
What kind of peanut butter works best in peanut butter cookies?
Use a natural peanut butter that's creamy, unsalted, and unsweetened. A thick and crunchy peanut butter will make the batter too thick and hard to mix, and can result in cookies that are too thick as well.
Can I use almond meal instead of almond flour in these peanut butter cookies?
Yes, you can use almond meal to replace almond flour and it will still turn out good. Almond meal is basically ground unpeeled almonds while almond flour is ground peeled almonds. When you use almond meal instead of almond flour, to cookies will result in darker colored cookies with a stronger almond flavor.
What does almond flour taste like in baking?
Since it is made from ground almonds, almond flour tastes just like that — almonds. It has a mildly sweet, nutty flavor with a slight hint of bitterness.
Is almond flour keto?
Yes, almond flour has lower carbs than most traditional flours and is a great alternative for those on a keto diet.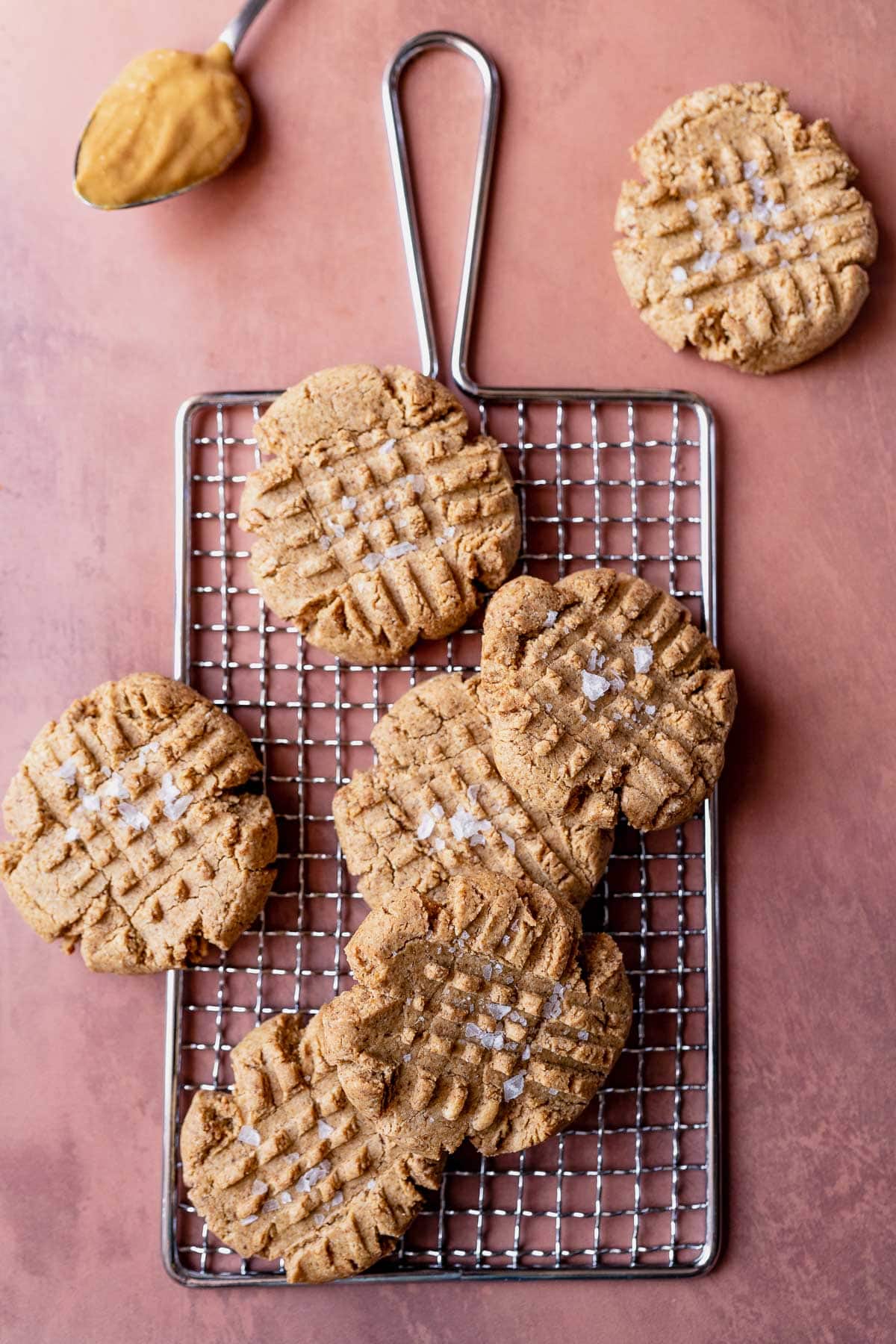 🍪 More Delicious Gluten-Free Cookie Recipes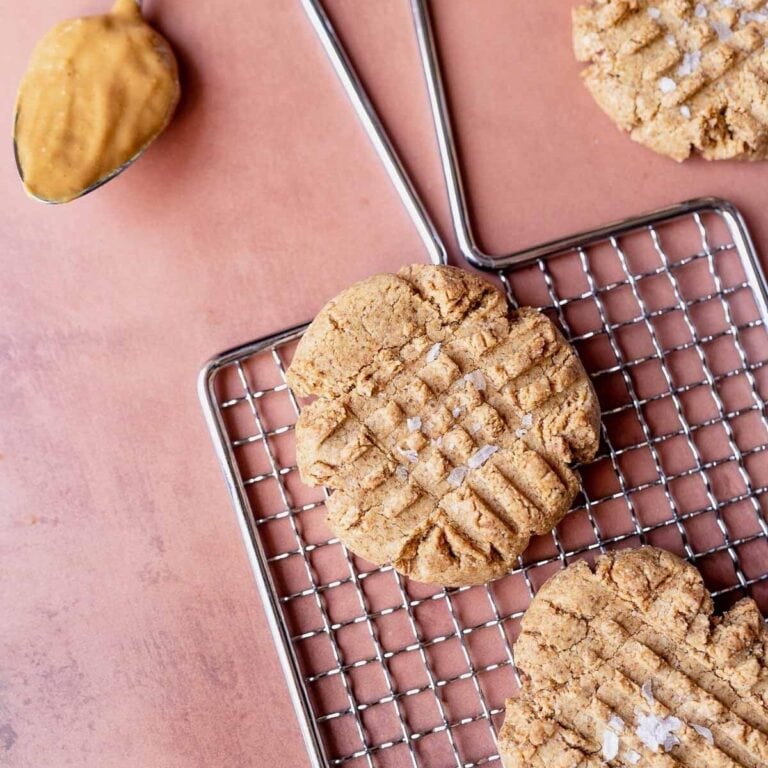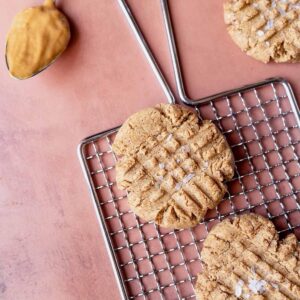 Best Almond Flour Peanut Butter Cookies
Easy, healthy and delicious one bowl Almond Flour Peanut Butter Cookies that are rich in protein and naturally gluten-free and vegan.
Print
Pin
Rate
Ingredients
1

cup

almond flour

superfine or almond meal

¾

cup

creamy peanut butter

natural without additives

¼

cup

maple syrup

or honey if not vegan

¼

cup

coconut sugar

or any granulated sugar

½

teaspoon

baking powder

½

teaspoon

sea salt

½

teaspoon

vanilla extract

flaked sea salt

optional
Instructions
Preheat the oven to 350°F. Grease or line a cookie sheet with parchment paper. Set aside.

In a large mixing bowl, combine the almond flour, peanut butter, maple syrup, coconut sugar, baking powder, salt and vanilla extract.

Mix well until a smooth dough forms.

Using your hands or a spoon, take about one rounded tablespoon portion of dough at a time and roll it into a ball. Place this on the prepared baking sheet, then repeat with remaining dough.

Using a fork, press a criss-cross pattern into each round of dough while slightly flattening them. If the fork sticks, wet it with water before pressing.

Bake for 10-12 minutes or until the cookies are firm and turning golden.

Let the cookies cool for at least ten minutes before serving (they will continue to firm up while cooling). Optionally sprinkle with flaked salt before serving. Enjoy!
Nutrition
Serving:
1
cookie
|
Calories:
179
kcal
|
Carbohydrates:
13
g
|
Protein:
6
g
|
Fat:
13
g
|
Saturated Fat:
2
g
|
Polyunsaturated Fat:
2
g
|
Monounsaturated Fat:
4
g
|
Sodium:
191
mg
|
Potassium:
106
mg
|
Fiber:
2
g
|
Sugar:
8
g
|
Calcium:
45
mg
|
Iron:
1
mg
Have you tried this recipe?
Please Rate + Comment Below!
Watch Our Latest Videos
Follow us on YouTube!