Disclaimer: Please note that some of the links below in this post are affiliate links and I will earn a commission if you purchase through those links. I regularly use and recommend all of the products listed below because I find them to be of great quality and use! All proceeds go back into maintaining and creating for this site. Thank you!
Last Updated on
This super creamy and delicious Healthy Hot Chocolate Recipe with Pumpkin is like pumpkin pie in a cup! If you're in need of some cozy comfort with a big dash of flavor, look no further! This autumn beverage made with cacao powder, plant-based milk, pumpkin puree and a dash of warming spices is a nutritious way to get your pumpkin fix sans guilt. Vegan, dairy-free, soy-free, gluten-free + refined sugar-free!
Once the weather turns cooler, I'm all about cacao everything. And, this healthy hot chocolate recipe is no exception! With a pumpkin twist, this cozy autumn beverage will have you feeling all warm and fuzzy inside with its super creamy, deliciousness!
Healthy Hot Chocolate
This Healthy Pumpkin Hot Chocolate is:
Super rich, creamy and silky.

Packed with flavor.

Super easy to make.

Cozy, comforting and truly heart-warming.

Gluten-free, vegan, dairy-free, soy-free, refined sugar-free with nut-free + sugar-free options!
What Ingredients are Needed to Make Pumpkin Hot Chocolate?
Plant-based milk or dairy milk if you are not dairy-free or vegan.

Maple syrup, or sweetener of choice (see Tips section below in post).

Cacao powder.

Pumpkin puree.

Coconut oil.

Spices.
Note: for full recipe ingredients and amounts, scroll to the recipe card towards the bottom of this post.
How to Make Healthy Hot Chocolate with Pumpkin – Step by Step
Combine all ingredients in a blender.
2. Blend until smooth.
3. Heat, serve, and enjoy!
Tips for Making Pumpkin Pie Hot Chocolate
Healthy Pumpkin Hot Chocolate — Common Recipe Questions
Cacao or Cocoa?

Cacao adds extra nutritional benefits compared to cocoa powder, which is processed, but if you're just going for some deliciousness – cocoa powder can be used without any further adjustments to the recipe! You can read more about cacao powder in this Hot Cacao post.

Why Coconut Oil?

For a nice dose of healthy fats and a dash of extra creaminess! If coconut oil is not your deal, you can certainly omit if need be.

Do I Have to Use a Blender?

No! I find blending it makes for the smoothest option, but you can also simply whisk while heating on the stovetop until all is mostly dissolved and smooth!
More Cacao Powder Recipes
Hot Cacao with Cardamom + Tahini (Vegan)
Golden Lavender Cacao Adaptogenic Latte (Vegan)
Buckwheat Banana Bread with Cacao (Gluten-Free)
Mint Cacao Adaptogenic Freezer Candy (Raw, Vegan, Gluten-Free, Sugar-Free)
More Pumpkin Recipes
The Best Gluten Free Vegan Pumpkin Pie
Sweet & Spicy Pumpkin Seed Bread (Gluten-Free)
Cheesy Pumpkin Chipotle Polenta
Almond + Coconut Pumpkin Muffins (Gluten-Free)
More Cozy Beverages
Almond Rose Chai Tea Latte (Vegan)
Cosmic Ginger Rose Activated Charcoal Latte (Vegan, Gluten-Free)
Spicy Golden Milk Recipe (Turmeric Tea) + 20 Health Benefits
If you try this recipe please let me know! Leave a comment, rate it, share this post, use Pinterest's "tried it" feature, or take a photo, & tag me on Instagram and I'll share it! Thank you so much! <3
Healthy Pumpkin Hot Chocolate (Vegan)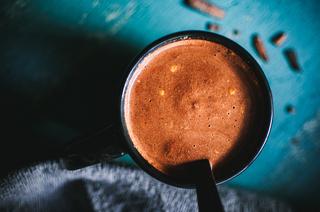 Author: Kristen Wood | 10-15-2019
prep time: 5 minutes
cook time: 5 minutes
total time: 10 minutes
Yields: 2 cups (1 serving)
---
Ingredients:
---
Instructions:
In a blender or food processor combine milk, cacao powder, maple syrup, coconut oil and spices. Blend until smooth.
Add pumpkin puree. Blend until smooth and frothy.
Pour into a saucepan and heat over medium heat until warmed throughout.
Pour into a mug, optionally sprinkle with ground ginger (+ a good stir), and enjoy!
---
Nutrition:
Serving: 2 cups
Fat: 16 grams
Calories: 311
Carbs: 50 grams
Fiber: 13.2 grams
NOTE: Please see 'Tips' above in the blog post for suitable substitutions, storage advice and more!
Shop This Recipe
Pin it for Later
Maple syrup, or sweetener of choice (see Tips section below in post).
Cacao powder.
Pumpkin puree.
Coconut oil.
Spices."
}
},{
"@type": "Question",
"name": "Cacao or Cocoa?",
"acceptedAnswer": {
"@type": "Answer",
"text": "Cacao adds extra nutritional benefits compared to cocoa powder, which is processed, but if you're just going for some deliciousness - cocoa powder can be used without any further adjustments to the recipe! You can read more about cacao powder in this Hot Cacao post."
}
},{
"@type": "Question",
"name": "Why Coconut Oil?",
"acceptedAnswer": {
"@type": "Answer",
"text": "For a nice dose of healthy fats and a dash of extra creaminess! If coconut oil is not your deal, you can certainly omit if need be."
}
},{
"@type": "Question",
"name": "Do I Have to Use a Blender?",
"acceptedAnswer": {
"@type": "Answer",
"text": "No! I find blending it makes for the smoothest option, but you can also simply whisk while heating on the stovetop until all is mostly dissolved and smooth!"
}
}]
}