This Vegan Golden Lavender Cacao Adaptogenic Latte was inspired by and uses Rasa Koffee's amazing herbal coffee alternative adaptogen blends. Their amazing Cacao Rasa is an adaptogenic formula with the addition of Ecuadorian cacao beans. This delicious latte contains amazing health fortifying ingredients such as lavender, turmeric, cinnamon, dandelion, ashwagandha, chaga, reishi and shatavari to provide a mood and immunity boosting tonic that also sustains energy levels throughout the day. It is delicious! I am also happy to provide you with an exclusive 20% discount for Rasa Products by using the coupon code 'MOONSPOONANDYUM'!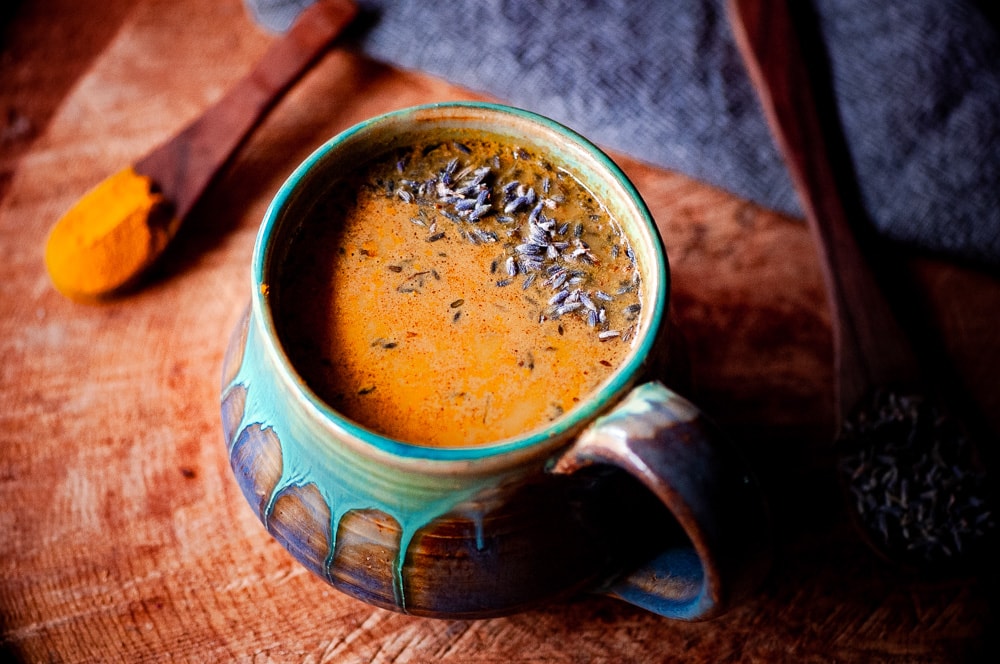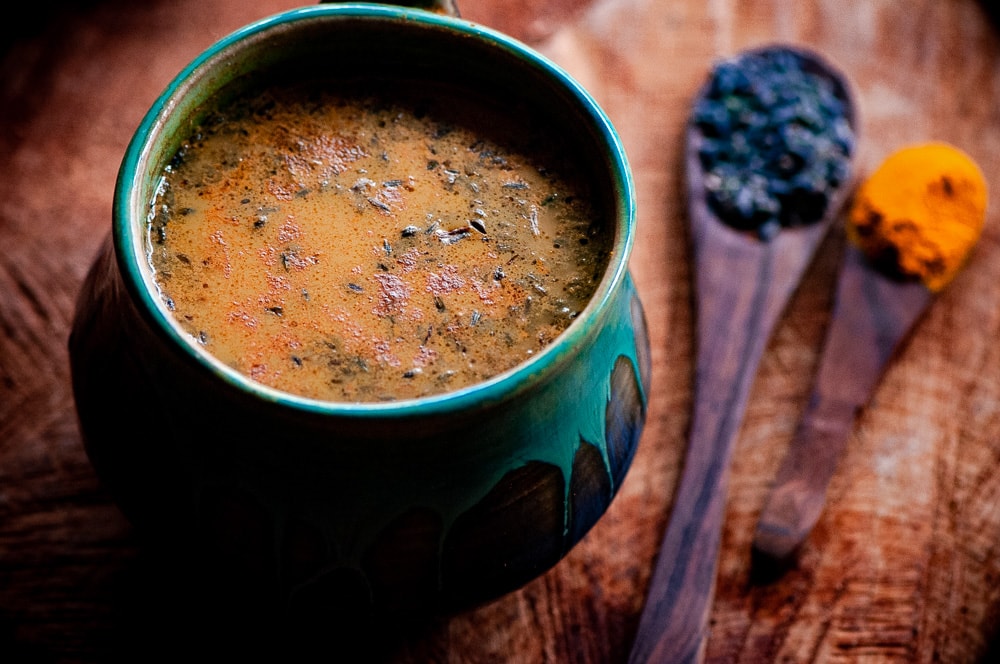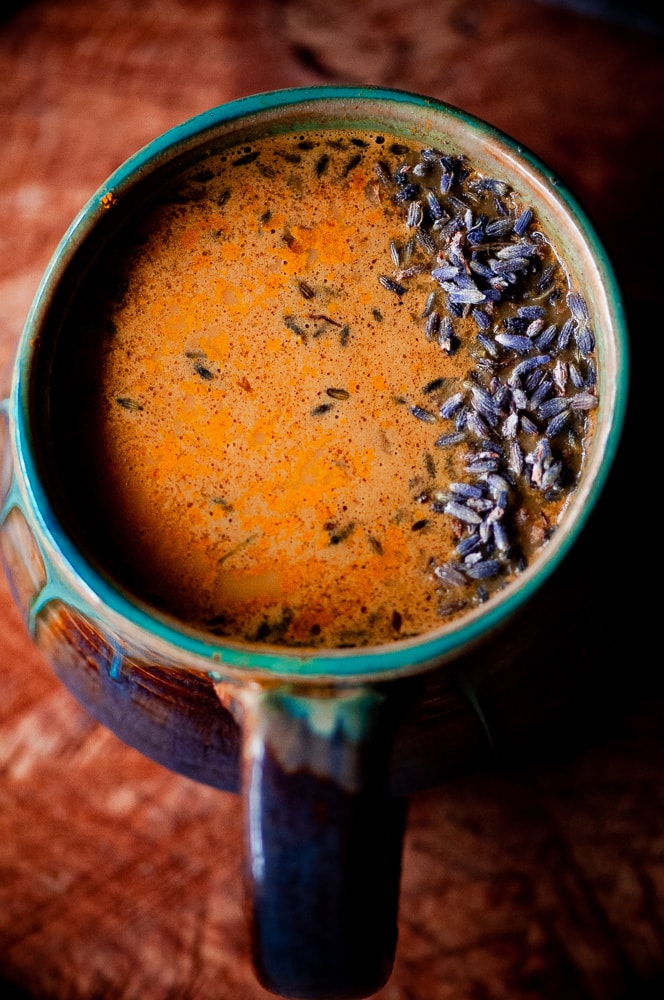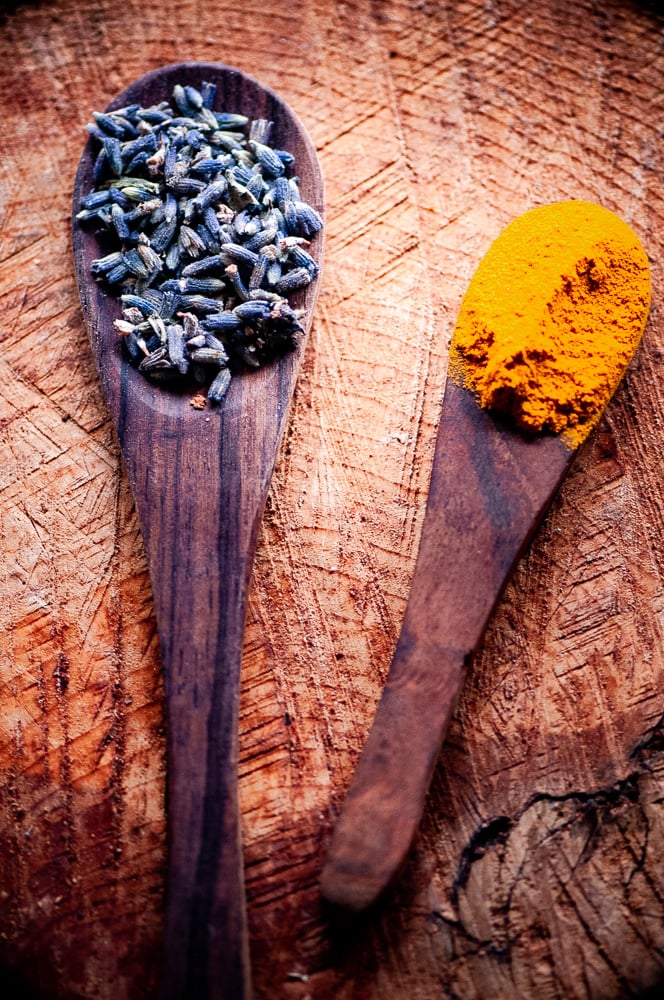 This Golden Lavender Cacao Adaptogen Latte is:
Full-bodied, robust, earthy, grounding, and subtly sweet with floral notes.
Safe and enjoyable to drink any time of day with only less than 5 mg of caffeine per cup.
Easy to make.
Great hot or iced.
Filled with many health benefits, thanks to Rasa Koffee's

amazing adaptogenic formula, and the addition of anti-inflammatory turmeric and soothing

lavender

.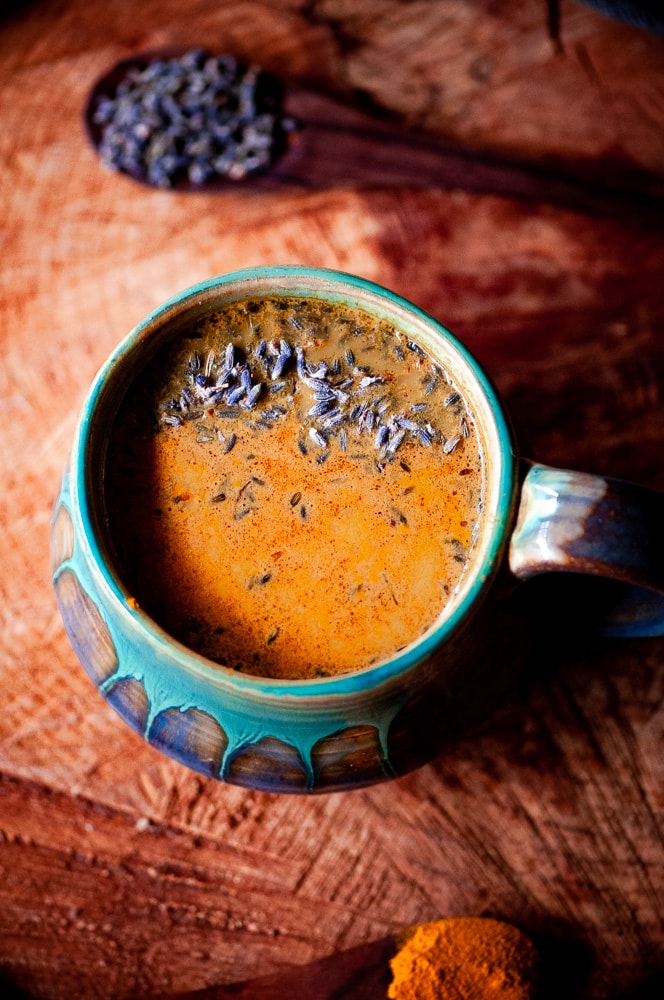 What are Adaptogens? + A list of adaptogens in Rasa Koffee's Cacao Coffee Alternative:
Adaptogens are plants, mushrooms, roots, and herbs that have the unique ability to adapt to what your body needs and act accordingly. They are specifically great at managing stressors of any sort; and help bring the mind, body and soul back to homeostasis. This is especially great if you deal with hormone imbalance, chronic inflammation, adrenal burnout, insomnia, extreme stress and/or anxiety, and low immunity.
Rasa Koffee's Cacao Adaptogen Formula Contains:
Cacao Beans - an excellent nutrient-dense mood booster
Chicory - lowers blood sugar & inflammation in the body
Burdock - a great detoxifier
Dandelion - an anti-inflammatory that is great for digestion
Eleuthero - a good, clean energy-booster
Shatavari - beneficial to the reproductive system
He Shou Wu - a great anti-viral
Codonopsis - a wonderful immune system booster
Ashwagandha - reduces cortisol levels + great for stress, anxiety & depression
Chaga - super rich in vitamins, minerals and nutrients
Rhodiola - reduces fatigue and improves mental functions
Cinnamon

- reduces blood sugar

Reishi - supports the immune system and is great for hormone health
To learn all about these ingredients head on over HERE to Rasa's site to read their wonderfully detailed descriptions.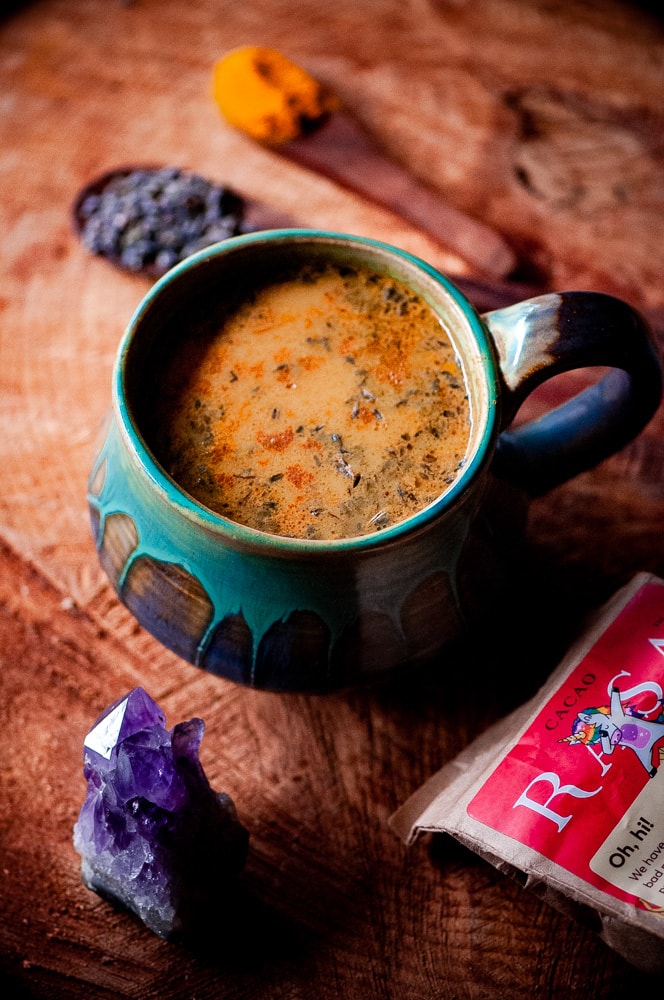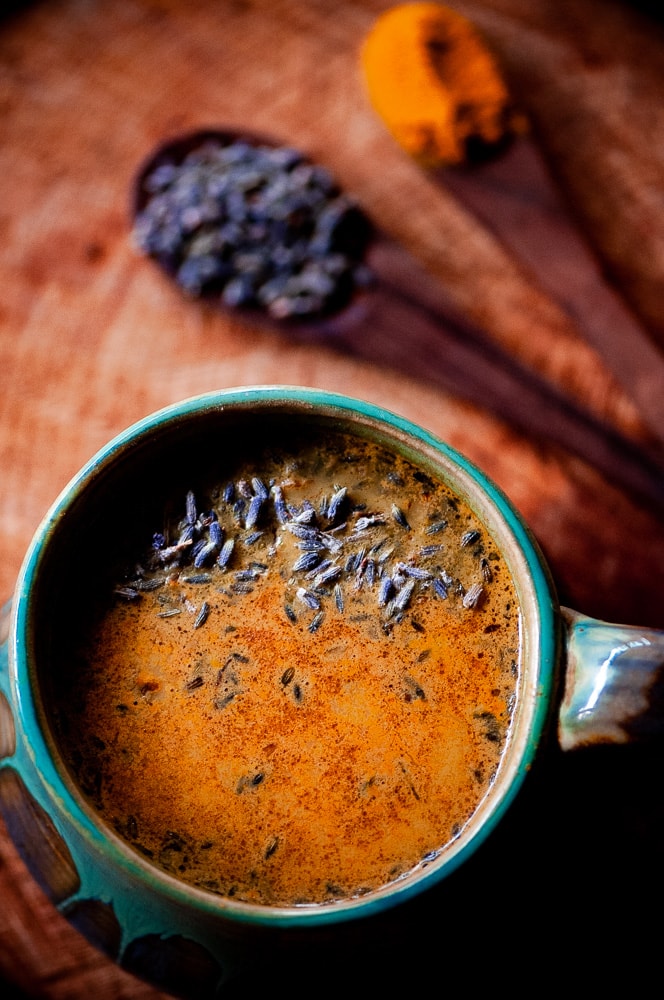 Tips for making Golden Lavender Cacao Adaptogenic Latte + Rasa Koffee's Cacao Blend:
Do not omit the black pepper or coconut oil. Both of these ingredients help the body absorb the full benefits of the anti-inflammatory curcumin in the turmeric (and actually enhance the taste!).
I like to make my Rasa Koffee

in a

french press.

I find this to be easiest, and to produce a most flavorful brew! I like to use the recommended 1 tablespoon of Rasa Cacao per 1 cup of boiling water.

I like to get the full benefits from my moon milks and lattes so I choose not to strain the ingredients before drinking. This is a personal preference! For a smooth and creamy cup, I recommend straining, however!
Do you want an extra creamy and frothy cup? Blend in a high speed blender

or use a

handheld milk frother

for 10 seconds before pouring and serving!

I find adding a touch of sweetness to this particular latte recipe to greatly enhance the flavors. If you want a sugar-free or keto version

, I love to use

this sugar-free sweetener

in my drinks.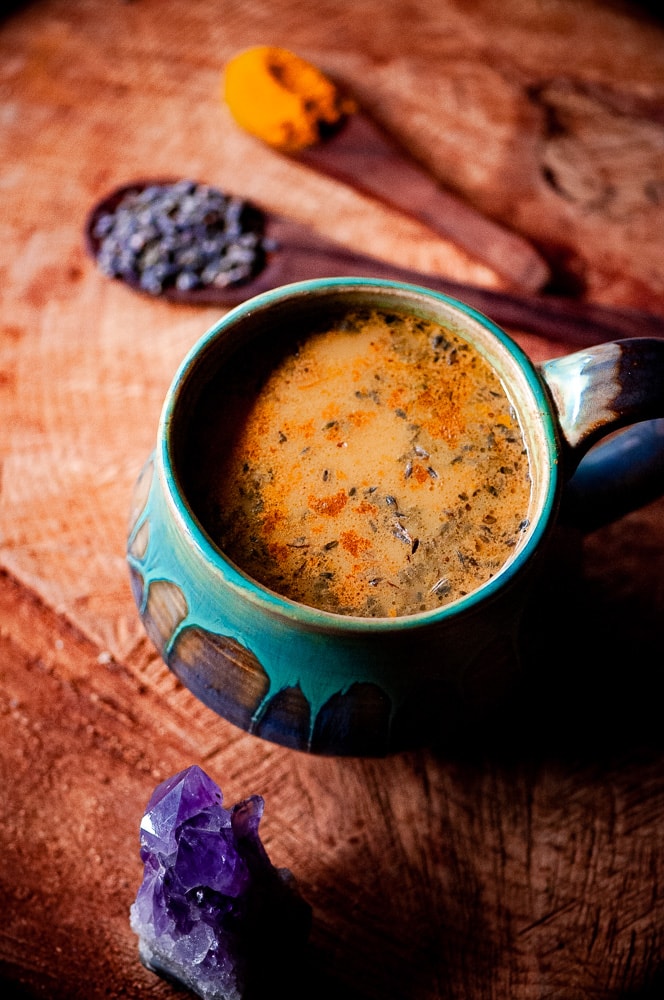 More Magical Lattes and Moon Milk Recipes you might enjoy:
Cherry Lavender Moon Milk Recipe (Vegan)
Cosmic Ginger Rose Activated Charcoal Latte (Vegan, Gluten-Free)
Almond Rose Chai Tea Latte (Vegan)
Double Blue Peppermint Moon Milk (Vegan & Gluten-Free)
Seed Cycling Moon Milk For Hormone Health (Vegan)
Hot Cardamom Tahini Cacao + 11 Health Benefits (Gluten-Free, Vegan)
Spicy Golden Milk (Turmeric Tea) + 20 Health Benefits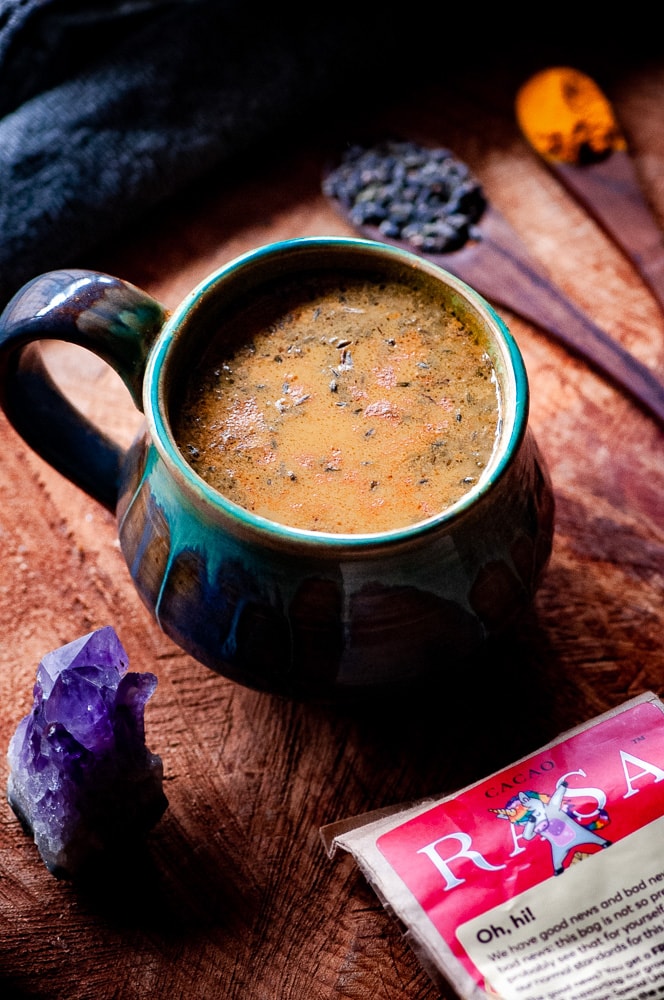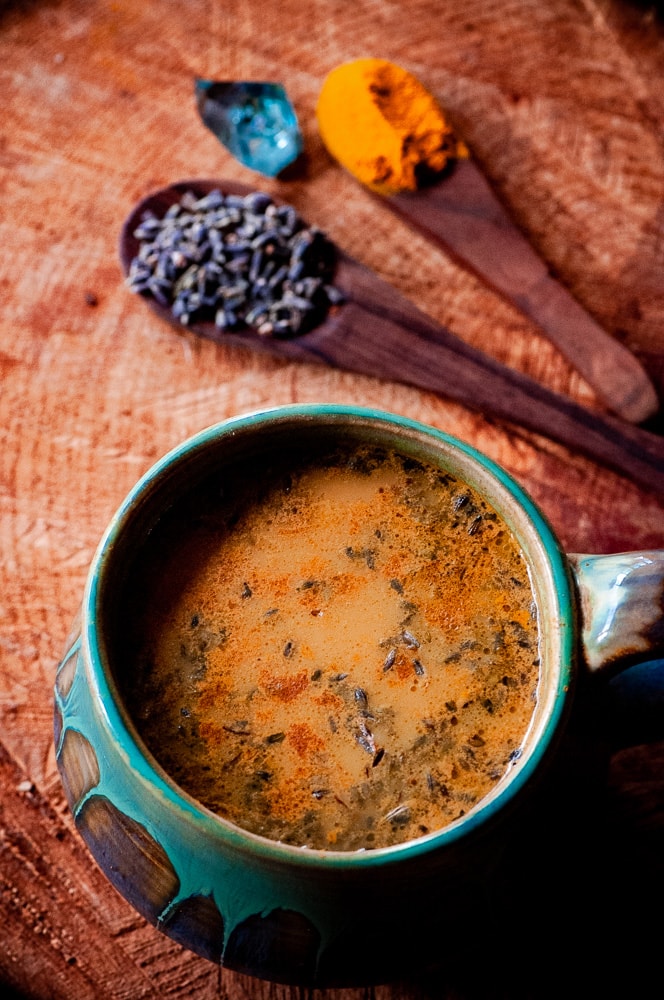 Vegan Golden Lavender Cacao Adaptogenic Latte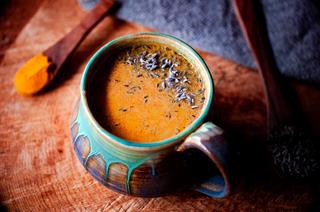 Author: Kristen Wood | 3-14-2019
prep time: 5 minutes
cook time: 0 minutes
total time: 5 minutes
Yields: 1 serving / 1 1/2 cups
---
Ingredients:
1 cup brewed Cacao Rasa
1/2 cup unsweetened vanilla almond milk (or any milk of choice)
1 1/2 teaspoons maple syrup or raw honey (or sugar-free sweetener)
1/2 teaspoon ground cinnamon
1/2 teaspoon ground turmeric
1/2 teaspoon unrefined coconut oil
1/8 teaspoon ground black pepper
1/2 teaspoon culinary grade lavender buds
---
Instructions:
On the stovetop over medium-low heat combine Rasa Cacao, milk, sweetener, cinnamon, turmeric, oil and black pepper until warmed throughout.
Add lavender buds. Cover and let steep for 2 minutes.
Strain with a fine mesh strainer, cheesecloth or nut milk bag.
Enjoy!
---
Nutrition:
Serving: 1 1/2 cups
Fat: 3 grams
Calories: 63
Carbs: 7 grams