Disclaimer: Please note that some of the links below in this post are affiliate links and I will earn a commission if you purchase through those links. I regularly use and recommend all of the products listed below because I find them to be of great quality and use! All proceeds go back into maintaining and creating for this site. Thank you! XO
Last Updated on
Slightly spicy, slightly sweet Cosmic Ginger Rose Activated Charcoal Latte! This beautiful detoxifying vegan brew is full of healthful properties, and delicious flavors!
I was recently given the opportunity to try Suncore Foods Activated Charcoal Coconut Powder . . .
What is Activated Charcoal?
If you aren't familiar with Activated Charcoal, it's a super fine, food-grade charcoal often derived from coconut shells. This charcoal has been shown to have many benefits including absorbing and pulling toxins from the body, both internally & externally;  aiding in relieving indigestion; lowering cholesterol levels; and even brightening teeth when used as a toothpaste.
The only downside of charcoal is that it is so good at absorbing toxins from the body, that it can also absorb recently administered medications! So just be sure to enjoy your charcoal a few hours apart from any recently taken medications or supplements!
Now, onto this latte! I had so much fun experimenting with this amazing charcoal powder. It is super-fine, so no grittiness or even flavor was detected when I whipped up this creation! It truly is very yummy, and not too shabby on the eyes either!
This Cosmic Ginger Rose Activated Charcoal Latte is: 
Super detoxifying and rejuvenating.

Packed with both sweet and spicy notes.

Soothing and comforting.

Easy to make.

Vegan, dairy-free, gluten-free, soy-free, refined sugar-free.

Beautiful, to boot!
I've now made this healthy, flavorful brew numerous times as I am so smitten with it! I so hope you feel the same way, too, and I look forward to hearing your feedback!
Enjoy. xo.
More Vegan Drink Recipes You Might Enjoy
Cherry Lavender Moon Milk Recipe (Vegan)
Seed Cycling Moon Milk For Hormone Health (Vegan)
Almond Rose Chai Tea Latte (Vegan)
Double Blue Peppermint Moon Milk (Vegan & Gluten-Free)
Iced Blueberry Cardamom Moon Milk (Vegan)
If you try this recipe please let me know! Leave a comment, rate it, share this post, use Pinterest's "tried it" feature, or take a photo, & tag me on Instagram and I'll share it! Thank you so much! <3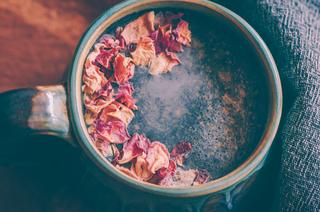 Cosmic Ginger Rose Activated Charcoal Latte (Vegan, Gluten-Free)
Super detoxifying, delicious and easy Vegan Cosmic Ginger Rose Activated Charcoal Latte!
Ingredients
2 cups

plant-based milk of choice (I use almond)

2 teaspoons

maple syrup (or raw honey)

1 teaspoon

activated charcoal powder

1 teaspoon

rose petals

1/4 teaspoon

ground ginger

1/4 teaspoon

ground cayenne

1/8 teaspoon

himalayan pink salt, rose salt, or sea salt
Instructions
In a saucepan over medium-low heat combine all of the above ingredients.
Whisk until frothy and warmed throughout.
Cover and set aside for a few minutes to allow the rose petals to steep and infuse their flavor.
Optionally, pour the charcoal brew through a strainer to strain the rose petals before serving or keep in your cup if you enjoy their taste/texture (I do)!
Sprinkle with rose petals and ginger powder for a cosmic galaxy effect before serving to wow your guests, or yourself.
Enjoy!
Details
Prep time:


Cook time:


Total time:


Yield:
2 servings | 1 serving:

Calories: 53
Fat: 2.5 g
Shop This Recipe:
Pin it: