This Gluten-Free Sunflower Butter Bread with bananas, could not be more simple to make! You only need one bowl and 3 ingredients to create a delicious and healthy gluten-free, dairy-free, grain-free bread that slices well and tastes positively delicious!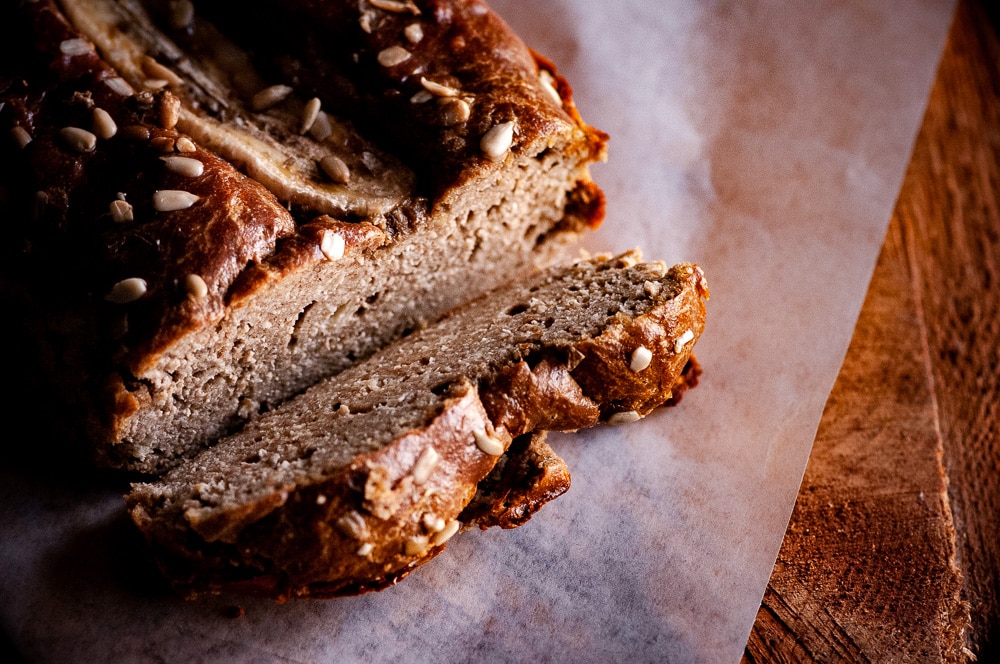 As you may have guessed by now, I'm quite fond of 'flourless' recipes. Baking with nut and seed butter will never cease to amaze me. And, this bread is no exception. My popular Magic Tahini Bread was the inspiration for this loaf; and while the tahini bread makes a wonderful savory loaf, this sunflower seed butter makes a great healthy treat with a touch of natural sweetness from the bananas!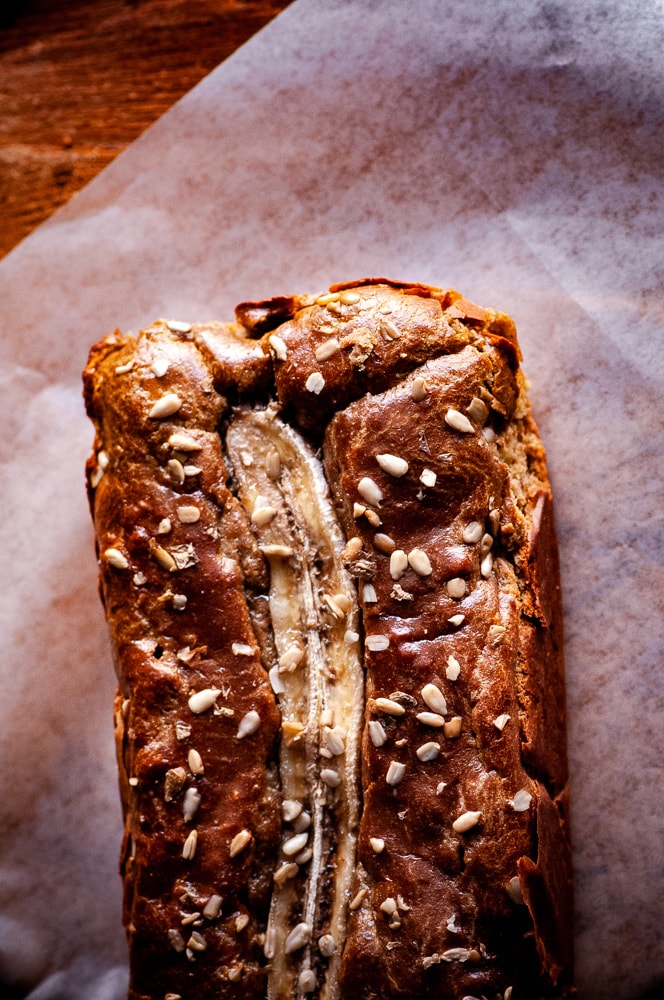 Firstly, would you like to learn more about Sunflower Seed Butter? Find out all about it, and learn how to make it in this post HERE.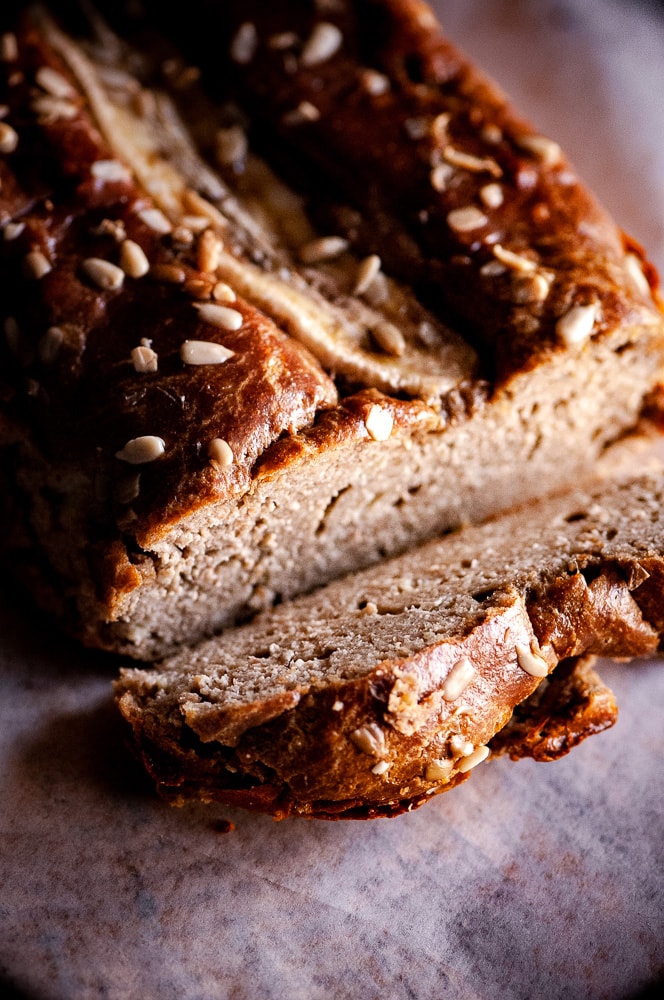 Now, this bread..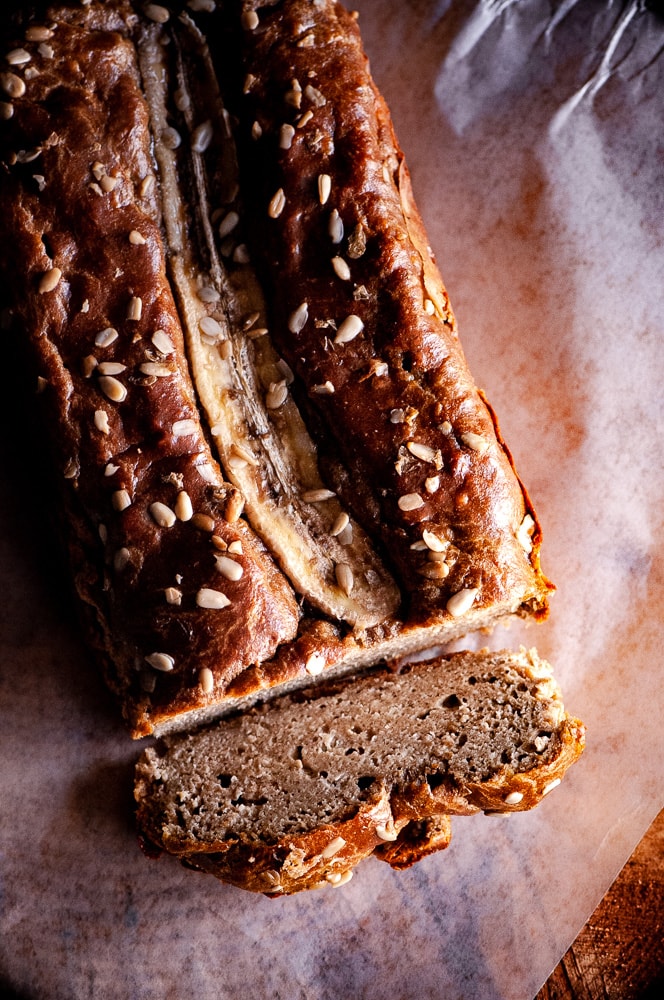 This 3-Ingredient Sunflower Seed Butter Banana Bread is:
Super easy to make with the use of only 3 ingredients: sunflower seed butter, bananas and eggs.

Easy to slice.

Stores well.

Slightly dense and chewy.

Super delicious.

Healthy and nutrient-dense.

High in protein, fiber, and healthy fats.

Fun to make! It makes a great recipe to try out with kids.

Slightly sweet without the use of any added sugar.

Versatile (see tips below for variations!).

Gluten-free, grain-free, dairy-free, nut-free, soy-free, refined sugar-free.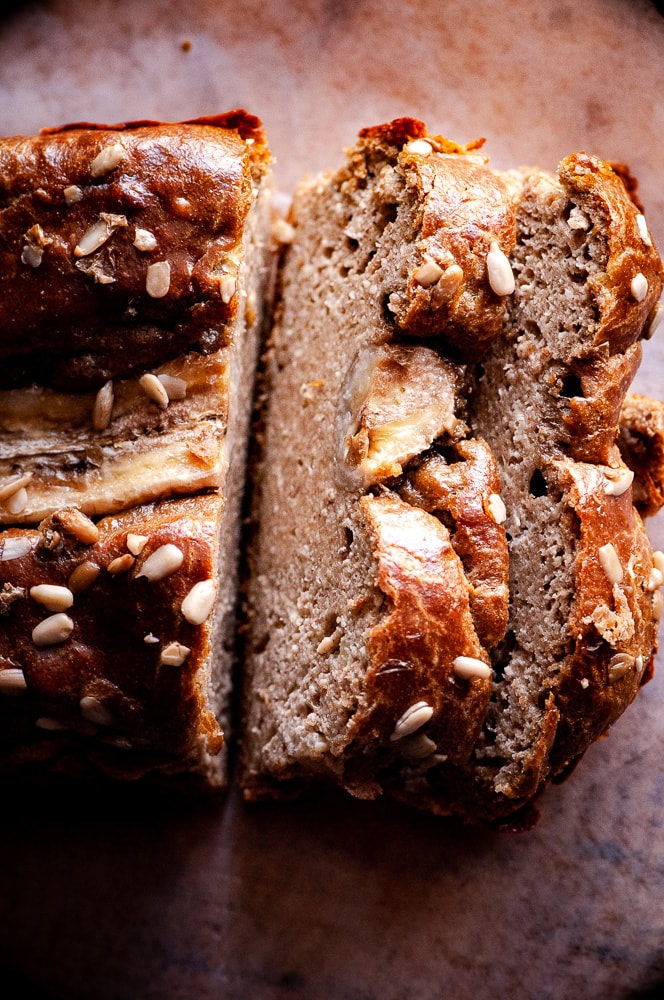 Tips for making Sunflower Seed Butter Bread:
I like to make this bread with homemade sunflower seed butter, but store-bought will work as well! Just be certain to note that if you use a sunbutter that has added sugar or salt, the outcome will be slightly different in flavor, but should still be similar in texture. As far as purchasing Sunflower Butter goes, I prefer this one.

Just not a fan of Sunflower Seed Butter or do not have it on hand? This recipe will work in a pinch with any nut or seed butter of your choice without any adjustments to the original recipe.

Not a fan of bananas or banana bread? You can replace the mashed banana with applesauce or yogurt without any adjustments. Just try to think about what flavors may complement sunbutter, when you do.

This is a versatile recipe. You can add in a handful of chocolate chips, walnuts, dried fruit or seeds, or any variety of spices you would like.

This bread stores well in an air-tight container in the refrigerator for up to 5 days.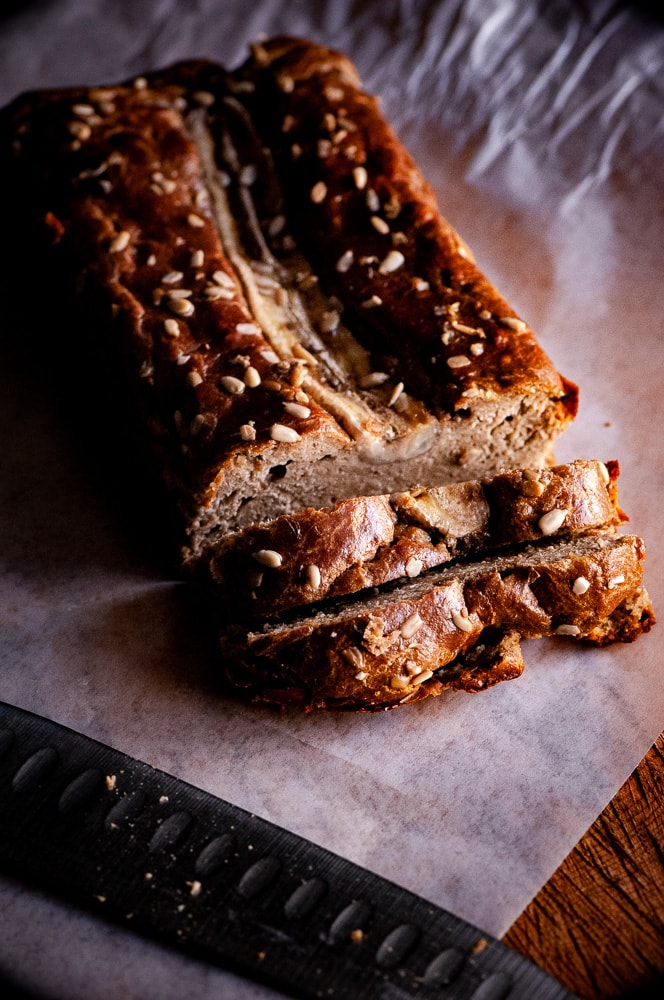 Other Flourless Recipes you might enjoy:
Healthy Flourless Peanut Butter Bars (Gluten-Free, Dairy-Free, Refined Sugar-Free)
Thick & Chewy Chocolate Chip Tahini Cookies (Gluten-Free, Flourless)
Flourless Magic Tahini Seed Bread (Gluten-Free, Keto)
5-Ingredient Salted Ginger Almond Butter Cookies (Gluten-Free, Dairy-Free, Refined Sugar-Free, Flourless)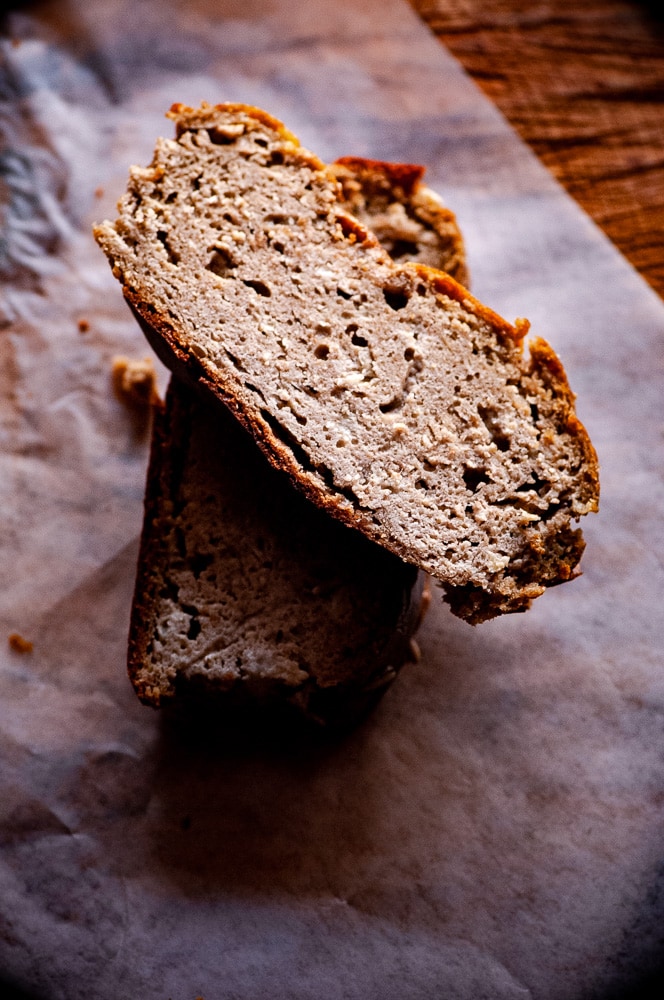 If you try this recipe please let me know! Leave a comment, rate it, share this post, use Pinterest's "tried it" feature, or take a photo, & tag me on Instagram and I'll share it! Thank you so much! <3
3-Ingredient Sunflower Seed Butter Banana Bread (Gluten-Free, Dairy-Free, Refined Sugar-Free, Grain-Free, Nut-Free)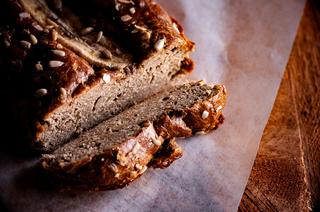 Author: Kristen Wood | 3-10-2019
prep time: 5 minutes
cook time: 50 minutes
total time: 55 minutes
Yields: 1 loaf
---
Ingredients:
---
Instructions:
Preheat oven to 350°F. Grease, or line a loaf pan with parchment paper. Set aside.
In a large bowl combine bananas, eggs, sunflower seed butter and cinnamon (optional).
Whisk until completely smooth.
Pour into prepared loaf pan.
Bake for 50 minutes or until firm, golden and a toothpick inserted in the center comes out clean.
Let cool completely before slicing and serving.
Enjoy!
---
Nutrition:
Serving: 1 slice
Fat: 17 grams
Calories: 242
Carbs: 15 grams
NOTE: Please see 'Tips' above in the blog post for suitable substitutions, storage advice and more!
Shop This Recipe:
Pin it: