Disclaimer: Please note that some of the links below in this post are affiliate links and I will earn a commission if you purchase through those links. I regularly use and recommend all of the products listed below because I find them to be of great quality and use! All proceeds go back into maintaining and creating for this site. Thank you! XO
Last Updated on
This super comforting Butternut Squash Casserole is filled with Mexican spices and some cheesy goodness for one delightful and versatile vegetarian dish certain to please the pickiest of palates! Gluten-free, with a vegan option, too!
This dish is filled with warm and comforting flavors and textures for a versatile fall dish that is easy to make, and can be enjoyed a variety of ways! We like to serve this Vegetarian Butternut Squash Casserole alongside some bread or socca (as shown) for one deeply satisfying meal!
Butternut Squash Casserole
This Cheesy Mexican Butternut Squash Casserole is:
Creamy, comforting and filled with rich flavors.

Super easy to make.

Made with only a handful of simple, wholesome ingredients.

Versatile, and can be enjoyed on its own or alongside a wide variety of dishes.

Vegetarian, gluten-free, nut-free, soy-free, sugar-free and can easily be made dairy-free or vegan.
What Ingredients are Needed to Make Cheesy Butternut Squash Casserole?
Butternut Squash.

Olive oil, onion, bell pepper, garlic.

A special spice blend.

Dairy or non-dairy yogurt.

Dairy or non-dairy shredded cheddar cheese.

Salt.
Note: for full ingredients and recipe amounts scroll to the recipe card toward the bottom of this post.
How to Make Butternut Squash Casserole – Step by Step
Boil or steam cubed butternut squash until tender. Place into a food processor or blender.
2. Blend until you have a smooth puree. Pour into a mixing bowl, then set aside.
3. Saute onions, bell pepper and garlic for 10 minutes.
4. Add cayenne and black pepper, then saute a few minutes longer.
5. Pour saute mixture into the butternut squash puree you set aside.
6. Add yogurt.
7. Add spices.
8. Add cheese.
9. Stir until all is well combined.
10. Pour into a square baking dish.
11. Top with more cheese + cilantro (and an optional bay leaf).
12. Bake and enjoy!
Top Tips for making Mexican Butternut Squash Casserole
Fresh or Frozen

Do you only have frozen squash? That works! Use approximately 4 cups of cubed squash.

Store It

This butternut squash casserole keeps in an airtight container in the refrigerator for up to one week. To reheat, simply place in a 350 F (180 C) oven until warmed throughout.
Butternut Squash Casserole – Common Recipe Questions
Can I omit or replace the yogurt?

Yes. This recipe works with both dairy and vegan yogurt (I love Nancy's Oatmilk yogurt!), but if you would rather omit, this recipe still comes out tasty!

Can I omit the cheese?

Yes. If you would rather not use dairy or vegan cheddar, you can omit it altogether or replace it with nutritional yeast.

Why the bay leaf?

The bay adds a touch of aromatics, and makes for a prettier presentation! But, it can certainly be omitted if you prefer.
More Vegetarian Butternut Squash Recipes
Gluten-Free Butternut Squash Vegetarian Lasagna
Butternut Squash & Lentil Flatbread Pizza Crust (Gluten-Free)
Vegan Instant Pot Butternut Squash Curry (+ Stovetop Instructions)
Lentil and Butternut Squash Vegetarian Chili with Spicy Chickpea Quinoa Crackers (Gluten-Free, Vegan)
Butternut Squash Vegan Ramen (Instant Pot + Stovetop)
Butternut Squash Coconut Curry Rice Noodle Soup
If you try this recipe please let me know! Leave a comment, rate it, share this post, use Pinterest's "tried it" feature, or take a photo, & tag me on Instagram and I'll share it! Thank you so much! <3
Cheesy Mexican Butternut Squash Bake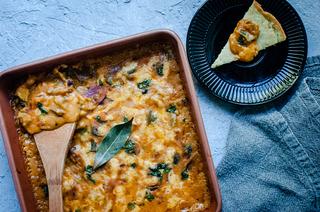 Author: Kristen Wood | 10-12-2019
prep time: 15 minutes
cook time: 30 minutes
total time: 45 minutes
Yields: 1 square casserole (4 servings)
---
Ingredients:
1 butternut squash, cubed, cooked and pureed
1 tablespoon olive oil
1 bell pepper, diced
1 red onion, chopped
3 garlic cloves, minced
1/4 teaspoon black pepper
1/8 teaspoon cayenne pepper
1/2 cup plain yogurt (dairy or non-dairy) (125 grams)
1 cup shredded cheddar cheese + extra for topping (dairy or non-dairy) (115 grams)
1 teaspoon cumin seeds
1 teaspoon chili powder
1 teaspoon sea salt or pink salt
1/2 teaspoon ground oregano
1 tablespoon fresh cilantro, chopped
1 bay leaf (optional)
---
Instructions:
Prep cubed butternut squash by boiling or steaming until tender. Place cooked squash into a blender or food processor, then blend until you have a smooth puree. Pour into a bowl and set aside.
Preheat oven to 375°F (190°C).
In a skillet over medium heat add garlic, onion and pepper. Saute for 10 minutes, stirring frequently.
Add cayenne and black pepper. Saute for 2 minutes longer.
Add saute mixture to the pureed butternut squash.
Add yogurt, cheese and remaining spices. Mix until well combined.
Pour into a 8 x 8 or 9 x 9 or 9.5 x 9.5 square baking dish.
Top with a sprinkle of cheese, chopped cilantro and an optional bay leaf.
Bake for 30 minutes, then optionally turn on the broiler for a few minutes until the top is bubbling.
Let cool slightly to set a little before serving.
Enjoy!
---
Nutrition:
Serving: 1 bowl
Fat: 6.9 grams
Calories: 171
Carbs: 25 grams
Fiber: 4.3 grams
NOTE: Please see 'Tips' above in the blog post for suitable substitutions, storage advice and more!
Shop This Recipe
Pin it for Later