These easy, healthy and delicious raw vegan freezer candies are filled with chocolate, real peppermint, nuts, seeds, and Rasa Koffee's amazing adaptogenic coffee alternative blend! The mint cacao combo is to die for; and this delicious, raw, healthy candy could not be easier to make! Plus: use coupon code 'MOONSPOONANDYUM' for 20% off Rasa Koffee!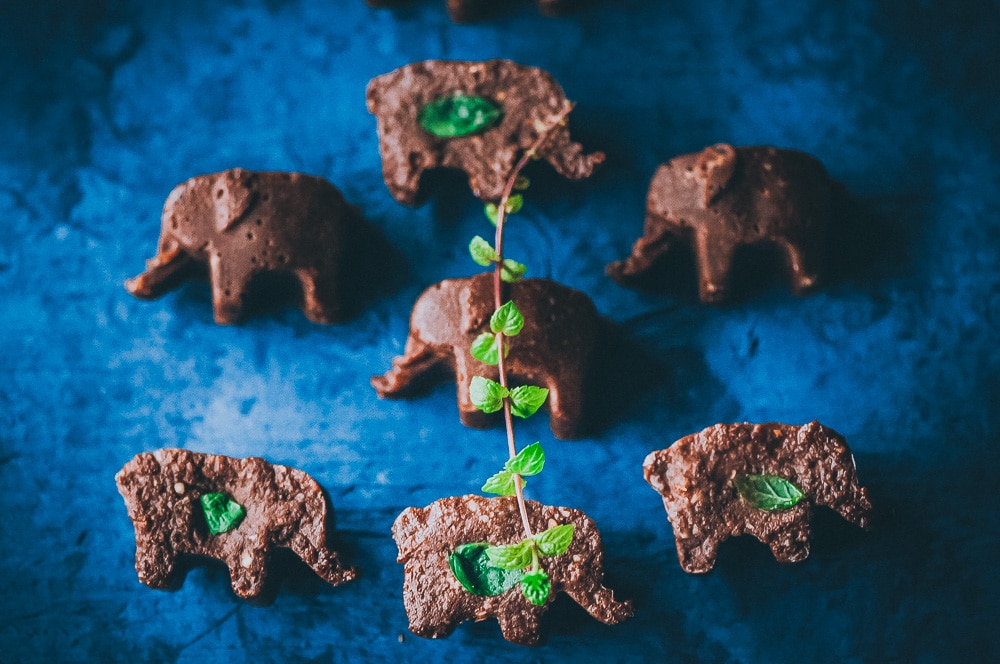 As you may have seen in a previous post, I've recently fallen in love with a company called Rasa Koffee. Rasa makes amazing blends of adapotgenic herbs and mushrooms that provide a clean, healthy, calm and focused energy boost. You can make Rasa in a french press just as you would coffee, OR you can have some fun with it, just as I did here!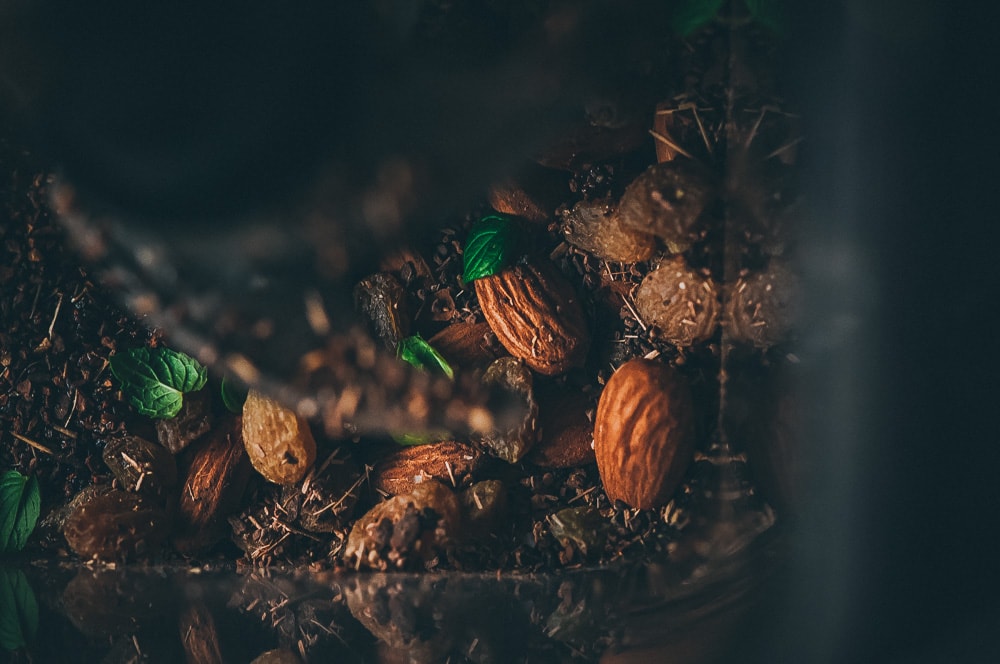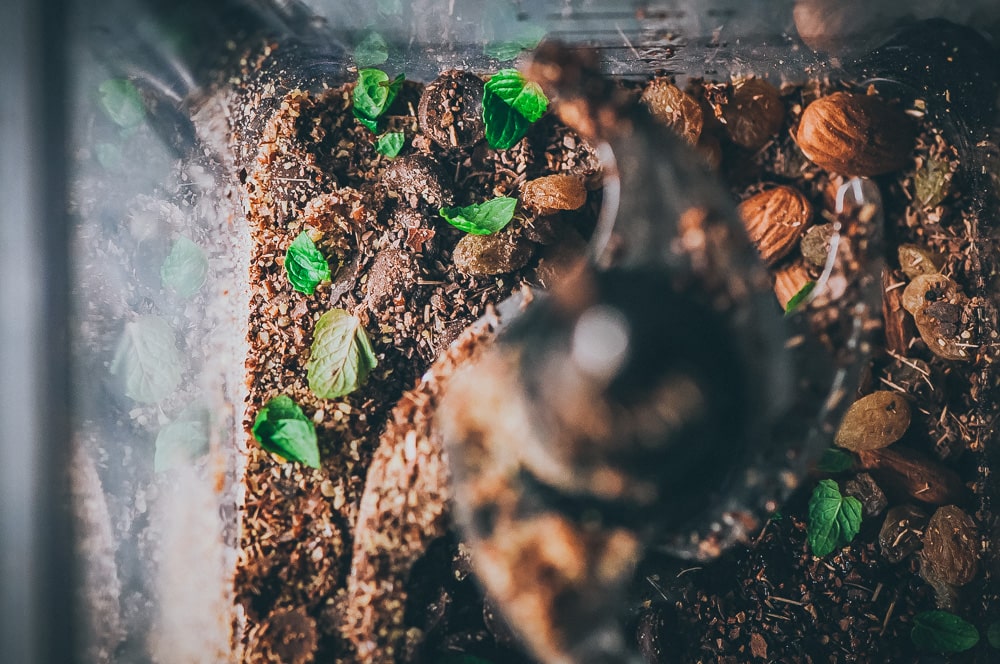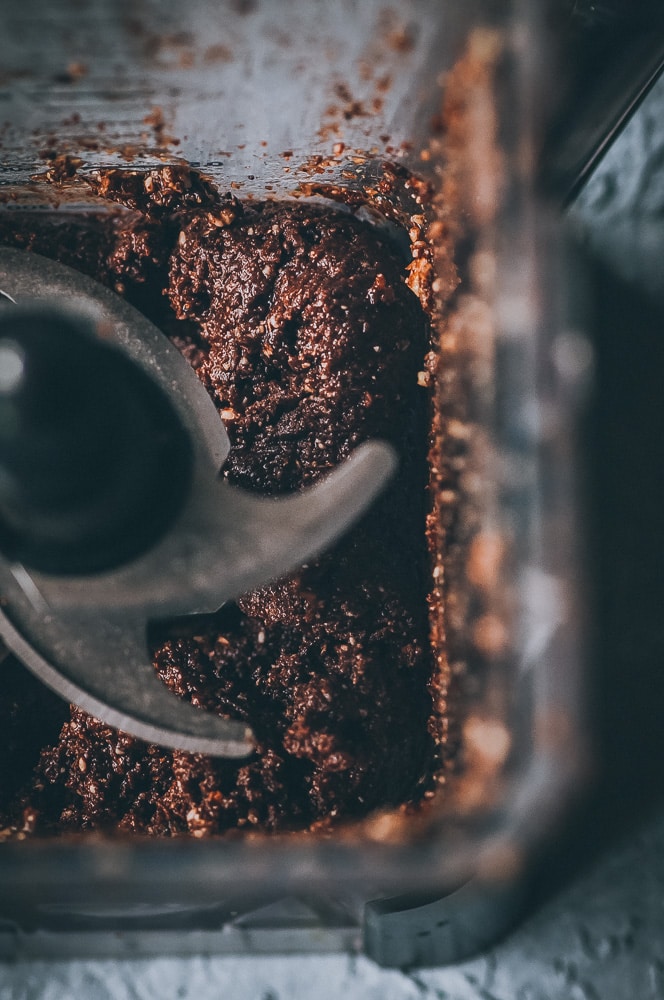 This Raw Chocolate Peppermint Freezer Candy is:
Simple and easy to make.

Filled with protein, fiber, nutrient-rich ingredients including Rasa's amazing Cacao adaptogen blend!

Super flavorful with notes of cacao and peppermint - these taste like a healthy Ande's Creme de Menthe Chocolate or Peppermint Pattie!

Has a beautiful texture with a nice bite to it!

Raw, gluten-free, vegan, dairy-free, sugar-free (see 'Tips' section below to learn more!).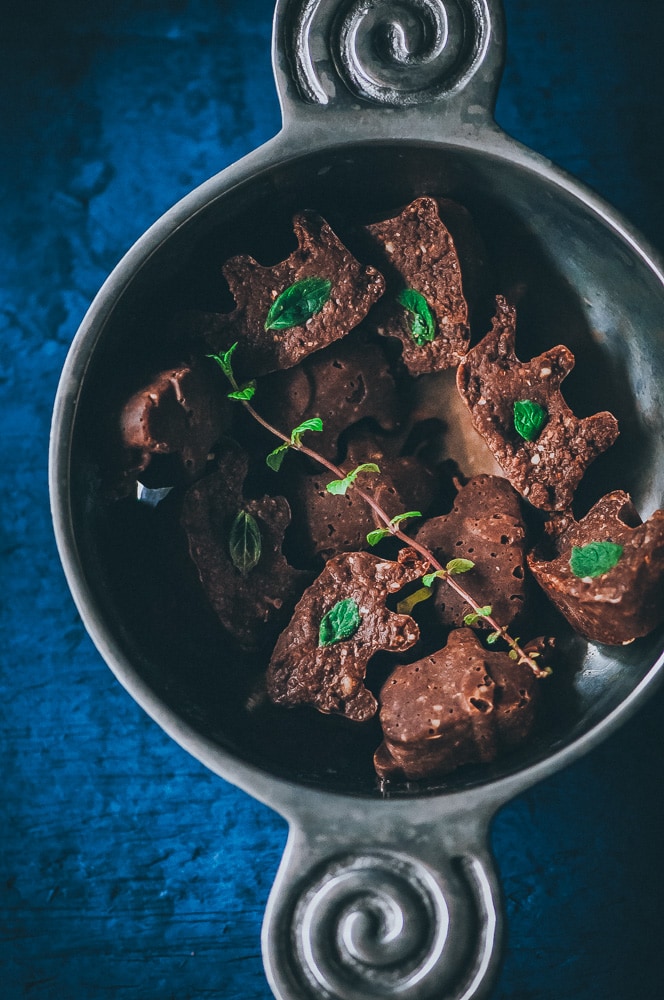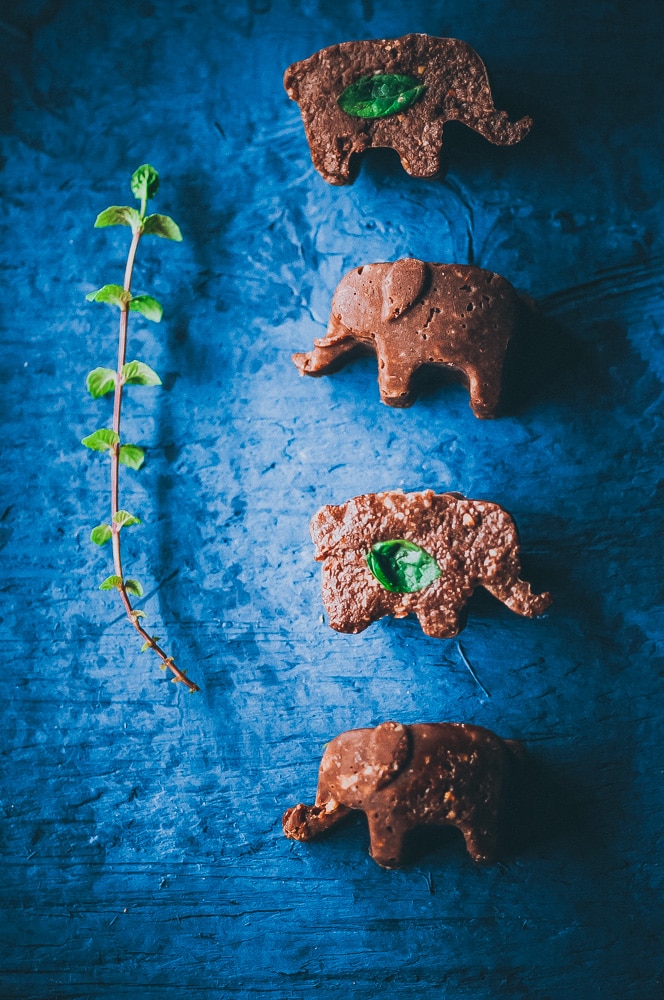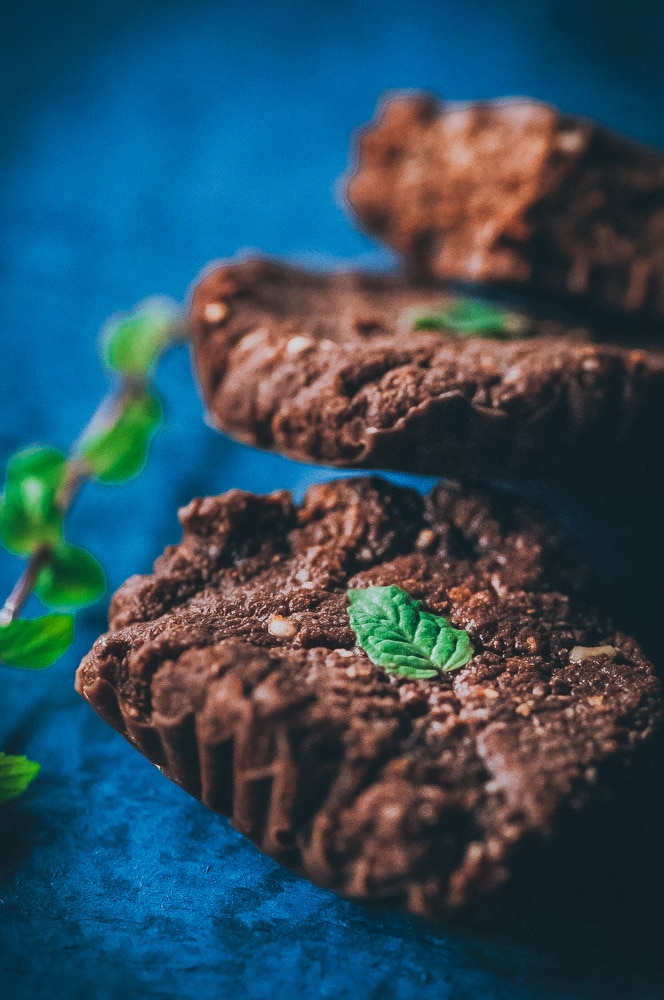 Tips for making Peppermint Cacao Freezer Candy:
To make this completely RAW, replace the 3 tbs of 100% chocolate chips with 1 1/2 tablespoons of raw cacao powder or 3 tbs of raw cacao nibs, omit or use the sweetener of your choice, AND make sure you use sun-dried golden raisins or replace the raisins with 2 raw dates or any raw dried fruit of your choice.

To make the Sugar-Free version, be certain to use an alternative sweetener such as this one (my favorite).

To make this Nut-Free, replace the almond with pumpkin or sunflower seeds for very similar results!

I really like the subtle flavor and texture that the golden raisins add, but in a pinch, regular raisins or any other small dried fruit will do. I like to get my golden raisins in bulk from Natural Grocers.

These last well in airtight containers in the freezer for up to two weeks. They will slowly soften at room temperature, but I find it is okay if they sit out for up to 25 minutes before they start getting a bit soft.

You can blend the ingredients until they are completely smooth and creamy or leave it all a bit chunky (my preference). Your call!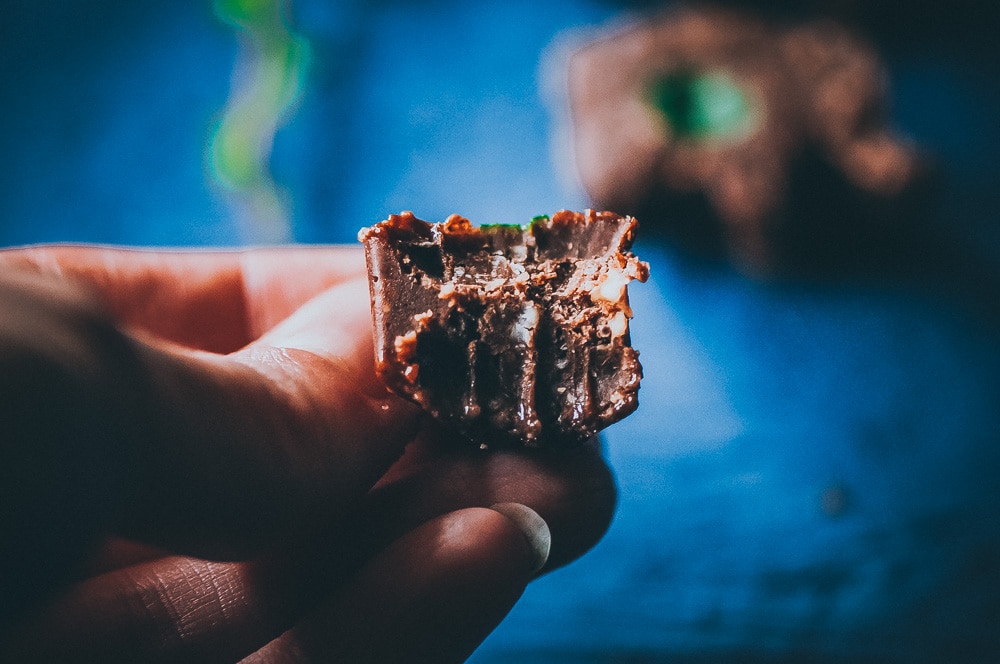 What are the health benefits of Adaptogens?
Read more about Rasa Koffee and adaptogens in this post HERE.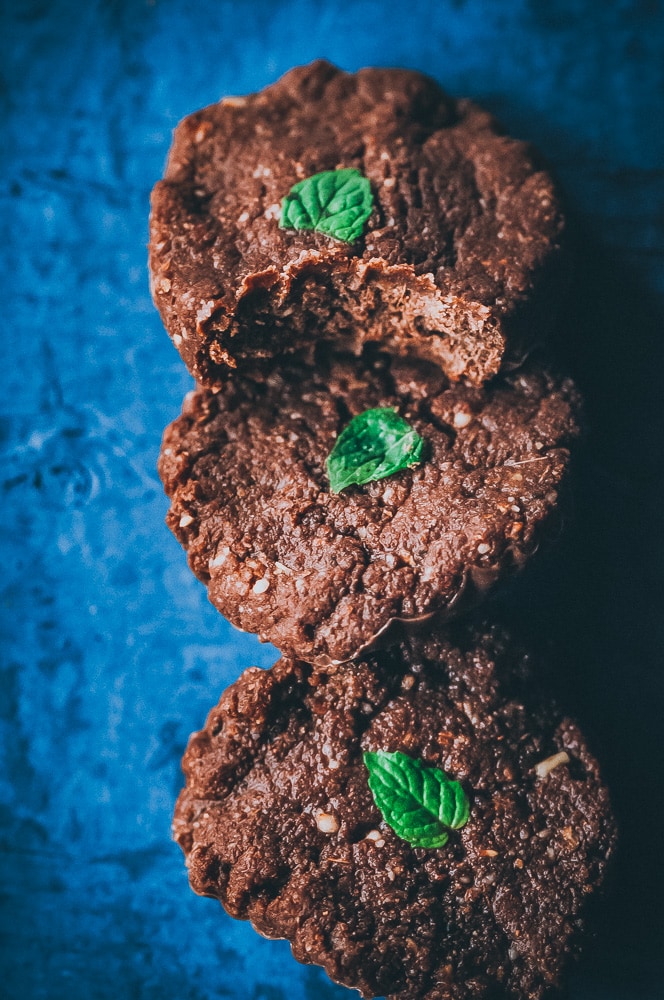 Equipment needed to make Adaptogenic Candy:
A high speed blender or food processor, like this one or this one.
Baking cups or silicone molds. I use this silcone ice cube tray from World Market for my candy making!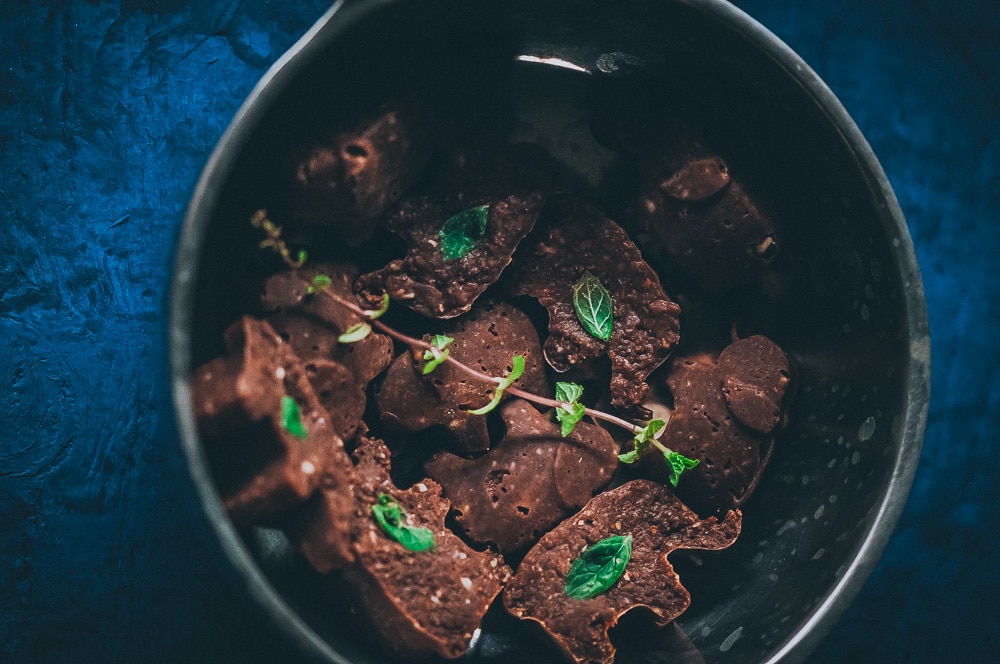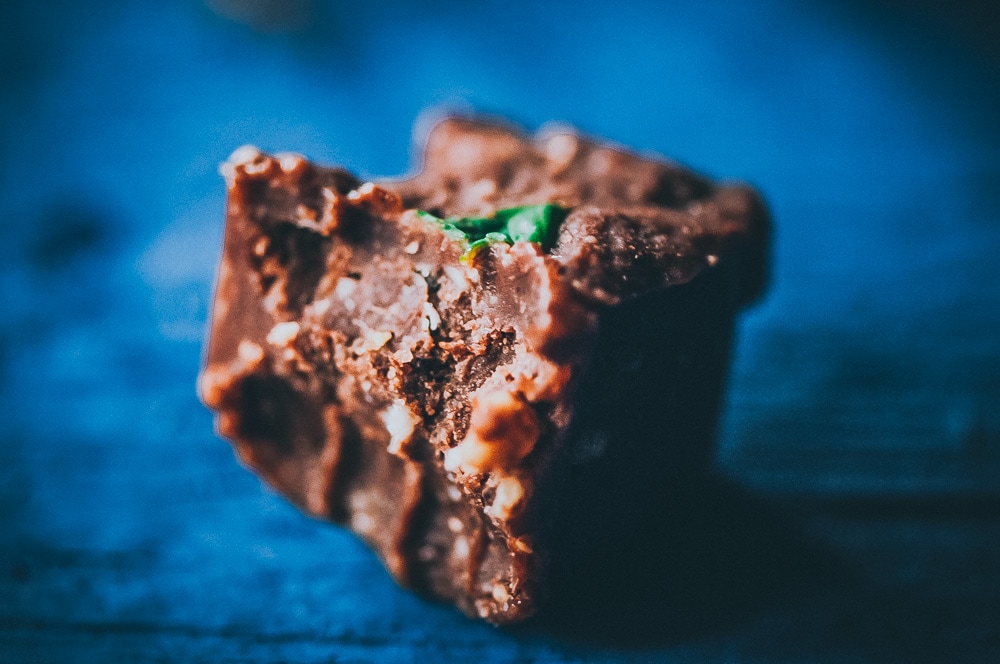 More Vegan Sweets Recipes you might enjoy:
Rustic Raw Apple Cream Tartlets (Raw, Vegan, Gluten-Free)
No Bake Super Seed Cinnamon Maca Energy Squares
Easy No Bake Chocolate Peanut Butter Protein Cookies With Peanut Butter Glaze (Gluten-Free, Vegan)
Double Coconut Caramel Cookie Dough Ice Cream (Vegan, Gluten-Free)
Lavender, Ginger, & Walnut Mini Tea Time Shortbread Cookies (Gluten-Free, Vegan, Refined Sugar-Free)
Triple Berry + Coconut Oat & Almond Crust Crumble (Gluten-Free, Vegan)
Vegan Mango Nice Cream Bars (Gluten-Free)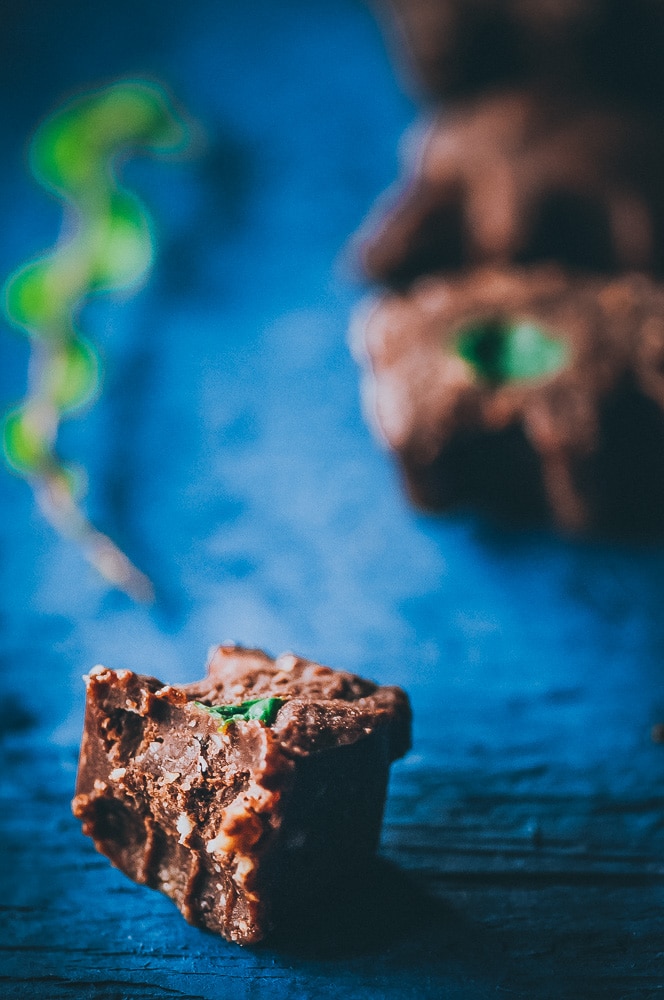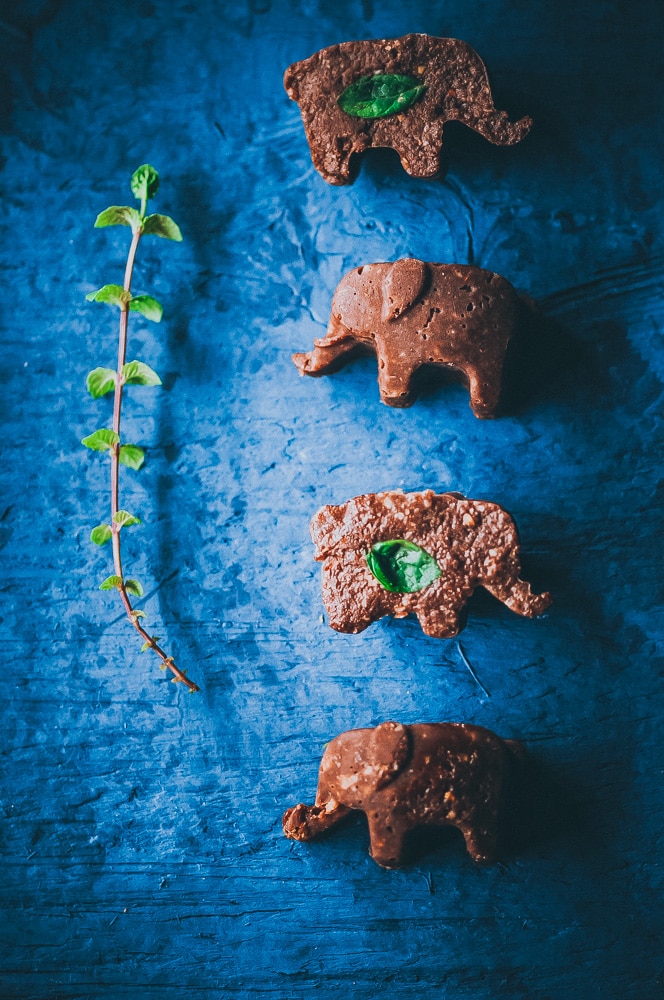 These truly are some of the tastiest little healthy treats you will ever eat! This batch did not last more than day around here, and I've since made them several times over! I hope you love them (and the amazing product that is Rasa Cacao!), too. Enjoy. xo.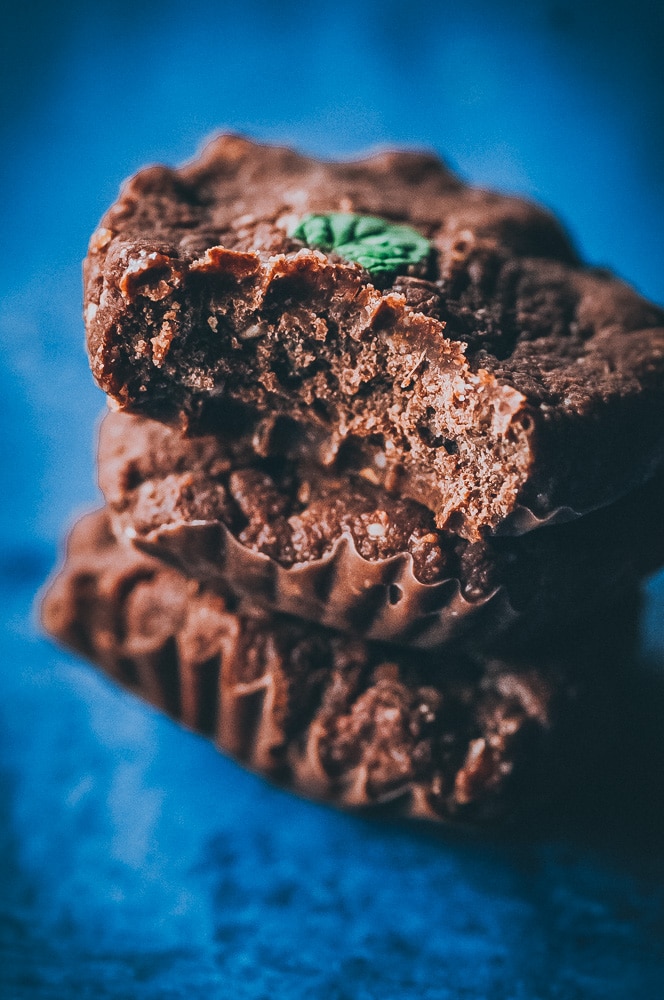 If you try this recipe please let me know! Leave a comment, rate it, share this post, use Pinterest's "tried it" feature, or take a photo, & tag me on Instagram and I'll share it! Thank you so much! <3
Mint Cacao Adaptogenic Freezer Candy (Raw, Vegan, Gluten-Free, Sugar-Free)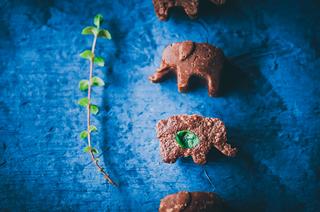 Author: Kristen Wood | 3-30-2019
prep time: 10 minutes
cook time: 0 minutes
total time: 1 hour (to account for minimum freezing time)
Yields: approx. 18 candies
PLEASE NOTE:: For RAW & SUGAR-FREE versions of this recipe, please see the 'Tips' section above in the post.
---
Ingredients:
---
Instructions:
In a high speed blender or food processor combine all of the above ingredients and blend, scraping down the sides as necessary. Blend until a thick and uniform paste has formed (see photos in post). You can blend until completely smooth or leave small chunks of almonds througout.
Using your hands, pack your mixture tightly into silicone molds or baking cups.
Freeze for at least 1 hour before serving.
Enjoy!
---
Nutrition:
Serving: 2 pieces (candies)
Fat: 10 grams
Calories: 140
Carbs: 9 grams
NOTE: Please see 'Tips' above in the blog post for suitable substitutions, storage advice and more!
Shop This Recipe:
Pin it: