Disclaimer: Please note that some of the links below in this post are affiliate links and I will earn a commission if you purchase through those links. I regularly use and recommend all of the products listed below because I find them to be of great quality and use! All proceeds go back into maintaining and creating for this site. Thank you! XO
Last Updated on
This utterly delicious, healthy and creamy Sweet Potato Curry with Chickpeas and Pumpkin is truly a delight for the soul! With coconut milk and the perfect blend of Indian spices, you'll find yourself in curry heaven with this rich vegan curry dish for the Instant Pot (or stovetop!).
This Instant Pot Curry is definitely in the top 5 when it comes to curry recipes for me! I had a lot of extra pumpkin puree on hand and decided that I wanted to create something savory. The result?? This super rich and creamy curry that will undoubtedly knock your socks off with its perfect textures and flavors! This vegan curry makes a most delightful cozy and comforting meal when served alongside some rice, quinoa or gluten-free naan. I hope you love it as much as we do!
Instant Pot Curry
This Pressure Cooker Pumpkin Chickpea Sweet Potato Curry is:
Rich, creamy, flavorful.

Super easy to make.

Packed with wholesome, nutrient-dense ingredients.

Great served right away, or as (most excellent) leftovers or meal prepping.

Vegan, dairy-free, soy-free, nut-free, refined sugar-free, and gluten-free.
What Ingredients are Needed to Make Instant Pot Pumpkin Curry?
Onions, garlic, coconut oil.

Spices.

Sweet potatoes.

Chickpeas.

Pumpkin puree.

Lemon juice.

Coconut milk, coconut sugar.

Cilantro.

Salt.
Note: for full recipe amounts and ingredients, refer to the full recipe card towards the bottom of this page.
How to Make Instant Pot Sweet Potato Curry with Pumpkin and Chickpeas – Step by Step
Prep ingredients.
2. Saute onion and garlic.
3. Add spices. Saute.
4. Add coconut milk and pumpkin.
5. Stir well.
6. Add sugar, chickpeas, and sweet potato. Stir well.
7. Add water. Stir well.
8. Cook on manual high pressure for 8 minutes. Quick release and stir in lemon, salt and cilantro.
9. Serve and enjoy!
Top Tips for making Instant Pot Chickpea Curry with Pumpkin and Sweet Potatoes
Good Pumpkin

Be certain to use a pumpkin puree without any added ingredients — just straight pumpkin! I love the pumpkin puree from Thrive Market.

Choose Your Acid

If you do not have lemon juice handy, lime juice or apple cider vinegar are both suitable replacements!

A Touch of Sweet

I find coconut sugar to add the perfect balance of sweetness, but it can be omitted if need be, or any granulated or liquid sweetener of choice can be used in its place. For a sugar-free version, I love this sugar-free sweetener.

Store It

This delicious curry keeps well in airtight containers in the refrigerator for up to one week. To re-heat simply place in the Instant Pot on saute mode and stir until warmed throughout or over the stovetop on medium heat.
Common Recipe Questions – Instant Pot Curry
Can I use regular potatoes instead of sweet?

Yes! No further adjustments necessary.

I don't like cilantro. Can I use something else?

Yes! I highly recommend a mix of fresh parsley and fresh mint as a replacement.

What kind of Instant Pot do you make this in?

I use an Instant Pot Duo Plus 60, and I love it! I've never once encountered a burn error message or anything else troublesome with it!
More Electric Pressure Cooker Curry Recipes
Instant Pot Lemony Red Lentil & Chickpea Curry (Vegan, Gluten-Free)
Green Lentil Curry (Instant Pot + Stovetop)
Instant Pot Red Lentil & Potato Curry (Vegan, Gluten-Free)
Vegan Instant Pot Butternut Squash Curry (+ Stovetop Instructions)
Spicy Coconut Red Lentil Dal (Instant Pot + Stovetop)
If you try this recipe please let me know! Leave a comment, rate it, share this post, use Pinterest's "tried it" feature, or take a photo, & tag me on Instagram and I'll share it! Thank you so much! <3
Vegan Instant Pot Pumpkin Chickpea Sweet Potato Curry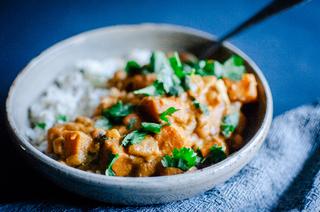 Author: Kristen Wood | 10-22-2019
prep time: 5 minutes
cook time: 8 minutes
total time: 20 minutes (to allow for the coming to and releasing of pressure)
Yields: 4 servings/bowls
---
Ingredients:
1 tablespoon coconut oil
1 onion, chopped
4 garlic cloves, minced
1 tablespoon curry powder
1 teaspoon cumin seeds
1 teaspoon ground ginger
1/2 teaspoon ground cinnamon
1/2 teaspoon ground black pepper
1 13-14 oz can full fat coconut milk
1 15 oz can pumpkin puree (I love Thrive Market's)
1 1/2 cups cooked chickpeas (245 grams)
2 medium sweet potatoes or 3 small sweet potatoes, cubed (260 grams)
1 tablespoon coconut sugar
1/2 cup water (118 ml)
1/2 teaspoon lemon juice
1/4 cup chopped cilantro (15 grams)
sea salt or pink salt, to taste
---
Instant Pot Instructions (see below this card for stovetop instructions):
Press the saute button on your electric pressure cooker. Add oil, onion and garlic. Saute for 3 minutes, stirring frequently.
Add spices, curry powder through black pepper. Stir and saute for 2 minutes longer.
Add coconut milk and pumpkin puree. Stir until well combined.
Add chickpeas, sweet potatoes and sugar. Stir.
Add water, stir.
Place lid on, close steam vent, and put on manual high pressure for 8 minutes.
Quick release pressure, stir and add lemon juice and cilantro. Salt to taste.
Optionally top with extra fresh chopped cilantro before serving. Enjoy!
---
Nutrition:
Serving: 1 bowl
Fat: 11.3 grams
Calories: 307
Carbs: 47 grams
Fiber: 10.8 grams
NOTE: Please see 'Tips' above in the blog post for suitable substitutions, storage advice and more!
Instant Pot Pumpkin Curry – Stovetop Method
In a pot over medium heat, saute onion and garlic in oil for 3 minutes.

Add spices, saute 2 minutes longer.

Add coconut milk and pumpkin. Stir until well mixed.

Add chickpeas, coconut sugar, and sweet potatoes. Stir.

Add  1 ½ cups water. Stir.

Bring to a boil, cover, reduce to a simmer.

Simmer for 15 minutes or until all is tender and creamy, adding more water if necessary during cooking.

Turn off heat, stir in lemon and cilantro. Salt to taste.

Serve and enjoy!
Shop This Recipe
Pin it for Later