Disclaimer: Please note that some of the links below in this post are affiliate links and I will earn a commission if you purchase through those links. I regularly use and recommend all of the products listed below because I find them to be of great quality and use! All proceeds go back into maintaining and creating for this site. Thank you! XO
Last Updated on
A thick, and chewy Gluten-Free Naan Bread recipe made buckwheat flour, with a fluffy interior, using only 9 ingredients to make, and with an absolutely divine flavor and texture. This gluten-free naan makes the perfect accompaniment to your favorite Indian dishes or all on their own! With a vegan and dairy-free option!
This Gluten-Free Buckwheat Naan Bread is easy to make, flavorful, thick and chewy with a fluffy interior, and only takes 9 ingredients to make . . .
Where do I start with this one?
I LOVE my Indian food. I have a hard time going any stretch of time without making or ordering some form of curry.
Being on a gluten-free diet, of course one of the things I miss most dearly is Naan! So I set out to make a worthy replacement . . .
I am beyond pleased with how this recipe turned out. It has many of the qualities I love and miss in traditional naan bread, with a few pleasing extras like a slightly nutty flavor from the buckwheat flour, and an even fluffier and heartier texture!
My family gobbled up this naan bread and asked me to make it again (that's a win in my book!). We've since had it several times and it will no doubt be our flatbread staple served alongside our favorite Indian food dishes for some time to come.
I can only hope the same for you!
Gluten-Free Naan Bread
This Gluten-Free Buckwheat Naan Bread Recipe is:
Hearty and healthy.

Easy to make.

Flavorful.

Thick and chewy – perfect for sopping up curries!

Gluten-free, nut-free, soy-free, refined sugar-free, with a dairy-free and vegan option.
Tips for Making Gluten-Free Naan Bread with Buckwheat Flour
Proof Your Yeast!

Be certain to proof your yeast (let it get super frothy) before using for best results!

Double it up!

Make sure your dough doubles in size before attempting to cook it or you may end up with an undesirable texture.
A Few Common Questions
Can I make this Gluten-Free Naan Bread vegan or dairy free?

Yes! Replace the sour cream with vegan sour cream or plain vegan yogurt. Replace the egg with 1 flax egg or an egg substitute.

Can I replace the tapioca flour or buckwheat flour with another flour?

Due to the unique nature of buckwheat flour, I do not recommend replacing it, however, tapioca starch can be replace with arrowroot starch if need be.

Can I store this bread? How long does it keep?

This bread tastes best served freshly cooked but will keep at room temperature lightly covered in a tea towel for up to 24 hours. Otherwise, I recommend refrigerating the batter until ready to use, up to 3 days.
More Buckwheat Flour Recipes
Yellow Split Pea + Buckwheat Flour Dosa
This gluten-free naan bread works most excellently with this Spicy Potato Kale Curry Indian Recipe!
If you try this recipe please let me know! Leave a comment, rate it, share this post, use Pinterest's "tried it" feature, or take a photo, & tag me on Instagram and I'll share it! Thank you so much! <3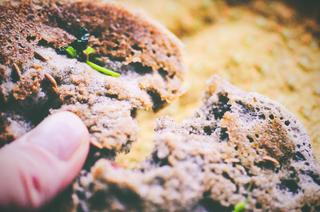 Gluten-Free Buckwheat Naan Bread
A thick, and chewy Gluten-Free Buckwheat Naan Bread with a fluffy interior, using only 9 ingredients to make, and with an absolutely divine flavor and texture. They make the perfect gluten-free accompaniment to your favorite Indian dishes or all on their own!
Ingredients
1 cup

warm water

2 1/2 tsp (1 packet)

active dry yeast

2 tsp

coconut sugar

1 1/2 cups

buckwheat flour

1 1/2 cups

tapioca starch

1/2 cup

sour cream (preferably cultured)

1

egg, beaten

2 tbs

olive oil

1 tsp

sea salt

Optionally: cumin seeds and fresh chopped cilantro to garnish
Instructions
In a large bowl combine warm water, yeast, and sugar. Stir to combine. Let sit for 10 minutes or until frothy.
Meanwhile in another large bowl combine buckwheat flour, tapioca starch, sour cream, egg, oil and salt. Mix until smoothly combined.
Pour in your yeast mixture, and mix until just combined.
Cover, place in a warm & dark place to let rise for 1-2 hours, or until doubled in size.
Head a greased skillet over medium-high heat.
Using wet hands or a spatula, scoop out about 1/4 cup of batter and place on hot skillet. Flatten and spread into desired shape (I like tear drops), about 1/2″ thick. Sprinkle with a bit of water. Cover, and cook for 2-4 minutes or until the bottom(s) starting to brown. Flip and cook uncovered for 2-4 minutes more until browning on both sides. Repeat with remaining batter.
Keep loosely wrapped in a tea towel at room temperature until ready to serve.
Optionally, brush with butter or oil and sprinkle with cumin seeds and cilantro before serving.
Enjoy!
Details
Prep time:


Cook time:


Total time:


Yield:
8 naan breads | 1 serving/bread:

Calories: 250
Fat: 7g
Pin it: