Skip to Recipe
Disclaimer: This post may contain affiliate links. This blog generates income through affiliate links at no extra cost to you.
A super easy, nutritious and flavorful dosa recipe made with yellow split peas and buckwheat flour for a fun twist! These Indian dosas are fermented for added flavor and gut healing powers. Gluten-free & vegan.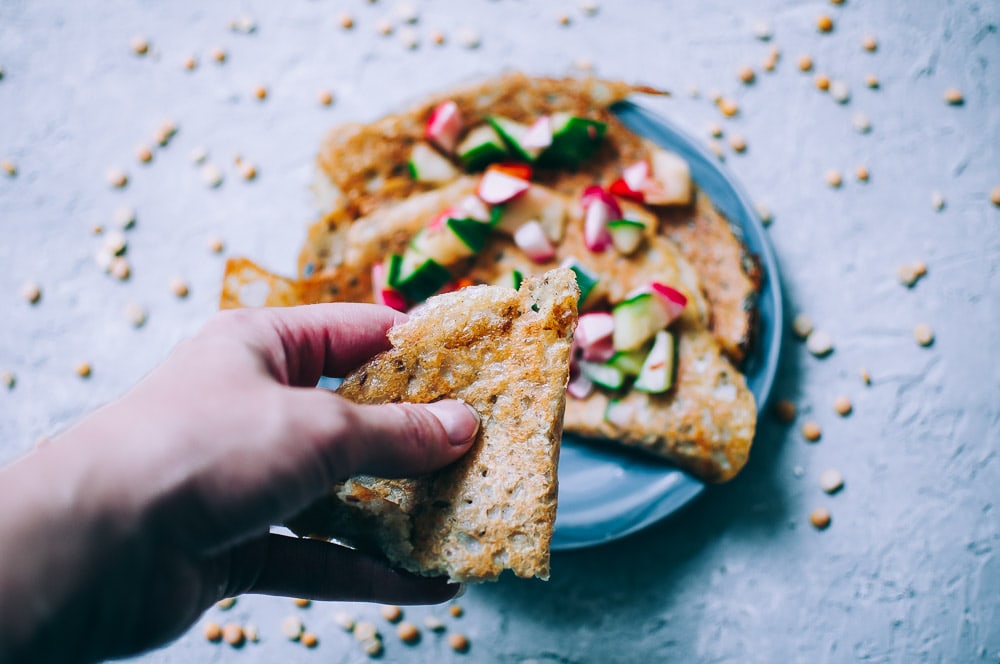 This fermented dosa recipe creates fluffy and crispy dosas filled with flavor and probiotics for a healthy accompaniment to serve alongside your favorite meals, dips and sides!
Jump to: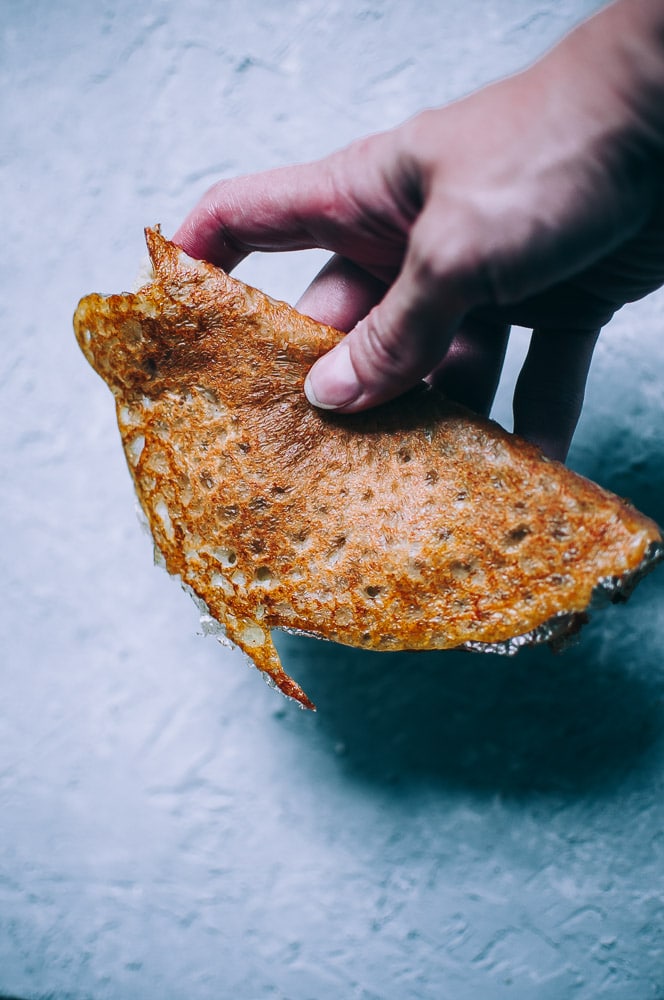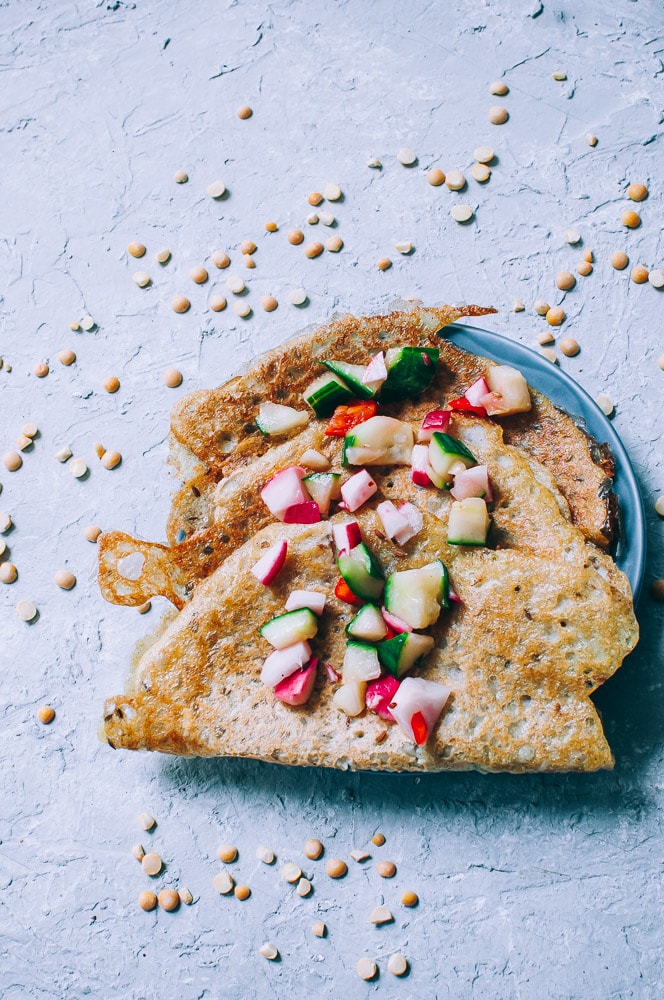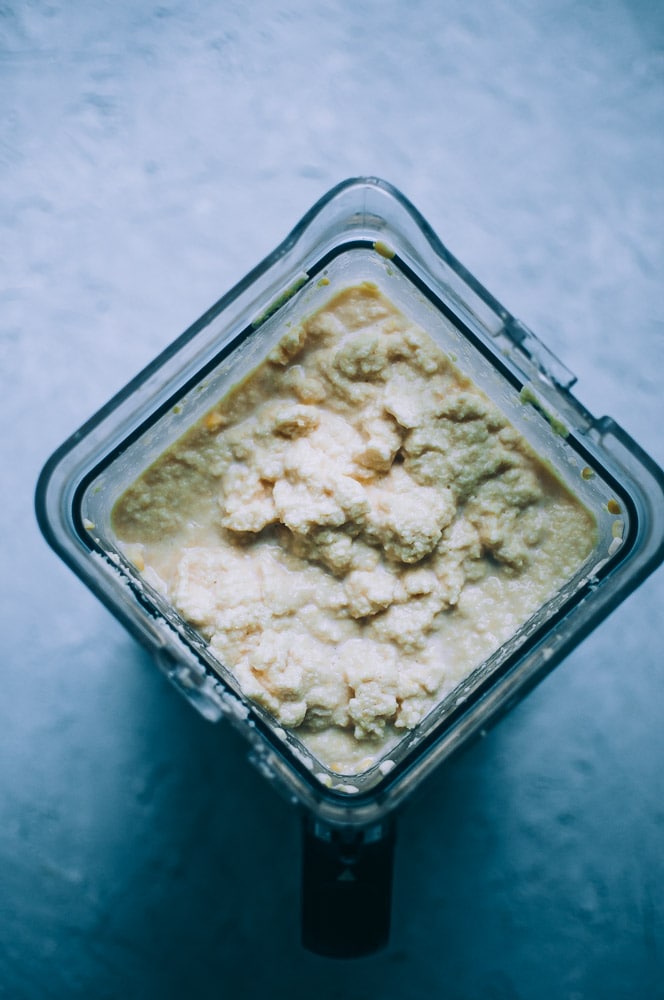 📋 What is Dosa?
Dosa is traditionally a crepe-like creation made from a blend of rice and legumes or pulses that have been soaked, fermented and blended to create a thin pancake-like batter. It is most commonly attributed to Indian cuisine, though it is also to be found in Pakistan, Sri Lanka, Singapore, Malaysia, Bangladesh and Nepal.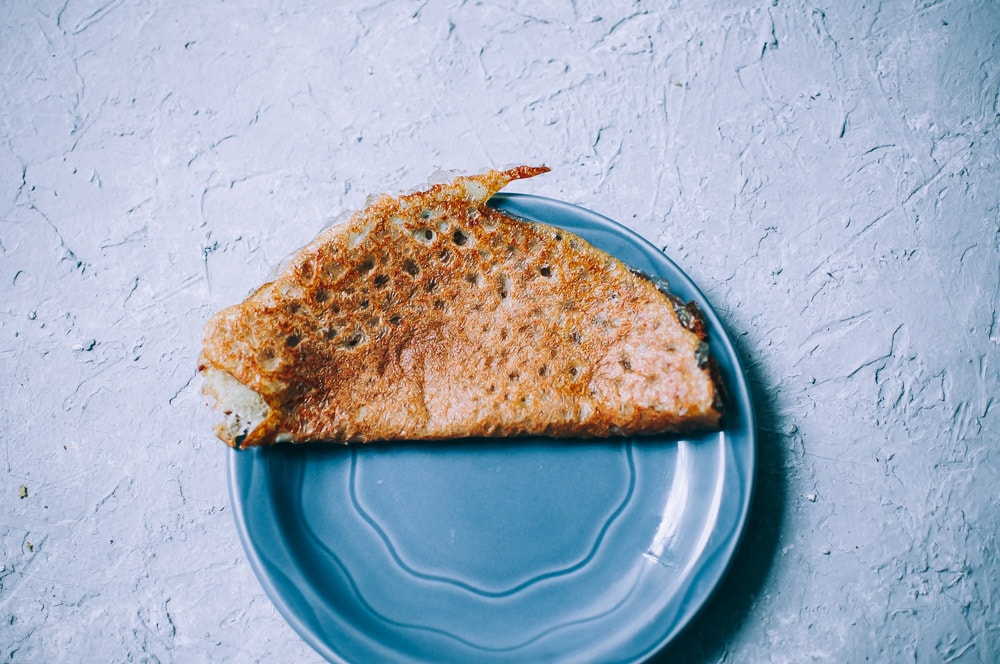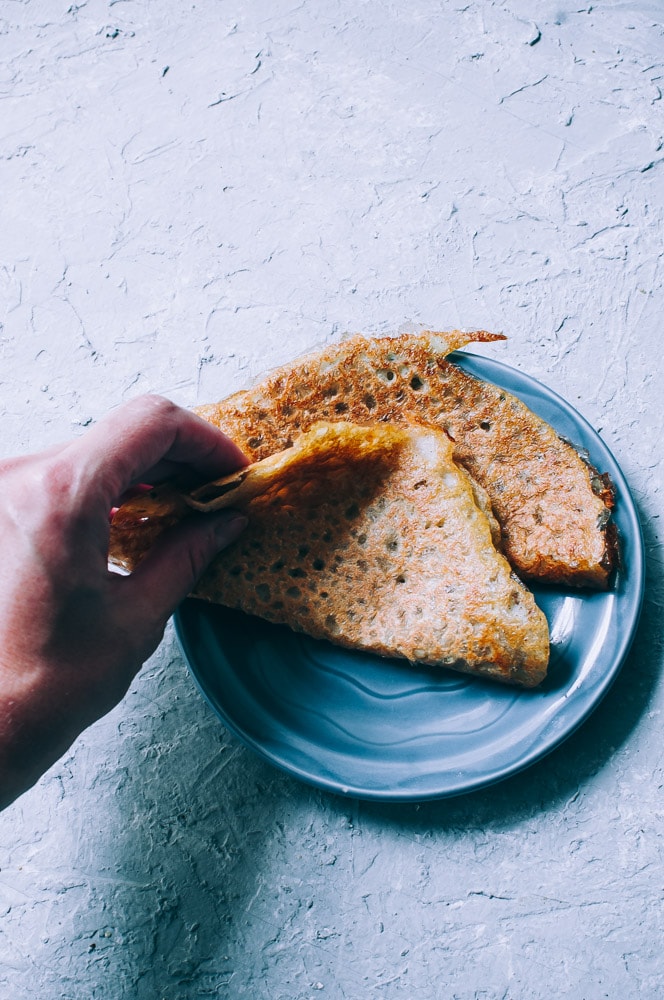 ♨️ Why Ferment Dosa Batter?
Not only does fermenting dosa batter lend a delightful sourdough-like flavor to dosas, it also increases nutrients such as B vitamins, makes the legume portion of the batter more easily digestible, and boosts good bacteria for wonderful gut-healing properties.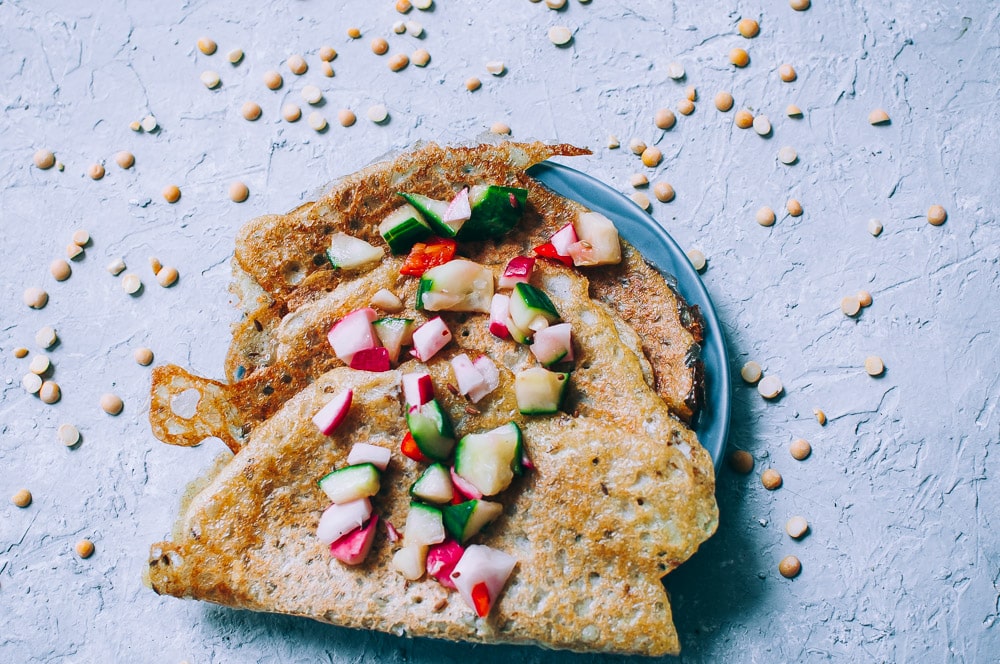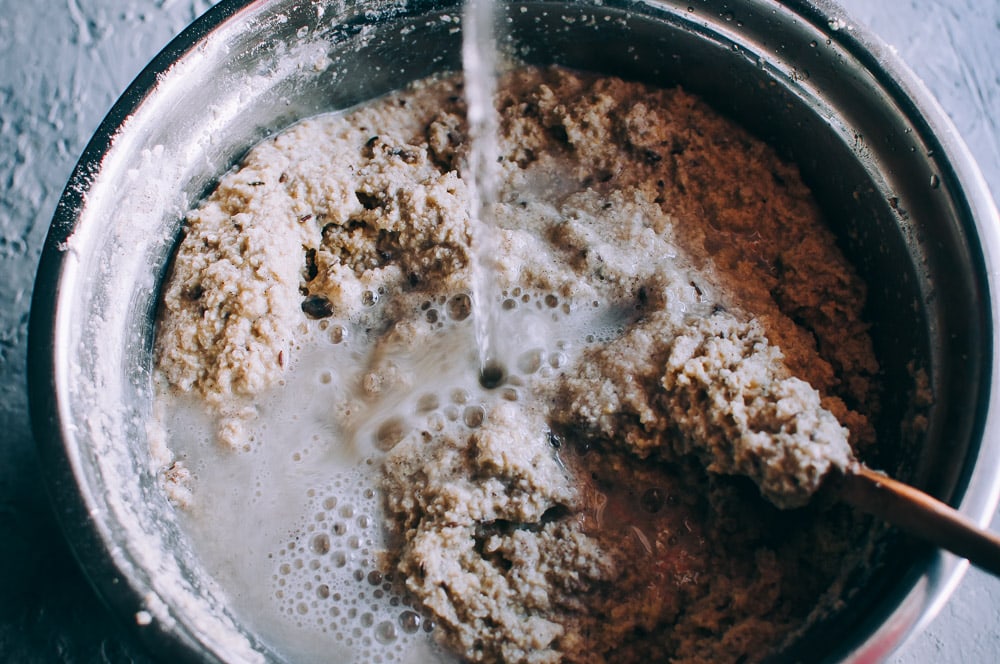 🥣 Recipe Features
Easy and fun to make.
Filled with fiber, protein, nutrients and gut-healing probiotics.
Has a light, fluffy and crispy texture.
Made with simple, wholesome ingredients.
Versatile and can be served many different ways (see below for suggestions).
Has a lovely sourdough like flavor laced with Indian spices.
Gluten-free, dairy-free, vegan, nut-free, soy-free, sugar-free.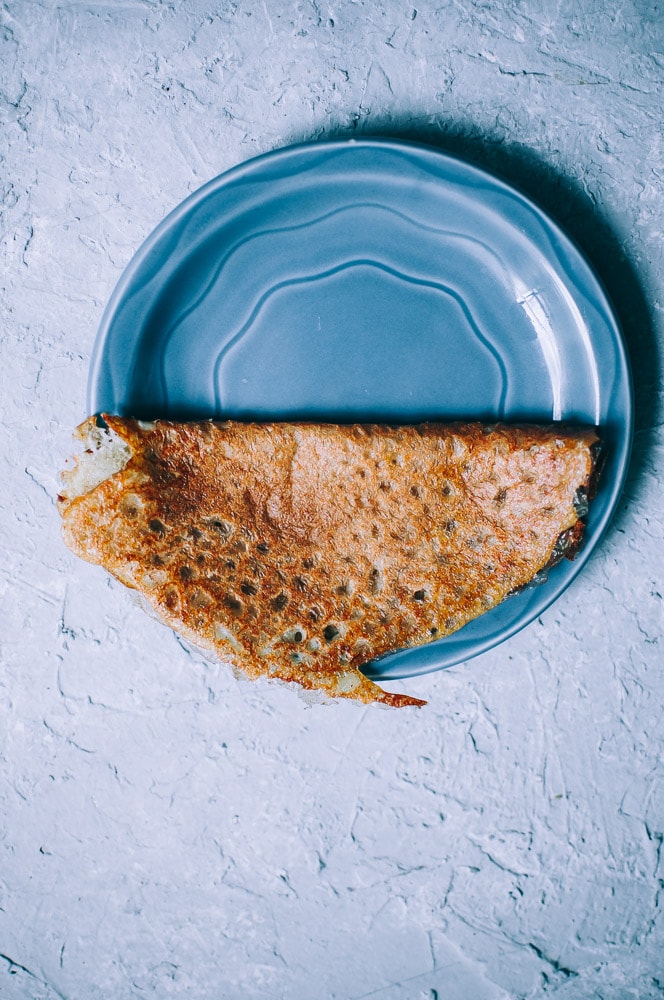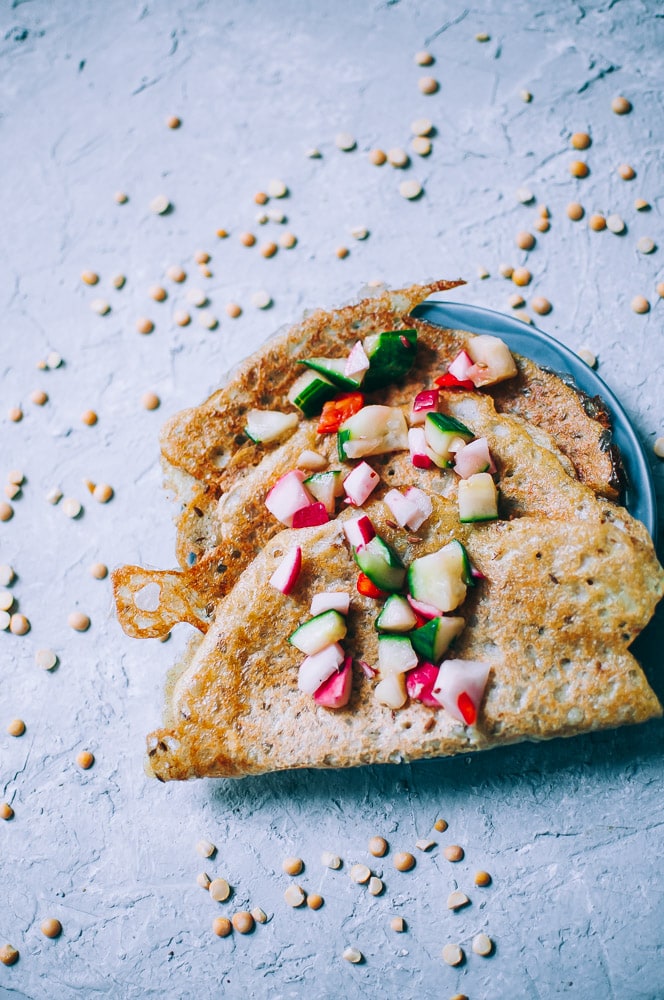 🧂 Ingredients Needed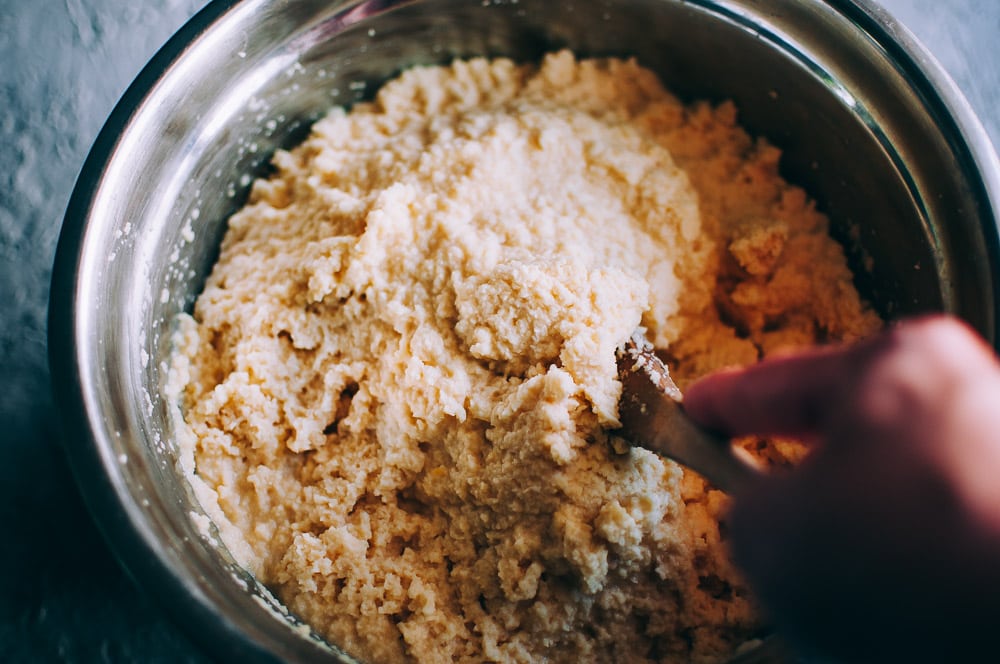 🔪 How to Make Fermented Yellow Split Pea Buckwheat Dosa
Soak split peas.
Blend.
Ferment.
Mix with flour, water, and spices.
Add water as necessary to thin the batter.
Cook and enjoy. Or, store the batter for later use.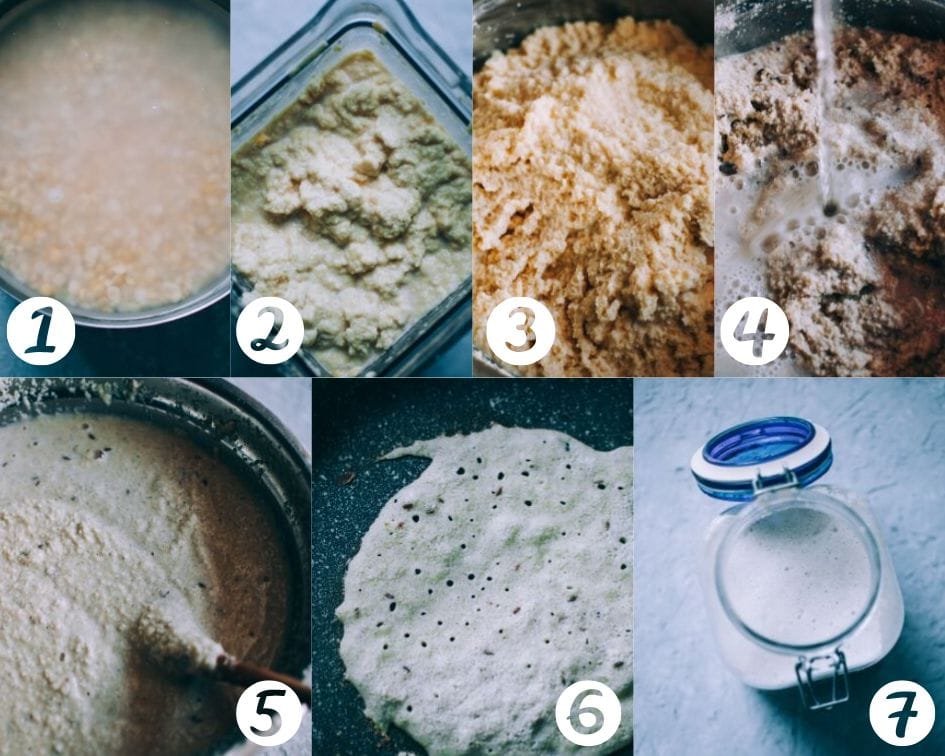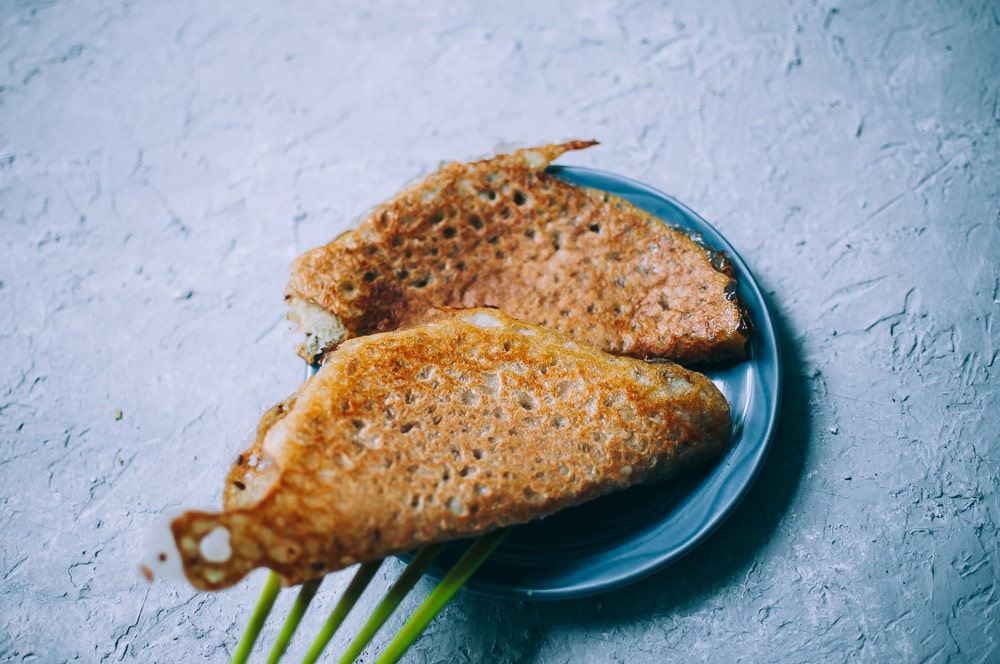 💭 Top Tips for Making Fermented Dosa
If you have a high quality, high speed blender such as a Vitamix,

you can get away with soaking the split peas for 1-2 hours, rather than 3.

To learn more about probiotics and gut health, check out this post.
Fermentation may take more or less time dependent upon the environment, ingredients, etc. You are looking for the split pea batter to have nearly doubled in size, smell slightly sour and have bubbles dispersed throughout.
When it comes to cooking these dosas, the spreadability and cook time can vary greatly dependent upon the pan/skillet used. If you have trouble tilting the pan to spread the batter, you can try quickly spreading it with a silicone spatula, too. If you have great difficulty, try using a different skillet and/or greasing liberally.
If your batter is not very thin or not spreading very easily, add more water as needed to thin the batter.
One way to tell that your batter is near thin enough is when there are tiny holes throughout during the cooking process.
You want to make sure the edges are quite golden and all appears well cooked before lifting and folding. This batter will continue to stick to the pan until it is cooked, for which then it will easily lift.
You can experiment with your own favorite variety of spices or add-ins as you choose!
The dosa batter itself can be stored in an airtight container or jar in the fridge for up to 3 days.
Dosas taste best freshly cooked, but will keep covered at room temperature or the refrigerator for up to 24 hours.

Not into fermentation? You can definitely skip the fermentation step for a still tasty dosa! Simply blend soaked split peas, mix with remaining ingredients and cook.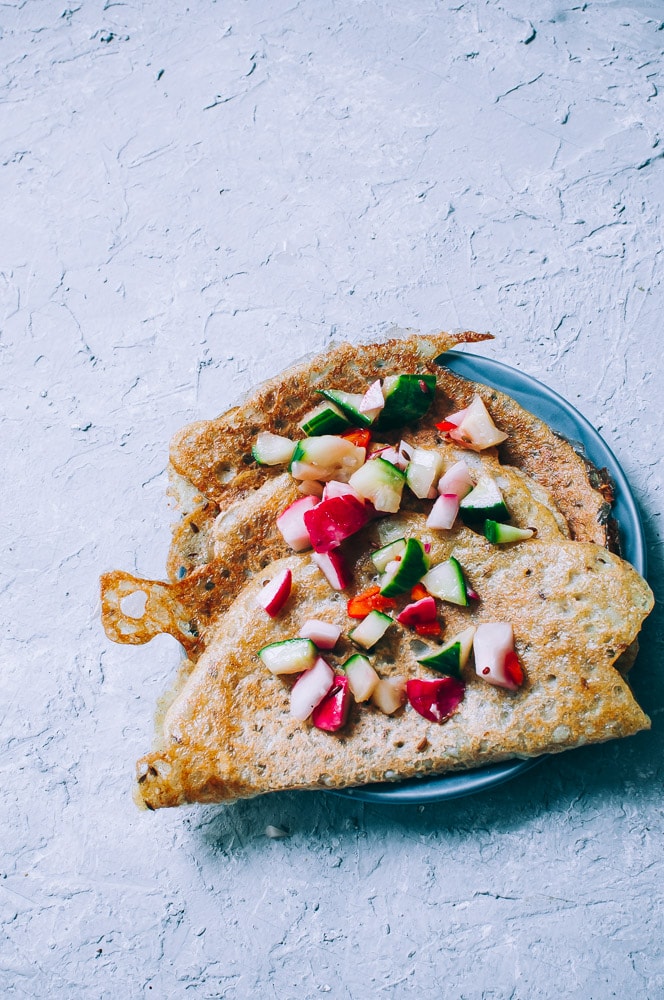 🍽 How to Eat Dosa
Served with your favorite dip, chutney, salsa or relish.
Served alongside soup.
As a side accompaniment for main dishes.
As a wrap for potatoes.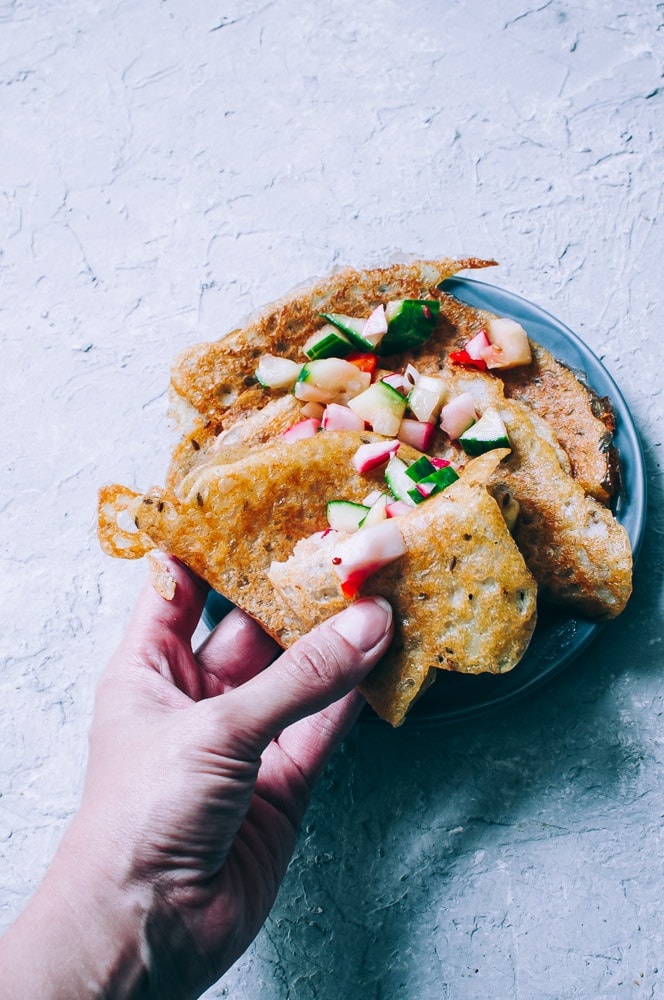 🍲 More Buckwheat Recipes
Gluten-Free Buckwheat Naan Bread
Easy Vegan Banana Bread (Gluten-Free)
Gluten-Free Graham Crackers (Vegan, Refined Sugar-Free)
Gluten-Free Buckwheat Flour Apple Muffins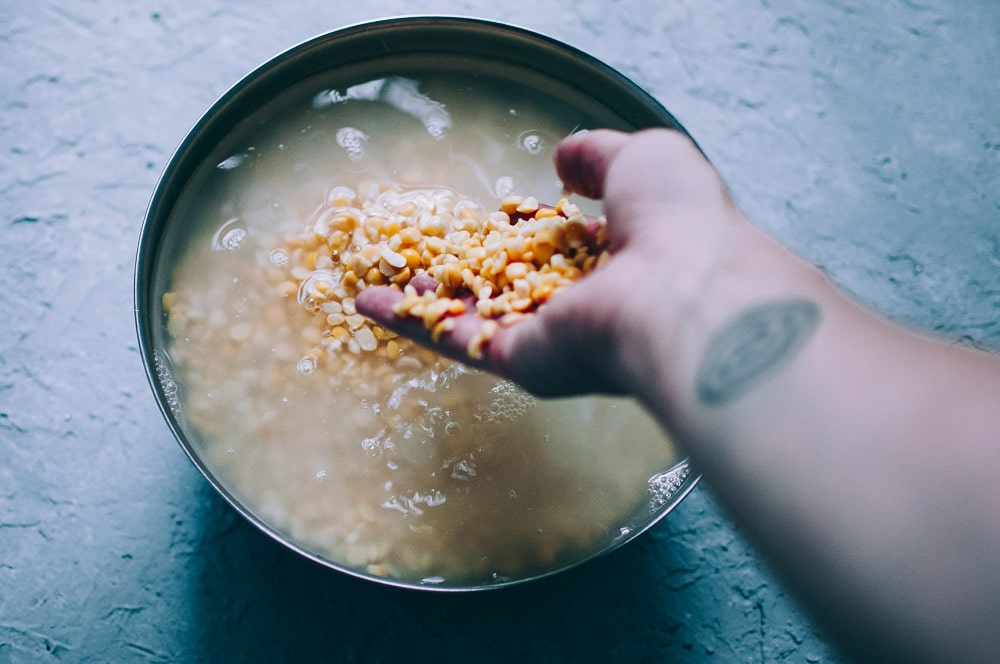 🥘 More Vegan Indian Recipes
Easy Baked Vegan Gluten-Free Samosas
Coconut Chickpea Curry (Vegan)
Spicy Kale & Potato Curry (Vegan, Gluten-Free)
Spicy Coconut Red Lentil Dal (Instant Pot + Stovetop)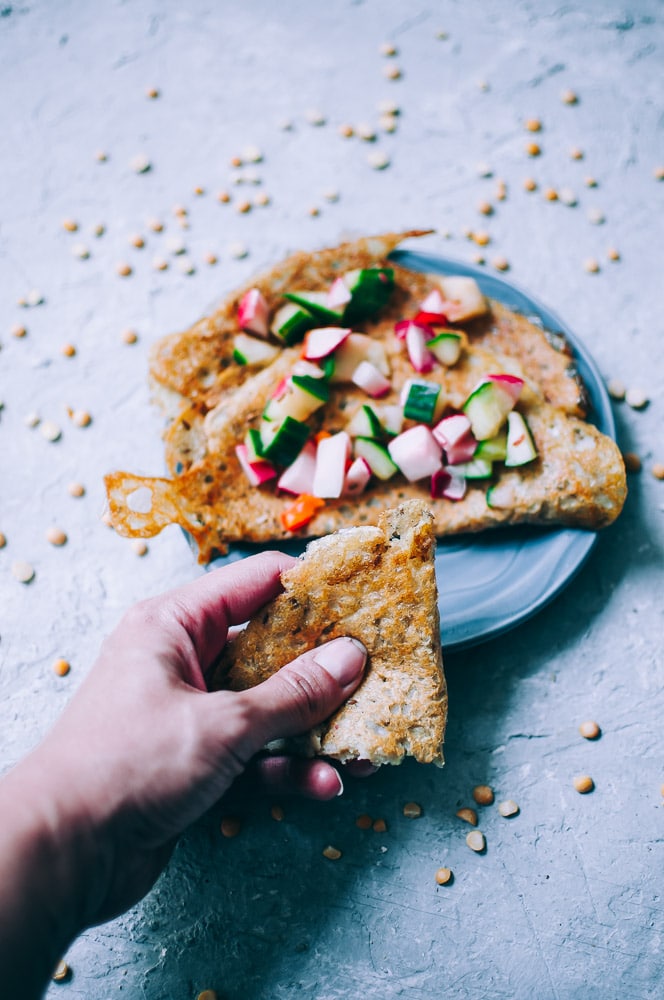 As shown served with my Radish Cucumber Salsa.
📖 Recipe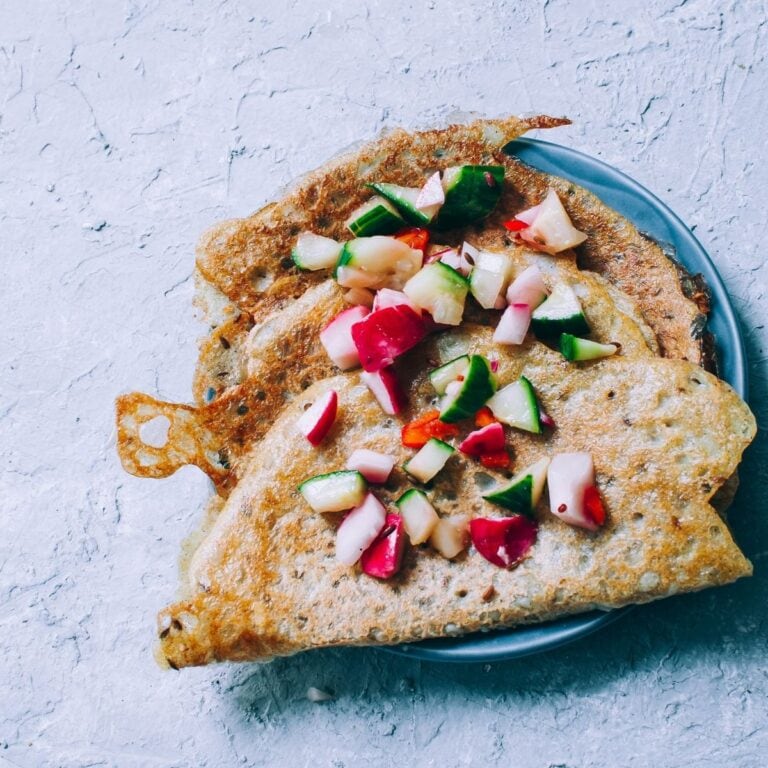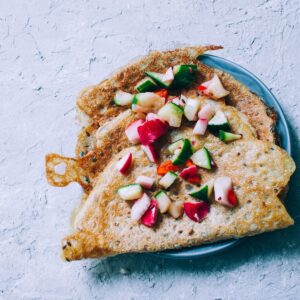 Fermented Buckwheat + Yellow Split Pea (Matar Dal) Dosa Recipe (Gluten-Free, Vegan)
A super easy, nutritious and flavorful dosa recipe made with yellow split peas and buckwheat flour for a fun twist! These Indian dosas are fermented for added flavor and gut healing powers. Gluten-free & vegan.
Print
Pin
Rate
Ingredients
3

cups

yellow split peas

3/4

cup

water

1

cup

buckwheat flour

1

tablespoon

cumin seeds

2

teaspoons

sea salt or pink salt

1/2

teaspoon

red chili flakes

7

cups

water
Instructions
Place yellow split peas in a large bowl. Cover with water. Soak for (at least) 3 hours.

Drain soaked split peas. Place into a blender with 3/4 cup water. Blend until smooth.

Place the blended split peas in a bowl, jar or container that is not metal, but plastic or glass (metal interferes with fermentation). Cover and put in a warm, dark place to ferment overnight or at least 8 hours (the batter should nearly double in size overnight).

Place the fermented split peas into a large bowl. Stir in flour, spices and 7 cups of water. Mix until smooth. The batter should be rather thin.

Heat a cast iron or non-stick skillet over medium heat. Grease lightly with oil.

Using a ladle (about 1/2 cup), scoop batter, pour into center of heated skillet and moving quickly using the handle of the skillet, tilt and swirl the batter until you have a thin crepe-like circle of batter in the pan.

Cook for 5 minutes or until the edges are golden brown and the top is firm and cooked throughout. Fold over and remove from skillet. Repeat with remaining batter.

Enjoy!
Nutrition
Serving:
5
dosas
|
Calories:
305
kcal
|
Carbohydrates:
56
g
|
Protein:
20
g
|
Fat:
2
g
|
Saturated Fat:
1
g
|
Sodium:
609
mg
|
Potassium:
827
mg
|
Fiber:
20
g
|
Sugar:
6
g
|
Vitamin A:
157
IU
|
Vitamin C:
1
mg
|
Calcium:
61
mg
|
Iron:
4
mg
Have you tried this recipe?
Please Rate + Comment Below!