Disclaimer: Please note that some of the links below in this post are affiliate links and I will earn a commission if you purchase through those links. I regularly use and recommend all of the products listed below because I find them to be of great quality and use! All proceeds go back into maintaining and creating for this site. Thank you! XO
Last Updated on
A super easy, healthy and delicious Cinnamon Raisin Bread recipe made with a blend of brown rice and tapioca flours! This yeasted bread is also dairy-free and refined sugar-free, and makes a great breakfast or healthy dessert!
This gluten-free bread creation came about when I had a craving for cinnamon raisin bread out of the blue. It had probably been about 2 years since I 'd had a slice of cinnamon raisin bread, so I knew it had to be just right to satisfy those cravings. After a bit of experimentation, this flavorful bread was born, and it more than satisfied those cravings . . .
This Gluten-Free Cinnamon Raisin Bread is
Rich and flavorful.

Fluffy, moist, springy.

Easy to make.

Not too sweet, making it a great breakfast or healthy treat.

Gluten-free, dairy-free, nut-free, soy-free, and refined sugar-free.
Ingredients Needed to Make Gluten-Free Cinnamon Raisin Bread
Coconut flour (optional).

Cinnamon.

Apple cider vinegar.

Eggs.

Baking soda.

Baking powder.

Coconut oil.

Salt.
How-to Make Gluten-Free Cinnamon Raisin Bread
Mix water, yeast, maple syrup. Let proof for ten minutes.

Mix dry ingredients. Mix wet ingredients. Combine.

Fold in raisins.

Let rise for 1 hour.

Bake in a 350 F oven for 35 minutes.
Top Tips for Making Cinnamon Raisin Bread
I do not recommend replacing the brown rice flour with another flour, however, arrowroot starch can be used in place of tapioca flour if need be.

Honey or coconut nectar can be used in place of maple syrup, if desired.

For a sugar-free cinnamon raisin bread, I recommend this sugar-free sweetener.

I find adding a touch of coconut flour adds a little extra something to the texture of the bread, but it can be omitted for a still very tasty bread.

Butter, vegan butter or sunflower oil can be used in place of coconut oil.

This bread tastes best the same day it is made, but will keep covered at room temperature for up to 48 hours.

This gluten-free cinnamon raisin bread can be enjoyed as is, toasted with a smear of butter or coconut butter, alongside nut butters, and also makes an excellent french toast.
More Gluten-Free Bread Recipes
Buckwheat Banana Bread with Cacao (Gluten-Free)
Gluten-Free Coconut Flour Zucchini Bread
Chickpea Flour Lemon Poppy Seed Bread (Gluten-Free)
Flourless Magic Tahini Seed Bread (Gluten-Free, Keto)
If you try this recipe please let me know! Leave a comment, rate it, share this post, use Pinterest's "tried it" feature, or take a photo, & tag me on Instagram and I'll share it! Thank you so much! <3
Gluten-Free Cinnamon Raisin Bread (Dairy-Free)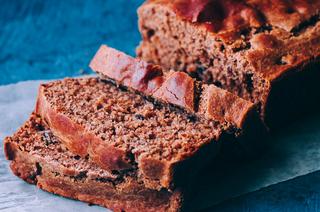 Author: Kristen Wood | 8-17-2019
prep time: 1 hour
cook time: 40 minutes
total time: 1 hour 40 minutes
Yields: 1 loaf
---
Ingredients:
3/4 cup warm water (177 ml)
1 tablespoon active dry yeast
1 tablespoon maple syrup
1 cup brown rice flour (150 grams)
1 cup tapioca starch (125 grams)
2 tablespoons coconut flour (optional)
2 tablespoons ground cinnamon
1 teaspoon sea salt or pink salt
1 teaspoon baking powder
1/2 teaspoon baking soda
3 eggs
1/4 cup maple syrup (85 grams)
1/4 cup coconut oil (52 grams)
1 teaspoon apple cider vinegar
1 cup raisins (150 grams)
---
Instructions:
In a bowl combine warm water, yeast and 1 tbs maple syrup. Stir and let sit for 10 minutes, or until frothy.
In a large mixing bowl combine flours, cinnamon, salt, baking powder and baking soda. Stir to combine.
In a seperate bowl combine eggs, maple syrup, coconut oil and vinegar. Whisk until smooth.
Pour wet ingredients into dry ingredients. Stir until just combined. Fold in raisins.
Pour batter into a greased or parchment paper lined loaf pan. Cover with a dishcloth and place in a warm, dark spot to rise for 1 hour or until doubled in size.
Preheat oven to 350°F/ 180°C.
Place risen loaf into preheated oven and bake for 30-40 minutes or until firm and bottoms and edges are golden.
Let cool before slicing and serving.
Enjoy!
---
Nutrition:
Serving: 1 slice
Fat: 7.4 grams
Calories: 249
Carbs: 44 grams
Fiber: 3.4 grams
NOTE: Please see 'Tips' above in the blog post for suitable substitutions, storage advice and more!
Shop This Recipe
Pin it for Later