Disclaimer: Please note that some of the links below in this post are affiliate links and I will earn a commission if you purchase through those links. I regularly use and recommend all of the products listed below because I find them to be of great quality and use! All proceeds go back into maintaining and creating for this site. Thank you! XO
Last Updated on
With a delightful blend of radish, cucumber, bell pepper and a few spices — this crisp, refreshing tomato free salsa is certain to enliven any savory dish it accompanies! This garden fresh summer salsa is beautifully vibrant as well, making it a great entertaining recipe, too! Low-carb and keto diet friendly!
Crisp, refreshing, vibrant, healthy, flavorful — this Fresh Radish Cucumber salsa has got it all! We love to make and serve this salsa in warmer months for an alternative to regular salsas. This delicious cucumber salsa is not overpowering in flavor, allowing it fit beautifully with a large variety of dishes!
This Cucumber Salsa is
Fresh, crisp, refreshing.

Super easy to make.

Versatile and stores well.

Filled with light, vibrant flavors ready to elevate a variety of savory dishes.

Perfect for spring and summer!

Gluten-free, dairy-free, tomato-free, vegan, sugar-free, soy-free, nut-free, low carb and keto friendly!
Ingredients Needed to Make Fresh Cucumber Salsa
Radishes.

Cucumber.

Bell pepper.

Garlic.

Cumin.

Red chili flakes.

Black pepper.

Salt.

Apple cider vinegar or lime juice.
How to Make Cucumber Salsa
Chop cucumber, radish, bell pepper, and garlic.

Toss with spices and vinegar – enjoy!
Step-by-step process shots below:
Top Tips for Making Radish Cucumber Salsa
The proportions of vegetables in this recipe do not have to be exact. If you are low on one ingredient, you can replace it with one of the other veggies.

For a spicy variation, replace the bell pepper with a serrano pepper.

1/2 teaspoon of salt should be sufficient, but I always suggest for others to salt to suit their own tastes!

You can chop the salsa ingredients coarsely for a chunkier salsa, finely for a delicate salsa, or you can even blend it for a smooth salsa.

This recipe can be enjoyed fresh or after having been stored for a while. When served fresh, it is crispier and fresher tasting. When served after it has marinated in the fridge for a while, it is still crisp, but with slightly stronger, more well developed flavors.

To store, place in lidded jars and refrigerate for up to one week.
How to Use Fresh Radish Cucumber Salsa
On tacos, enchiladas, burritos, alongside quesadillas, and chilaquiles.

Mixed into guacamole or hummus.

In salads, sandwiches, and wraps.

As a chili or soup topping.

On toast.

On baked or pan-fried potatoes.

Served as a side alongside any meal.
More Vegan Keto Recipes
20 Best Vegan Keto Recipes For A Low-Carb Diet
15 Keto Vegan Breakfast Recipes & Ideas
Healthy Vegan Coconut Bliss Balls (Nut-Free, Keto)
How To Make Coconut Butter (Vegan, Keto)
More Salsa Recipes
Easy Fresh Tomatillo Salsa Verde Recipe
Easy Spicy Fermented Bell Pepper Salsa
If you try this recipe please let me know! Leave a comment, rate it, share this post, use Pinterest's "tried it" feature, or take a photo, & tag me on Instagram and I'll share it! Thank you so much! <3
Fresh Radish Cucumber Salsa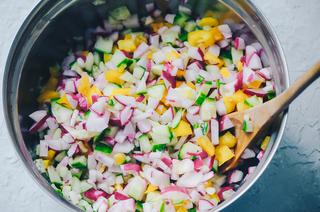 Author: Kristen Wood | 8-2-2019
prep time: 10 minutes
cook time: 0 minutes
total time: 10 minutes
Yields: 10 servings
---
Ingredients:
1 english cucumber, chopped (approx. 200 grams)
1 bell pepper, chopped (175 grams)
1 1/2 cups chopped radish (174 grams)
1 garlic clove, minced
2 tablespoons + 1/2 teaspoon apple cider vinegar or lime juice
1/2 teaspoon cumin seeds
1/2 teaspoon sea salt or pink salt
1/4 teaspoon red chili flakes
1/4 teaspoon ground black pepper
---
Instructions:
Add chopped cucumber, bell pepper, radish, and garlic to a large bowl.
Toss with spices and vinegar/lime juice until well mixed.
Enjoy right away or store in lidded jars in the refrigerator for up to one week.
---
Nutrition:
Serving: 1/2 cup
Fat: 0 grams
Calories: 12
Carbs: 2.6 grams
Fiber: 0.6 grams
NOTE: Please see 'Tips' above in the blog post for suitable substitutions, storage advice and more!
Shop This Recipe
Pin it for Later