32 Best Vegan Keto Recipes for a Low-Carb Diet
This post may contain affiliate links, and we receive an affiliate commission for any purchases made by you using these links. We appreciate your support!
From breakfast to lunch, dinner and snack time; we've got you covered with this healthy and delicious recipe round-up of low-carb, high-fat vegan keto recipes!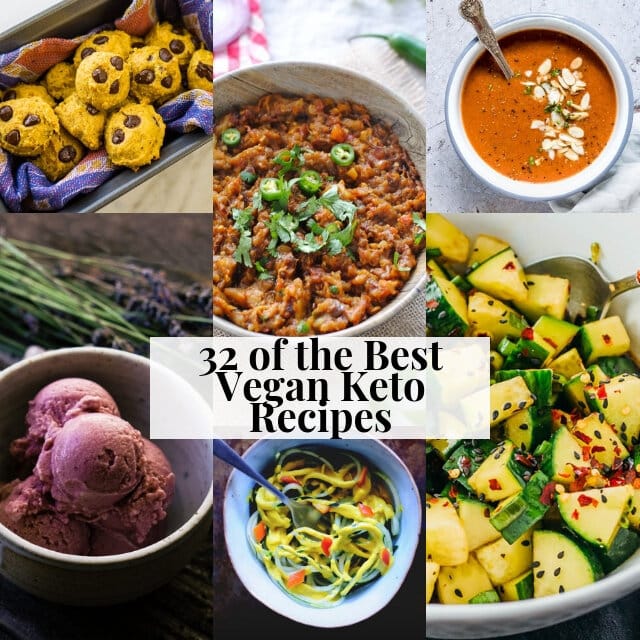 Everything from keto ice cream to keto salads to keto cookies can be found in this keto vegan recipe round-up from some of the best food bloggers out there! Enjoy!
Vegan Keto Food List
Berries.
Avocados.
Seeds and nuts: pistachios, walnuts, brazil nuts, sunflower seeds, hemp seeds, pumpkin seeds, etc.
Coconut oil; avocado oil

.

Chia seeds.
Coconut cream
Coconut milk

.

Spices.
Tofu.
Veggies such as cauliflower, broccoli, greens, peppers, mushrooms, zucchini, radishes.
Monk fruit and stevia alternative sweeteners.
32 Best Vegan Keto Recipes for a Low-Carb Diet
Click to Tweet this post! xo.
More Vegan Keto Recipes
15 Keto Vegan Breakfast Recipes & Ideas
Keto Tips from Food Bloggers
If you're looking to stay on a vegan diet, I'd suggest making large batches of vegetable stock and freezing it for those days where you want to make some quick and healthy recipes. -Jacqueline Adey of Canadian Cooking Adventures

Meal planning is very crucial for successfully following any specific diet including vegan keto. I prefer to keep a good stash of fat keto bombs ready as they are filling and control the cravings. It also helps in avoiding last minute poor food choices. -Prajakta Sukhatme of Profusion Curry

Avocado is a staple of vegan keto diet! Other yummy foods to include are nuts and seeds, leafy greens and low carb veggies like broccoli, cauliflower and zucchini. The easiest vegan keto snack is a handful of nuts. -Melanie Mendelson of Melanie Cooks
I greatly hope you enjoyed this recipe round-up of the best vegan and ketogenic diet-friendly recipes for a low-carb, high-fat lifestyle! xo.