Disclaimer: Please note that some of the links below in this post are affiliate links and I will earn a commission if you purchase through those links. I regularly use and recommend all of the products listed below because I find them to be of great quality and use! All proceeds go back into maintaining and creating for this site. Thank you!
Last Updated on
This vegan nut cheese recipe is cultured with probiotic capsules for an extra gut health boost and a cheesy tang. This delicious fermented vegan cheese is also filled with spicy jalapeños & red chili flakes for a most delightful pepper jack flavor! It is a most creamy and decadent walnut cheese that is easy to make & filled with healthy ingredients for a perfect dairy-free cheese that complements a variety of dishes.
First off, this cheese is absolutely delicious. Even those who think they might prefer the dairy variety will fall head over heels for this fun and easy vegan cheese. It filled with rich cheesy flavors paired with the spice that is Pepper Jack. It is truly SUPER flavorful.
What's Vegan Cheese?
Vegan cheese is the dairy-free version of conventional cheeses. It can be made from nuts, seeds, flour, starches, nutritional yeast, tofu, oils, fats and even coconut. While nothing will ever truly taste like the dairy variety of cheeses you may be used to, these days, vegan cheese comes super close. Some are cultured and fermented, some are simply created and chilled. You can make or buy vegan cheeses that are sliceable and melt easily or soft and creamy. All in all, with the wide variety of options these days, its much easier to swap out for the vegan variety!
This Vegan Pepper Jack Cheese is:
Sliceable, but creamy.

Tangy, cheesy, spicy, salty, rich and filled with deep, complex flavors and textures.

Healthy and filled with simple, wholesome ingredients.

Rich in protein and healthy fats.

Super easy to make!

Versatile and complements a variety of ingredients and dishes.

Filled with probiotics and gut healing health benefits.

Vegan, dairy-free, gluten-free, soy-free, sugar-free.
How to Make Vegan Walnut Cheese
Blend.

Pour.

Wrap.

Ferment.

Chill.

Enjoy!
Tips for Making Cultured Vegan Cheese
I haven't tested it yet myself, but I do think that sunflower seeds, pumpkin seeds, hemp seeds, cashews, and macadamia nuts would work well in this recipe as a substitution for walnuts. If you try it, let me know!

I do not recommend omitting the nutritional yeast, as it adds a great deal to the flavor and texture of this recipe.

There are lots of wonderful, potent probiotic capsules out there. Just make sure that the ones you use do not contain any prebiotics as this can interfere with the fermentation process. My favorite probiotic capsules come from Thrive Market. They are strong and budget-friendly!

Be certain not to add the probiotics to the blender, as the metal blades can harm the friendly gut healing bacteria. Also, only use glass or plastic for mixing or placing the cheese in for the same reasons.

In a pinch, lemon juice can be used instead of apple cider vinegar.

Be certain to use sea salt or pink salt and no iodized salt. Iodized salt can inhibit the fermentation process.

Do you like extra spicy? Add 2 jalapeños instead of one.

You can omit the jalapeños and red chili flakes if you want a plain cultured vegan walnut cheese. Alternatively, you can add any combo of spices you would like. The base works well and is open to experimentation.

The cheese might form a slight rind during fermentation. This is completely normal and wholly edible!

This cheese tastes best when served after the first chilling process, but will keep in an airtight container in the refrigerator for up to one week!
What to Serve with Pepper Jack Walnut Cheese
Serve on a platter with fruit and crackers.

Mix into pasta for a creamy cheese sauce.

Spread on bread for sandwiches or toast or on bagels as a cream cheese spread.

Serve on tortillas for a pepper jack vegan quesadilla.

Top off salads or mix with oil and vinegar for a fun salad dressing

Use as a spread for wraps.
All in all, this is one healthy and easy vegan cheese recipe that is certain to please the pickiest of palates! As always, I can't wait to hear your feedback! Enjoy. xo.
If you try this recipe please let me know! Leave a comment, rate it, share this post, use Pinterest's "tried it" feature, or take a photo, & tag me on Instagram and I'll share it! Thank you so much! <3
Vegan Cultured Pepper Jack Walnut Cheese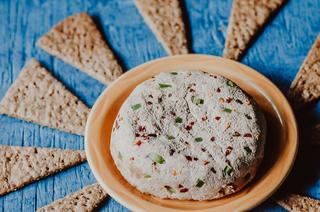 Author: Kristen Wood | 6-11-2019
prep time: 10 minutes
cook time: 0 minutes
total time: 2-3 days (to account for soaking/fermentation time)
Yields: 1 6 inch round of cheese (approx. 6 servings/wedges)
---
Ingredients:
2 cups raw walnuts, soaked for at least 4 hours
1/2 cup water
1/4 cup nutritional yeast
1 whole jalapeño pepper, top/stem removed (+ more for optional garnishing)
1 tablespoon + 1 teaspoon apple cider vinegar
3/4 teaspoon sea salt or pink salt
1/4 teaspoon red chili flakes (+ more for optional garnishing)
2 probiotic capsules or approx. 1 teaspoon probiotic powder (makes sure it does not contain any prebiotics, only probiotics)
cheesecloth or very thin fabric
---
Instructions:
Soak walnuts in a bowl of water for at least 4 hours or overnight.
Drain and rinse walnuts.
Place into a food processor or blender with remaning ingredients, except for the probiotics.
Blend until uniformly smooth.
Remove blade, and empty the probiotic capsules or powder into the mixture. Stir with a woodern or plastic spoon (no metal).
In a shallow glass or plastic dish, place a large square of cheesecloth or thin fabric. Pour the cheese mixture into the center of the cloth.
Gather all ends together and twist until it forms a round/circle. Keep the covered cheese round on the dish. Cover with a dishcloth and set in on the counter away from direct sunlight.
Let ferment for 48 hours.
When 48 hours are up, place into the refrigerator for at least 4 hours (up to 8) to chill and firm up a bit.
Remove from the fridge and gently peel away the cheesecloth or fabric. Optionally, you can reshape the cheese with your hands by 'hugging' the cheese with your hands.
Place on a serving platter and optionally sprinkle with red chili flakes and finely minced jalapeño before serving or place in the fridge in an airtight container for up to one week before serving.
Enjoy!
---
Nutrition:
Serving: 1 large wedge (approx. 6 to each round)
Fat: 25 grams
Calories: 282
Carbs: 7 grams
NOTE: Please see 'Tips' above in the blog post for suitable substitutions, storage advice and more!
Are you wondering about those crackers?
They are Nirvana Cakery's amazing Buckwheat Crackers. I replaced the almond flour with 2 cups of ground walnuts and replaced the rosemary with sage + paprika.
Shop This Recipe
Pin it: