Disclaimer: Please note that some of the links below in this post are affiliate links and I will earn a commission if you purchase through those links. I regularly use and recommend all of the products listed below because I find them to be of great quality and use! All proceeds go back into maintaining and creating for this site. Thank you!
Last Updated on
A creamy, delicious beetroot & chickpea hummus. Gluten-free, vegan, healthy, filling and so incredibly quick & easy to make!
Sometimes you just need that little extra boost of nourishment that is both filling & delicious. This is one such creation.
From the moment I whipped this up in the food processor, I had an immense amount of trouble not eating it all! It is just that good.
And, apart from being ridiculously yummy, it is supremely healthy as well!
Beets (or beetroots) are full of antioxidants, have amazing anti-inflammatory & detoxifying properties, and are an extra rich source of potassium, magnesium, folate & vitamin C (and they are chock full of fiber)! Combine that with protein rich garbanzo beans, and you have yourself one powerhouse of nutritious deliciousness!
And you can't complain about its beauty either, eh?
Just look at the light & fluffy yumminess!
I promise you that once you whip this up, you'll have trouble not topping everything with it!
It's great as a spread, a dip, a stuffing or even a pizza topping!
I like to top mine off with a little cilantro and feta; but it is so darn good on its own, too!
Feel free to experiment with your favorite way to use this amazing hummus (and please do share!) — the possibilities are endless; and I'm certain you'll be amazed with the wholesome & tasty nourishment that you find. . .
If you try this recipe please let me know! Leave a comment, rate it, share this post, use Pinterest's "tried it" feature, or take a photo, & tag me on Instagram and I'll share it! Thank you so much! <3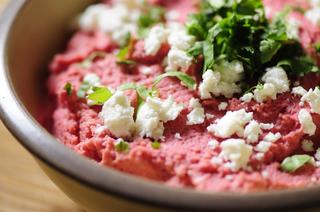 Creamy Beet Hummus (Gluten-Free, Vegan)
A creamy, delicious beetroot & chickpea hummus. Gluten-free, vegan, healthy, filling and so incredibly quick & easy to make!
Ingredients
2 cups

chickpeas (garbanzo beans), cooked

1 cup

beetroot; cubed, cooked and cooled (fresh or frozen)

2

garlic cloves

4 tbs

olive oil

3 tbs

lemon juice

1 tbs

tahini

1 tsp

sea salt

for garnishing (optional):

4 tbs

feta cheese, crumbled

3 tbs

fresh cilantro, coarsely chopped
Instructions
In a food processor or blender, combine all hummus ingredients.
Blend until smooth.
Optionally: Garnish with feta & cilantro.
Enjoy!
Details
Prep time:


Cook time:


Total time:


Yield:
approx. 2 cups hummus