Disclaimer: Please note that some of the links below in this post are affiliate links and I will earn a commission if you purchase through those links. I regularly use and recommend all of the products listed below because I find them to be of great quality and use! All proceeds go back into maintaining and creating for this site. Thank you!
Last Updated on
This easy to make Habanero Hot Sauce recipe is fermented for extra probiotic power and gut healing goodness! This spicy and healthy delight is packed full of habanero peppers, jalapeño peppers, garlic and its secret ingredient of carrots for that extra touch of natural sweetness and vibrancy. It is addictively delicious, complements a wide variety of dishes, and has the perfect spicy kick!
We are major hot sauce lovers around here — and if you're anything like us, once you start making your own you'll never turn back! This Habanero Garlic Hot Sauce is one of our all-time faves with its spiciness and natural sweetness to balance it all out. Throw in some super easy to do fermentation action, and you've just added a slew of health benefits, too!
Speaking of health benefits — do you want to learn more about what all that fermentation will do for your mind and body? Read all about it HERE. Now, onto this hot sauce . . .
This Habanero Hot Sauce Recipe is
Spicy, garlicky, salty, and tangy with a touch of sweetness and subtle smokiness.

Vibrantly beautiful!

Easy to make.

Fermented for added health benefits.

Rich in vitamin C.

Wonderful served alongside a variety of dishes.

Gluten-free, vegan, dairy-free, soy-free, nut-free, refined sugar-free.
Ingredients Needed to Make Fermented Habanero Hot Sauce
Habanero peppers.

Jalapeño peppers.

Fresh garlic.

Olive oil.

Apple cider vinegar.

Salt.

Coconut sugar (optional).
How to Make Fermented Hot Sauce
Add ingredients to a food processor or high speed blender.

Pulse until finely chopped.

Place into a jar and cover with water. Let ferment for 3 days.

Blend with oil, vinegar, coconut sugar and a touch more salt. Enjoy!
Top Tips for Making Habanero Hot Sauce
I highly recommend using fresh, organic produce for best results, if possible.

Do you like things really spicy? Add 1-2 more habaneros!

If you aren't a big garlic fan, use 2 cloves instead of 4. If you LOVE garlic, use 6!

Avocado or grapeseed oil can be used in place of olive oil.

Lemon or lime juice can be used in place of vinegar for a fun taste variation.

While the coconut sugar isn't necessary, it does add an extra bit of something.

For a sugar-free version, I love this sugar-free sweetener.

You can ferment as little as 24 hours or as much as 5 days. I find 3 days to be the sweet spot with just a bit of tang added during the fermentation process, but all fermentation times will result in a tasty hot sauce! The less time you ferment, the more salty and spicy; the longer, the tangier and sweeter it becomes!

A little goes a long way. This hot sauce is big on flavor. You'll find that it lasts longer than one might expect!

This delicious hot sauce stores well in jars or lidded containers in the refrigerator for up to 2 weeks.
Ways to Enjoy this Habanero Hot Sauce Recipe
This delicious fermented hot sauce tastes great with:
Your favorite Mexican dishes — burritos, tacos, quesadillas, etc.

Salads and wraps.

Pasta.

Soups and chili.

Nachos.

Hummus.

Fruit, crackers, dairy or non-dairy cheese.

Eggs or tofu.

Buddha bowls and roasted veggies.

Your favorite grains — rice, quinoa, millet, etc.

Sandwiches.

Baked potatoes, oven fries, fried potatoes, hashbrowns, etc.

and much more!
More Spicy Sauce Recipes
Easy Spicy Fermented Bell Pepper Salsa
Hot & Spicy Buffalo Sriracha Sauce
Spicy Cilantro Avocado Hummus (Vegan, Gluten-Free)
Easy Fresh Tomatillo Salsa Verde Recipe
New Mexican Style Red Chile Enchilada Sauce (Gluten-Free, Vegan)
If you try this recipe please let me know! Leave a comment, rate it, share this post, use Pinterest's "tried it" feature, or take a photo, & tag me on Instagram and I'll share it! Thank you so much! <3
Fermented Garlic Habanero Hot Sauce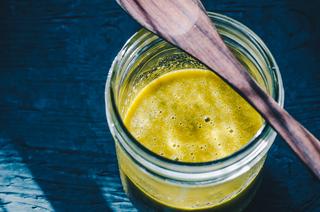 Author: Kristen Wood | 7-12-2019
prep time: 10 minutes
cook time: 0 minutes
total time: 3 days (to account for fermentation time)
Yields: approx. 2 cups hot sauce
---
Ingredients:
2 habanero peppers, stems removed
2 jalapeño peppers, stems removed and halved
4 garlic cloves
1/2 cup baby carrots or regular carrots roughly chopped
1 teaspoon sea salt or pink salt + 1/2 teaspoon for last step
3/4 cup water
1/4 cup olive oil
1/4 cup apple cider vinegar
1 tablespoon coconut sugar (optional)
---
Instructions:
In a high speed blender or food processor, combine peppers, garlic, carrots and 1 tsp salt.
Pulse until all is coarsely blended (see step-by-step photos above in post).
Place into a jar and cover with 3/4 cup water.
Cover with a cheesecloth or loose lid, and place at room temperature away from direct sunlight for 3 days (If using a lid, open once a day to release pressure).
After 3 days, pour the entire contents into a food processor or blender alongside oil, vinegar, sugar and 1/2 teaspoon salt.
Blend until desired texture is achieved.
Enjoy!
---
Nutrition:
Serving: 1 tablespoon
Fat: 1 grams
Calories: 17
Carbs: 0.6 grams
Fiber: 0.1 grams
NOTE: Please see 'Tips' above in the blog post for suitable substitutions, storage advice and more!
Shop This Recipe
Pin it for Later