Fermented Sambal Oelek
This post may contain affiliate links, and we receive an affiliate commission for any purchases made by you using these links. We appreciate your support!
A fermented take on the Indonesian chili paste Sambal Oelek, from my cookbook Fermented Hot Sauce Cookbook. Packed with probiotics and a good dose of heat and flavor! Naturally vegan and gluten-free.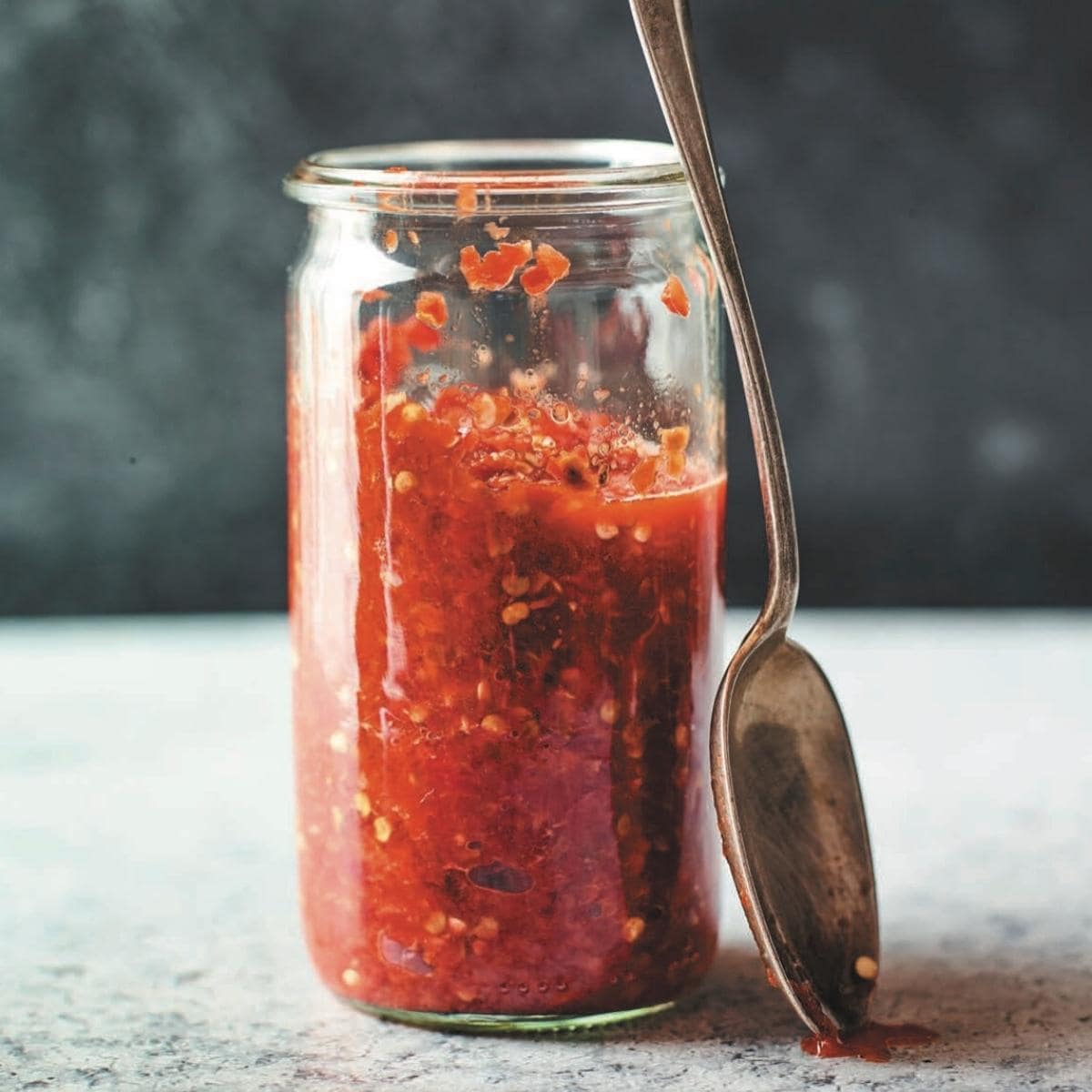 This homemade sambal oelek is a thicker, chili paste-like sauce with potent heat, making it a great base or addition to dishes like curries and soups that take on the flavor but reduce the heat a bit. This is a traditional Indonesian sambal oelek chile paste, with a fermented twist!
❤️ Why You'll Love This Recipe
Super easy to make! It's a great fermentation recipe for first-timers.
Packed with both heat and flavor, like any good hot sauce should be!
Thanks to the natural preservation properties of the fermentation process, this hot sauce keeps for a good long while.
It's a versatile condiment that can be used a myriad of ways.
Packed with gut healing probiotics.
Naturally vegan, gluten-free, dairy-free, soy-free, nut-free and sugar-free.
🗒️ Ingredient Notes
Thai chili peppers: Fresh Thai chiles make the best sambal oelek. These chiles are also known as bird's eye chiles and can be found in the produce section of most grocery stores these days. If you only have access to dried thai chiles, you can use them, but you must soak them in warm water to rehydrate them prior to following the recipe. Alternatively, fresh cayenne peppers work as a suitable substitution for the Thai chiles if need be. You are probably most familiar with Thai chiles for their use in Thai sweet chili sauce, sometimes by way of sambal oelek.
Cayenne peppers: Dried cayenne peppers are easily purchased online. They work in combination with the Thai peppers to add more complex flavor notes. In a pinch you can replace them with dried Thai chiles if need be.
Garlic: Garlic and chiles go together extraordinarily well and this small hint of garlic adds to the depth of flavor in this chili sauce.
Salt: Non-iodized salt (salt without iodine) is necessary when fermenting, as iodine hinders the fermentation process. Any kind of sea salt or Himalayan salt works great.
Water: Non-chlorinated (no chlorine) water is necessary for the fermenation process. Home-filtered water usually removes enough chlorine to work well, as does store-bought spring water.
Lime juice: No good hot sauce is complete without a little added acid. In this case the lime juice just works well with the chiles and garlic and adds its own unique flavor note.
Rice vinegar: Rice vinegar is more traditional and adds its own unique flavor, but absolutely any kind of vinegar can be used in its place in a pinch. In fact, you can have fun with it and add your favorite tasting vinegar for a unique touch.
🍲 How to Use Sambal Oelek (Ulek)
Much as you would use sriracha or tabasco sauce, sambal oelek can be used like you would most any hot sauce. Some of my favorite ways to use it:
Drizzled over eggs.
In a traditional dish like Nasi Goreng Kampung.
As a spicy pizza sauce.
Mixed into marinara for a spicy pasta sauce.
As a marinade for roasted vegetables or tofu.
Incorporated into stir-fry dishes.
❓ Frequently Asked Questions
Can I make sambal oelek without a food processor or blender?
Yes! Traditional sambal oelek is made with a mortar and pestle, and you can do the same. Simply create a pepper mash with this method before moving onto the fermentation step.
What does sambal oelek mean?
In Indonesian "sambal" refers to a sauce made with chiles and "oelek" or "ulek" means mortar and pestle.
Is fermentation safe?
Yes! As the lactic acid bacteria carries out the fermentation process, it actually kills off harmful bacteria as well. Despite common fears, fermentation is one of the safest ways of preparing and preserving food. Having said that, as with all food, if something looks or smells off, toss it and start again! You can find more information about the fermentation process in my Fermented Hot Sauce Cookbook or reach out with any questions you may have in the comments below.
🥄 Sambal Oelek Substitutes
Gochujang is a Korean fermented chili paste, with complex fermented flavors not unlike this recipe.
Harissa is a Moroccan chili paste that can replace sambal oelek in a pinch.
Both of these can be found in my cookbook Fermented Hot Sauce Cookbook!
And, if this sambal oelek recipe sounds just a touch too spicy for you, you might like this this homemade pico de gallo instead!
🌶️ More Delicious Hot Sauce Recipes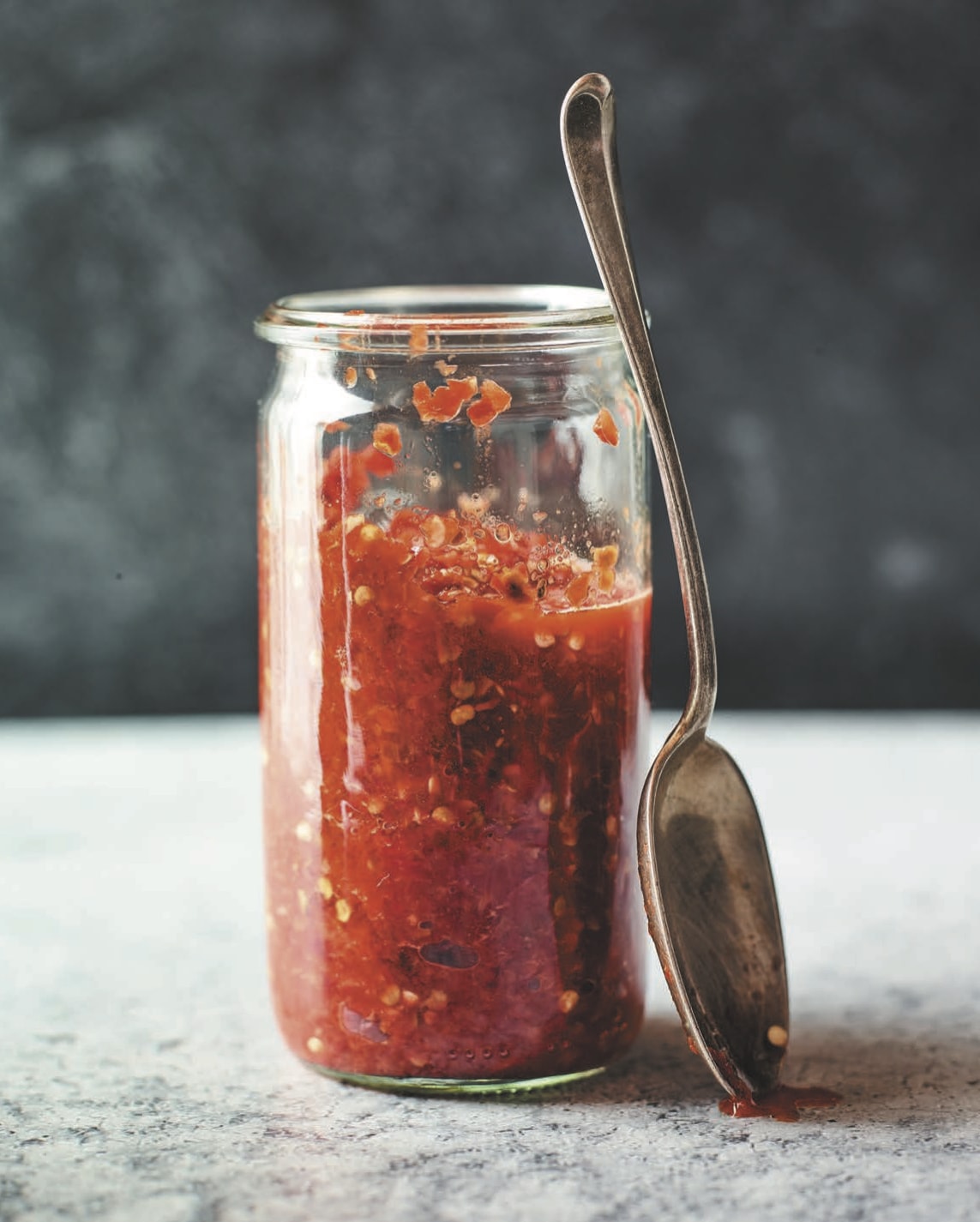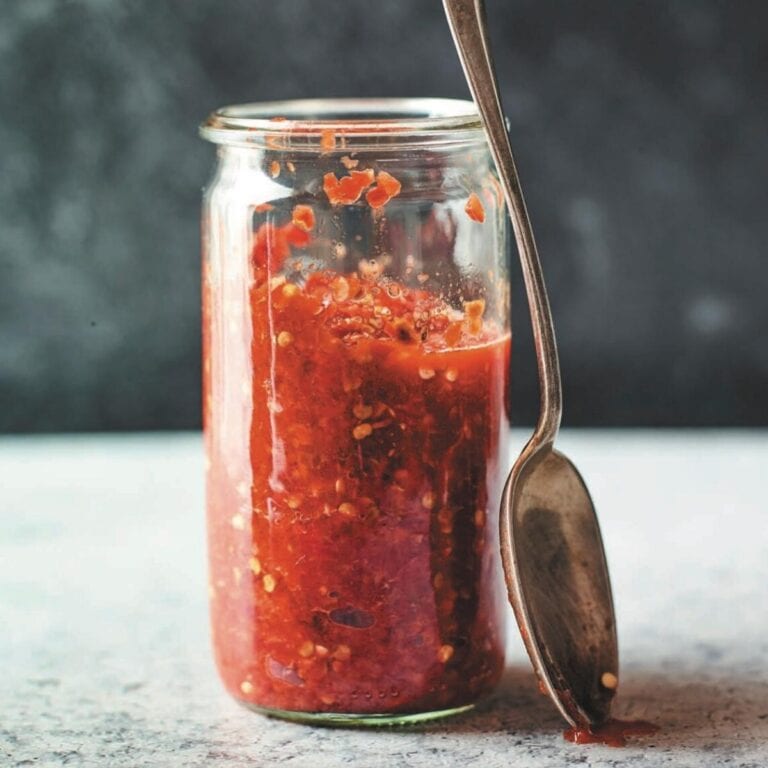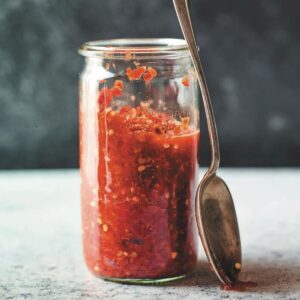 Fermented Sambal Oelek
A fermented take on the Indonesian chili paste Sambal Oelek, from my cookbook Fermented Hot Sauce Cookbook. Packed with probiotics and a good dose of heat and flavor! Naturally vegan and gluten-free.
Print
Pin
Rate
Ingredients
8

ounces

fresh Thai chiles

approx. 200 peppers, stemmed

8

dried cayenne peppers

approx. 0.1-ounce

1

garlic clove

1

teaspoon

non-iodized salt

iodized salt hinders the fermentation process

1

teaspoon

non-chlorinated water

home-filtered or spring water works well

¼

cup

lime juice

2

tablespoons

rice vinegar
Instructions
In a food processor or blender, combine the Thai chiles, cayenne peppers, garlic, salt and water. Blend until a pepper mash (paste) forms. Pack the mash into a clean jar.

Place a cartouche, if using (see Notes), then screw the lid on tightly and store the jar at room temperature to ferment for 1 week. Burp the jar daily by briefly removing the lid to release any gases formed.

Once fermentation is complete, transfer the mash into a blender or food processor along with the lime juice and vinegar. Blend until well combined.

Keep the sauce stored in the refrigerator for up to 6 months. Enjoy!
Notes
A cartouche is basically a protective layer you can add over the top of a more solid ferment to protect it and prevent bad bacteria when oxygen is present. While not necessary, it does make for a more foolproof ferment. To make a cartouche, simply cut out a circle parchment paper to fit the jar and press into the top of the pepper mash before sealing the jar.
You might also like: Fermented Pomegranate Rose Hot Sauce.
You might like: A Guide to Asian Spices.
You might like: Honey Sriracha Sauce.
Nutrition
Serving:
1
ounce
|
Calories:
7
kcal
Have you tried this recipe?
Please Rate + Comment Below!
Watch Our Latest Videos
Follow us on YouTube!