Smoky Purple Sweet Potato Fries
This post may contain affiliate links, and we receive an affiliate commission for any purchases made by you using these links. We appreciate your support!
Easy to make purple sweet potato fries with a delightful smoky and savory flavor. Naturally plant-based.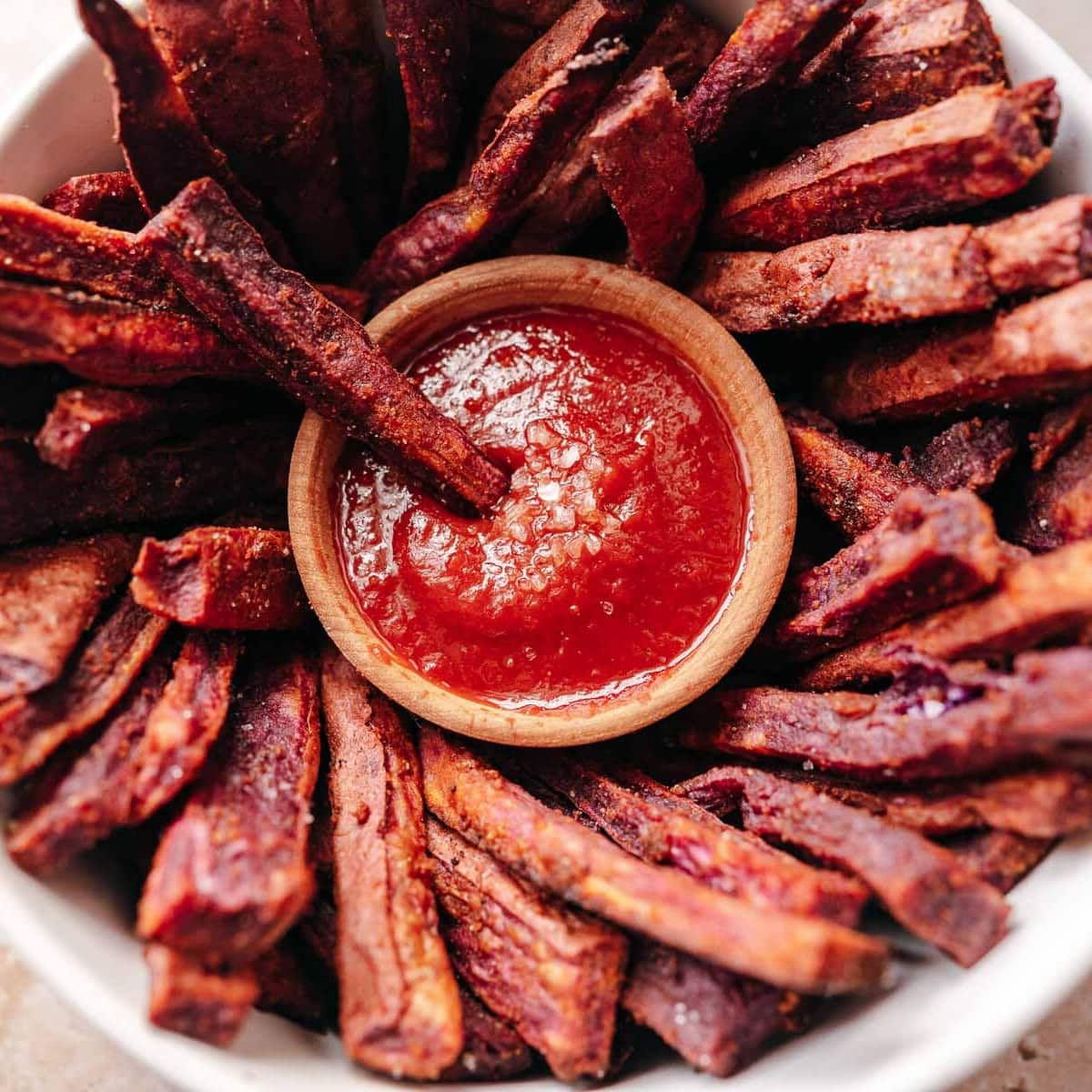 ❤️ Why You Will Love This Recipe
This purple sweet potato fries recipe is super simple and easy to make.
These crispy fries are packed with sweet and smoky flavors in each bite.
You can enjoy these french fries on their own as a healthy snack or serve them with a meal or your favorite dipping sauce.
They are naturally vegan, plant-based, gluten-free, soy-free, and nut-free.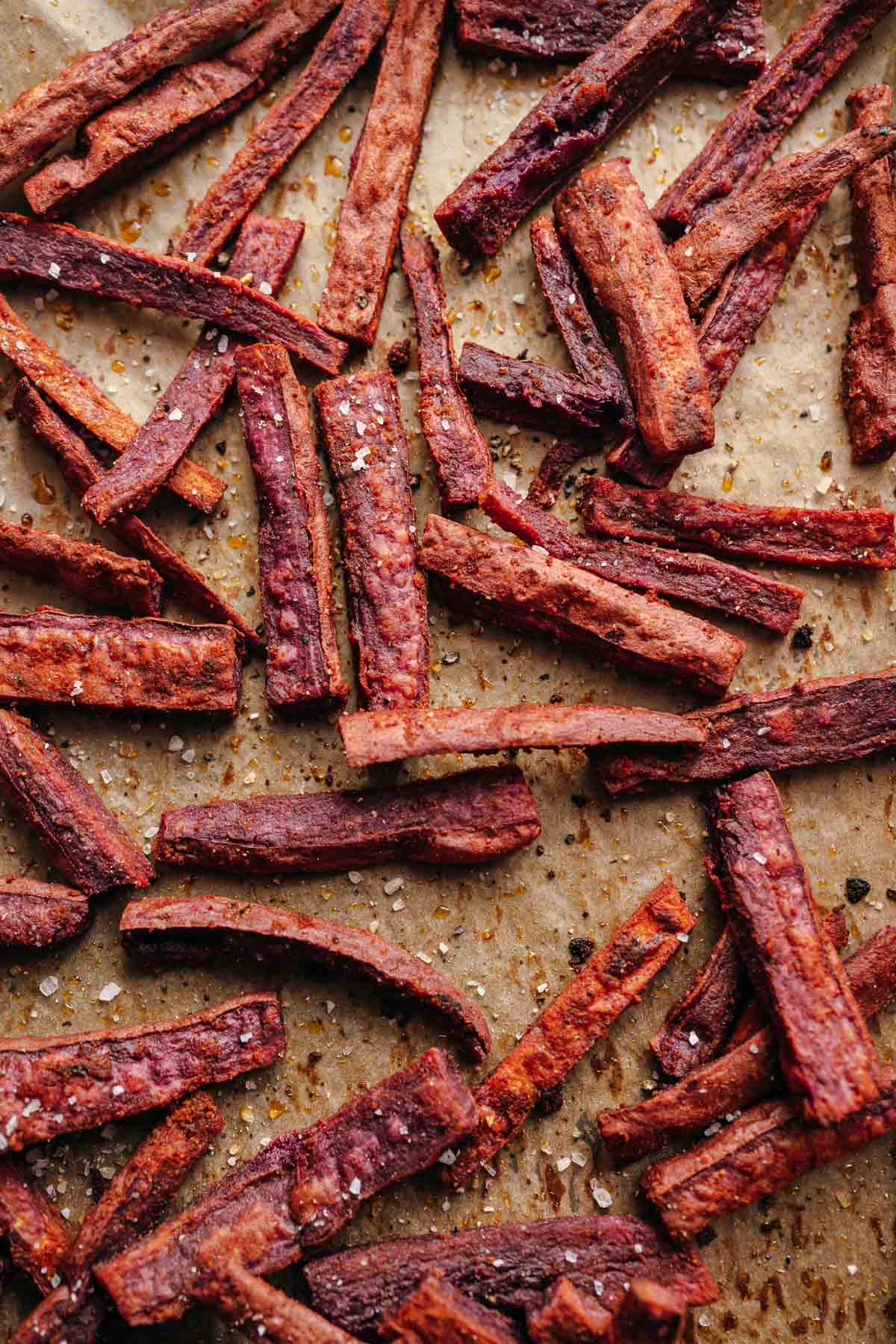 🍠 What Are Purple Sweet Potatoes?
Purple sweet potatoes are a type of sweet potato with a deep purple flesh that is often used in cooking and baking. They are also known as purple yams, Japanese sweet potatoes, or Okinawan sweet potatoes.
They are a rich source of vitamins, minerals, and antioxidants, and are known to have a slightly sweet and nutty flavor. In addition to their health benefits, purple sweet potatoes are often used in recipes as a natural food coloring, as the rich purple color can add a vibrant hue to a variety of dishes.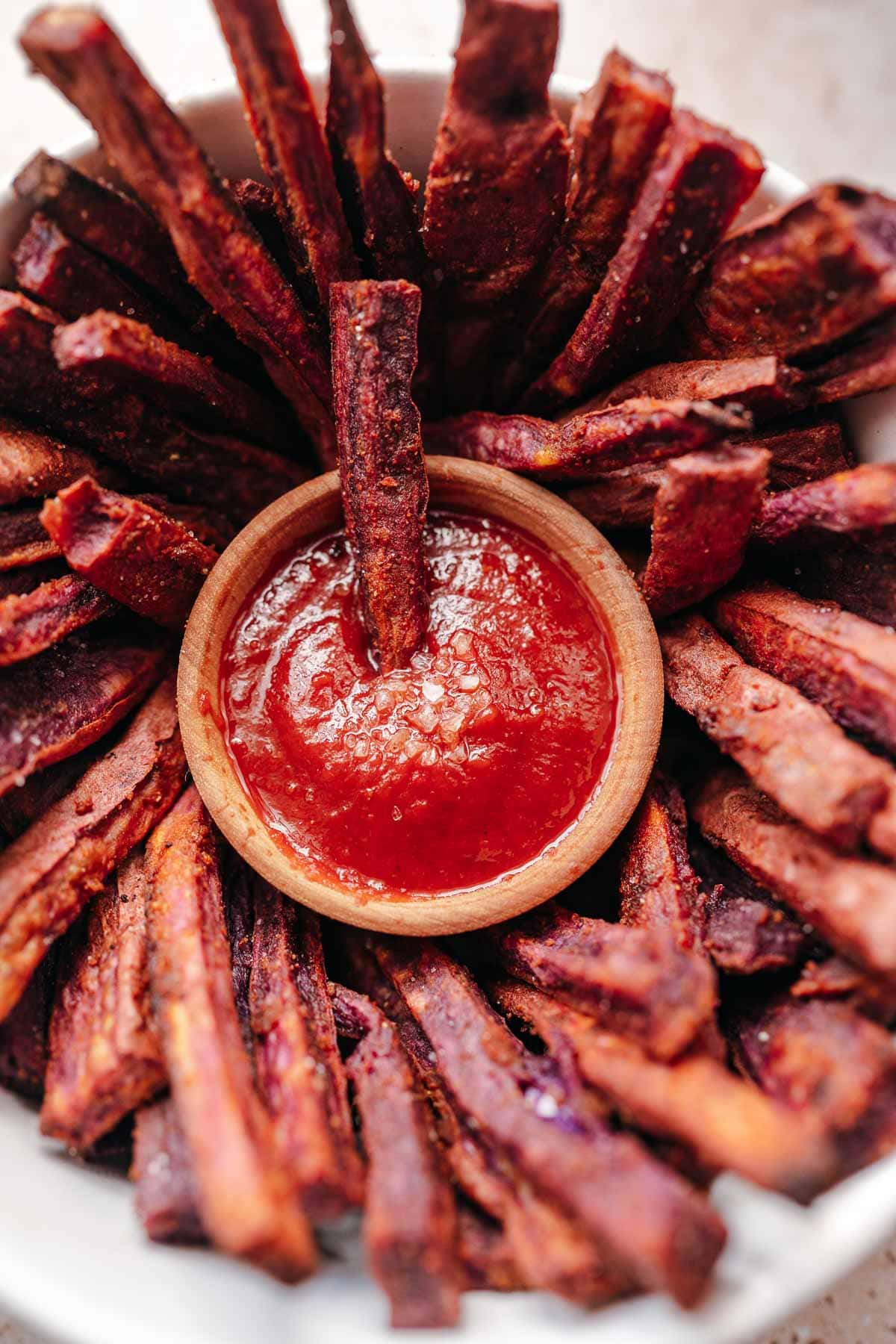 🧂 Ingredients and Substitutes
Purple sweet potato fries: Use nice firm, fresh purple sweet potatoes. I prefer these fries with peeled potatoes, but you can make them unpeeled if you prefer.
Olive oil: I find extra virgin olive oil works well and also contributes to the flavor slightly. If you do not have olive, a different oil like avocado oil, coconut oil or grapeseed oil are other great choices.
Smoked paprika: Be certain to use the smoked variety of paprika in this recipe. Regular sweet or hot paprika will give these fries a completely different flavor.
Garlic powder: Garlic powder works extraordinarily well in combination with smoked paprika. I do not recommend omitting this ingredient.
Salt: I find one teaspoon of salt to be just about perfect when using two medium purple sweet potatoes, but feel free to adjust based on the size of the potatoes you use and your own personal taste preference. This is a great recipe for using coarse sea salt in!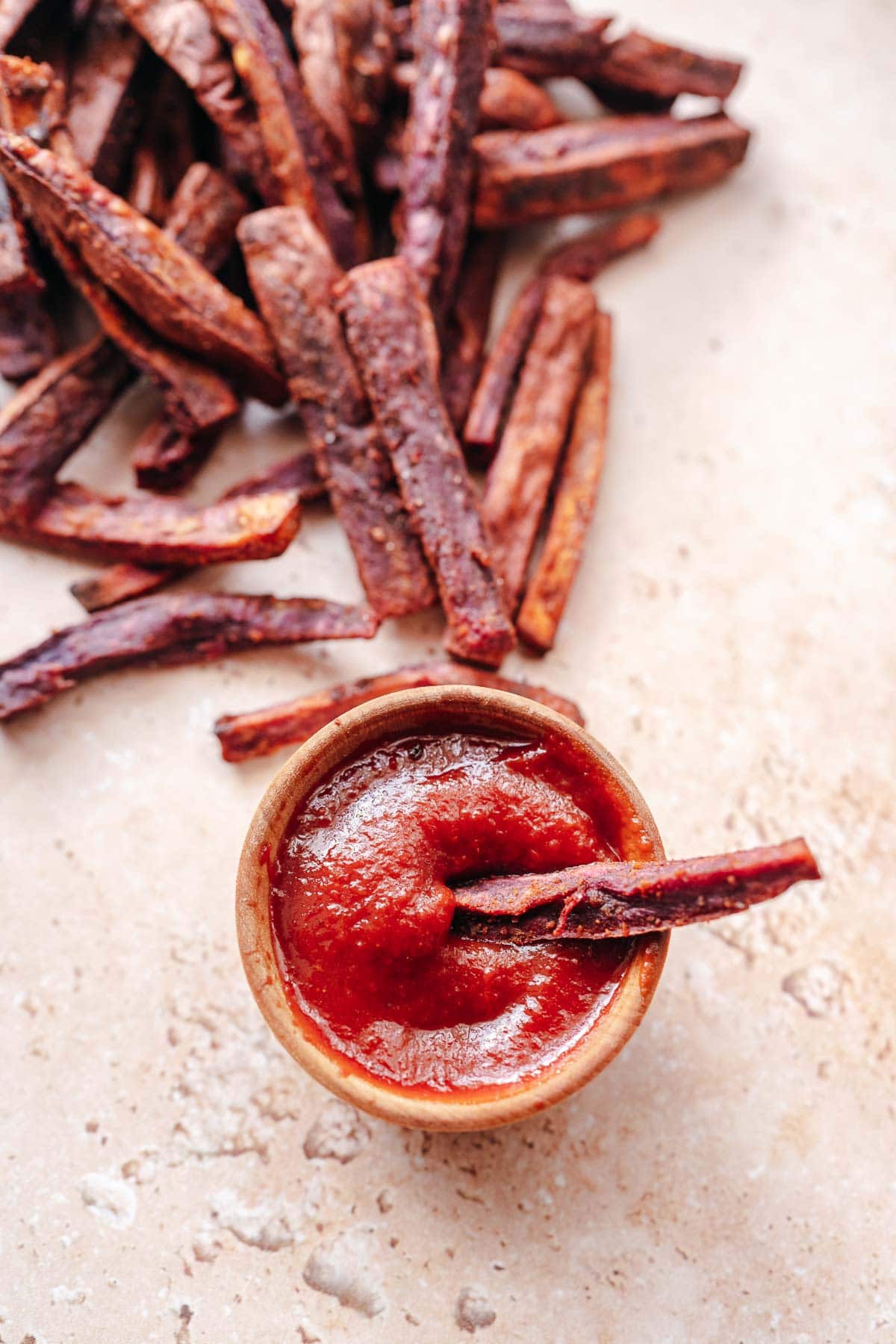 🔪 How to Make Purple Sweet Potato Fries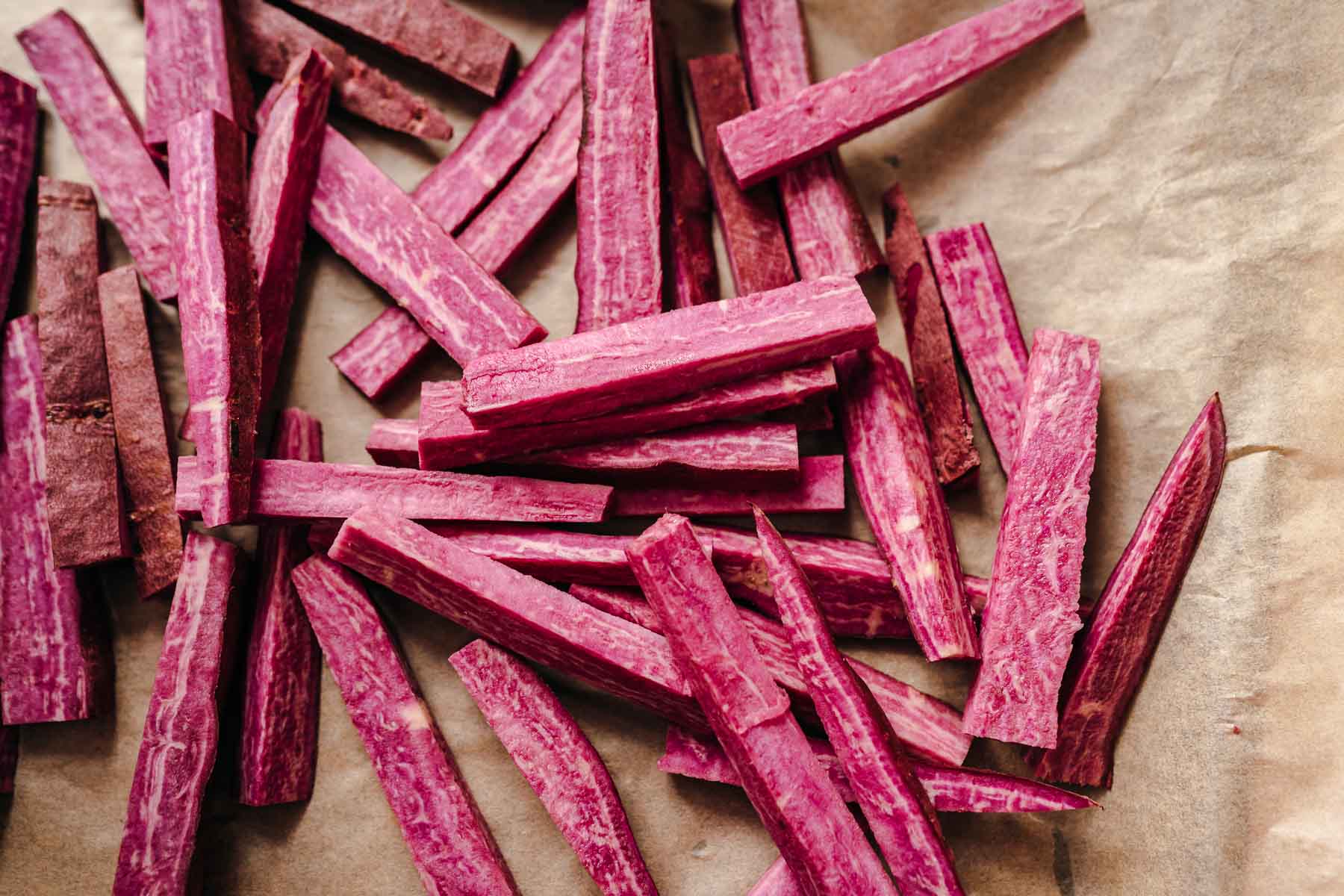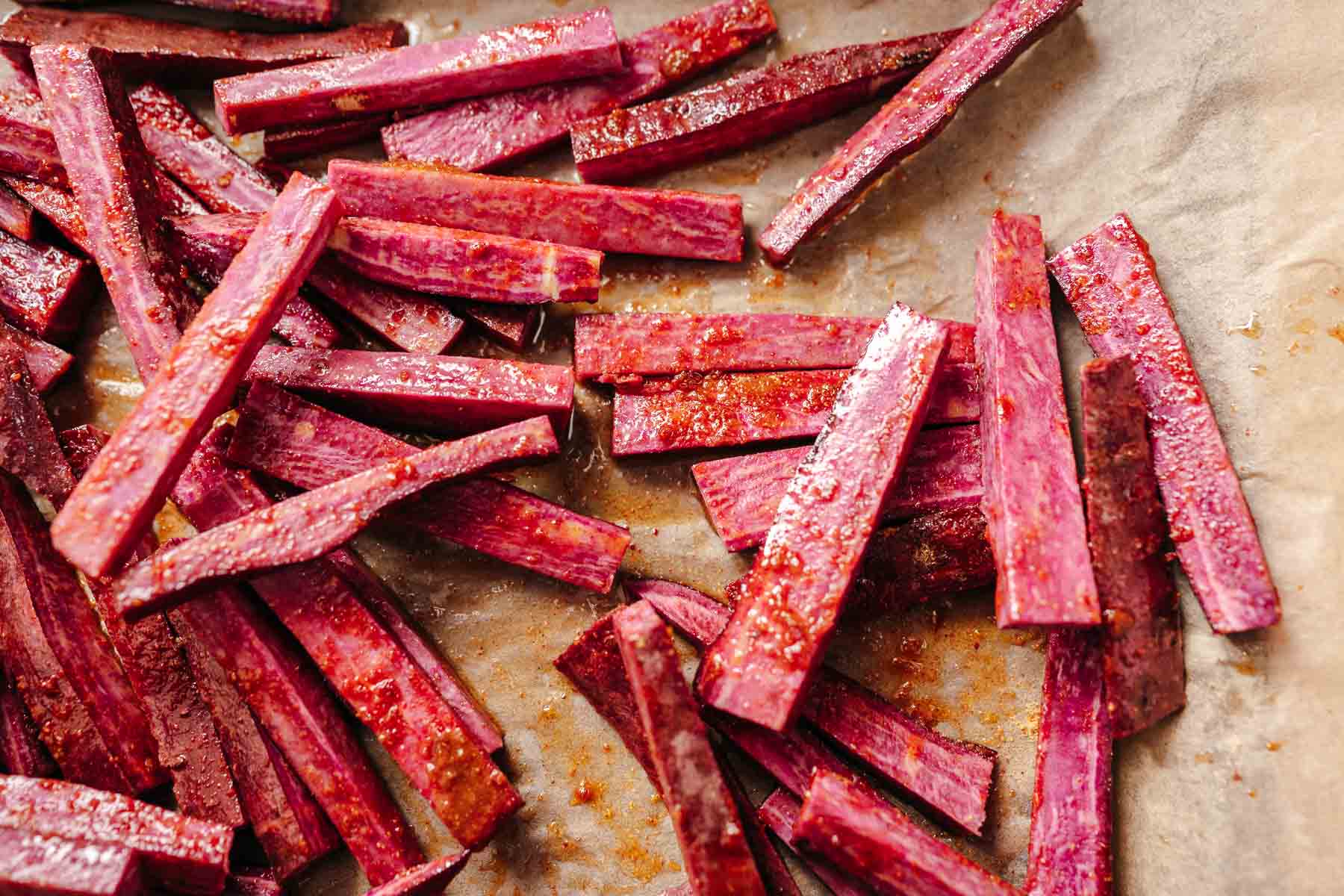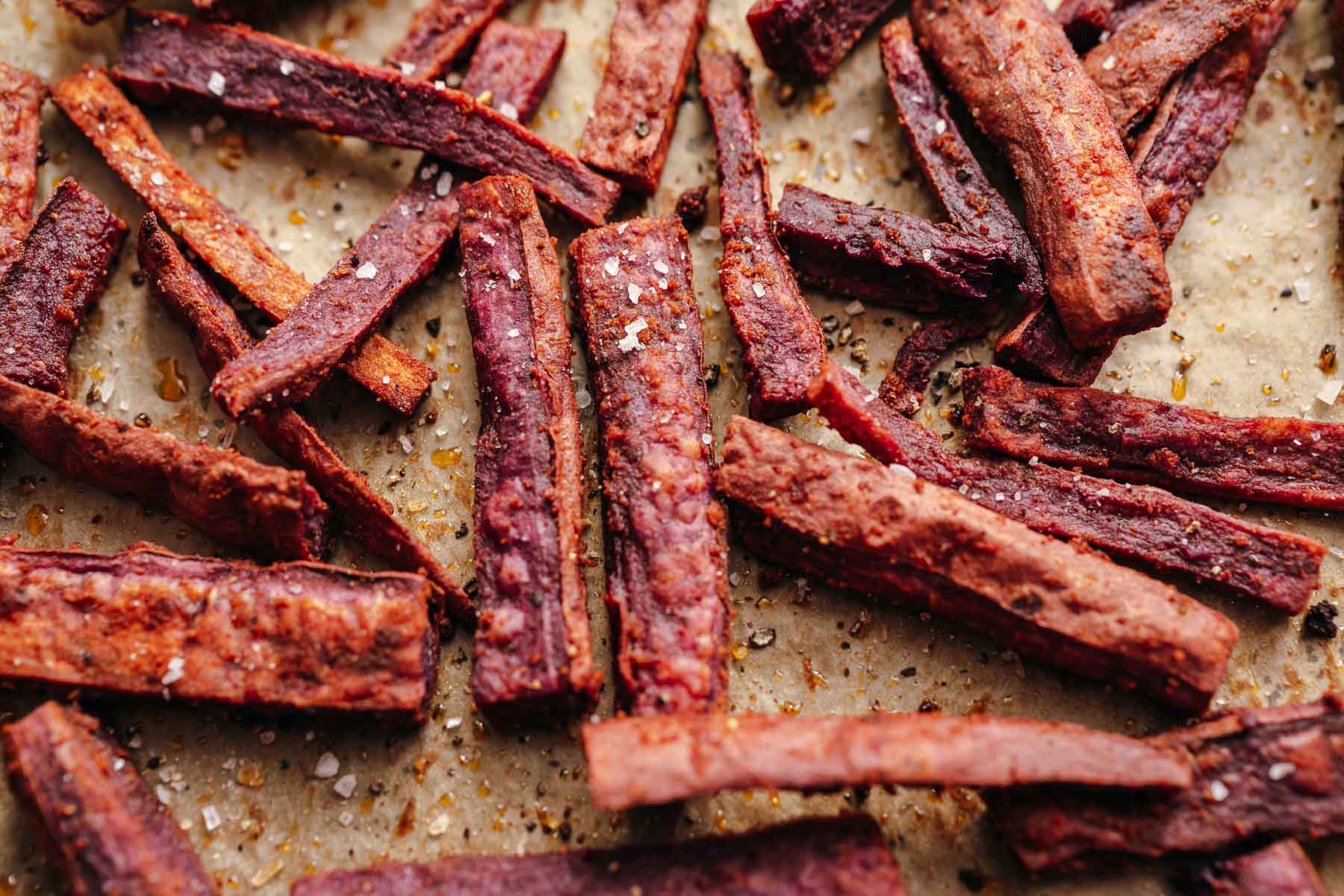 Line a baking sheet with parchment paper and preheat the oven.
Place the peeled and chopped sweet potatoes onto the prepared baking sheet.
Drizzle with the oil and spices, then toss to coat.
Bake until tender and crispy.
Enjoy!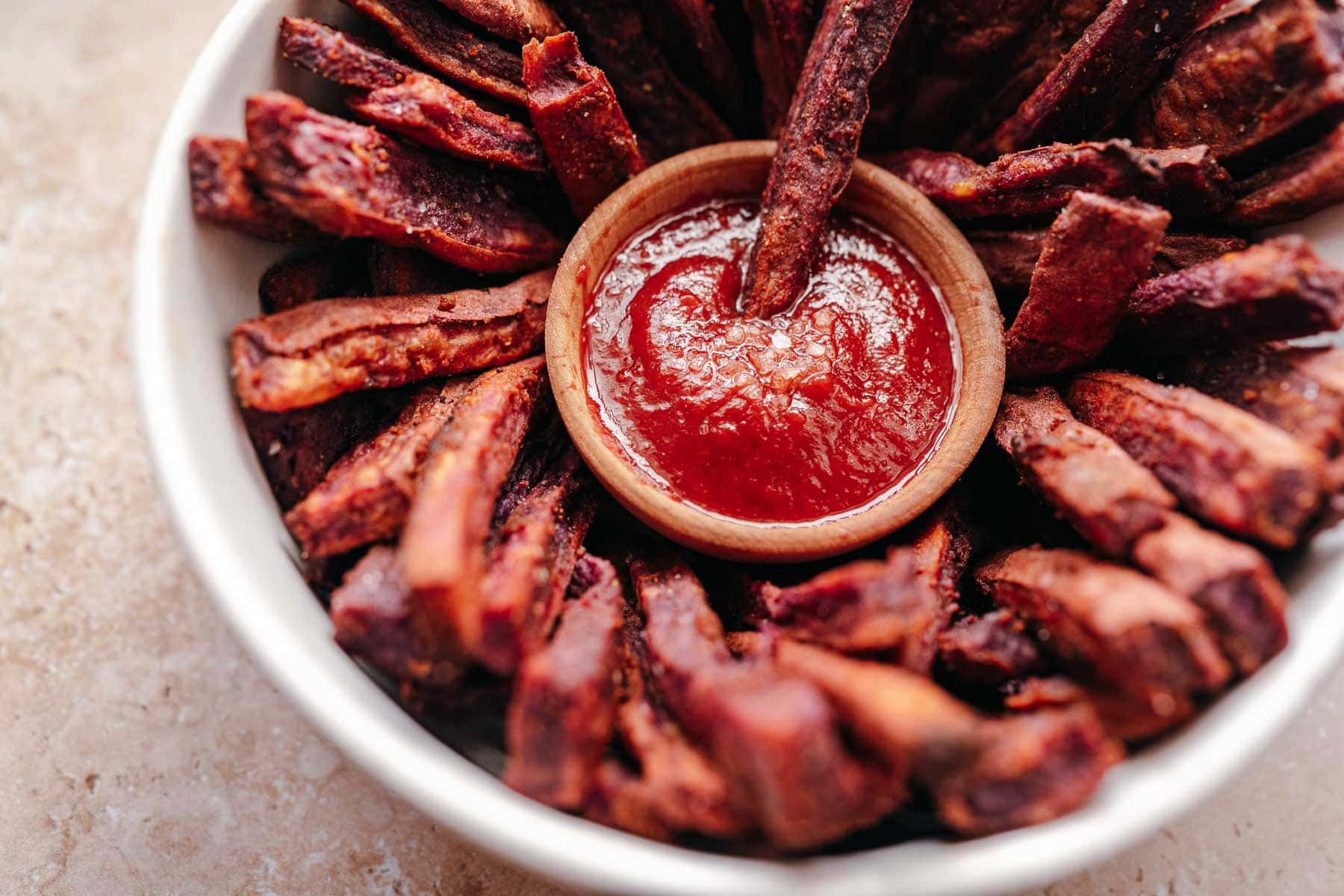 🍽️ Serving Ideas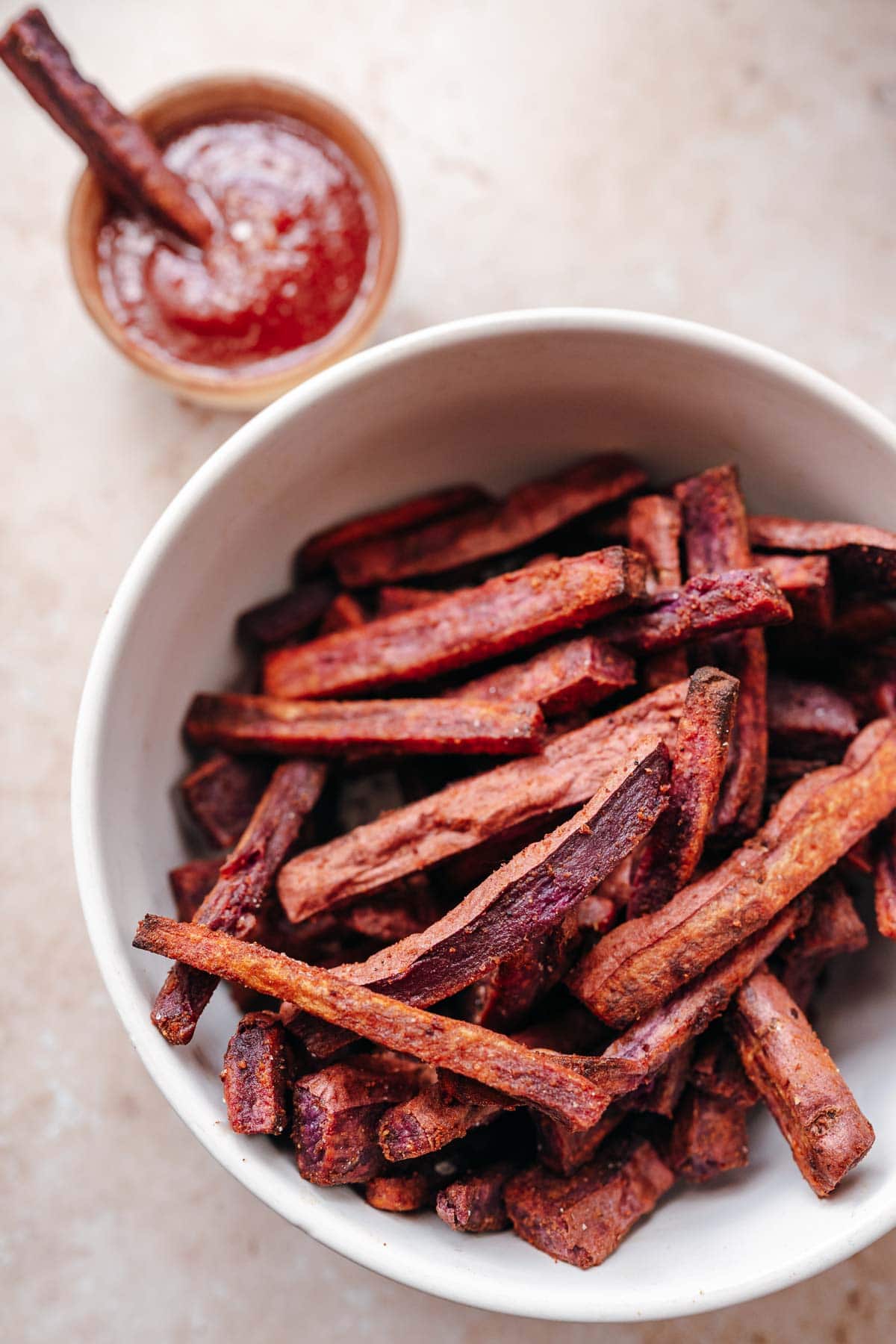 ❓ Frequently Asked Questions
Do purple sweet potatoes taste different?
Yes, purple sweet potatoes have a slightly different taste than regular orange sweet potatoes. They have a slightly sweeter and nuttier flavor compared to the more earthy taste of regular sweet potatoes. The texture of purple sweet potatoes is also slightly firmer and less starchy.
Are purple sweet potatoes healthier than regular sweet potatoes?
Yes, purple sweet potatoes are generally considered to be healthier than regular sweet potatoes. They are higher in antioxidants, specifically anthocyanins, which give them their vibrant purple color. Anthocyanins have been linked to several health benefits, such as reducing inflammation and improving heart health. Additionally, purple sweet potatoes are also a good source of fiber, vitamins, and minerals, including vitamin C, vitamin A, and potassium.
Can purple sweet potato fries be made in an air fryer?
Yes. After tossing the fries in oil and spices, place them into the air fryer basket in a single layer and air fry at 400°F for about 15 minutes of cooking time, or until golden brown, giving a shake about halfway through. Air frying does result in slightly crispier fries.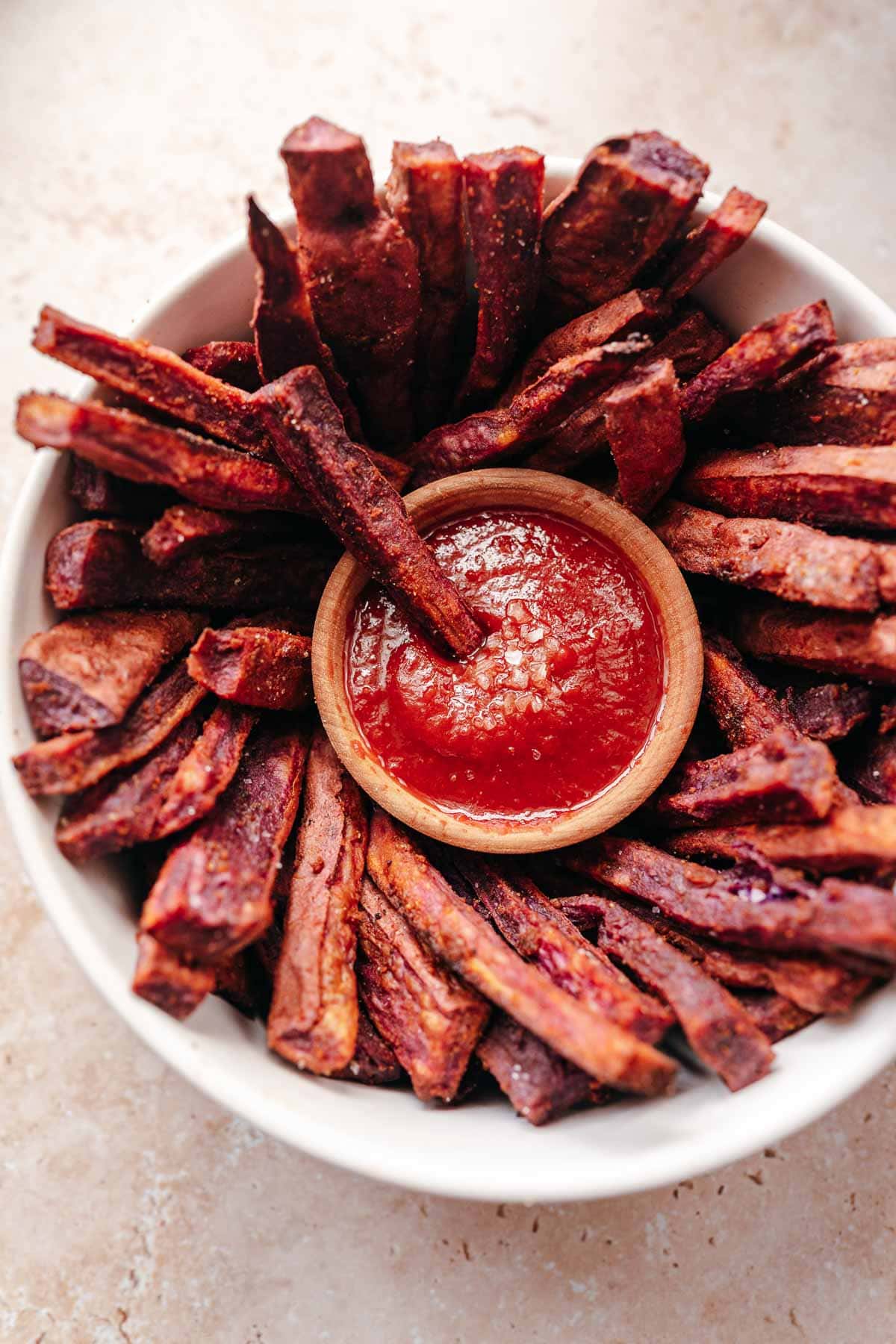 🍟 More Delicious Appetizer Recipes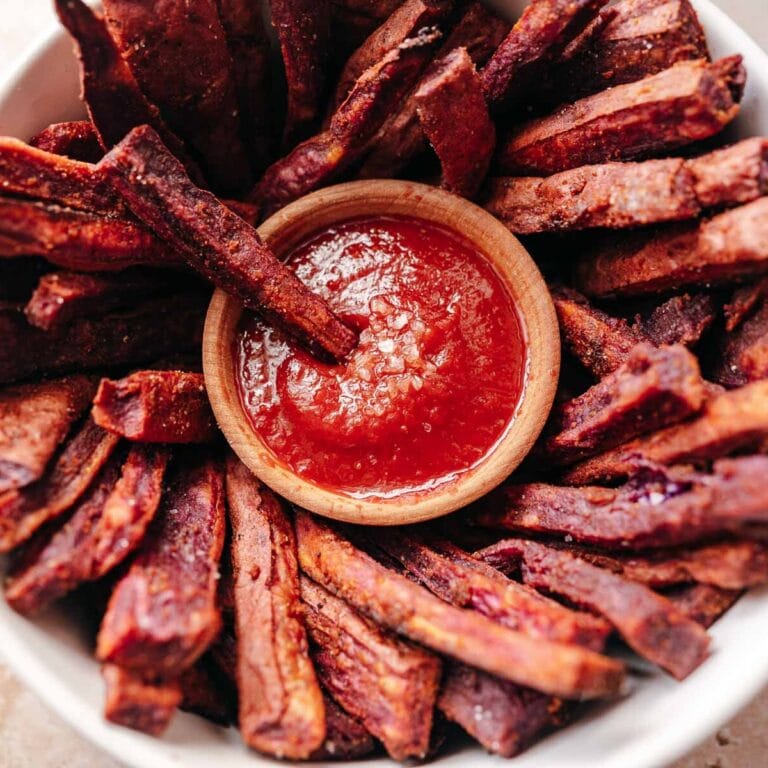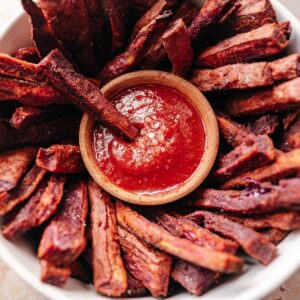 Purple Sweet Potato Fries
Easy to make purple sweet potato fries with a delightful smoky and savory flavor. Naturally plant-based.
Print
Pin
Rate
Ingredients
2

purple sweet potatoes

peeled, cut into fries

2

tablespoons

olive oil

extra virgin

1

teaspoon

smoked paprika

1

teaspoon

garlic powder

1

teaspoon

salt
Instructions
Preheat the oven to 425℉. Line a baking sheet with parchment paper.

Place the peeled and cut purple sweet potato fries onto the parchment paper.

Drizzle with the olive oil, then sprinkle with the paprika, garlic and salt.

Using a spatula or your hands, toss the fries until all are well coating in the oil-spice mixture.

Place the fries into the preheated oven and bake for 30-35 minutes, or until the fries are crispy on the outside, but still tender on the inside. Cook time will vary based on how thinly or thickly you cut the fries. If unsure, simply test one by taking a bite.

Serve right away on its own or with a favorite dipping sauce. Enjoy!
Notes
See the full post above this recipe card for valuable information.
Nutrition
Serving:
1
serving
|
Calories:
124
kcal
|
Carbohydrates:
14
g
|
Protein:
2
g
|
Fat:
7
g
|
Saturated Fat:
1
g
|
Polyunsaturated Fat:
1
g
|
Monounsaturated Fat:
5
g
|
Sodium:
606
mg
|
Potassium:
329
mg
|
Fiber:
2
g
|
Sugar:
4
g
|
Vitamin A:
12738
IU
|
Vitamin C:
13
mg
|
Calcium:
27
mg
|
Iron:
1
mg
Recommended Products
Have you tried this recipe?
Please Rate + Comment Below!
Watch Our Latest Videos
Follow us on YouTube!