The Best Baked Feta Recipe
This post may contain affiliate links, and we receive an affiliate commission for any purchases made by you using these links. We appreciate your support!
Feast on the bold flavors of the Mediterranean with this rich and creamy baked feta. Feta cheese combined with Kalamata olives, fresh herbs, and olive oil – this will surely be the best baked feta recipe you'll ever try. This baked feta is so flavorful that you'll feel tempted to eat it on its own.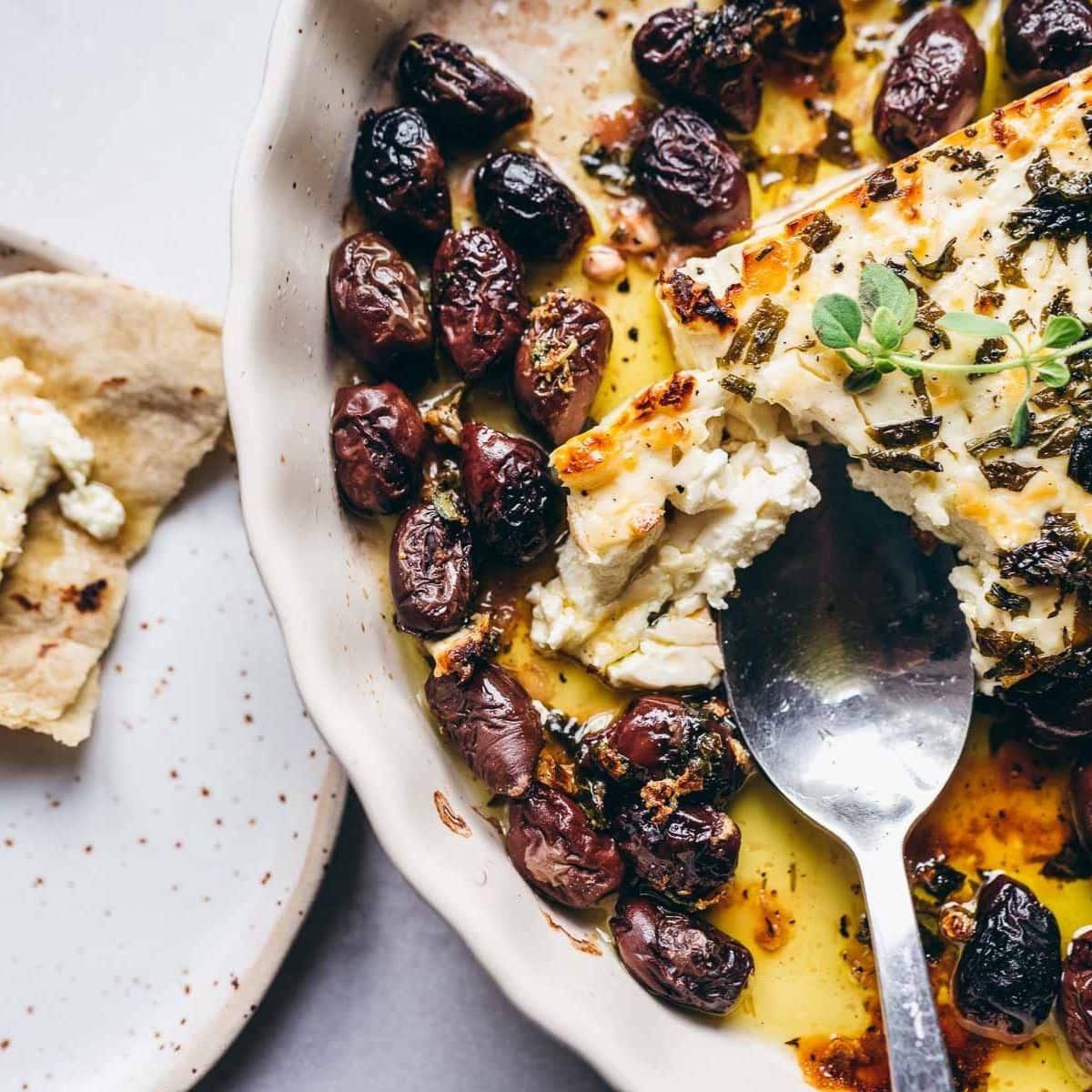 This easy and delicious baked feta recipe is perfect as an appetizer or a side dish. You can serve baked feta as an appetizer with a few slices of toasted baguette. You can use it as a dip for pita chips and other healthy snacks. You can even use this recipe to make baked feta pasta. Just bake some feta cheese in the oven and use it in an abundance of ways that will all surely turn out delicious.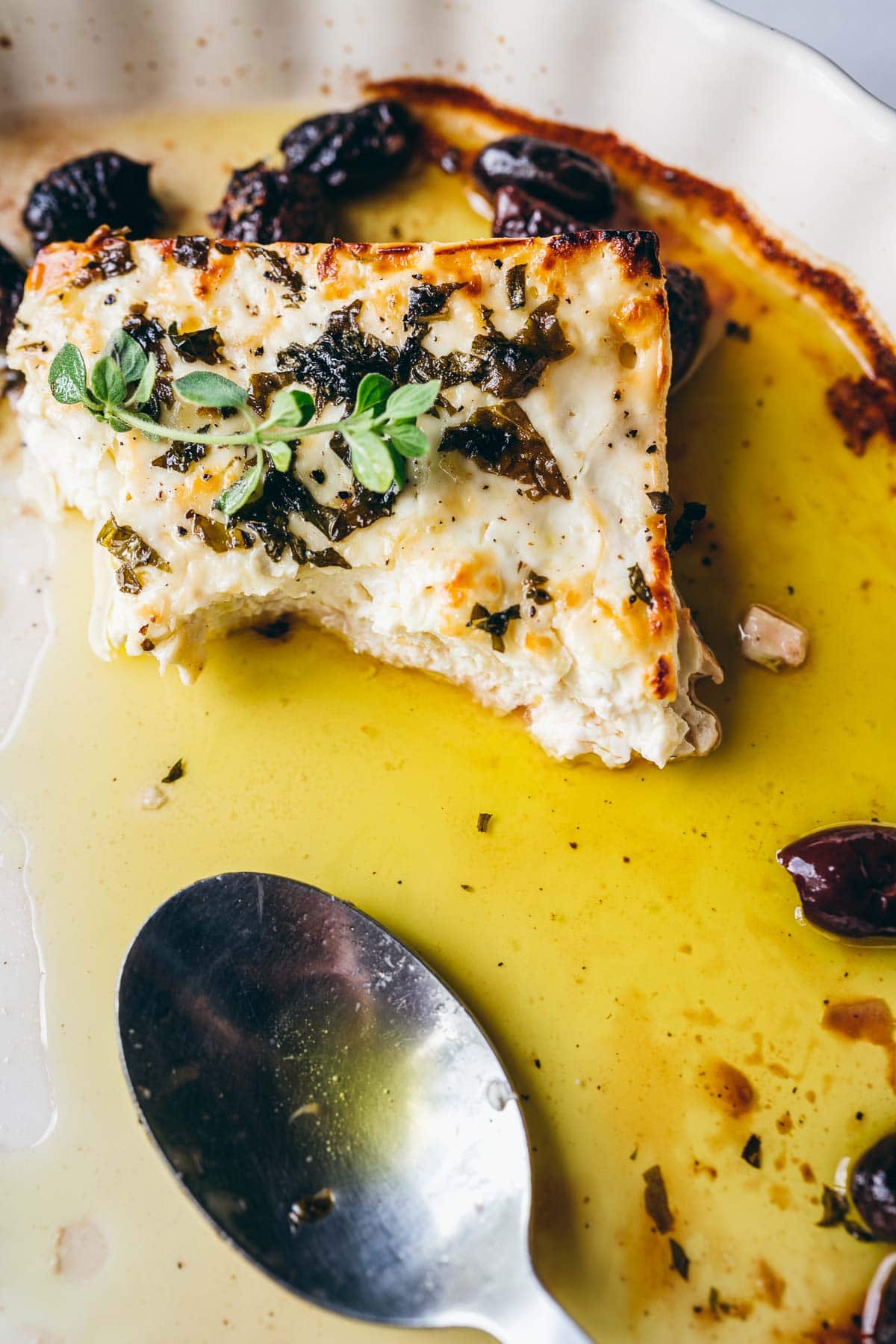 Why This Recipe Works
Feta is a world-famous cheese that comes from Greece. It's a white cheese made with sheep or goat's milk. Authentic and high-quality feta cheese has a soft and crumbly texture, and it comes in brine.
Although feta cheese can be delicious as is, baking is a simple yet effective way to turn a plain block of cheese into something rich, creamy, and utterly magical. Since this recipe includes fresh herbs, you'll also end up with a healthy baked feta recipe. Who says delicious food can't be healthy, right? The fresh herbs also serve to balance out the rich flavor and creamy texture of the baked feta.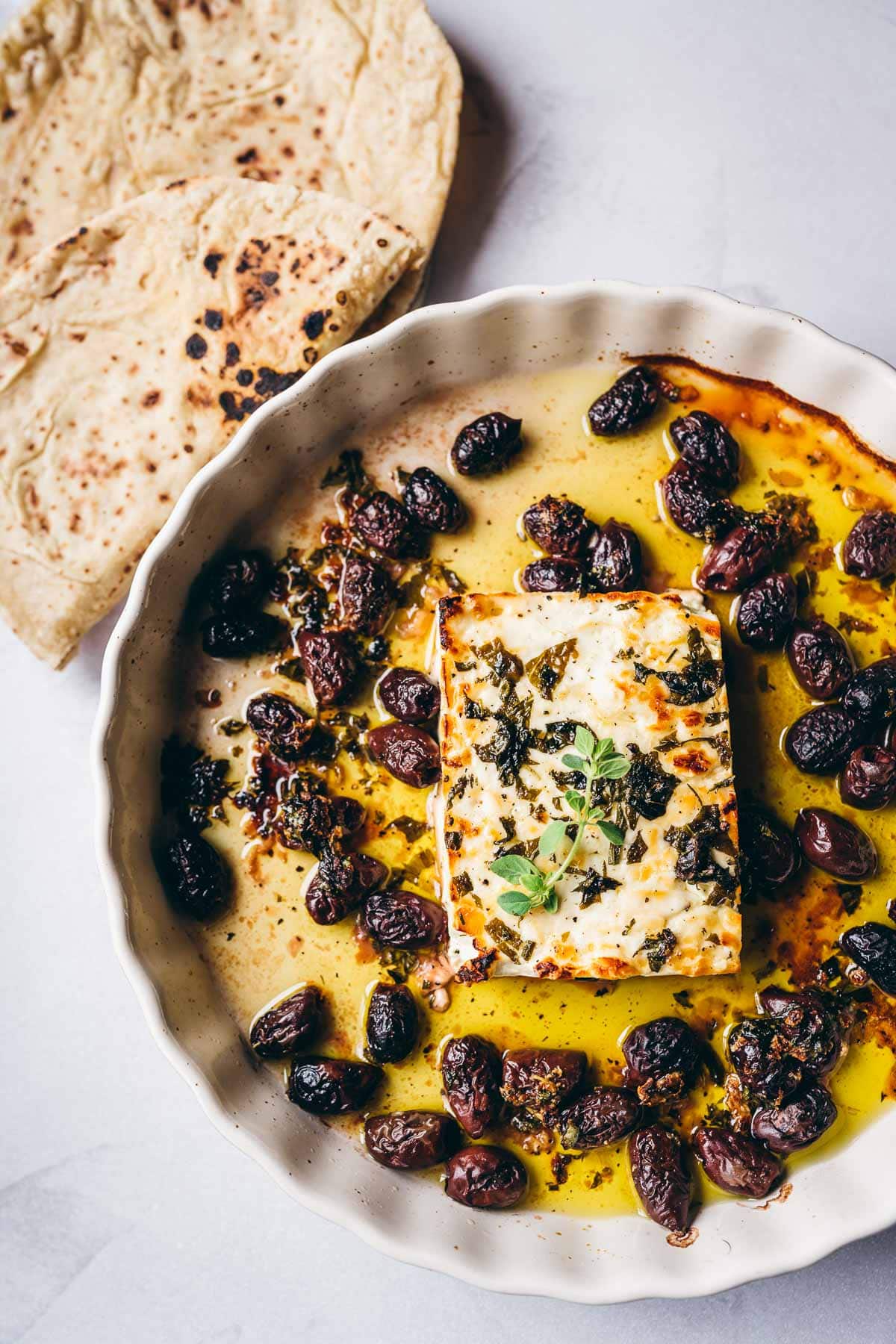 Ingredients and Substitutions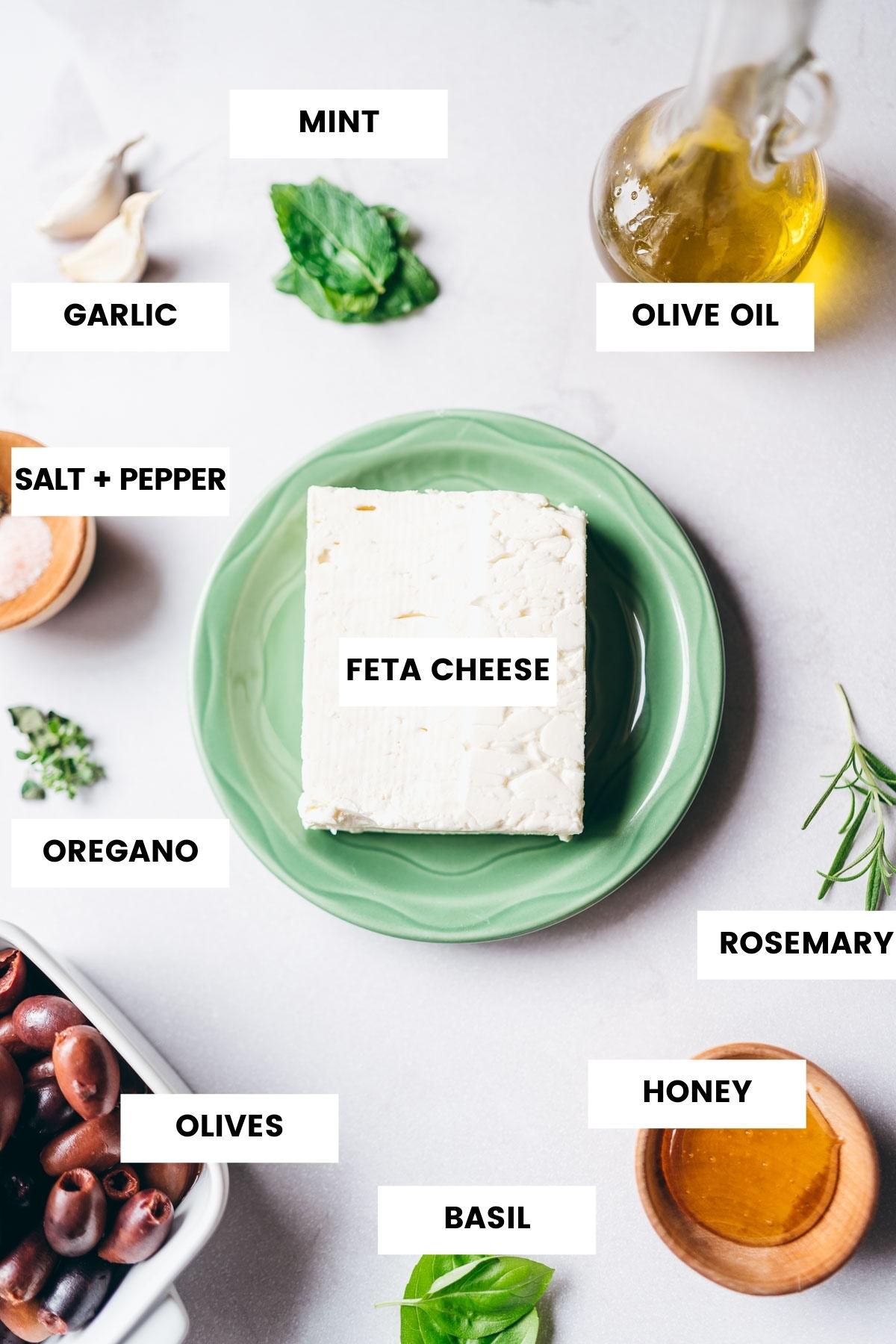 Feta cheese – Feta cheese made from sheep's milk has a sharp and slightly sour flavor. In contrast, feta cheese made from goat's milk has a mild flavor. You can get either—it just depends on the kind of flavor you prefer. You will want to use feta cheese in block form (rather than crumbled), in this instance.
Kalamata olives – Like feta, kalamata olives originate in Greece. Kalamata olives are dark purple, and their taste provides a hint of sweetness to the recipe.
Fresh chopped oregano – Oregano has a slightly bitter, yet very herby flavor that will add an earthiness to the baked feta.
Fresh chopped rosemary – Rosemary has a unique flavor profile that one can describe as slightly bitter, citrusy, and somewhat spicy (akin to pepper). Rosemary's unique flavors will give the baked feta a distinct, fragrant aroma.
Fresh chopped mint – The cool sensation in your mouth that comes from eating mint will provide a fresh flavor and aroma to your baked feta.
Fresh chopped basil – As a part of the mint family, basil has a smell and taste similar to mint, albeit much milder. Basil has a sweet and somewhat bitter flavor that includes notes of anise and pepper.
Extra virgin olive oil – Extra virgin olive oil is a healthy antioxidant-rich oil that will help bind all the ingredients together and give the dish a rich, nutty, and slightly fruity flavor. There's nothing quite like the added flavor of drizzles of extra virgin olive oil in a dish.
Honey – Honey will add a dash of sweetness to the baked feta. If you don't like honey, you can substitute it with other sweeteners such as maple syrup or agave syrup.
Garlic – The pungent flavor and aroma of garlic will help balance the rich flavor of the baked feta and give a kick to the dish.
Salt – No recipe is complete without salt. Adding some salt to your baked feta will give it a savoriness that no other ingredient can give.
Black Pepper – You can't include salt in a dish and not have black pepper (in my opinion!). Like garlic, pepper will provide a spicy kick to your baked feta.
Baked Feta Instructions
This is a ridiculously simple recipe. Simply place a block of feta cheese in a baking dish, top off with remaining ingredients, and bake. Easy peasy!
Tips
Make your baked feta even more special by following these tips:
Get authentic, high-quality feta – Buy only high-quality feta cheese that's made in Greece. Authentic feta cheese only comes from Greece.
Don't be afraid to use your olive oil – Putting a healthy amount of extra virgin olive oil in your baked feta will prevent the cheese from burning in the oven. Furthermore, olive oil will help cook your feta cheese and other ingredients more evenly and create a smooth, buttery texture.
Season wisely – Even without salt and pepper, this baked feta recipe already has a ton of flavor. Be careful not to go overboard with your salt and pepper lest you end up with a dish that's too salty and spicy to enjoy. Are you a big fan of spice? Add a pinch of red pepper flakes for a subtle kick.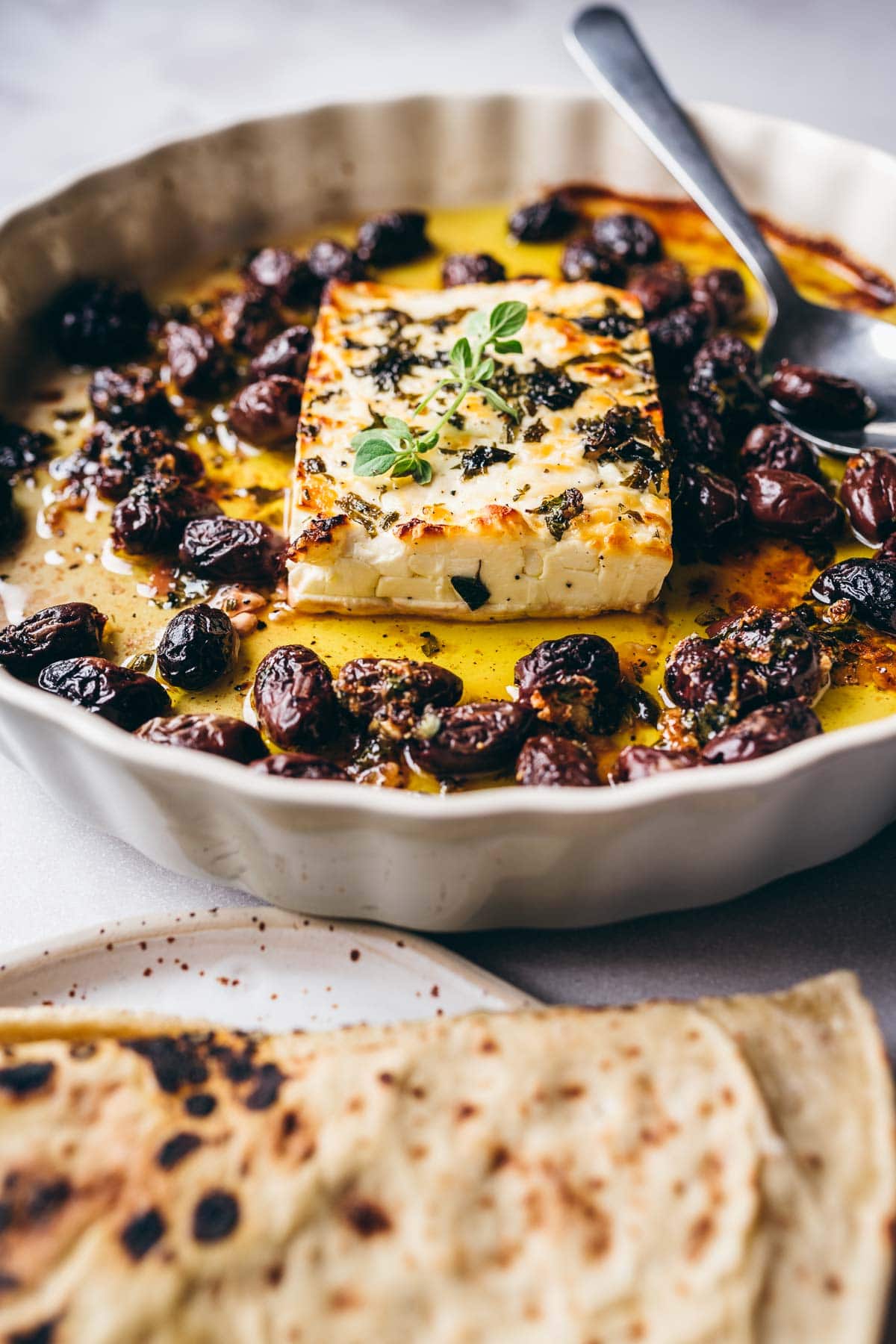 FAQ
What goes with feta cheese?
The great thing about feta is its versatility. Feta cheese goes well with a wide range of foods such as:

Fruits like melon, watermelon, nectarine, and peach
Crusty bread like French bread and sourdough
Potatoes
Eggs
Pizza
Pasta
Crackers, pita chips, and tortilla chips
Salads
Can you reheat feta cheese?
Yes, you can. Heating feta cheese in an oven will turn the cheese into a tender, creamy, and melty appetizer that you can put on almost anything. Reheating it does the same! To reheat, place the feta into a 350°F oven until warm throughout.
How do I make baked feta pasta?
You've probably see your fair share of the famous TikTok pasta! While your feta cheese is baking in the oven, cook some short pasta (macaroni, ziti, etc.) until it's al dente. Drain your pasta but reserve some of the pasta water. Once your baked feta is out of the oven, add your pasta and stir it into the baked feta until all the pasta is evenly coated.
Add pasta water a little bit at a time while stirring to prevent the pasta and sauce mixture from becoming too thick. Once you're satisfied with the consistency of your baked feta pasta, add salt and pepper to taste.
Is feta cheese vegetarian?
Most feta cheese purchased in stores these days is made with microbial rennet, rather than animal rennet, however, you still will want to check packages or contact companies to ensure the feta you are purchasing is vegetarian if you are on a vegetarian diet. My favorite vegetarian feta cheese is made by Organic Valley.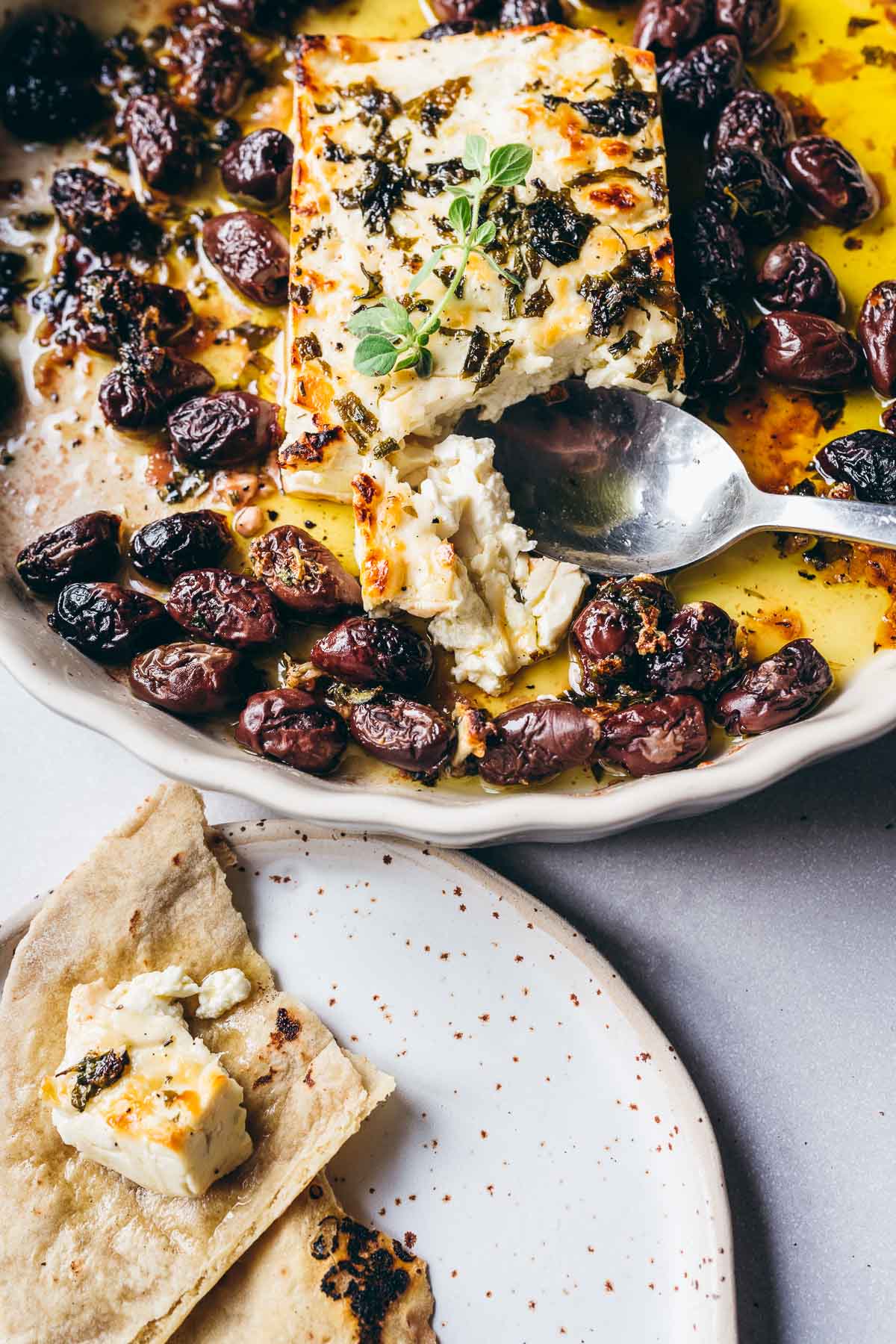 More Delicious Recipes You Might Love
50 Vegetarian Mediterranean Recipes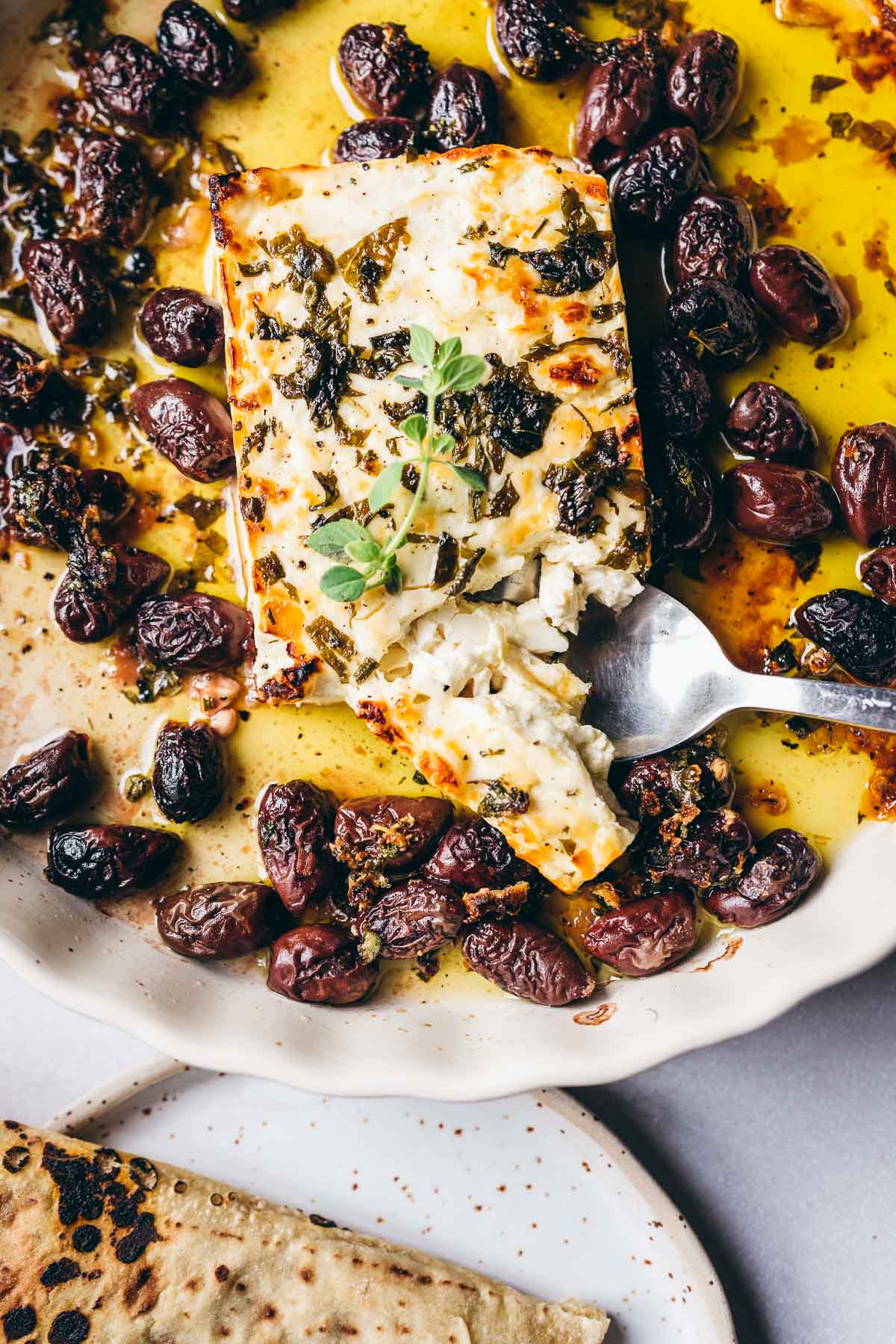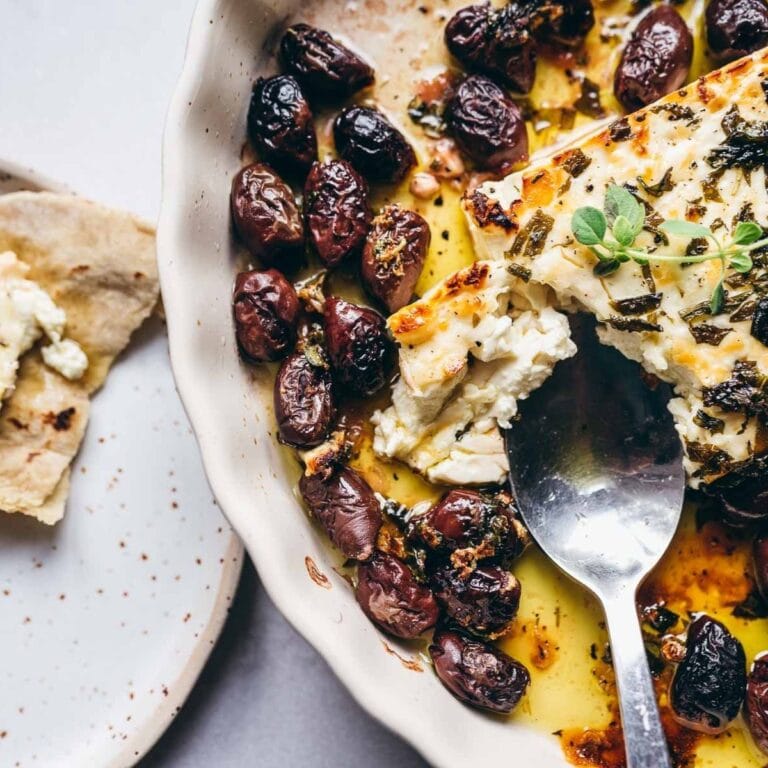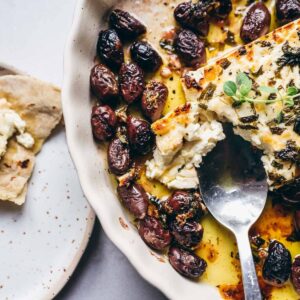 Baked Feta Recipe
The best baked feta cheese with olives, fresh herbs and olive oil. This is a rich and creamy vegetarian appetizer or side dish.
Print
Pin
Rate
Ingredients
1

8-ounce

block feta cheese

vegetarian if necessary

1

cup

Kalamata olives

whole and pitted

1

teaspoon

fresh oregano

chopped

1

teaspoon

fresh rosemary

chopped

1

teaspoon

fresh mint

chopped

1

teaspoon

fresh basil

chopped

2

garlic cloves

minced or grated

⅓

cup

extra virgin olive oil

1

tablespoon

honey

I like to use raw honey

¼

teaspoon

salt

¼

teaspoon

black pepper
Instructions
Place the block of feta in a round or square baking dish (at least 6").

Sprinkle the olives over the feta, followed by the oregano, rosemary, mint, basil and garlic.

Drizzle with the olive oil and honey. Sprinkle with salt and pepper.

Place into the oven and bake for 25 minutes, followed by 2 minutes under broiler or until golden and bubbling. Enjoy!
Nutrition
Serving:
1
serving
|
Calories:
251
kcal
|
Carbohydrates:
7
g
|
Protein:
1
g
|
Fat:
26
g
|
Saturated Fat:
4
g
|
Polyunsaturated Fat:
3
g
|
Monounsaturated Fat:
19
g
|
Sodium:
934
mg
|
Potassium:
32
mg
|
Fiber:
2
g
|
Sugar:
5
g
|
Vitamin A:
203
IU
|
Vitamin C:
1
mg
|
Calcium:
30
mg
|
Iron:
1
mg
Have you tried this recipe?
Please Rate + Comment Below!
Watch Our Latest Videos
Follow us on YouTube!
Thank with Google
I'm excited to be one of Google's paid early testers for their Thank with Google pilot program. Thank with Google is an experimental feature that provides a creative and fun way for my audience to connect with me and show their appreciation for my site.
Thank with Google provides an expressive way for my fans to show their support through virtual stickers. What I really love is that my readers get to choose and select from a large variety of different stickers. Every time you decide to send a paid sticker, you can add a personal message. And for me, these virtual stickers can also translate into direct revenue to support the hard work that goes into the content that you are enjoying on my blog (which is a big help!).
You can find the Thank with Google feature in my sidebar and at the top of each blog post. If you test it out please let me know what you think! Thank you SO very much for your kind support!!