Fermented Aji Chombo
This post may contain affiliate links, and we receive an affiliate commission for any purchases made by you using these links. We appreciate your support!
A spicy and flavorful fermented Aji Chombo hot sauce recipe perfect for the true spice lovers! This recipe is from my book Fermented Hot Sauce Cookbook.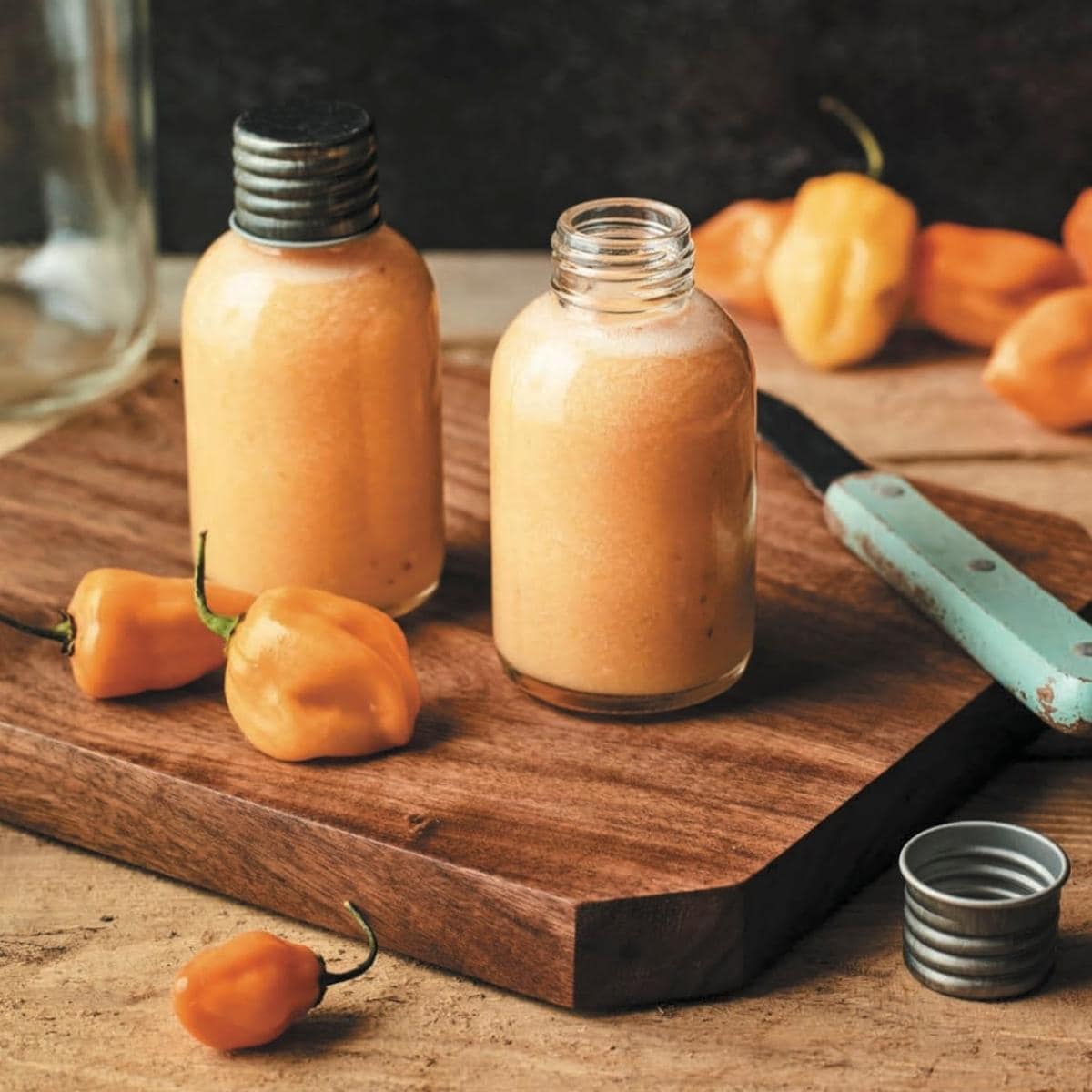 🌶️ Aji Chombo
Aji Chombo is not only a chile itself, but also an addictively hot traditional Panamanian sauce. The addition of turmeric and mustard adds a whole new level of deliciousness in an already fiery and flavorful sauce.
🧡 Why You Will Love This Recipe
It is a very easy recipe – perfect for first time hot sauce fermenters or seasoned fermenters alike!
Complex spicy and fruity flavor notes.
Inspired by hot sauce of Central America and the Caribbean, with a focus on Panamanian cuisine.
A true spice-lover's hot sauce with a high heat rating, yet not lacking in flavor.
Naturally gluten-free, vegan, dairy-free, soy-free, nut-free and keto.
🗒️ Ingredient Notes
Aji chombo peppers: Aji chombo peppers are the traditional chile used in a sauce of the same namesake, though if you are not growing your own aji chombo chile plants or are not Central America, they can be hard to source. They are a variety of Capsicum chinense. Habanero chiles or scotch bonnet peppers have similar scoville heat units and can easily be sourced for this recipe. Fresh peppers are best! If you are sensitive to hot peppers, opt for jalapeno peppers or serrano peppers instead.
Onion: A white or yellow onion works best in this recipe. I do not recommend using a red or green onion, as this will change the flavor profile too much!
Non-chlorinated water: Chlorine can inhibit the fermentation process, hence I do not recommend using chlorinated, aka tap water for this recipe. Any home-filtered or store-bought spring water should do the trick just fine.
Non-iodized salt: Salt that has been treated with iodine can interfere with fermentation, so stick with sea salt like Celtic sea salt or pink Himalayan salt, as the minerals will help with fermentation.
Vinegar: Regular distilled white vinegar works well in this recipe, but in a pinch, apple cider vinegar, white wine vinegar or rice vinegar will do the trick.
Reserved brine: Reserving some of the brine from the fermentation step will serve as the salt used in the final step. Using this instead of regular salt, adds additional flavor from the ingredients fermented as well as saltiness.
Turmeric: Turmeric adds some bitter earthiness to the recipe which helps lend aji chombo its unique taste as well as balance out the sharper spicy notes from chili peppers.
Mustard: This is the secret ingredient in any good Caribbean hot sauce recipe! Yellow mustard is traditional, though I am partial to a good stone-ground.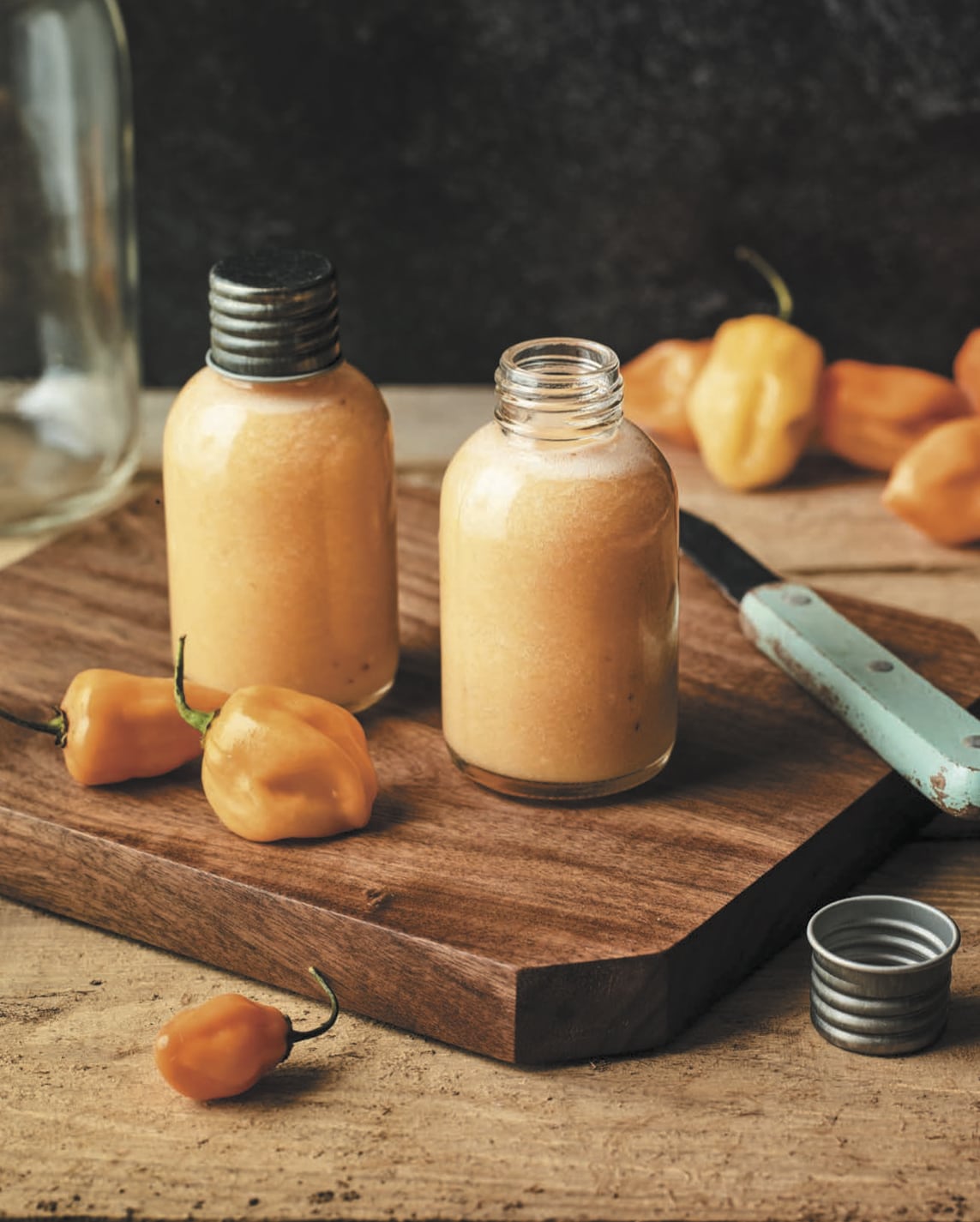 🍴 Serving Ideas
Aji chombo hot sauce can be used just like any favorite hot sauce on a large variety of dishes, though due to its high heat factor, use a bit more sparingly than you are used to to start. Here are some of my favorite uses:
Sprinkle on morning eggs.
Use in marinades for meat, tofu or veggies.
Drizzle on slices of fresh mango.
Use like you would a good salsa, as a dip for quesadillas, tortilla chips and more.
Mix into sour cream or mayo with a squeeze of lime juice for a softer, more mild dip that still lets some of that delicious aji chombo flavor come through.
Use in rice dishes and buddha bowls.
❓ Frequently Asked Questions
What is Panama sauce?
Aji chombo is also known as Panama sauce, as it is one of the most (if not the most) popular national condiments.
Can I make fermented hot sauce unfermented?
Yes, you can make a fresh hot sauce version of this recipe, though it will taste a bit different. To make the fresh version, blend all of the ingredients except for water and salt, using 3/4 cup vinegar instead, plus adding 1/2 teaspoon salt.
Can I use dried chiles instead of fresh chiles in hot sauce?
The short answer is yes. However, the results will be a bit different. If you want to use dried chiles, rehydrate them by soaking in hot water for a few hours before carrying on with the recipe.
🔥 More Hot Sauce Recipes
To learn more about fermentation and the hot sauce making process, check out my book Fermented Hot Sauce Cookbook!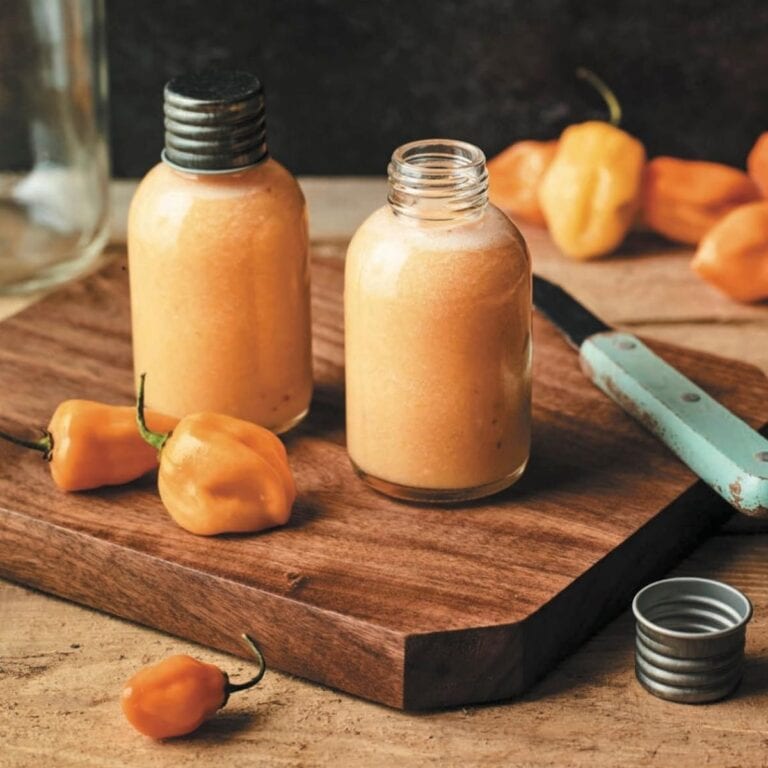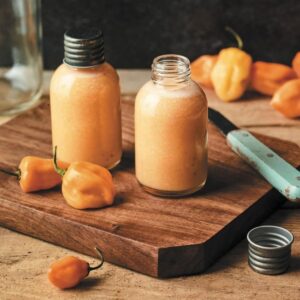 Aji Chombo
A spicy and flavorful fermented Aji Chombo hot sauce recipe hailing from Panama, perfect for the true spice lovers!
Print
Pin
Rate
Ingredients
4

ounces

fresh aji chombo or habanero peppers, stemmed

this is approximately 17 peppers

1

yellow or white onion

halved

2 ½

cups

non-chlorinated water

2

tablespoons

non-iodized salt

½

cup

white vinegar

¼

cup

reserved brine

1

tablespoon

ground turmeric

1

teaspoon

stone ground or yellow mustard
Instructions
In a clean jar, combine the chiles and onion.

In a separate vessel, make a brine by combining the water and salt.

Place a weight, if using, then pour the brine into the jar, leaving at least 1 inch of headspace. Screw the lid on tightly and store the jar in a warm spot away from direct sunlight to ferment for 2 weeks. Burp the jar daily to relieve pressure by removing the lid for a few seconds, then screwing it back on.

Once fermentation is complete, strain the ferment, reserving the ¼ cup of brine.

In a blender or food processor, combine the ferment, vinegar, reserved brine, turmeric, and mustard. Blend until smooth.

Keep the sauce stored in the refrigerator for up to 1 year.
Nutrition
Serving:
1
ounce
|
Calories:
9
kcal
|
Carbohydrates:
2
g
|
Protein:
0.3
g
|
Fat:
0.1
g
|
Saturated Fat:
0.02
g
|
Polyunsaturated Fat:
0.03
g
|
Monounsaturated Fat:
0.02
g
|
Sodium:
879
mg
|
Potassium:
45
mg
|
Fiber:
0.3
g
|
Sugar:
1
g
|
Vitamin A:
68
IU
|
Vitamin C:
11
mg
|
Calcium:
6
mg
|
Iron:
0.3
mg
Have you tried this recipe?
Please Rate + Comment Below!
Watch Our Latest Videos
Follow us on YouTube!