Disclaimer: Please note that some of the links below in this post are affiliate links and I will earn a commission if you purchase through those links. I regularly use and recommend all of the products listed below because I find them to be of great quality and use! All proceeds go back into maintaining and creating for this site. Thank you!
Last Updated on
No cilantro is to be found in this fresh, vibrant and easy spin on salsa verde. This green tomatillo salsa is slightly tangy, slightly spicy, vegan, and complements a variety of Mexican and non-Mexican dishes alike.
While I'm a great fan of cilantro myself, I know some of you fall into the cilantro-tastes-like-metallic-soap tribe…well, this recipe is for you! Flavor certainly isn't lacking in this easy, healthy and delicious salsa verde recipe. This easy tomatillo salsa could not be easier to make or more versatile when it comes to the dishes it pairs well with! If you're anything like me, you'll find yourself putting this on anything and everything in no time!
This Fresh Salsa Verde is
Fresh, vibrant, zippy, tangy and slightly spicy.

Filled with LOADS of flavor.

Pleasing in texture.

Healthy.

Super quick and easy to make.

Well suited to a variety of dishes.

Cilantro-free for you non-cilantro lovers!

Gluten-free, vegan, dairy-free, soy-free, nut-free and sugar-free.
How to Make Salsa Verde
Combine tomatillos, peppers, onion, vinegar and spices in a food processor or blender.

Blend.

Enjoy!
Tips for Making Easy Tomatillo Salsa
Make sure to remove the husks (the papery outer coating) from the tomatillos and rinse before blending.

I love the combination of jalapeno and poblano peppers in this recipe (and is very much more like an authentic salsa verde), but in a pinch you can use two jalapenos or two poblanos instead. You can even throw a serrano in there for more of a kick!

Lime or lemon juice can be used in place of the apple cider vinegar.

You can use fresh garlic cloves instead or in addition to the garlic powder. I just find that in a raw, fresh recipe like this, that the garlic powder imparts a stronger flavor.

I say salt to taste because everyone's taste buds and dietary needs are different, but for reference, I usually use around 1 1/2 teaspoons of pink salt in this recipe!

Are you a fan of a hint of sweetness? Every once in a while I add a squeeze of honey or maple syrup to my salsa recipes. You may like it if you try it, too!

This recipe is great enjoyed right away or stored in an airtight container or jar in the refrigerator for up to one week.
How to Use Salsa Verde
Served with tortilla chips.

Served alongside quesadillas, burritos, enchiladas and tacos.

In baked casseroles.

As a salad dressing.

Mixed into hummus.

To top off buddha bowls and roasted veggies.

Mixed into rice and other grains.

In chili and soups.
What to Serve with Easy Salsa Verde
The Best Gluten-Free Tortilla Wraps (Vegan)
Chickpea Flour Tortillas, Chips & Taco Shells (Gluten-Free, Vegan)
Cumin Roasted Chickpea Polenta Cakes + Three Sisters Chili (Gluten-Free, Vegan)
Gluten-Free Baked Hatch Chiles Rellenos
Calabacitas Galette With A Chickpea Polenta Crust (Gluten-Free)
Spicy Southwestern Corn, Potato, Quinoa, And Red Lentil Chowder (Gluten-Free, Vegan)
Red Lentil Flatbread Pizza Crust (Gluten-Free, Vegan)
I greatly hope you enjoy this fresh and vibrant salsa as much as we do! Enjoy. xo.
If you try this recipe please let me know! Leave a comment, rate it, share this post, use Pinterest's "tried it" feature, or take a photo, & tag me on Instagram and I'll share it! Thank you so much! <3
Easy Salsa Verde Recipe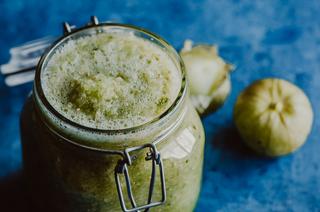 Author: Kristen Wood | 6-26-2019
prep time: 5 minutes
cook time: 0 minutes
total time: 5 minutes
Yields: approx. 5 cups
---
Ingredients:
12 tomatillos, husks removed
1 poblano pepper, halved & stem removed
1 jalapeno pepper, halved & stem removed
1 white or yellow onion, halved
2 tablespoons apple cider vinegar
1 teaspoon garlic powder
sea salt or pink salt, to taste
---
Instructions:
In a high speed blender or food processor, combine all of the above ingredients.
Blend until smooth.
Salt to taste.
Enjoy!
---
Nutrition:
Serving: 1 cup
Fat: 0 grams
Calories: 42
Carbs: 8 grams
Fiber: 2.3 grams
NOTE: Please see 'Tips' above in the blog post for suitable substitutions, storage advice and more!
Shop This Recipe
Pin it: